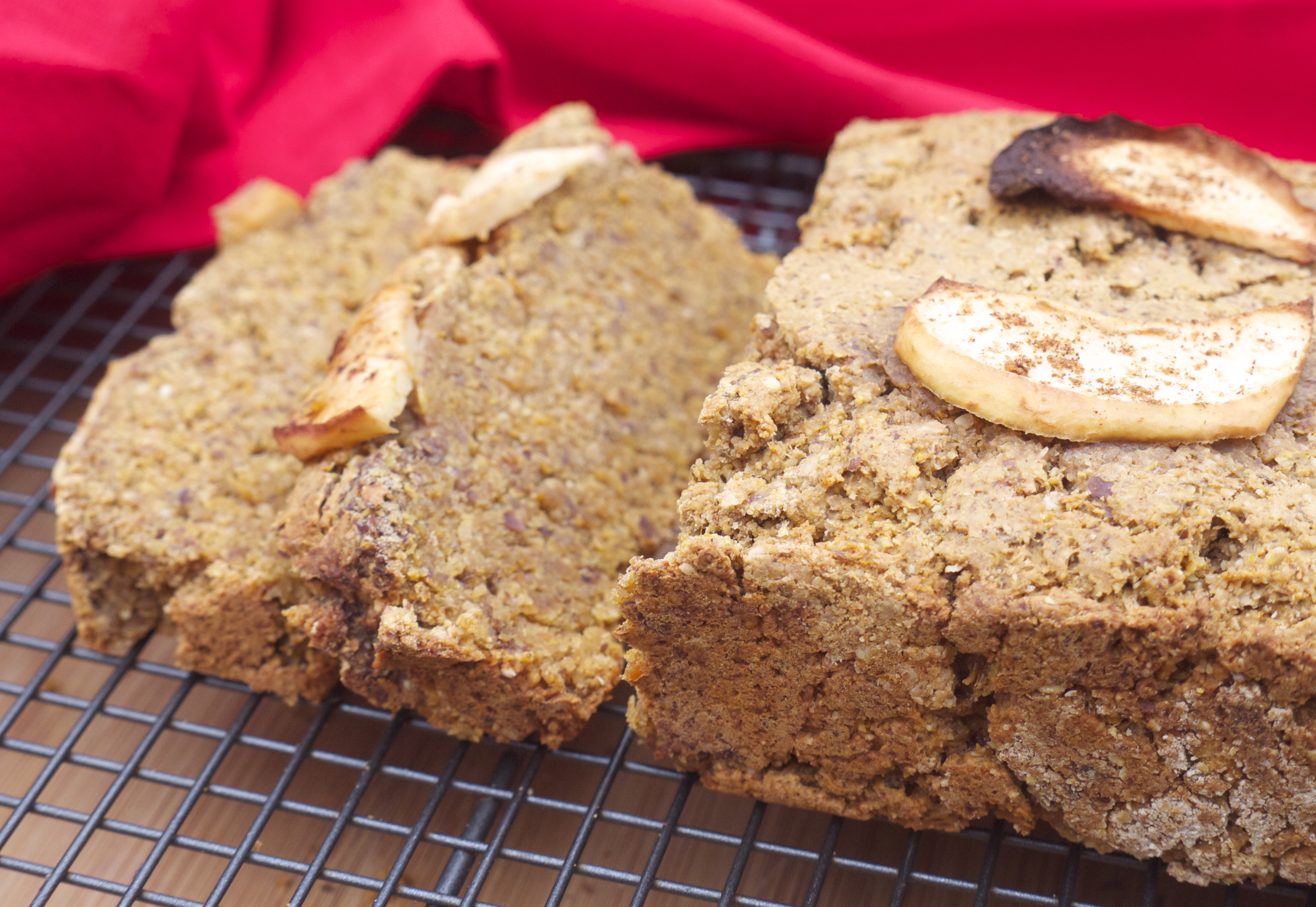 This is one of my favourite bread recipes ever. Seriously, I feel just like a proud mother revealing my baby to the world!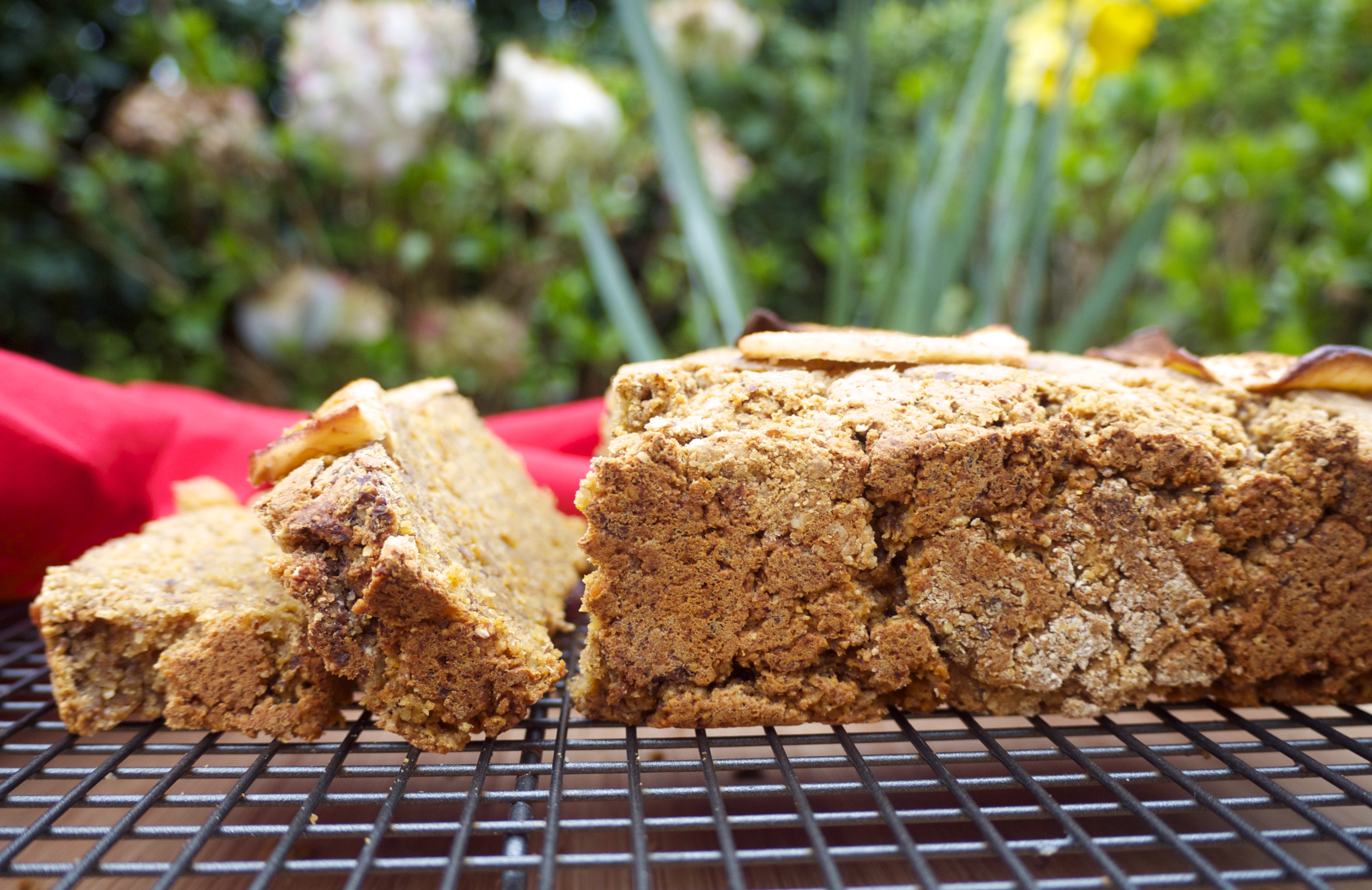 It's quick and simple to prepare, contains just four basic ingredients, and is a good source of protein, fibre and complex carbs. Better still, this bread is absolutely jam-packed with nutrition. It contains all nine essential amino acids, essential for recovery and repair in the body, as well as acting as the building blocks for those important hormones, enzymes and antibodies.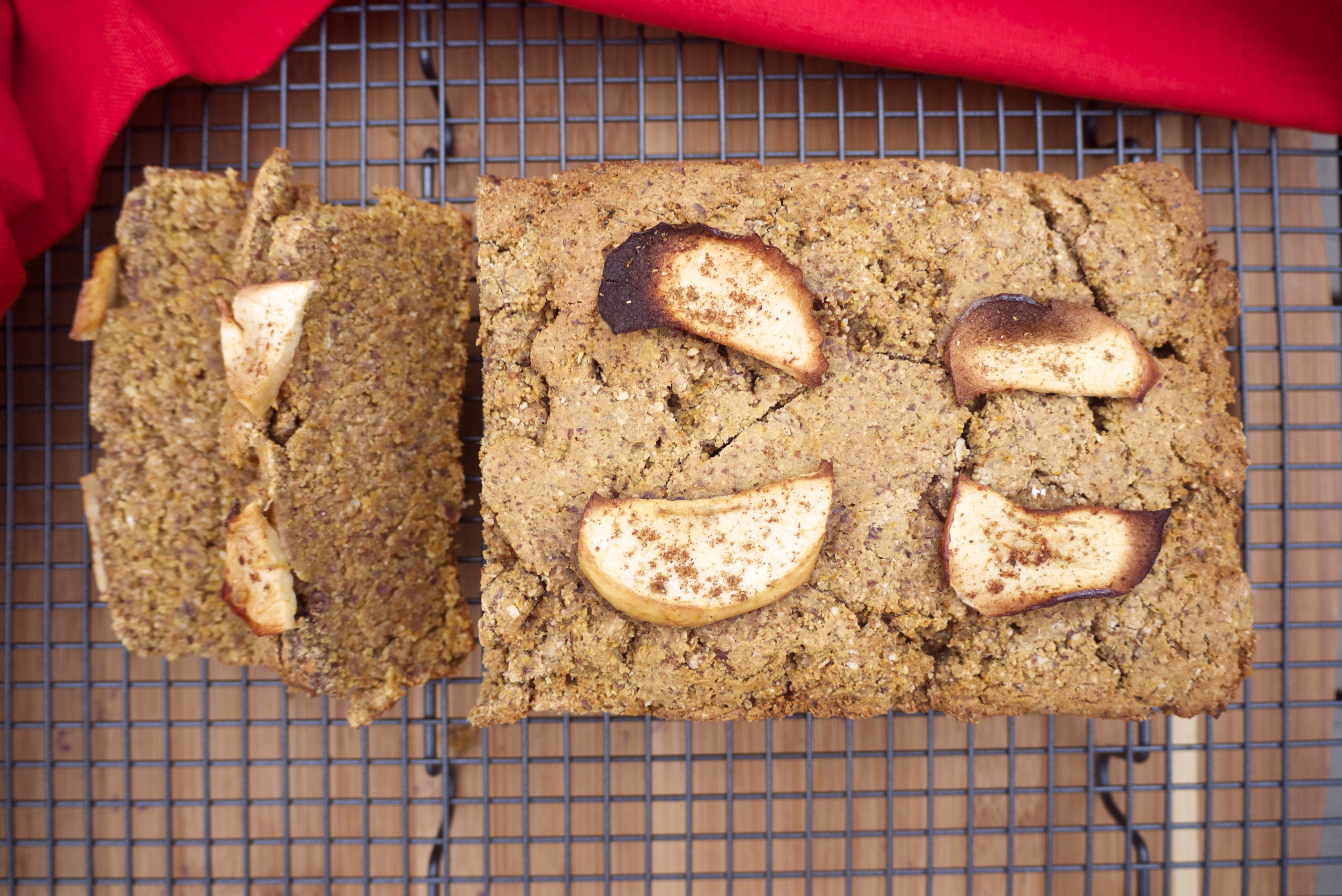 As it's made from whole, unprocessed foods, you will find plenty of vitamins and minerals in this bread, including the B vitamins, vitamins A and E, plus iron, calcium, potassium, manginess, magnesium and zinc. To keep calories on the lower side (there are just over 200 per serving), I used homemade apple purée to naturally sweeten the bread and act as a binding agent, alongside the soaked ground flaxseed.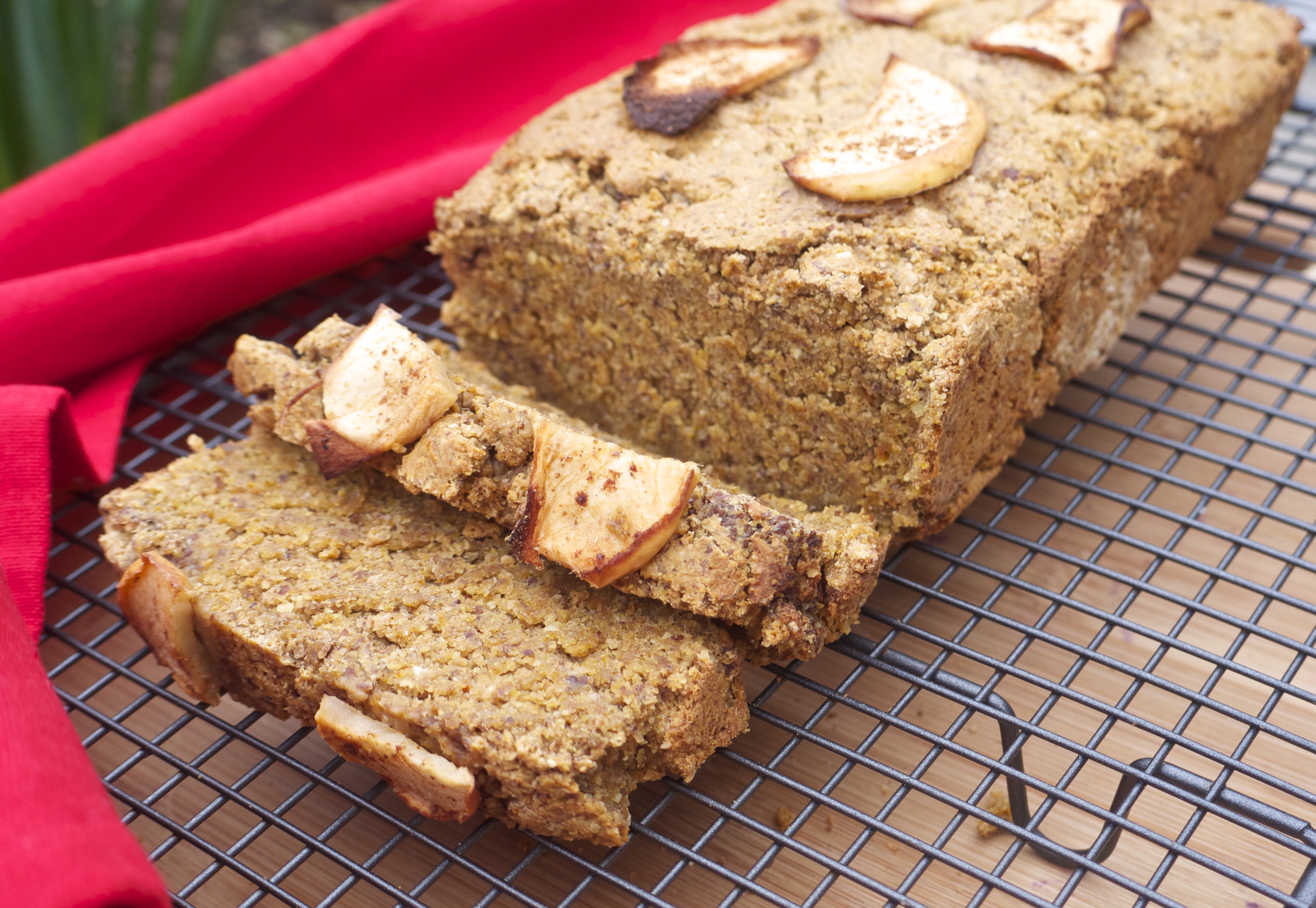 I ground gluten-free oats into a flour in my blender to use as a base, making it wheat-free and suitable for those with coeliac disease or avoiding gluten products. Plenty of warming cinnamon and ground allspice give it a comforting, cosy flavour, and you could add raisins, seeds, nuts, ground ginger or other varieties of dried fruit to change up the flavour.
It makes a great breakfast to boost energy levels for the morning and I love it served warm, spread with almond butter!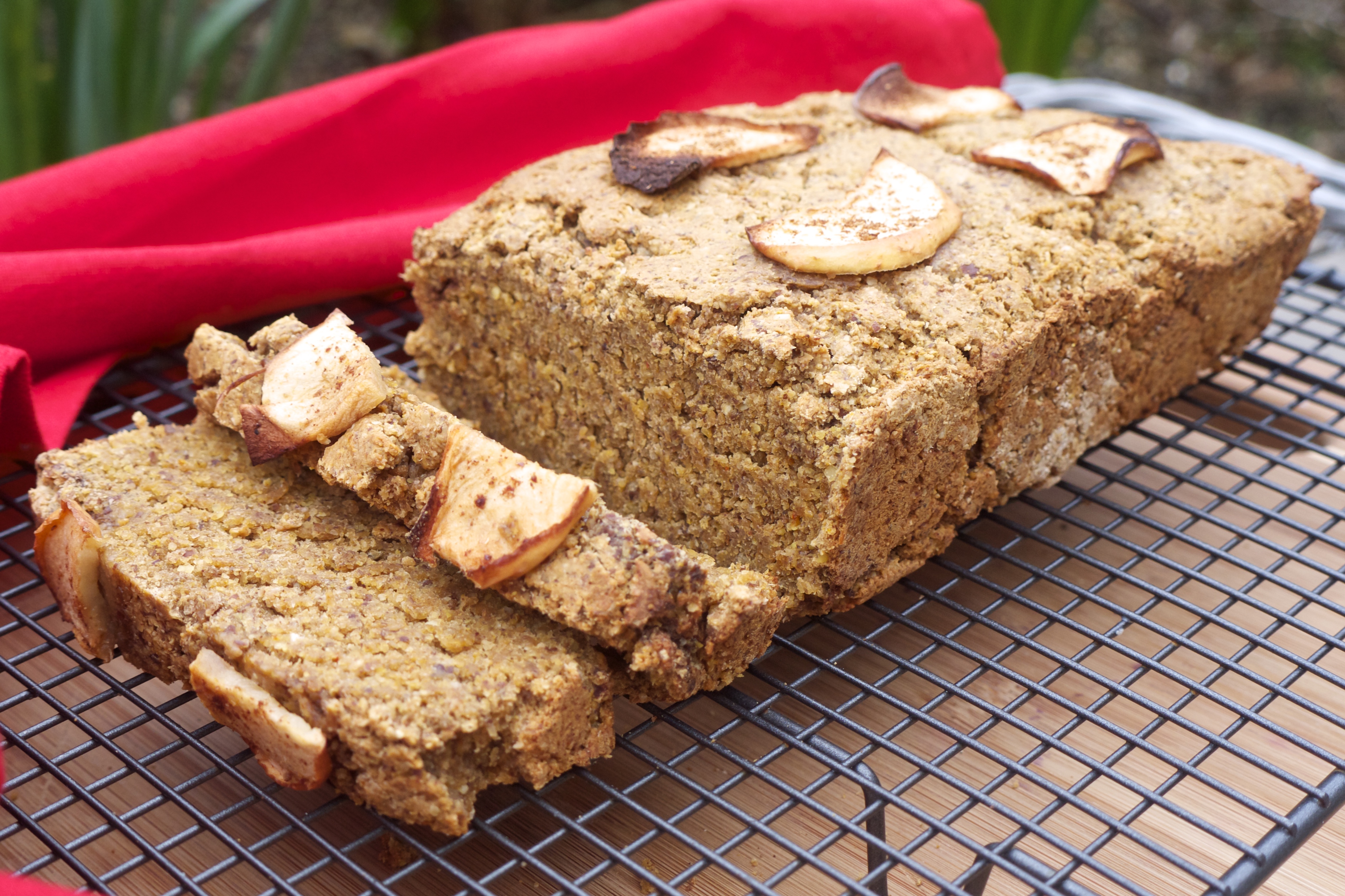 I would love to know if you get a chance to make this Apple Pie Breakfast Bread! Simply tag #RosannaDavisonNutrition on Instagram or Twitter or come on over to my Facebook to say hello 🙂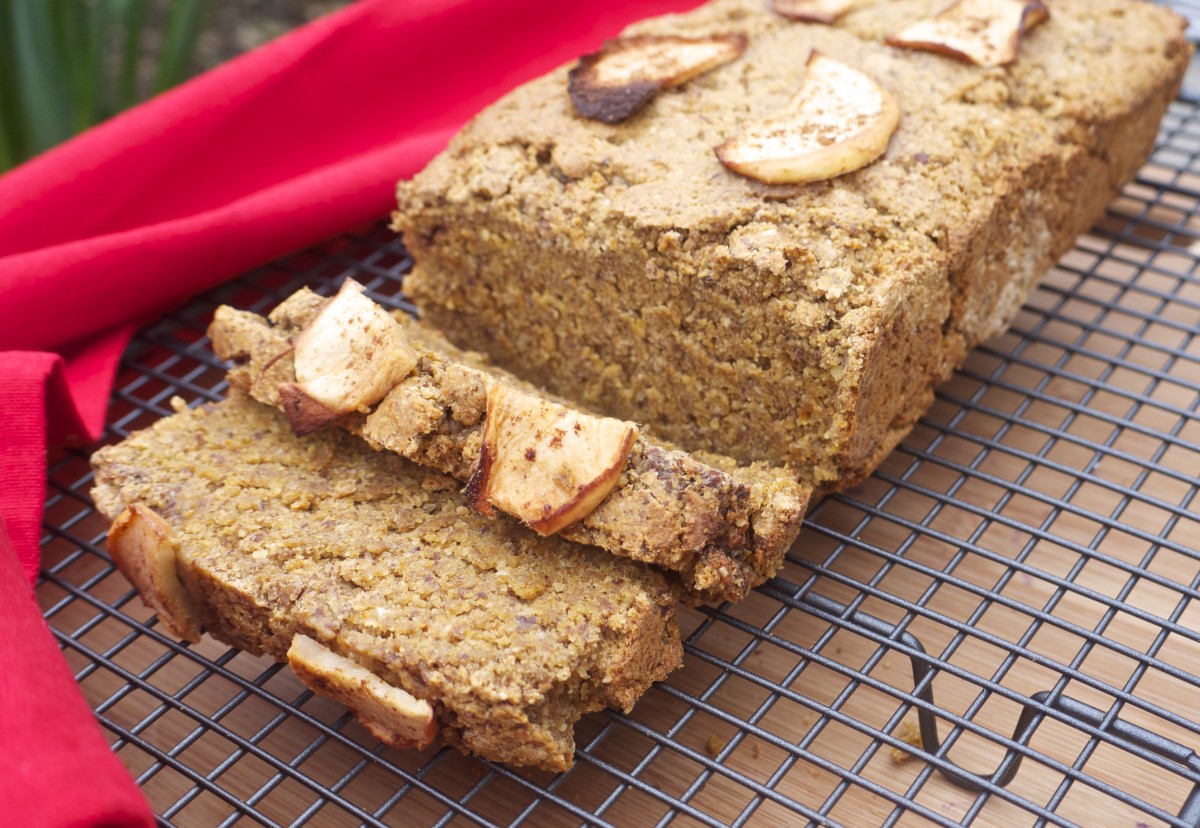 Apple Pie Breakfast Bread
2016-05-10 13:51:12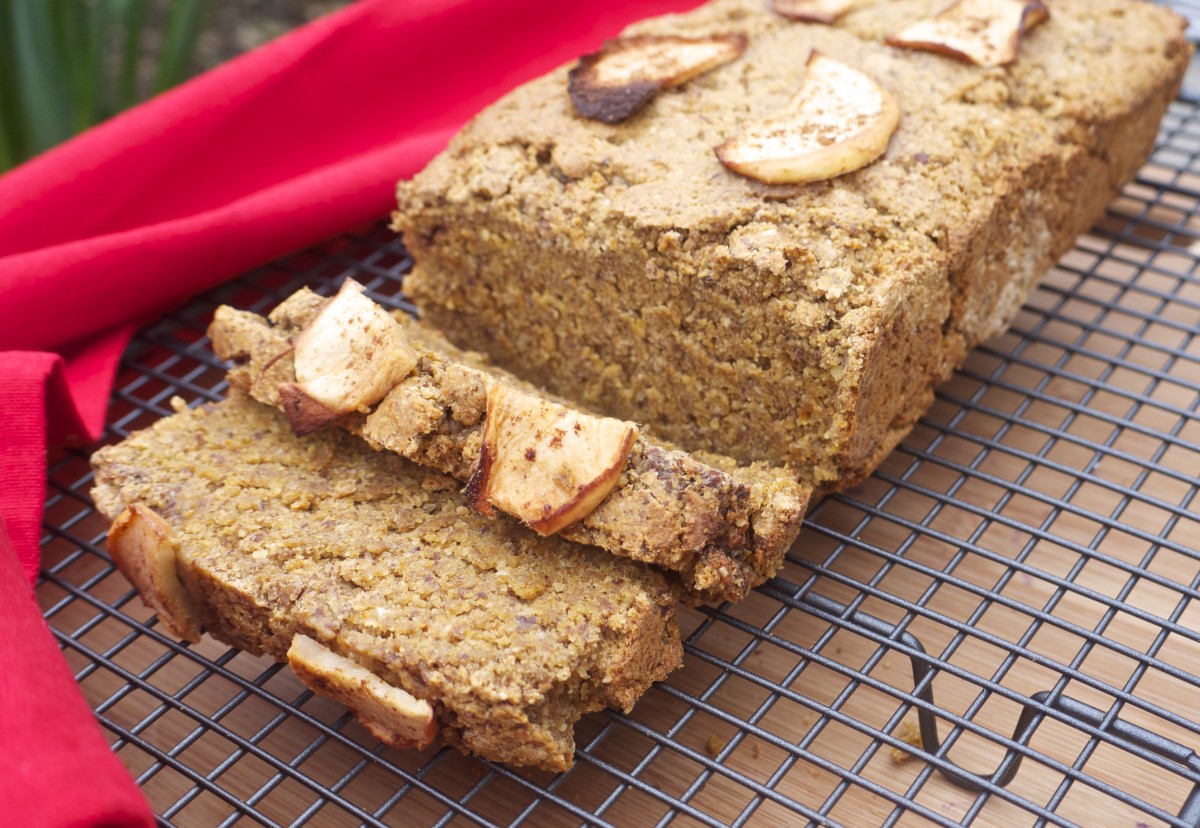 Simple, healthy and wholesome bread, made with four basic ingredients and free from wheat, refined sugar and salt. Nutrition Information Per Slice: 204 calories, 5.1g protein, 27g carbs, 8.3g fat, 4.5g fibre
Ingredients
coconut oil, to grease
4 tbsp ground flaxseed
8 tbsp cold water
400g porridge oats (I used a certified gluten-free brand)
2 tsp baking powder
2-3 tsp ground cinnamon
1 tsp ground allspice (optional)
3 apples, rinsed, cored and quartered (I used Pink Lady)
4 tbsp coconut oil, melted
6-8 fresh apple slices, to decorate
Instructions
Preheat the oven to 190C. Lightly grease a loaf tin with coconut oil and set aside.
In a small bowl, place the ground flaxseed and add the cold water. Stir well and set it aside for five minutes to allow it to thicken.
Pour the oats into a blender and blend on high for about 60 seconds until ground into a fine flour.
Place the oat flour into a mixing bowl and add the baking powder, cinnamon and ground allspice.
Place the apple quarters into a blender or food processor and blend until a smooth puree forms.
Pour the apple puree into the oat flour mixture and mix well. Add the melted coconut oil, followed by the flaxseed mixture and stir everything together until a thick dough forms.
Transfer the mixture to the prepared loaf tin and ensure the top is smooth and even. Decorate with apple slices.
Bake at 190C for 25-30 minutes, until golden on top and a knife comes out clean from the centre.
Allow the loaf to cool for 10 minutes on a wire cooling rack before slicing and serving.
Notes
Any leftovers can be stored in an airtight container in the fridge for 3-4 days.
Rosanna Davison Nutrition https://www.rosannadavisonnutrition.com/