Hi guys!
Hope you all had a great weekend 🙂
I'm just home from spending the weekend in Berlin for a work event, though I had a chance to do a bit of sightseeing yesterday. It's a great city, with so much history and a really cool, creative vibe.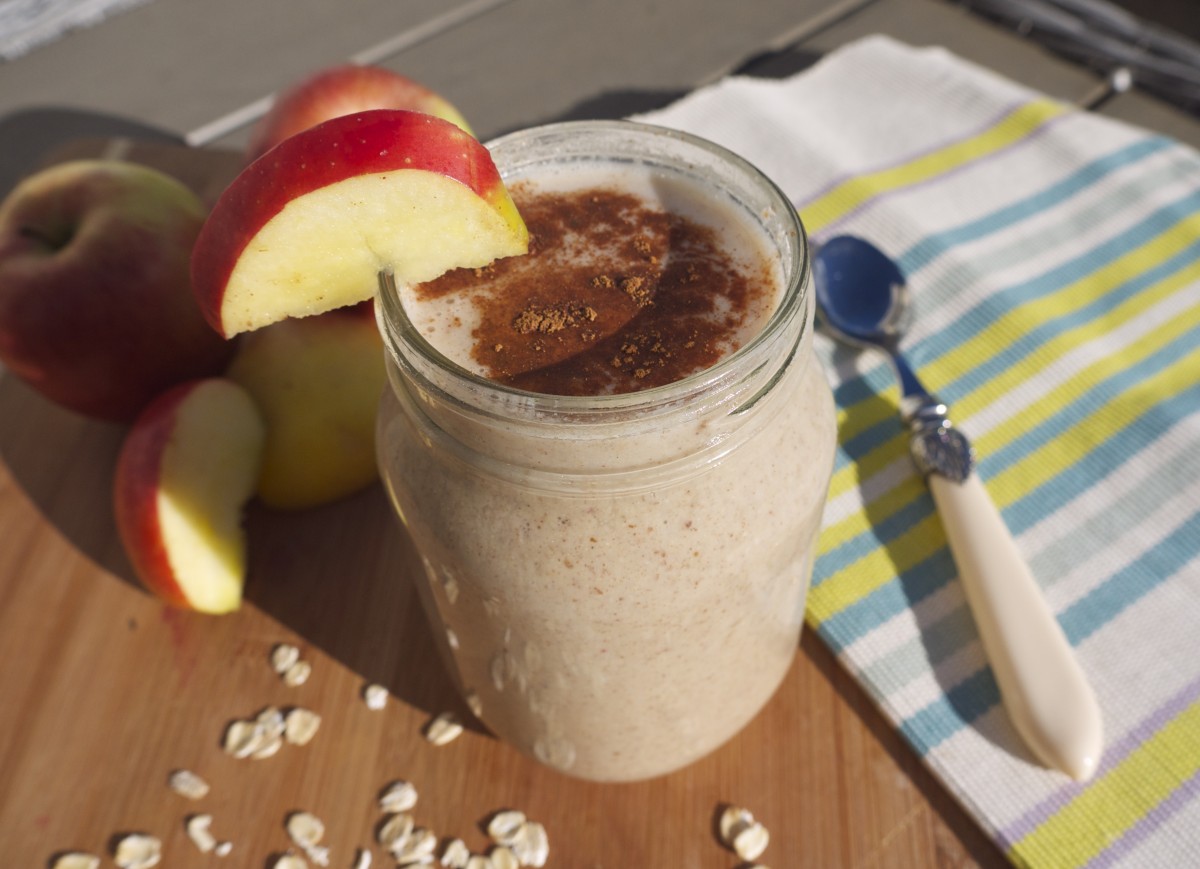 I only got home at 1am, and then was up early this morning for a shoot, which meant that breakfast was a pretty rushed affair. I hadn't eaten anything substantial last night as by the time I got home I was too tired to make any food. Pretty sure the whole neighbourhood could hear my tummy rumbling this morning!
As you probably know, breakfast is a super important meal. It breaks the overnight fast, floods your body with nutrients for energy production, amongst numerous other functions, and it kickstarts your metabolism into gear.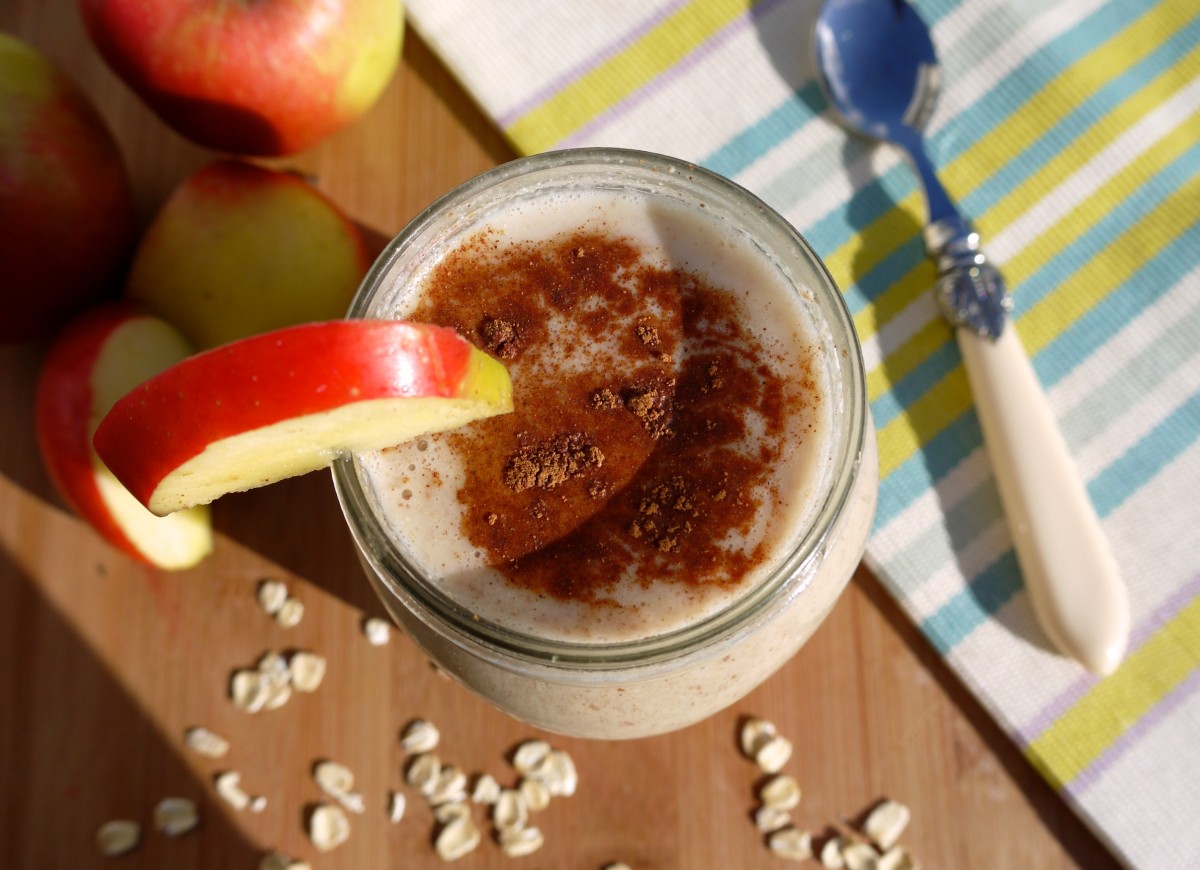 So it's not a great idea to skip breakfast as it can lead to snacking on unhealthy foods later in the morning, but when you're in a huge rush and hungry, a great solution is to make a filling breakfast shake, like this apple pie version 🙂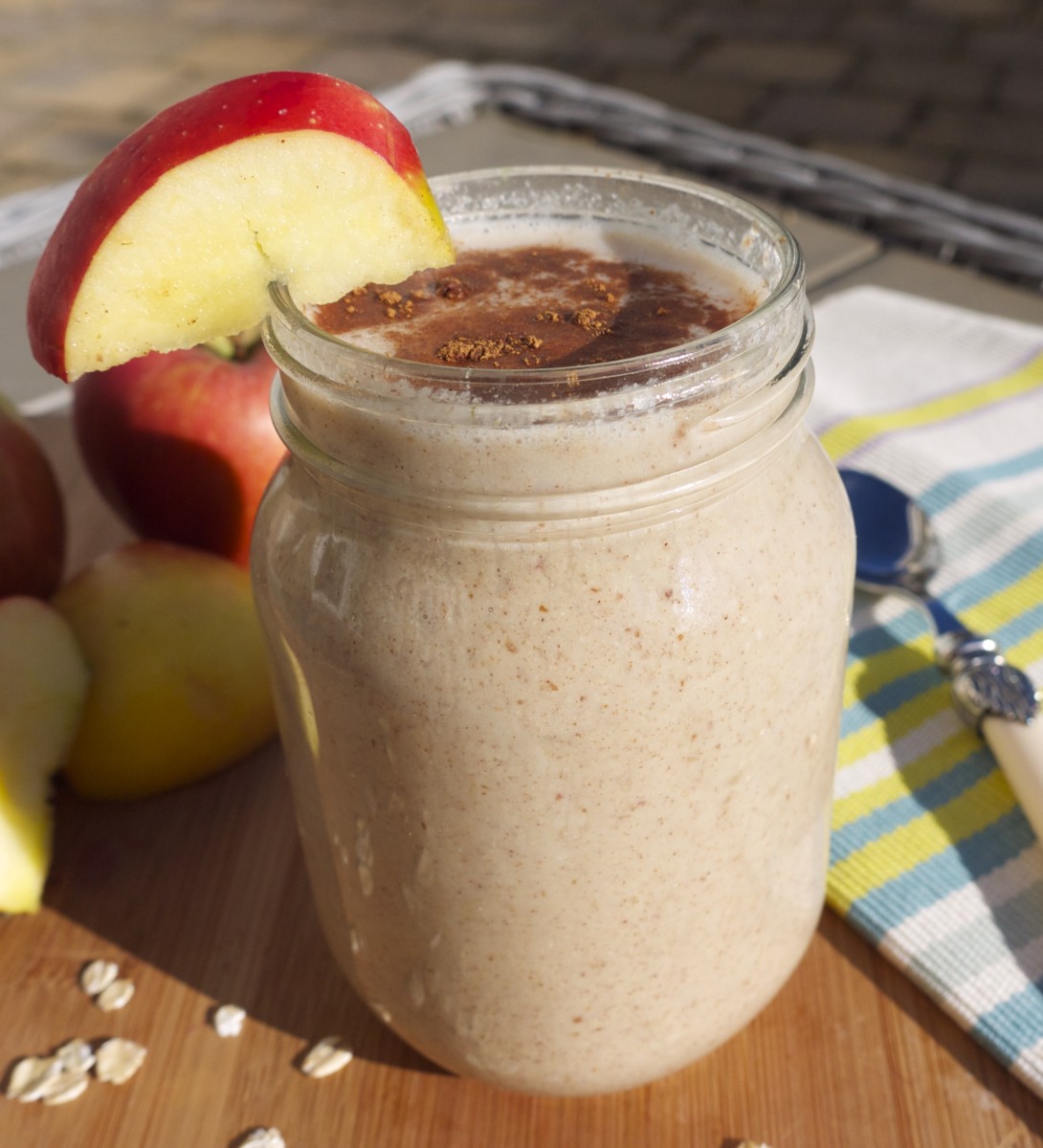 The idea with this recipe was to create a morning smoothie that can even be whizzed up the night before and stored in the fridge in a bottle or jar to grab in the morning.
I designed it to contain protein, complex carbs, essential vitamins and minerals, fibre, antioxidants and healthy omega-3 fats. Plus it needed to be filling and tasty!
I love this thick and creamy shake because it tastes like a dessert, thanks to the addition of cinnamon. The mineral chromium in cinnamon is useful for blood sugar control, and the spice can really help to lessen sugar cravings.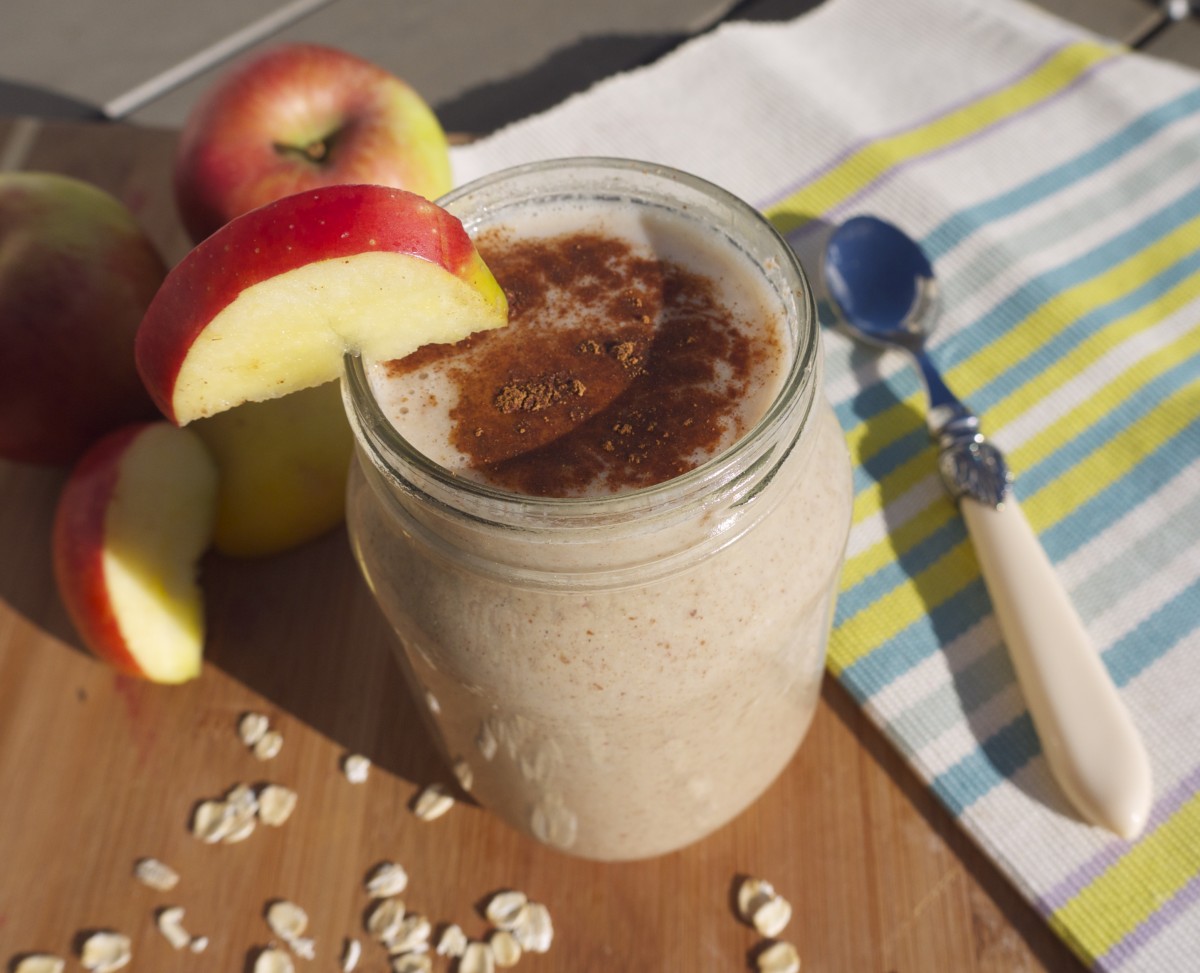 The combination of raw almond butter, flaxseed and oats help to make this a hearty and healthy quick breakfast option. So much goodness in one glass!
Let me know if you give this breakfast shake a go and I love to see all your creations on social media! Simply tag #RosannaDavisonNutrition on Instagram or Twitter or come on over to my Facebook to say hello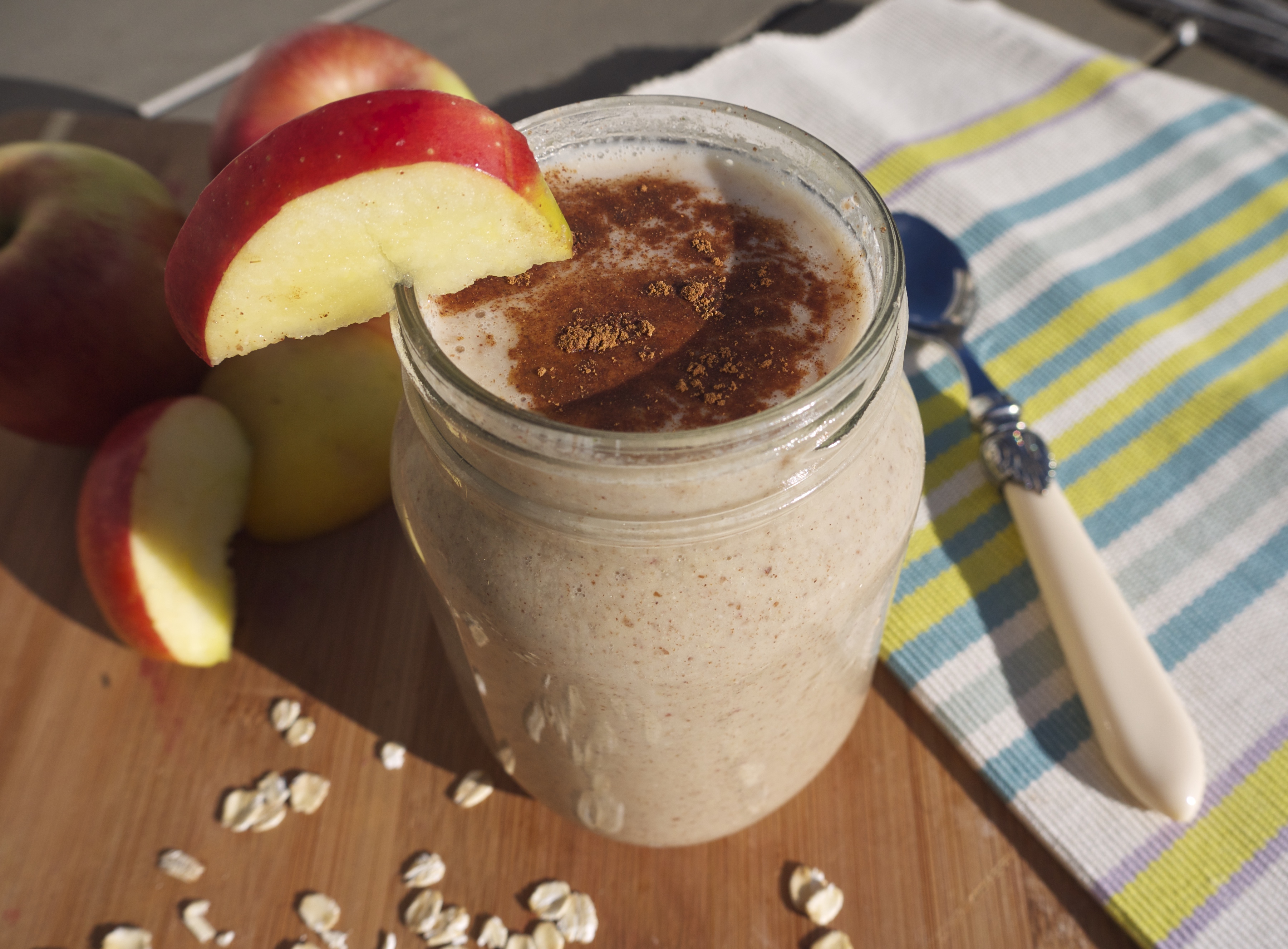 Apple Pie Breakfast Shake
2015-03-11 16:22:44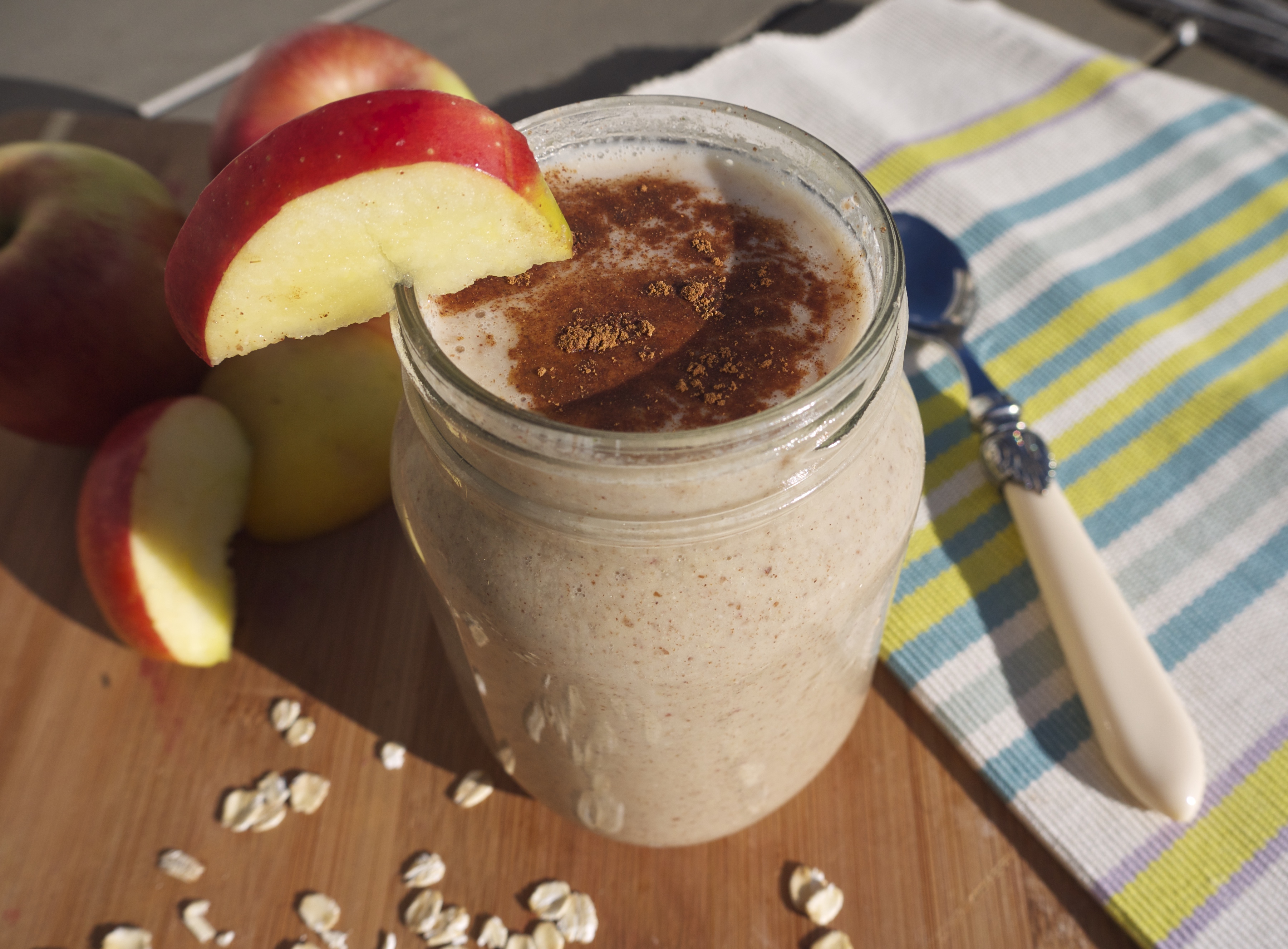 Serves 1
A simple yet satisfying shake, ideal for a breakfast on the go. Packed with complex carbs, omega-3 fats, fibre and protein to stabilise blood sugar levels and keep you feeling full all morning!
Ingredients
1 medium apple, rinsed
1 ripe banana
1 tbsp gluten-free oats
2 tbsp milled flaxseed
1 tsp smooth almond butter
125ml (1/2 cup) unsweetened almond milk
1 tsp cinnamon
1 tsp vanilla extract
4-5 drops liquid Stevia, or to taste
3 ice cubes
Instructions
Place all ingredients in a blender and combine until smooth and creamy.
Taste and add more cinnamon/vanilla/liquid Stevia, if required.
Notes
Any leftovers can be stored in an airtight container in the fridge for up to 2 days.
Rosanna Davison Nutrition https://www.rosannadavisonnutrition.com/