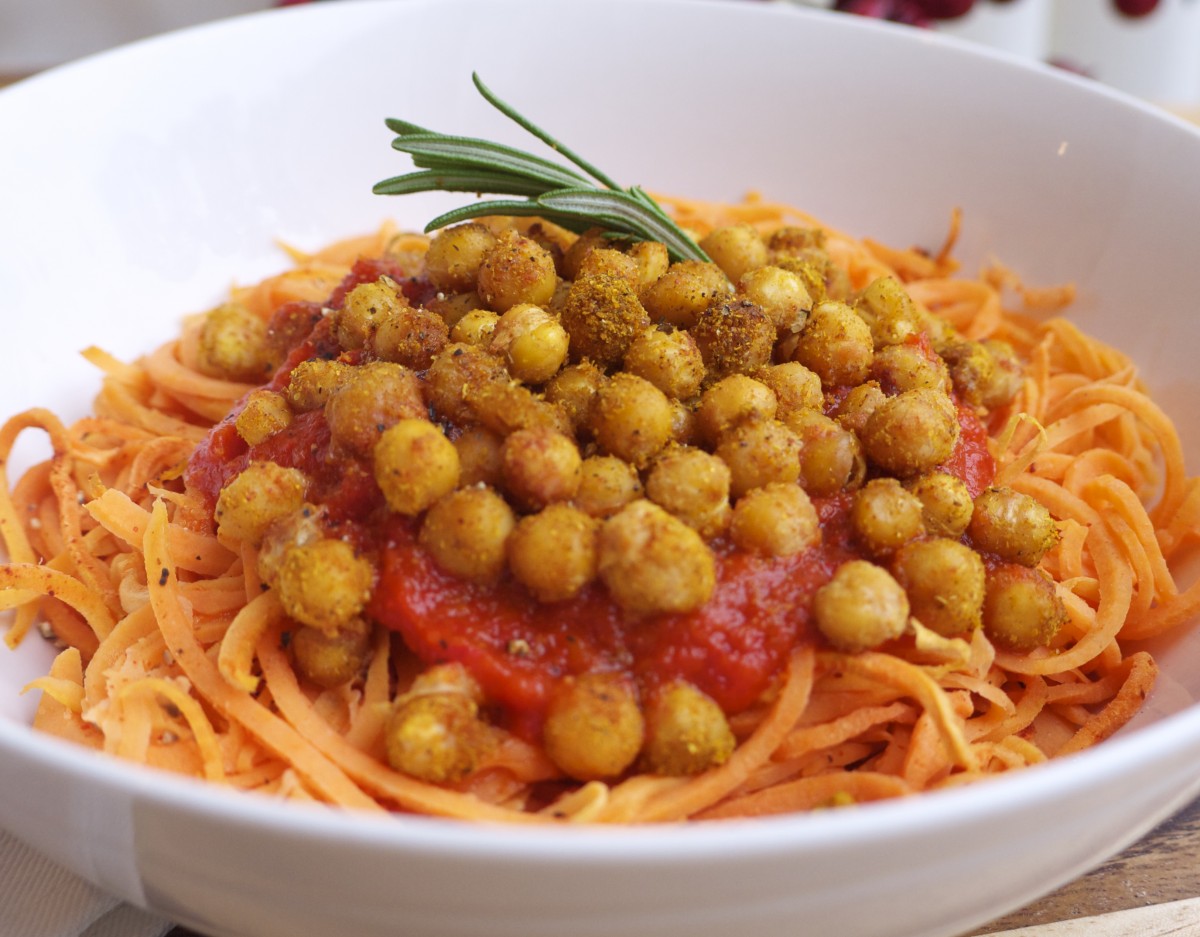 I'm definitely a little bit obsessed with spiralising stuff! It's such a great way to change up meals and make foods more interesting, and especially when you can easily add different sauces and toppings.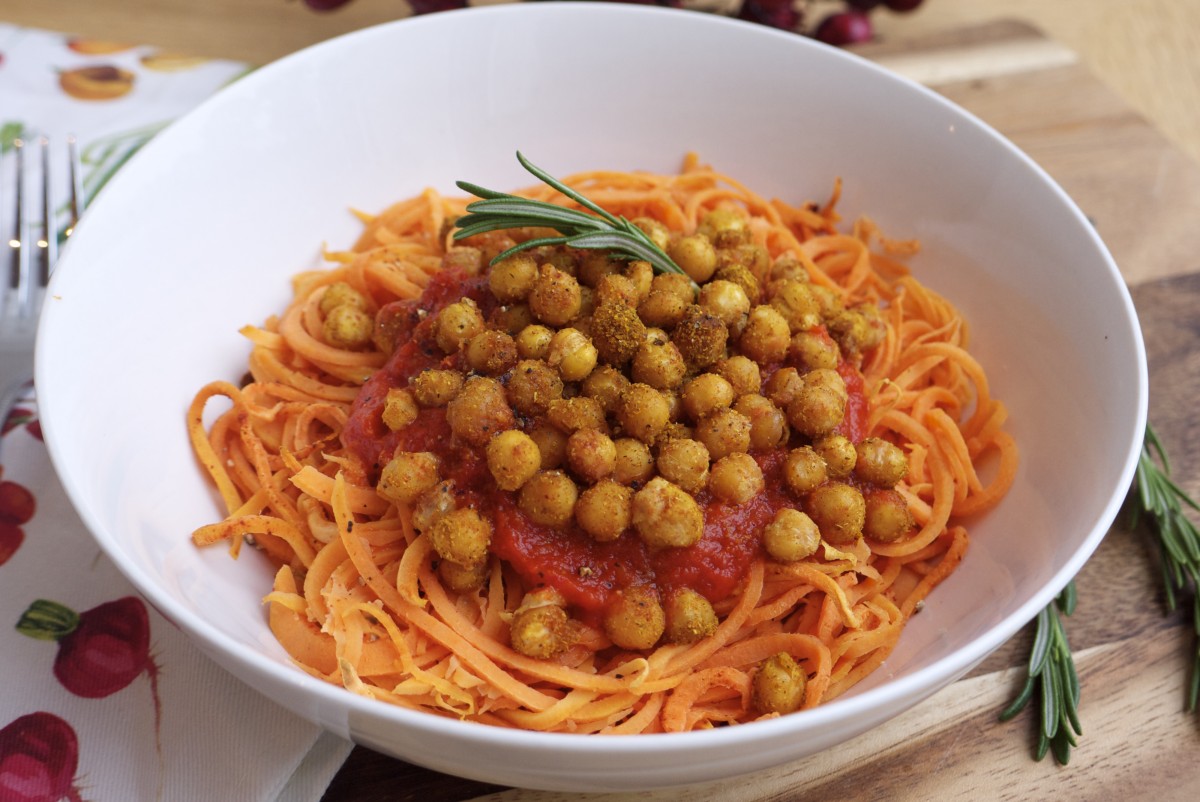 This baked sweet potato noodle dish made a delicious lunch during the week, and I had loads leftover for dinner too.
I had opened the fridge to find little more than a couple of sweet potatoes that weren't getting any younger, a carton of cooked chickpeas, a packet of red peppers and a tube of tomato puree. So this colourful creation was born.
I love that this meal contains plenty of healthy complex carbs and beta-carotene from the sweet potato, to boost energy levels and keep your skin looking healthy and bright. The chickpeas proved plenty of plant-based protein and loads of fibre for a healthy digestive system… and a flatter tummy!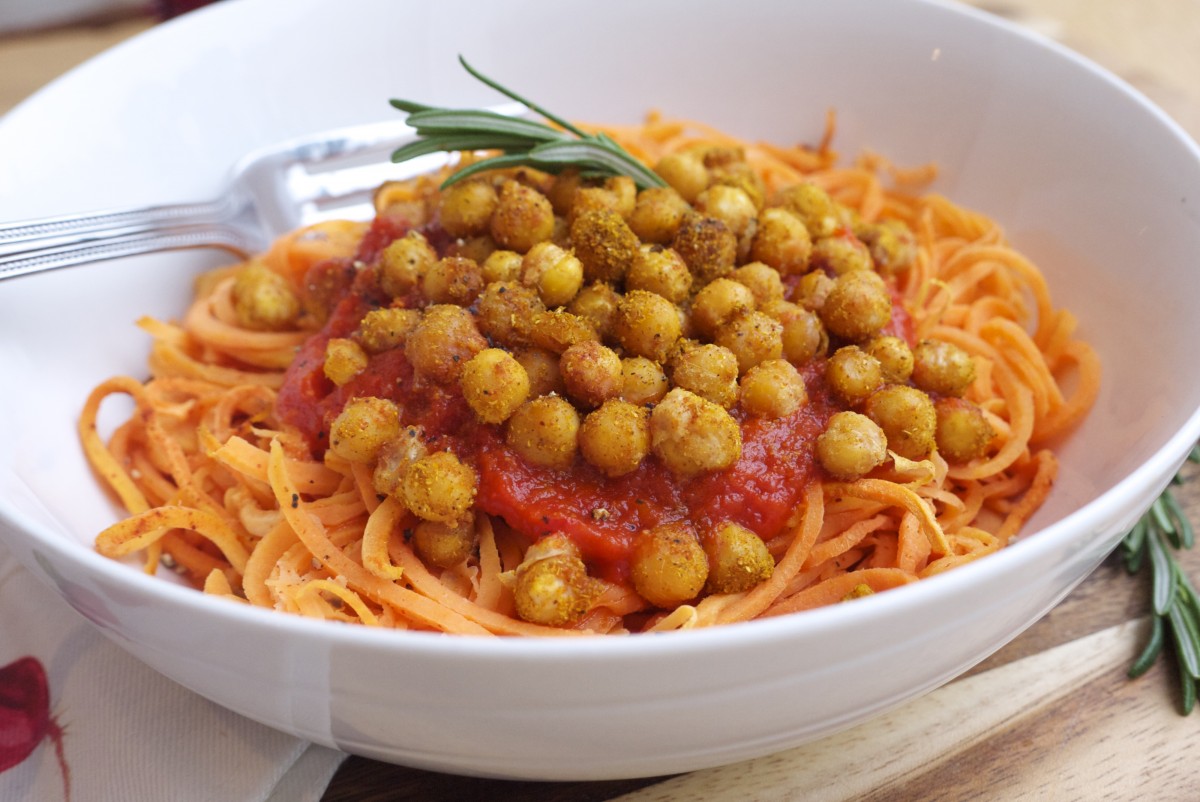 I bought this Lurch Spirali Spiraliser on Juicers.ie (€37.99) a few years ago, and it's been a brilliant investment as I've used it to make everything from courgette noodle dishes, to spiralised apple, cucumber and carrots. It works brilliantly with firmer fruit and veg, and I've enjoyed getting creative with sweet and savoury meal ideas. If you don't have a spiraliser, then you could use a vegetable peeler instead.
The spicy roasted red pepper sauce was so simple to whizz up at home using my blender, and the chickpeas were similarly straightforward. To create the cheesy flavour on the chickpeas, I used a sprinkle of fortified Engevita Nutritional Yeast (€5.20). This is an inactive form of yeast, which works very well in a huge range of recipes to add flavour and nutrients. It has a nutty, cheesy flavour and is a brilliant dairy-free alternative to parmesan, rich in protein, minerals, B vitamins for energy and fortified with zinc to support your immune system.
I love it so much and sprinkle it on everything!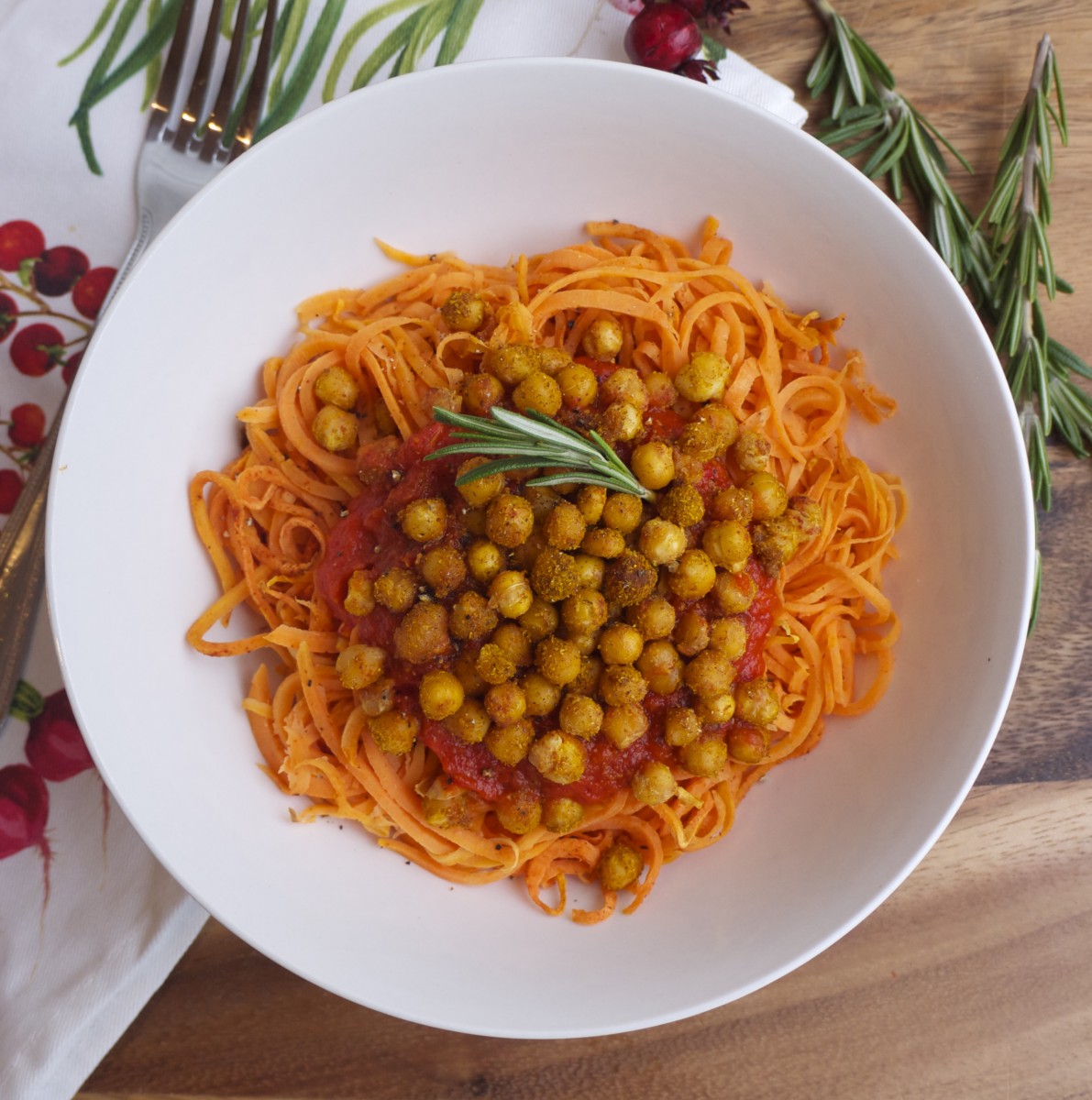 I would love to know if you get a chance to make these Baked Sweet Potato Noodles! Simply tag #RosannaDavisonNutrition on Instagram or Twitter or come on over to my Facebook to say hello 🙂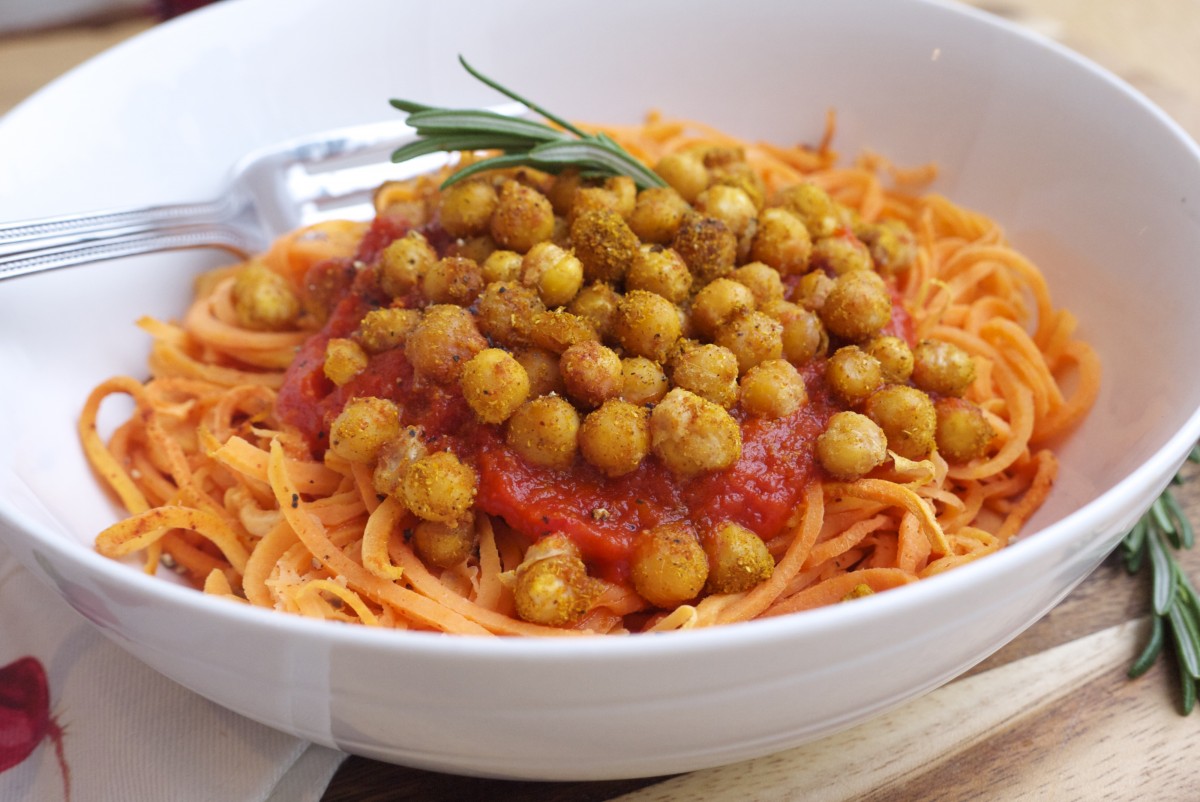 Baked Sweet Potato Noodles with Spicy Roasted Red Pepper Sauce and Cheesy Curried Chickpeas
2015-12-15 15:26:26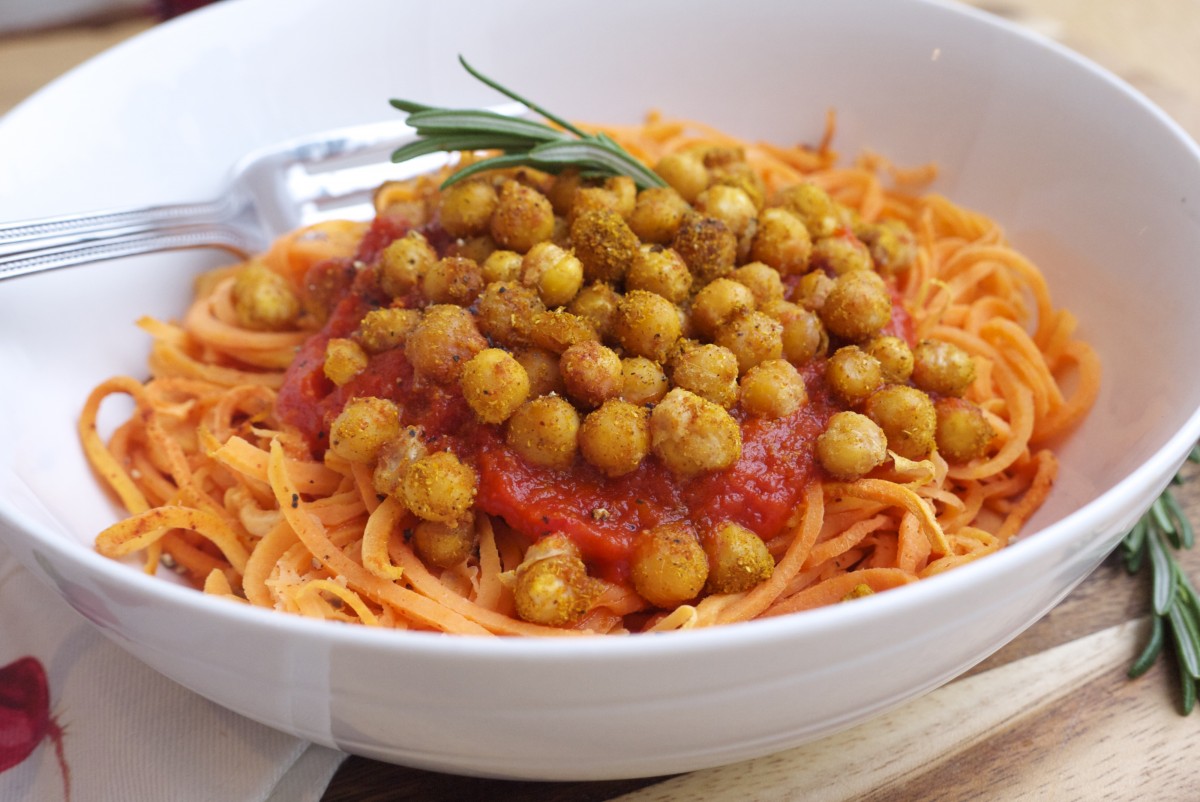 Serves 2
Easy to make, filling and so delicious! The perfect, nutritious lunch or dinner.
For the noodles
virgin coconut oil, to grease
1 large or two medium sweet potatoes
1 tsp smoked paprika
pinch of sea salt and black pepper, to taste
For the chickpeas
165g (1 cup) cooked chickpeas
2 tsp coconut oil
2 tbsp nutritional yeast
2 tsp curry powder
For the sauce
2 red bell peppers
2 tsp tomato puree
1 tsp ground cumin
1 tsp smoked paprika
pinch of cayenne pepper or dried chilli flakes
pinch of salt and pepper, to taste
Instructions
Preheat the oven to 190C and lightly grease a baking tray with coconut oil.
Peel the sweet potato and cut off the pointed ends.
Process the sweet potato through the spiraliser or vegetable peeler, to create noodles.
Spread the noodles out on the tray and sprinkle with smoked paprika, salt and pepper.
Bake the noodles at 190C for 15-20 minutes, until they begin to turn golden-brown. I tossed them with a fork a few times as they were baking to turn them over.
To prepare the chickpeas, drain and rinse them well and place them in a small mixing bowl. Drizzle the melted coconut oil on top, then add the nutritional yeast and curry powder and mix well, ensuring the chickpeas are well coated. Lay them out on a baking tray, lightly greased with coconut oil.
To make the sauce, simply rinse the peppers, remove their core and seeds carefully with a sharp knife, and place them on a baking tray. I used the same baking tray as the chickpeas to save space in the oven.
Roast the chickpeas and peppers for 20 minutes, until the chickpeas turn crisp and golden-brown. Remove from the heat.
Place the peppers into a blender or food processor and add the tomato puree, ground cumin, smoked paprika, cayenne pepper/chilli flakes and seasoning. Blend until a smooth sauce forms. Taste and adjust seasoning, if desired.
Assemble the sweet potato noodles in serving bowls, top with the sauce and chickpeas and serve warm.
Notes
Any leftovers can be stored in an airtight container in the fridge for 2-3 days.
Rosanna Davison Nutrition https://www.rosannadavisonnutrition.com/