I'm ALL for simplicity when it comes to my food, and faffing around the kitchen for hours is definitely not my idea of fun…. but simplicity must also taste delicious and deliver all the nutrients your body needs 😉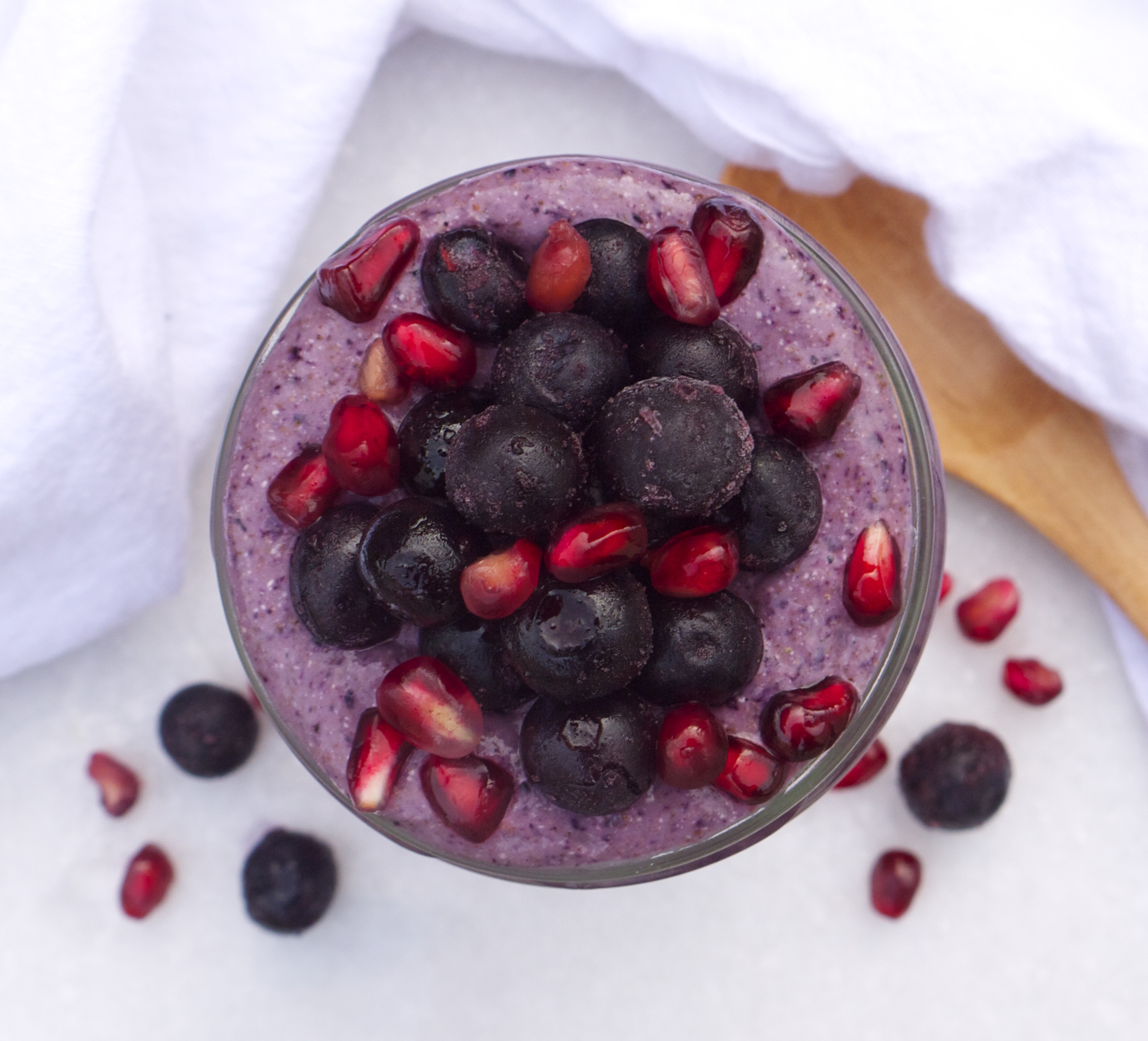 This Blueberry Chia Protein Pudding is a little different to most of the other chia pudding recipes I've shared, but I think it looks better, tastes better and contains even more protein and antioxidants!
In fact, it's a bit like a cross between a smoothie and a pudding. But I love the thick, smooth creamy texture and it's so easy that I'm almost embarrassed to dedicate a whole post to it.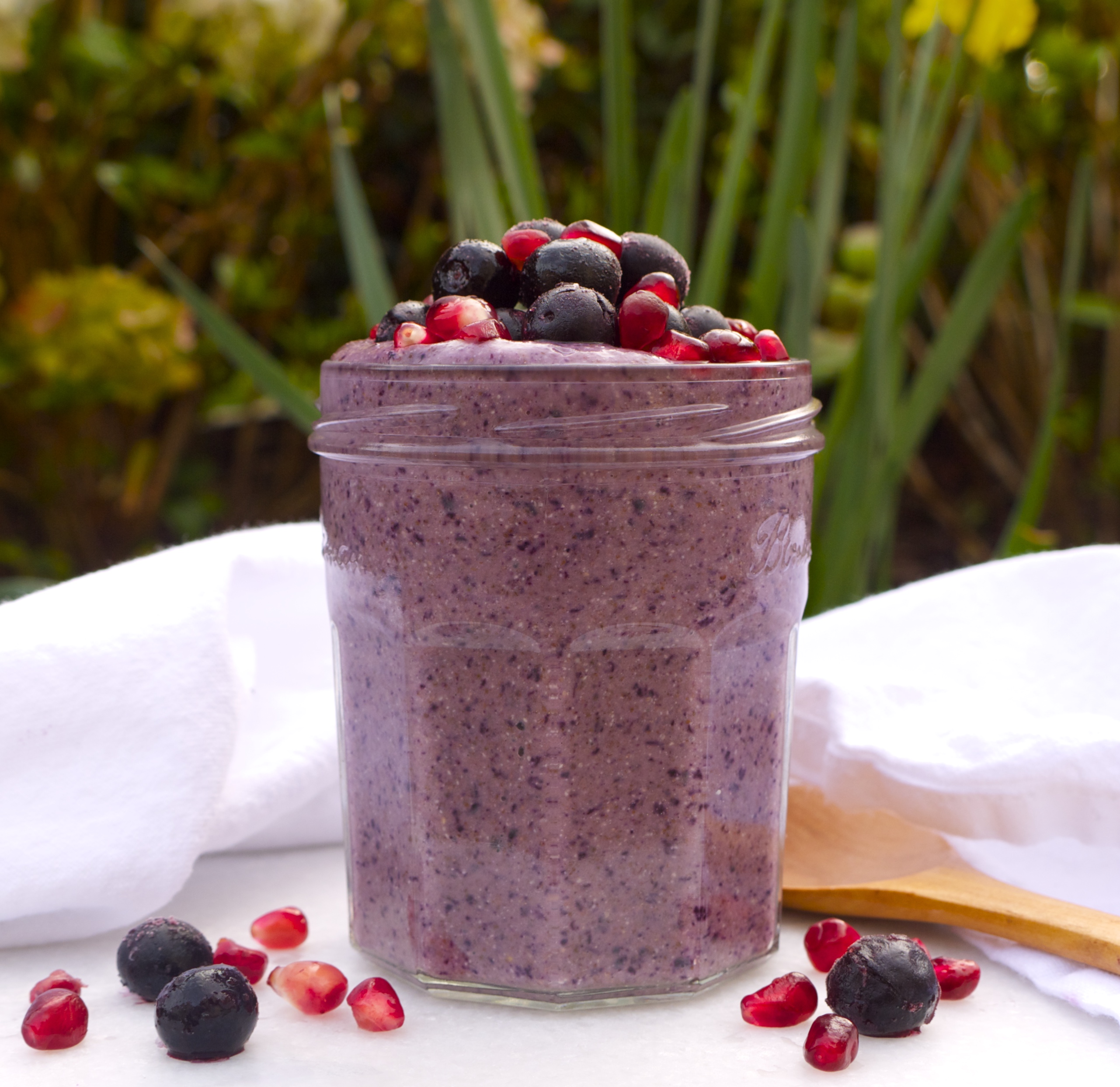 After a challenging workout yesterday, I was starving and in need of something sweet, cold and filling to cool me down and begin the process of muscle repair. Chia is a brilliant source of protein, fibre, antioxidants and minerals including calcium and iron, so it makes the perfect post-training food. Antioxidants are crucial after strenuous exercise, as your body naturally releases free radicals into your system. The antioxidants are needed to mop up these free radicals to protect your cells from damage and premature ageing. Blueberries, pomegranates seeds and types of berries are jam-packed with protective antioxidants!
I added a scoop of vanilla Sunwarrior protein powder to the mix, plus some vanilla powder and unsweetened almond milk for a yummy, sweet, creamy milkshake flavour with absolutely no refined sugar 🙂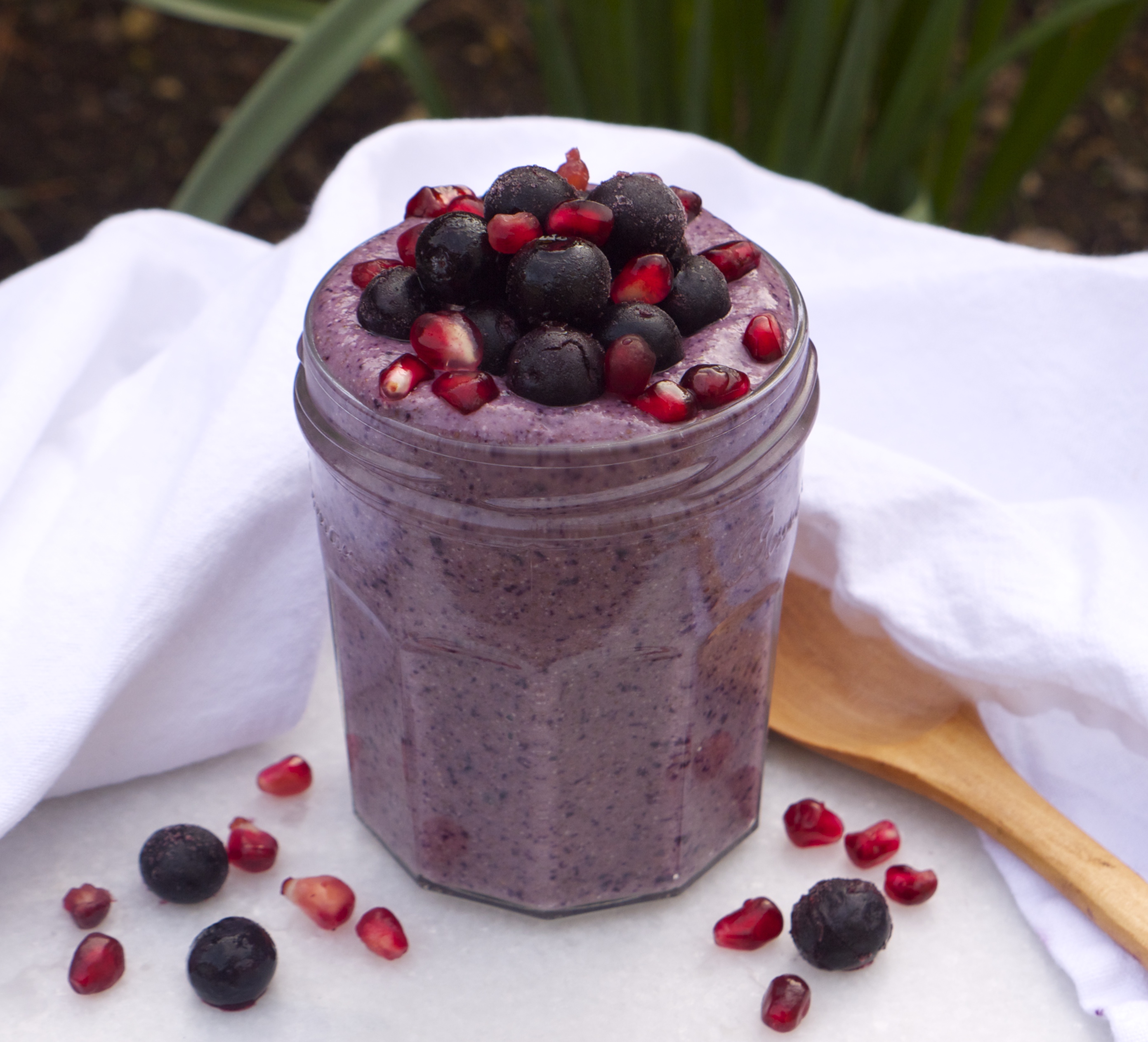 I would love to know if you get a chance to make this Blueberry Chia Protein Pudding! Simply tag #RosannaDavisonNutrition on Instagram or Twitter or come on over to my Facebook to say hello 🙂
Blueberry Chia Protein Pudding
2016-03-11 16:08:28
Serves 1
The perfect breakfast or post-workout snack packed with protein, fibre, essential omega-3 fats, vitamins and minerals. Plus it's super simple to make, looks great and tastes delicious! Nutrition Information: 320 calories, 22.5g protein, 36g carbs, 12.6g fat, 15.1g fibre
Ingredients
3 tbsp whole chia seeds
125ml (1/2 cup)unsweetened almond milk (or your favourite plant milk)
125g fresh or frozen blueberries
1 tsp vanilla extract or vanilla powder
1 scoop vanilla Sunwarrior protein powder (or your favourite protein powder)
Pomegranate seeds, to decorate or your favourite fresh fruit, nuts or seeds (optional)
Instructions
Place the chia seeds in a small bowl and top with the almond milk. Stir well to ensure all the seeds are fully submerged. Leave aside for ten minutes to thicken and set into a chia pudding.
Mix the chia pudding again well and transfer it to a blender. Add the blueberries, vanilla and protein powder and blend until smooth.
Place it in a serving bowl, glass or jar, top with blueberries and your favourite nuts, seeds or fresh fruit and serve chilled.
Notes
Any leftovers can be stored in an airtight container in the fridge for 3-4 days.
Rosanna Davison Nutrition https://www.rosannadavisonnutrition.com/