Ice-cream! And Cake! Two of my favourite things in one ridiculously easy and delicious recipe. Oh yes!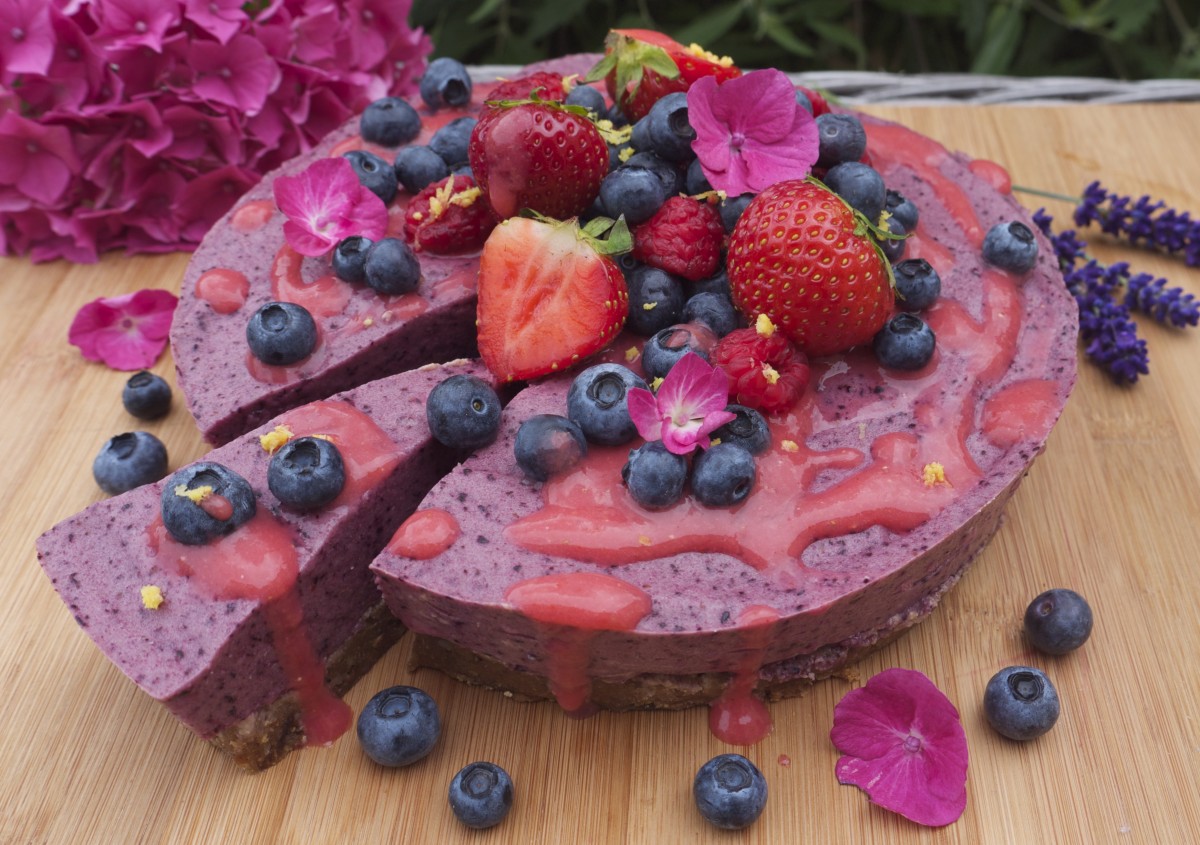 I came up with this idea yesterday as it was warm and sunny outside (for Ireland anyway!) and I fancied something cold and sweet, but healthy. I had a quick poke around the kitchen cupboards and freezer, and assembled the various ingredients for the base and ice-cream.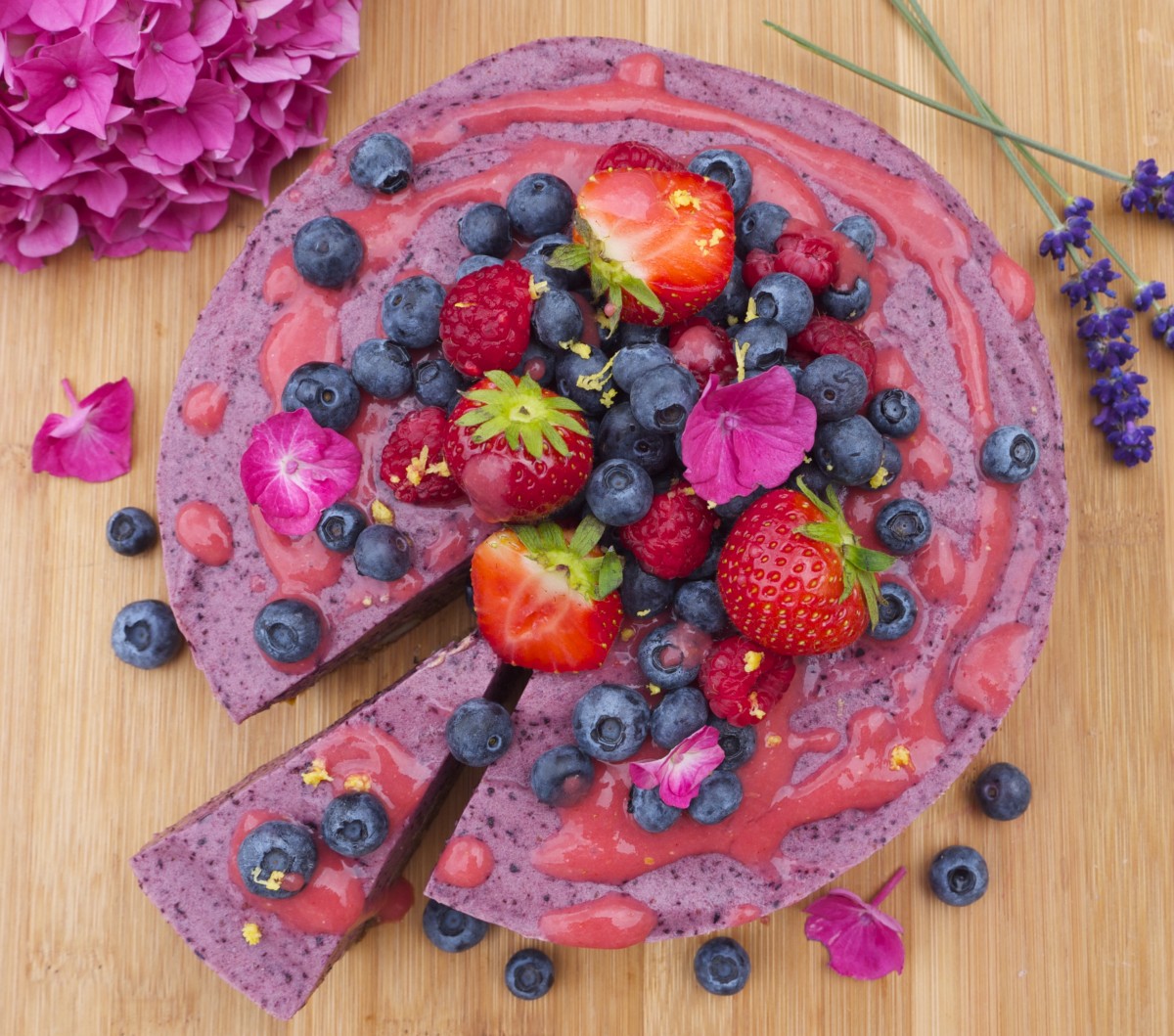 I always keep a container full of peeled and frozen bananas in the freezer for when I feel like making 'ice-cream'… did you know that when blended, frozen banana are almost identical in texture to real ice-cream? Aha!
They also pair extremely well with a wide range of flavours, and in this case it's blueberry and lemon. You may have gathered from my recipes on this site that I'm berry-obsessed! I always keep fresh and frozen ones in my house as I seem to use them in smoothies, salads, pancakes, desserts…. almost everything! They're nature's candy in a nutritionally perfect package, rich in antioxidants to keep your cells healthy and help delay the ageing process. Hurrah!
Berries are also amongst the lowest sugar fruit for those following a low-carbohydrate diet or the later phases of an anti-candida diet… plus they look so pretty and summery piled high on this cake 🙂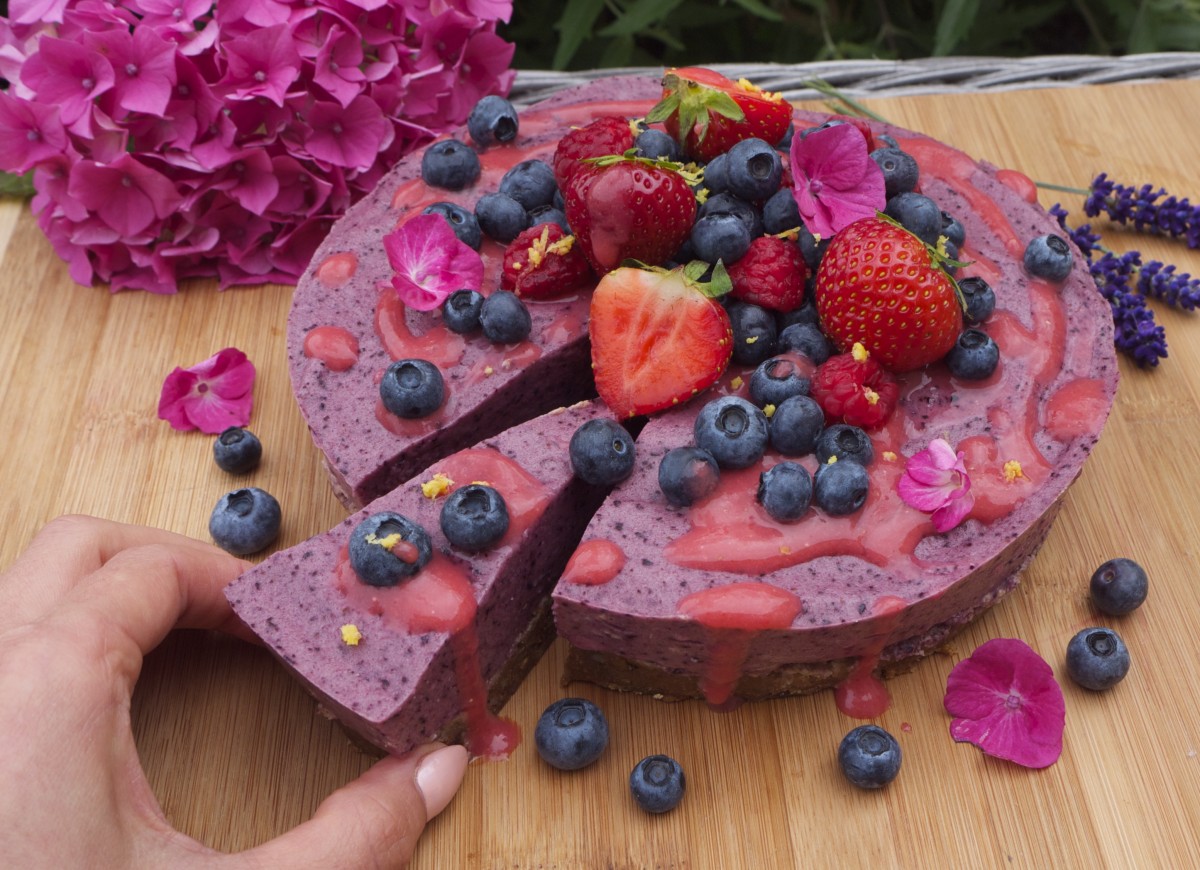 In even more good news, this recipe is completely raw and plant based, and free from ingredients like refined sugar, dairy, gluten and artificial ingredients. So your body will love this cake hopefully as much as your taste buds will!
The base is made from a few simple and nutritious ingredients, including macadamia nuts, dates, coconut oil, almond butter and cinnamon. All you need is a food processor! The 'ice-cream' is simply blended frozen bananas, blueberries, lemon juice, vanilla and a dash of coconut milk to blend. I believe that simplicity is always best when it comes to creating dishes, as eating food as close to its natural form as possible will benefit our body and mind the most 🙂
The fun part is decorating the cake with juicy berries, and I even used some flowers from the garden. The pink sauce is just fresh strawberries blended with a touch of Koko coconut milk and vanilla extract, which makes a deliciously sweet drizzle. Then some grated lemon zest adds a final pop of colour!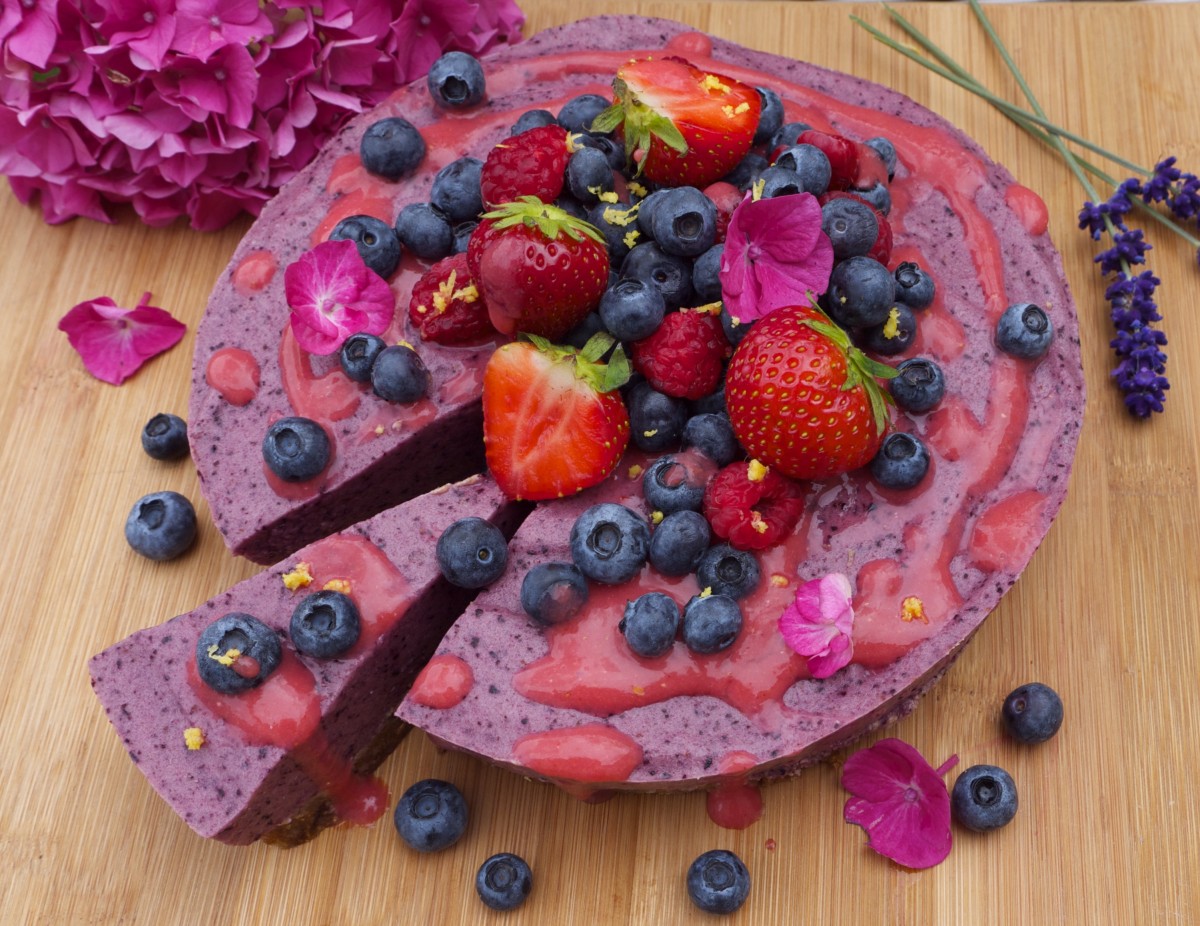 Let me know if you give this ice-cream cake recipe a go and I love to see all your creations on social media! Simply tag #RosannaDavisonNutrition on Instagram or Twitter or come on over to my Facebook to say hello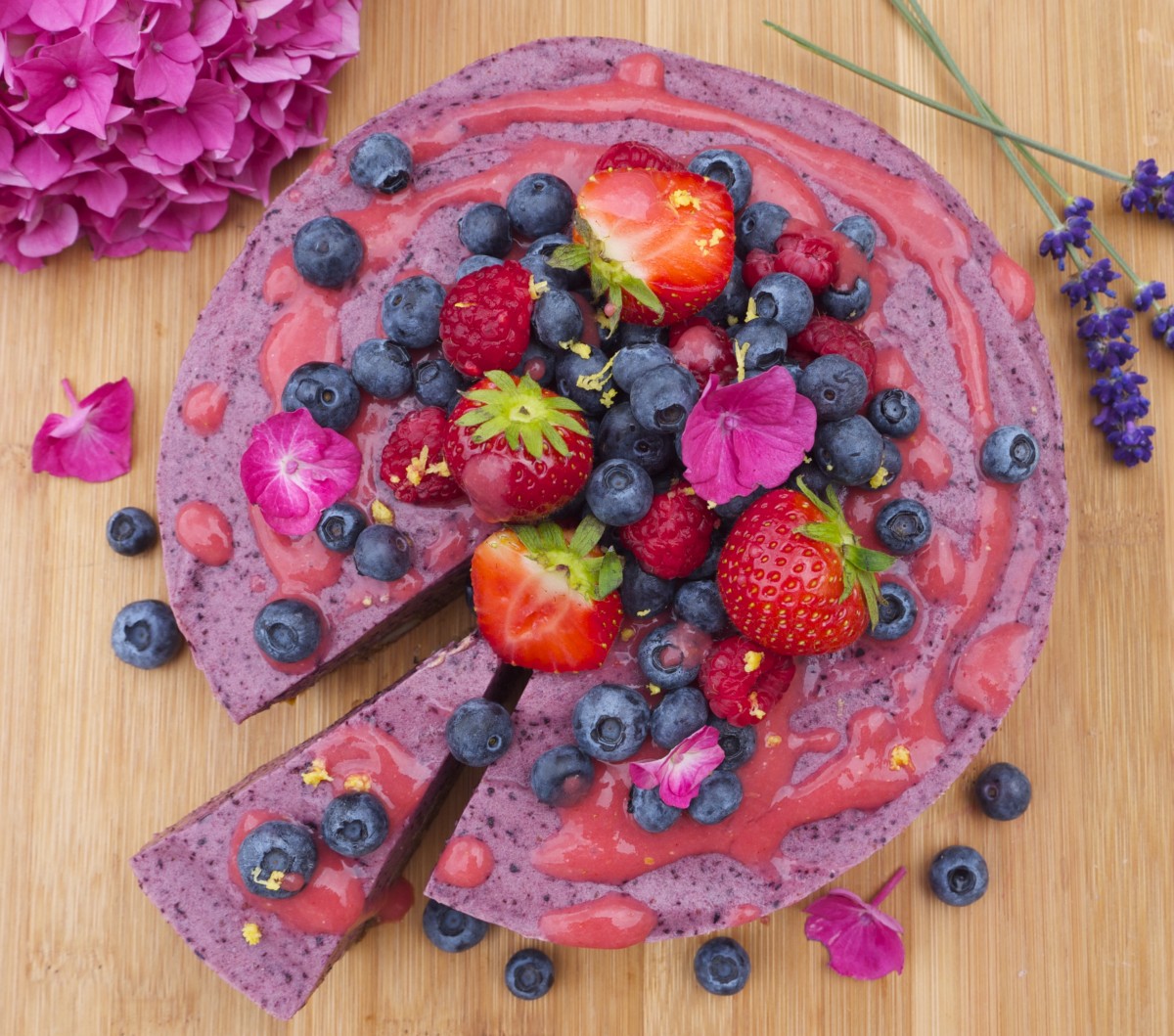 Blueberry and Lemon Ice-Cream Cake
2015-07-26 22:35:12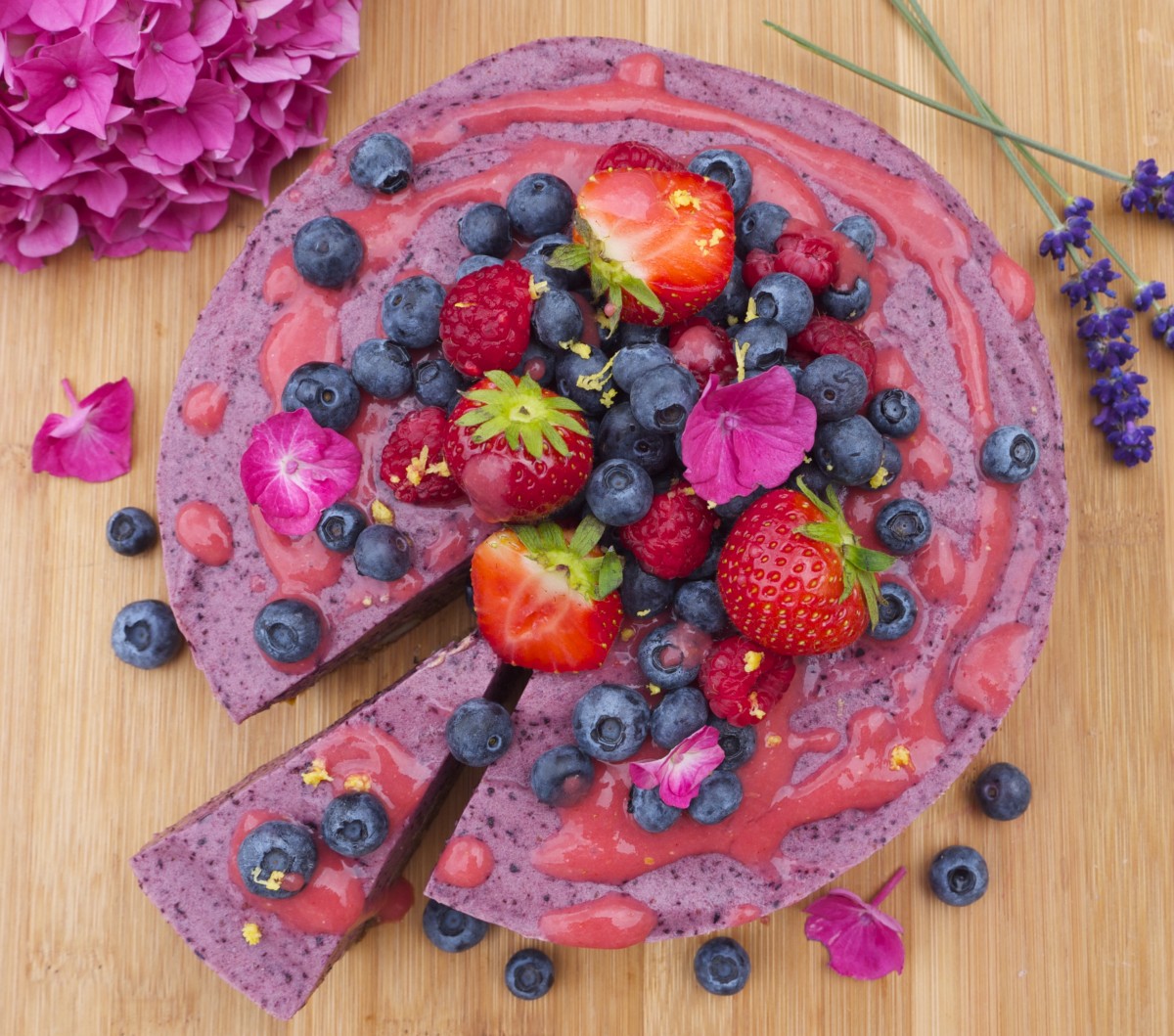 Serves 6
Cold, sweet and full of goodness, this ice-cream cake makes the perfect summer dessert!
For the base
250g pitted dates, soaked in hot water for 20 minutes to soften
100g raw unsalted macadamia nuts
2 tbsp coconut flour
1 tbsp coconut oil (at room temp.)
1 tbsp almond butter (cashew nut butter or hazelnut butter would work well here too)
2 tsp cinnamon
2 tsp vanilla extract
For the ice-cream layer
5 bananas, peeled, chopped and frozen for at least 2 hours
150g (1 cup) fresh or frozen blueberries
2 tsp vanilla extract
the juice of 1 fresh lemon (save the rind for decoration)
low-fat coconut milk, to blend
For the strawberry sauce
4-5 large strawberries
1 tsp vanilla extract
dash of coconut/almond milk, to blend
Fresh berries, to garnish
Instructions
To make the base, drain the soaked dates well and place all ingredients into a food processor fitted with an S blade.
Blend until ingredients are well combined and have formed a sticky 'dough'.
Press the dough down into a round medium-size springform or rubber cake tin and place it into the freezer to set for 20-30 minutes.
To make the ice-cream, blend all ingredients together in a blender, using a dash of coconut or unsweetened almond milk to help blend. It should resemble thick ice-cream when properly combined.
Remove the base from the freezer and pour on the ice-cream layer, ensuring it's smooth and even across the top.
Replace it into the freezer and allow it to set for about another 60 minutes until firm to touch.
Make the pink strawberry sauce by blending the strawberries with vanilla extract and a dash of plant milk until smooth.
Decorate with berries and grated lemon zest, drizzle with the strawberry sauce and serve chilled.
Notes
The cake is best eaten on the day it's made, and ideally stored in the freezer.
Rosanna Davison Nutrition https://www.rosannadavisonnutrition.com/