Choosing an engagement ring for that special someone is one of the most exciting, emotional times of your life as you prepare to propose and become engaged. Choosing the perfect ring can be a very difficult process though, with a lot of tough choices to make, like the size, the metal, the stone and the cut. Making the right decision doesn't have to be quite so stressful though, if you do some research first and go ring shopping well prepared. As this guest post explains, buying an engagement ring should be enjoyable and exciting, not stressful and frustrating.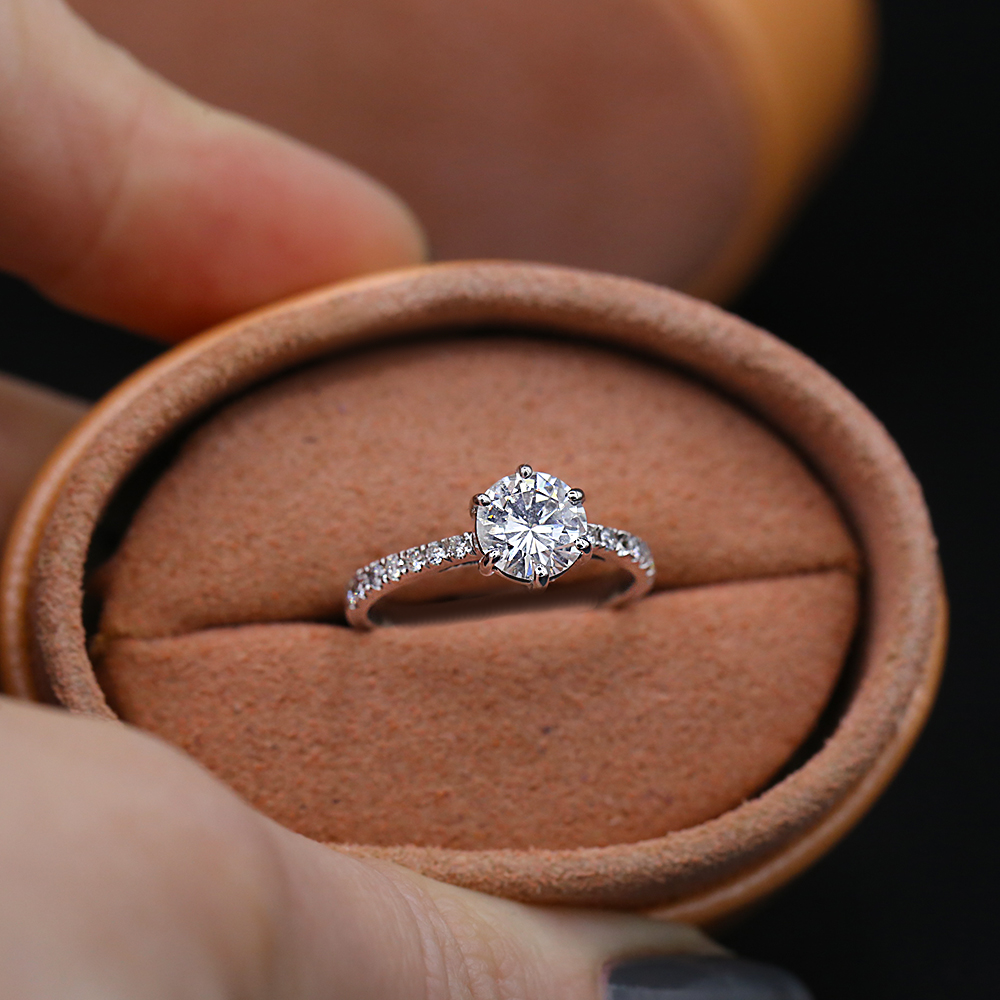 Getting The Style Right
Start by looking at the jewellery your partner already wears day to day. Do they seem to favour a particular metal, like rose gold or platinum? Do they wear very simple, delicate pieces or do they like big, bold, chunky jewellery? Do they go for pieces with a particular kind of stone in, like emeralds, or do they favour particular colors? The pieces of jewellery that they already wear the most will give you a good insight into their taste, helping you to choose an engagement ring that they are more likely to like.
Another good trick to work out what their taste is like is to start paying attention to what they say about the engagement rings of friends and family. If someone you know has recently got engaged and your partner has seen the ring, pay attention to their reaction to the ring. What they say to you about it is a good indication of what they might like for themselves.
If you're really stuck and don't mind revealing to others that you're planning to propose, you could ask their friends or family for some suggestions about the kind of ring they would appreciate. Has your partner ever pointed out a dream ring to their best friend for example, or have they always admired their grandmother's engagement ring?
People close to your partner could give you some good insight into the perfect engagement ring to choose to wow your partner when you ask the big question.
Getting The Size Right
Remember that you can always have rings resized, so don't panic too much about getting the size exactly right. It's easier to have rings made smaller than it is to enlarge them, so if in doubt, go a little bigger than you think you might need. You can ask them to marry you with the ring, and then after the proposal, you can have the ring resized to fit perfectly on their finger.
Get an idea of the size by borrowing a ring they already wear and taking it to a jeweller to be measured for the size, or using a ring sizer yourself. If your partner doesn't currently wear any rings on their ring finger, choose a ring that you know which hand and finger they wear it on. A good jeweller will be able to use the size of that ring to work out an approximate size for their ring finger. If this isn't quite right, you can have the ring adjusted afterwards, but it should be enough to at least propose with a ring you can put on their finger.
If you've been talking about marriage with your partner, you could also just ask them to get the ring size measured. The ring and the proposal itself will still be a surprise, but you'll know the ring will fit properly.
Choose The Stone Shape
The shape of the stone can make a lot of difference to the look of the ring. The most traditional cut for a diamond engagement ring is the round shape, as it gives the stone a lot of sparkle. For something quirkier, pick a radiant shape, which has flat corners. Oval shapes are very classic, whereas the emerald shape gives a vintage look. Princess is another popular option for the shape of the stone in an engagement ring. Cushion is very similar, but with softer edges. For an unusual ring, choose pear, trillion or baguette shapes. For mega sparkle, pick the marquise shape. For the hopeless romantic, there are even heart shaped stones out there.
Choose Quality
If you're going for a classic diamond ring to propose with, you want to make sure you're buying quality. You're looking for the five Cs: clarity, cut, color, carat and certificate. Almost all diamonds on the market will have some minor imperfections, but you're looking for one that is as perfect and clear as possible. To judge clarity, you can use the ​GIA clarity grading scale​.
Remember that cut and shape are different things, although both terms are often used interchangeably for the shape of the stone. Instead, when you think about cut, you need to look at the standard of how the diamond has been shaped. A better quality cut will be more expensive. A whiter diamond will also be more valuable. A good way to test for a good diamond color is to hold the ring up to the light. A good color will let the light pass through it and will give off a lot of brilliance. ​Carats ​are what is used to measure diamonds. There are 100 points in one carat.
With any diamond ring, make sure you get the proper certification with it when you buy, which should come from a diamond grading laboratory. This guarantees the quality of what you're buying.
For the band, you can choose rose gold, white gold, yellow gold or platinum. All are very popular choices. White gold shows off a diamond sparkler well, but make your choice based on the metal you already know your intended wears the most.
Buying The Ring
There are lots of online retailers now where you can buy ​engagement rings​. It's wise to visit some physical stores so you can get an idea of what different styles look like in person, but if you have a good idea of the style, there's no reason you can't buy a beautiful ring online. If you're looking for a more unusual style or a vintage ring, there are often more options online than in stores.
Wherever you buy it from, you should make sure to ask plenty of questions. What happens if your partner doesn't like it? Will they let you exchange it for another? Will they resize it if the ring doesn't fit properly? Do they offer a third party diamond certificate (the answer to this question should always be yes for somewhere trustworthy)? Are the diamonds ethically sourced? Is there a guarantee on the ring? How should it be cared for? If you shop online, these questions can usually be answered with some looking around the website or with a quick email to customer services. In store, have a good chat with the sales assistant who helps you choose the ring.
Alternative Engagement Rings
A classic diamond ring isn't for everyone. If your partner has more unusual tastes, there are lots of beautiful options for alternative engagement rings that they will treasure just as much.
Alternative stones are becoming more popular, with emeralds, sapphires and rubies being among the most common. These gemstones are the most precious and the most brilliant. A ring with these stones can be just as beautiful as the traditional diamond, but be aware that they will have different care requirements. Gemstones are softer than diamonds, so make you know how to safely clean the stone without scratching or damaging it.
Some couples now choose to mark an engagement with a set of matching bands, instead of just one person wearing a ring. Choose a set of matching bands to show that you're committed to each other.
If your partner loves all things vintage, why not choose a vintage ring instead of buying new? This can be a good choice for someone who loves a particular era of history, as you could buy a classic style from the 1930s, or whatever era they like best. Vintage rings can also be a good option for those who have concerns about the ethics of the diamond industry, as you aren't buying into the current diamond trade.
Instead of buying a ring, why not see if there is a family ring you could use. Giving someone a ring that has been in your family, such as the engagement ring of a grandmother, is very personal and is a beautiful way to propose and combine your families. A ring from either family can be very meaningful and touching.
Temporary Engagement Rings
If you're really struggling to make the choice of which engagement ring to buy, or you know that your partner has very particular tastes, you could buy a temporary engagement ring. A temporary ring would be a cheap and cheerful option that you use so you have a ring to propose with. After they accept, the two of you can go shopping together to buy a ring that you know for certain is the perfect style and fit. Shopping for the ring together can be very romantic, and ensures your partner gets a ring that they really love.