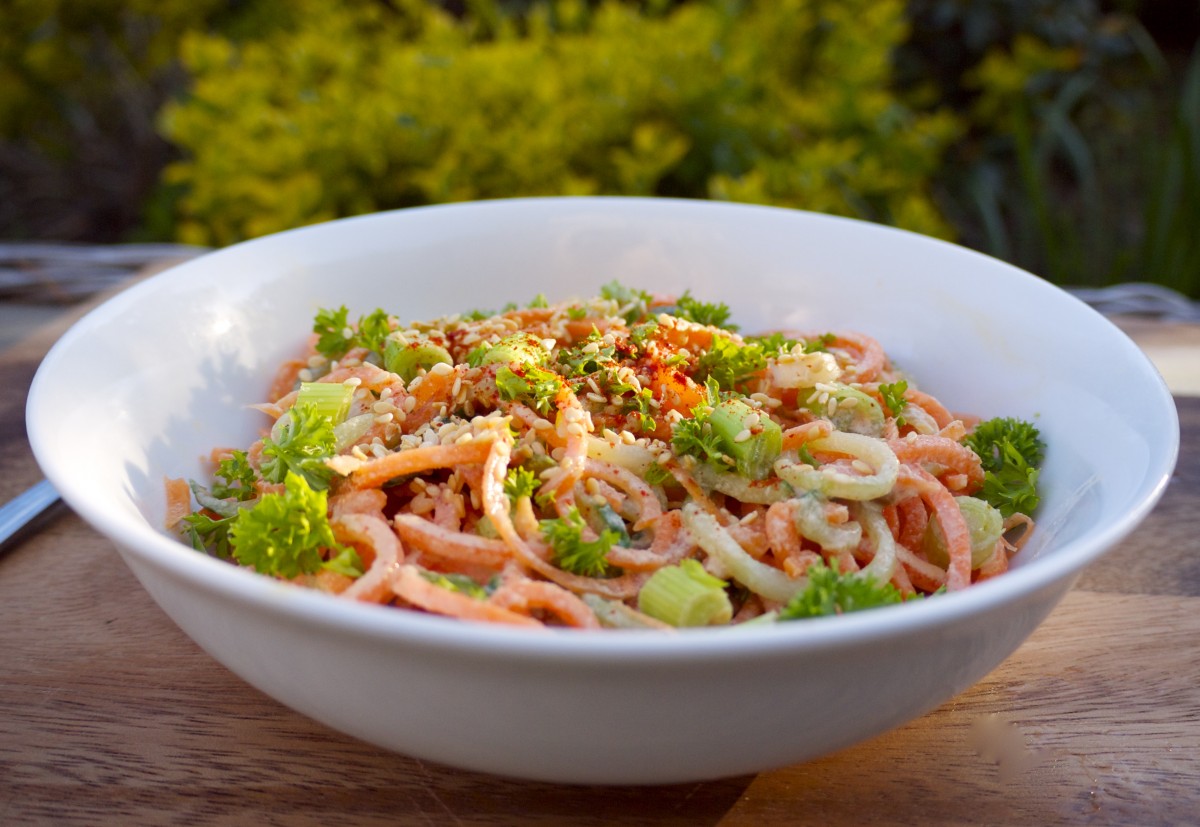 Sometimes I really crave the unique flavours of Asian dishes, which is why I wanted to create an Asian-style crunchy salad, using miso and ginger to make a creamy dressing. This salad was so delicious, and I wanted more straight after I'd eaten it for lunch a few days ago!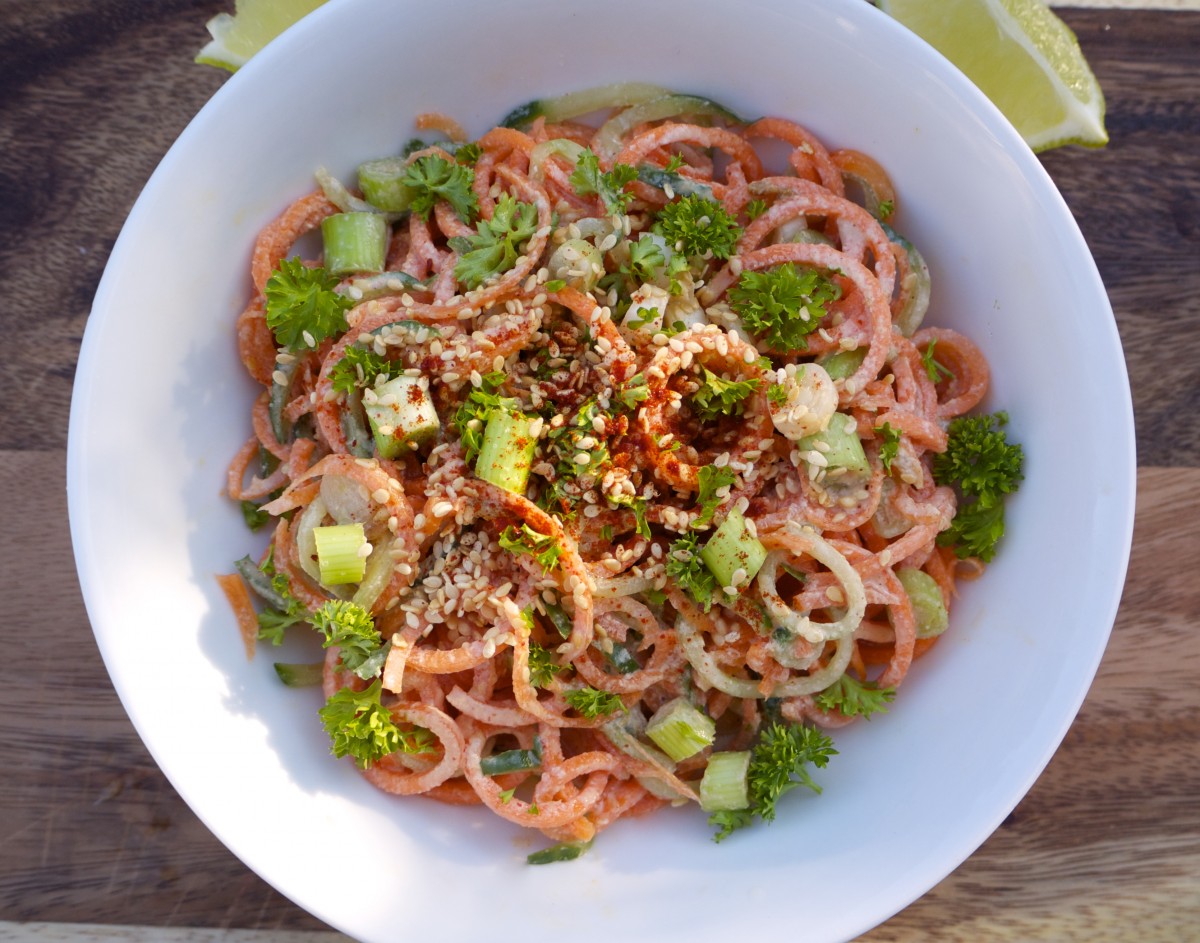 I bought a spiraliser from Juicers.ie 2 years ago, and it's turned out to be such a worthwhile investment because I use it at least 4 times a week to make various sweet and savoury dishes. Any reasonably firm fruit and veggies will work well, which is why I decided to use carrot and cucumber for this simple salad. I finished it off with my homemade oil-free dressing, and some chopped parsley, spring onions, toasted sesame seeds and smoked paprika to ensure it was bursting with flavour.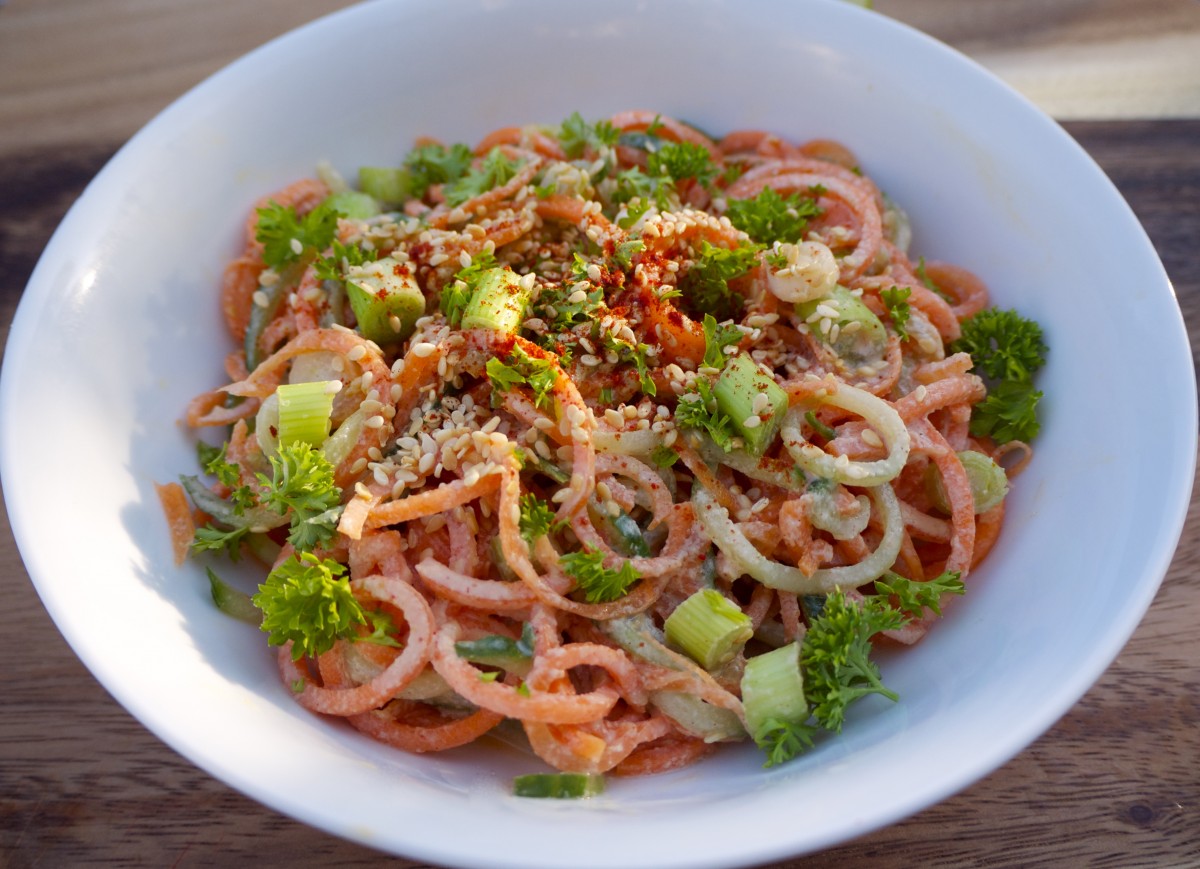 Carrot is such a great vegetable for our skin, hair and overall health, thanks to its high levels of beta-carotene. This nutrient converts to vitamin A in our body, and helps to heal skin cells and keep our vision healthy. But as a fat-soluble vitamin, it needs a little bit of dietary fat to properly absorb, which is where the dressing comes in. Rather than using oil, which I try to avoid as much as possible (apart from coconut oil), I based the dressing on tahini. This is a sesame seed paste, and full of healthy fats, calcium and protein. In fat, it makes a great base for some many dips and dressings, which is why I recommend it as a store-cupboard staple!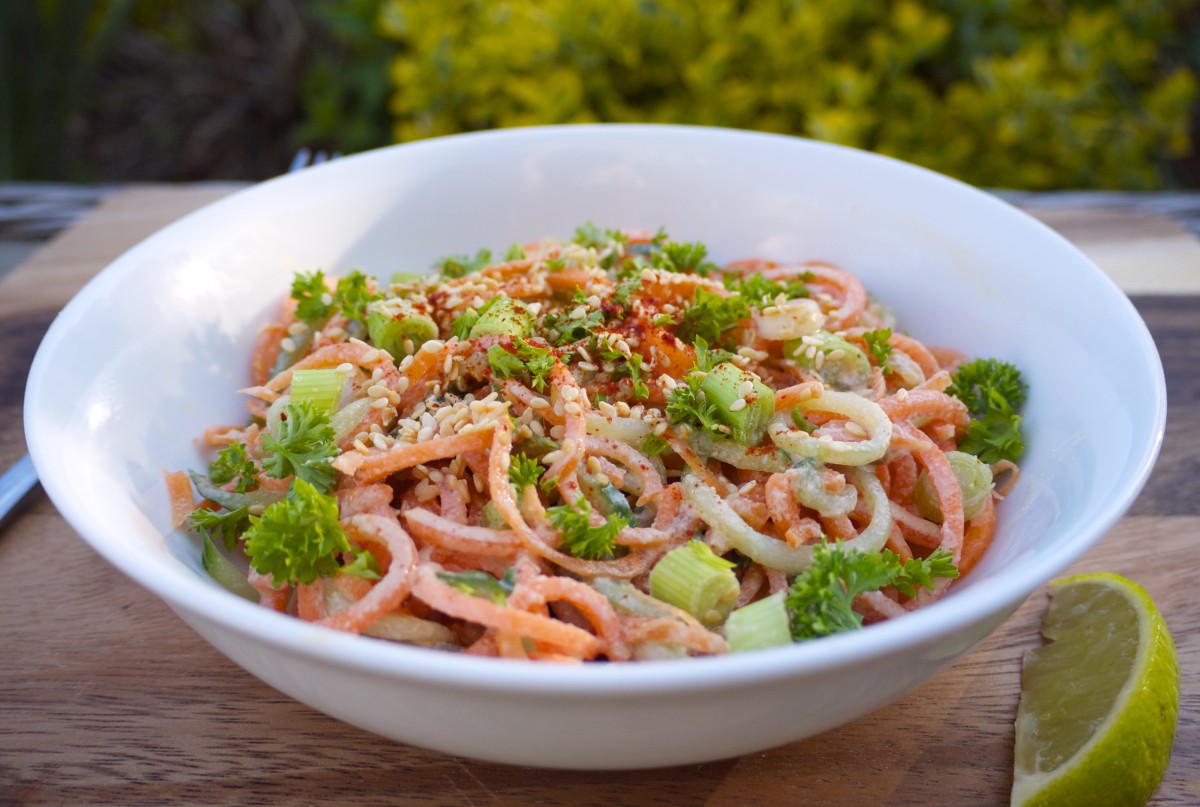 This flavoursome salad makes a great light lunch, snack or side dish at dinner. But I'd probably scoff it for breakfast too!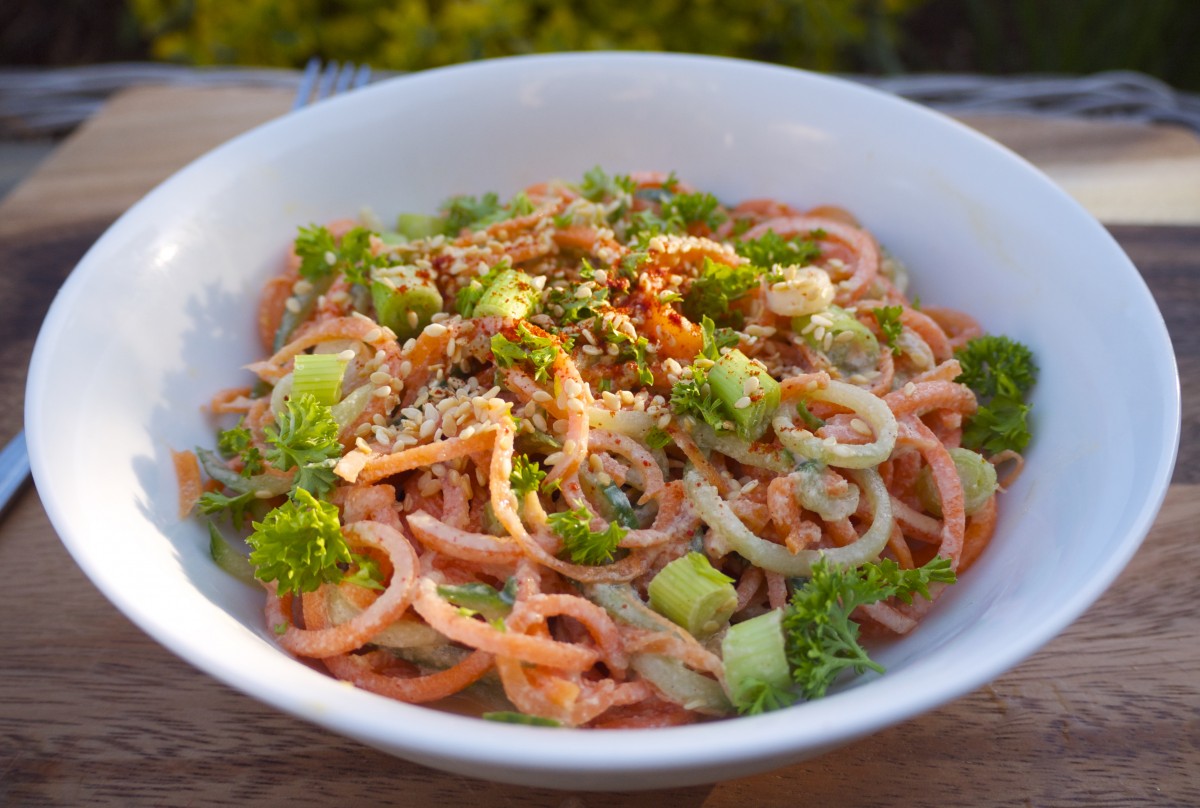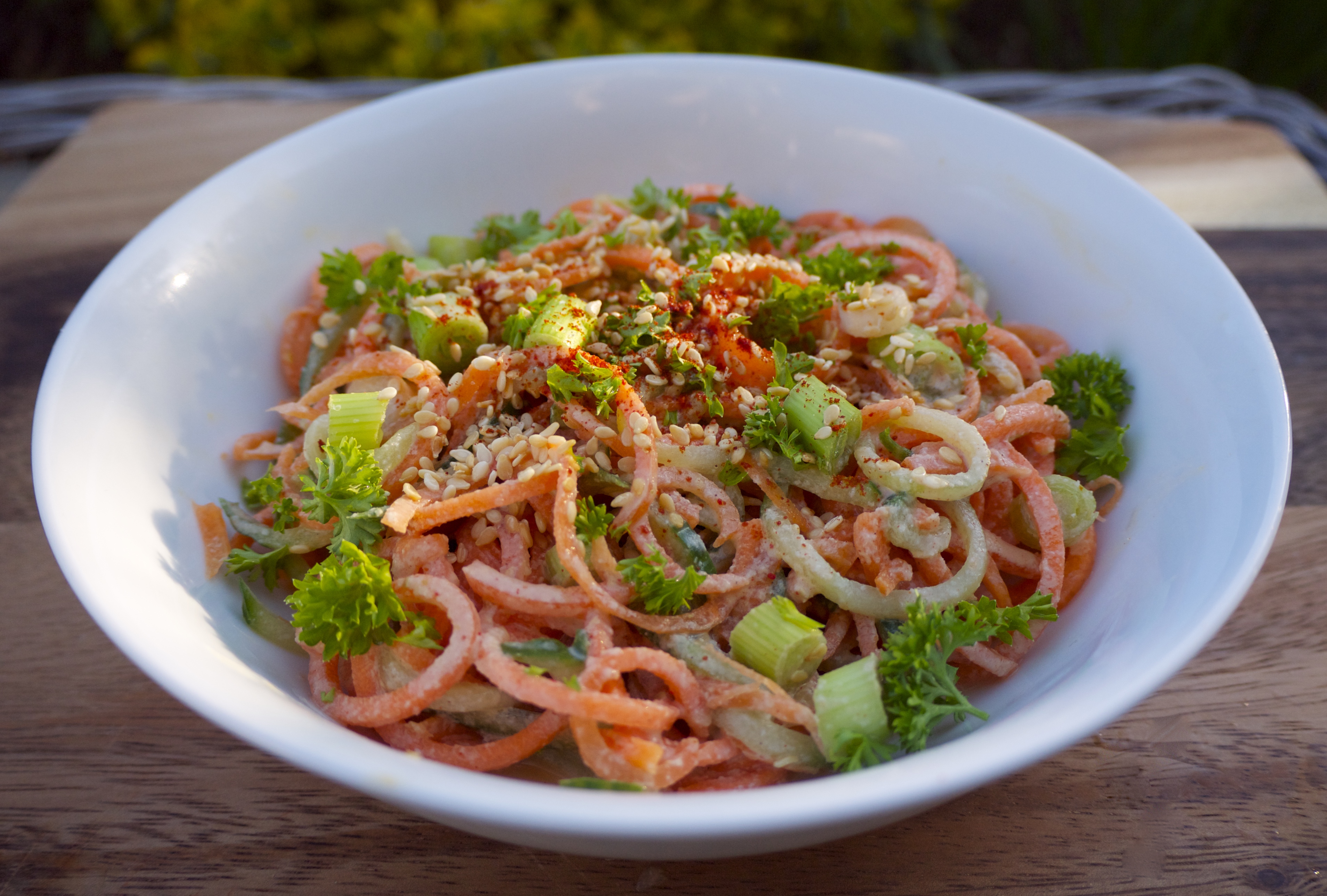 Carrot Noodle Salad with Ginger-Miso Dressing
2015-04-18 19:30:54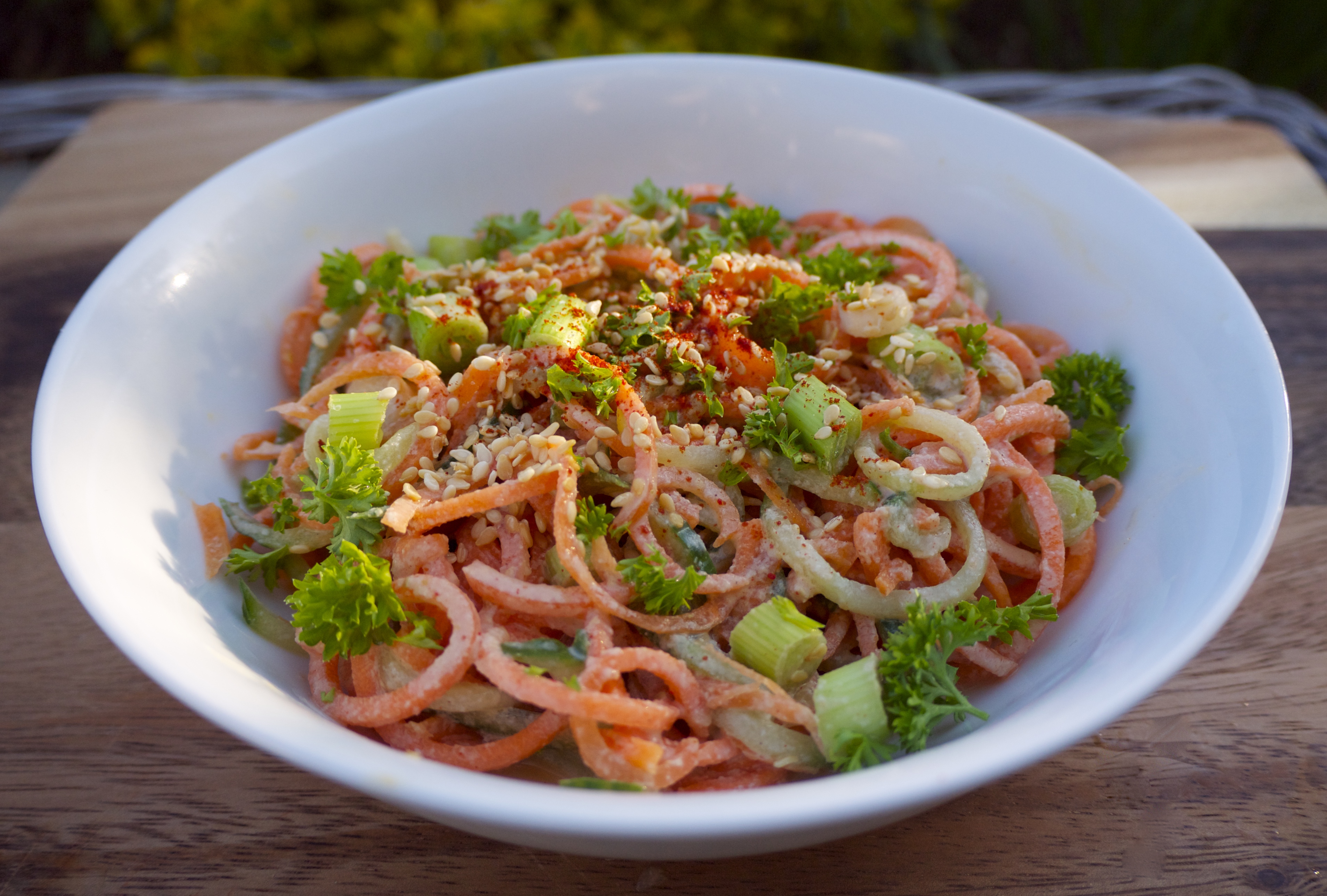 Serves 2
Crisp, crunchy, creamy, light and so delicious! This nutritious salad makes a great side dish or light lunch.
For the salad
2 carrots, peeled
1 cucumber, rinsed well
4 spring onions, finely chopped
Chopped parsley, to serve
1 tbsp toasted sesame seeds*, to serve
For the ginger-miso dressing
1 tbsp tahini
1 tsp miso paste
3 tbsp cold water
1/2 tsp chopped fresh ginger
1/2 tsp smoked paprika
1/2 tsp Ume Japanese Plum Seasoning
the juice of 1/2 a fresh lime
Pinch of salt and pepper, to taste
Instructions
In a large mixing bowl, make the carrot and cucumber noodles using a spiraliser or vegetable peeler.
Add the spring onions.
Place all dressing ingredients in a blender and blend until smooth and creamy. Taste and season, if necessary.
Toss the vegetables in the dressing and serve topped with chopped parsley and toasted sesame seeds.
Notes
* Toast the sesame seeds gently in an oven at 200C for 8-10 minutes, until lightly browned and allow to cool for 5 minutes before serving.
Rosanna Davison Nutrition https://www.rosannadavisonnutrition.com/