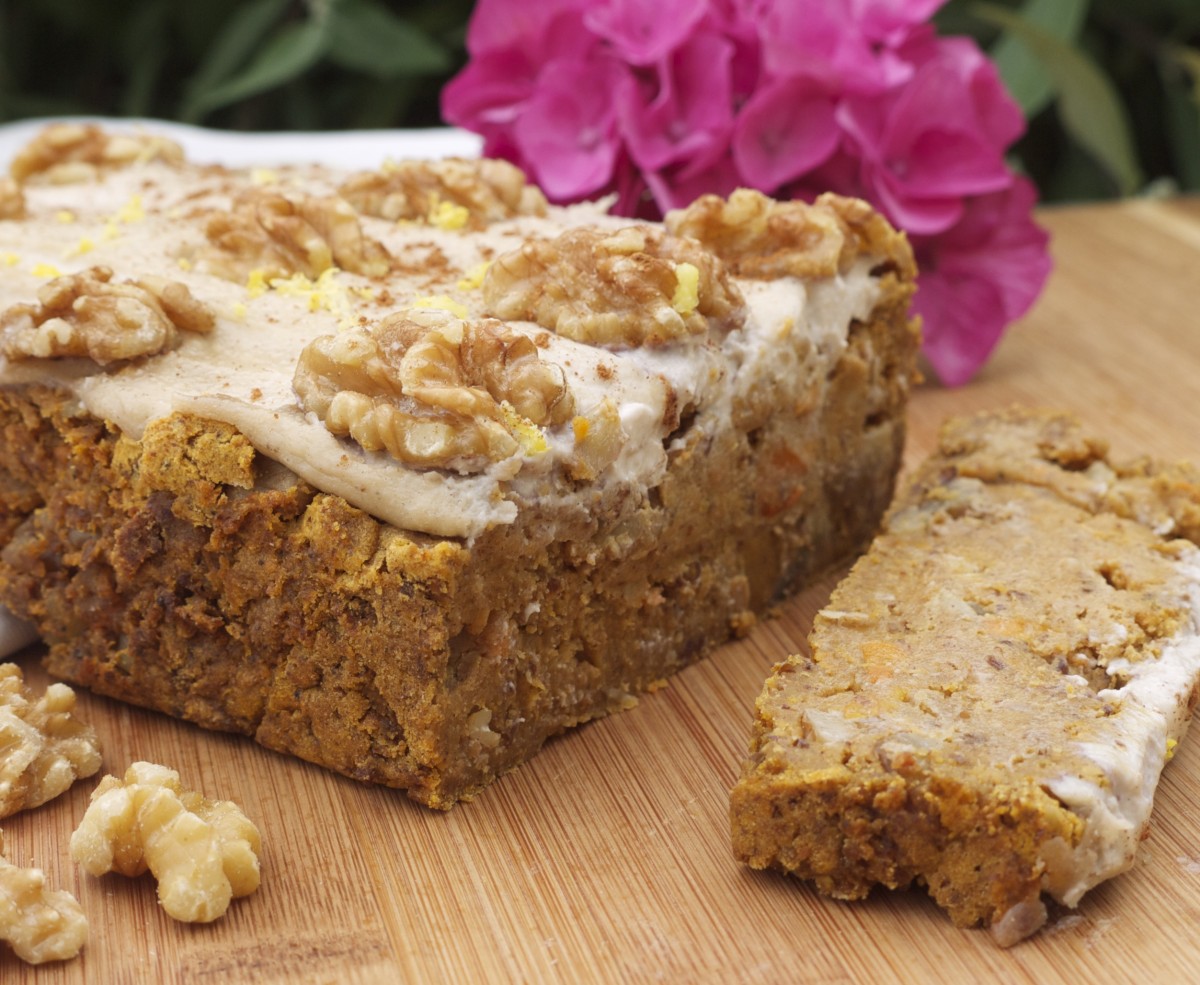 I've always felt that carrot cake is the kind of treat that people either love or hate! For me, it was one of the most difficult sweet treats to say goodbye to when I decided to give up foods containing refined sugar, dairy and wheat. I used to lurrrrve licking that creamy sweet icing off the top of a slice of carrot cake before devouring the sponge! It wasn't a very ladylike way to eat 😉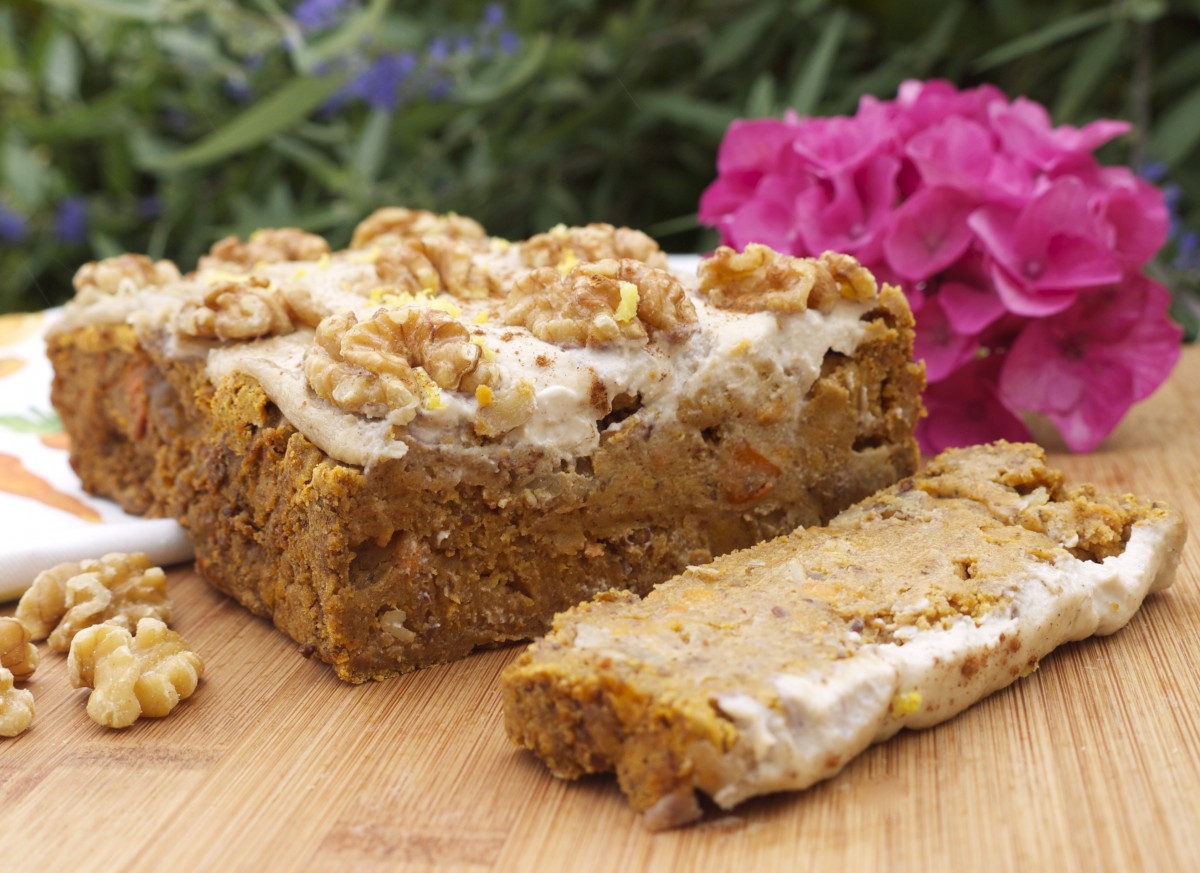 Meanwhile, there are plenty of people that just can't get their heads around eating actual carrot in a cake, and would go for a choccy cake without a second thought. I've never been able to taste a strong carrot in carrot cake, so I suppose that helps! Adding spices like cinnamon and nutmeg really helps to give it a warm and homely flavour too.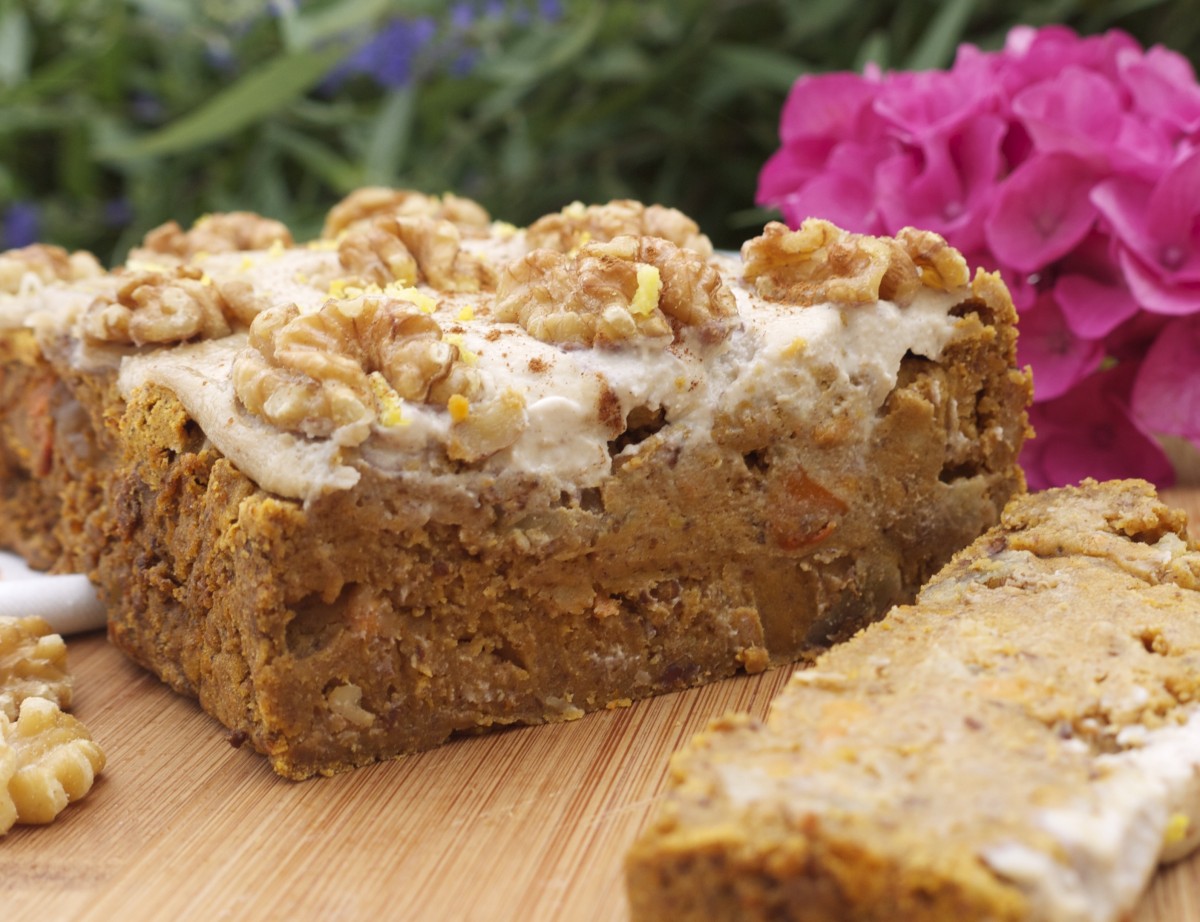 However, realising that I could make a healthy version of carrot cake was a game changer! It's based on a very special ingredient, which gives it a fluffy texture and a natural sweetness without having to add oil or refined sugar. Can you guess what it is?!
Sweet potato puree!
I've actually used sweet potato in a few of my recipes before this, including almond and cinnamon bread, and I love it so much as an ingredient because it gives recipes such a subtle sweetness and great texture without ever tasting of sweet potato! Other main ingredients include brown rice flour, which is light and naturally gluten-free, grated carrot and walnuts for a dose of healthy fats and protein. I used a small amount of organic coconut palm sugar for extra sweetness, but that could be left out if you prefer as the cinnamon lends a gorgeous sweet flavour on its own.
Now for the icing! I thought a lemony icing would work well against the earthy sweetness of the cake, and I spruced it up with a pinch of cinnamon and some vanilla. It's simply made from blended soaked raw cashew nuts and coconut milk, which together form this great creamy icing. Decorate with some walnuts, cinnamon and lemon zest and enjoy with a well-deserved cup of tea! 🙂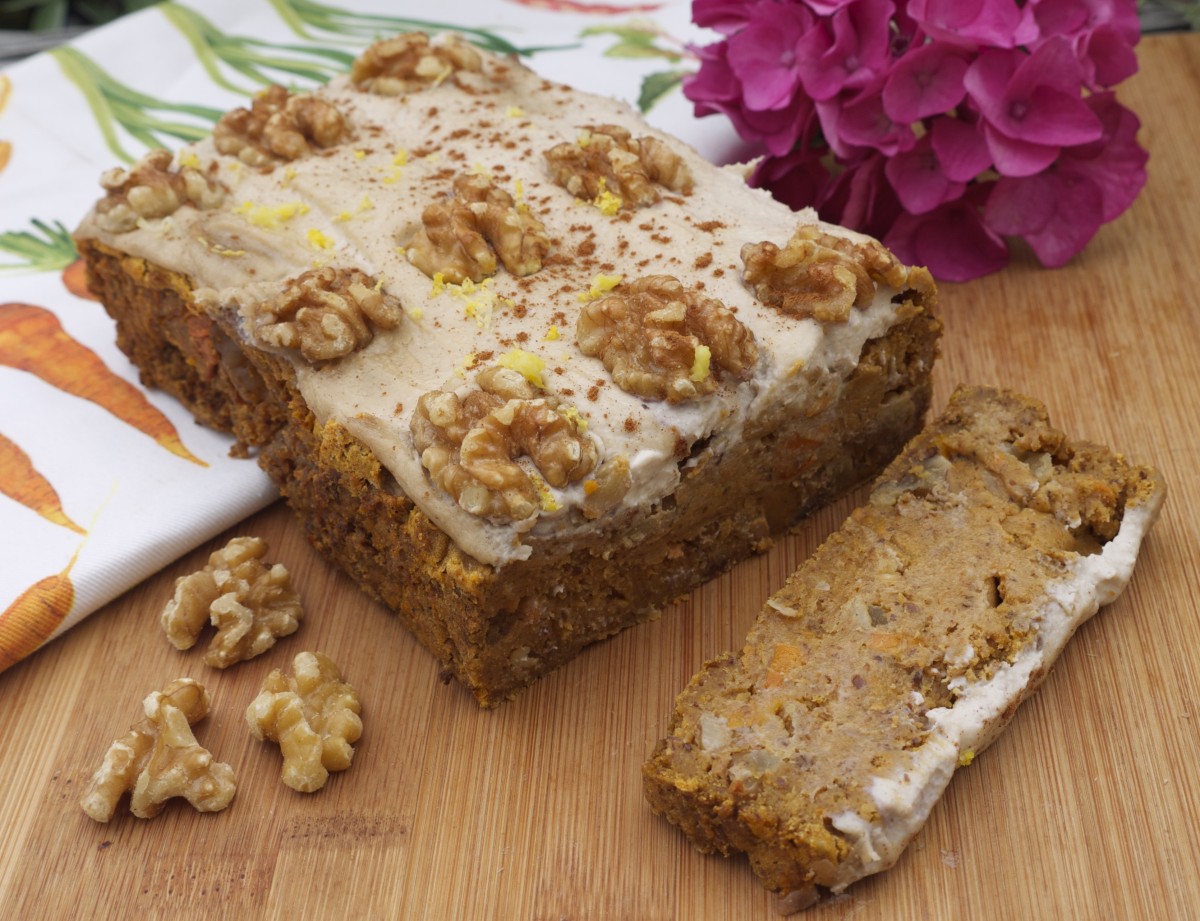 Let me know if you give this Carrot and Walnut Cake with Citrus Icing recipe a go and I love to see all your creations on social media! Simply tag #RosannaDavisonNutrition on Instagram or Twitter or come on over to my Facebook to say hello 🙂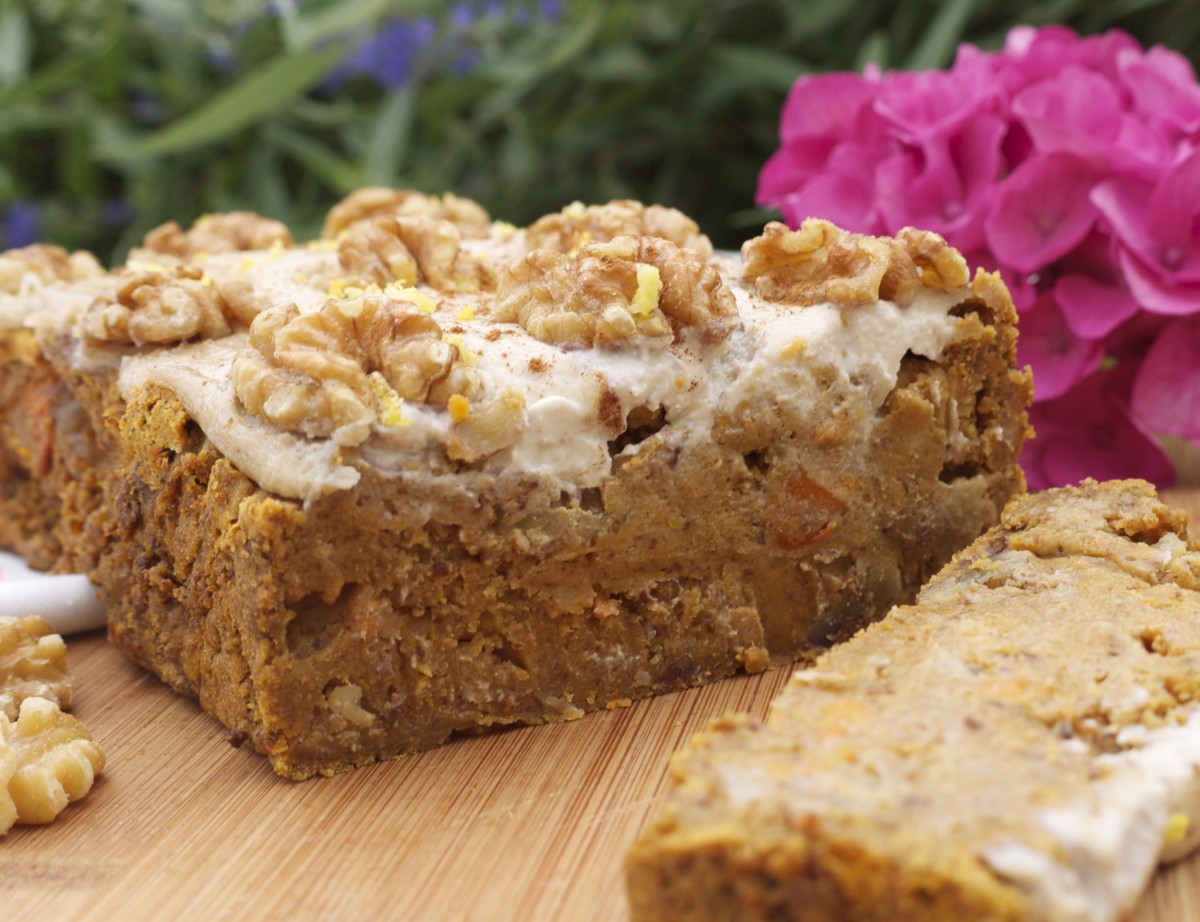 Carrot and Walnut Cake with Citrus Icing
2015-08-20 23:27:48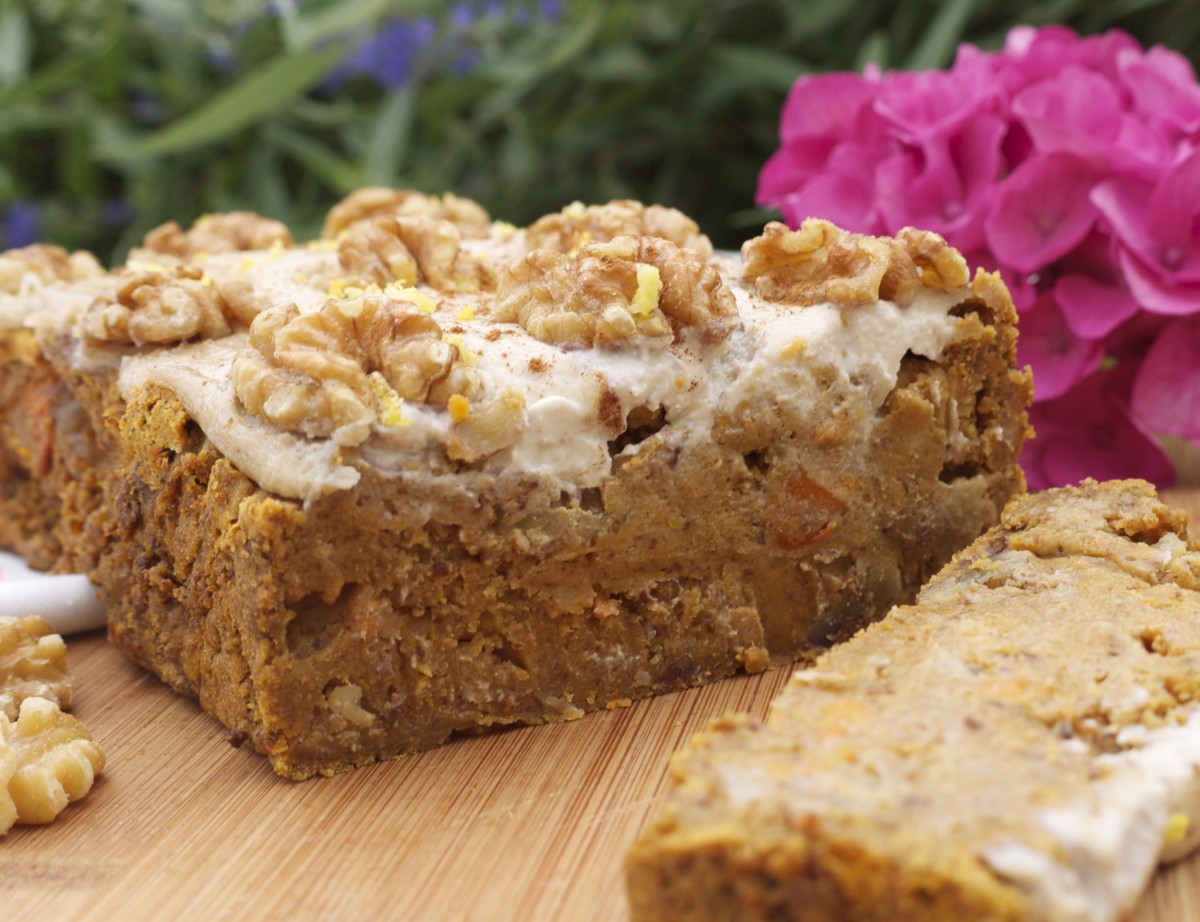 A moist, squidgy, iced carrot cake made using naturally sweet pureed sweet potato instead of oil and excess sugar. It's full of fibre, healthy fats and wholesome ingredients!
Ingredients
2 small sweet potatoes or one medium, peeled
1 ripe banana
60ml (1/4 cup) warm water
60ml (1/4 cup) unsweetened almond milk
Coconut oil, to grease
200g (1 1/4 cups) brown rice flour
3/4 tsp baking powder
1 teaspoon cinnamon
1 tsp ground mixed spice
1.5 tbsp milled flaxseed
1/4 cup coconut sugar
1 medium carrot, peeled and then finely grated
120g (1 cup) raw walnuts, broken into pieces and extra to garnish
For the citrus icing
130g (1 cup) raw unsalted cashew nuts, soaked in cold water for an hour
100ml coconut milk (I used full-fat)
1 tbsp lemon juice
1 tsp vanilla extract
Pinch of ground cinnamon
1-2 tbsp cold water, to blend
1 tbsp pure maple syrup or honey to sweeten (optional)
Instructions
First, steam the sweet potato until soft and place in a blender or food processor with the banana, water and almond milk. Blend until a puree forms and use a little extra water to blend, if necessary.
Preheat the oven to 180C and grease a medium-size loaf or cake tin with coconut oil or line it with greaseproof paper.
Place the brown rice flour, baking powder, cinnamon, ground mixed spice, flaxseed, coconut sugar, carrot and walnut pieces into a large mixing bowl and stir them well together.
Pour the sweet potato puree into the mixing bowl and stir all ingredients together well until a thick dough forms.
Pour the dough into the prepared tin and bake it in the oven for about 40 minutes, until golden-brown on top and a knife comes out clean from the middle of the loaf.
While the cake bakes, prepare the icing: Drain the soaked cashews well and place them in a blender or food processor with the rest of the icing ingredients, and blend until smooth and creamy. Add another 1-2 tablespoons of cold water to help blend if necessary, but make sure it doesn't become too liquid.
Pour it into a bowl and leave it in the fridge to set while the cake cools on a wire tray for 10-15 minutes.
Ice the cake and decorate with whole walnuts.
Notes
The cake keeps well in the fridge in an air-tight container, for 2-3 days.
Rosanna Davison Nutrition https://www.rosannadavisonnutrition.com/