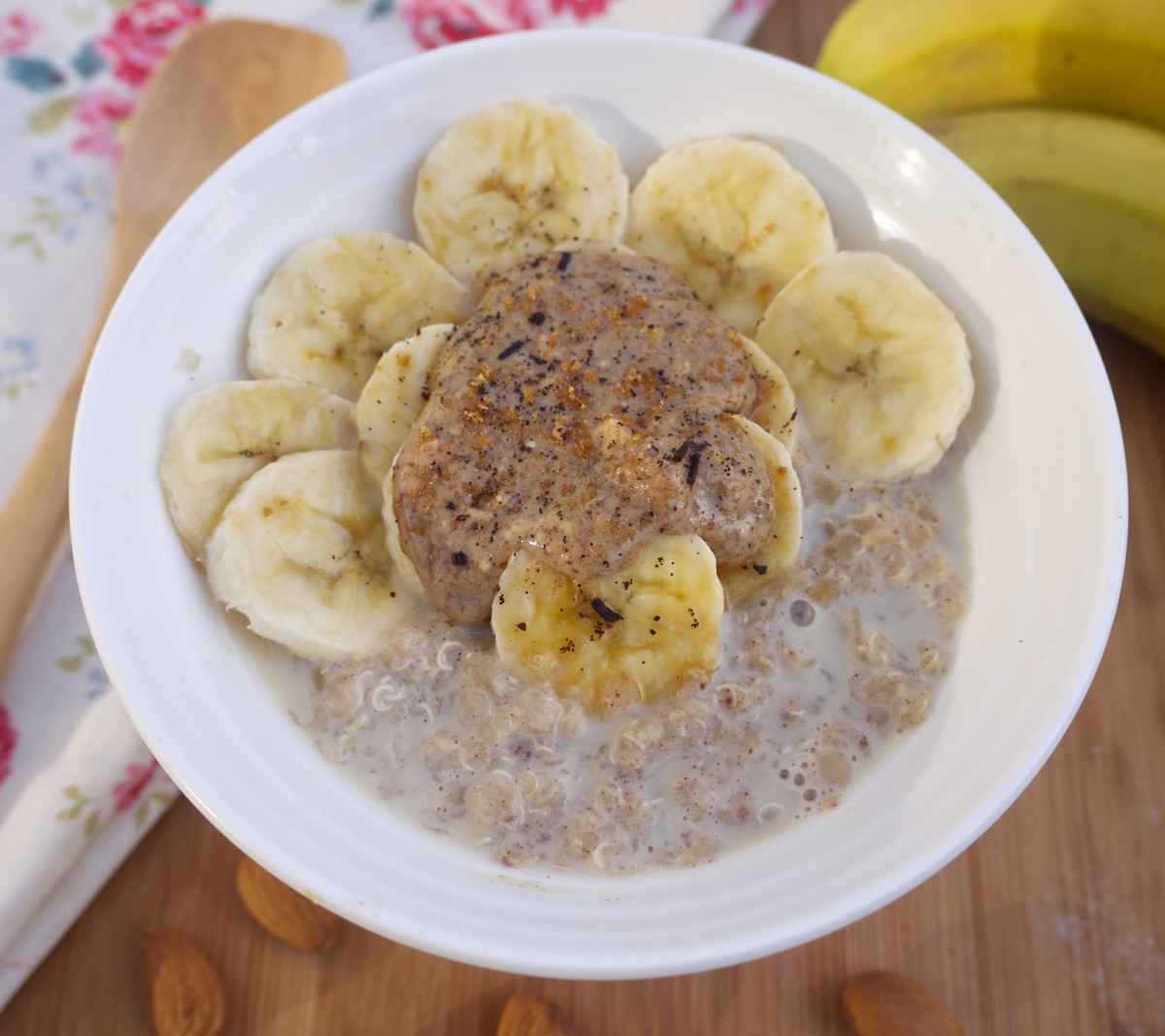 There are few more practical and popular brekkies than porridge to set you up with a warming and nourishing start to the day. Oats are a good source of nutrients, including plenty of fibre and complex carbs, to help keep you feeling full right up until lunch. It's well known that a decent breakfast helps to improve your mood and concentration levels, and reduces the likelihood of you reaching for a croissant, pastry or chocolate biscuit by 11am!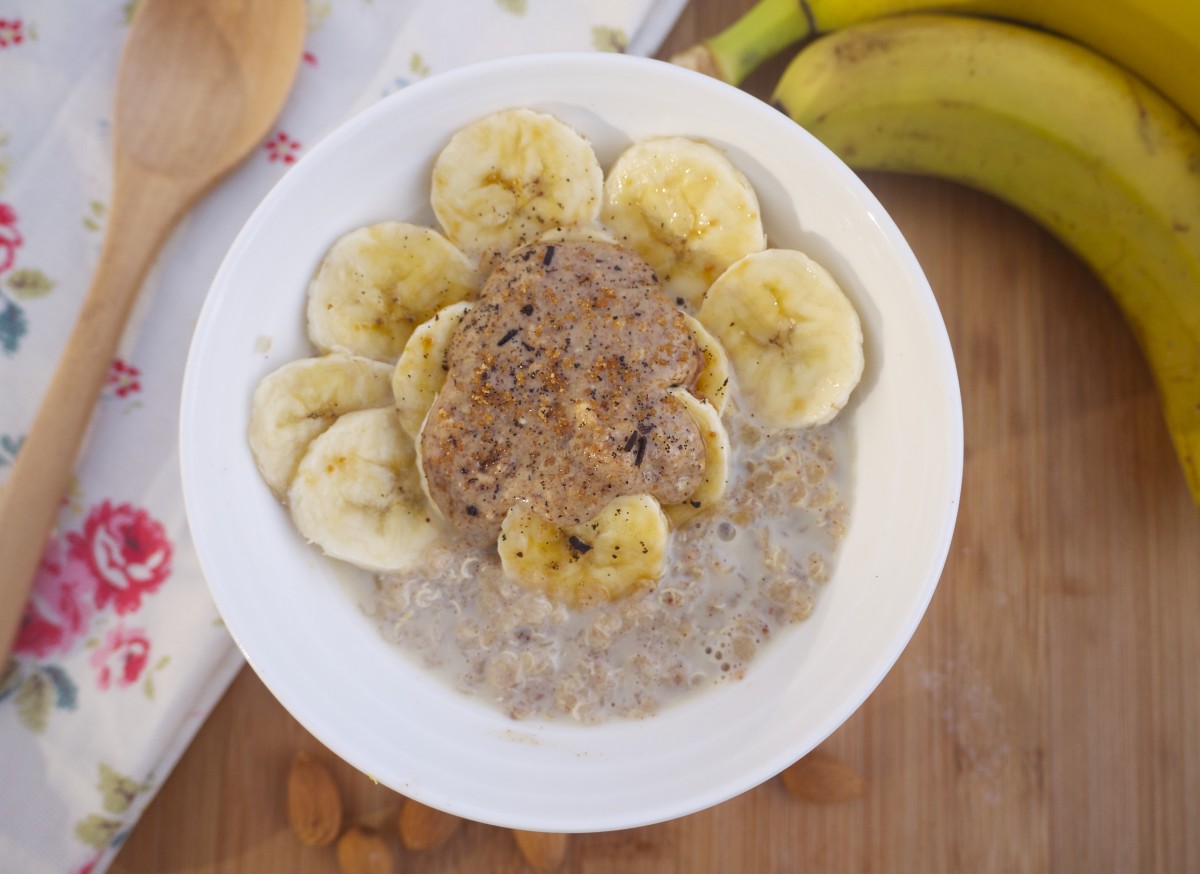 I recently bought a bag of quinoa flakes, and thought they would make a good alternative to oats….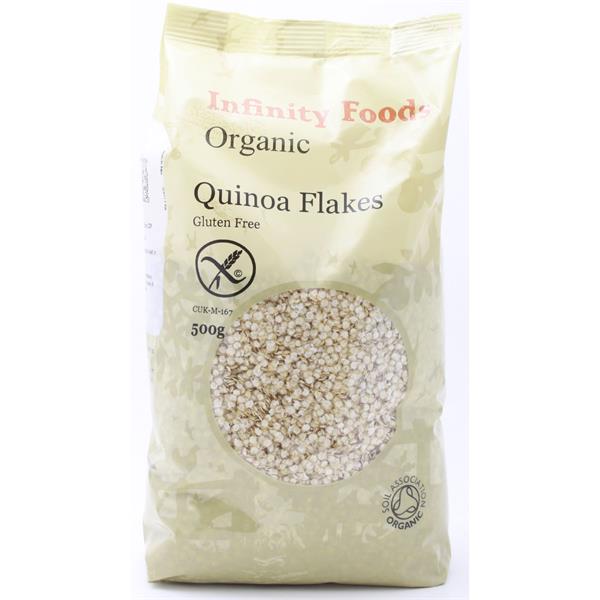 Quinoa is similarly gluten-free and is considered a seed rather than a grain. You're more likely used to seeing and eating quinoa as a savoury dish, but its mild nutty taste absorbs sweeter flavours and spices very well too.
Oats are easy to find and inexpensive, but quinoa packs a greater nutritional punch than oats, as it contains all the essential amino acids, plus phosphorus, magnesium and iron. It's also easy to digest, and really quick to cook!
I love using an array of warming and immune-boosting spices at this time of year, and especially on those dark, dreary mornings. In this porridge, I stirred in grated ginger, lemon zest, cinnamon and nutmeg, which worked well with the vanilla, banana and almond butter. It was a simple way to enjoy a range of different flavours for breakfast!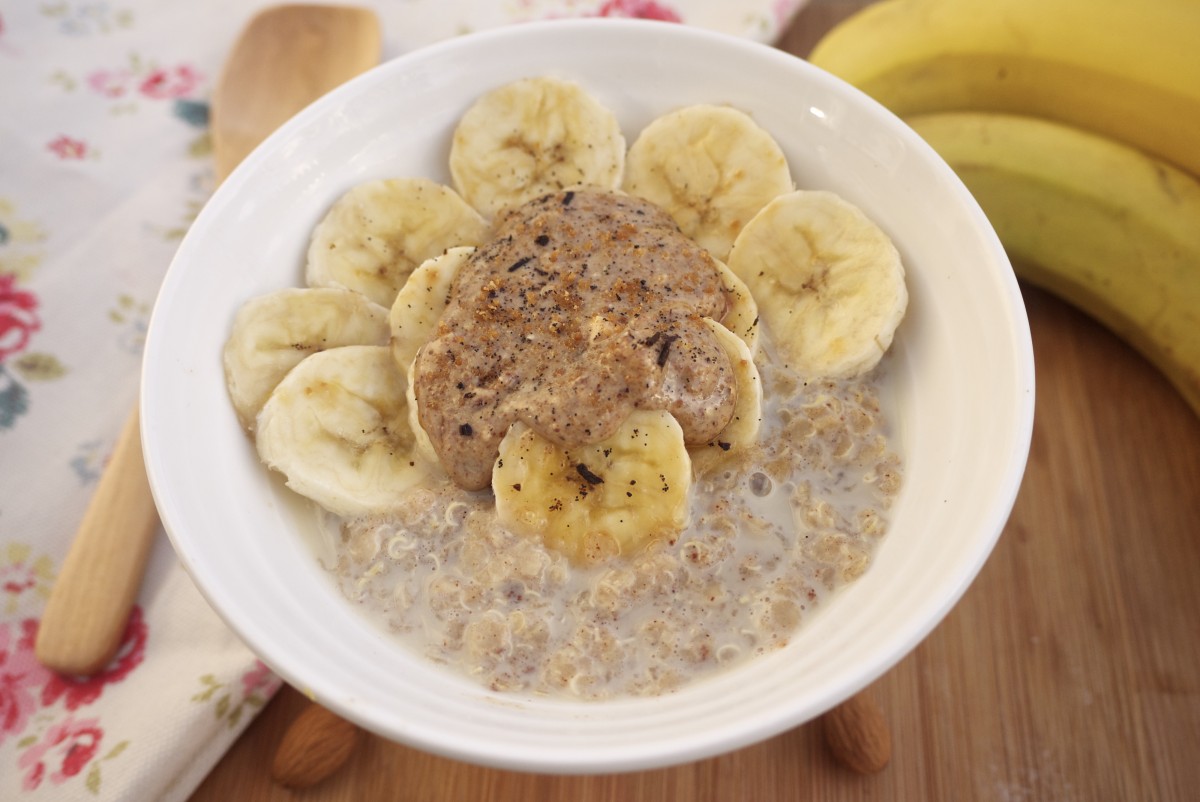 I would love to know if you get a chance to make this chai-spiced vanilla quinoa porridge! Simply tag #RosannaDavisonNutrition on Instagram or Twitter or come on over to my Facebook to say hello 🙂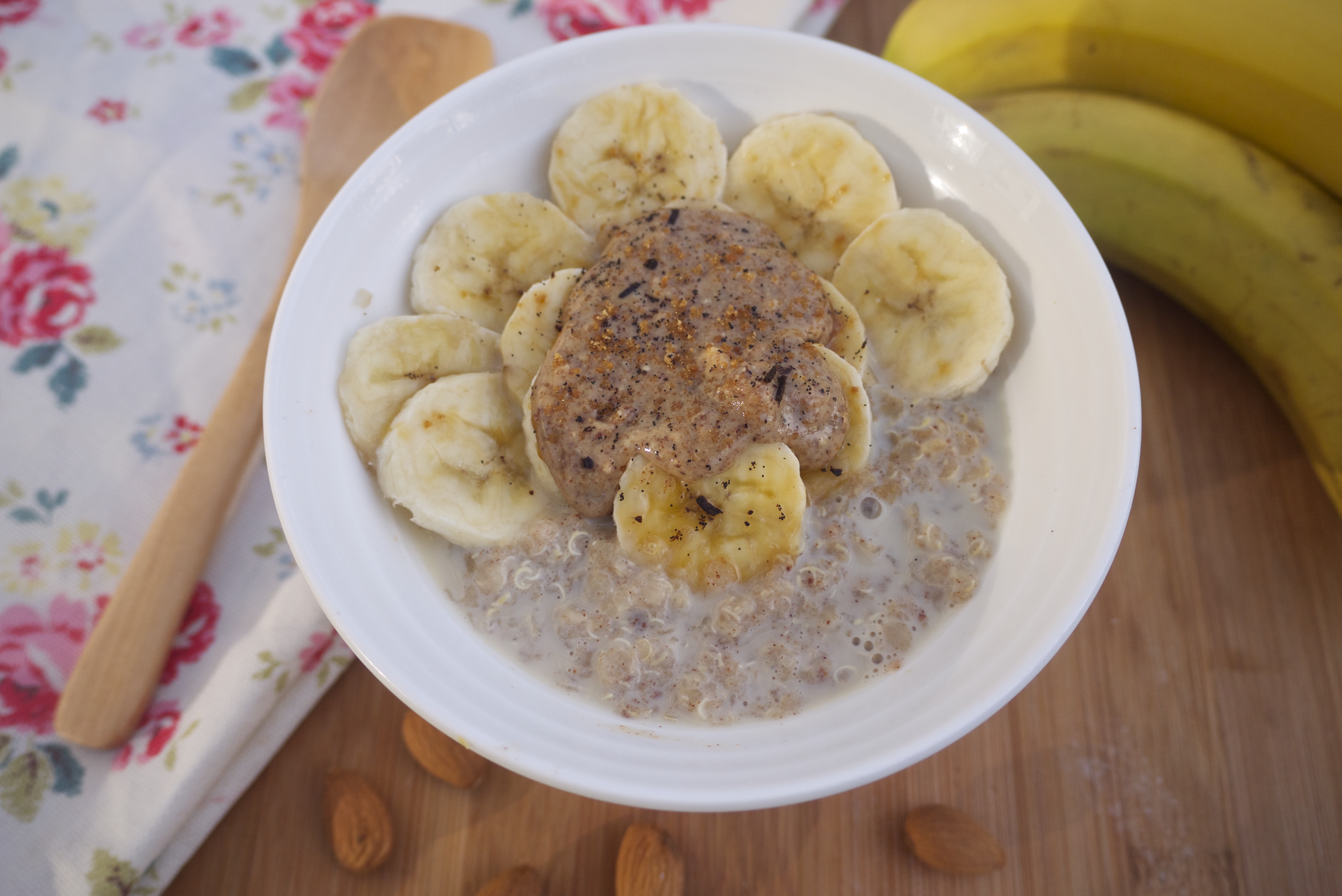 Chai-Spiced Vanilla Quinoa Porridge
2015-03-10 20:25:59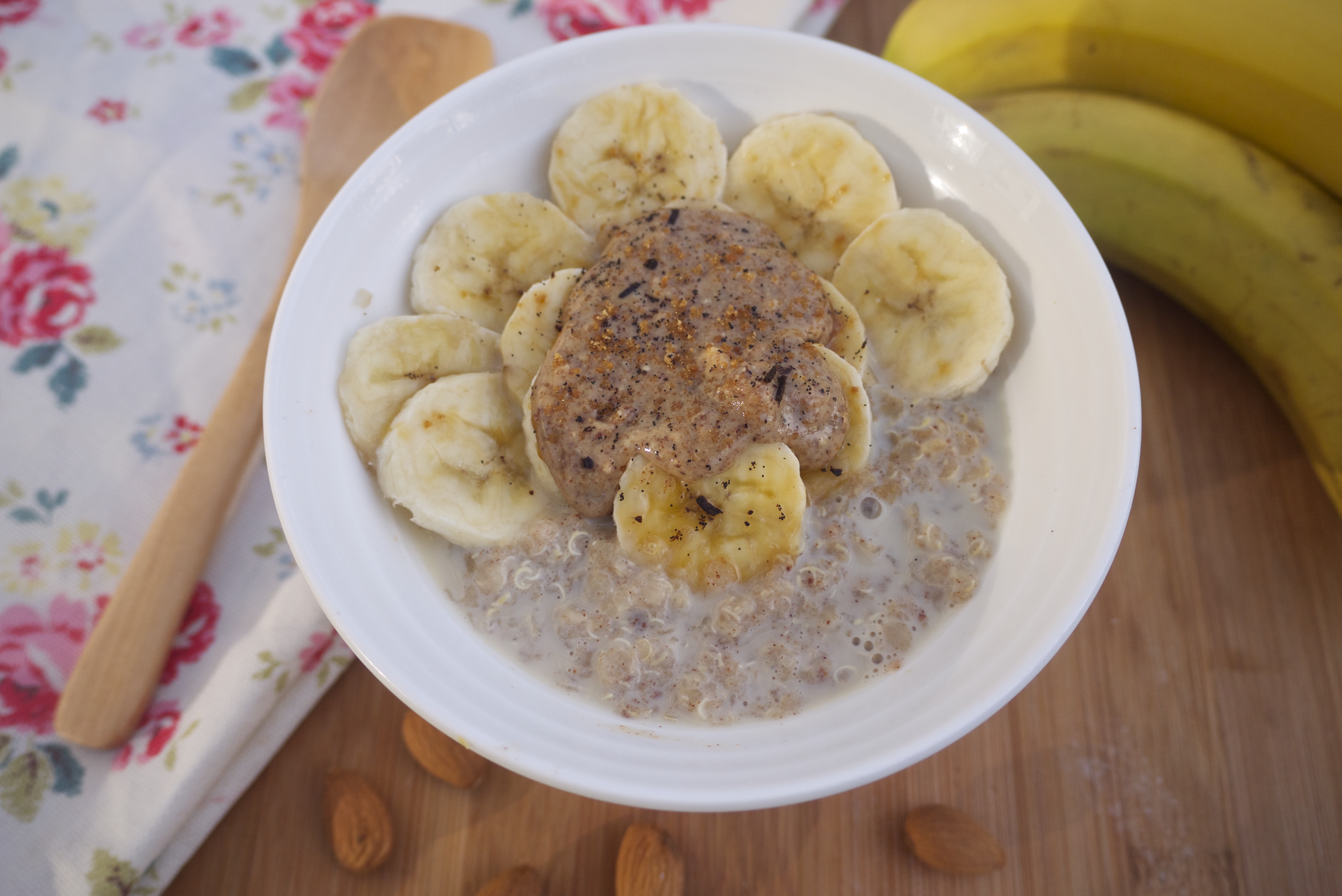 Serves 2
The subtle, nutty creaminess of quinoa is infused with warming and immune-boosting spices for a quick, nourishing breakfast or anytime snack.
Ingredients
480ml (2 cups) unsweetened almond milk
100g (1 cup) quinoa flakes (oats can be used instead, if you prefer them)
1.5 tsp pure vanilla extract/vanilla seeds
1 tsp fresh ginger, finely grated
1.5 tsp cinnamon
1/2 tsp nutmeg
the zest of half a fresh lemon
1 banana, sliced
2 tsp almond butter
Instructions
In a saucepan over a medium heat, bring the almond milk to a low boil.
Add the quinoa flakes and stir in the vanilla extract/seeds.
Turn down the heat and allow the quinoa flakes to simmer for 5 minutes until the milk has almost evaporated and a thick porridge has formed. Stir regularly to prevent burning.
Stir in the grated ginger, cinnamon, nutmeg and lemon zest.
Serve topped with sliced banana and almond butter.
Notes
Any leftovers can be stored in an airtight container in the fridge for 2 days.
Rosanna Davison Nutrition https://www.rosannadavisonnutrition.com/