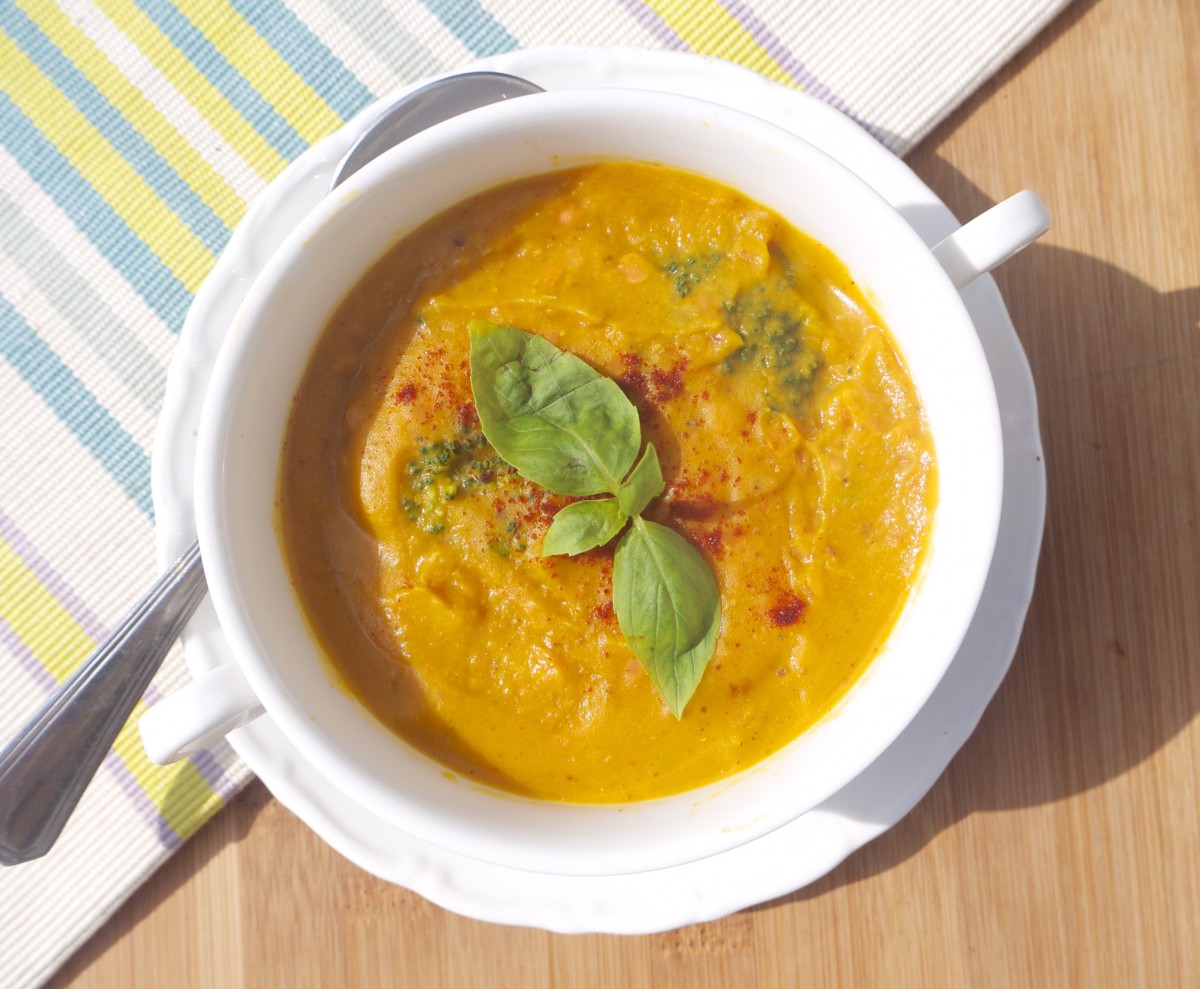 Good morning!
I absolutely LOVE butternut squash soup! There's something so comforting about the slightly sweet, smooth velvety taste and texture of blended butternut squash, in this case with a variety of warming spices.
Add in broccoli, lentils and nutritional yeast to make it cheesy, and it's a total winner for lunch or as a dinner starter.
Nutritional yeast is an inactive form of yeast, and an absolute staple for plant-based foodies. It's a bit like parmesan and instantly adds a nutty, cheesy flavour to foods like soups and sauces, plus I sprinkle it all over salads. It's also super-nutritious, with a two-tablespoon serving offering 7g of protein in the form of all the essential amino acids, plus iron, fibre and a range of B vitamins. Some brands are fortified with zinc and vitamin B12.
It's a brilliant condiment to use, and I buy mine in Nourish (€4.50).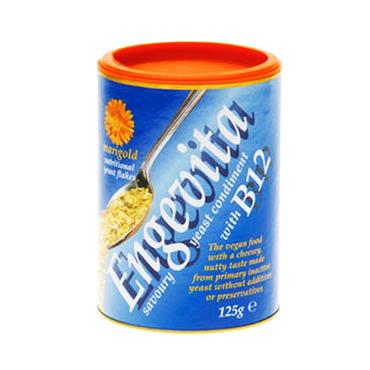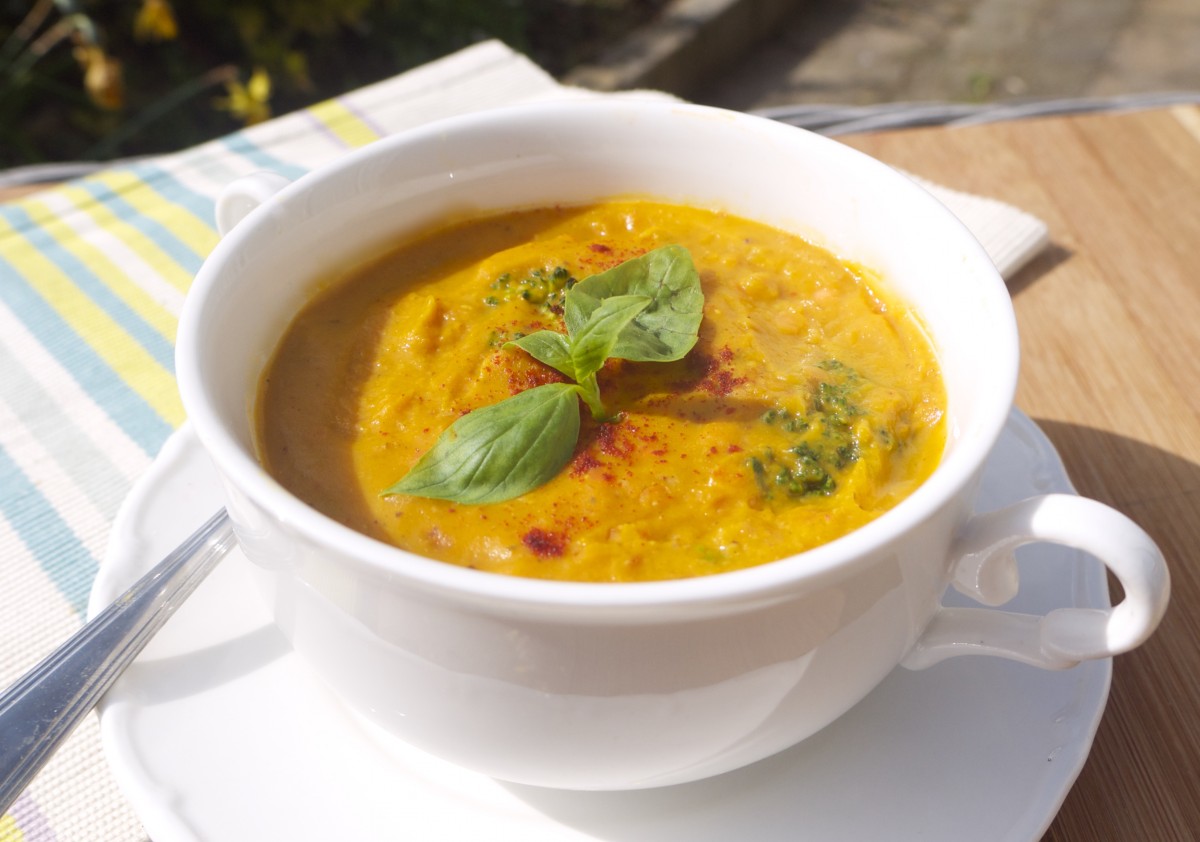 Butternut squash is a great way to add some density and complex carbs to your diet, with all the benefits of the beta-carotene which gives it that characteristic bright hue. Beta-carotene is converted to vitamin A in the body, an antioxidant fat-soluble vitamin which helps to brighten up our complexion and keep skin and eyesight healthy.
The lentils and nutritional yeast add flavour, texture and protein to the soup, to help keep us full for longer and stabilise blood sugar levels throughout the day.
Broccoli is just a superstar veggie, full of protective phytochemical compounds that support our immune system and ward off disease.
For anyone that struggles to eat broccoli, this is a great way to get it into you. If you chop it up into bite-size pieces, then it gets coated in the butternut squash and flavours, making it so much easier to eat. You could even blend it right into the soup for kids (and adults) that refuse to eat their greens. Ssssneaky!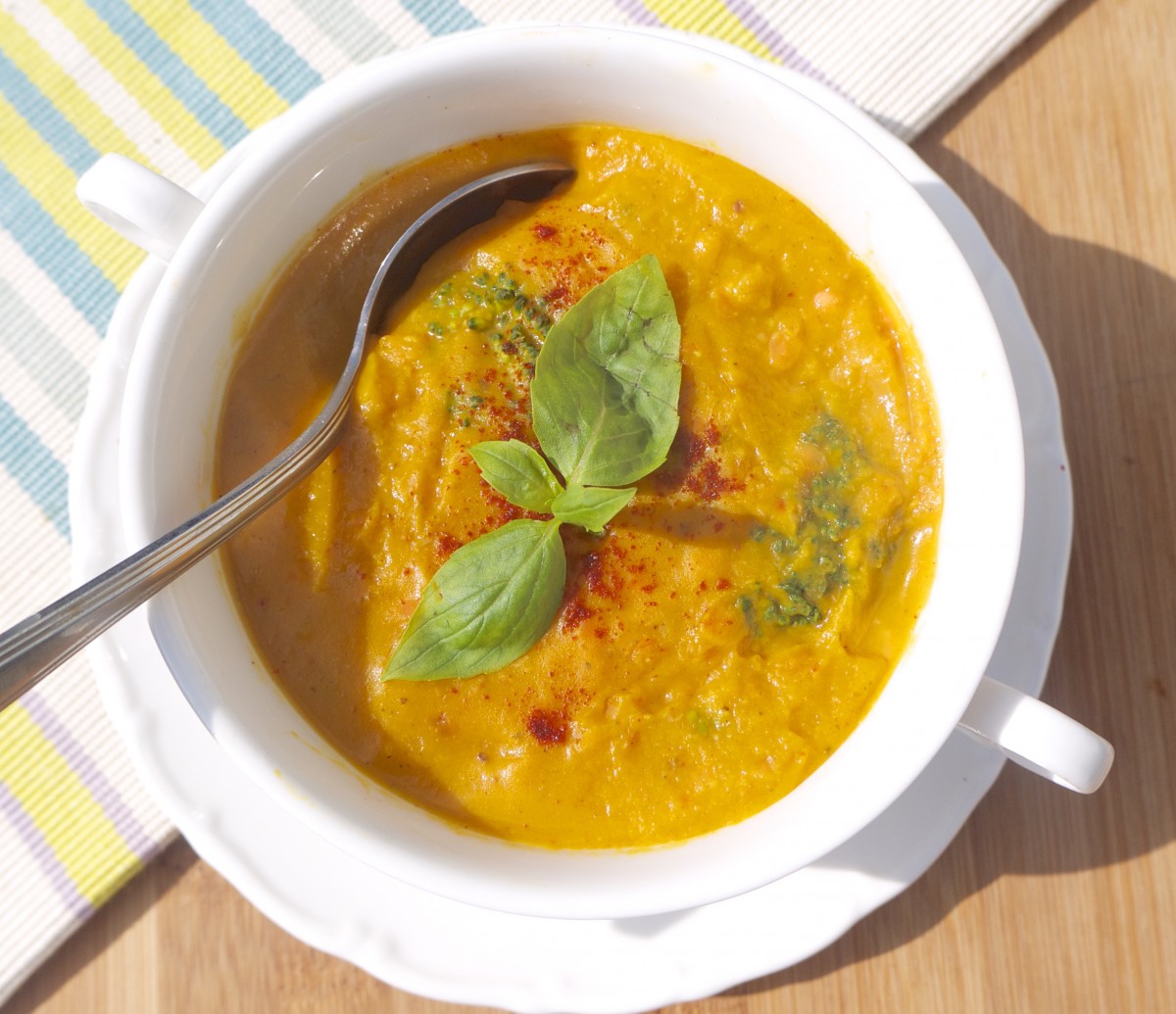 I would love to know if you decide to make this soup and it makes me so happy to see all your creations on social media! Simply tag #RosannaDavisonNutrition on Instagram or Twitter or come on over to my Facebook to say hello 🙂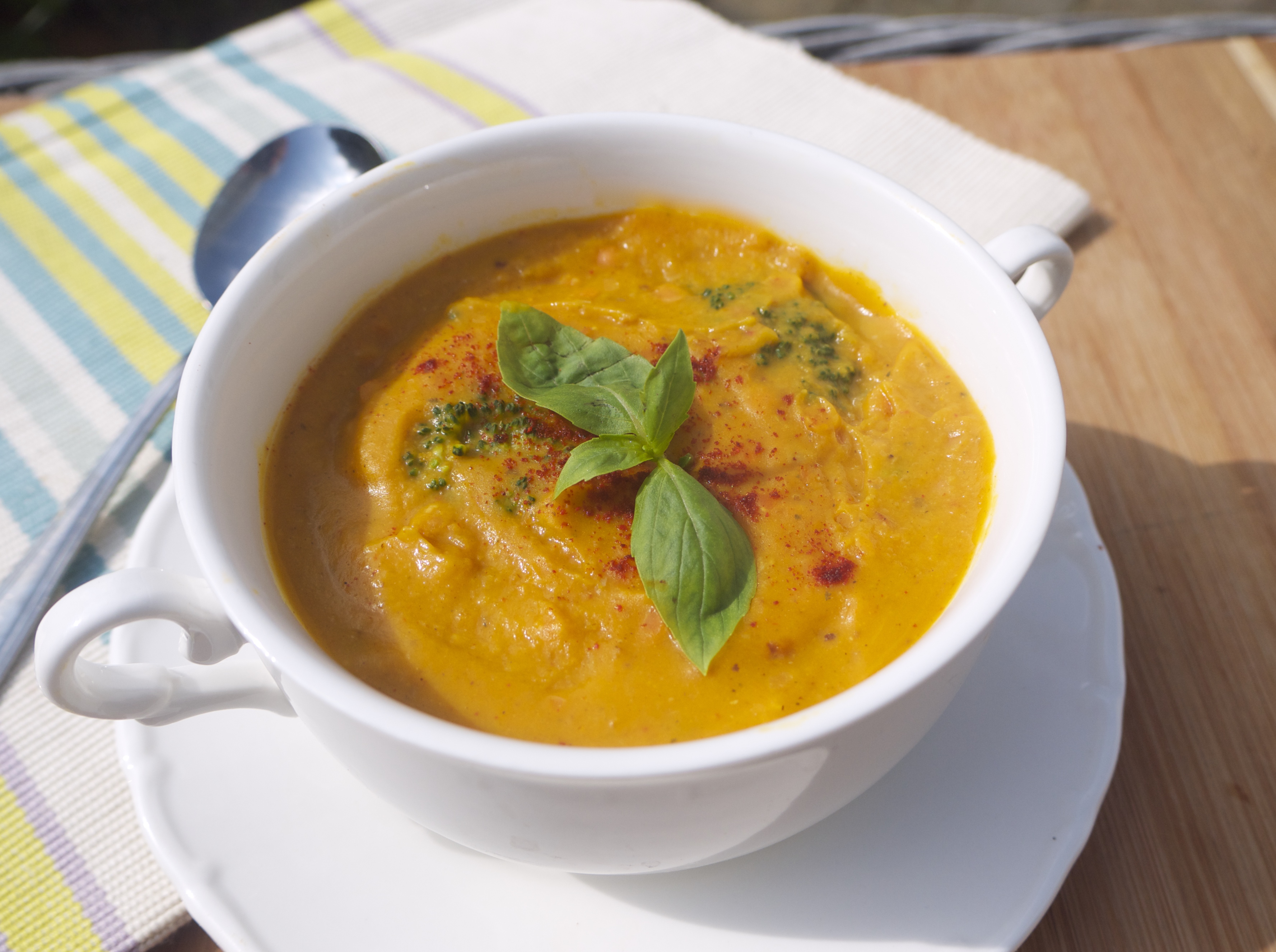 Cheesy Broccoli, Butternut and Red Lentil Soup
2015-04-07 18:44:32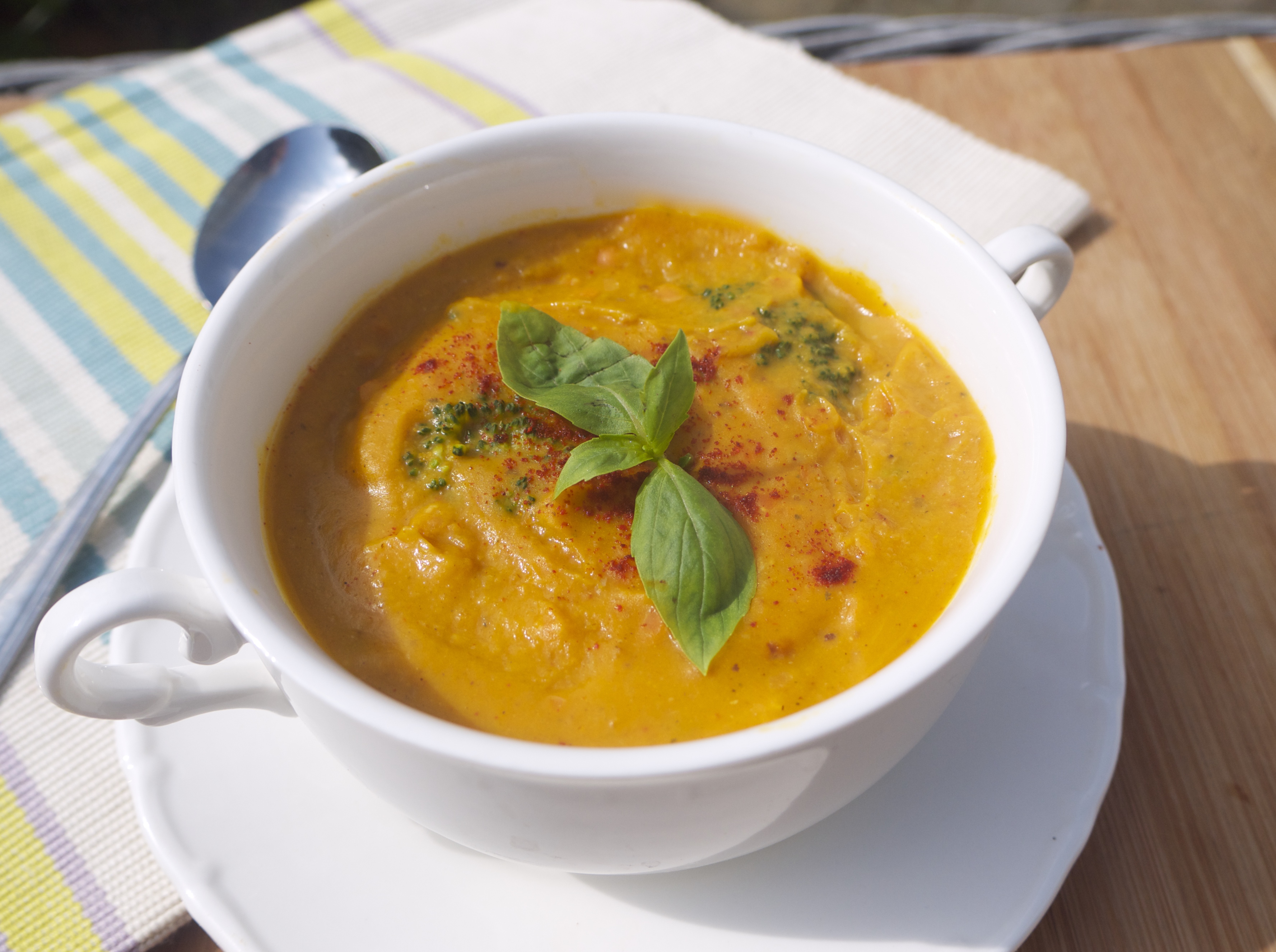 Serves 3
A velvety smooth, creamy and satisfying soup with a curry twist! Bursting with beta-carotene for glowing skin, anti-ageing phytonutrients, dietary fibre and protein.
Ingredients
1 butternut squash
coconut oil, to grease
500ml (2 cups) unsweetened almond milk
3 heaped tbsp nutritional yeast
2 tsp curry powder
1 tsp smoked paprika
2 cloves of garlic, chopped
1/2 tsp ground cumin
3 heaped tbsp dry split red lentils
125ml hot water
156g (1 cup) raw broccoli, chopped into bite-size pieces
Pinch of Himalayan pink rock salt and ground black pepper, to taste
Instructions
Preheat the oven to 200C and lightly grease a baking tray with coconut oil.
Rinse the butternut squash, place it on the tray and roast it for 35-40 minutes, until it turns golden-brown.
Remove from the oven and allow it to cool for 10 minutes, then peel the skin, cut it in half and scoop out the seeds and pulp.
Cut it into smaller pieces and place them into the blender with the almond milk, nutritional yeast, curry powder, smoked paprika, garlic, cumin and seasoning. Blend until smooth.
Transfer the soup to a saucepan over a medium heat and bring it to a gentle simmer. Add in the broccoli, lentils and more seasoning, if required.
Simmer gently for 8-10 minutes, until the lentils are tender and the broccoli has been lightly cooked. (I like to eat it crunchy, but others prefer it a little softer.)
Serve in soup bowls, garnished with a pinch of smoked paprika.
Notes
Any leftovers can be kept in a covered container in the fridge for 2-3 days, or frozen for up to 3 months.
Rosanna Davison Nutrition https://www.rosannadavisonnutrition.com/