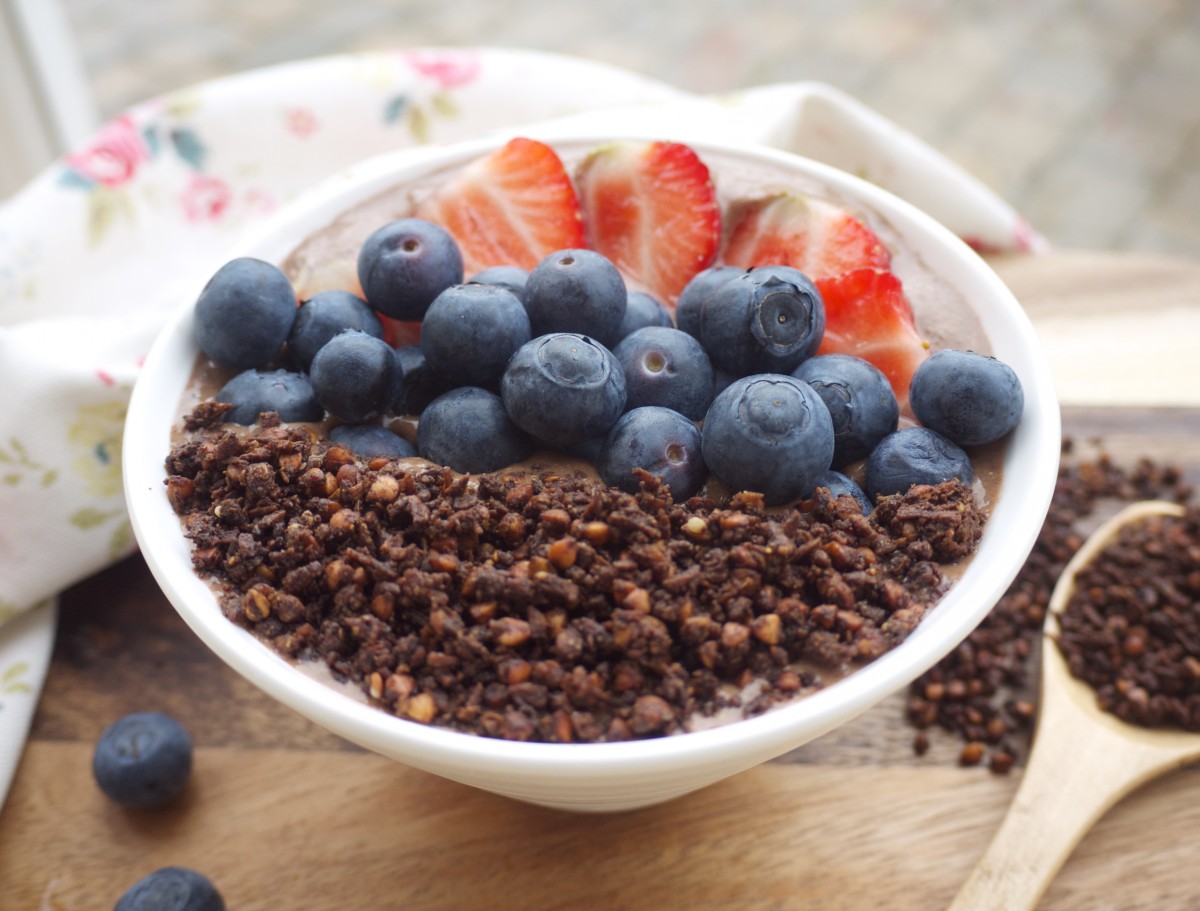 Breakfasts don't get much better than this! An icy cold bowl of chocolate and chia smoothie, topped with juicy berries and chocolate buckwheat granola. A chocoholic's dream!
The granola is undoubtedly the star of the show. Crunchy, rich, decadent and completely addictive… I've been nibbling on it since I made it last night. It made the whole house smell amazing too 🙂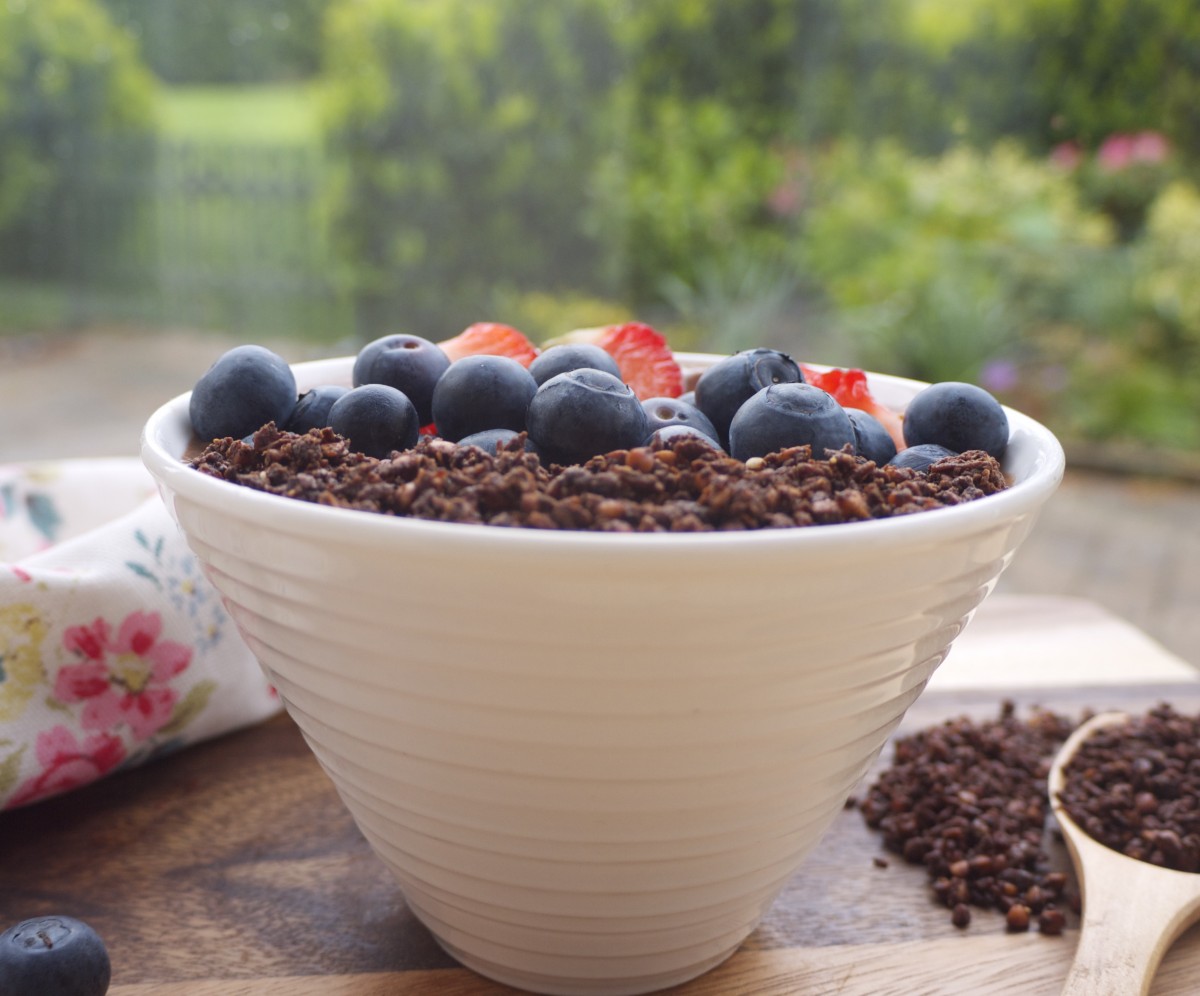 The recipe for the granola makes a fairly big batch, because it's also delicious just eaten as a cereal with chilled almond milk. It would beat a bowl of cocoa pops any day!
I based the granola on desiccated coconut and buckwheat groats, which make a super-crunchy combo.
Buckwheat is naturally gluten-free, cultivated for its grain-like seeds and is full of minerals like magnesium, copper, manganese and zinc to support our health and beauty, plus B vitamins for energy. In fact, buckwheat is also a good source of vitamin B6 and the amino acid tryptophan. Along with zinc, they're crucial to the production of our 'happy hormone', a neurotransmitter called serotonin, and our 'sleep hormone', melatonin. So it's good to know that a breakfast can help to improve our mood for the day and encourage restful sleep at night!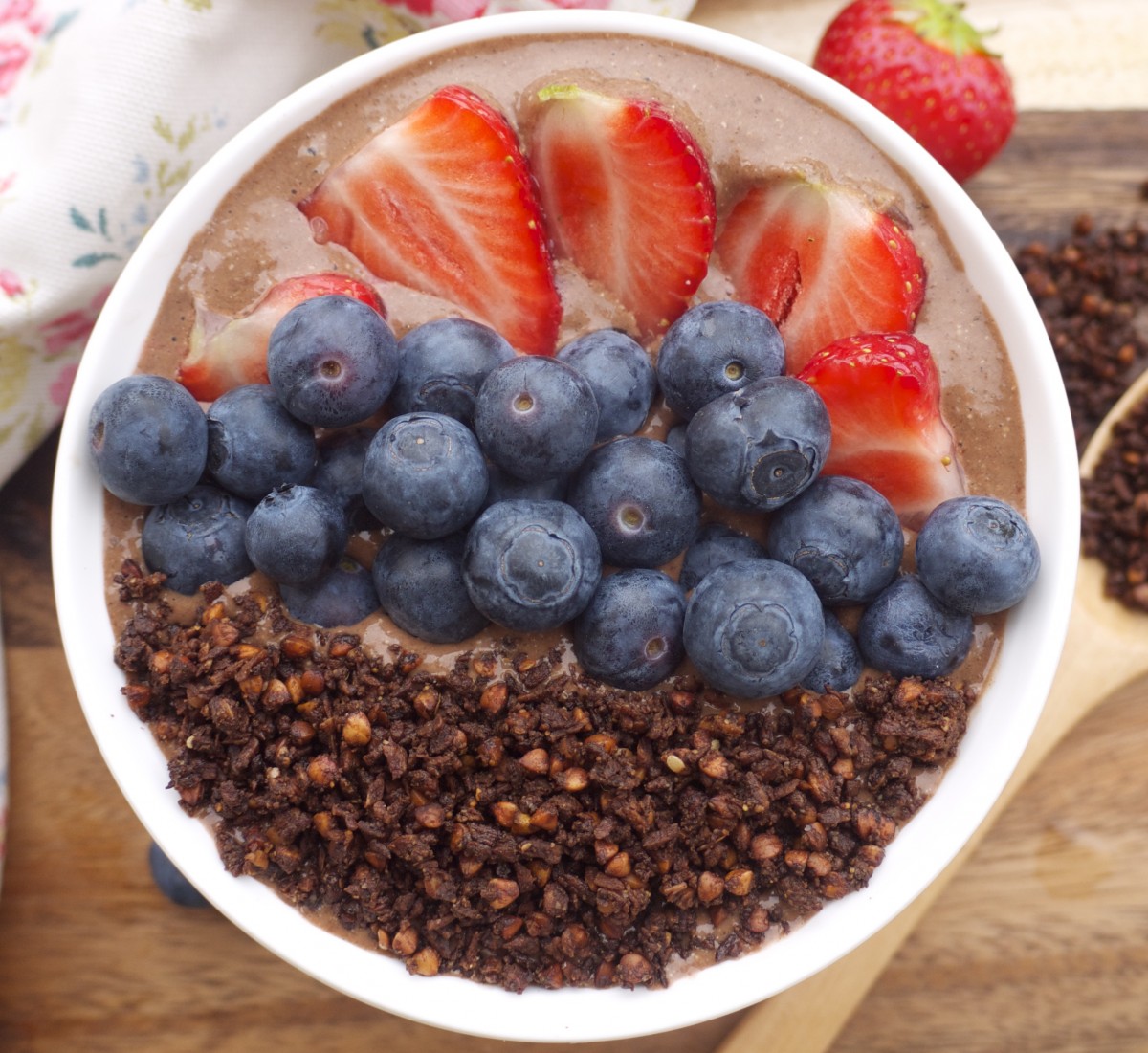 The smoothie is based on the oh-so-delicious combination of frozen banana with raw cacao, chia seeds to help thicken it, a touch of almond butter for creaminess and vanilla… just because I love it!
The berries add a burst of cell-protective antioxidants to keep our skin looking youthful, plus plenty of taste and colour.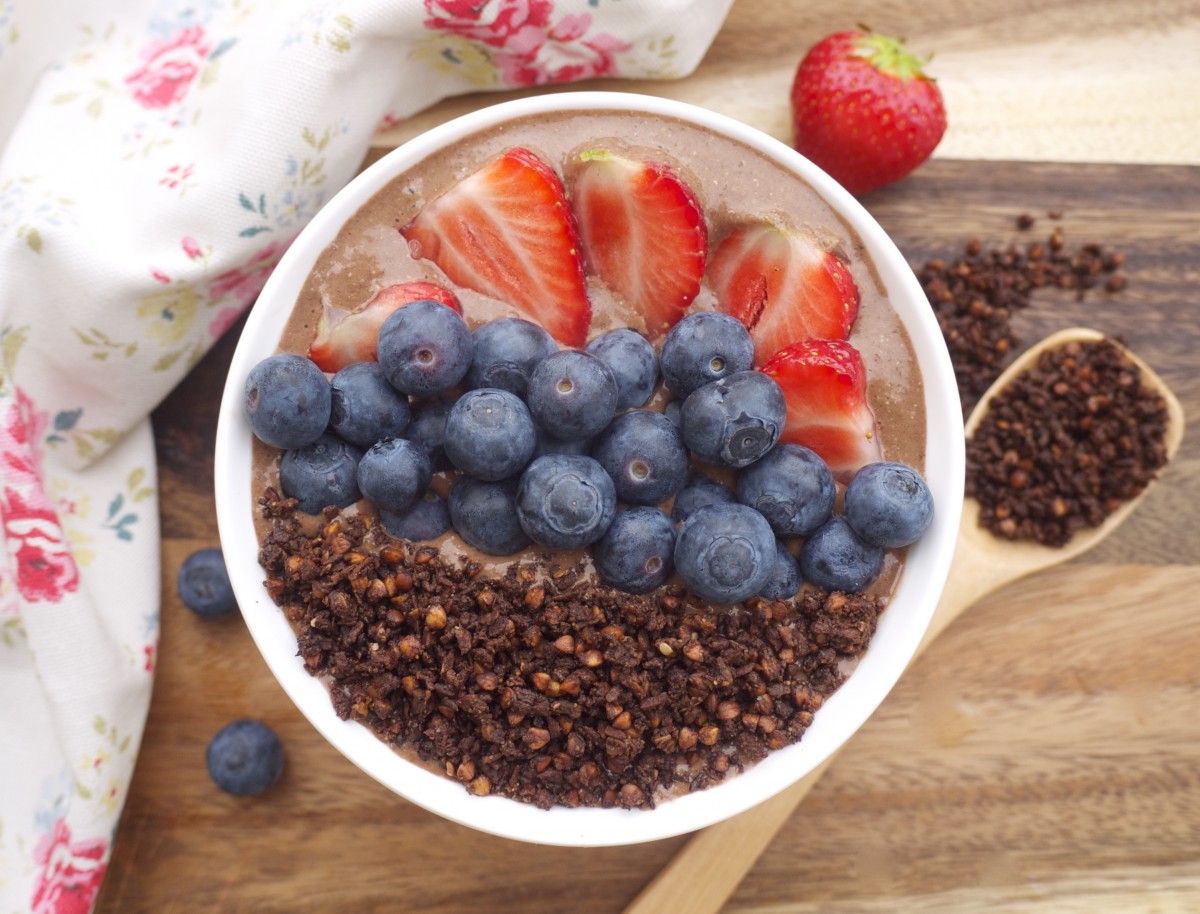 I would love to know if you get a chance to make this for you or your family… tag #RosannaDavisonNutrition on Instagram or Twitter or come on over to my Facebook to say hello!

Choco-Chia Smoothie Bowl with Chocolate Buckwheat Granola
2015-05-06 09:19:32
Serves 1
A smooth, cold and creamy breakfast bowl topped with juicy berries and crunchy chocolate granola!
Ingredients
For the granola: (Makes 2-3 bowls)
165g (1 cup) buckwheat groats
80g (1 cup) shredded unsweetened coconut
2 tsp cinnamon
3 tbsp cacao powder
2 tbsp maple syrup
2 tbsp smooth almond butter
1 tbsp tahini
2 tbsp coconut oil, melted
For the smoothie
1 banana, peeled, cut into chunks and frozen for at least 2 hours
1 tbsp whole or ground chia seeds
1 tsp smooth almond butter
1 tsp vanilla extract
1 tbsp cacao powder
125ml (1/2 cup) unsweetened almond milk
Fresh or frozen blueberries and strawberries, to serve
For the granola
Preheat the oven to 180C
In a large mixing bowl, combine the buckwheat groats with the coconut, cinnamon and cacao powder.
In a separate smaller bowl, mix together the maple syrup, almond butter, tahini and melted coconut oil, until smooth.
Pour the wet ingredients into the bowl with the dry ingredients, and mix until it's all well combined.
Spread the granola out on a large baking tray lined with greaseproof paper and bake at 180C for 20-25 minutes, until its crispy.
Allow to cool for 10 minutes before serving.
For the smoothie
Simply place all ingredients in a blender and blend until smooth and creamy.
Serve topped with berries and granola.
Notes
The granola can be stored in an airtight container for 2-3 days.
Rosanna Davison Nutrition https://www.rosannadavisonnutrition.com/