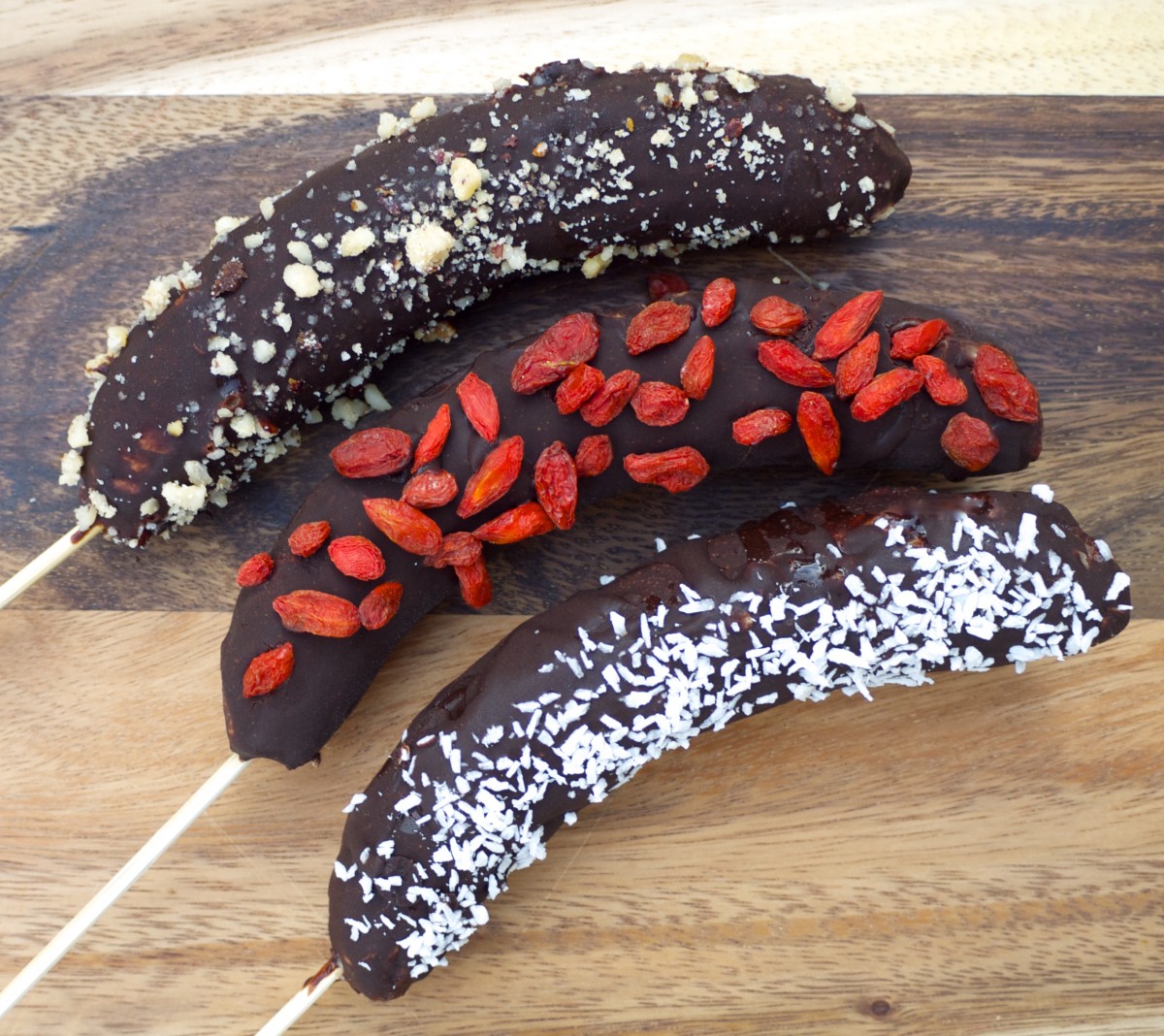 Today was another scorcher in Dublin, and I spotted somebody tucking into a Magnum to cool down. Of course, this made me immediately crave something cold and yummy, so I came up with the idea of these chocolate banana pops.
Shhhh… nobody will ever know that they're actually healthy!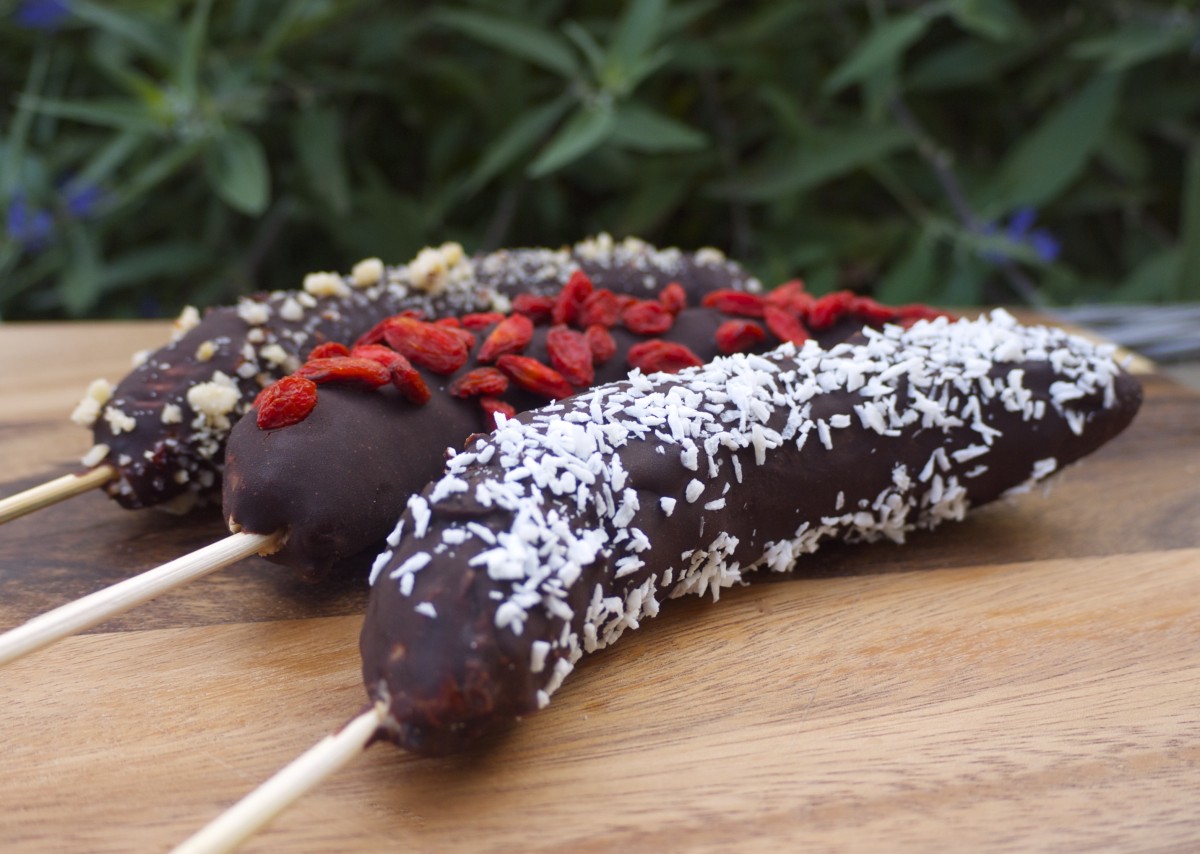 Bananas have so many different uses in recipes, but when frozen they make an excellent ice-cream substitute thanks to their creamy texture. I just popped some lollipop sticks into them, bunged them into the freezer for the day, dunked them into an easy homemade chocolate sauce and hey presto! Homemade ice-pops 🙂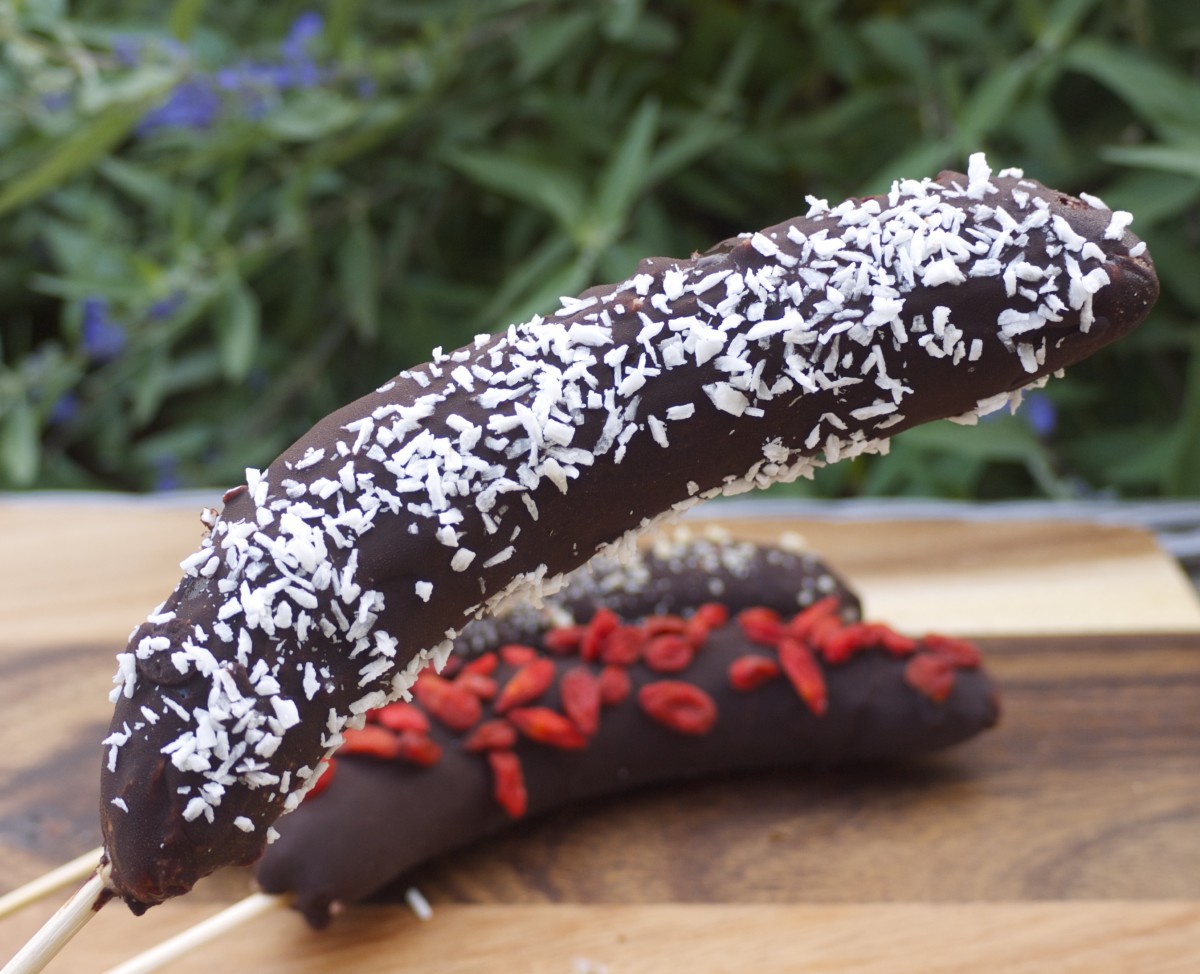 The chocolate sauce is very similar to my recipe for 4-3-2-1 Clean Chocolates. It's simply melted coconut oil mixed with raw cacao powder, maple syrup and vanilla extract. It sets really fast on the ice-cold bananas, and forms a crispy shell. If you can't get hold of raw cacao powder like the one I used, then Cadbury's Bournville cocoa powder can be used instead. It doesn't have the powerful antioxidant properties of the raw cacao powder, but its taste is rich enough for the sauce and it's free from sugar 😉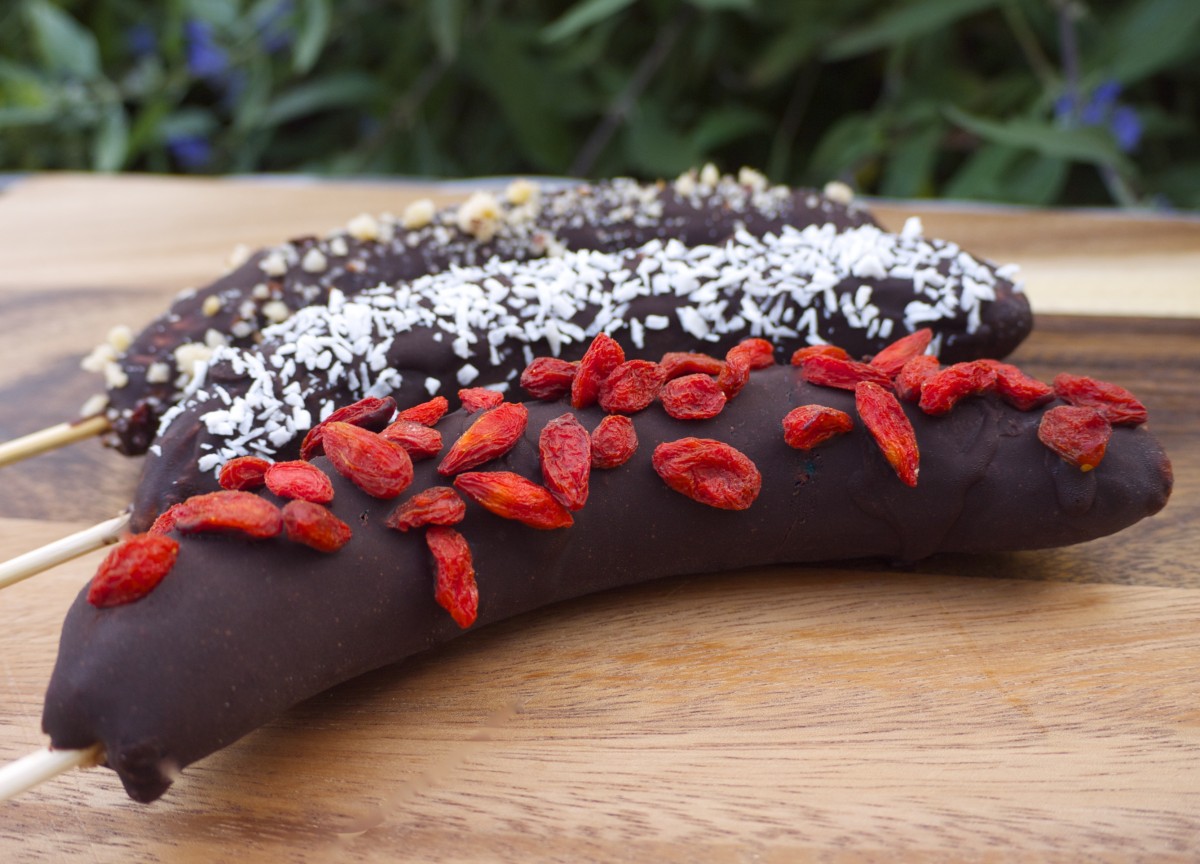 You could use honey in place of the maple syrup, or else leave out the sweetener completely if you prefer the more bitter taste of dark chocolate.
Get creative with the decorations on these! I used toasted, chopped hazelnuts, dried goji berries and desiccated coconut. But any other type of chopped nuts, seeds or dried fruit would work well too. And kids will love the fun of making and decorating their very own 'ice-creams'!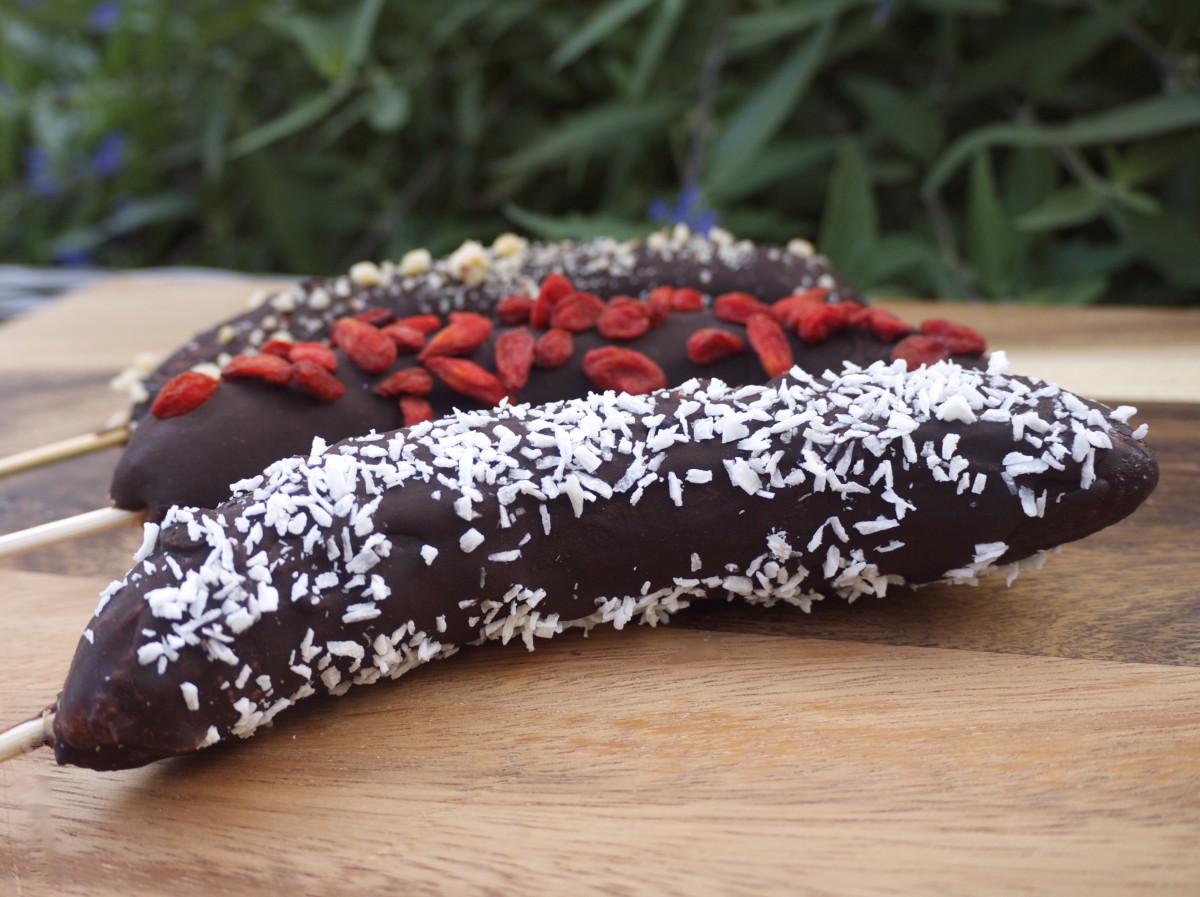 Let me know if you give this Chocolate Banana Pops recipe a go and I love to see all your creations on social media! Simply tag #RosannaDavisonNutrition on Instagram or Twitter or come on over to my Facebook to say hello 🙂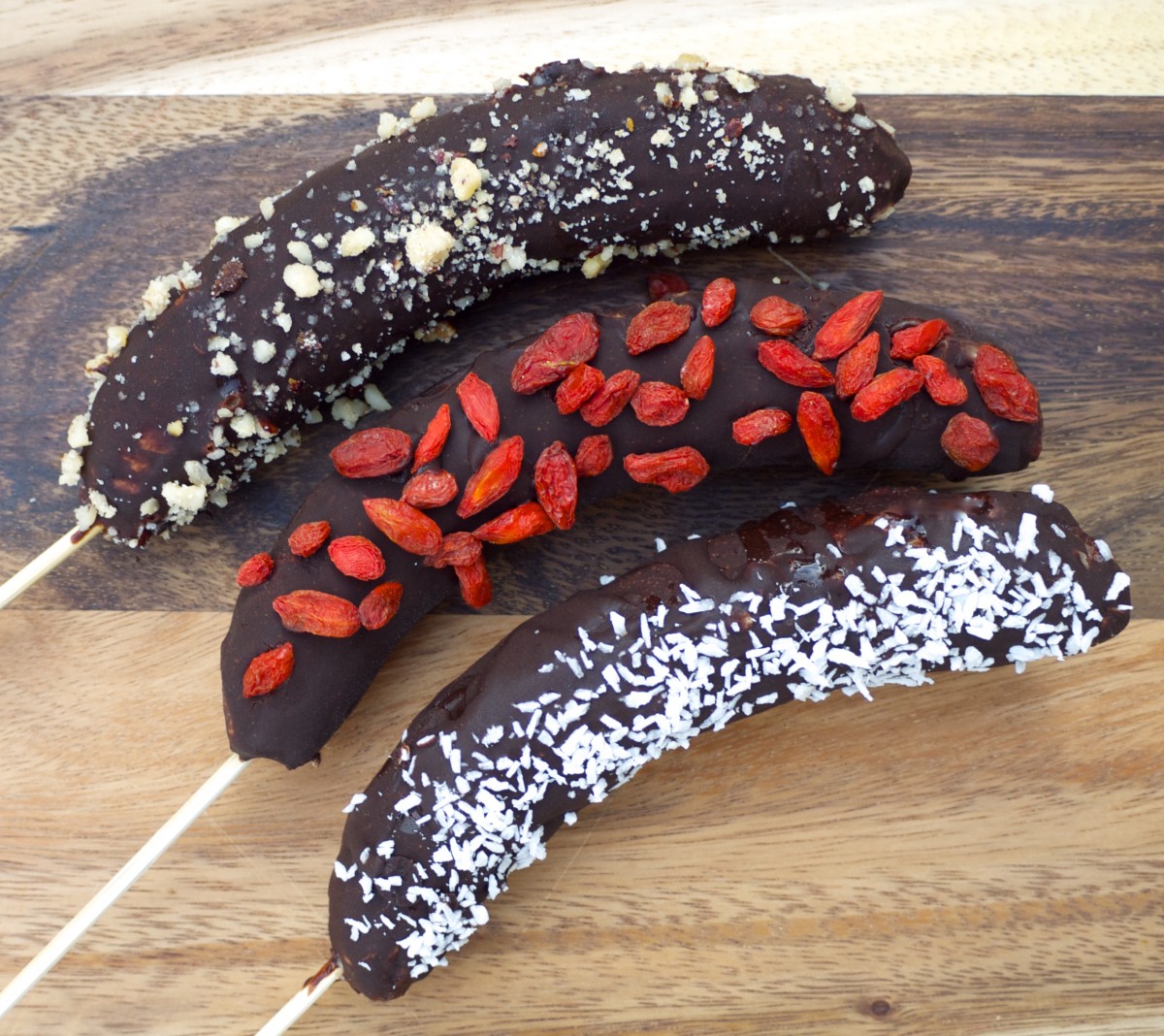 Chocolate Banana Pops
2015-08-17 20:48:25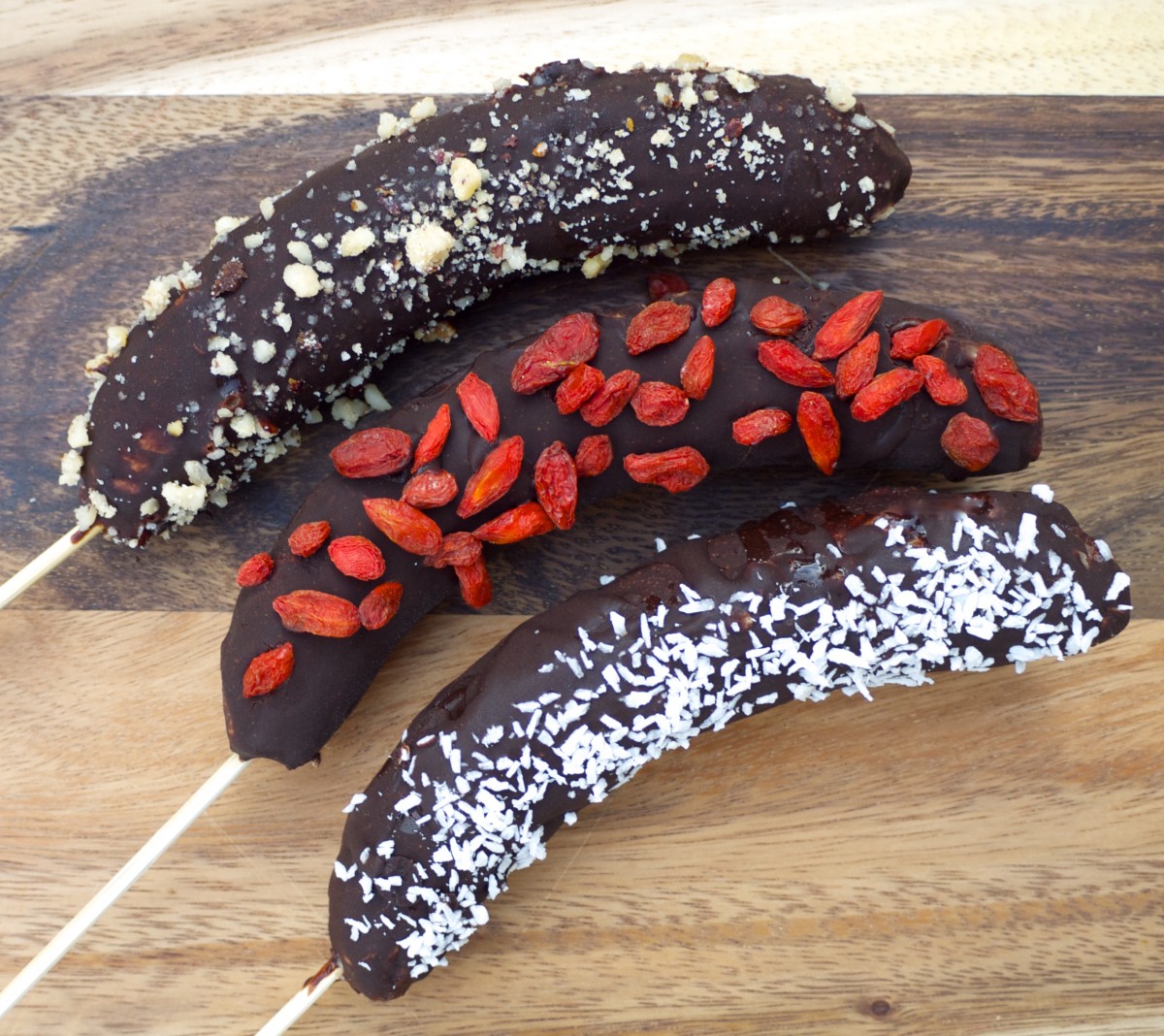 A refreshing treat on a hot day when you fancy something sweet but not too naughty!
Ingredients
3-4 medium-size ripe bananas
For the chocolate coating
2 tbsp virgin coconut oil
3 tbsp cacao or cocoa powder
1 tbsp pure maple syrup
1 tsp vanilla extract
Chopped toasted hazelnuts/desiccated coconut/goji berries etc. to decorate
Instructions
Peel the banana, carefully stick the lollypops sticks up their centre, and place them in the freezer for 6 hours or overnight.
To make the chocolate sauce, melt the coconut oil in a small saucepan over a medium heat and add in the cacao or cocoa powder, maple syrup and vanilla.
Stir well until a chocolate sauce forms.
Dunk the frozen banana into the sauce to coat them well - I also used a large spoon to help coat them.
Sprinkle on the toppings quickly because the chocolate sets fast and lay them on a plate.
Serve immediately or leave in the freezer until ready to serve.
Rosanna Davison Nutrition https://www.rosannadavisonnutrition.com/