This week's special SoSueMe recipe is something I hope you'll all love – chocolate cream whip with pecan crumble and raspberries!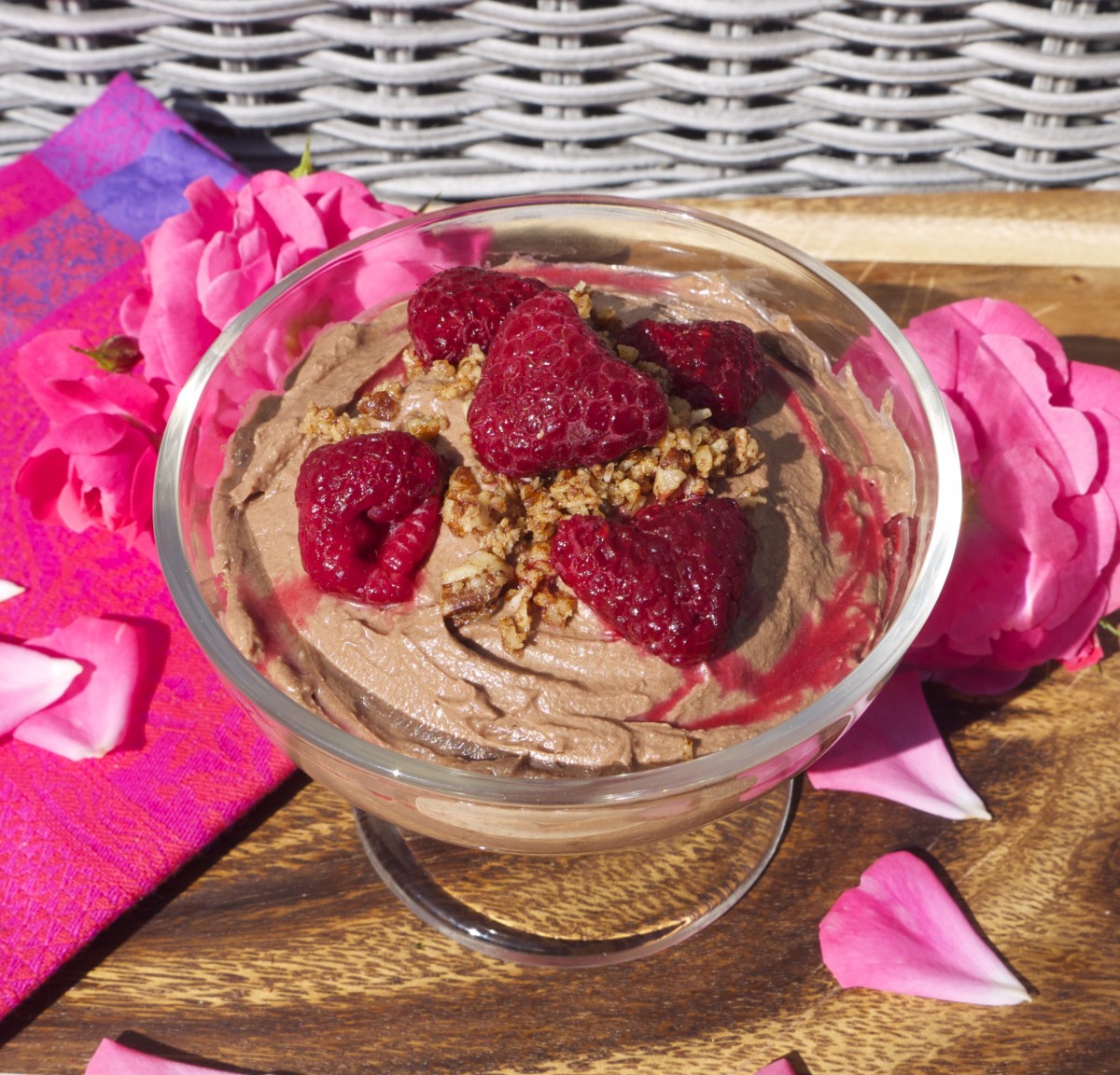 It looks super naughty, and nobody will believe that it's actually completely refined sugar-free, dairy-free, gluten-free and healthy!
It makes an amazing dessert or sweet treat to impress family and friends who might be visiting over the weekend, and it's really easy to prepare.
The soft, creamy whip is based on coconut cream blended with chocolate. But I used raw cacao powder, which is rich in antioxidants for protecting your cells and skin from ageing, and important minerals like iron and magnesium. It's a true beauty food!
Coconut is also an amazing food to include in your diet regularly as it contains abundant medium-chain fatty acids, which are used immediately for energy in your body and help to boost a sluggish metabolism.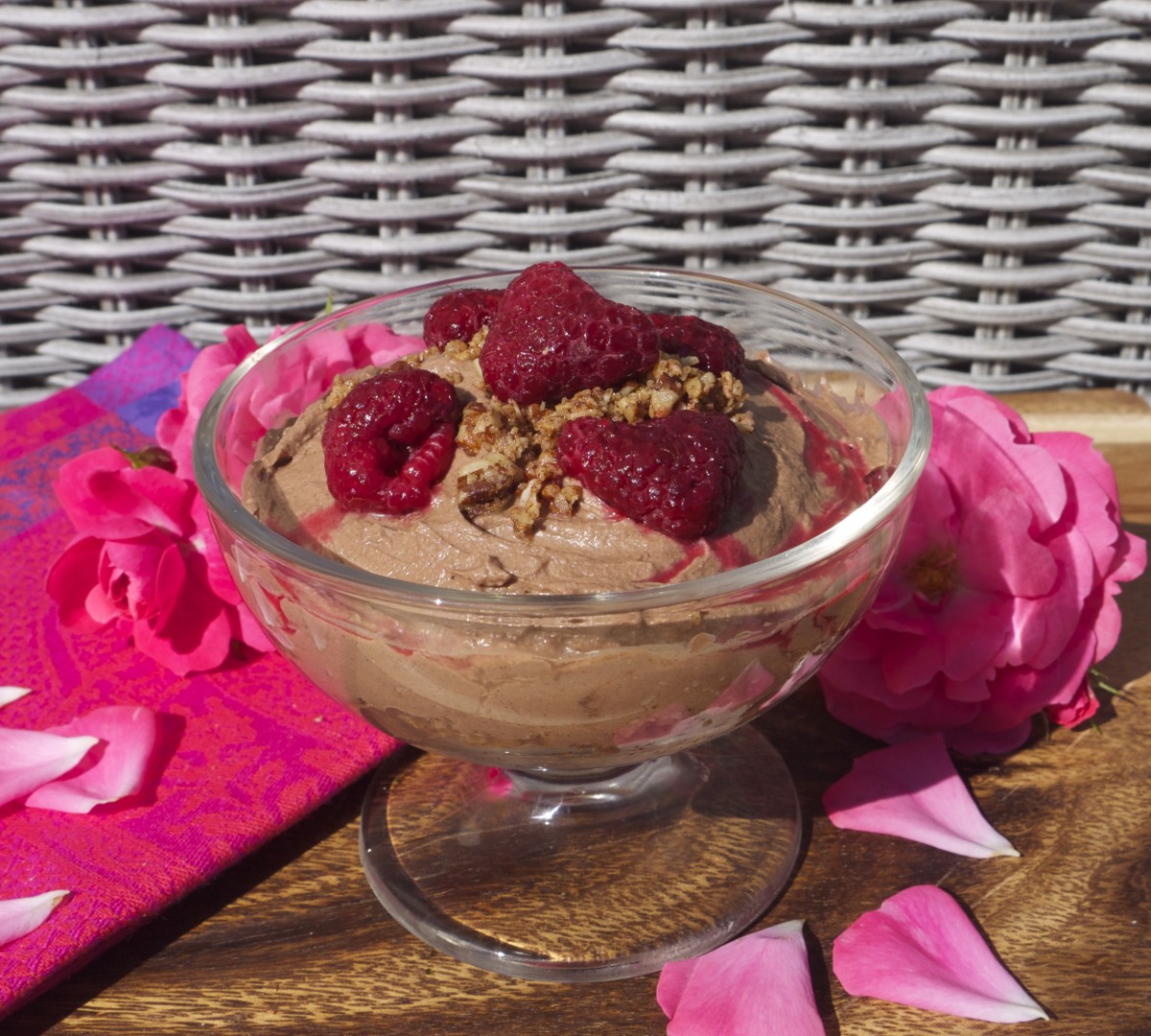 The pecan crumble is a simple combination of toasted pecans, which have a gorgeous biscuity flavour, plus dried coconut flakes, cinnamon, vanilla and almond butter. Such a delicious, crumbly and nutritious combination. I love a guilt-free dessert!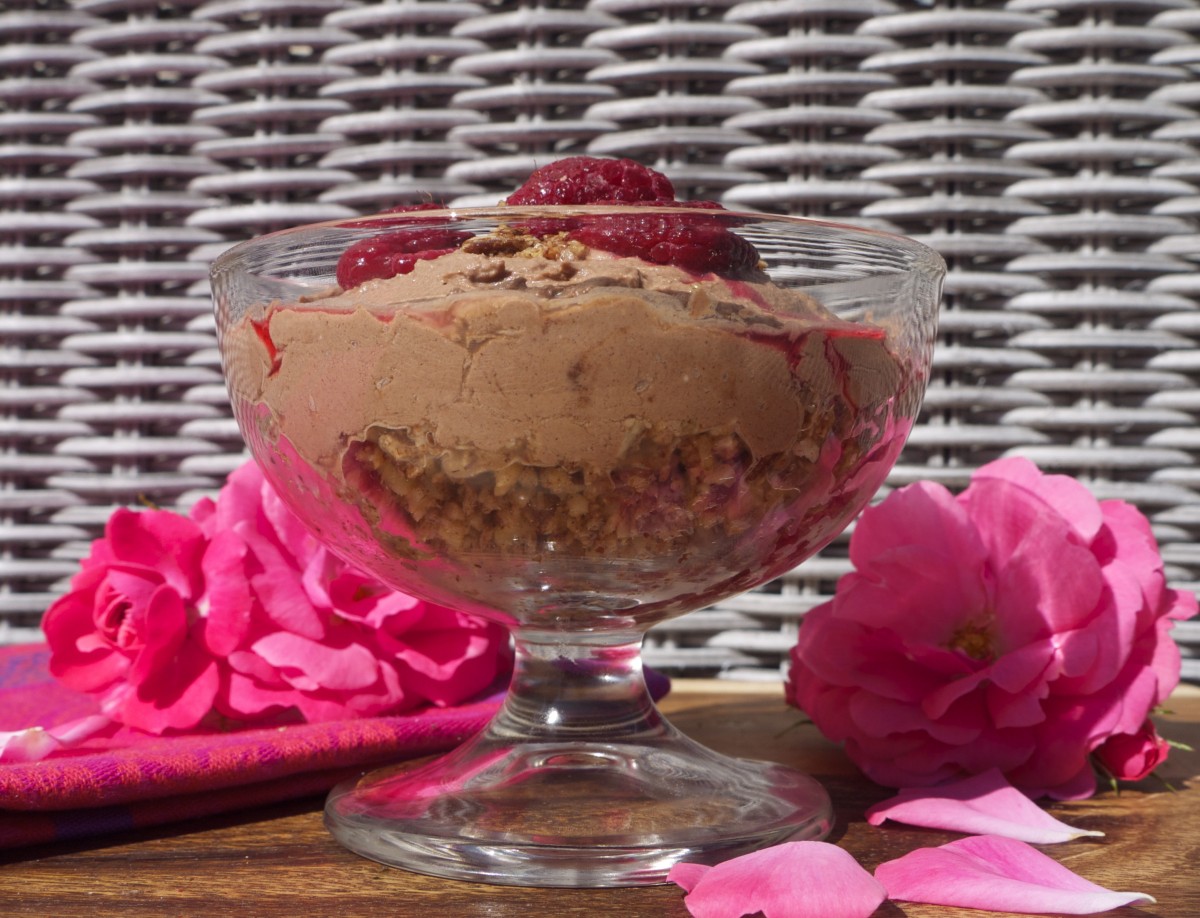 Let me know if you give this recipe a go and I love to see all your creations on social media! Simply tag #RosannaDavisonNutrition on Instagram or Twitter or come on over to my Facebook to say hello 🙂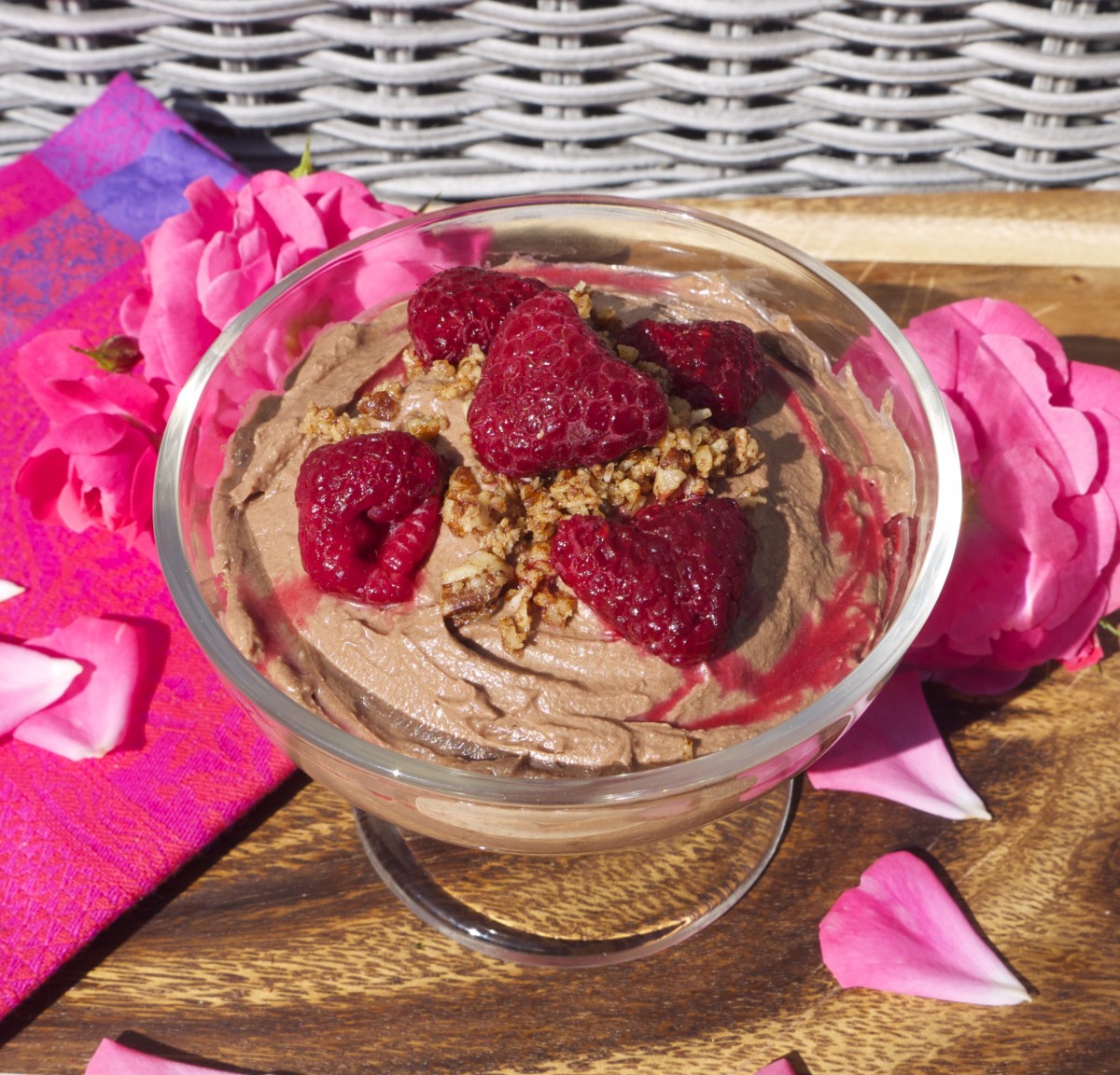 Chocolate Cream Whip with Pecan Crumble
2015-08-03 13:14:34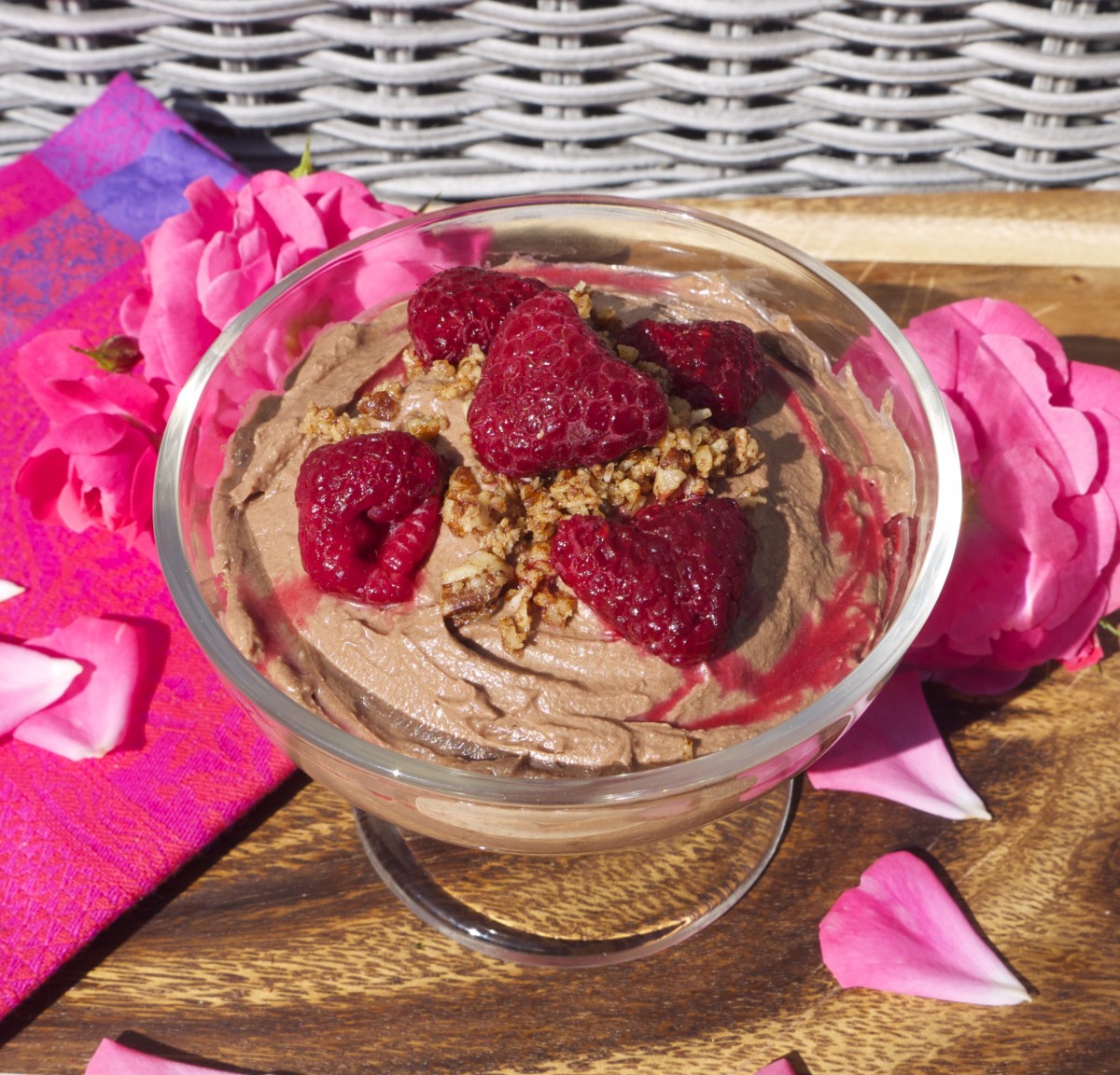 Serves 1
A simple and nutritious guilt-free dessert that tastes far more naughty than it really is! Free from gluten, sugar and dairy.
For The Pecan Crumble
100g unsalted pecan nuts
3 tbsp desiccated coconut or dried coconut flakes
1 tsp cinnamon
1 tsp vanilla extract
1 tbsp unsalted almond butter
For the Chocolate Cream Whip
1 can of full-fat coconut cream, chilled in the fridge overnight
2 tbsp raw cacao powder or Bournville cocoa powder
4-5 drops of liquid Stevia to sweeten or a teaspoon of pure maple syrup/honey
1 tsp vanilla extract
Fresh/frozen raspberries, to decorate
Instructions
Pre-heat the oven to 180C, spread out the pecans on a baking tray and place in the oven for 8-10 minutes until lightly golden and toasted. Take care not to burn them!
Remove the pecans from the heat and place them with the rest of the crumble ingredients in a food processor fitted with an S blade or a good blender. Combine until a coarse crumble forms.
Spoon the crumble into the bottom of a serving bowl, glass or jar. Save a small amount for the topping!
To make the chocolate cream whip, carefully open the can of coconut cream without shaking it as the solid part should have separated from the liquid.
Spoon the solid cream into a bowl and add the cacao powder, your sweetener of choice and vanilla extract.
Use a fork to whisk up the whip, then taste and adjust flavour quantities if desired.
Spoon the whip onto the pecan crumble, making sure the top is smooth and even. Chill it in the fridge for 20-30 minutes to allow it to set.
Top with raspberries and a sprinkle of the crumble and serve. I used frozen raspberries because their juice runs down the bowl when they start to defrost!
Notes
Keep chilled. Any leftovers can be stored in an airtight container in the fridge for 2-3 days.
Rosanna Davison Nutrition https://www.rosannadavisonnutrition.com/