Happy World Vegan Day!
To celebrate, I thought I would share one of the most popular sweet treat recipes from Eat Yourself Beautiful and definitely my most-requested desserts by family and friends! They're like my healthier Mars Bars but a little bit more sophisticated and the perfect accompaniment to an afternoon cup of tea 🙂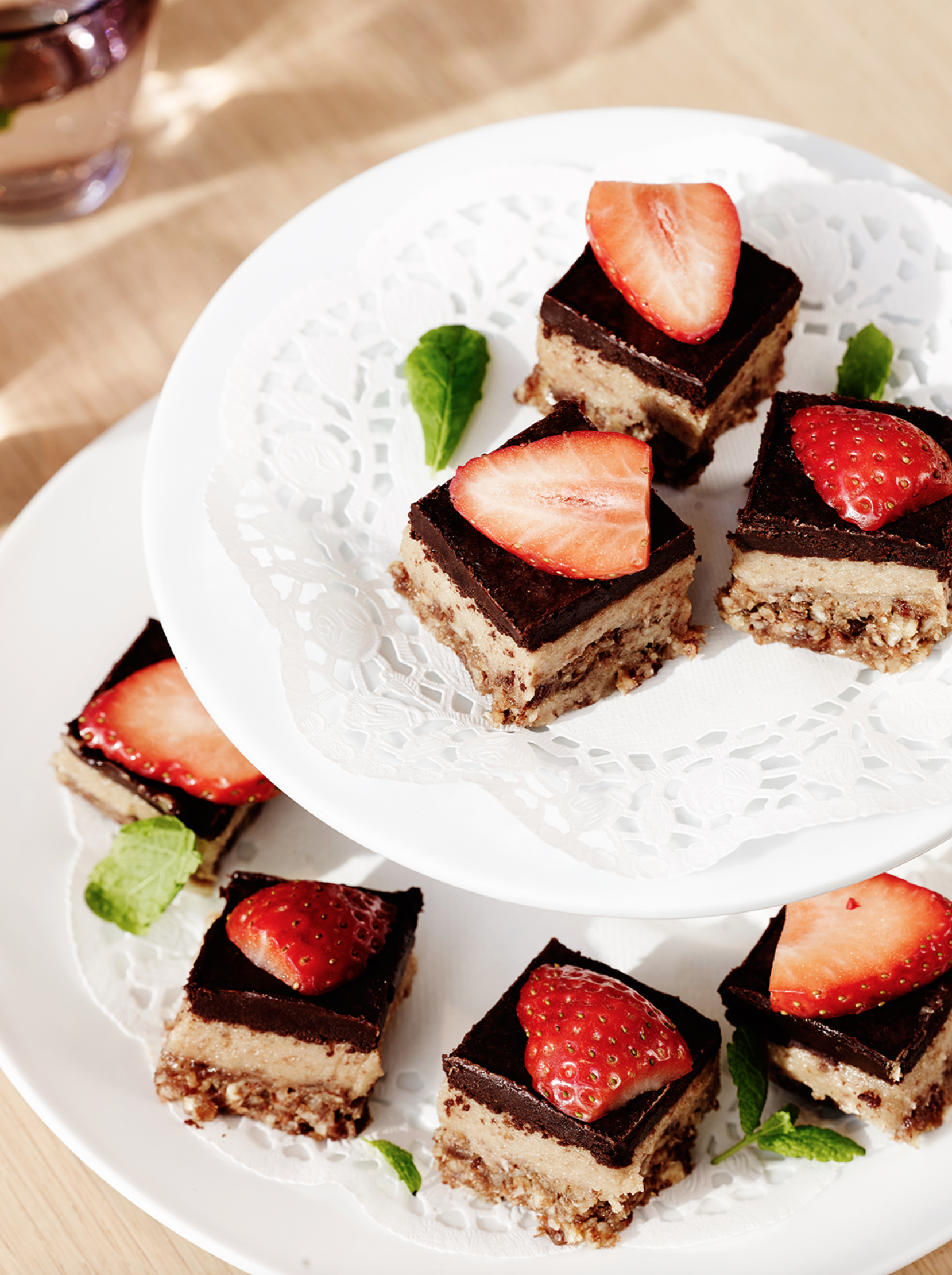 As a child, my absolute favourite sweet treat was a chocolate caramel slice, which I might get on a Sunday after lunch if I was very lucky. I loved the different layers of rich chocolate, gooey melting caramel and the biscuity base and I would nibble my way through each to prolong the enjoyment for as long as possible. These chocolate salted caramel slices bring back all those memories for me and are so similar to the version I used to eat, but using only whole, plant-based ingredients.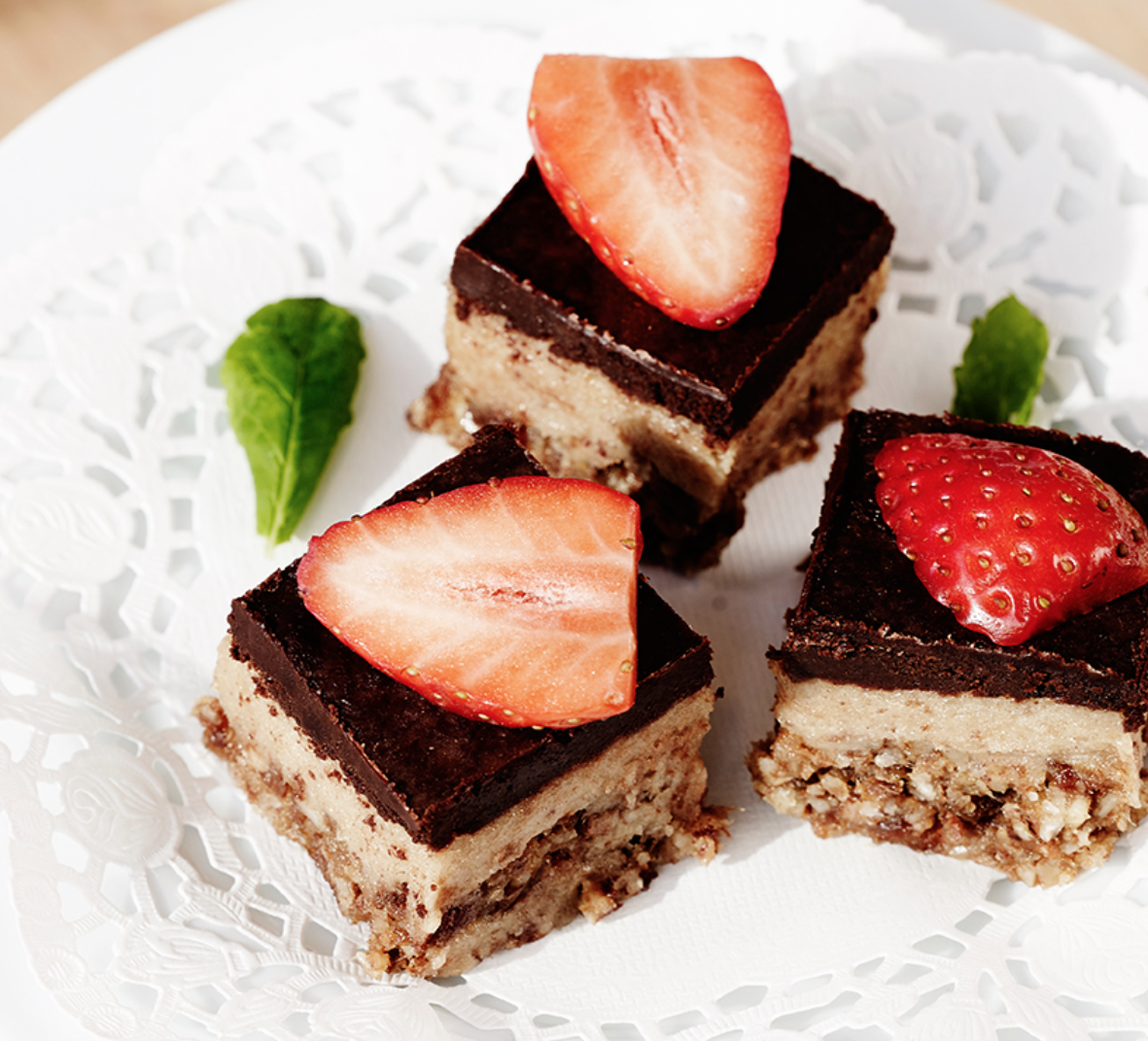 Raw, vegan and free from refined sugar, they're a really special treat to make for loved ones.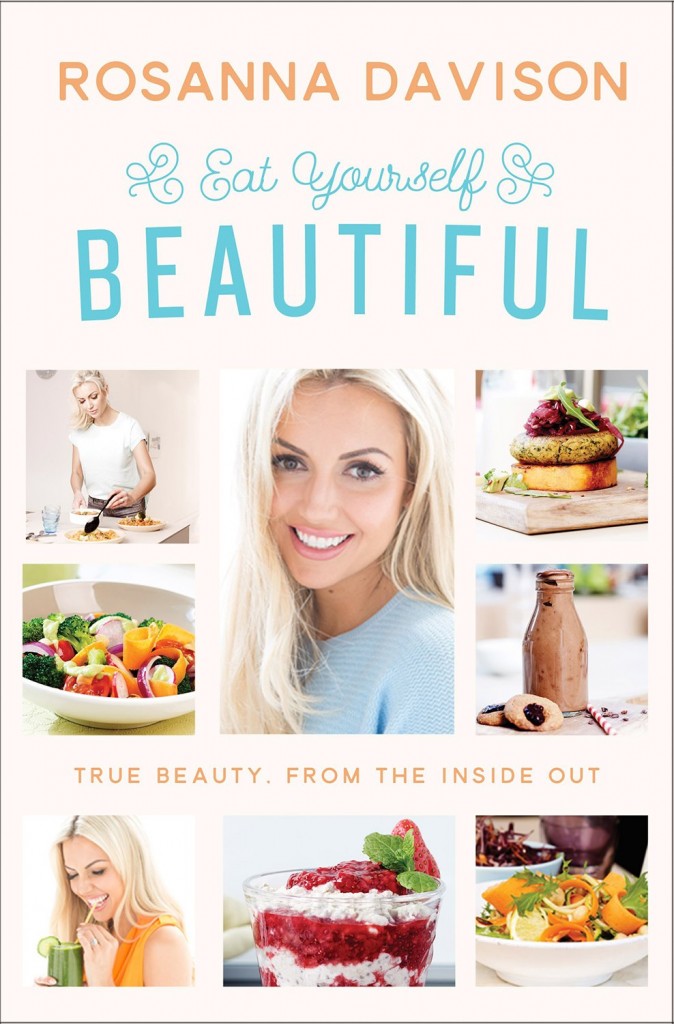 I would love to know if you get a chance to make these Raw Chocolate and Salted Caramel Slices! Simply tag #RosannaDavisonNutrition on Instagram or Twitter or come on over to my Facebook to say hello 🙂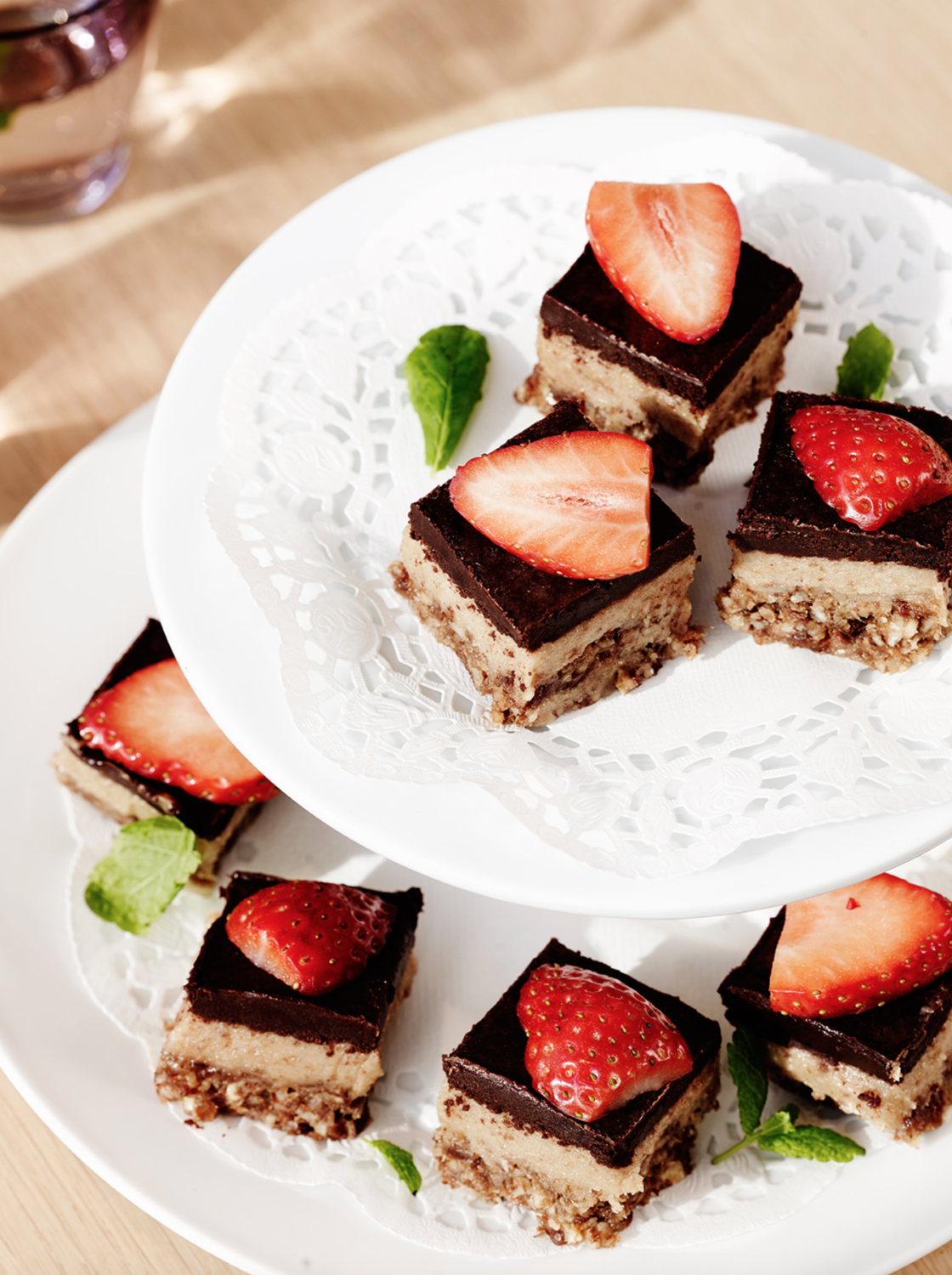 Raw Chocolate and Salted Caramel Slices
2017-11-01 17:09:45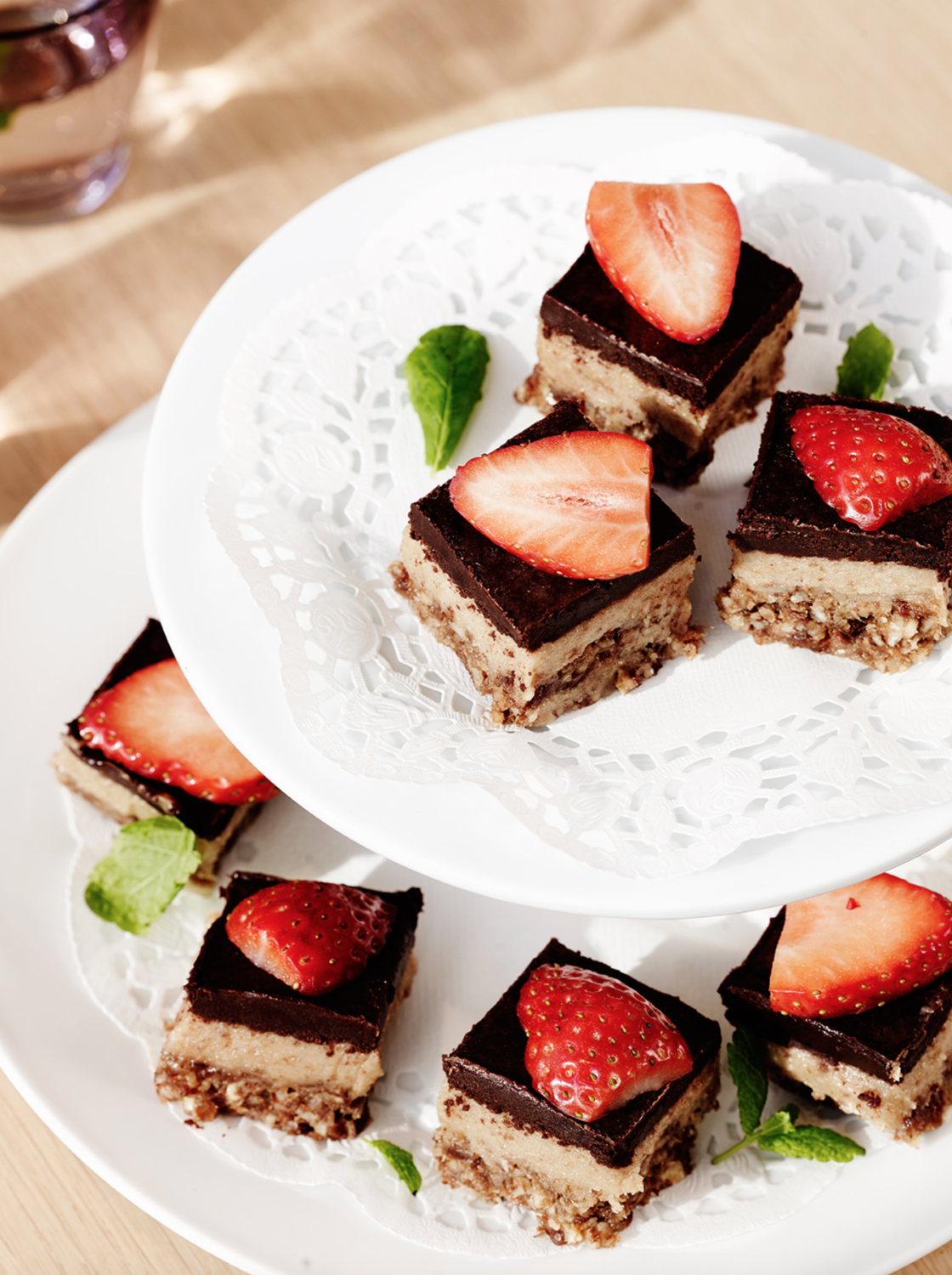 Serves 6
A delicious sweet treat or dessert based on whole ingredients and free from refined sugar.
For the base
150g dates, pitted and chopped
110g unsalted almonds
1 tsp ground cinnamon
1 tsp virgin coconut oil
For the salted caramel layer
130g cashews
150g dates, pitted
155g pure maple syrup
110g virgin coconut oil
80ml water
1.5 tbsp tahini
1 tsp pure vanilla extract
pinch of Himalayan pink rock salt
For the chocolate topping
75g pure maple syrup
55g virgin coconut oil
30g raw cacao powder
Instructions
Lightly grease a 24cm x 24cm square tin with coconut oil or line with greaseproof paper.
To make the base, first soak the chopped dates in a small bowl of warm water for 15–20 minutes to soften them. Drain the dates and place them in a blender or food processor with the almonds, cinnamon and coconut oil and blend until the mixture becomes sticky crumbs.
Pour into the prepared tin. Ensure it's even and press down firmly. Place it in the freezer to set.
Meanwhile, soak the cashew nuts for 1/2 an hour in a small bowl of water. Drain the nuts.
Place the soaked cashews and dates into a blender or food processor with the maple syrup, coconut oil, water, tahini, vanilla extract and a pinch of salt. Blend until smooth. Use a little extra water if necessary to help it combine. Pour the caramel layer onto the base layer, spread it out evenly and return to the freezer to set.
Once the caramel layer has set, make the chocolate topping. Combine the maple syrup, coconut oil and cacao powder in a small saucepan set on a low heat until it looks like chocolate sauce. Pour the chocolate sauce over the caramel layer and ensure it's even. Place it back in the freezer for another 1–2 hours, until completely set.
Slice into six or eight squares with a sharp knife.
Notes
Store in a covered container in the fridge for up to 4 days.
Rosanna Davison Nutrition https://www.rosannadavisonnutrition.com/