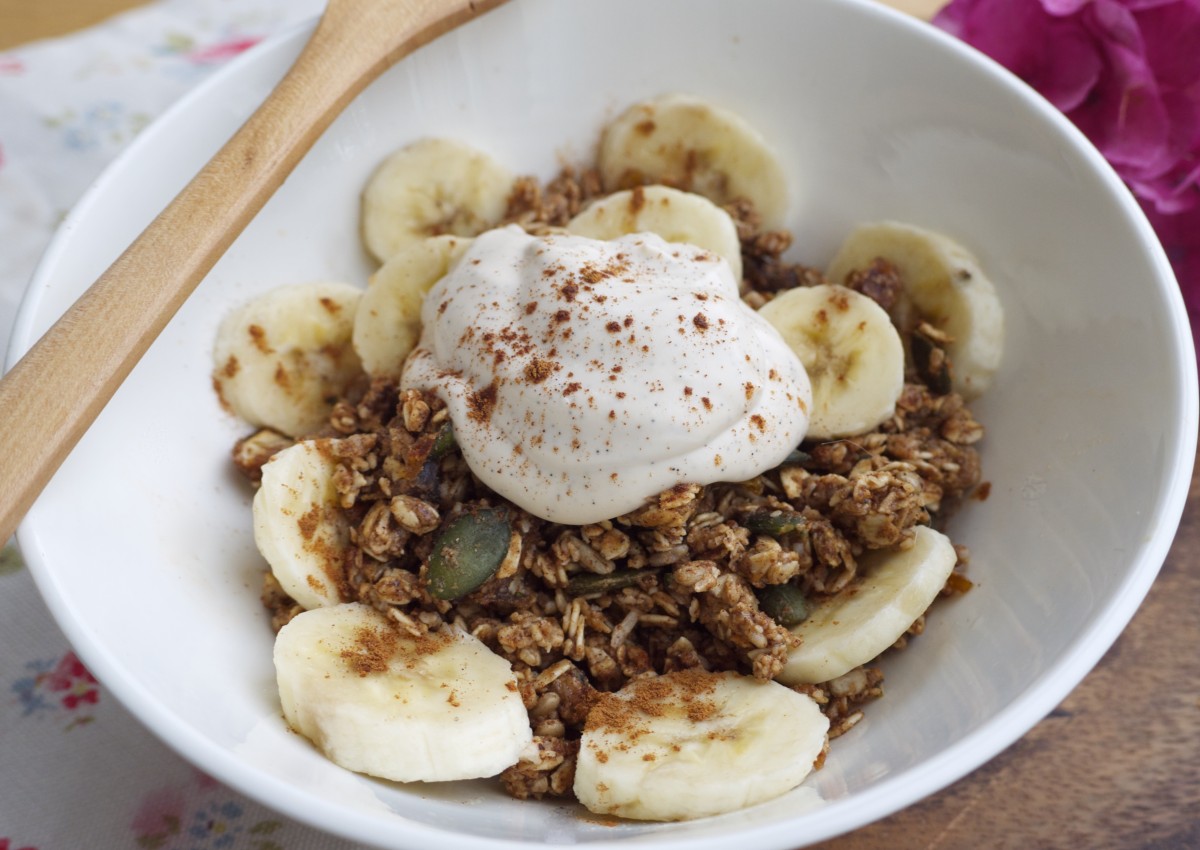 For many people all over the world, Sunday mornings are the best time of the week for a relaxed start to the day and a leisurely breakfast. I'm generally an early riser, even on weekends. But since I spent 8 hours behind the wheel yesterday, I enjoyed a much-needed lie-in today!
I received the warmest welcome in Cork for my Eat Yourself Beautiful signing in Eason on Patrick Street yesterday, as part of the book tour. Huuuuuge big thanks to all who came along! It was so nice to meet and chat with everybody.
After Cork, I drove back to Dublin to grab a bite to eat and change, before driving up to Cavan to judge the best-dressed lady competition at The Imperial Nightclub and take a few pics with revellers. Great fun! I finally crawled into bed at 4am, so this morning was a lovely lazy one, enjoying this delicious and easy recipe for coconut-cinnamon rawnola with vanilla cream 🙂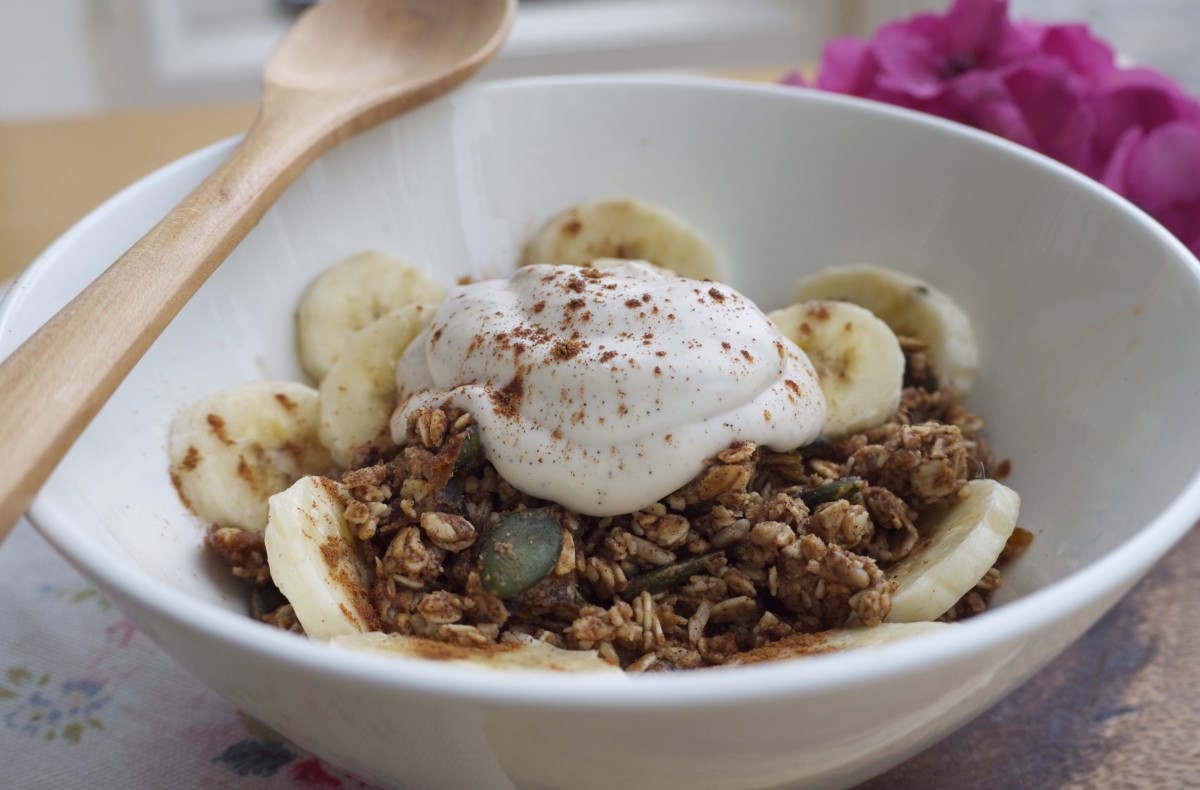 Easy, nourishing and delicious recipes are what I'm all about. They need to tick all of the boxes, and this great breakfast really does. It took me just a few minutes to prepare it all, yet it kept me full for hours thanks to the slow-release energy from the oats, and the protein and healthy fats found in the almond butter, coconut and seeds.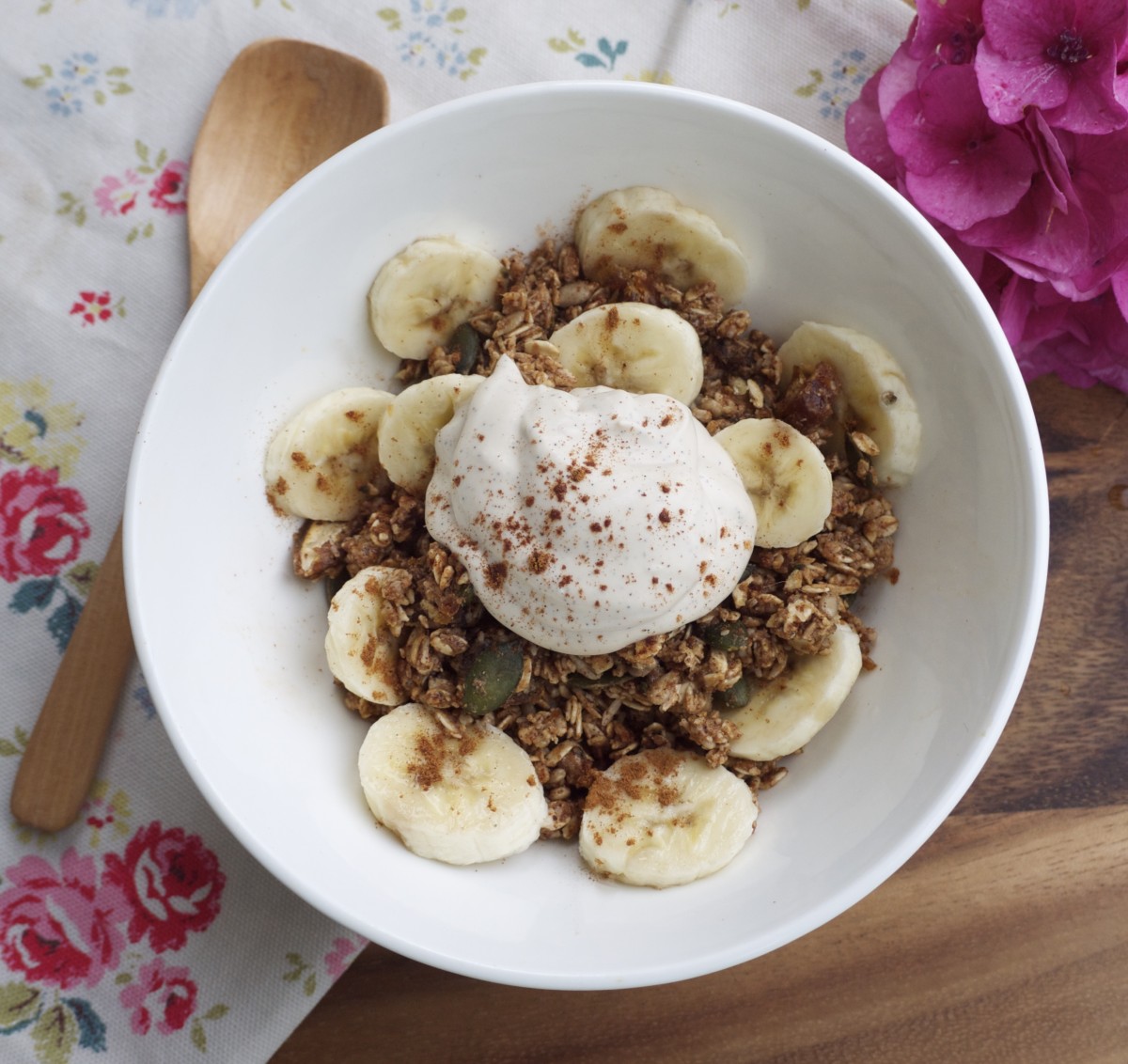 Cinnamon is a brilliant spice for adding sweetness and flavour, plus it's well known to help control blood sugar levels due to its content of the mineral, chromium.
Meanwhile, it's a great idea to include some banana in your daily diet for its potassium content, which helps to regulate blood pressure and keep you healthy. I tend to eat more fruit in the morning to boost energy levels for the day, and fruit is especially beneficial to fuel your body for a workout.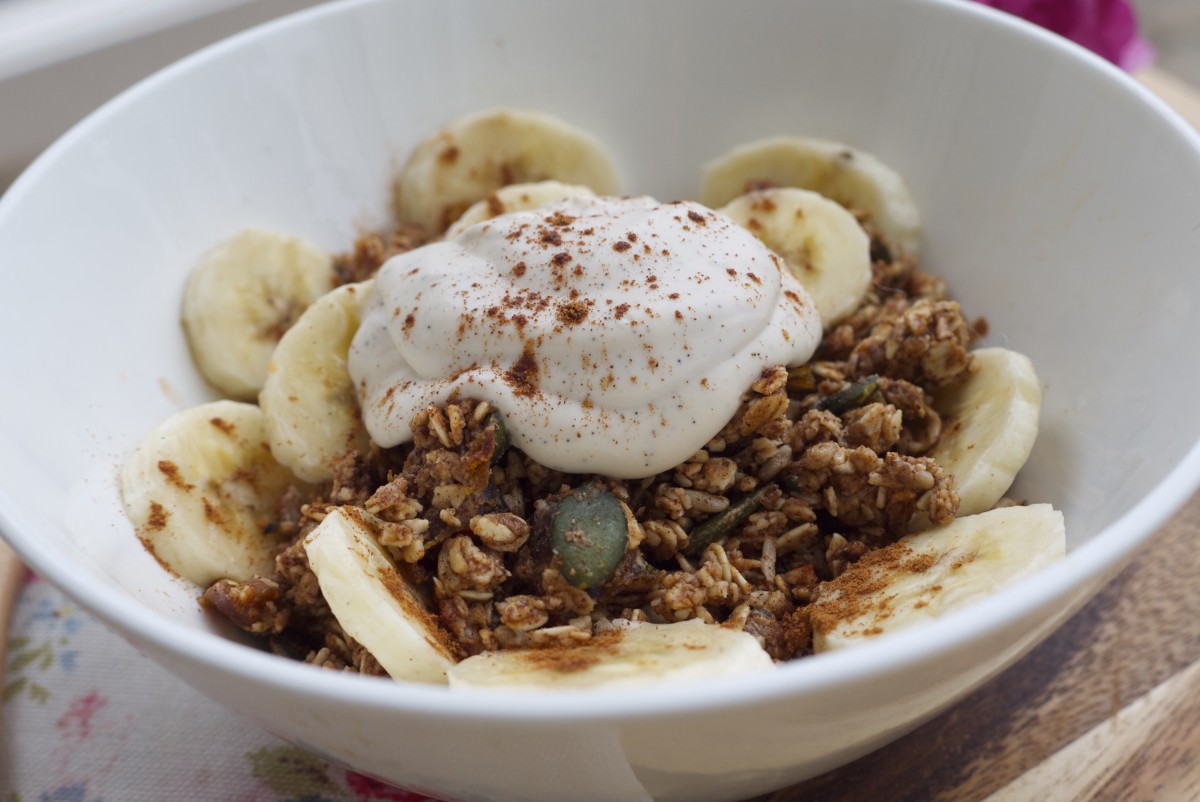 The coconut cream is simply made from chilled full-fat coconut milk and a little goes a long way to helping you to feel full all morning, but Coyo coconut milk yoghurt works just as well here too.
The saturated fat in coconut is mostly in the form of medium chain saturated fatty acids (MCFAs), with lauric acid of particular benefit. Lauric acid is converted in the body into a beneficial compound called monolaurin, which is an effective antiviral and antibacterial. Thus, it's thought that consumption of coconut milk may help to protect our body from infections and viruses.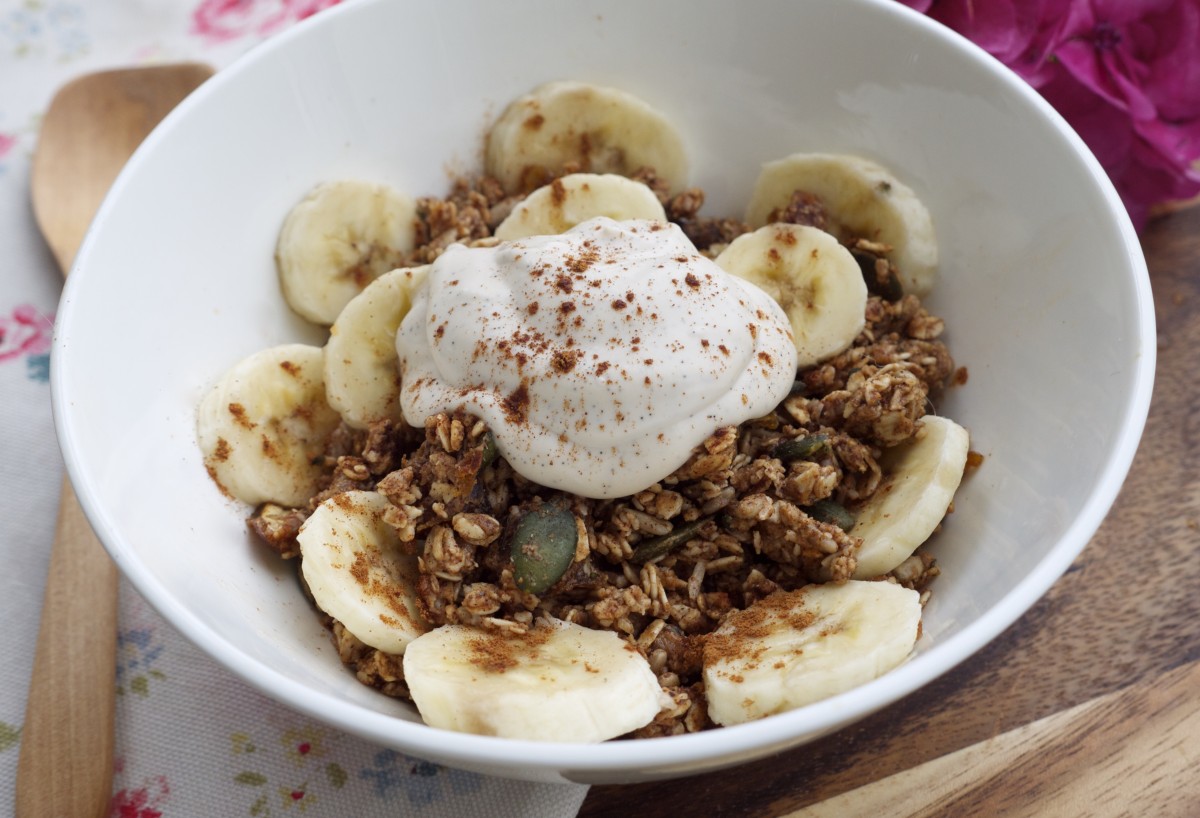 I would love to know if you get a chance to make this coconut-cinnamon rawnola recipe! Simply tag #RosannaDavisonNutrition on Instagram or Twitter or come on over to my Facebook to say hello 🙂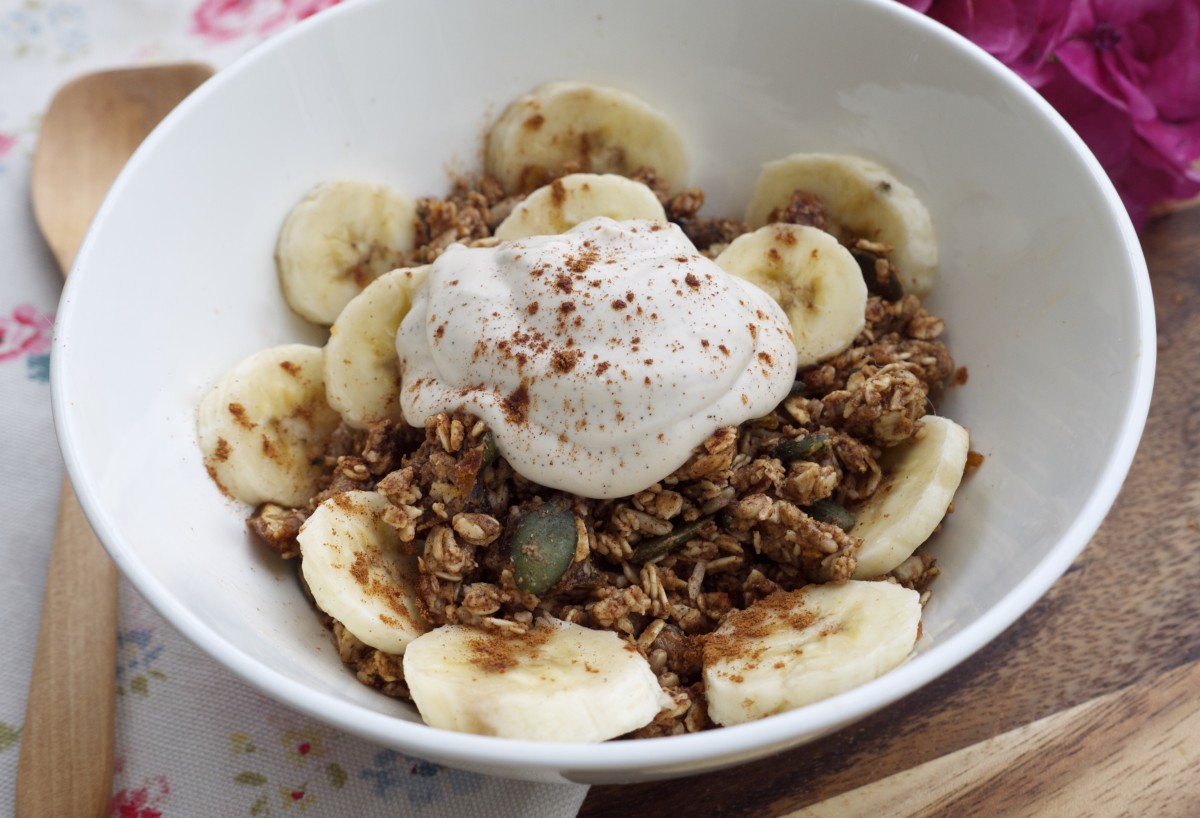 Coconut-Cinnamon Rawnola with Vanilla Cream
2015-09-14 00:11:29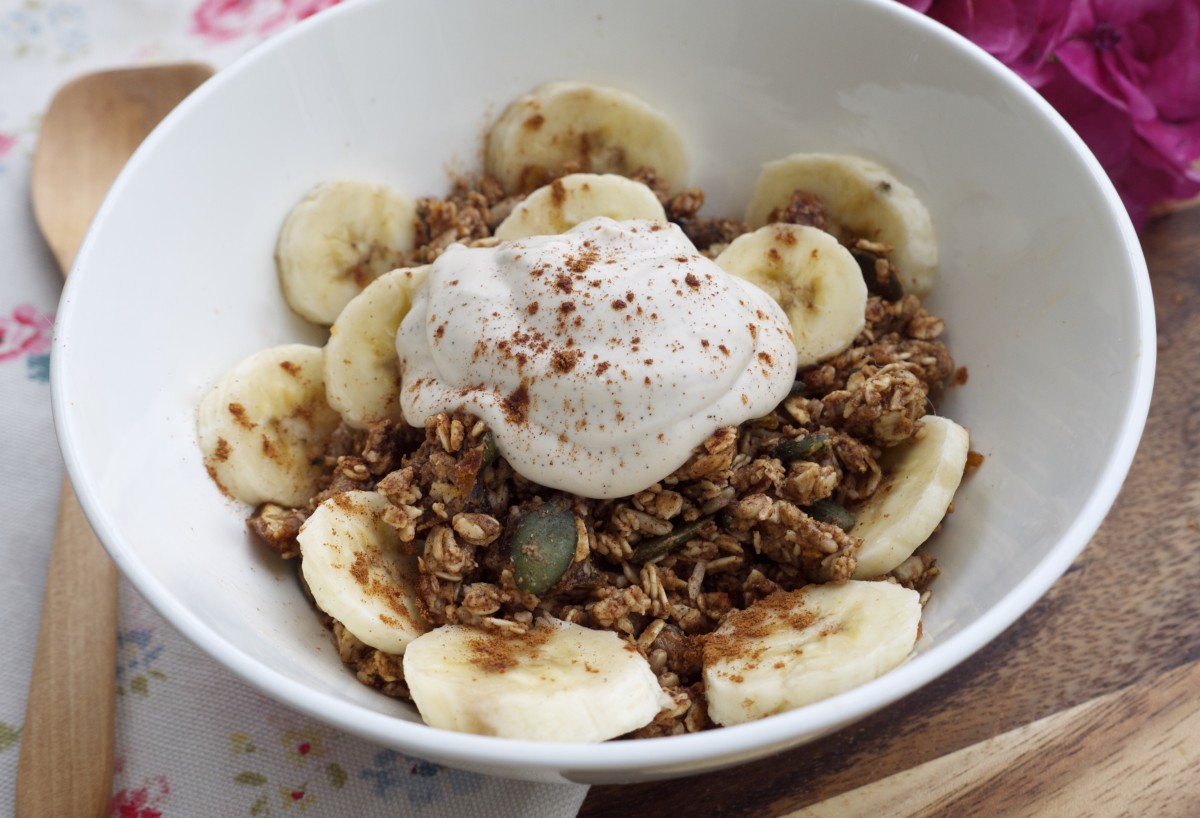 Serves 2
A tasty, quick and filling breakfast packed with fibre, protein, healthy fat and essential minerals.
Ingredients
10 dates, pitted and roughly chopped
4 tbsp porridge oats (I used a certified gluten-free brand)
3 tbsp unsweetened desiccated coconut
1 tbsp hulled hemp seeds
1 tbsp sunflower seeds
1 tbsp pumpkin seeds
1.5 tbsp raw, unsalted almond butter (I used a smooth version)
2 tsp cinnamon
1 tsp pure vanilla extract, powder or seeds
For the vanilla cream
1 can coconut milk, chilled overnight in the fridge (I used the full-fat version by Blue Dragon)
1 tsp pure vanilla extract, powder or seeds (I used seeds for their flavour)
1 banana, sliced
Extra cinnamon, to serve
Instructions
Place all of the rawnola ingredients into a food processor. Blend until well combined and their texture becomes crumbly.
Place in a bowl and top with sliced banana.
Carefully open the can of coconut milk. The solids should have separated from the liquid.
Spoon the solid coconut cream into a bowl, add the vanilla and whisk with a fork until it becomes a smooth cream.
Top the rawnola with vanilla cream and serve sprinkled with a little extra cinnamon.
Notes
Any leftovers can be store din an airtight container in the fridge for up to 2 days.
Rosanna Davison Nutrition https://www.rosannadavisonnutrition.com/