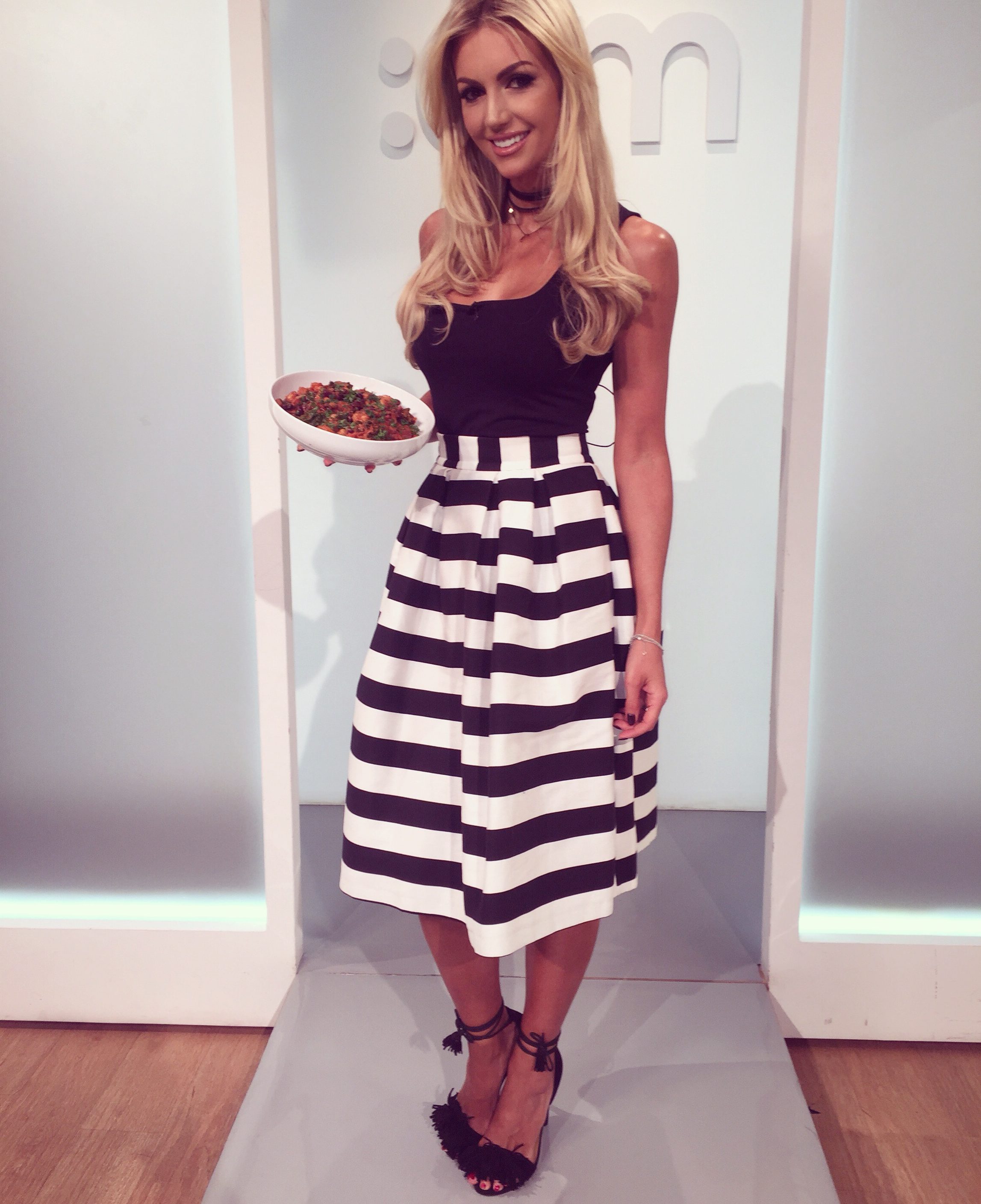 I popped into the Ireland AM studios at TV3 at an insane hour this morning to whizz up one of my fave Eat Yourself Fit recipes, the Chilli Sans Carne. Luckily, it was a hit with everybody and was quickly demolished by hungry staff!
Did you manage to catch the segment? If not, you can catch up on it here 🙂
Lots of you were asking about my monochrome striped skirt, which is the midi prom skirt from ASOS and a steal on sale for €32… go get it!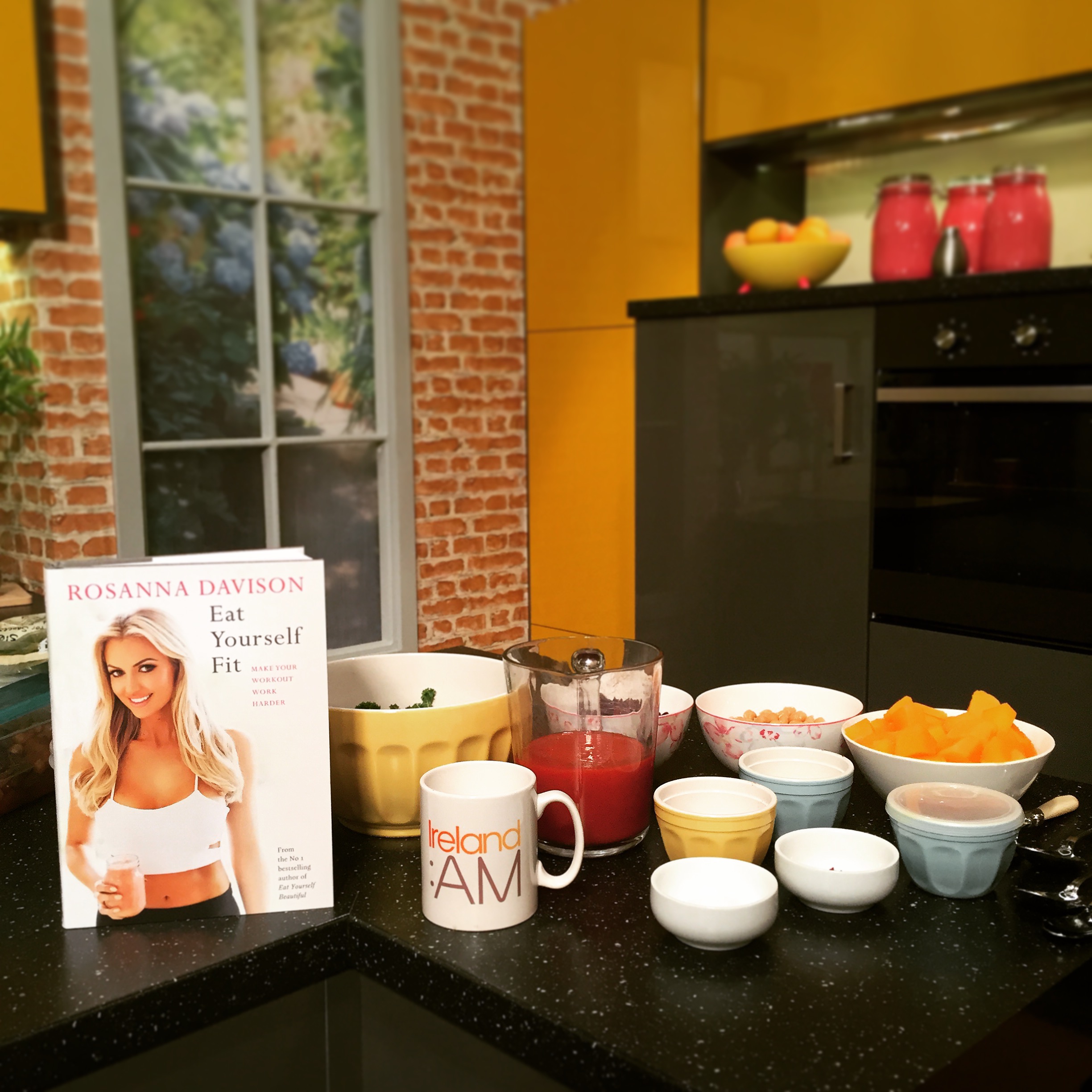 This is a truly nourishing and healthy meal, filled with protein and fibre to help keep you full and stabilise blood sugar levels. The array of spices add lots of flavour, and I added in plenty of kale for its incredible range of antioxidants and minerals.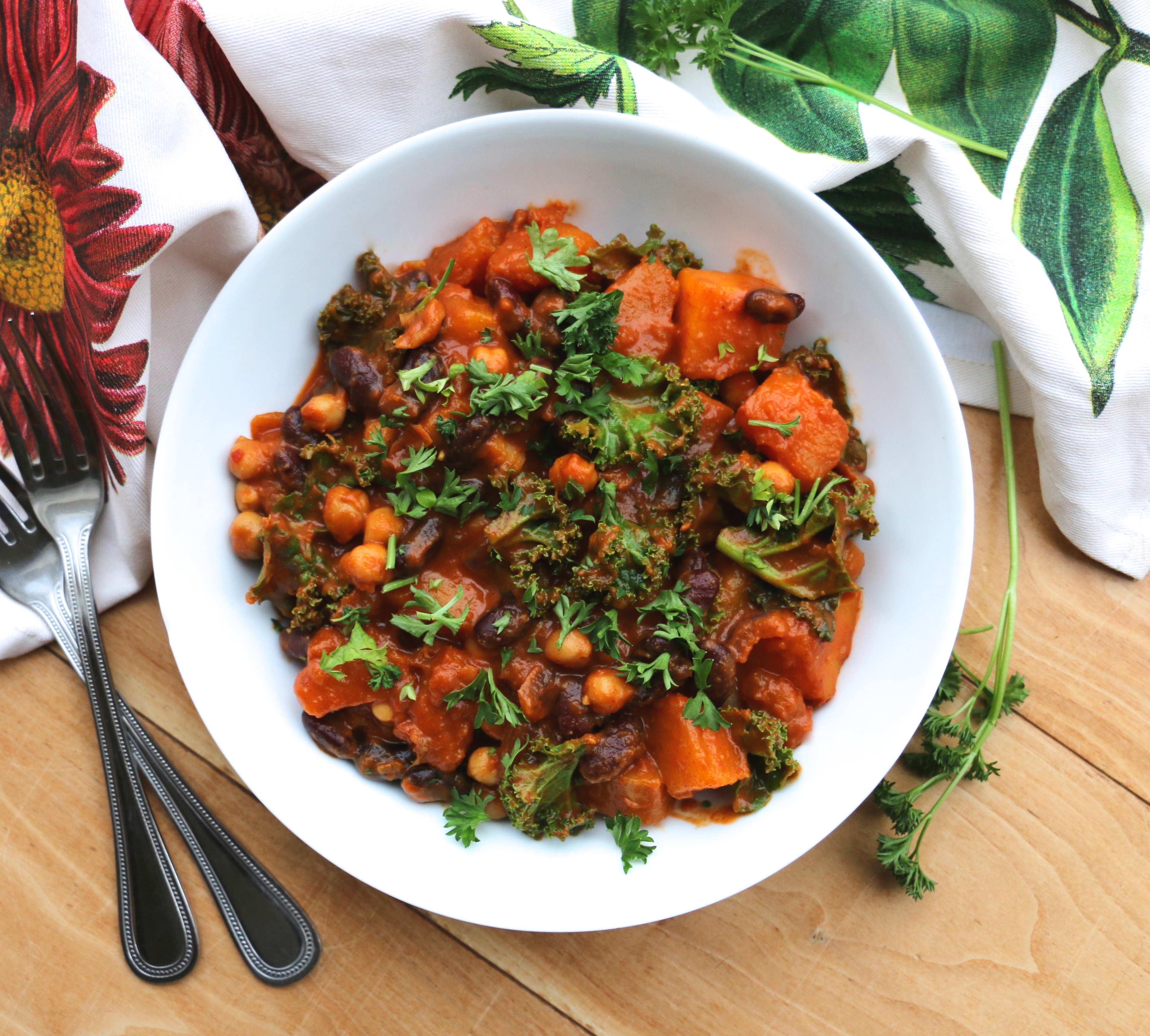 It's a great dish to make in a big batch at the beginning of the week, and works especially well to warm you up on chilly winter nights. It tastes even better the next day, and makes a great packed lunch option served with rice, quinoa or a simple salad. I also love that the ingredients are inexpensive and simple to find in most supermarkets. Ideal for anyone watching the pennies as well as their waistline after Christmas! 🙂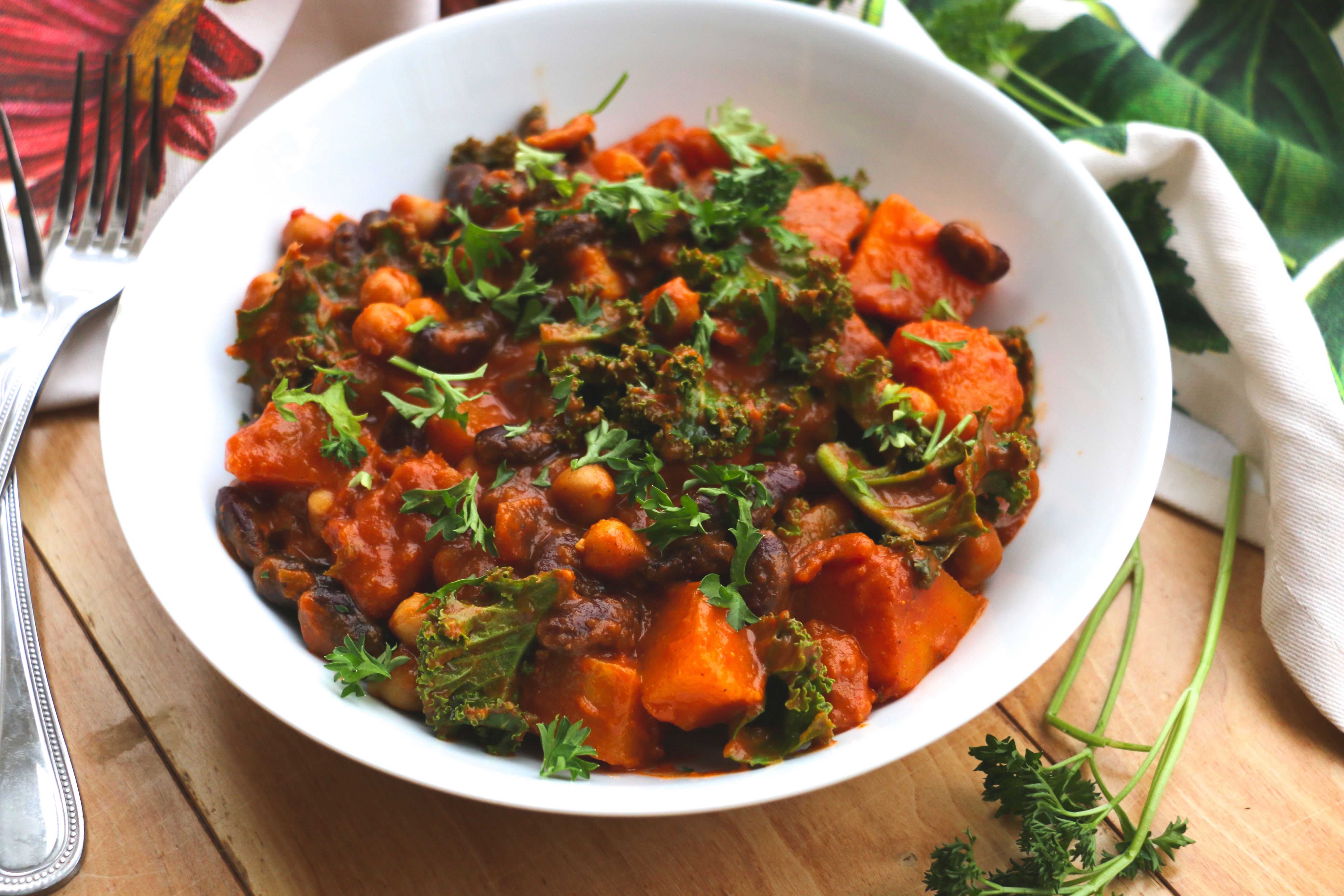 Let me know if you give this Chilli Sans Carne a go and I love to see all your creations on social media! Simply tag #RosannaDavisonNutrition on Instagram or Twitter or come on over to my Facebook to say hello 🙂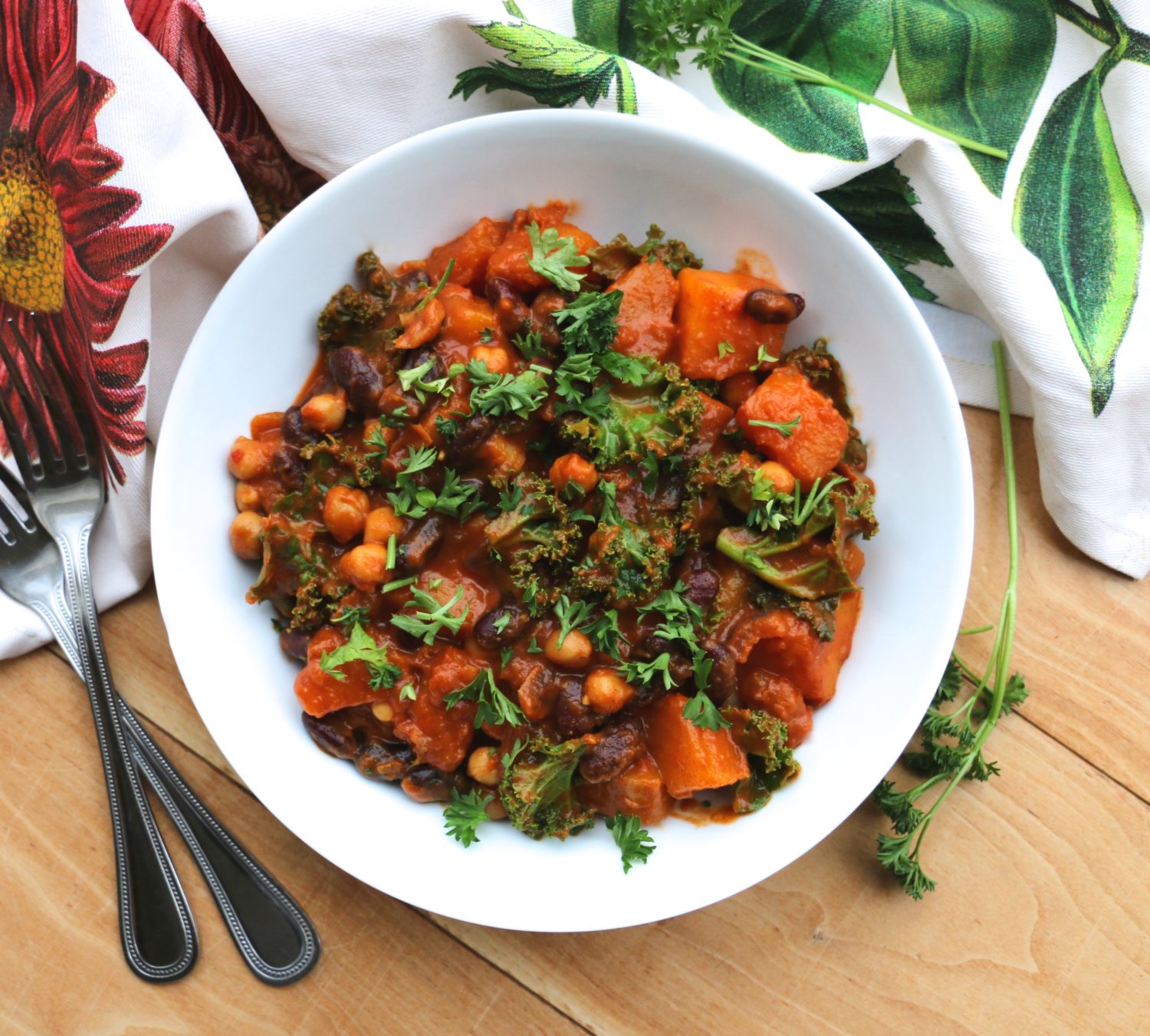 Chilli Sans Carne
2017-01-19 14:28:03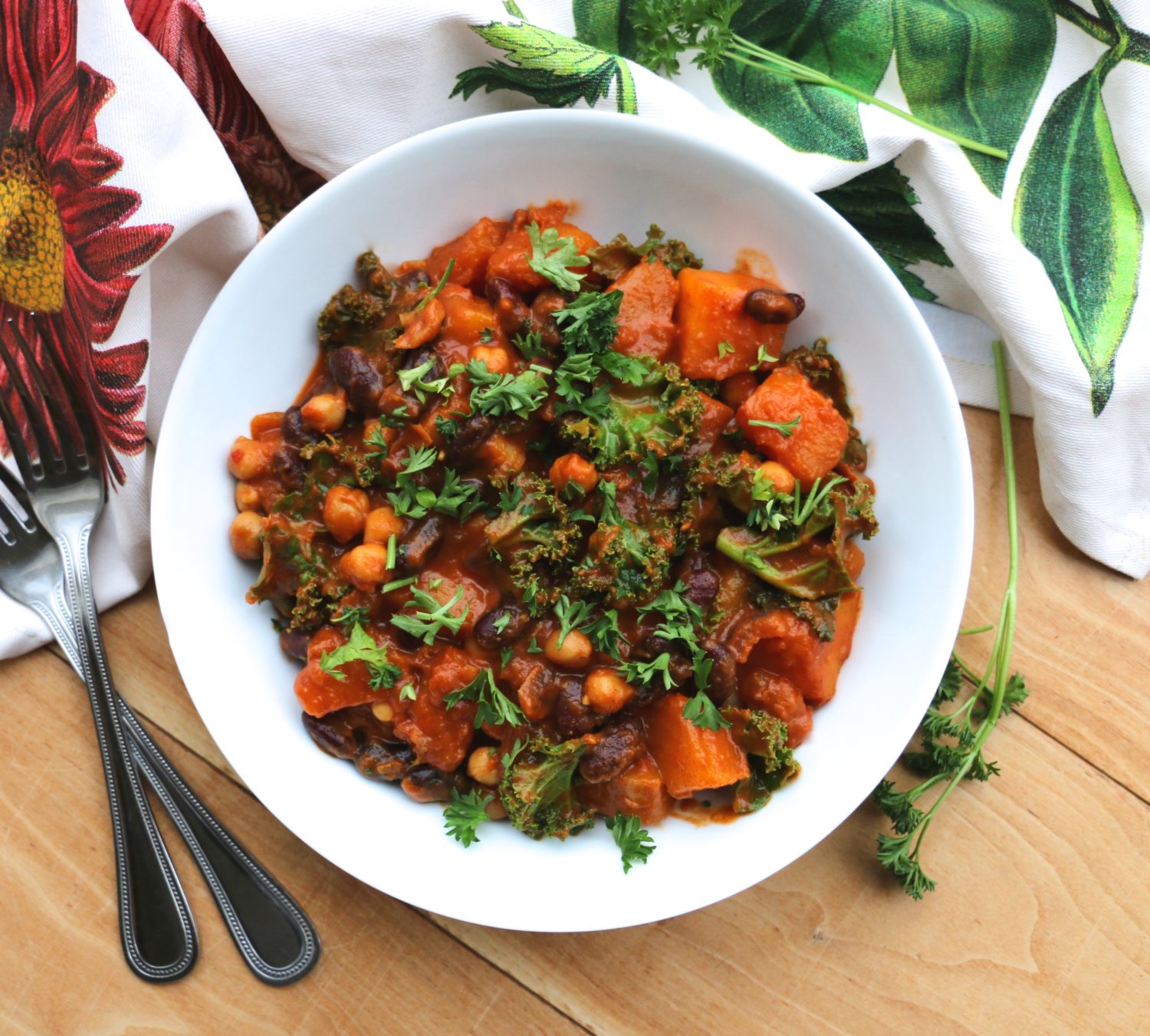 Serves 4
Warming, filling, nourishing and the perfect healthy family meal, this stew is simple to make and tastes just as good for lunch the following day. Per serving: 221 calories, 10.7g protein, 41g carbs, 1.3g fat
Ingredients
1 medium butternut squash
2 tbsp low-sodium tamari or water, to cook
2 cloves garlic, minced
1 red onion, finely chopped
1 400g can or carton cooked red kidney beans, drained and rinsed
1 400g can or carton cooked chickpea, adzuki or black-eyed beans, drained and rinsed
800g crushed tomato passata
250ml low-fat coconut milk or unsweetened almond milk
1 tbsp ground cumin
1/2 tsp dried chilli flakes
2-3 tsp smoked paprika
2 tbsp lemon juice
sea salt and ground black pepper, to taste
65g fresh kale, rinsed and tough stems removed
Instructions
Preheat the oven to 200C and place the butternut squash on a baking tray. Roast for 30-35 minutes, until its skin turns golden-brown. Remove from the heat and set aside to cool for ten minutes.
When it has cooled enough, peel the skin off the squash, cut it in half and scoop out the seeds and pulp in the middle. Then cut the flesh into bite-size chunks.
In a large saucepan over a medium heat, heat up the tamari or water and cook the garlic and onion for 4-5 minutes, until the onion starts to soften. Add the chopped butternut squash and continue to sauté for another 2-3 minutes.
Add the beans, tomato passata, coconut milk, ground cumin, chilli flakes, smoked paprika, lemon juice and seasoning. Bring to the boil for 2-3 minutes, then lower the temperature, partly cover with a lid and and simmer for about 15 minutes until the mixture has thickened and heated through. Stir regularly to prevent burning and add extra coconut milk or water if you prefer a runnier texture.
Remove from the heat and stir in the kale, allowing the leaves to wilt.
Divide into serving bowls and serve hot.
Notes
Any leftovers can be stored in an airtight container in the fridge for 3-4 days.
Rosanna Davison Nutrition https://www.rosannadavisonnutrition.com/