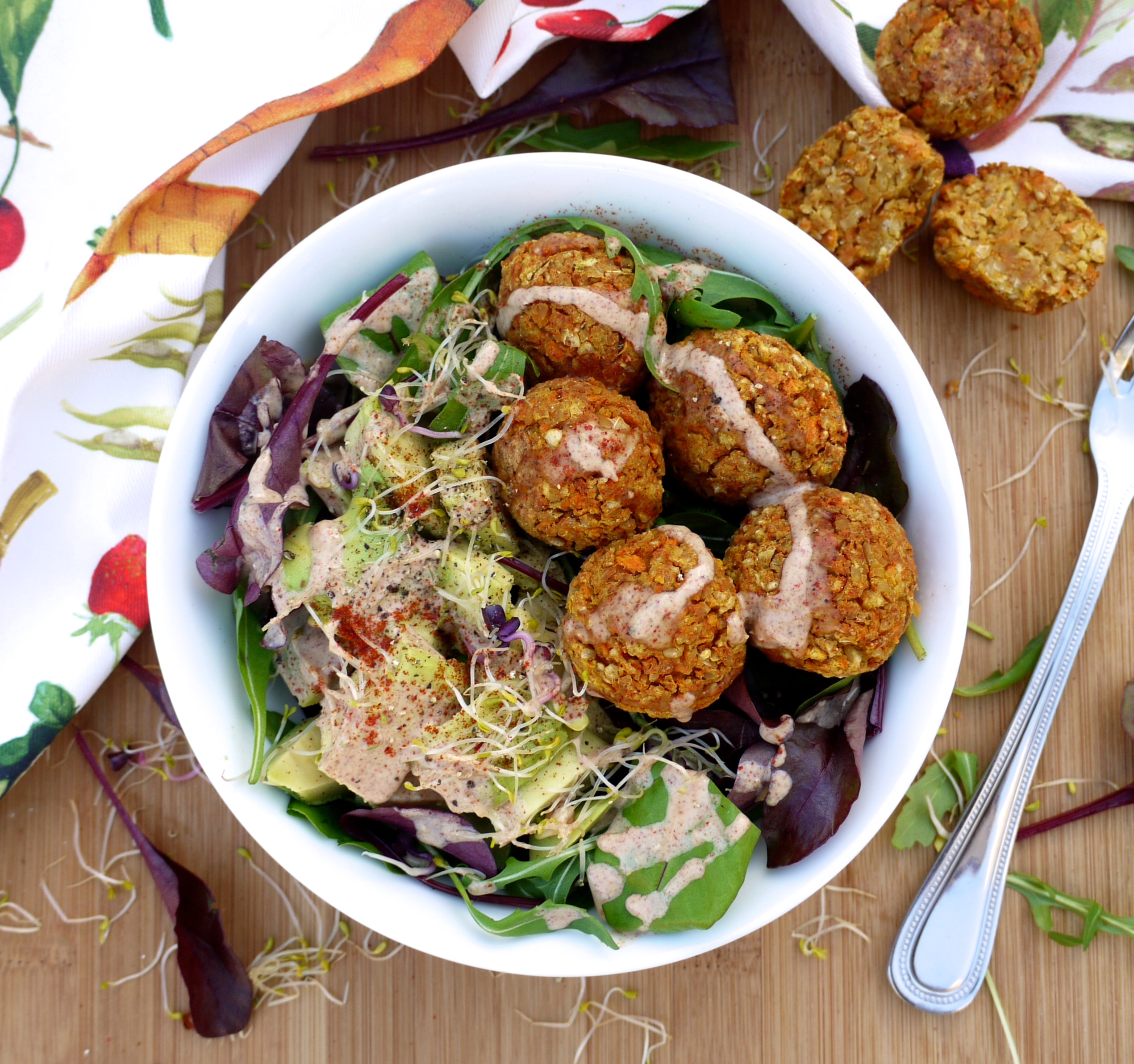 I'm completely obsessed with Middle Eastern cuisine, and could probably feast on Lebanese mezze for the rest of my life without getting bored! Hummus, tabbouleh, baba ganoush and falafel are my idea of foodie heaven 🙂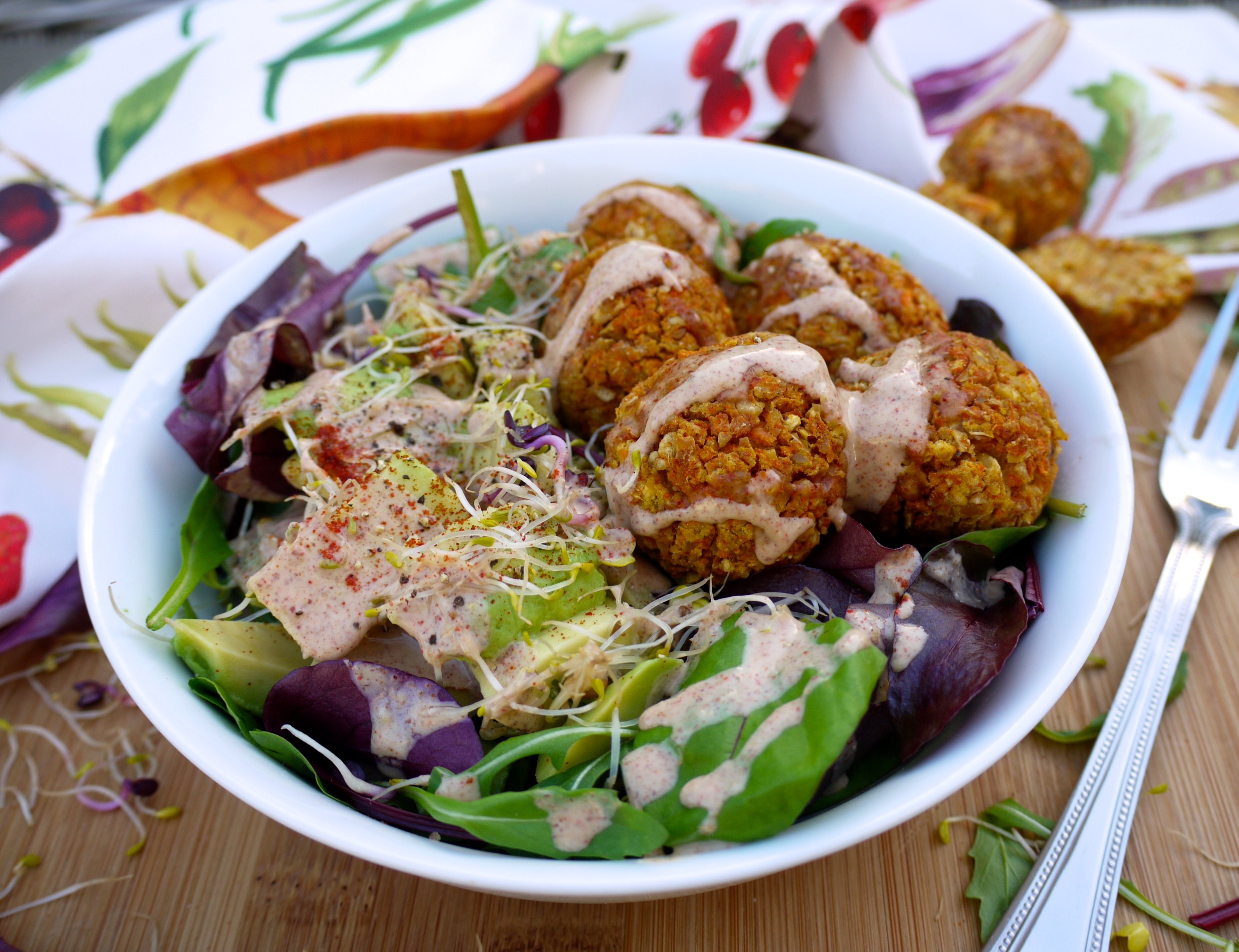 Many falafel recipes I have tried can be quite oily and they're not all gluten-free either. So I've created my own tasty version of healthy baked falafel, and I even included a recipe for Fibre-Rich Baked Falafels in my book, Eat Yourself Beautiful.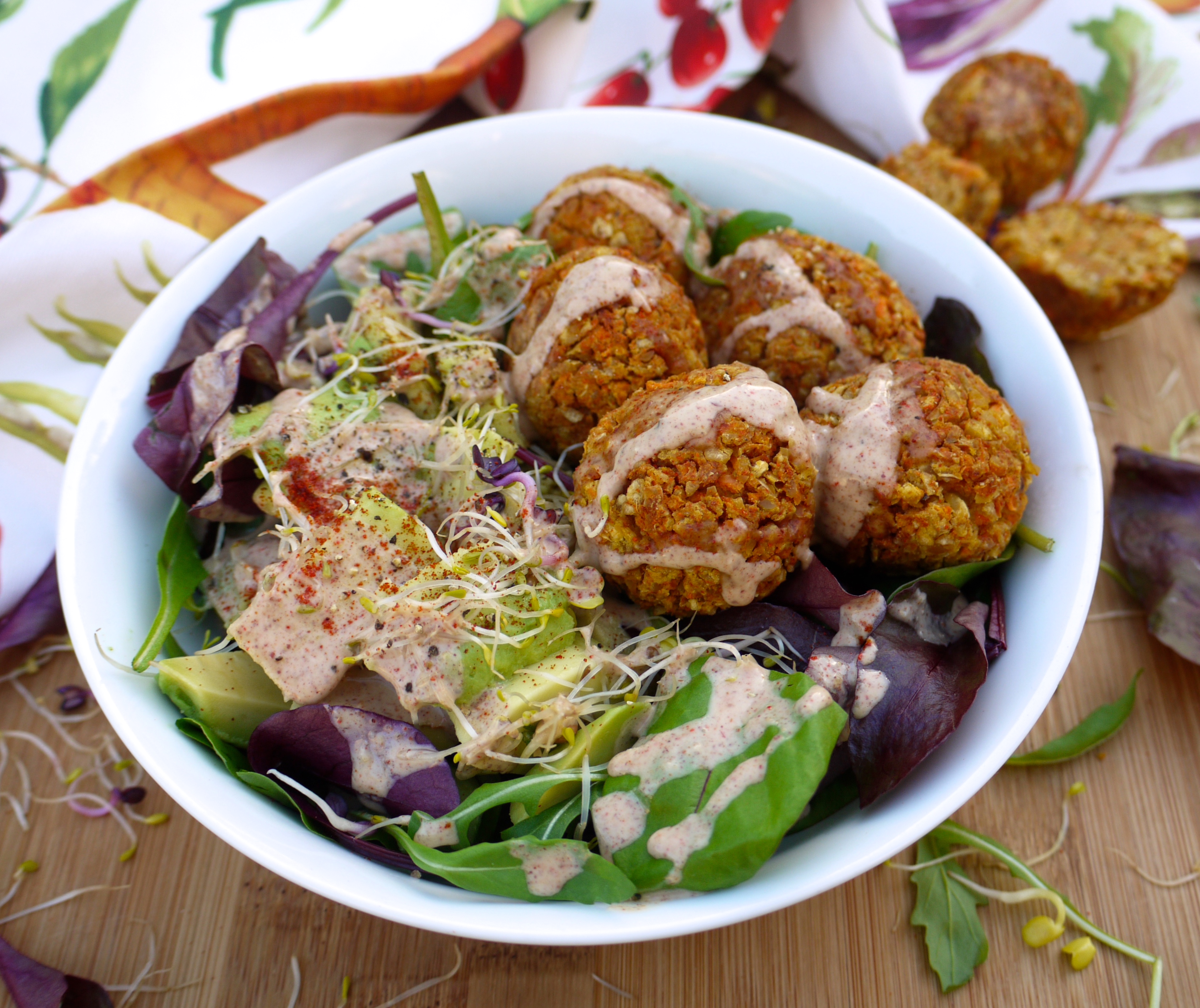 This version is crisp on the outside, soft on the inside and packed with fibre, protein and tons of flavour from the array of spices used. They're perfect popped onto a huge salad or stuffed into a toasted pitta or soft wrap and drizzled with this creamy spicy peanut sauce, or you could even shape them into burger patties and enjoy them as burgers instead with a dollop of guacamole!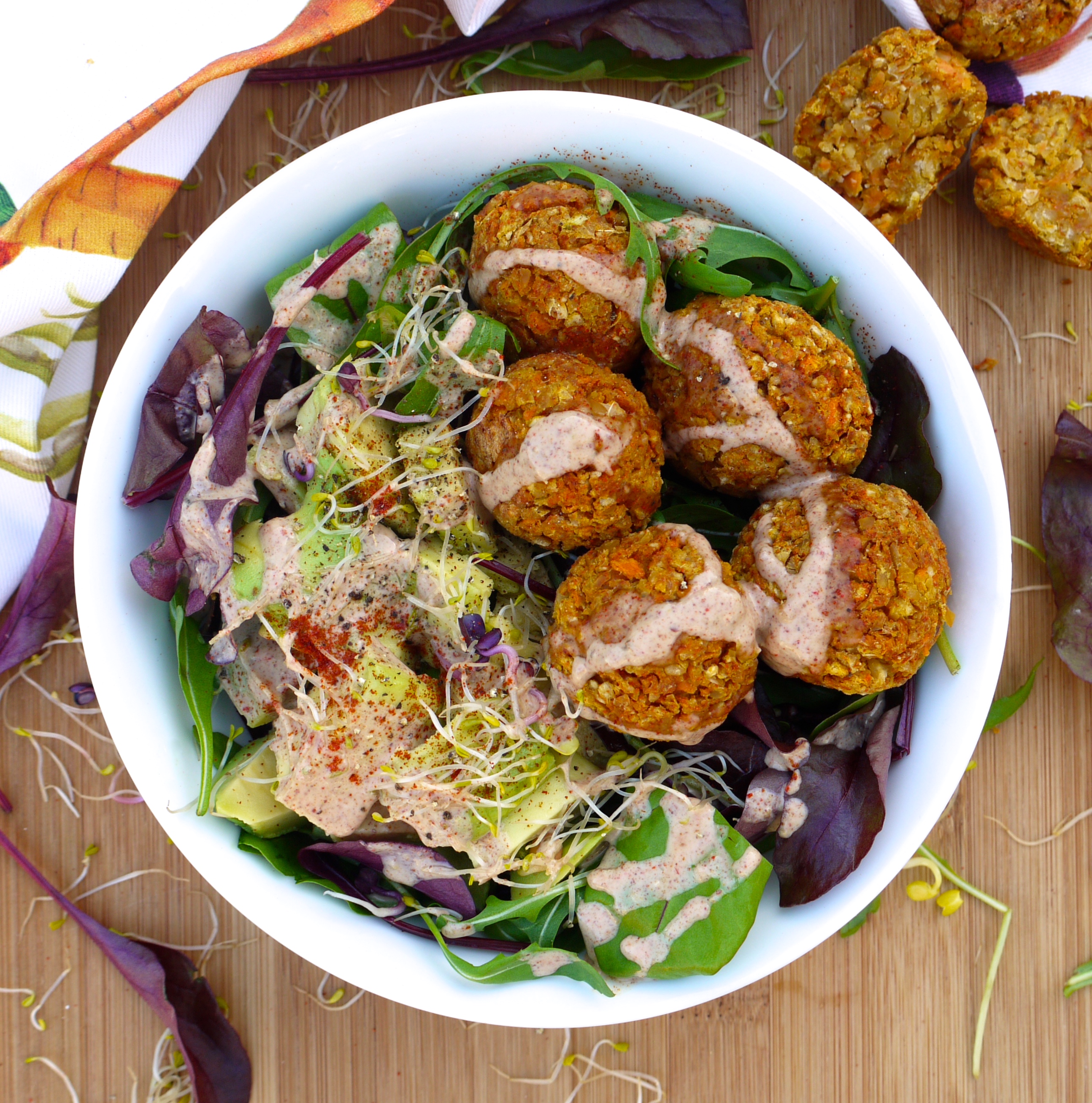 I would love to know if you get a chance to make these Healthy Baked Falafels With A Spicy Peanut Sauce! Simply tag #RosannaDavisonNutrition on Instagram or Twitter or come on over to my Facebook to say hello 🙂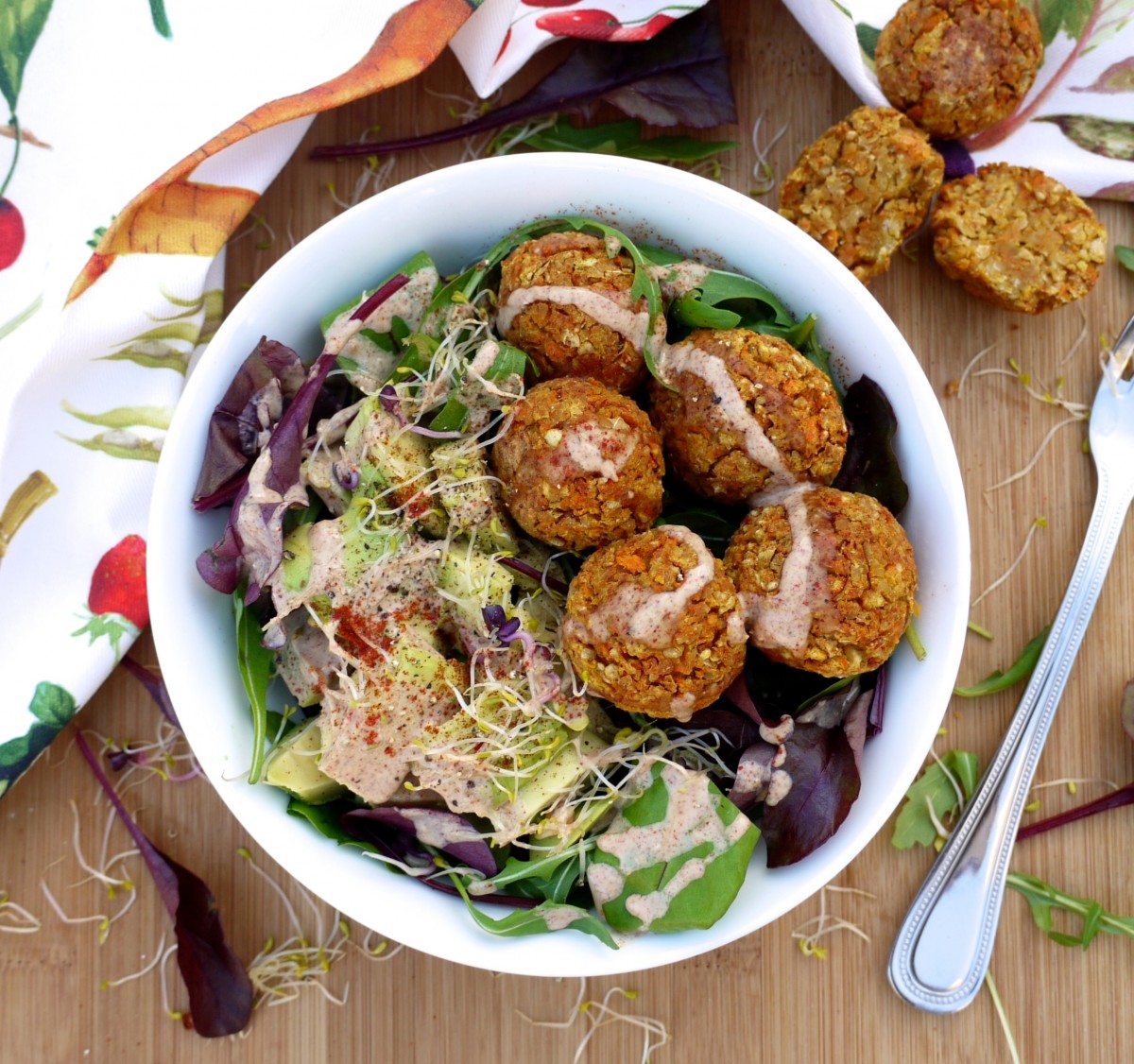 Healthy Baked Falafels With A Spicy Peanut Sauce
2016-02-24 12:05:25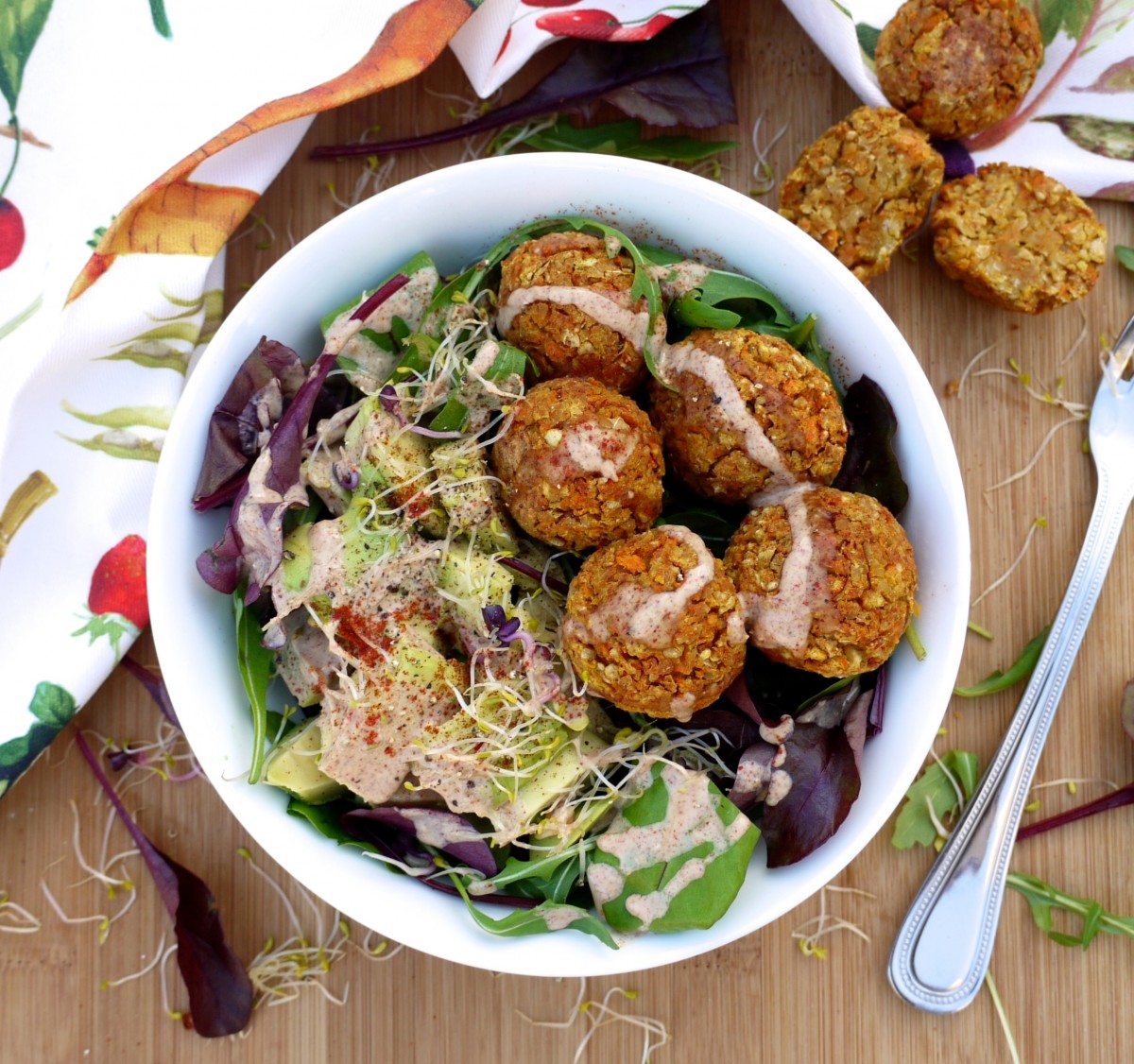 Serves 2
A healthy and delicious falafel meal, made with no oil and packed with protein, fibre and loads of tasty spices! This makes a great, quick and delicious lunch or dinner.
Ingredients
coconut oil, to grease
1 can or carton of cooked chickpeas, drained and rinsed (230g drained weight)
1 medium carrot, peeled and roughly chopped
1/2 a red onion, roughly chopped
2 cloves of garlic, peeled
1 tsp fresh root ginger
2 tbsp nutritional yeast (optional)
2 tsp smoked paprika
1 tsp ground cumin
1 tsp ground coriander or a small handful fresh coriander
pinch of cayenne pepper to dried chilli flakes (optional)
sea salt and black pepper, to taste
4 tbsp chickpea flour (white or brown rice flour or any other type of flour will work too)
2-3 tbsp unsweetened almond milk or any other plant milk
For the Spicy Peanut Sauce
1 tbsp smooth or crunchy peanut butter (look out for an organic brand with no added palm oil or sugar)
1 tsp smoked paprika
1-2 tsp fresh lemon juice
3-4 tbsp warm water
pinch of cayenne pepper
sea salt and black pepper, to taste
Serving ideas: mixed lettuce leaves, chopped avocado, fresh sprouts, pitta bread, wrap, hummus, guacamole.
Instructions
Preheat the oven to 200C and line a baking tray with greaseproof paper or lightly grease with coconut oil.
Place the chickpeas in a food processor and add the carrot, onion, garlic and ginger. Process until a coarsely ground mixture is formed.
Transfer the mixture to a bowl and add the nutritional yeast, spices and seasoning. Mix well.
Add the flour and almond milk, stirring until the mixture thickens up. Taste and adjust seasoning, as needed.
Use the palms of your hands to roll the mixture into about 10 individual balls, and place on the baking tray.
Bake them at 200C for 15-18 minutes, until they begin to crisp up and turn golden-brown on the outside. Remove from heat and allow them to cool.
While they bake, prepare the spicy peanut sauce. Place the peanut butter into a small mixture bowl, then add in the smoked paprika, lemon juice, warm water, cayenne pepper and seasoning. Whisk briskly with a fork until it forms a smooth sauce.
Serve the falafels with salad and avocado, or in a wrap or pitta bread, drizzled with peanut sauce.
Notes
Any leftovers can be stored in an airtight container in the fridge for 3-4 days.
Rosanna Davison Nutrition https://www.rosannadavisonnutrition.com/