These squidgy no-bake double chocolate fudge brownies with a solid chocolate topping are probably my favourite treats in the whole entire world right now… and I think you will love them too!
After dinner yesterday evening, I got a huge craving for something rich and chocolatey (maybe it's a Sunday thing? It's good to treat yourself at the end of the week!). I usually keep my cupboards stocked up with nuts, cacao powder, dates, vanilla extract, coconut oil and maple syrup for when a craving strikes. And these brownies contain only those natural, wholesome ingredients. No refined sugar or weird processed ingredients. Hurrah!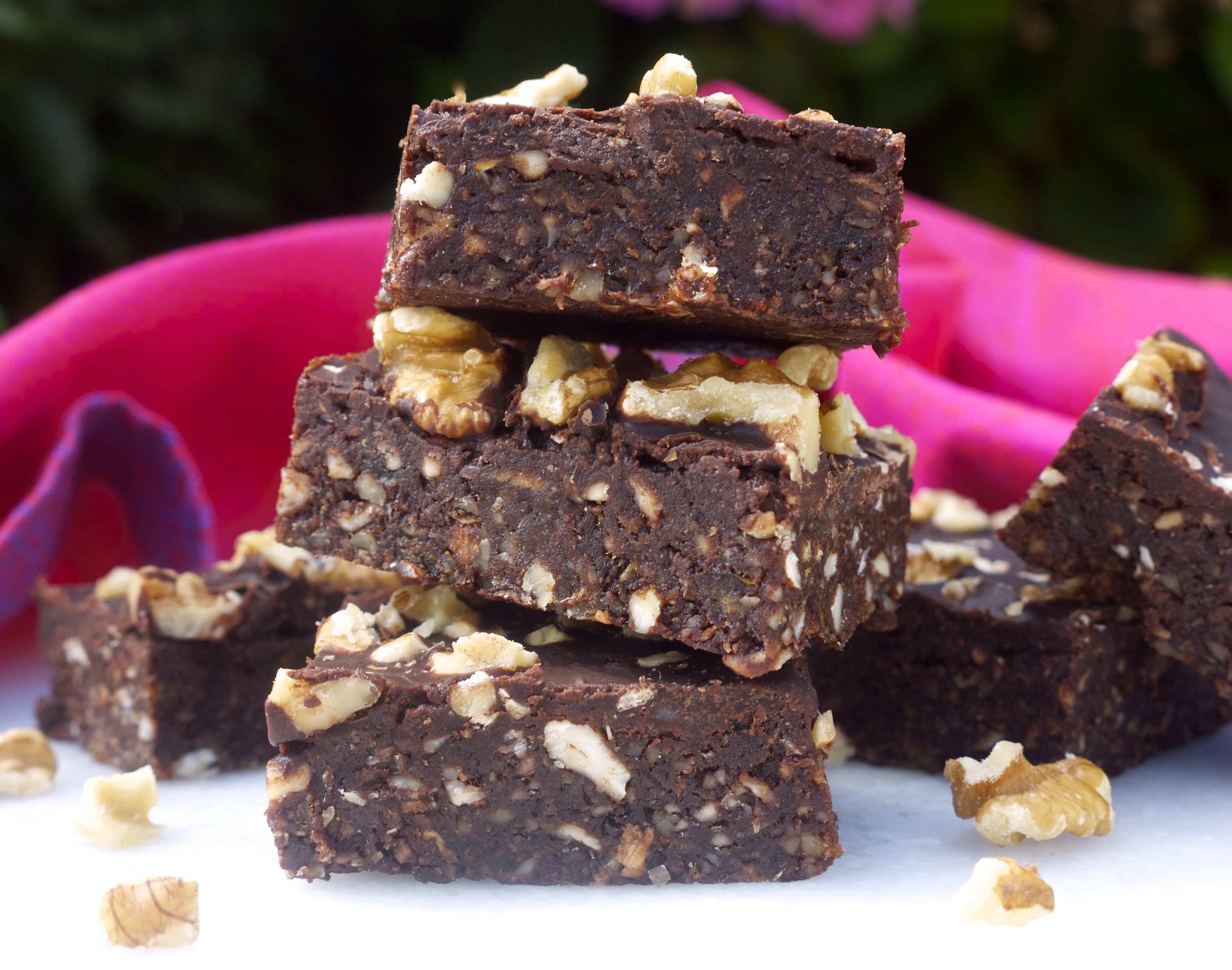 They're also ridiculously easy to make, with just a food processor and freezer being all I really needed. The most difficult part is waiting for them to set enough in the freezer to be able to slice… though at that stage last night I had licked the bowl and saucepan clean, so was feeling a little bit ill from a chocolate overload. But I made up for it today and enjoyed a huge slab of brownie with a cup of tea. It took the edge off my Monday!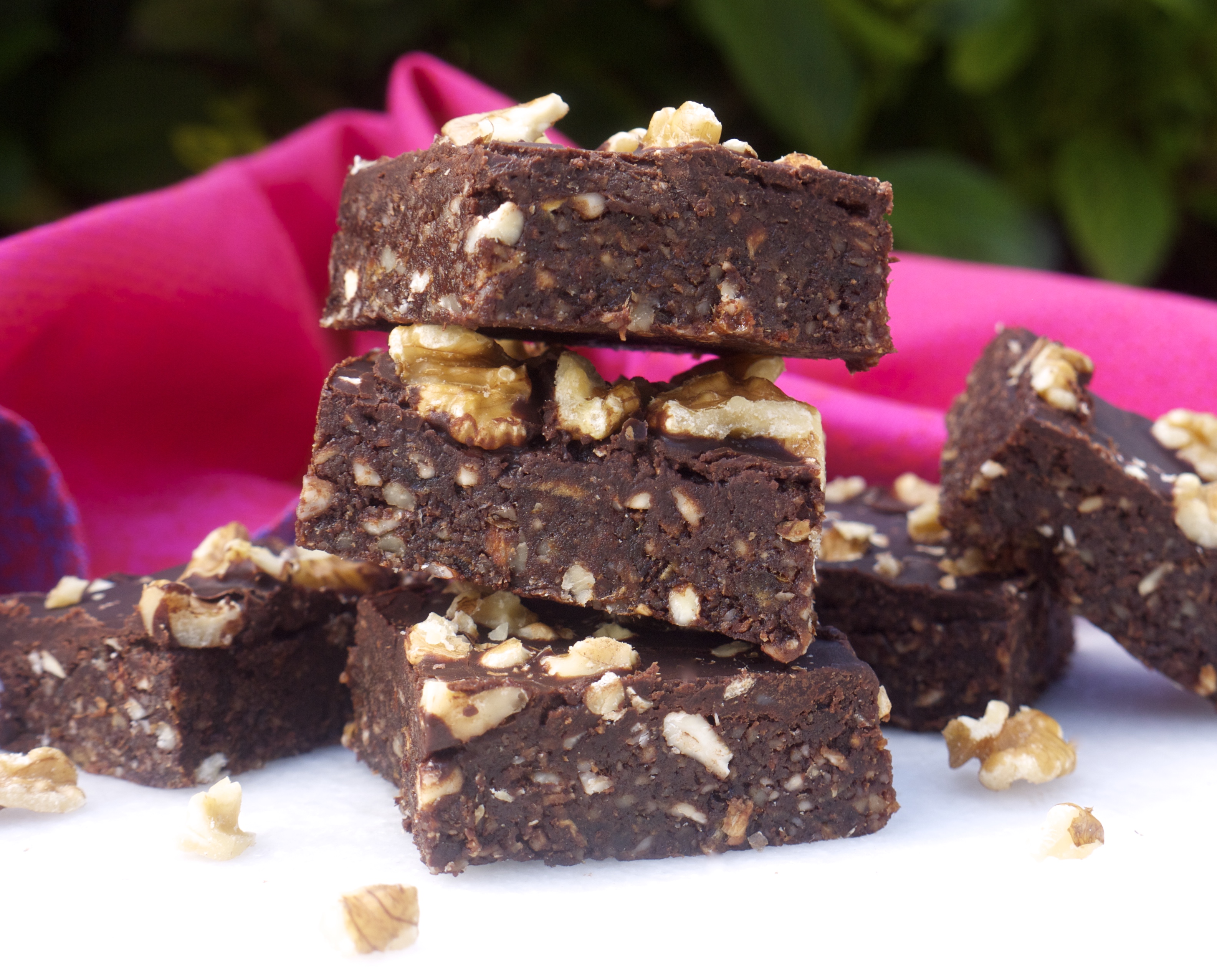 Feel free to play around with ingredients here, as cacao nibs, pecans, raisins, dried cherries and cranberries could all be fun additions. I think I'll be making these in every flavour imaginable for a long time to come. 🙂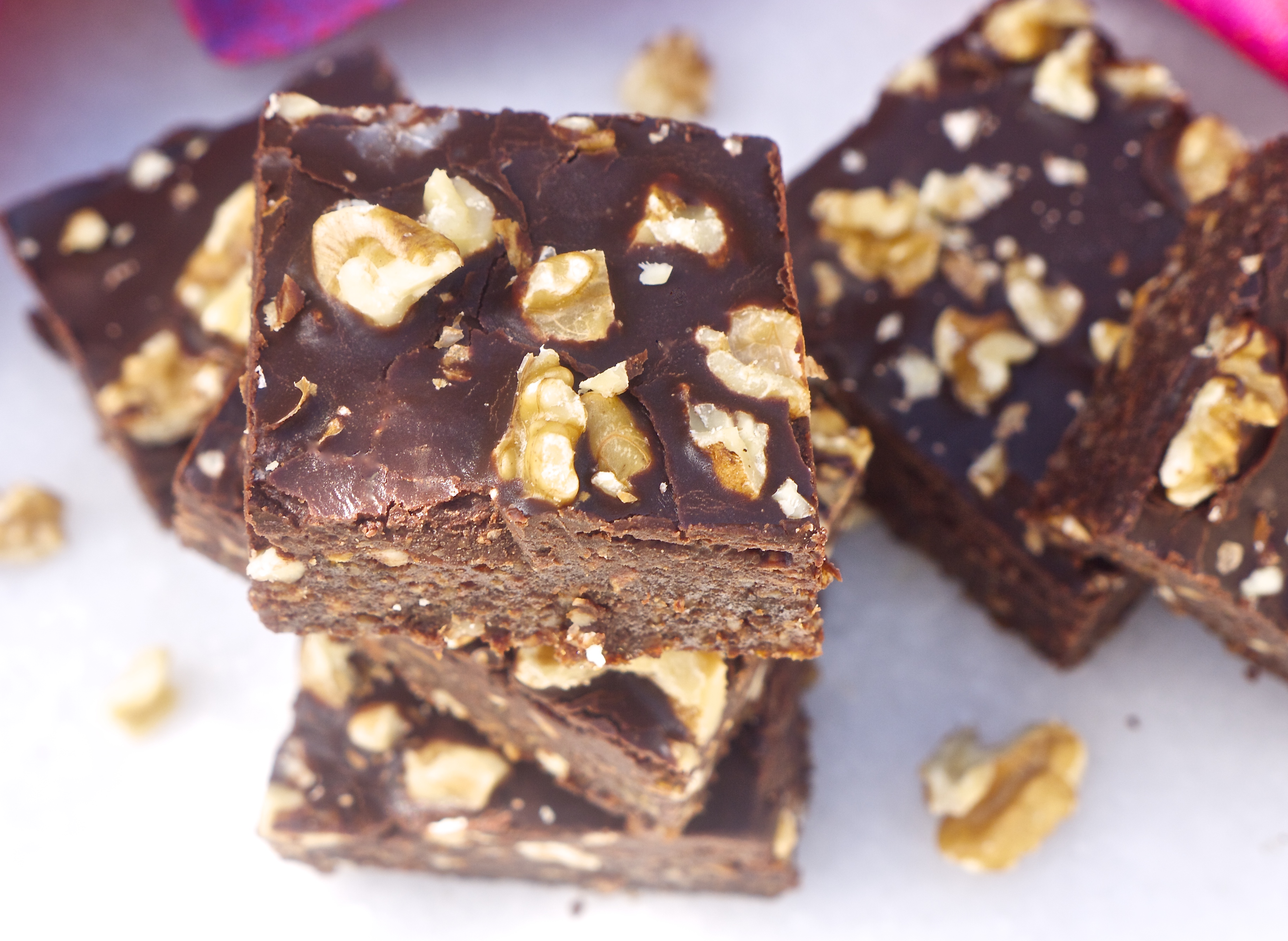 I would love to know if you get a chance to make these No-Bake Double Chocolate Fudge Brownies! Simply tag #RosannaDavisonNutrition on Instagram or Twitter or come on over to my Facebook to say hello 🙂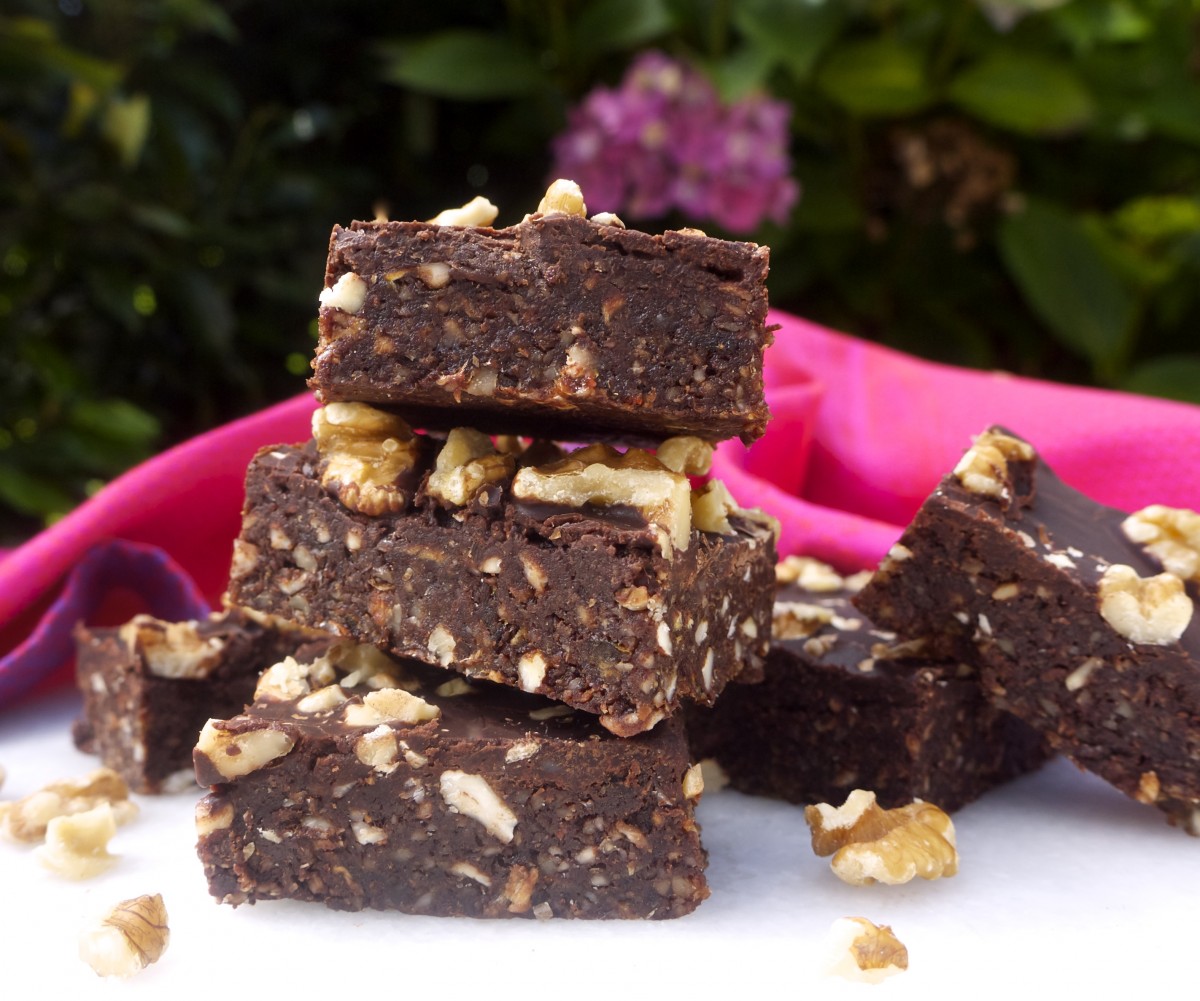 No-Bake Double Chocolate Fudge Brownies
2016-06-20 15:28:18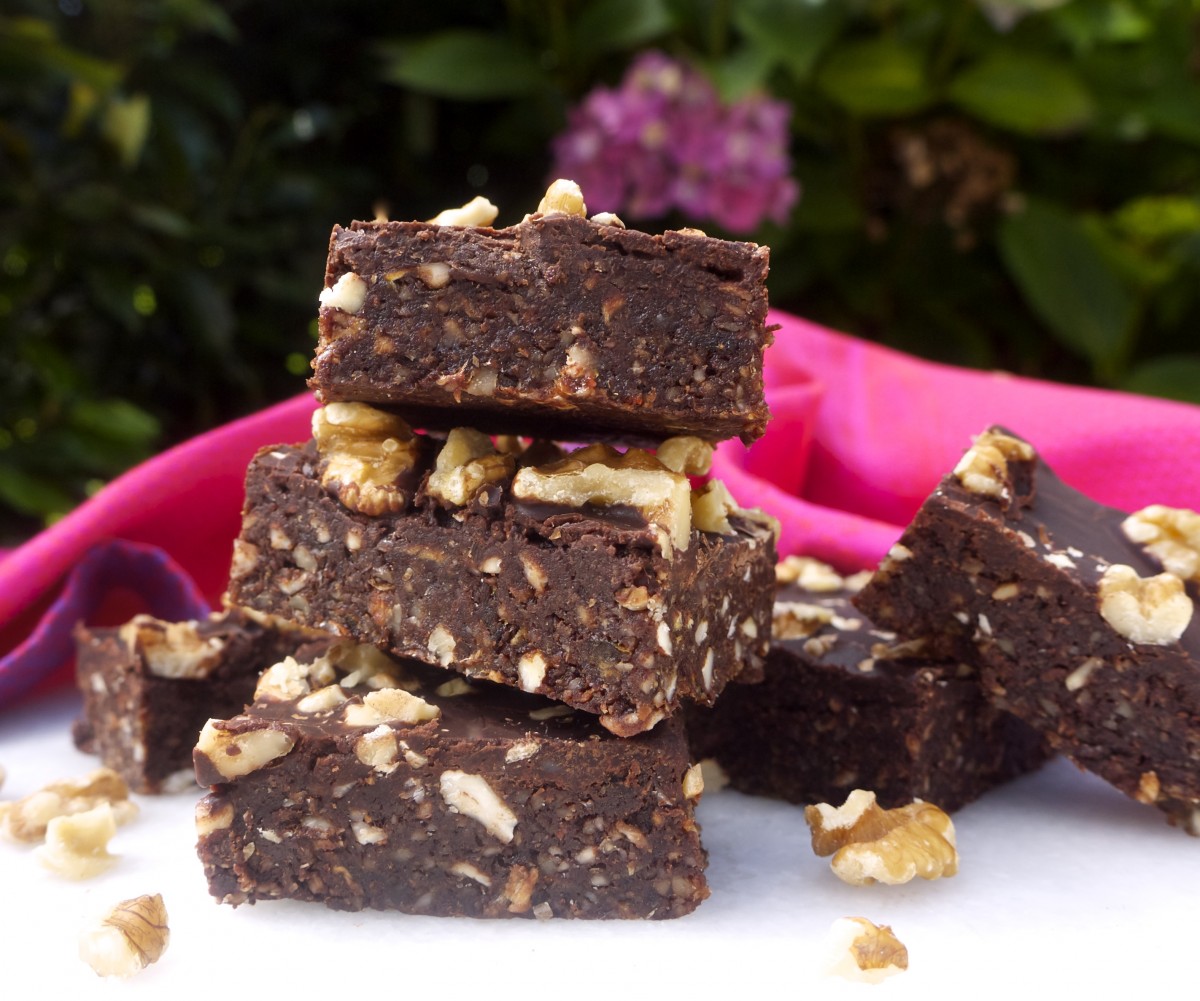 Deliciously rich, raw chocolate fudge brownies, with a dense and chewy base and a melt-in-the-mouth chocolate topping. Nutrition Information per brownie: 238 calories, 6.2g protein, 27.2g carbs, 15g fat, 6.3g fibre
For the base
320g (2 cups) pitted dates, soaked in hot water for 20 minutes to soften
140g (1 cup) whole unsalted almonds
190g (1.5 cups) whole, unsalted walnuts (save extra to decorate the brownies)
90g (3/4 cup) raw cacao powder or Cadbury's Bournville Cocoa Powder
2 tsp vanilla extract
pinch of sea salt
For the chocolate top layer
4 tbsp virgin coconut oil
4 tbsp raw cacao powder or Cadbury's Bournville cocoa powder
1-2 tbsp maple syrup or honey (depending on how sweet you like it)
1 tsp vanilla extract
Instructions
Line a baking tray or dish with a sheet of greaseproof paper. I used an 8"x 8" tray.
Place the almonds and walnuts in a food processor and process until crumbly. Leave in larger pieces for texture, if you like.
Drain the soaked dates and add them to the food processor, then add the cacao powder, vanilla extract and pinch of sea salt.
Combine until a thick, sticky dough forms.
Transfer the mixture to the prepared tray or dish and press it down to form the brownie base, ensuring the top is smooth and even.
Place the base in the freezer to chill while you make the chocolate topping.
In a small saucepan over a low-medium heat, gently melt the coconut oil. Stir in the cacao powder, maple syrup and vanilla extract and stir well until a smooth chocolate sauce forms.
Remove the base from the freezer and pour the chocolate sauce over it, ensuring it's smooth.
Top with a handful of chopped walnuts and place the tray back into the freezer. Allow the brownies to set for at least 1-2 hours.
Slice into brownies and serve chilled as they can begin to melt when left out at room temperature.
Notes
Any leftovers can be stored in an airtight container in the fridge for up to a week or in the freezer for up to 6 months.
Rosanna Davison Nutrition https://www.rosannadavisonnutrition.com/