April has me thinking about summer flavours! I'm such a big fan of sweet and juicy tropical fruits, especially pineapple, so I wanted to create a refreshing and healthy green smoothie featuring plenty of pineapple, as well as baby spinach, cucumber, lime, mint and green apple.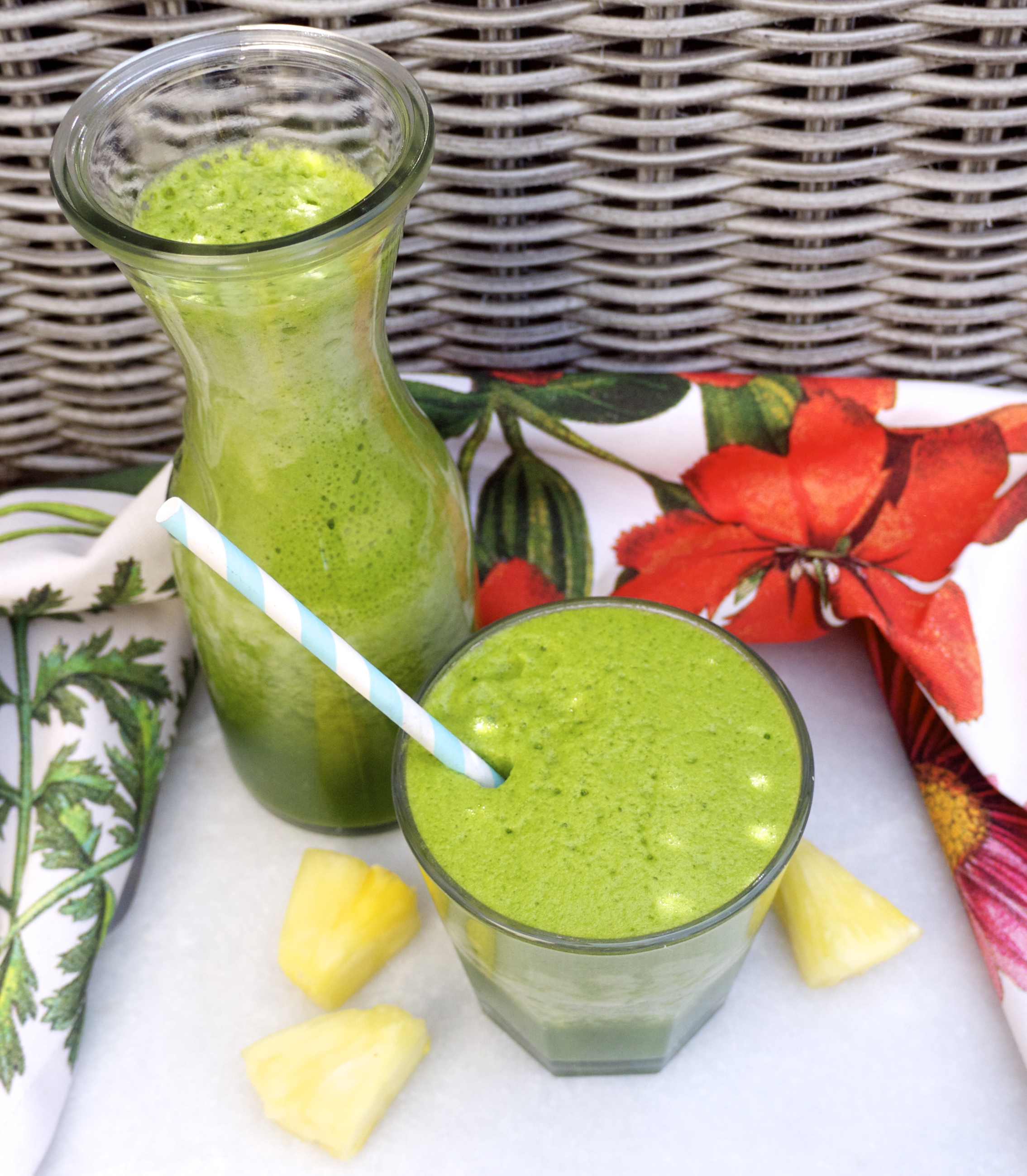 I'm often asked about whether it's OK to add fruit to smoothies and juices. The big difference between juices and smoothies is their fibre content; In juices, all the fibre has been stripped away from the fruit or vegetables, leaving just their juice. This means that they're far more concentrated, and although they do contain natural sugar, it nevertheless tends to raise your blood sugar and insulin levels. As insulin is considered a fat-storing hormone, this may contribute to fat storage around your tummy and hips, and possibly even raise the risk for type two diabetes in the long-term.
That's why I don't recommend drinking commercial fruit juice of any type or even juicing fruit in your own home. Stick to leafy greens and cucumber, with some ginger, mint or lime/lemon juice added for flavour.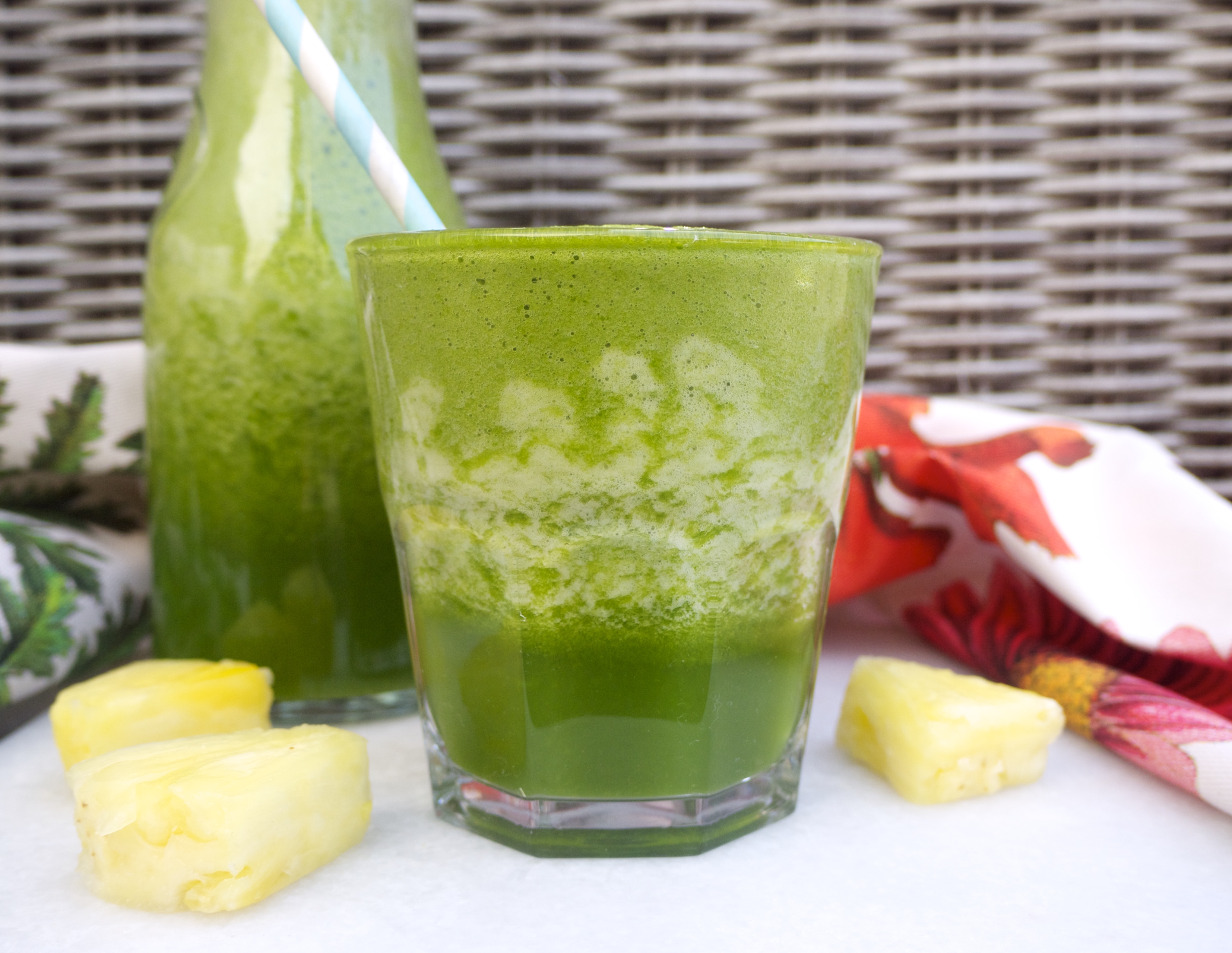 Smoothies, on the other hand, maintain the fibre in the fruit and vegetables, which slows down their absorption into your bloodstream and doesn't raise your blood sugar levels in the same way. So that means it's safer to add fruit to a smoothie, like in this recipe.
I tend to eat some fruit in the morning to boost my energy levels and less in the afternoons and evenings, when I don't require as much energy. If you tend to suffer with bloating or candida, then I recommend avoiding sweet fruits such as banana, mango and grapes, and sticking with a small amount of low-sugar blueberries, raspberries and strawberries. They will still add plenty of sweetness to your palate and a load of lovely antioxidants too!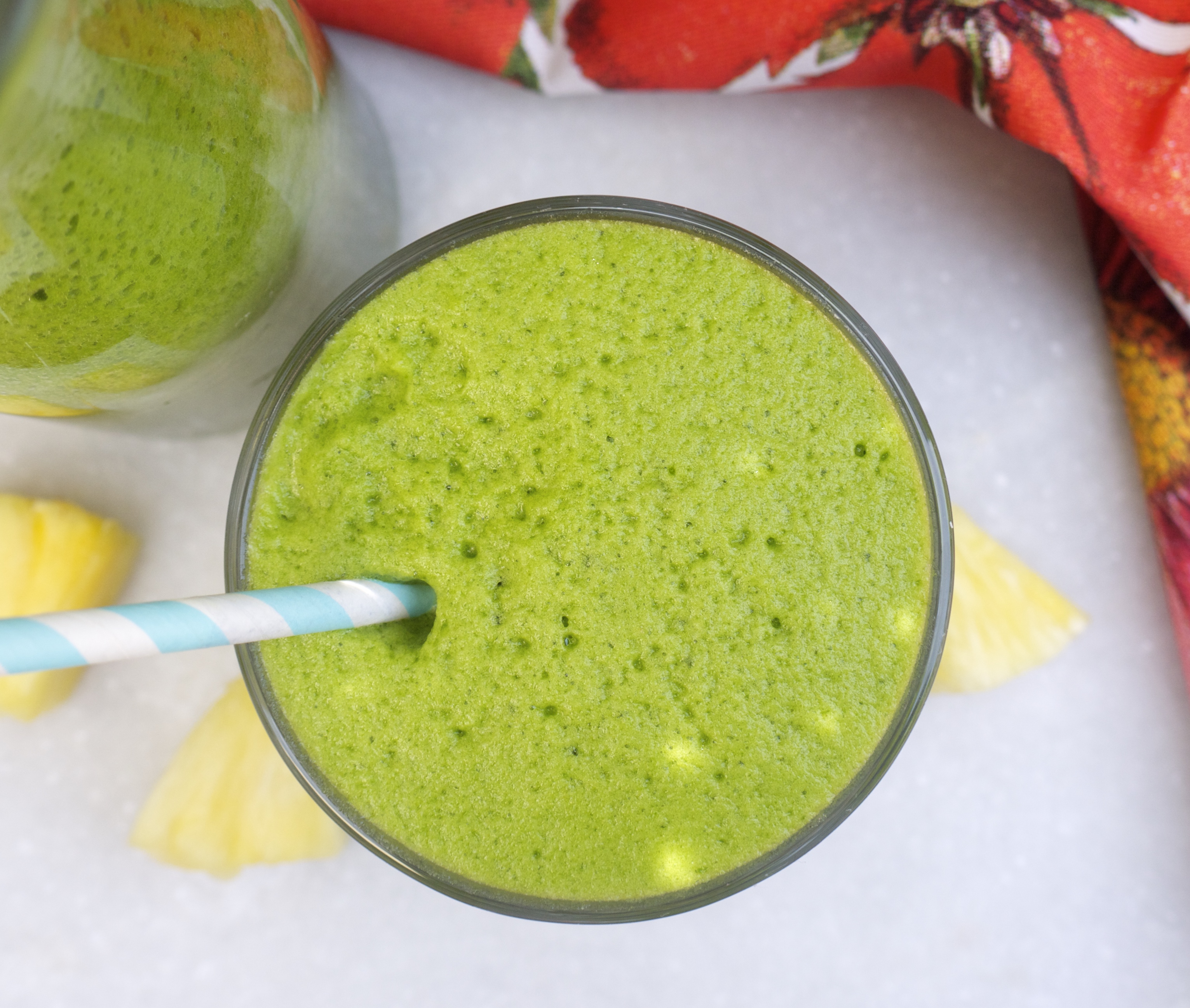 I love how simple this smoothie is to throw together with easy-to-find ingredients, and it really gives you a blast of energy in the morning. Even if you don't manage to get many more green veggies into your system over the rest of the day, it's great to know that you had a good fill of them at the beginning of it 🙂
To make it a great choice as a post-workout snack, you could add a couple of tablespoons of hemp or chia seeds, or a scoop of your favourite protein powder.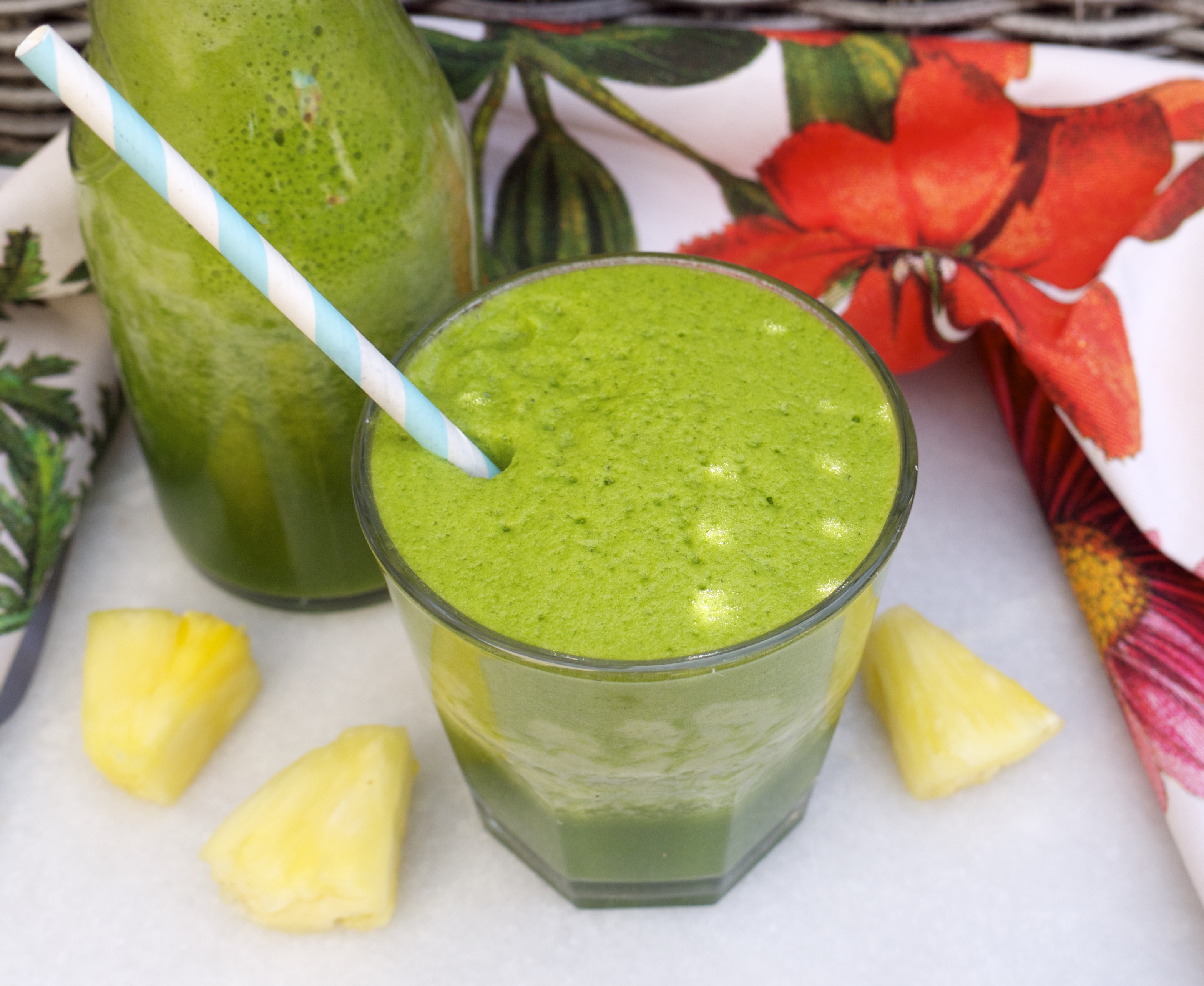 Let me know if you give this Pineapple Punch Summer Smoothie a go and I love to see all your creations on social media! Simply tag #RosannaDavisonNutrition on Instagram or Twitter or come on over to my Facebook to say hello 🙂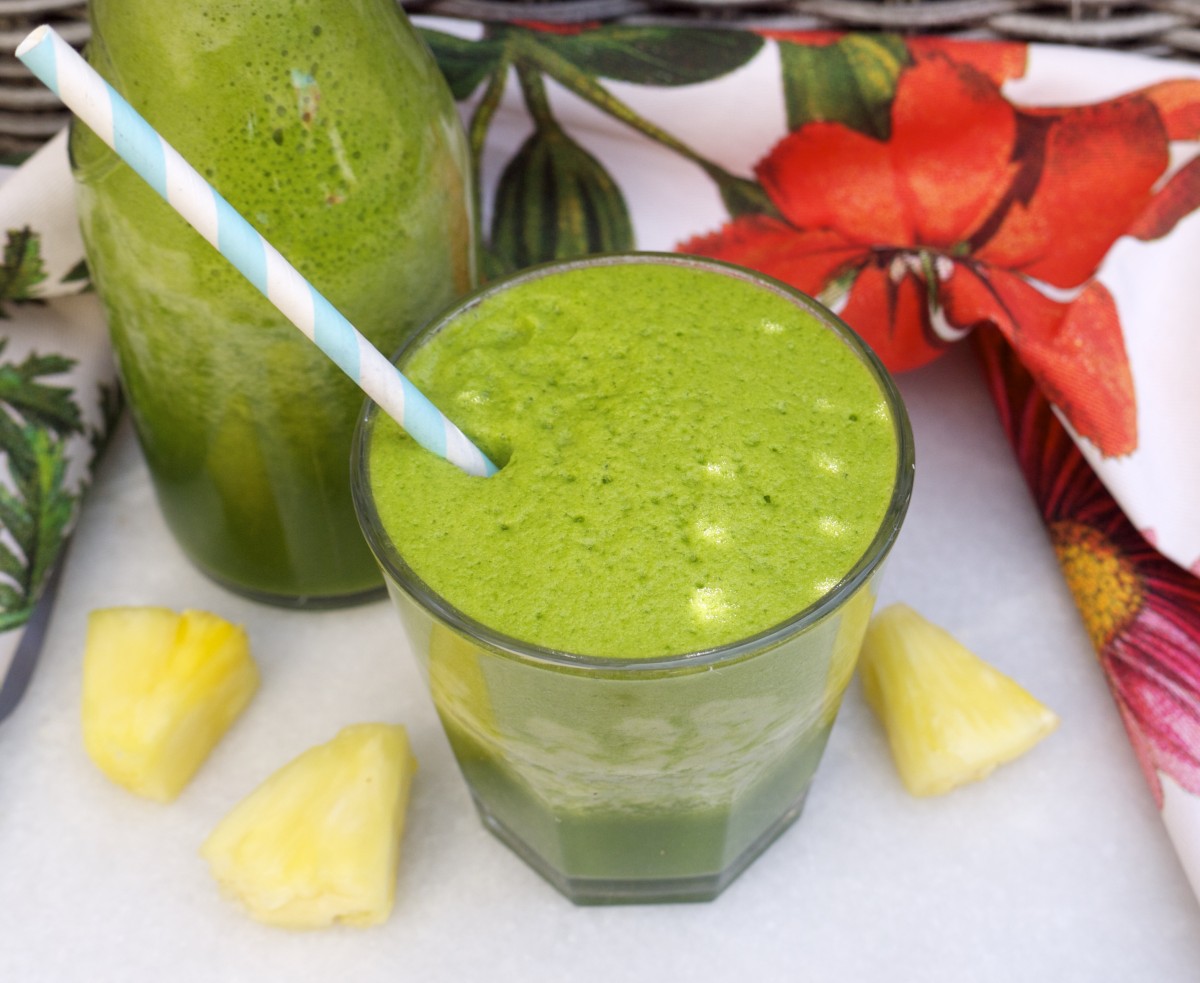 Pineapple Punch Summer Smoothie
2016-04-21 12:04:23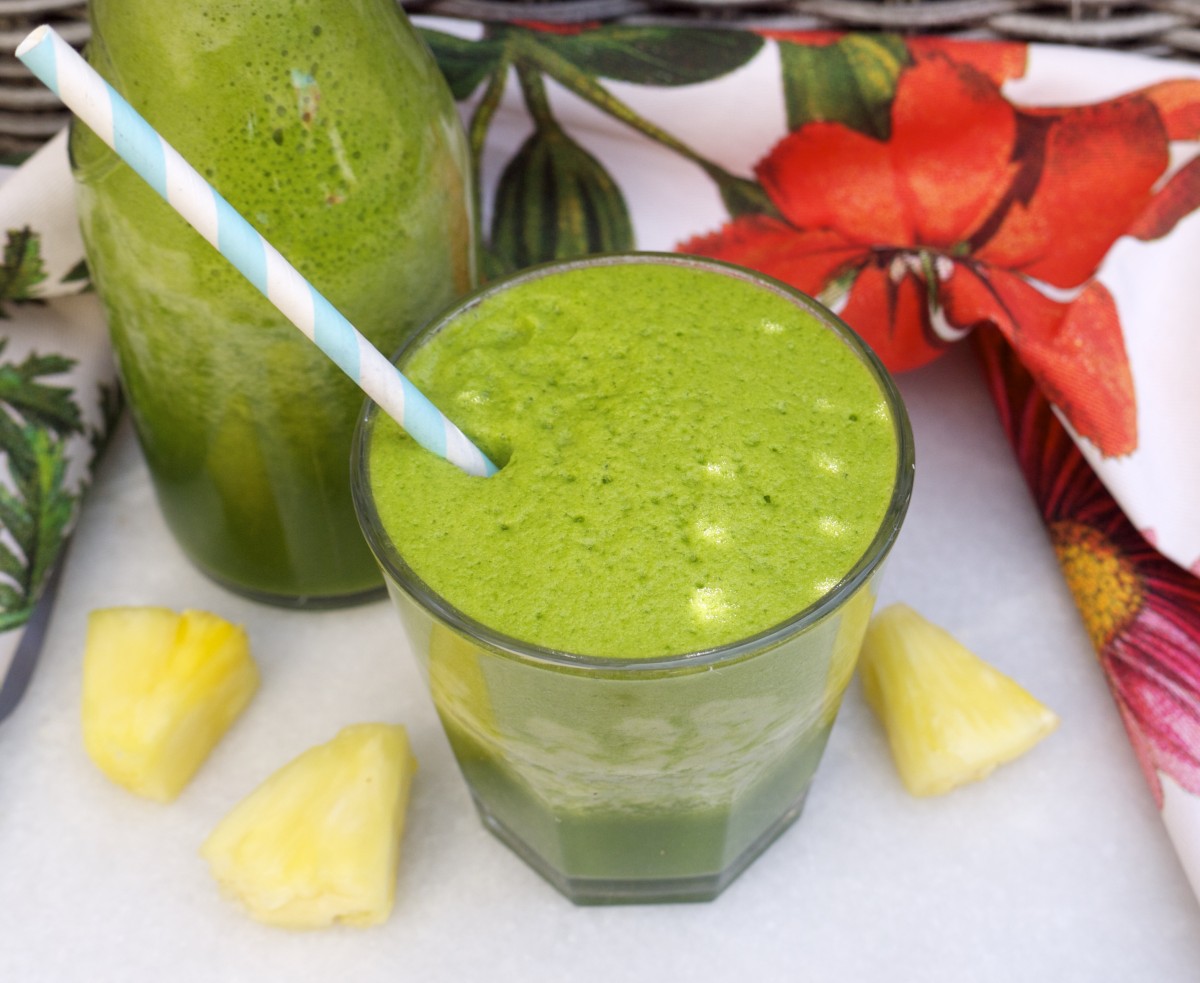 Serves 2
A juicy and refreshing breakfast or snack to boost energy levels, support your immune system and fill your body with nutrients. Nutrition information per serving: 105 calories, 1.8g protein, 27.3g carbs, 0.4g fat, 4.2g fibre
Ingredients
190ml (3/4 cup) cold water (If you prefer a more watery smoothie, use 250ml)
3 large handfuls baby spinach leaves
1 green apple, rinsed, cored and quartered
165g (1 cup) fresh pineapple chunks
the juice of one lime
1/3 of a cucumber, rinsed and chopped into chunks
3-4 fresh mint leaves.
3-4 ice cubes
Instructions
Place all ingredients into a blender, beginning with the water and spinach, then blend until smooth.
Serve chilled.
Notes
Any leftovers can be stored in an airtight container in the fridge for 2-3 days or frozen for up to 3 months.
Rosanna Davison Nutrition https://www.rosannadavisonnutrition.com/