One of the questions I'm asked most frequently is what to eat for breakfast when you're dashing out of the house in the morning. Most people want to choose a healthy and filling first meal of the day, but knowing what to throw together on top of everything else involved in getting yourself up and out of the house can be a challenge!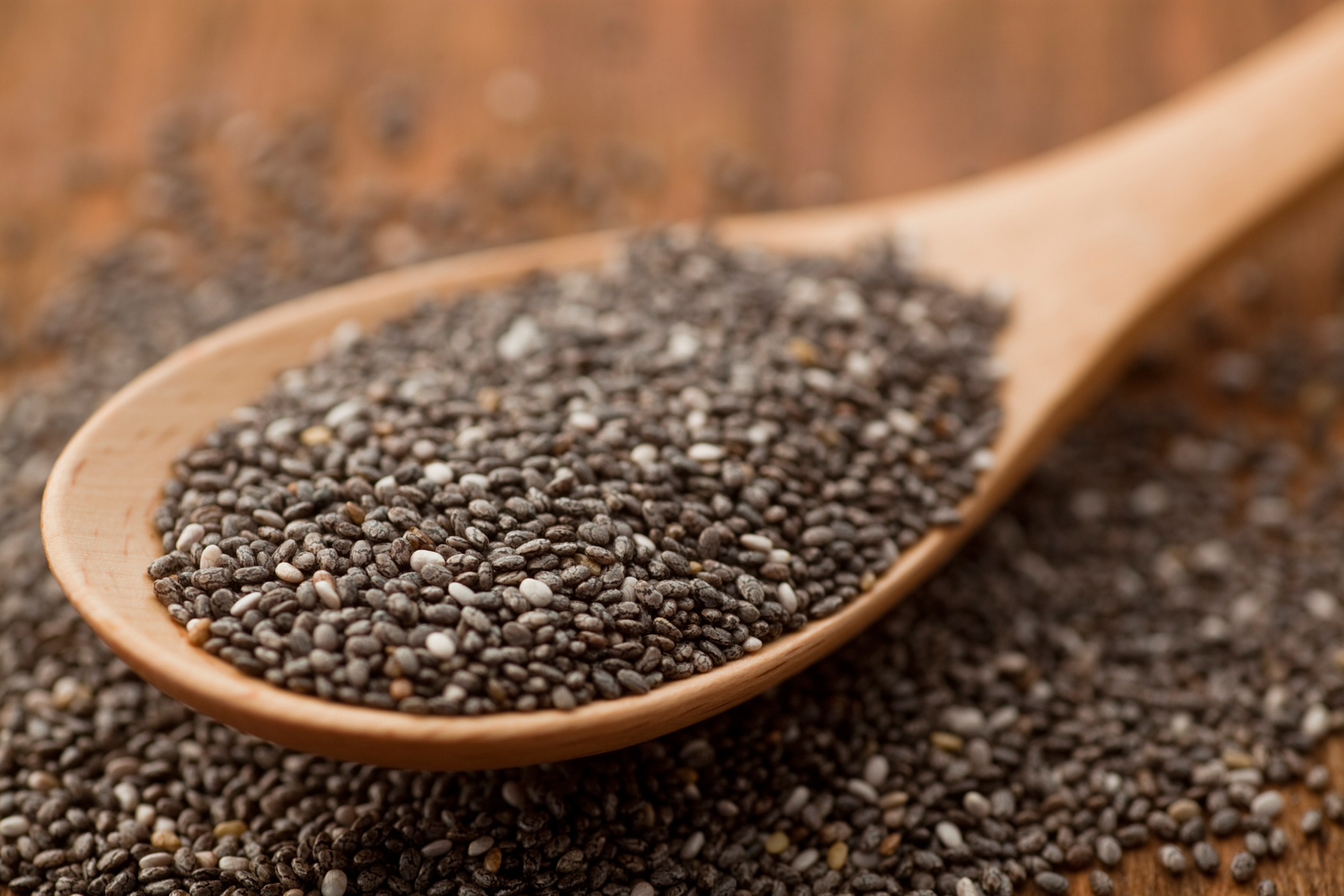 This overnight parfait is perfect to grab from the fridge in the morning for a tasty weekday breakfast when you're in a hurry. The combination of chia seeds and oats keep you feeling full for hours, while the chia jam is deceptively simple to make and adds a colourful burst of yummy skin-boosting antioxidants.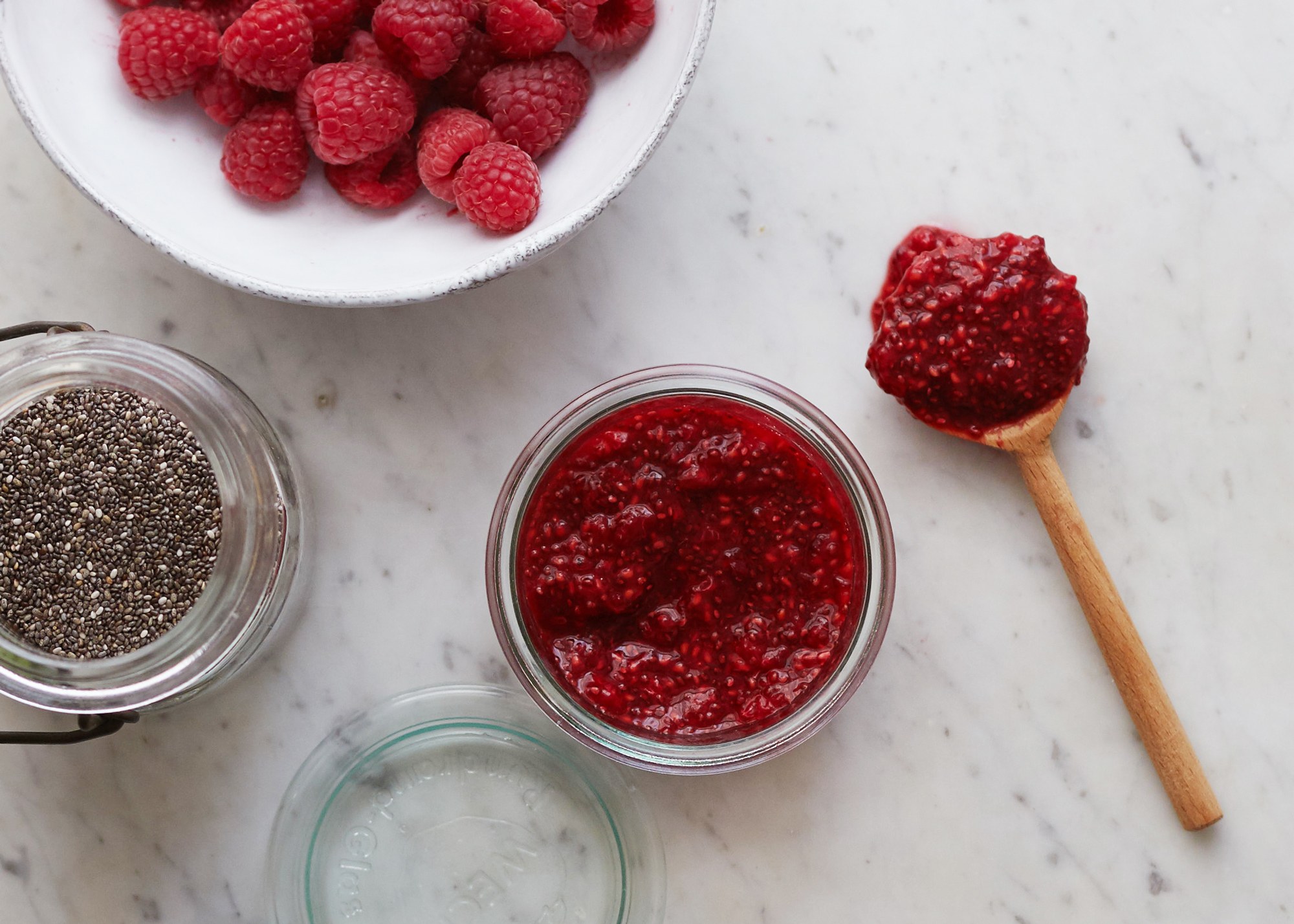 The jam can be kept in the fridge for a few days, and tastes delicious with nut butter on oatcakes, crackers, scones and bread. I find that it helps to satisfy my cravings for something sweet and adding a touch of vanilla extract makes all the difference 🙂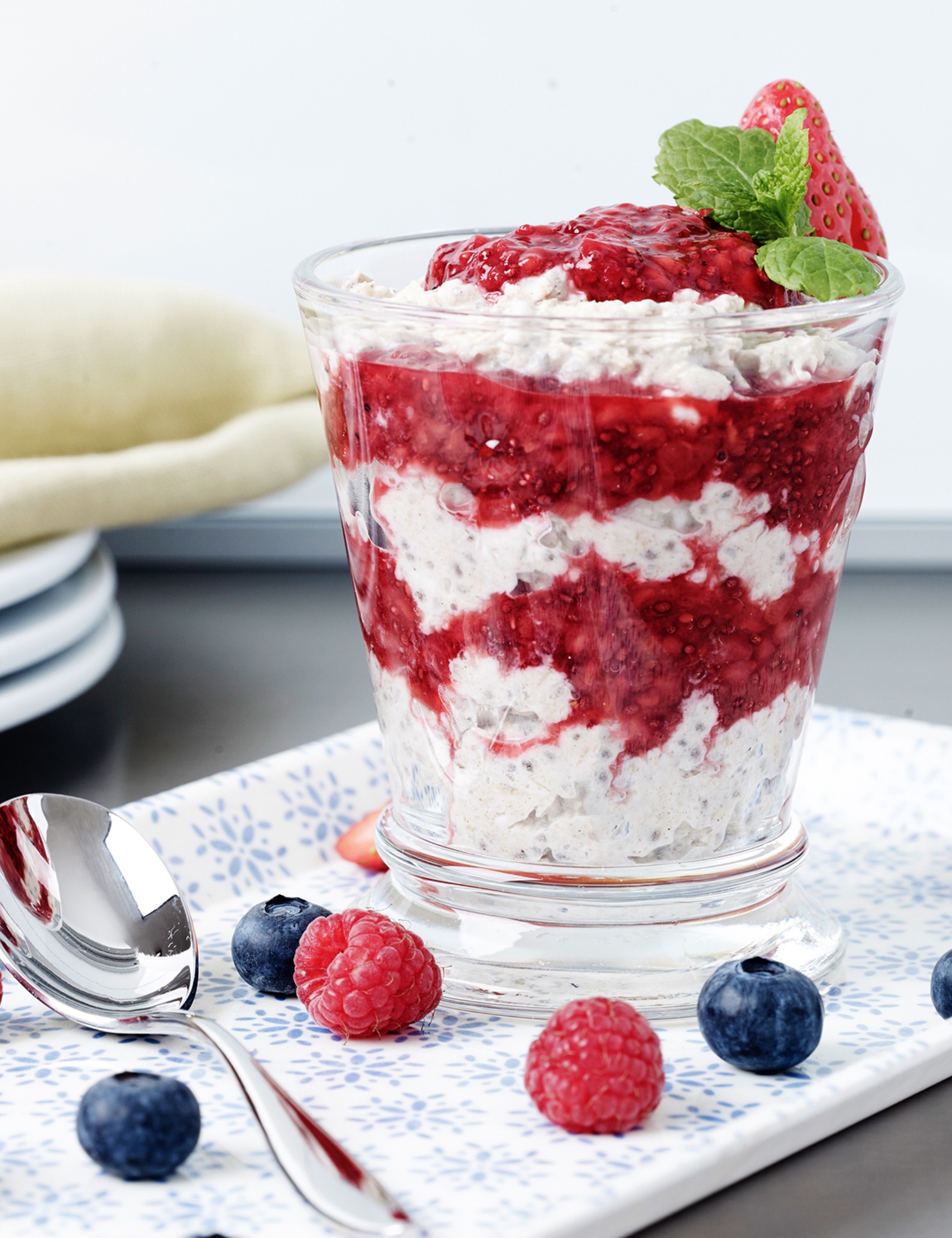 Let me know if you give this Raspberry Ripple Chia and Oat Parfait recipe a go and I love to see all your creations on social media! Simply tag #RosannaDavisonNutrition on Instagram or Twitter or come on over to my Facebook to say hello 🙂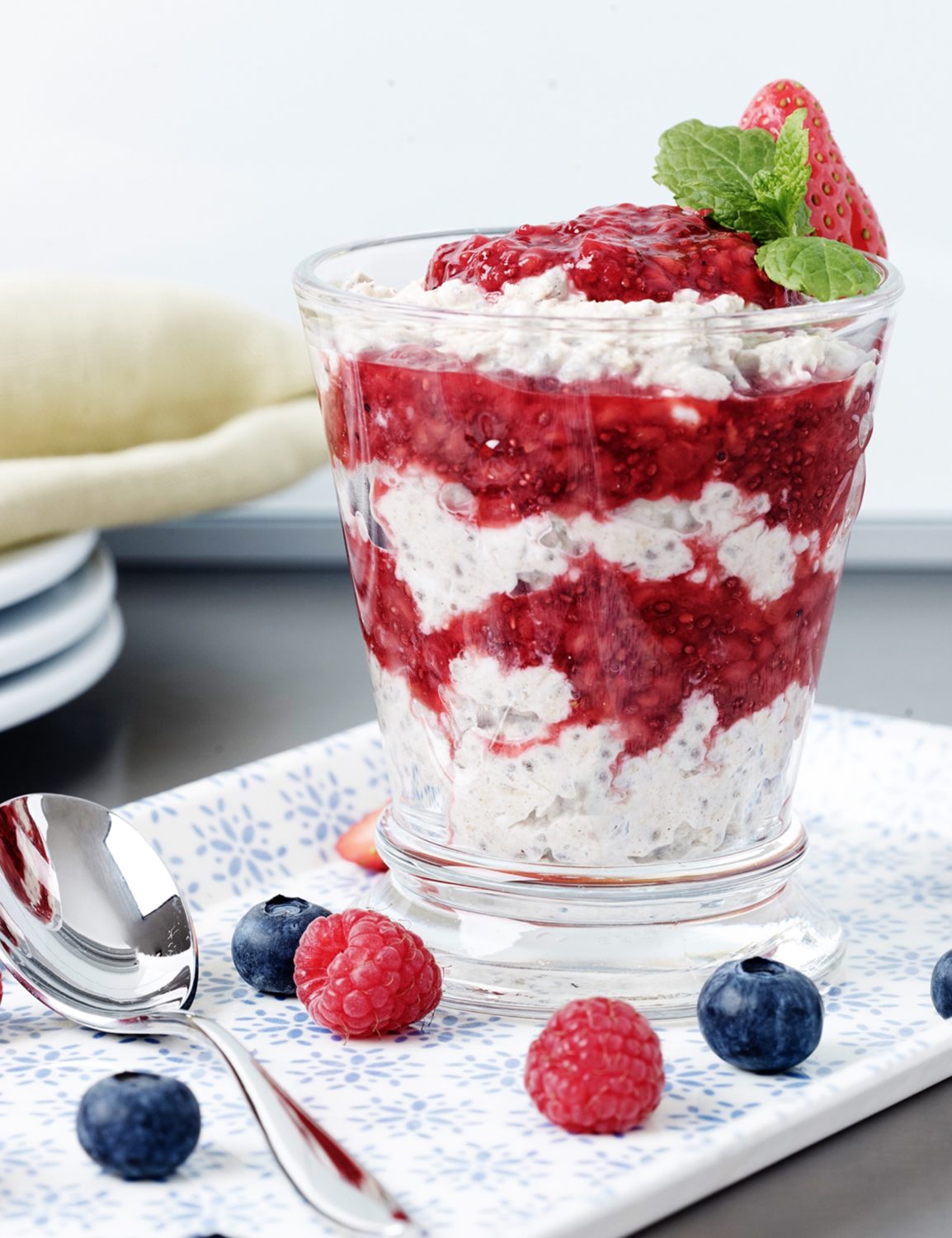 Raspberry Ripple Chia and Oat Parfait
2017-03-22 11:06:37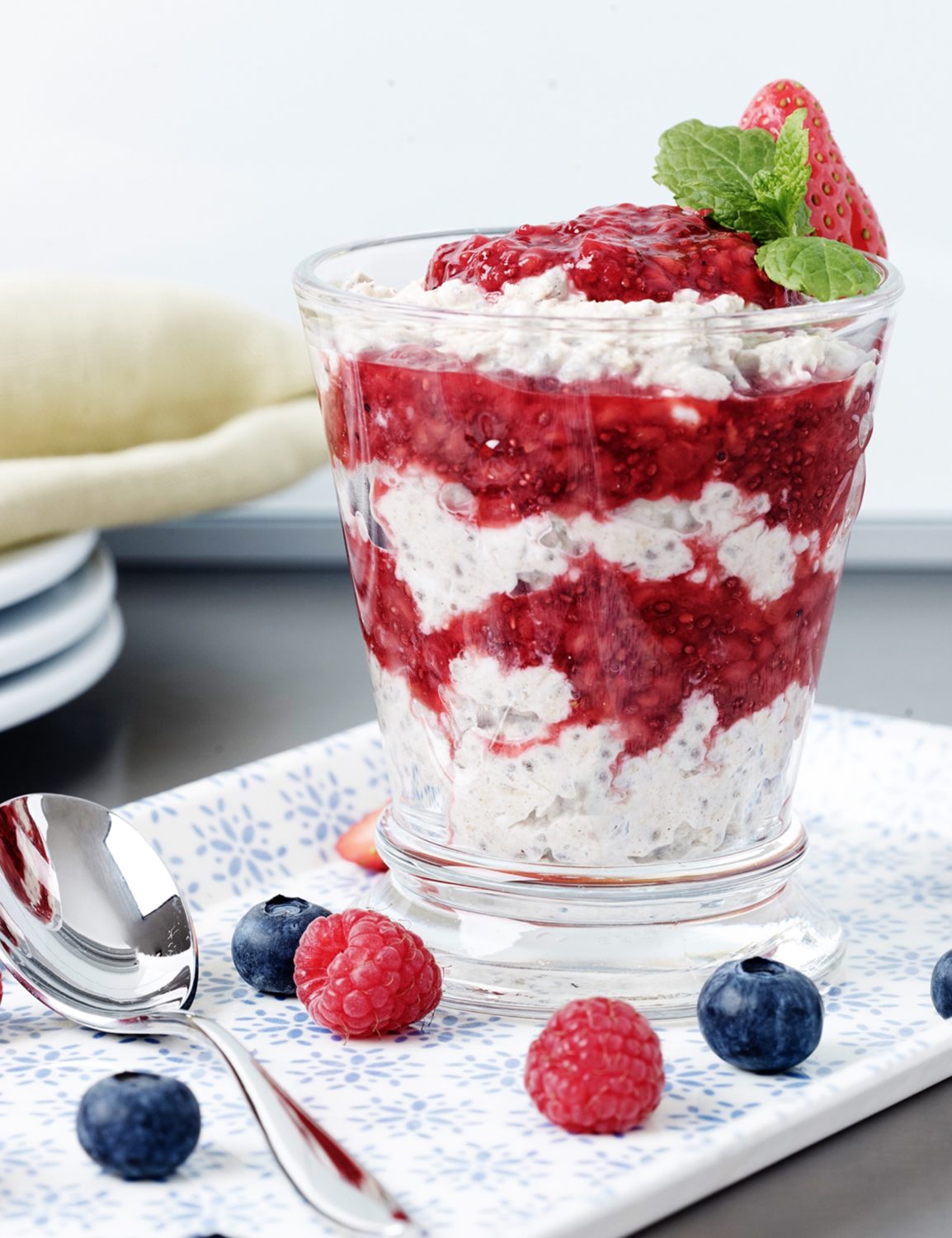 Serves 2
A simple, filling and delicious quick breakfast solution, high in protein and fibre. Easy to pop into a jar or container to bring to work, college or school with you! Nutrition information per serving: 367 calories, 10.9g protein, 54g carbs, 13.3g fat, 20g fibre
For the raspberry chia jam
1 tbsp pure maple syrup
250g frozen raspberries
Juice of half a lemon
1 tsp vanilla extract
2 tbsp chia seeds
For the chia oat parfait
60g porridge oats (use certified gluten-free if necessary)
2.5 tbsp whole chia seeds
1 tsp ground cinnamon
1 tsp vanilla extract
500ml unsweetened almond milk or your favourite milk
Selection of fresh fruit – berries, chopped bananas, peaches, figs and kiwi all work well.
Instructions
To make the raspberry chia jam, heat the maple syrup in a saucepan over a medium heat until it begins to gently bubble.
Add the frozen raspberries, lemon juice and vanilla extract, stirring well, and simmer until the berries begin to break down and liquefy.
Taste at this point and add a little more maple syrup if you prefer it sweeter, though I like it quite tart.
Add the chia seeds and stir well for 60 seconds. Turn off the heat and continue to stir until the chia seeds begin to absorb the liquid from the raspberries and swell up.
Pour the jam into a container or jar and set in the fridge for 1 hour.
To make the parfait, mix together the oats, chia seeds, cinnamon, vanilla extract and plant milk in a bowl.
Layer up the parfait in a glass jar, starting with a layer of the oats, followed by a layer of raspberry chia jam, until you have filled the jar almost to the top. Screw the lid on top and leave in the fridge overnight to allow the flavours to blend together.
In the morning, add fresh fruit to the top of the jar, grab a spoon and enjoy!
Notes
Any leftovers can be stored in an airtight container in the fridge for 2-3 days.
Rosanna Davison Nutrition https://www.rosannadavisonnutrition.com/