I love raspberry and I love shortbread…. so raspberry shortbread pancakes seemed like the logical next step, right?!
And they couldn't be more simple – even if you're a pancake-making virgin.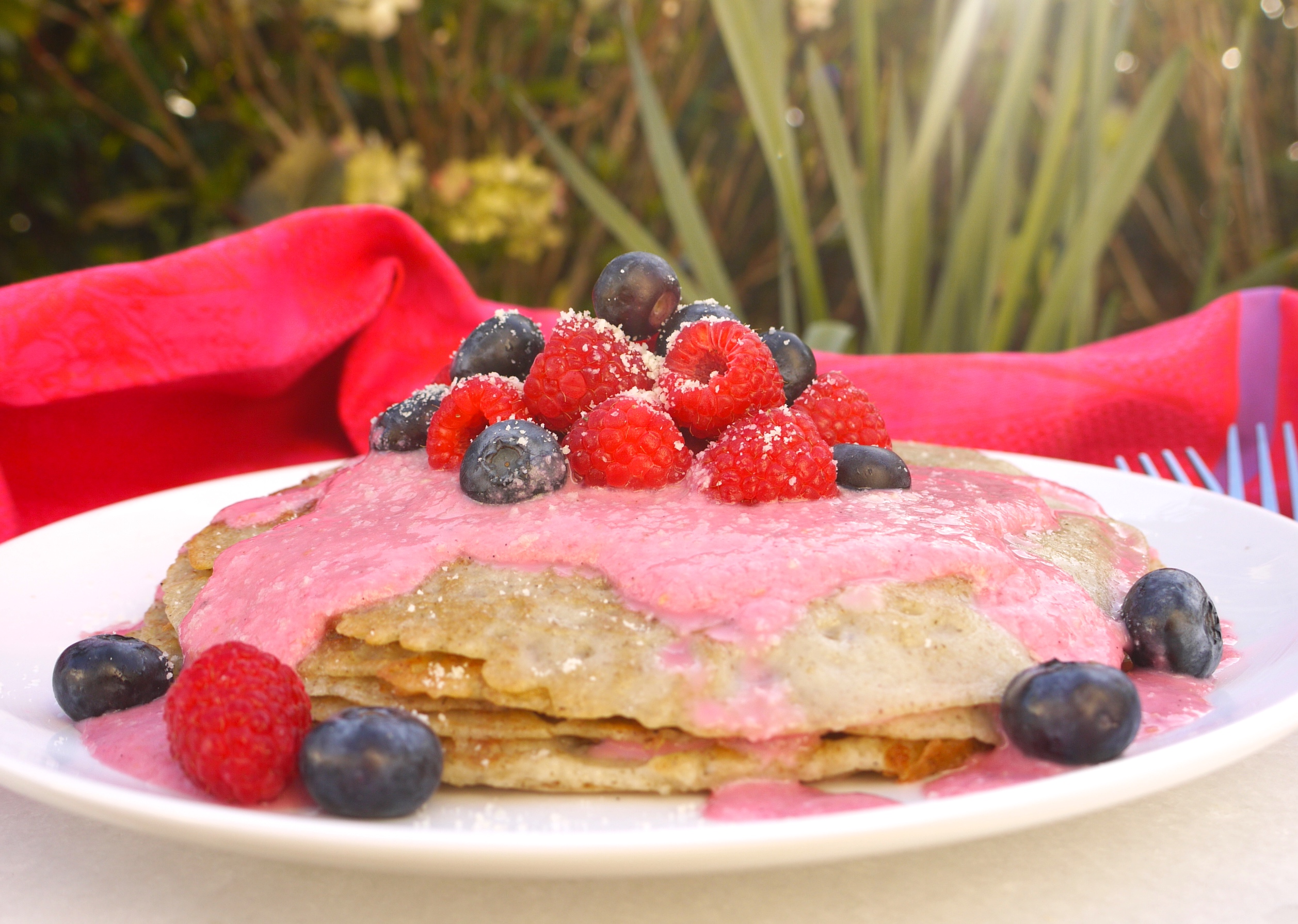 Lazy Saturday and Sunday mornings are pretty much made for a big pancake brunch, and these pink ones studded with vibrant berries are the perfect way to impress friends and family – but with minimum work of course!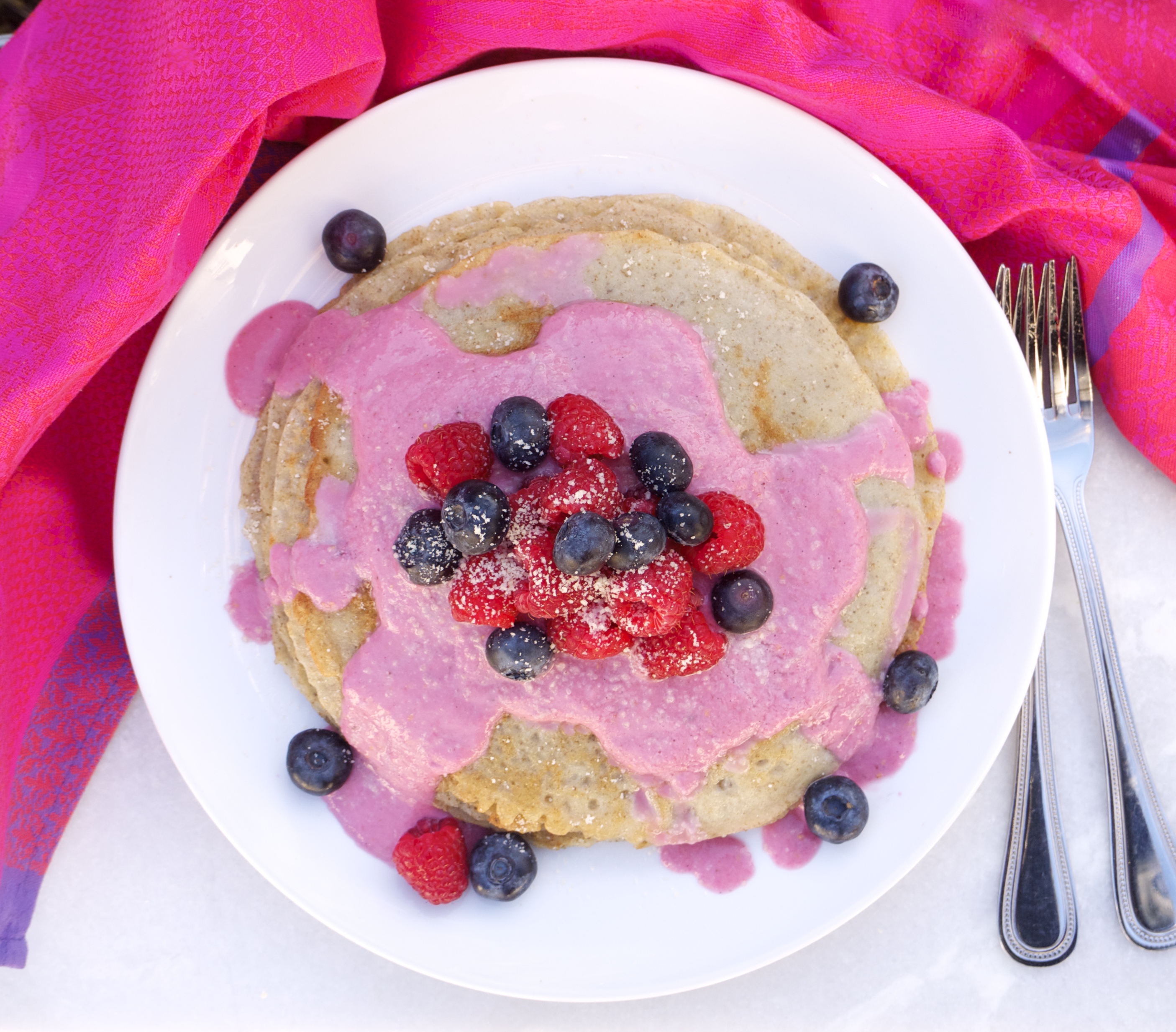 For the pancake batter, I used a gluten-free flour. I've been using the Dove's Farm plain flour in a lot of baked recipes lately, as it's easy to find in shops and supermarkets, contains a nice blend of flours and I find it light and digests well. You never feel too heavy or stuffed afterwards.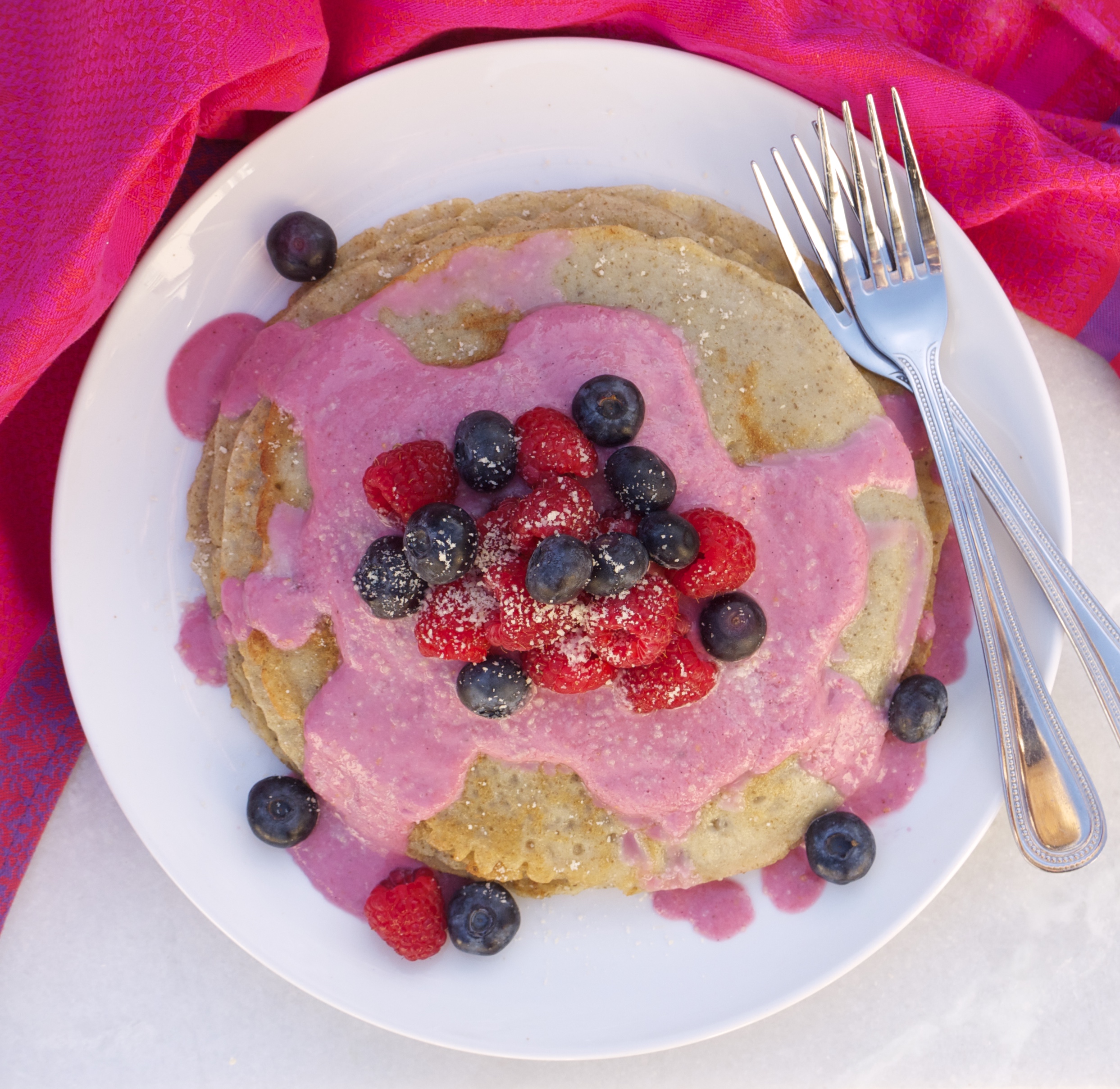 The very girly pink sauce is one of my favourite things in the world and I try to keep it for more special occasions and meals. It's made from full-fat coconut cream blended with raspberries and a little vanilla, and it just tastes so incredibly creamy, sweet and delicious. It's not too naughty though, and is still completely free from refined sugar at least.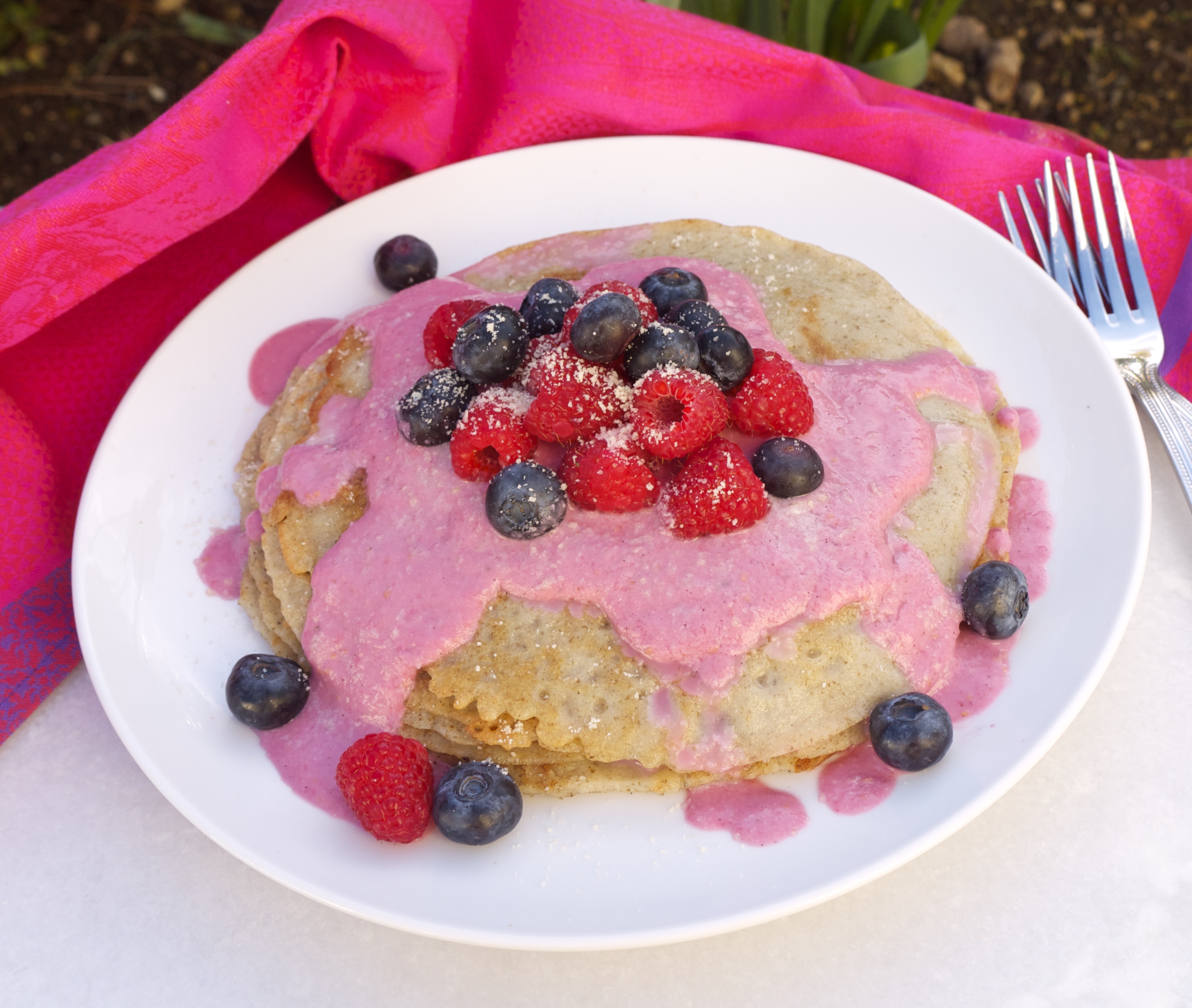 To incorporate the shortbread element, I added some crumbly ground almonds for that lovely sweet flavour and biscuity texture. Almonds are also a super source of vitamin E for soft and smooth skin, so it's a double bonus! 🙂
A tablespoon of flaxseed in the pancake batter helps to bind it together well and adds that extra bit of healthy fibre.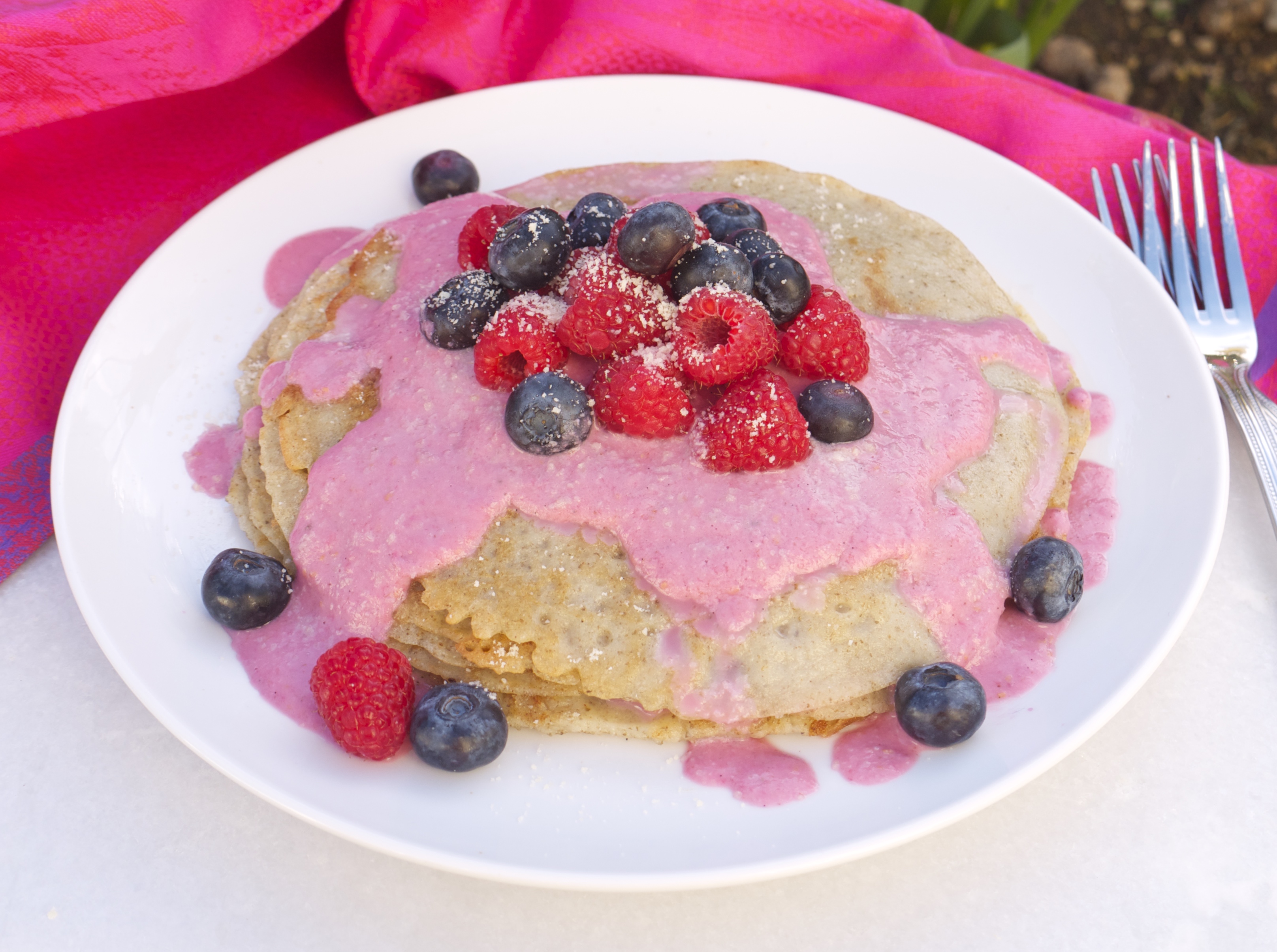 Let me know if you give these Raspberry Shortbread Pancakes a go and I love to see all your creations on social media! Simply tag #RosannaDavisonNutrition on Instagram or Twitter or come on over to my Facebook to say hello 🙂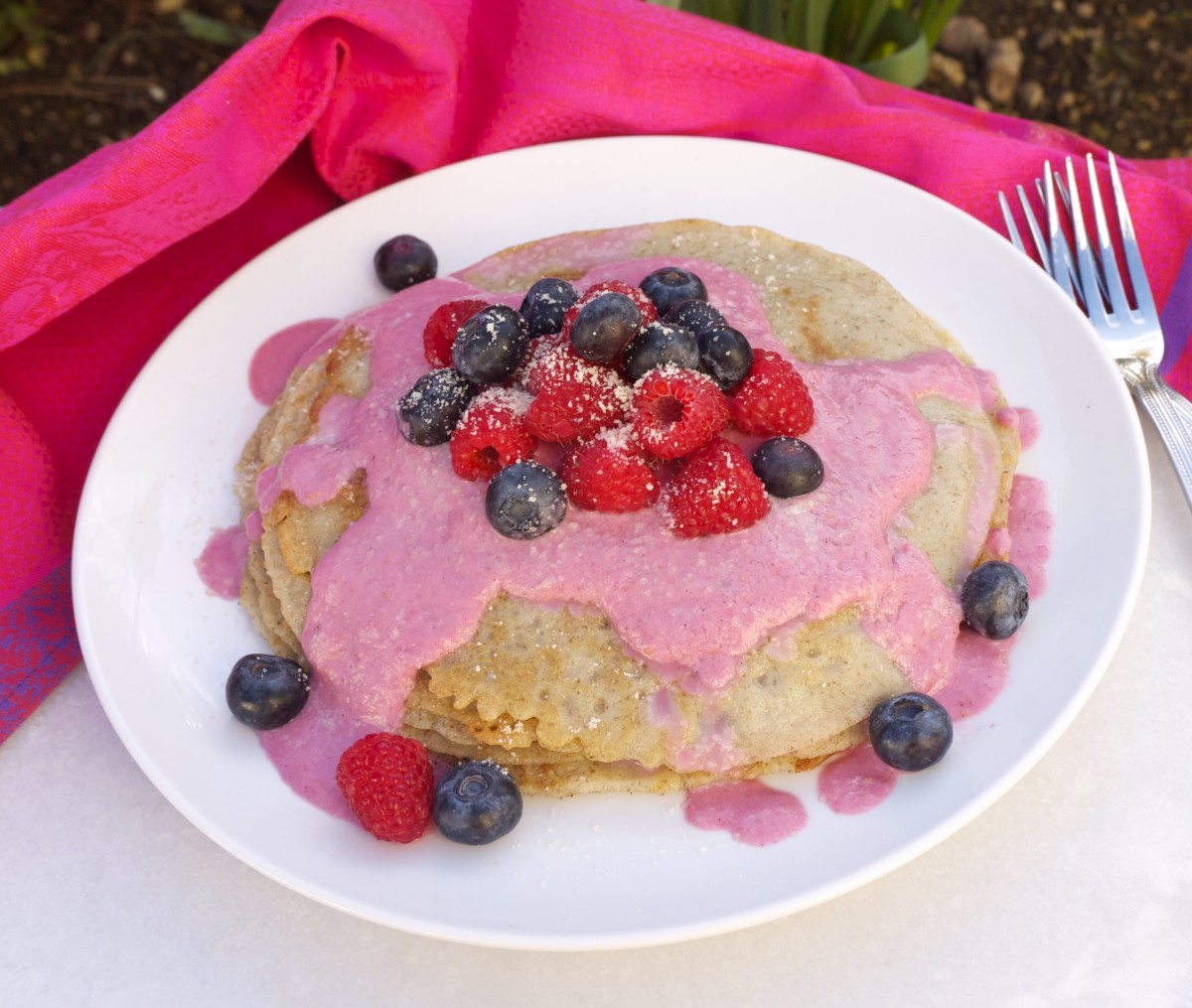 Raspberry Shortbread Pancakes
2016-04-20 13:38:04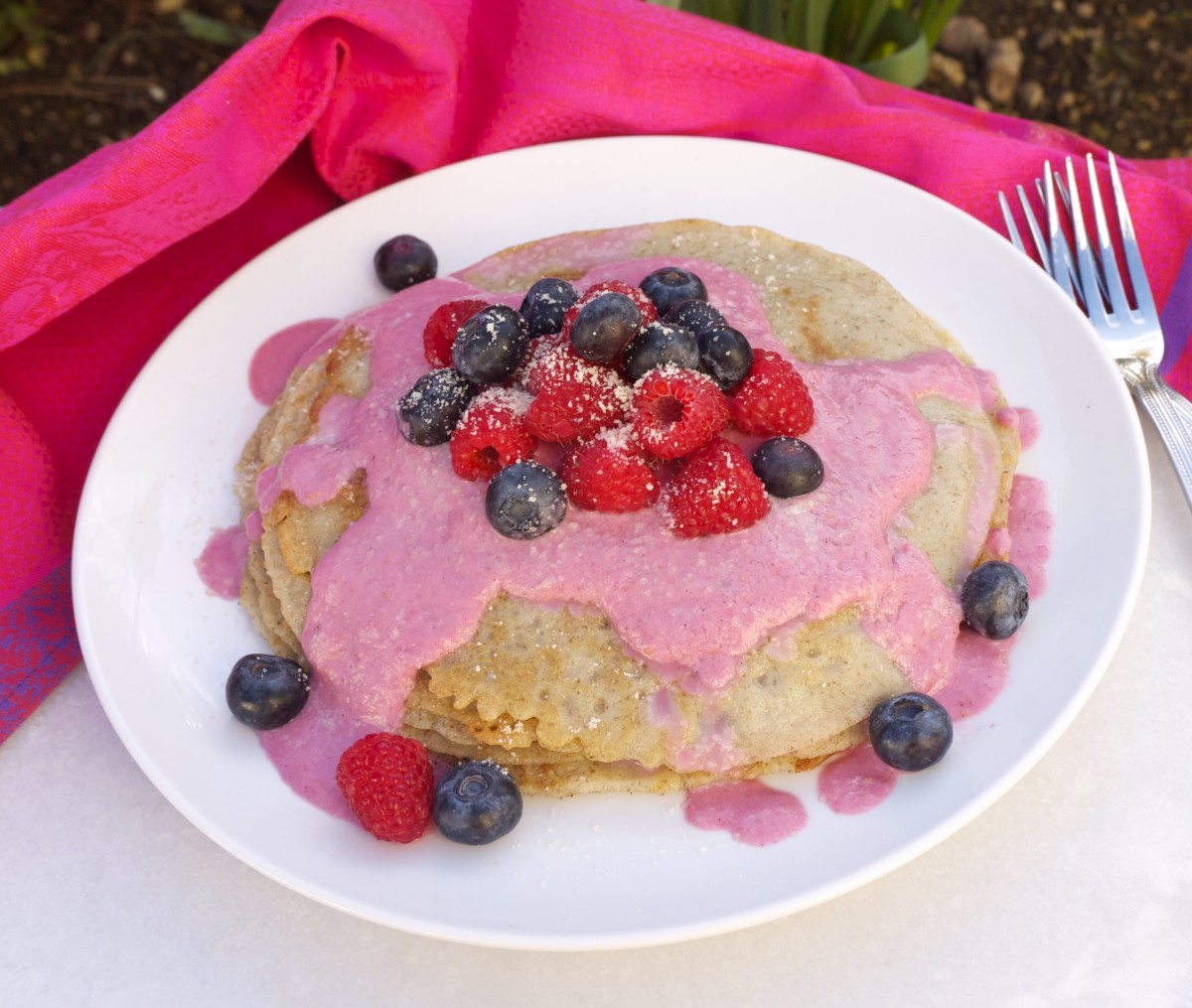 Serves 2
Light, fluffy, gluten-free pancakes with a creamy raspberry-vanilla sauce. Perfect for a special brunch to impress friends and family! Nutrition Information Per Serving: 365 calories, 5.8g protein, 56.3g carbs, 13.4g fat, 6.1g fibre
Ingredients
virgin coconut oil, to cook with
250ml unsweetened almond milk (or your favourite plant milk)
130g (1 cup) plus 2 tbsp all-purpose plain flour (I used the Dove's Farm gluten-free plain flour)
1 tbsp ground flaxseed
1 tbsp ground almonds
For the Raspberry Sauce
1 can full-fat coconut milk, refrigerated overnight
65g fresh raspberries
1 tsp vanilla extract or vanilla powder
2 tsp ground almonds, to serve
mixed fresh or frozen berries, to serve
Instructions
Place the almond milk into a blender and add the flour, flaxseed and ground almonds.
Blend until a smooth batter forms. It should be thick but not too thick, so add a little extra almond milk if too thick and extra flour if too watery.
Heat up the coconut oil in a frying pan over a medium heat. I try to use only about half a teaspoon, then I place the pancakes on a piece of kitchen roll to mop up any excess oil.
Pour on the batter and smooth across the top with a spoon or spatula.
Allow it to cook for about 60-90 seconds until the edges lift and you can slide a spatula right underneath and flip it over to brown the other side, which should only take 30-40 seconds.
When both sides are lightly browned, place on the kitchen paper and continue until all the pancake batter has been used up. Double the batter quantities to serve more people.
To make the sauce, gently open the can of coconut milk without shaking it and use a spoon to scoop the hardened coconut cream into a blender or food processor. Add in the raspberries and vanilla and blend until a smooth sauce forms.
Spoon the sauce over the warm pancakes and serve, topped with berries and a sprinkle of ground almonds.
Enjoy!
Notes
Any leftovers can be stored in an airtight container in the fridge for up to 3 days.
Rosanna Davison Nutrition https://www.rosannadavisonnutrition.com/