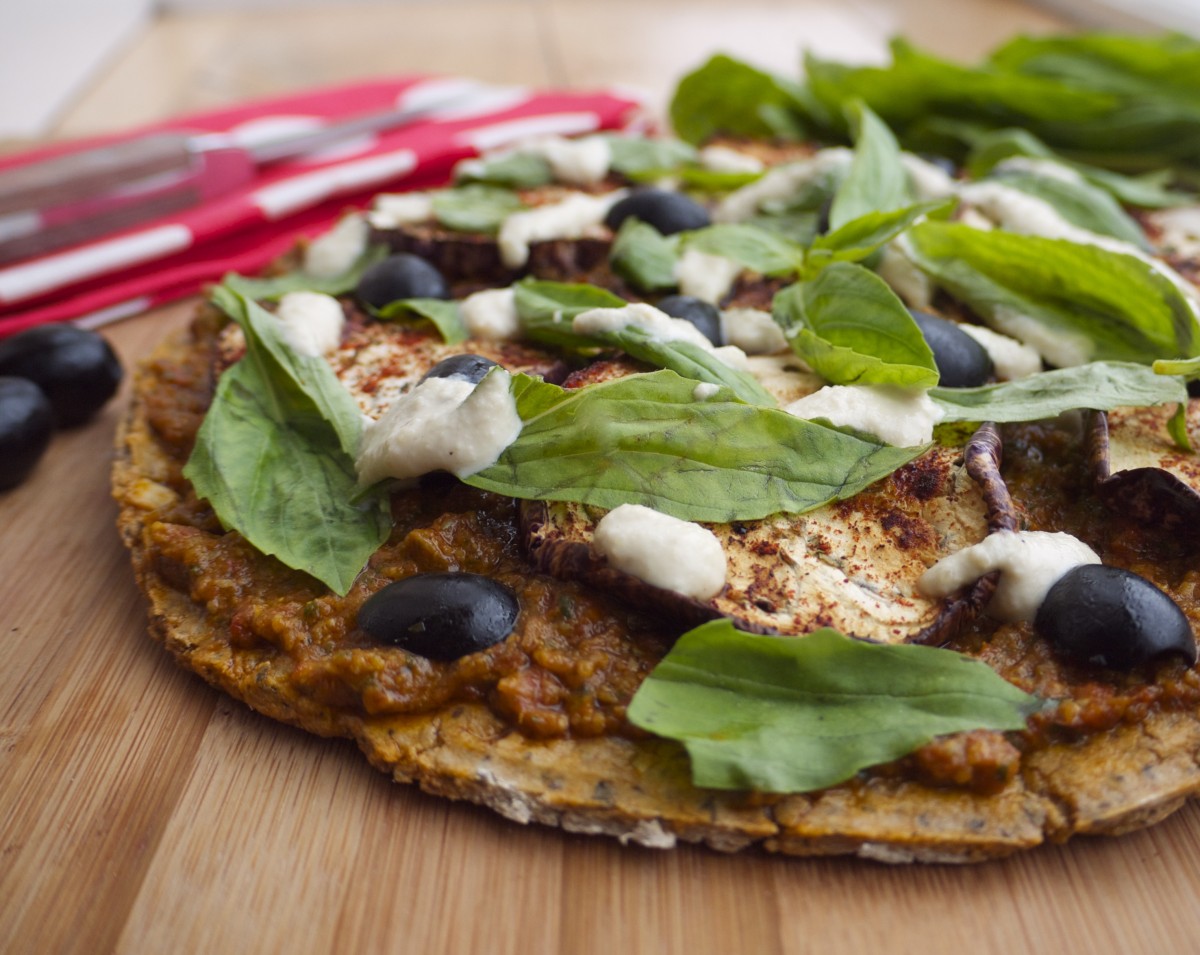 I think I'm obsessed with pesto. It's the ubiquitous deli spread that instantly makes everything taste amazing. And the best thing is that it's so easy to make at home and playing around with different ingredients and flavours means that you'll never get bored of it!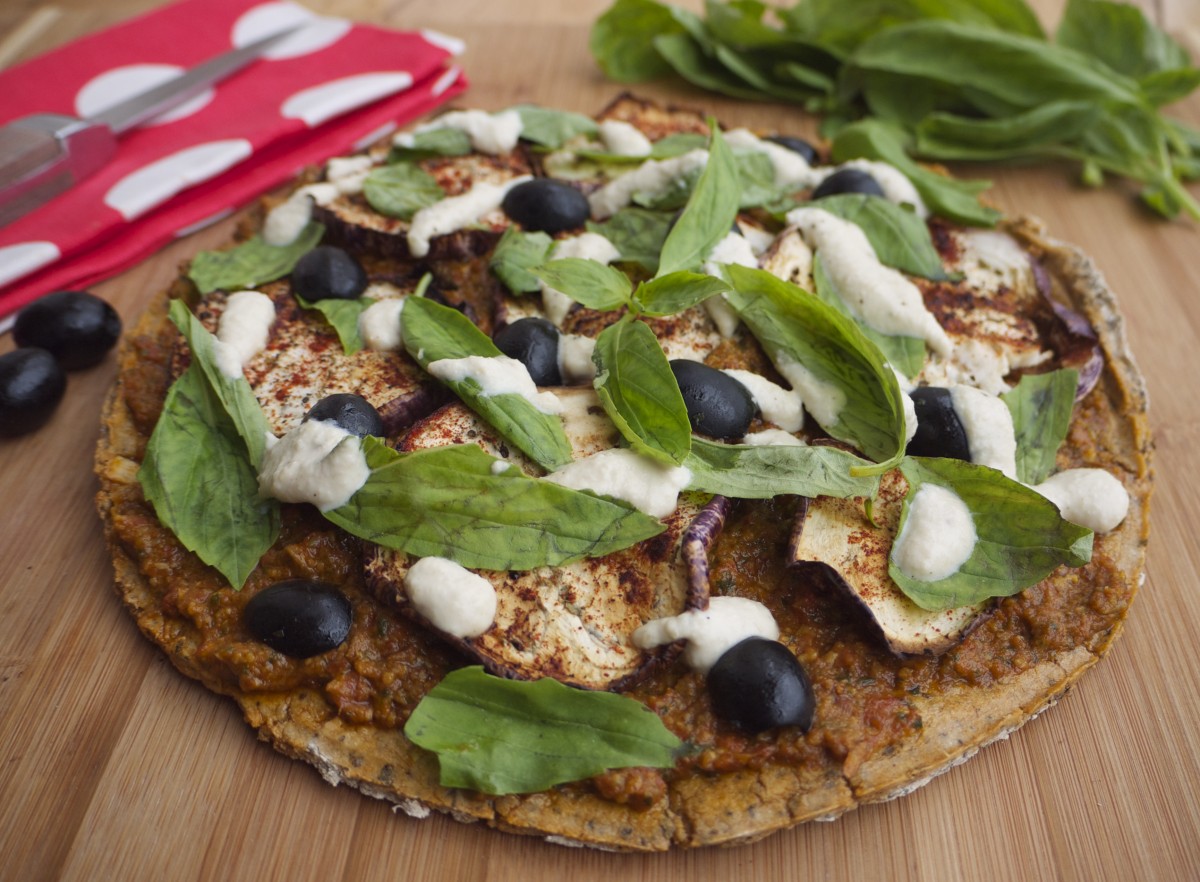 When I decided to make a healthy pizza recently, I knew that pesto simply had to feature heavily. I've always loved pizza, but in recent years have had to avoid it because of the gluten in most commercial pizzas. I would inevitably suffer from bloating, breakouts and a puffy face after eating it because I simply can't digest them. So it was important to me to come up with a recipe that would work for anyone following a gluten-free diet, but with all the taste of a regular pizza.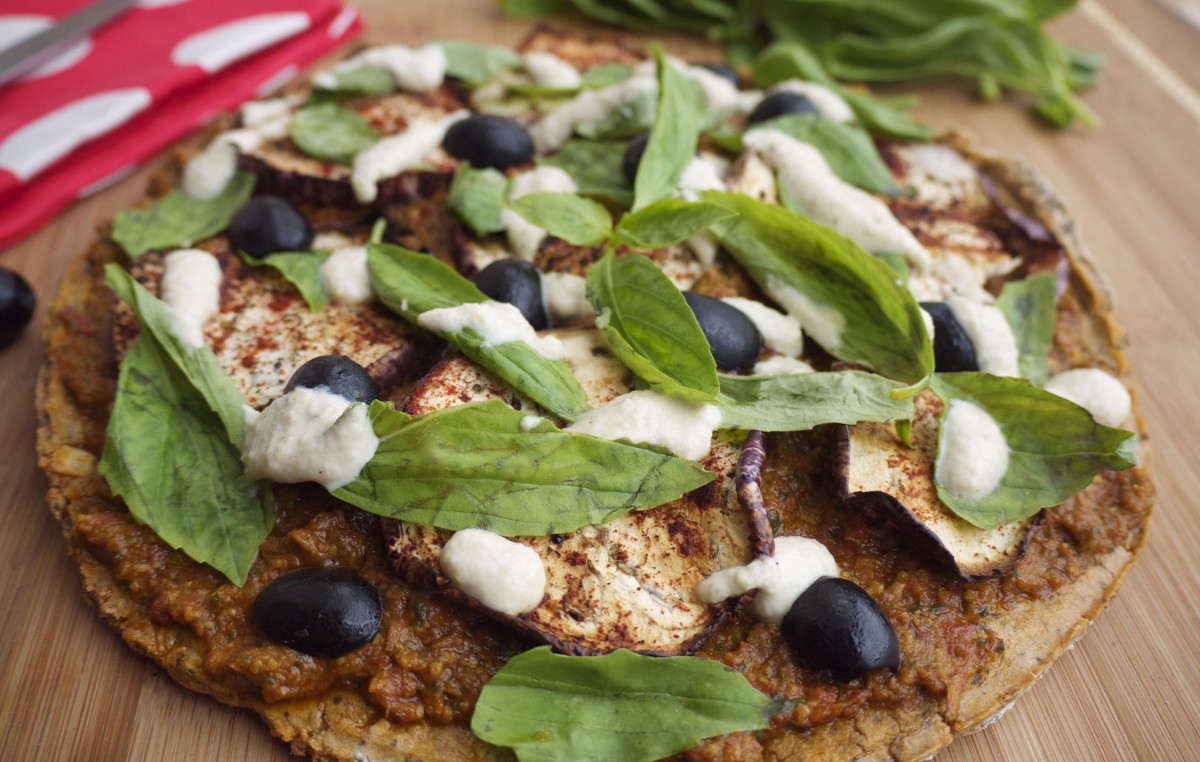 Granted, a homemade vegan pizza is never going to be quite the same as a delivery pizza dripping in cheese and salty meat, but I love that this one is super-satisfying and without any post-feast guilt or energy slump 🙂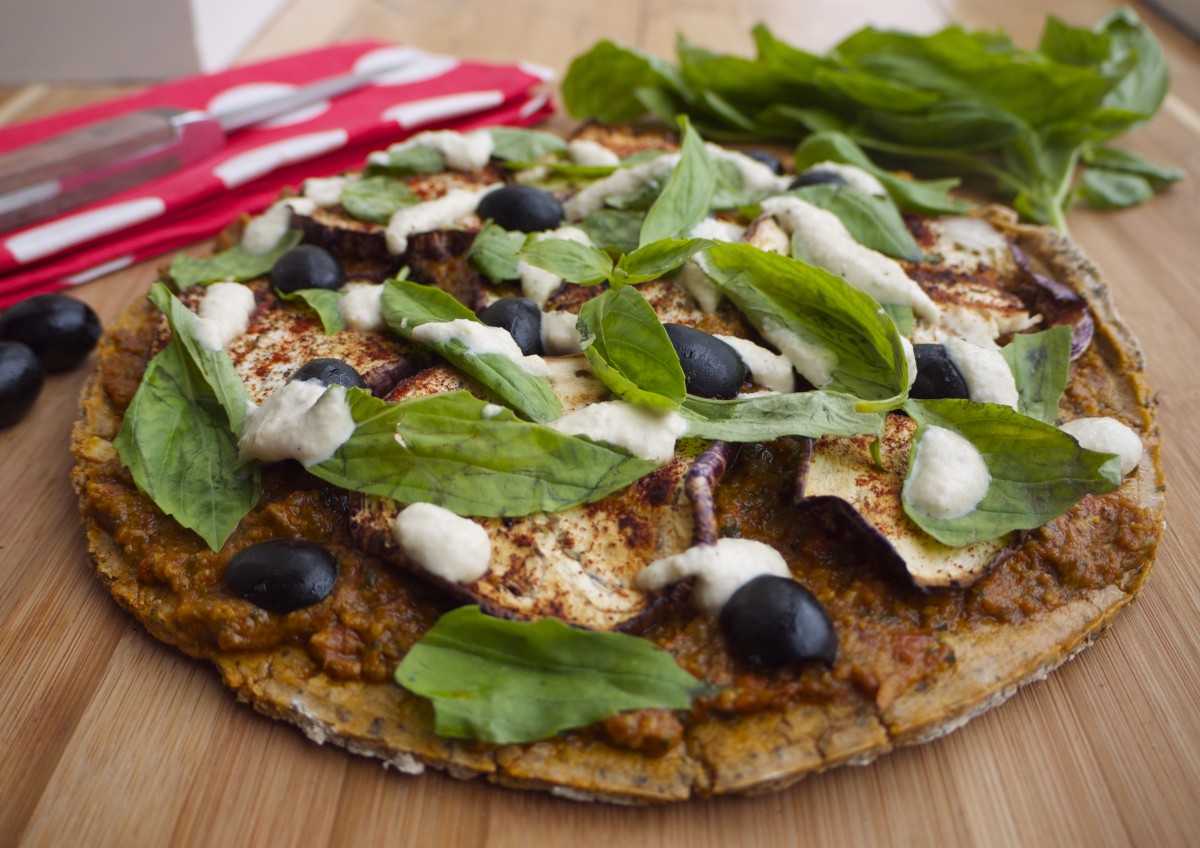 The toppings here include sun-dried tomato pesto, which I made lower in fat as I substituted some oil for almond milk. I also baked slices of aubergine with spices, which really complement the pesto. The white sauce is a cashew-based 'cheesy' sauce, and then I finished off the toppings with sliced black olives and fresh basil leaves. The flavours all worked so well together!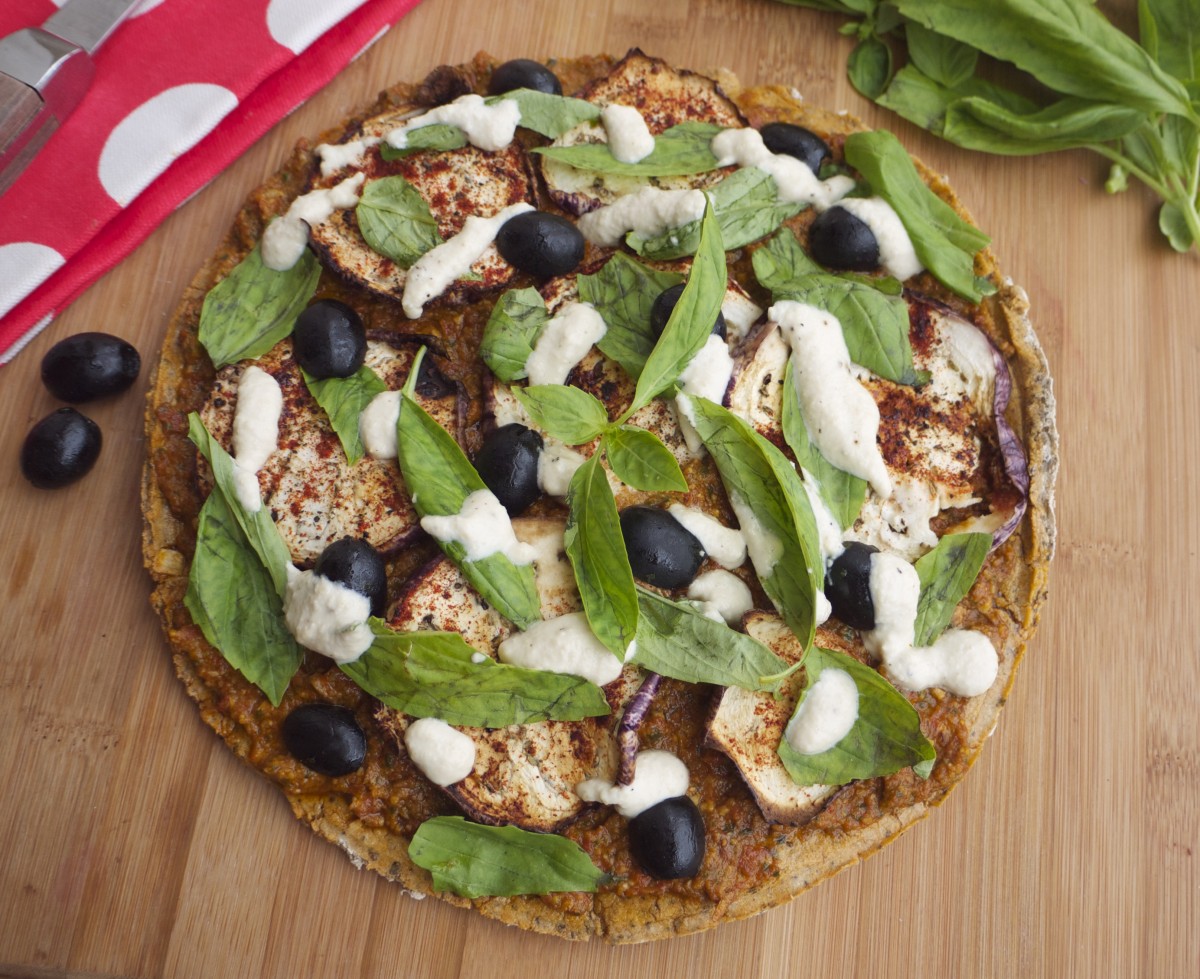 The base is a simple mixture of buckwheat flour with water, seasoning and spices. I use buckwheat for so many recipes because it's actually a seed rather than a grain, naturally gluten-free, easy to digest and packed with essential minerals like manganese, magnesium and copper.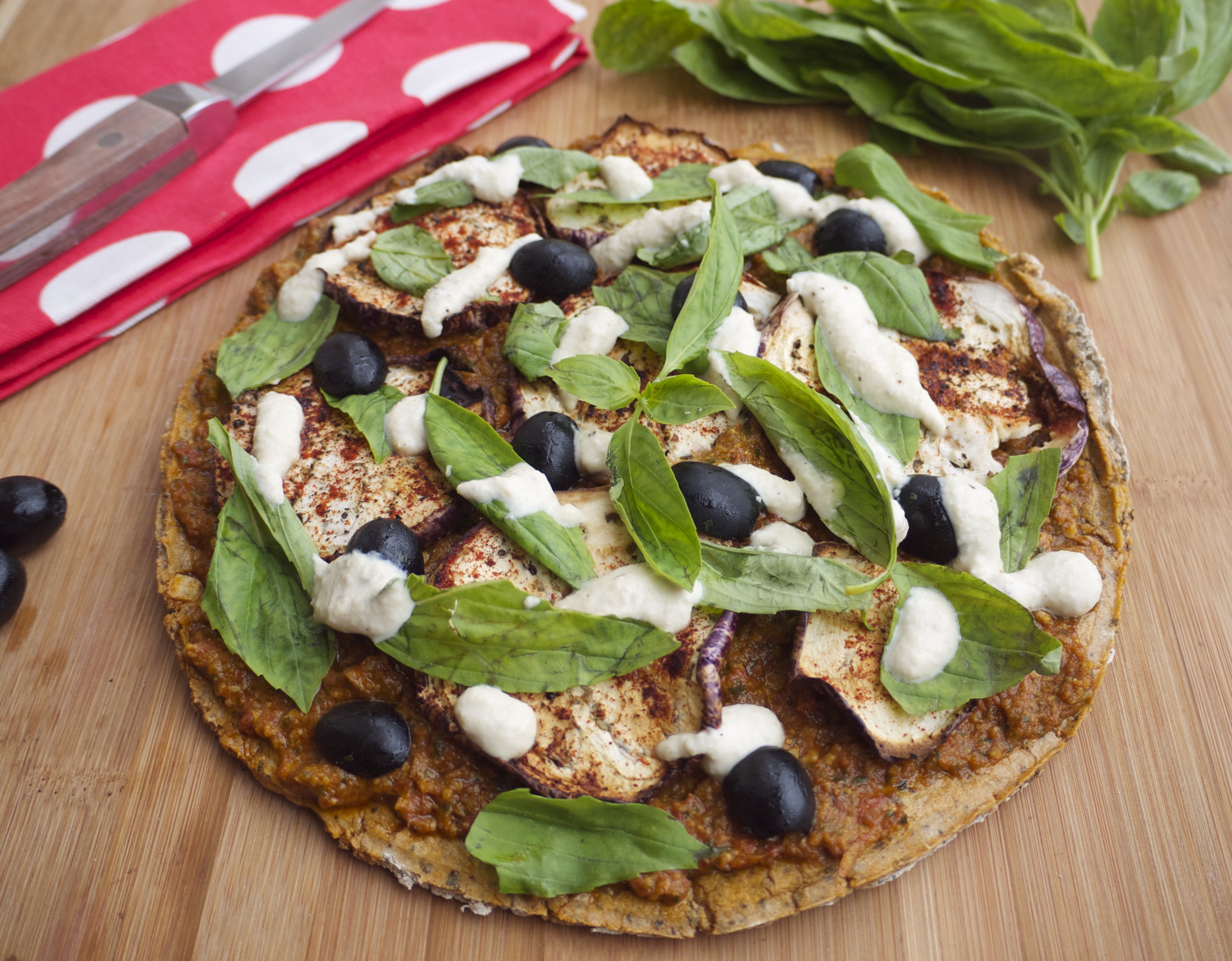 Roast Aubergine and Basil Pizza
2015-04-02 23:59:57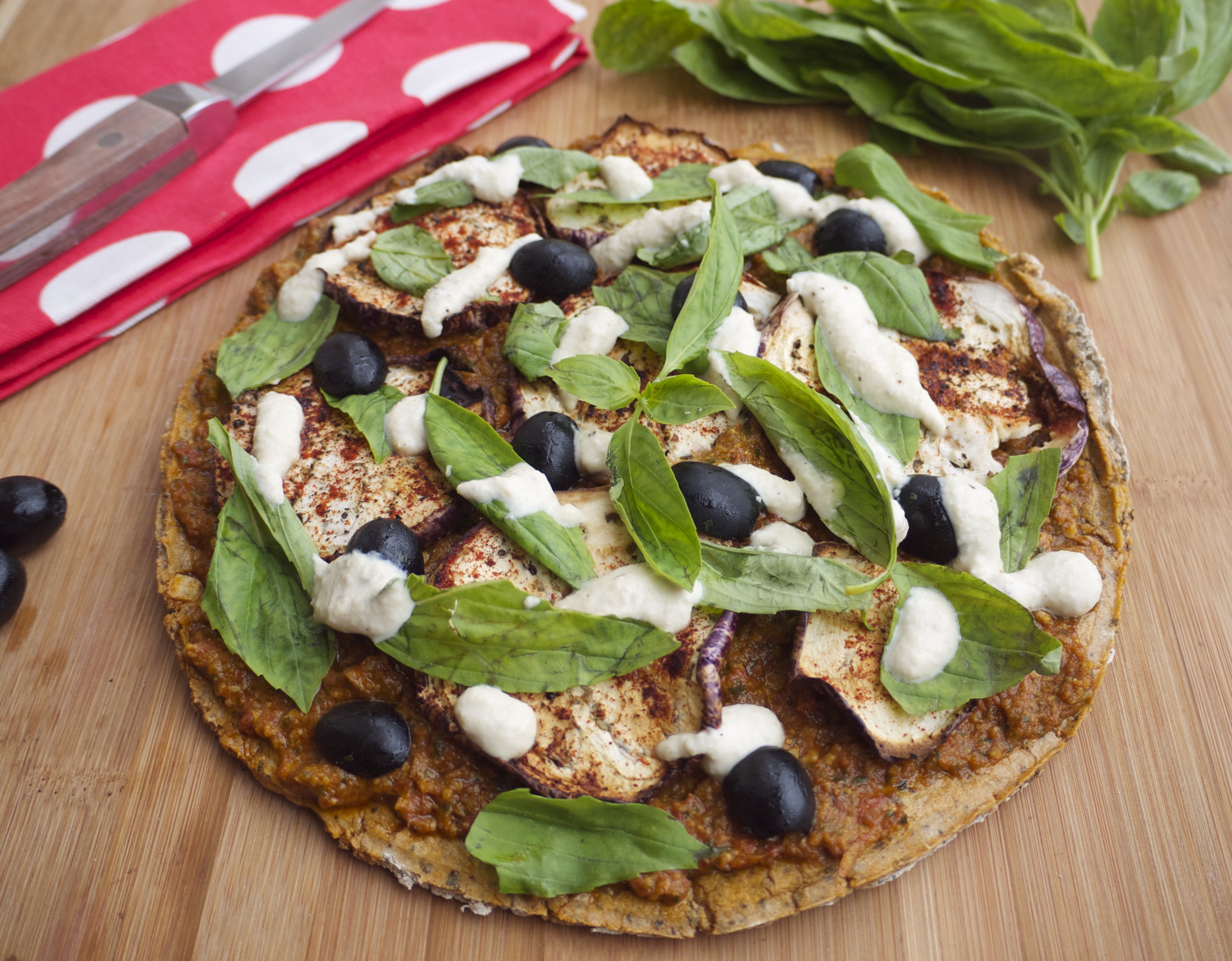 Serves 1
Free from gluten but bursting with flavour, I can't get enough of the topping combo on this pizza!
For the pizza base
120g (1 cup) buckwheat flour
125ml cold water
2 tbsp whole chia seeds
1 tbsp dried basil
1 clove of garlic, minced
pinch of Himalayan pink rock salt and ground black pepper, to taste
coconut oil, to grease
For the basil and sun-dried tomato pesto
110g (1 cup) sun-dried tomatoes
2 tbsp extra virgin olive oil
2 tbsp unsweetened almond milk
2 tsp balsamic vinegar
2 cloves of garlic
2 tbsp pine nuts
1 handful fresh basil leaves
pinch of cayenne pepper
pinch of Himalayan pink rock salt and ground black pepper, to taste
For the cashew 'cheese' sauce
65g (1/2 cup) raw unsalted cashew nuts, soaked in cold water for 15 minutes to soften
2 heaped tbsp nutritional yeast
125ml (1/2 cup) cold water, to blend
1 clove of garlic
Himalayan pink rock salt and ground black pepper, to taste
Other toppings
1/2 an aubergine, sliced
5 black pitted olives, halved
handful of fresh torn basil leaves
1 tbsp tamari sauce
black pepper
1/2 a tsp smoked paprika
Instructions
Preheat the oven to 200C and lightly grease a large baking tray with coconut oil or line it with greaseproof paper.
In a large mixing bowl, place the flour, water, chia seeds, basil, garlic and seasoning.
Mix well until a thick dough forms. Add a little extra flour if it's too wet and water if it feels too dry.
Transfer the dough to a lightly floured board and use a rolling pin to roll out the pizza base to your desired thickness - I like to keep mine thin and crisp.
Lightly place an upturned bowl on top of the dough and cut around it with a sharp knife to create the pizza shape. Any extra dough leftover can be made into dough balls 😉
Bake the base in the oven for 25 minutes, flipping it over after 12 minutes to ensure both sides are evenly baked.
Meanwhile, thinly slice the aubergine and place them on a baking tray lightly greased with coconut oil.
Drizzle with tamari sauce and sprinkle on black pepper and a pinch of smoked paprika.
Roast the aubergine in the oven for 20-25 minutes, until it begins to look brown and crisp around the edges.
To make the sun-dried tomato pesto
Place all ingredients in a blender or food processor and combine until a pesto forms, making sure to leave a little texture. Taste and season more, if required.
To make the cashew cheese sauce
Drain the soaked cashews and place all ingredients in a blender or food processor and blend until a creamy 'cheese' sauce forms. You may need to stop and scrape down the sides to ensure all the pieces get blended. Add extra water if necessary.
Remove the pizza base and aubergine slices from the oven when cooked, and allow to cool for 5 minutes.
To assemble the pizza
First spread a layer of the pesto on the base, bringing it right up to the edges.
Next place the aubergine slices on top, followed by the olive halves and torn basil leaves. Finish with a drizzle of the cashew cheese sauce (you won't need to use it all).
Serve warm or cold.
Notes
Any leftovers can be stored in an airtight container in the fridge for 2-3 days.
Rosanna Davison Nutrition https://www.rosannadavisonnutrition.com/