Do you ever come across a recipe that you love so much that you make it over and over again? This soup is definitely one of those recipes for me…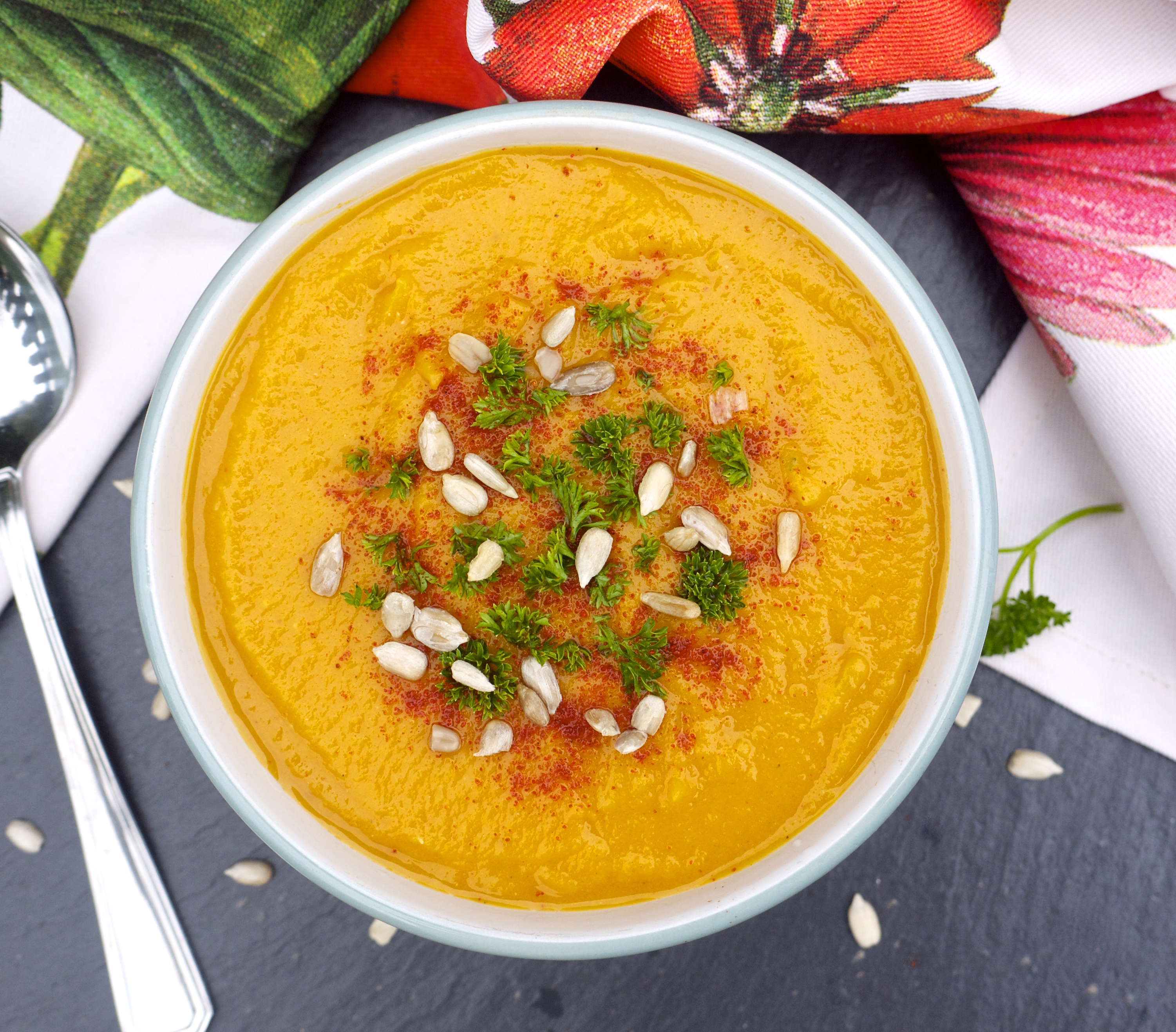 It came about because I was trying to use up bags of carrots and sweet potatoes that were quickly hurtling towards old age – and I really try to avoid throwing food out. I keep a load of jars of dried beans and pulses in my kitchen cupboard, so I popped in a few tablespoons of dried split red lentils to add some protein and density. They contain an impressive 25g of complete protein, 30g of fibre and just 1g of fat per half cup.
I also love red split lentils because they're so quick to cook and don't need to be soaked beforehand. They help to stabilise your blood sugar levels and keep you feeling full for longer, so for that reason they work well in a soup that otherwise contains just starchy vegetables.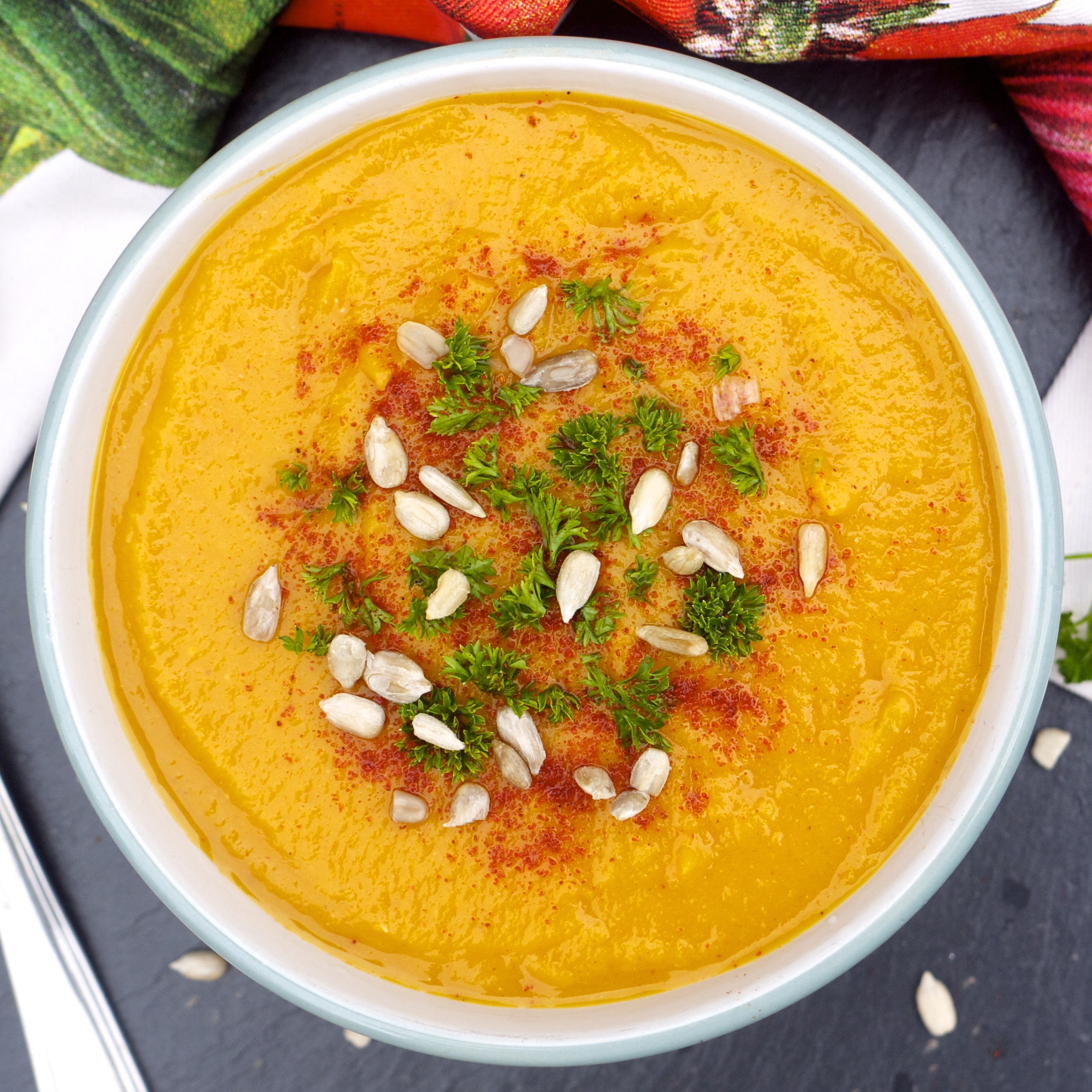 But the real benefit of this soup is in the copious quantities of beta-carotene it contains. This antioxidant nutrient is responsible for the vibrant orange pigment in the carrots and sweet potatoes, plus it's found in foods like butternut squash, apricots, spinach, kale and mango.
Beta-carotene is often credited for brightening your complexion and helping to build glowing skin from the inside out. I'll take that, thanks very much!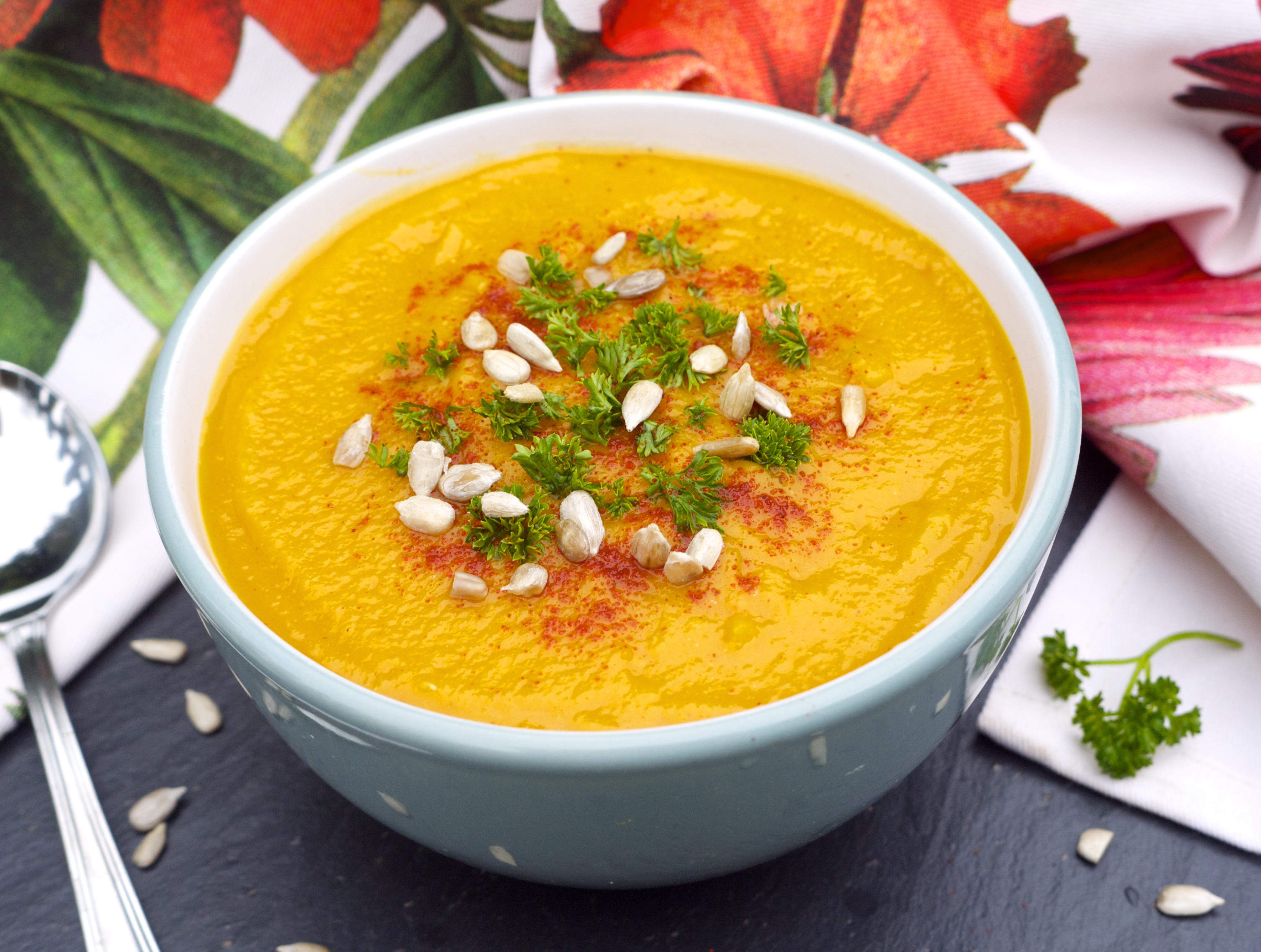 Beta-carotene converts to vitamin A in your body, and the maintenance and repair of your precious skin is one of the main jobs of vitamin A. Without sufficient amounts in your body, your complexion may become dry, flaky and dull. Pretty much the exact opposite of what we're aiming for!
As it is a fat-soluble vitamin, eating foods rich in vitamin A with a small amount of healthy fat like avocado, nuts, seeds or coconut oil, can boost its absorption and therefore increase its beautifying effect for your skin. That's why I sprinkled some sunflower seeds on top of the soup.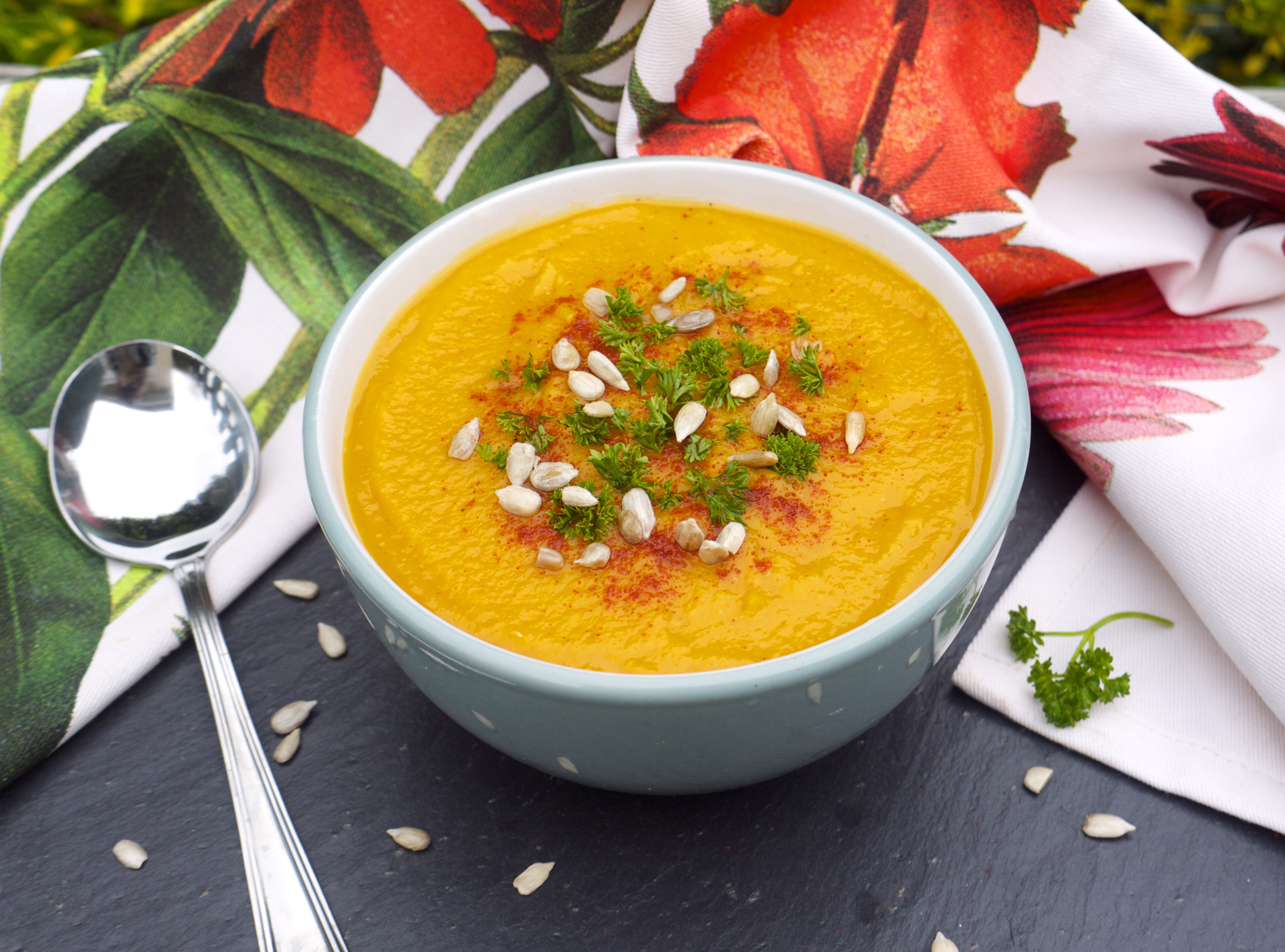 Let me know if you give this Skin-Brightening Sweet Potato, Carrot and Red Lentil Soup a go and I love to see all your creations on social media! Simply tag #RosannaDavisonNutrition on Instagram or Twitter or come on over to my Facebook to say hello 🙂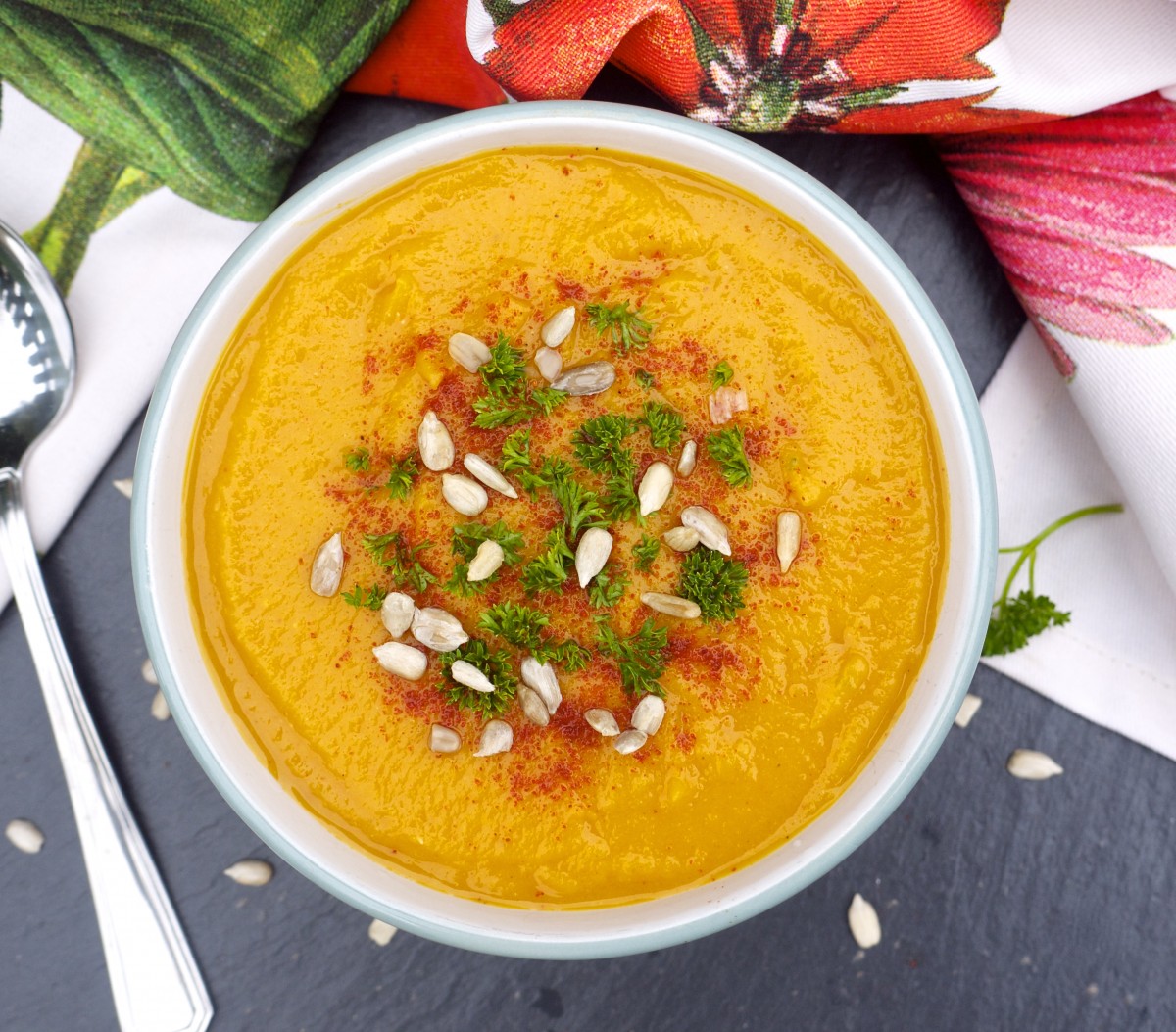 Skin-Brightening Sweet Potato, Carrot and Red Lentil Soup
2016-04-29 15:29:12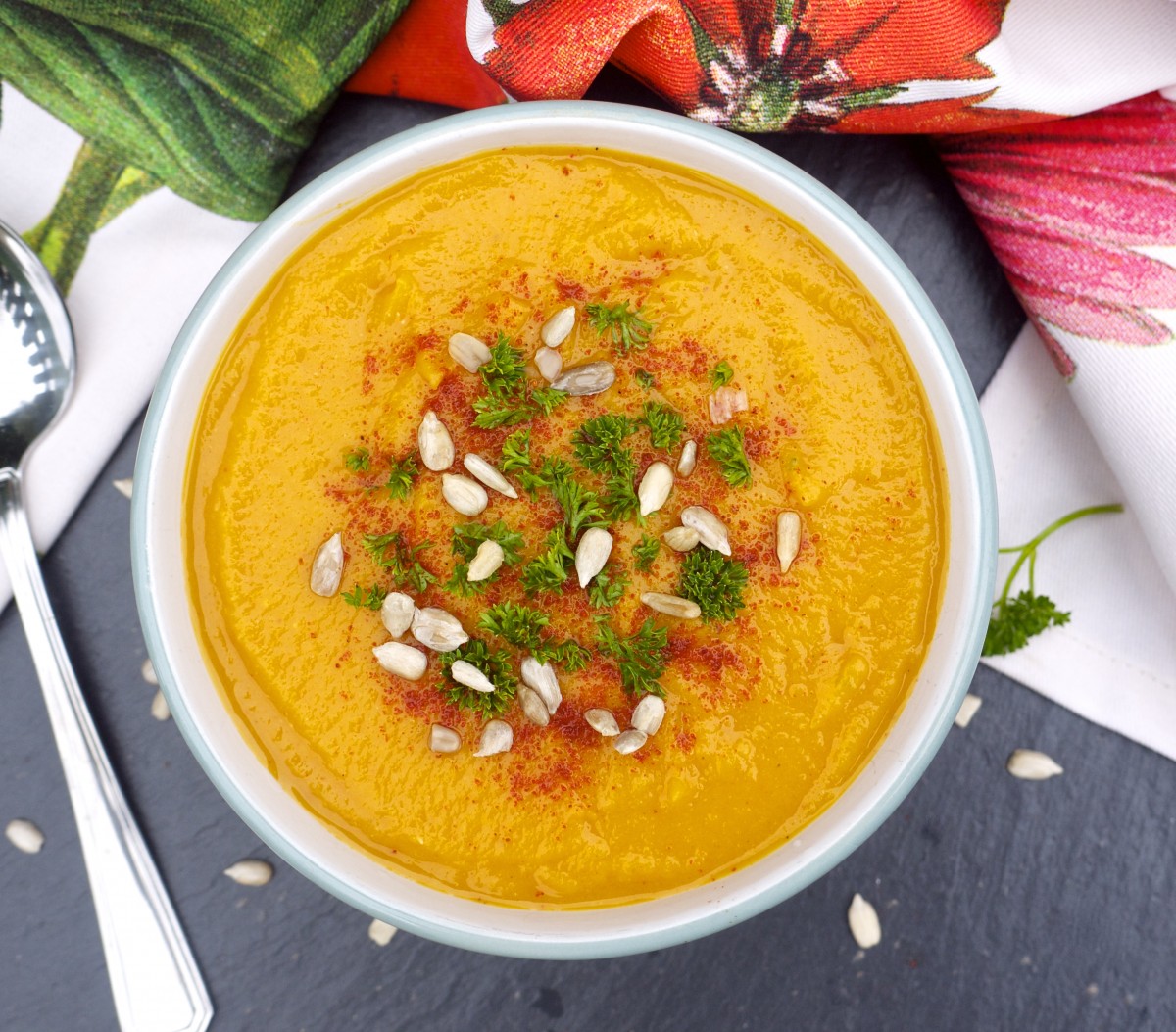 Serves 3
A simple and warming soup, designed to nourish and brighten your complexion from the inside out. Nutrition Information per Serving: 265 calories, 10g protein, 54.5g carbs, 1.7g fat, 10.8g fibre
Ingredients
1/2 tsp coconut oil
1-2 cloves of garlic, peeled and minced
1 red onion, chopped
1 tsp fresh ginger, chopped
4 tsp low-sodium vegetable stock dissolved in 1 litre hot water (or the equivalent in stock cubes)
3 medium sweet potatoes, peeled and chopped into chunks
5 medium carrots, peeled and chopped into chunks
6 tbsp split red lentils
2-3 tsp smoked paprika
sea salt and black pepper, to taste
chopped parsley, sunflower seeds and a pinch of smoked paprika, to serve
Instructions
In a large saucepan over a medium heat, heat up the coconut oil and add the garlic, onion and ginger. Sauté for 4-5 minutes, until the onion softens.
Pour in the vegetable stock, then add the chopped sweet potato, carrots and lentils. The vegetables should be submerged enough in the water to allow them to boil.
Add the smoked paprika and seasoning, to taste.
Raise the temperature and bring the liquid to boil for 3-4 minutes, then lower to a simmer and allow the vegetables to simmer for 20-25 minutes, until the carrots and sweet potato are soft enough to slice with a knife.
Either pour the soup into a blender or use a handheld soup blender to blend the vegetables into a thick, velvety soup. Leave some texture if you prefer a chunky soup.
Serve hot, topped with a sprinkle of parsley, smoked paprika and sunflower seeds.
Notes
Any leftovers can be stored in an airtight container for 3-4 days.
Rosanna Davison Nutrition https://www.rosannadavisonnutrition.com/