Happy Friday!!!
It's been a super busy but very exciting week with the launch of Eat Yourself Beautiful and now it's almost time for Electric Picnic 🙂 I'm sure plenty of you are going too? I'll be there on Sunday to support my brother, Hubie Davison, as he plays a DJ set on Sunday evening on the RBMA Stage. Very proud sis! Definitely come over to say hi if you spot me dancing in the crowd 😉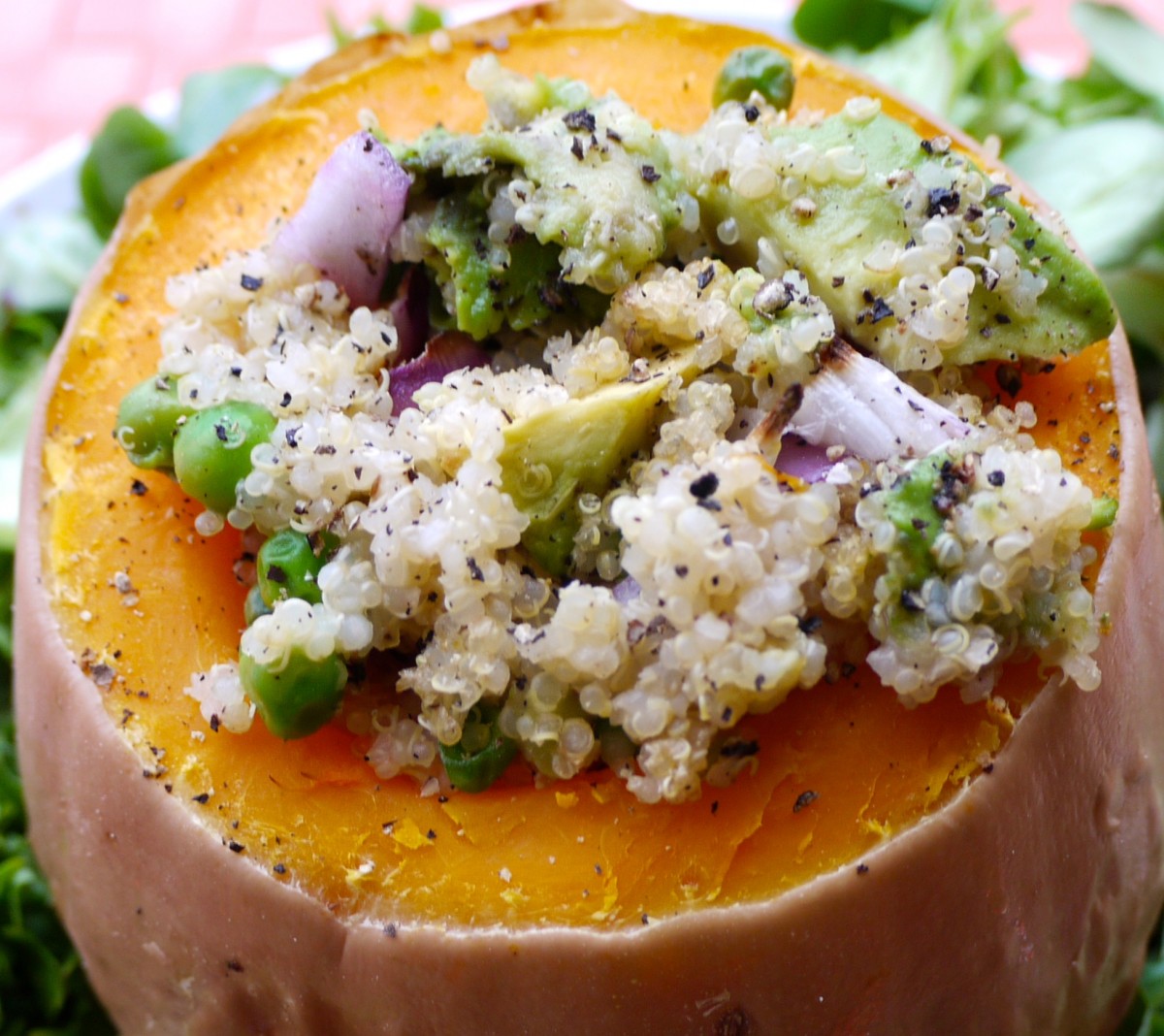 This week's special SoSueMe recipe is an autumn fave of mine. The weather has definitely got more chilly in the past week, and the evenings are getting darker. So I've been thinking more about warming and filling foods for autumn and winter; porridge, soups, curries and stews.
But there's no need to give in to the more fattening comfort foods and risk putting on an extra layer over the winter months when there are so many healthy, warming and filling options to enjoy without taking in hundreds of extra calories. It's not about eating less, it's about eating right!
This baked butternut squash with veggie quinoa is a great option for a satisfying meal that's simple to prepare. Butternut squash is packed with fibre and slow-release complex carbs to keep you feeling full and energised for hours. It gets its bright orange colour from beta-carotene, which is an incredible nutrient for helping to give you a glowing complexion.
Quinoa is similarly high in fibre, and it a complete source of protein for boosting lean muscles and healthy hair growth, amongst so much more. I popped in a selection of veggies and spices to boost the nutrient value of the meal even more, but feel free to use whatever flavours you like best 🙂
Serve with a big green salad for even more nourishment!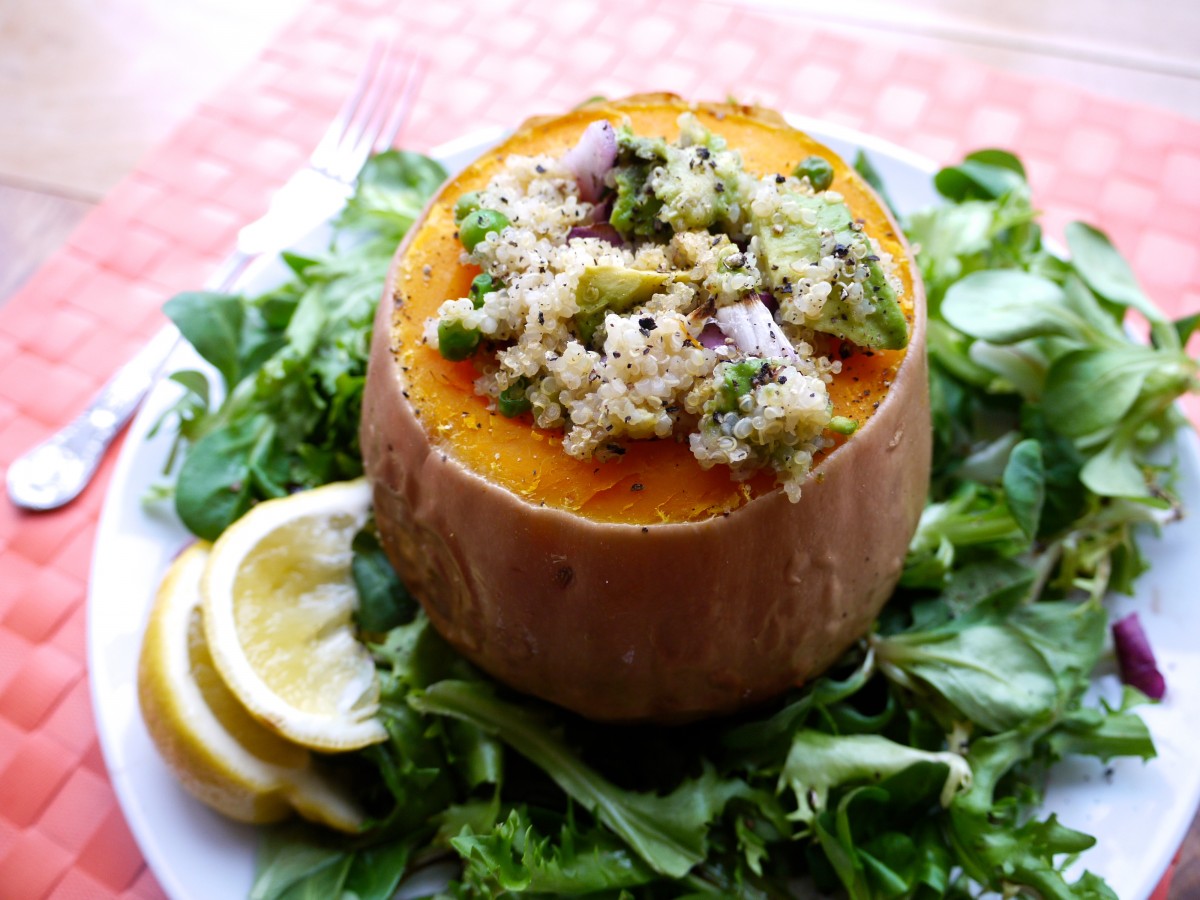 Let me know if you give this butternut squash and quinoa recipe a go and I love to see all your creations on social media! Simply tag #RosannaDavisonNutrition on Instagram or Twitter or come on over to my Facebook to say hello 🙂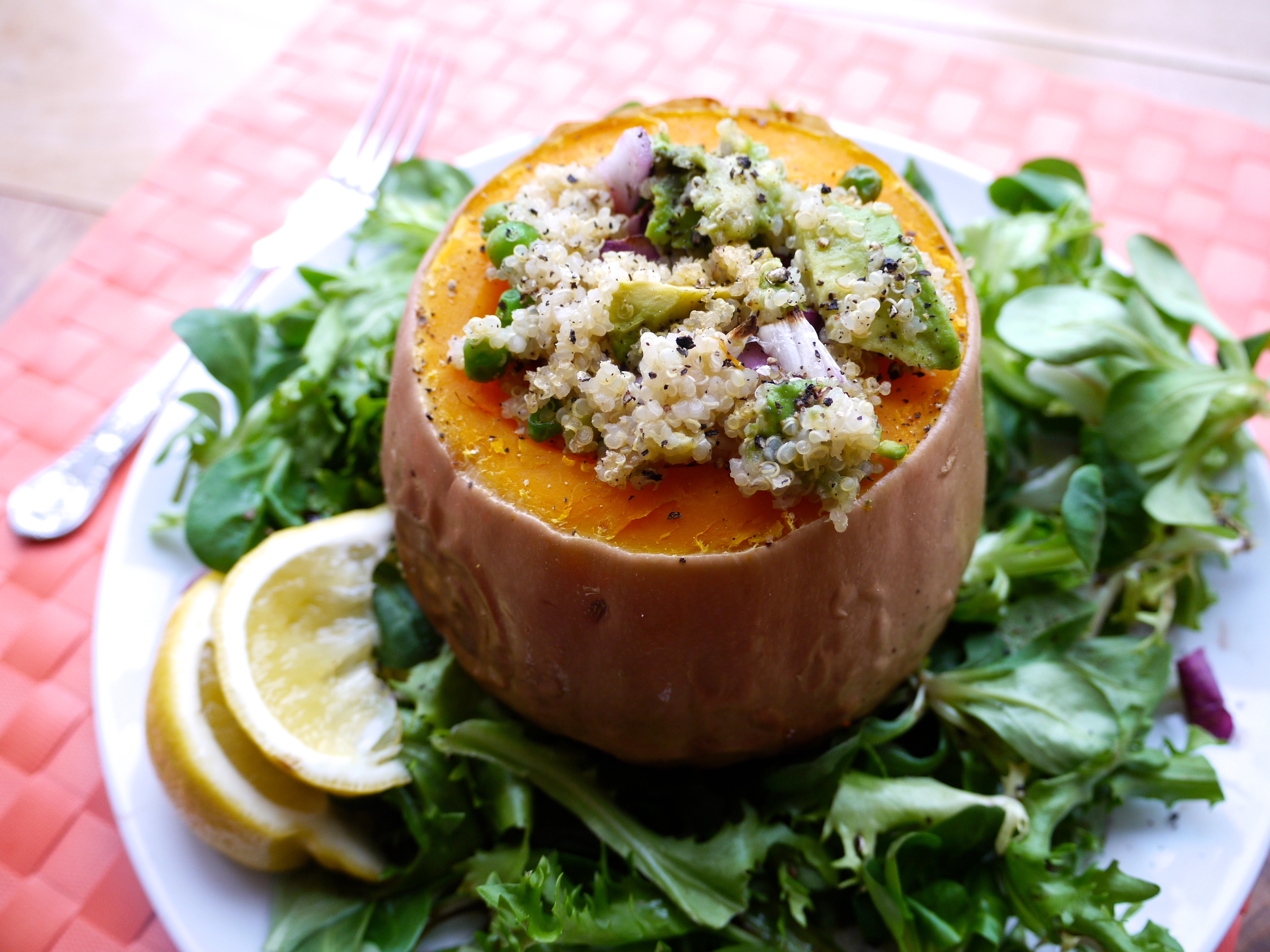 Baked Butternut Squash with Veggie Quinoa
2015-03-10 21:41:35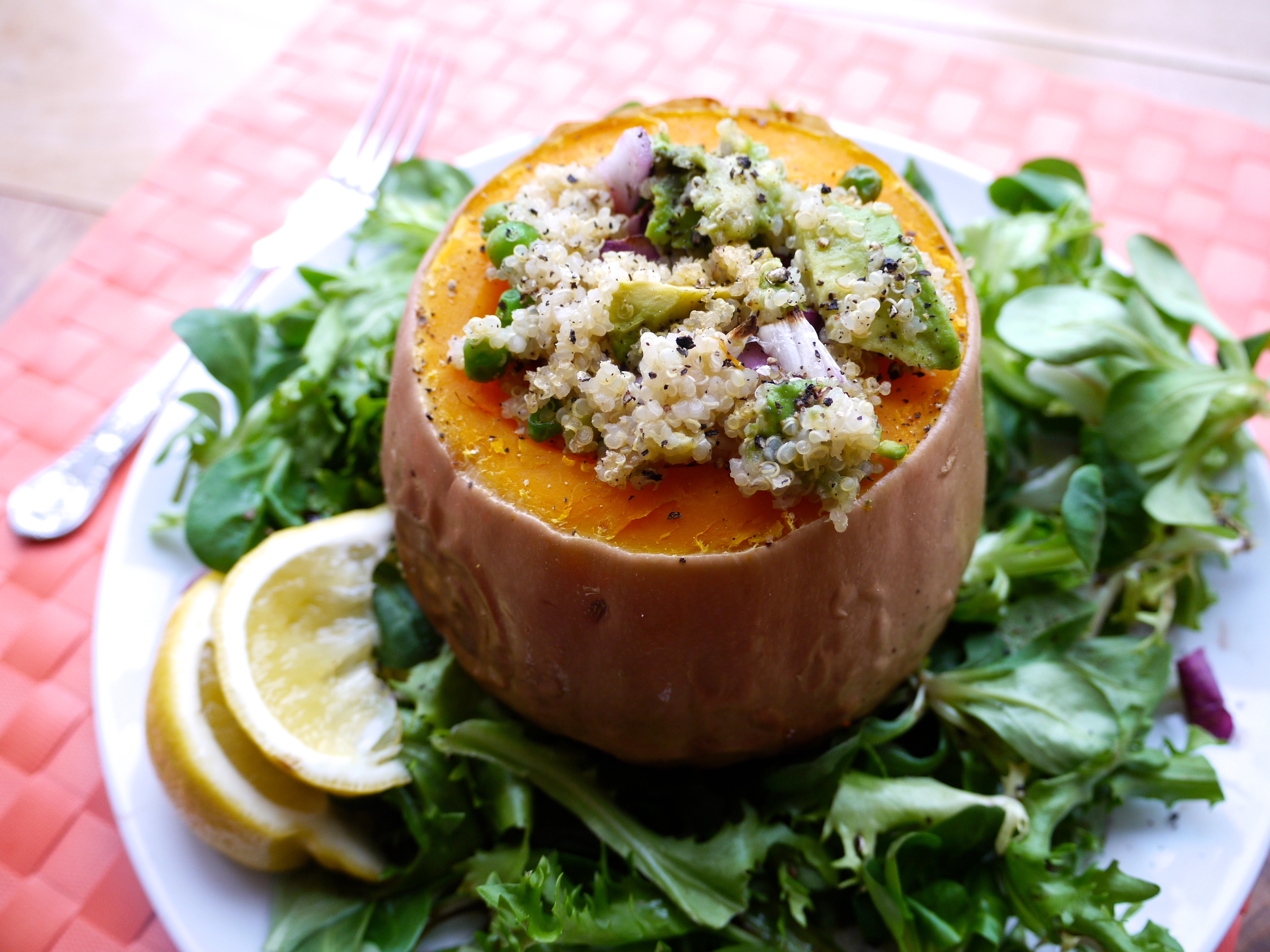 Serves 1
A simple, healthy dinner idea, packed with fibre, complete protein, complex carbs, essential fats and plenty of taste!
Ingredients
1 butternut squash
250ml (1 cup) water
1 low-sodium vegetable stock cube
85g (1/2 cup) dry quinoa, rinsed well
1 tsp coconut oil
1/2 a red onion, finely sliced
1 clove garlic, minced
1 tsp fresh ginger, finely chopped
3 tbsp green peas, steamed
1/2 a ripe avocado, chopped
Splash of low-sodium tamari sauce
the juice of 1/2 a lemon or lime
Pinch of Himalayan rock salt and ground black pepper, to taste
Mixed greens, to serve
Instructions
Preheat the oven to 200C.
Rinse the squash and place it on a baking tray.
Bake it at 200C for 25-30 minutes, until it softens and turns golden-brown.
While the squash bakes, prepare the stock cube in hot water.
Pour the stock into a saucepan and bring it to the boil.
Add the quinoa to the stock.
Bring the heat down and allow it to simmer for 10-15 minutes, until most of the water has evaporated and the quinoa seeds have opened out.
Remove it from the heat and leave it aside to absorb the remaining water. Season, to taste.
While the quinoa cooks, heat the coconut oil in a small pan over a medium heat.
Add the onion, garlic and ginger, and cook for 4-6 minutes until it turns brown and caramelises.
Stir the onion, garlic, ginger, peas and avocado into the cooked quinoa.
Season, add a splash of tamari and a squeeze of fresh lemon/lime juice.
Remove the squash from the oven and allow to cool for a few minutes before you cut it in half and scoop out the seeds from the lower half. Save the rest of it for another meal!
Pile the quinoa and veggies into the hollowed out squash and serve with a large green salad.
Notes
Any leftovers can be stored in an airtight container in the fridge for up to 3 days.
Rosanna Davison Nutrition https://www.rosannadavisonnutrition.com/