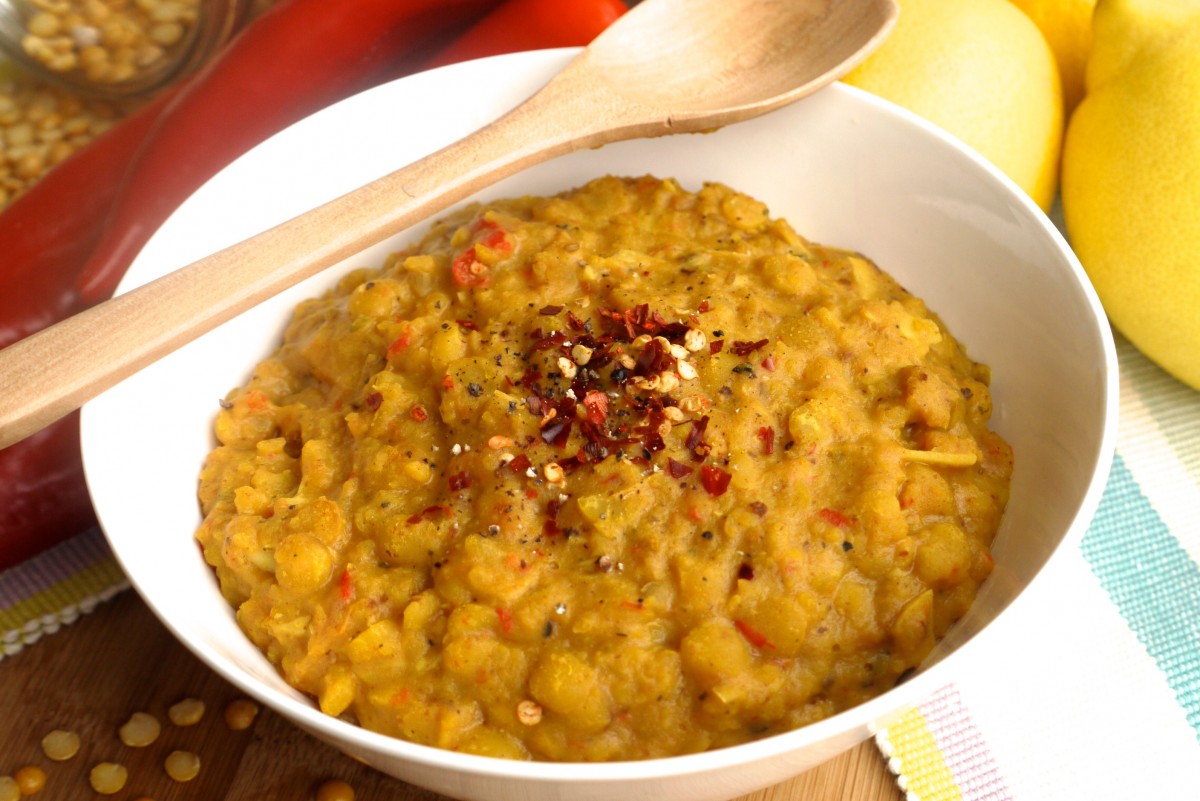 It doesn't take a genius to work out that this deliciously warming dish gets its name from the gorgeous bright colour!
This recipe came about when I was really craving something filling and warming for dinner. I'm rather impatient too, so it had to be a dish that would be ready quickly and not require to much fiddly prep work.
Split yellow peas are a super source of protein and fibre, which really helps to fill a hungry tum, and they cook far more quickly than other types of beans and legumes.
I added plenty of warming spices to this dish, including turmeric, which has been used for centuries by women to brighten their complexion for healthy glowing skin. Add the vibrant spice to salads, soups and curries regularly, and it will help to brighten a dull complexion. We all need a little help from time to time! Turmeric is also in incredibly anti-inflammatory spice, and can be helpful for post-workout aching muscles.
I also used spices like cumin, coriander and ginger to give the dish a burst of flavour. I absolutely love fresh ginger, and have it in everything from freshly brewed ginger tea to smoothies, soups and curries. It's a super spice for supporting our immune system, keeping away colds and flues, warming up the body, boosting blood circulation and it's even used to ease nausea and morning sickness. Fresh ginger is so easy to buy in supermarkets, and a little goes a long way.
This dahl is equally as delicious cold and eaten as leftovers the following day.
I may have eaten it for breakfast once or twice… Shhh!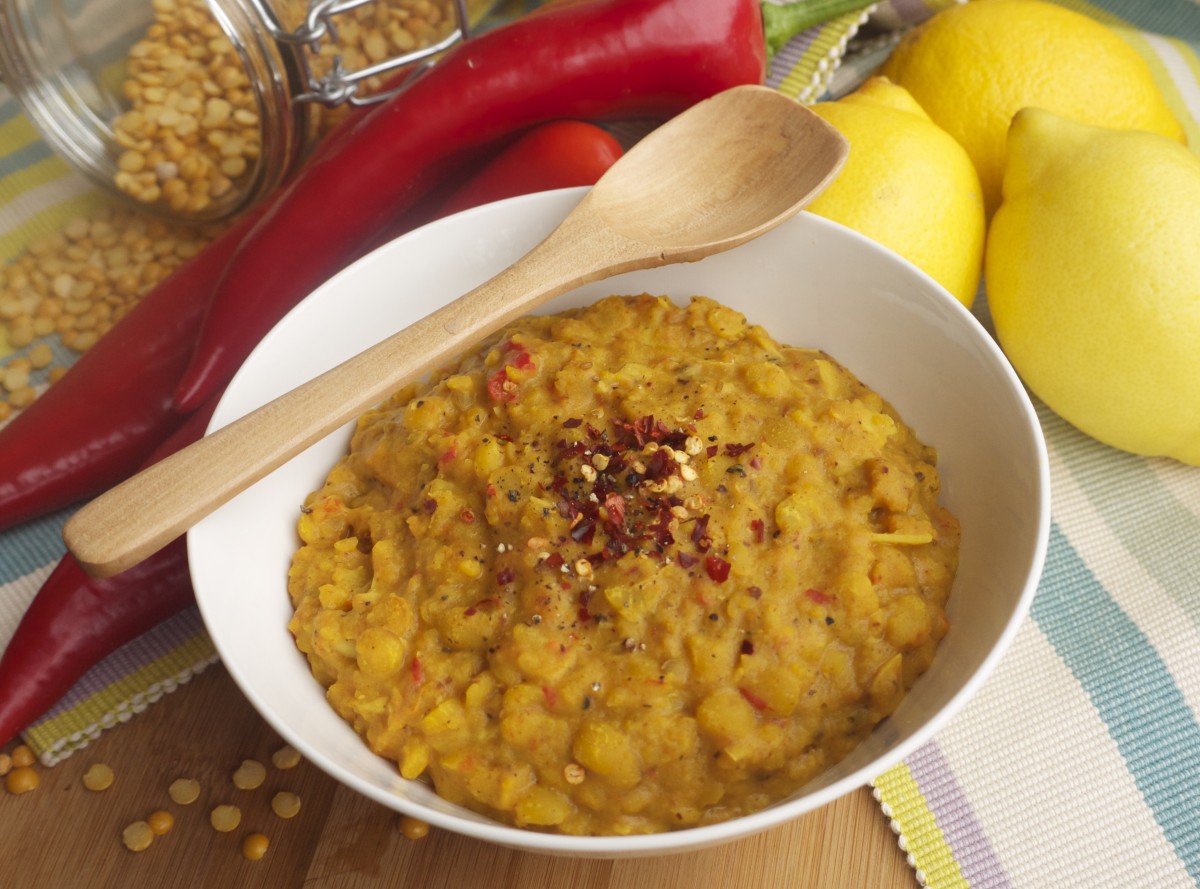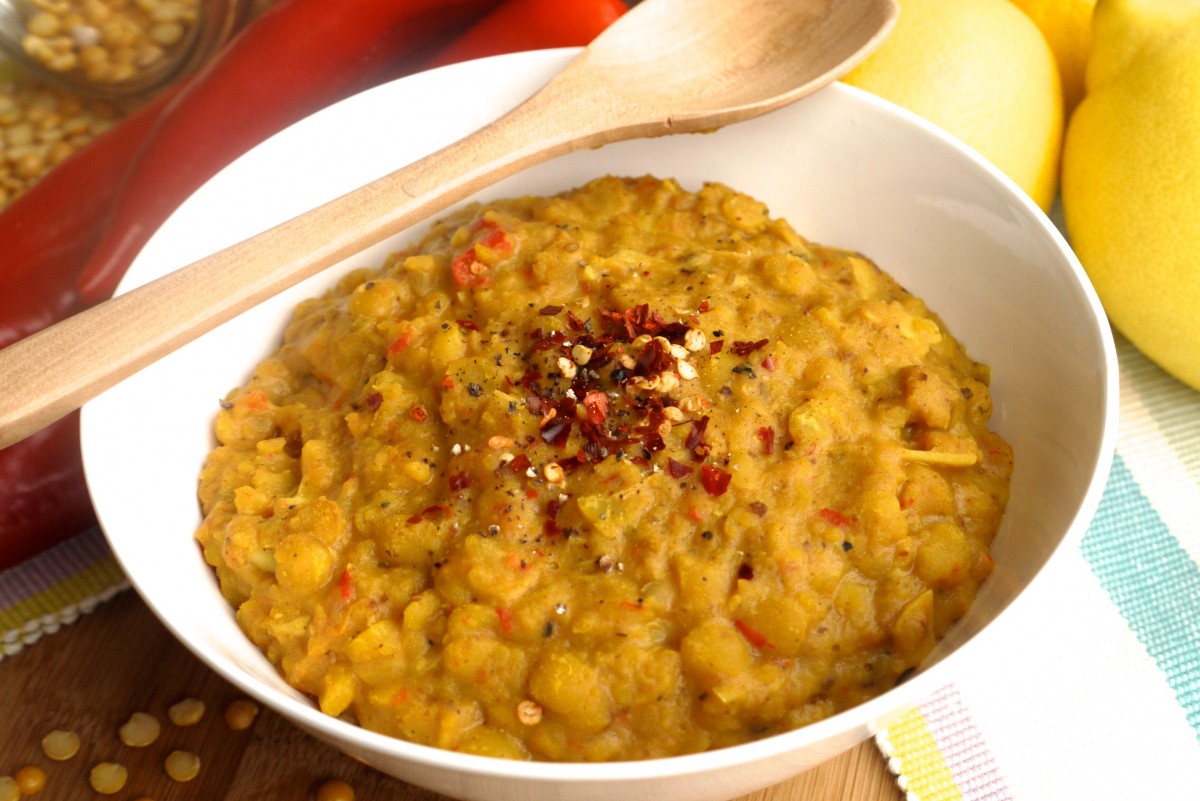 Split Yellow Pea Sunshine Dhal
2015-02-21 23:36:40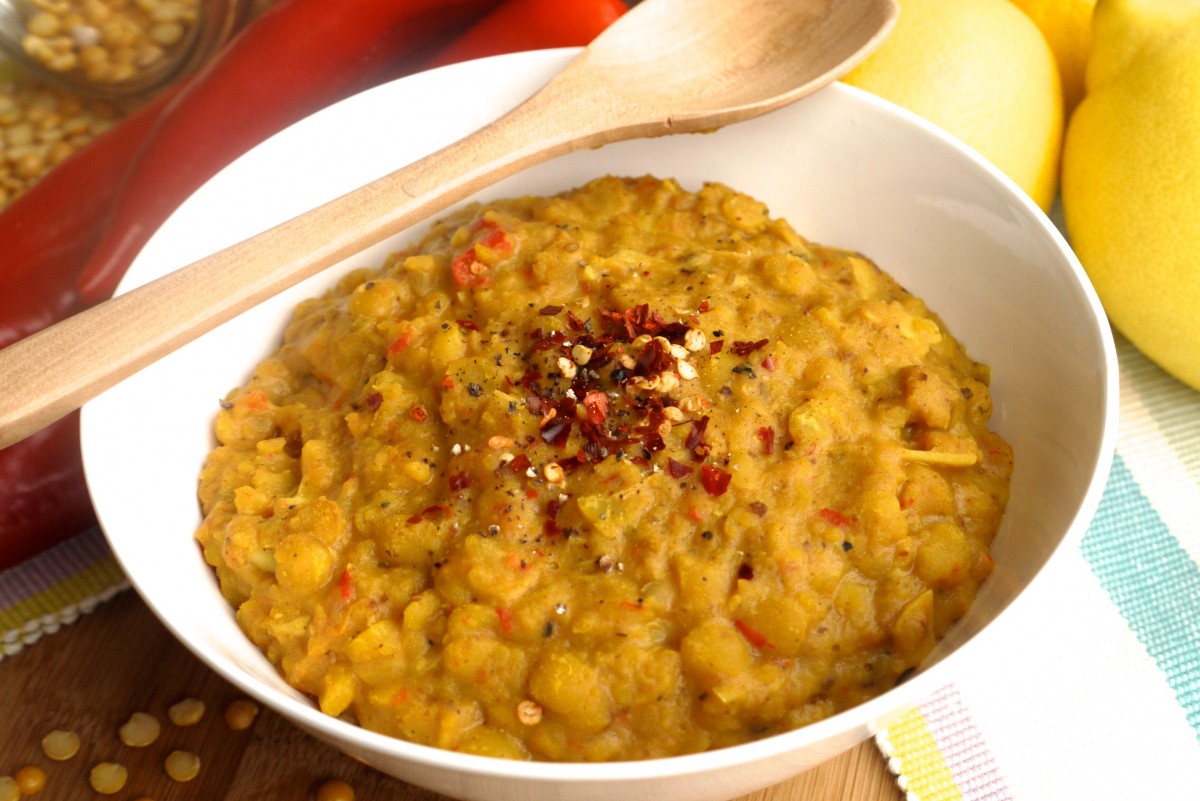 Serves 4
A delicious dhal bursting with nutrients to make our complexion glow!
Ingredients
197g (1 cup) split yellow peas
500l low-sodium vegetable broth
240ml unsweetened almond milk or Koko low-fat coconut milk
3 carrots
2 red peppers
2 tsp curry powder
1 tsp cumin
1 tsp turmeric
2 tsp coriander seeds
1/2 tsp fennel seeds
Pinch dried chilli flaks
Pinch salt and pepper
2 tbsp coconut flakes (optional)
2 tbsp organic sulphur-free chopped dried apricots - iron source (optional)
2 tbsp nutritional yeast (optional)
1/2 tsp virgin coconut oil
1 tsp fresh ginger, chopped
2 cloves garlic
Instructions
Rinse the peas under cold running water. Prepare the vegetable stock.
In a large saucepan over a medium heat, place the stock and peas. Bring to a boil and then lower the heat to simmer for 20 minutes.
Add the salt and pepper, turmeric, cumin, curry powder, coriander seeds, fennel seeds and chilli.
In a frying pan, heat the oil and sauté the garlic, ginger and onion until it turns golden-brown.
Add in the carrot and chopped red pepper, and lightly sauté until they begin to soften.
Add the vegetables and almond milk to the split peas and stir well. Add the nutritional yeast, coconut and apricots. Allow it to simmer for another 15-20 minutes, until the mixture thickens but take care not to burn at the bottom. Add more water if necessary.
I used a hand-blender at the end to pulse the mixture to get rid of any larger lumps of carrot, but that's an optional step.
Delicious served hot or cold on its own or with a side of quinoa, millet or brown rice.
Notes
Any leftovers can be stored in an airtight container in the fridge for 2-3 days.
Rosanna Davison Nutrition https://www.rosannadavisonnutrition.com/