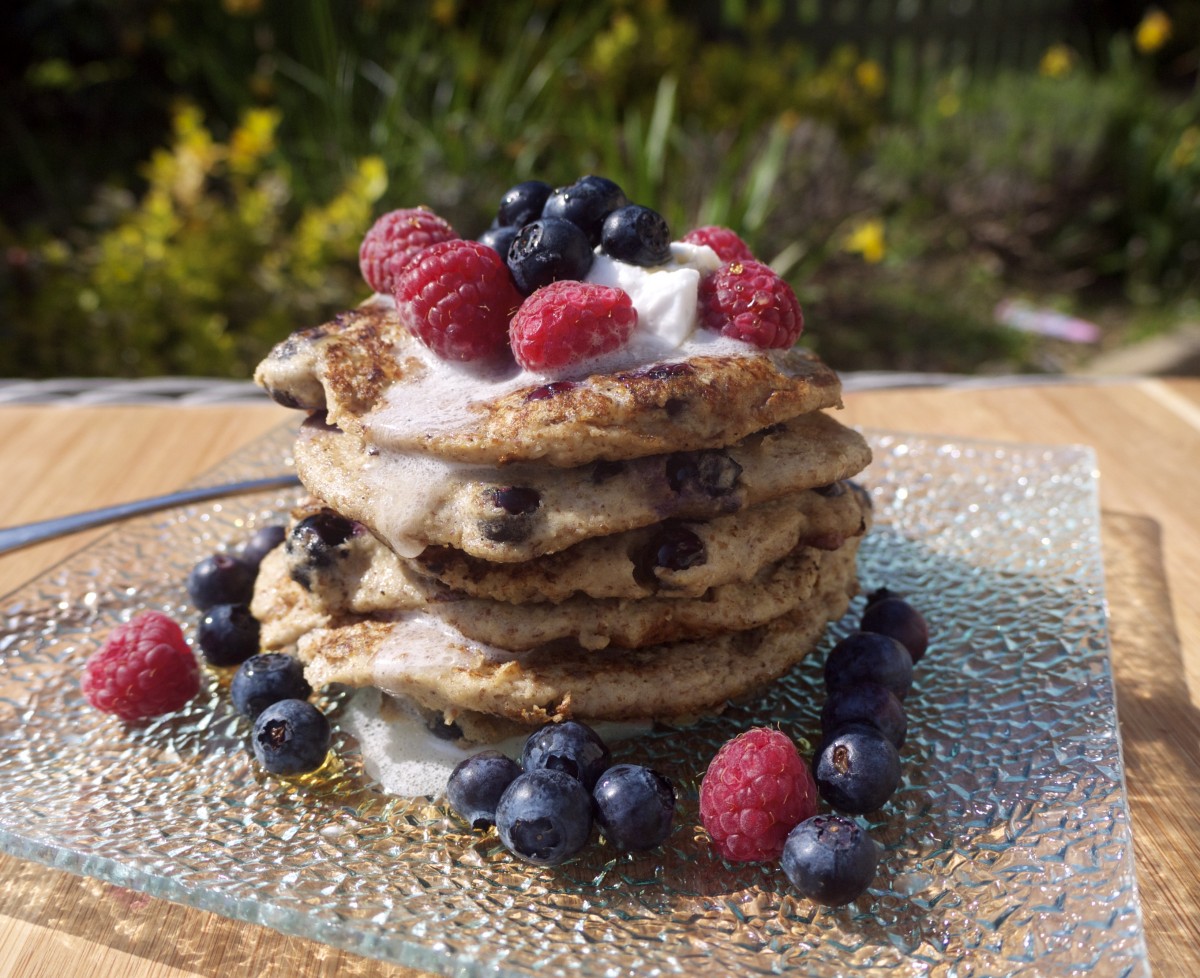 Lazy Sunday mornings are made for pancakes. It's simply a fact of life. It's the best day of the week for a relaxed, indulgent brunch and especially if it's a roasting hot sunny day, as it was when I made these berry oatmeal pancakes a few weeks ago.
I woke up craving something satisfying but healthy, and looking for a way to incorporate fresh berries into a recipe instead of picking at them in the fridge. So these pancakes were born!
Light, simple, easy to digest and super quick to cobble together but oh-so-delicious and not even the slightest bit naughty. They have only a few ingredients, including porridge oats for a blast of heart-healthy vitamin E and dietary fibre to support digestive health. A ripe banana provides the natural sweetness and binding, while ground flaxseed adds a good dose of fibre and anti-inflammatory fats. See? These are angelic pancakes.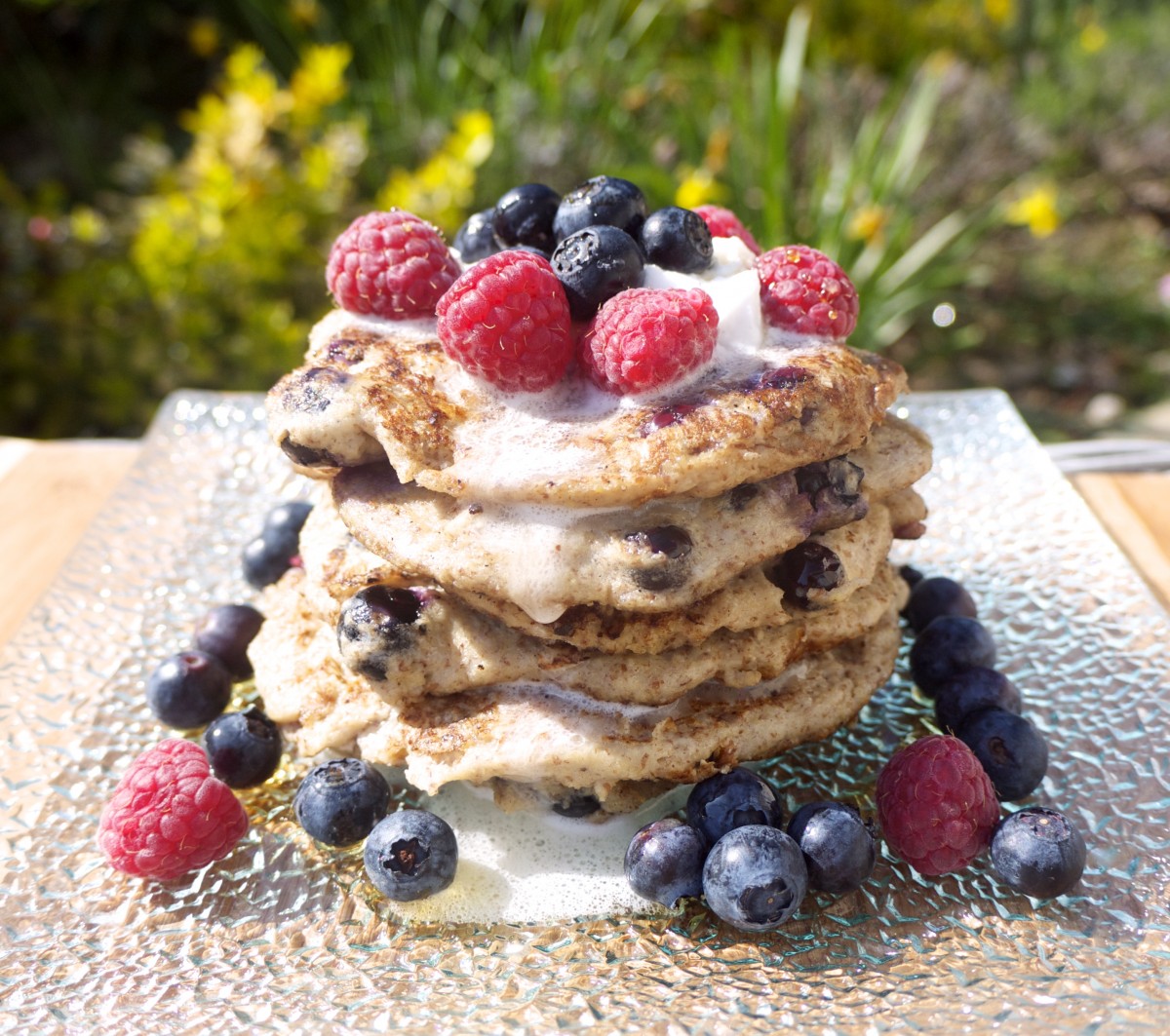 I loved the pop of juicy sweetness from the berries distributed throughout the pancakes as I was eating them, so I definitely recommend you incorporate them into the batter rather than just piling them on top…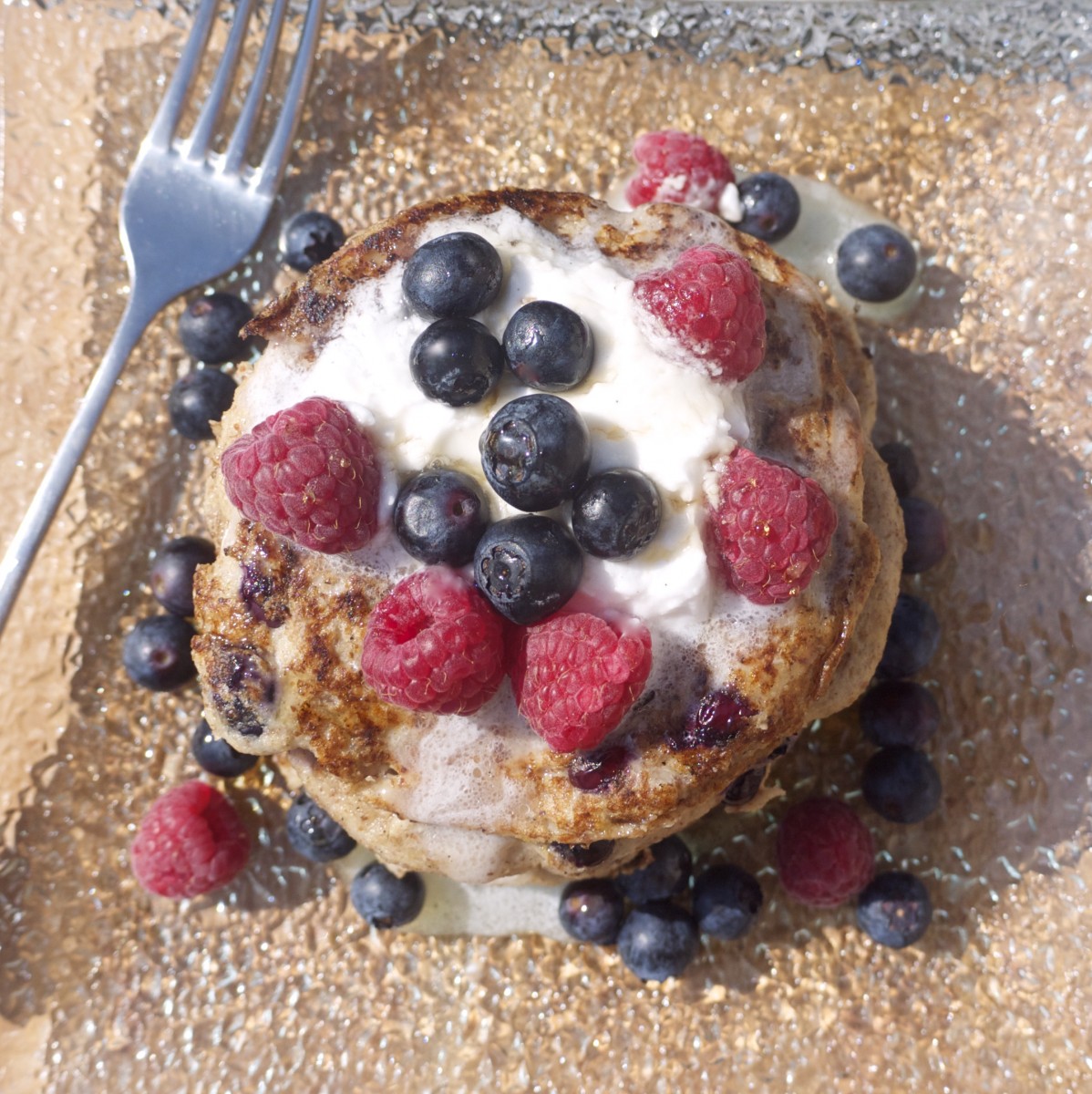 And what made them complete was the dollop of vanilla whipped coconut cream and a drizzle of pure maple syrup on top. Totally optional, but what a flavour combination. YUM!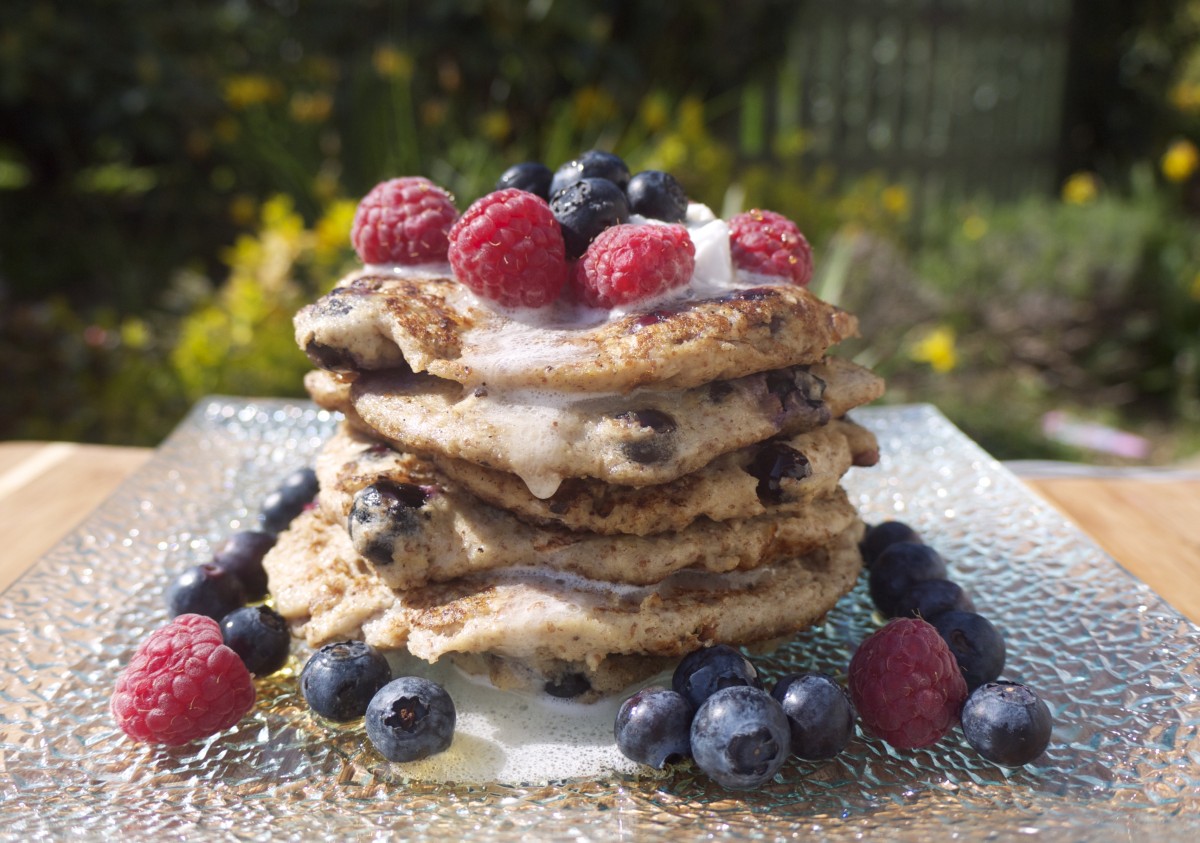 I would love to know if you get a chance to make these Summer Berry Oatmeal Pancakes! Simply tag #RosannaDavisonNutrition on Instagram or Twitter or come on over to my Facebook to say hello 🙂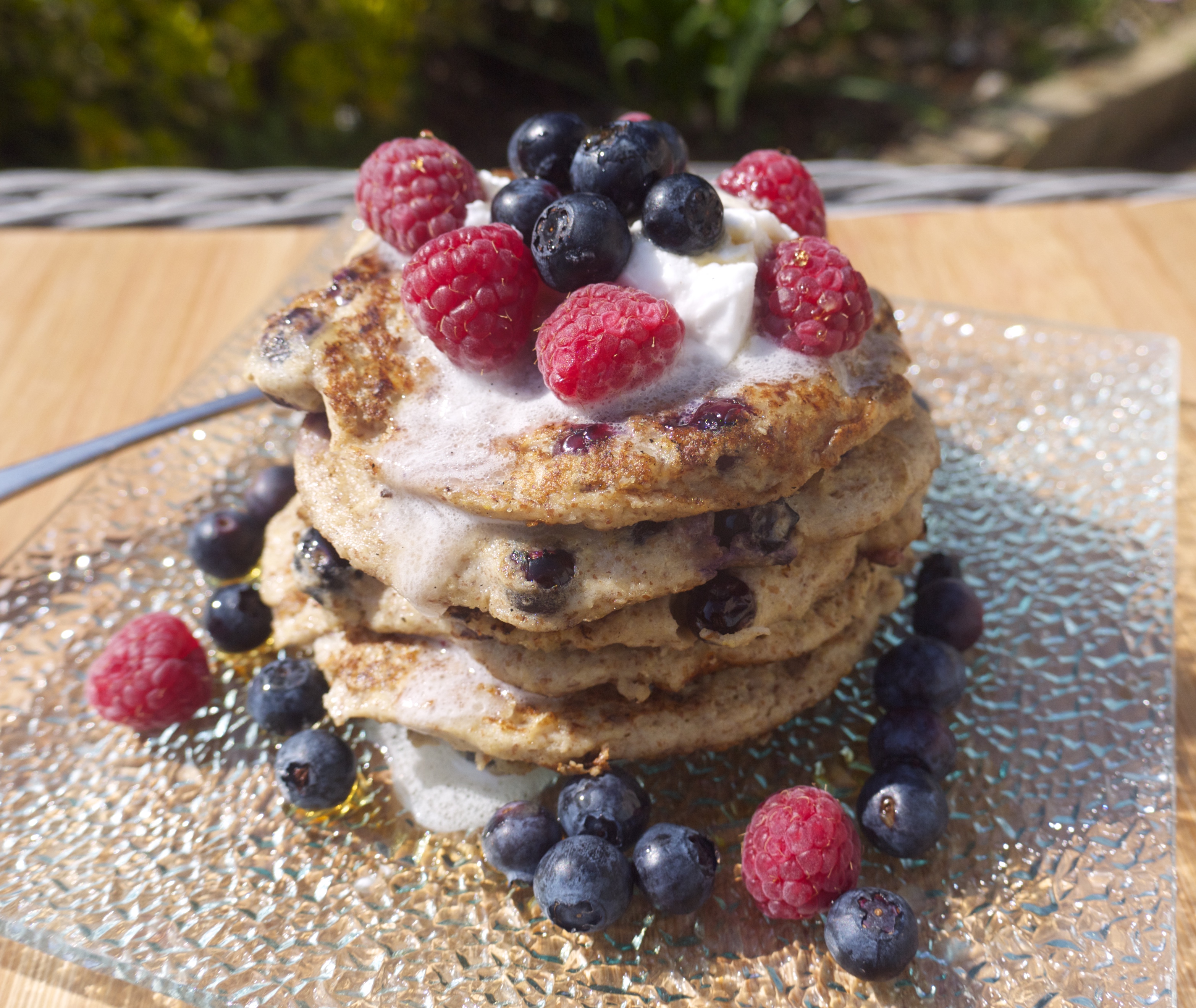 Summer Berry Oatmeal Pancakes
2015-04-06 16:25:58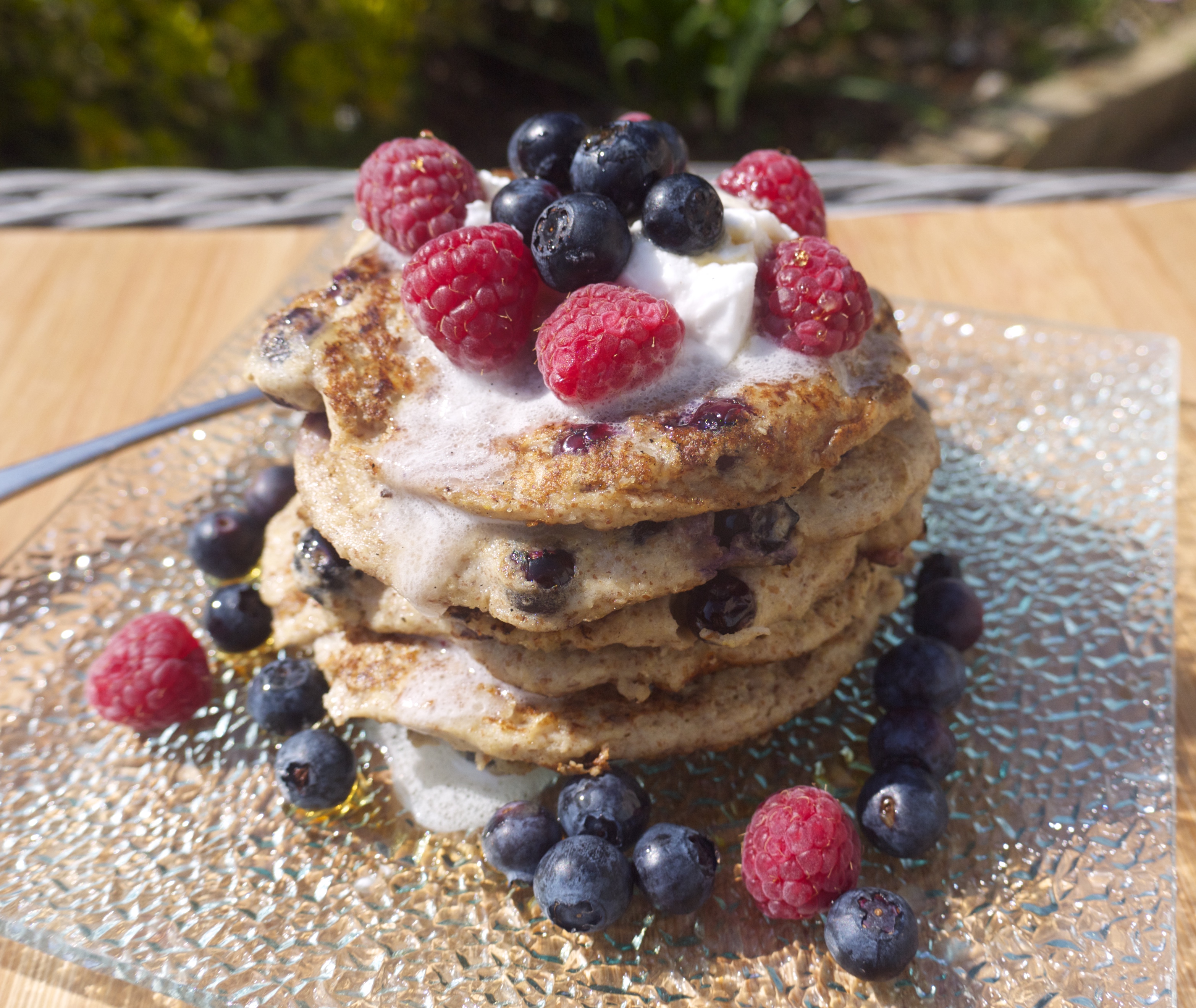 Simple gluten-free oat pancakes, filled with sweet pops of raspberries and blueberries, and topped with vanilla coconut cream.
Ingredients
1 tbsp ground flaxseed
3 tbsp cold water
156g (1 cup) gluten-free oats
250ml (1/2 cup) unsweetened almond milk
1 ripe banana
1 tsp vanilla extract
1/2 tsp baking powder
vigin coconut oil, to cook
2 tbsp fresh blueberries, plus extra to serve
2 tbsp fresh raspberries, plus extra to serve
1 can full-fat coconut milk, chilled
1/2 tsp grated vanilla/vanilla seeds/vanilla extract
Maple syrup, to serve (optional)
Instructions
First make the 'flax egg' by placing a tablespoon of ground flaxseed in a small bowl and adding three tbsp of cold water. Mix well and place it aside to set for 5 minutes.
Place the oats, almond milk, banana, vanilla extract, baking powder and flax egg in a blender, and combine until a thick batter forms.
Transfer the batter to a bowl and stir in the blueberries and raspberries.
Heat up coconut oil in a frying pan over a medium heat and spoon two tablespoons of the batter into the centre of the pan to make each pancake.
Allow them to cook for about 60 seconds, then gently lift up the edges with a spatula and flip over to cook on the other side for another 60 seconds until golden-brown.
When the pancakes have been cooked, allow them to cool for a few minutes while you prepare the coconut cream topping.
Carefully remove the can of coconut milk from the fridge, without shaking it about as you want to make sure that the thick cream has separated from the clear liquid inside.
Open up the can and spoon out the coconut cream into a bowl.
Add the vanilla and use a handheld whisk to whisk the coconut cream until light and fluffy.
Serve on top of the warm pancakes, with berries and a drizzle of maple syrup.
Notes
Any leftovers can be stored in an airtight container in the fridge for 2-3 days.
Rosanna Davison Nutrition https://www.rosannadavisonnutrition.com/