It's the perfect time of year to start thinking about peeling back those winter layers and giving your skin some TLC. I love the idea of whipping up an easy homemade skin scrub from simple ingredients that most of us have stashed in our kitchen cupboards.
These are two of my faves:
Sweet Lemon Scrub:
This lemon and sugar scrub reminds me of the pancakes of my childhood, stacked high and dripping with syrupy lemon juice. What a simple but perfect taste combination!
Now I try to avoid eating refined sugar as part of my skincare regime, so this scrub is the next best thing. Aim to use this exfoliant twice a week for brilliant results, and a smooth complexion. The sugar both helps to remove dead cells from your skin's surface and acts as a 'humectant', sealing moisture into your skin. The lemon's vitamin C and citric acid help to improve pigmented areas and lightly exfoliate your skin's surface. Look for organic sugar and lemons for better-quality ingredients.
Method: Combine 2 tablespoons of sugar with 1-2 tablespoons of freshly-squeezed lemon juice and mix well to form a paste. Lightly scrub all over your face to exfoliate thoroughly. Rinse with warm water and admire your newly smooth and glowing complexion!
Brown Sugar and Oat Scrub: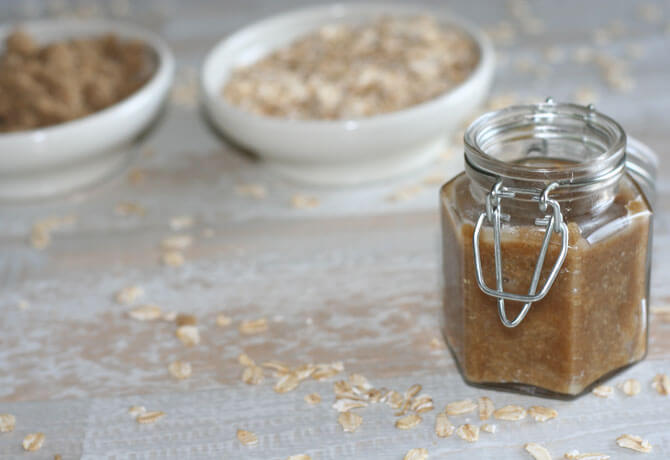 These are two really handy ingredients that most of us will have lying about somewhere in the kitchen. Just like the sweet citrus scrub, this one helps to keep skin smooth and soft by removing all the dead cells to reveal our fresh new cells. I've also used coconut oil for its skin-nourishing benefits. This will taste just like the ingredients for flapjacks or crunchy granola so you may find yourself licking the bowl afterwards!
Method: Simply combine a a tablespoon of melted coconut oil with three tablespoons of brown sugar and two tablespoons of oats. Rub gently over a cleansed face, rinse with warm water and pat dry.