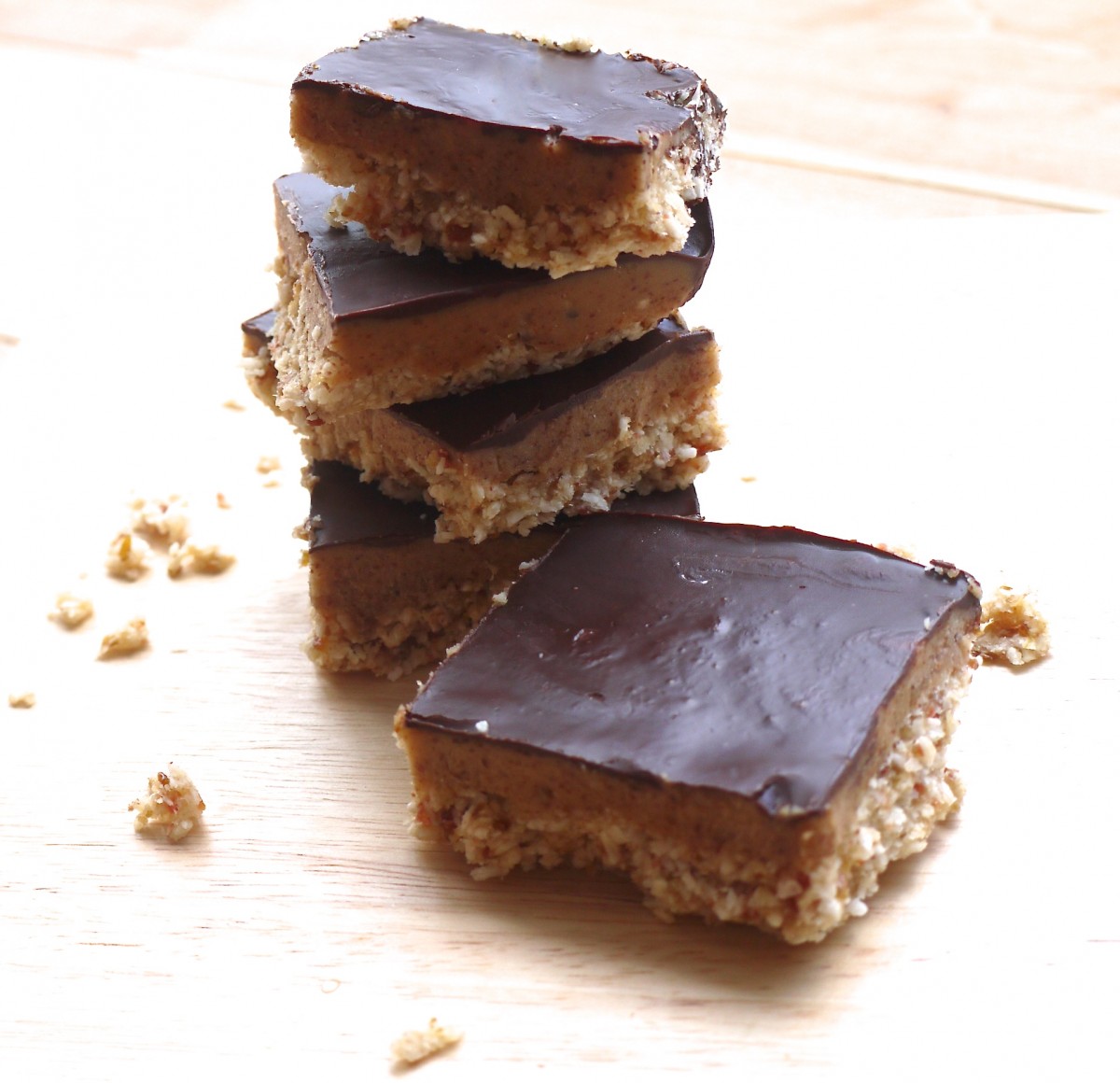 My healthy Mars Bars are one of the most popular recipes on this site, and salted caramel slices feature in Eat Yourself Beautiful, but I was keen to produce a recipe that's similar, yet incorporates different flavours and ingredients.
And these triple-layer coconut-almond squares were born!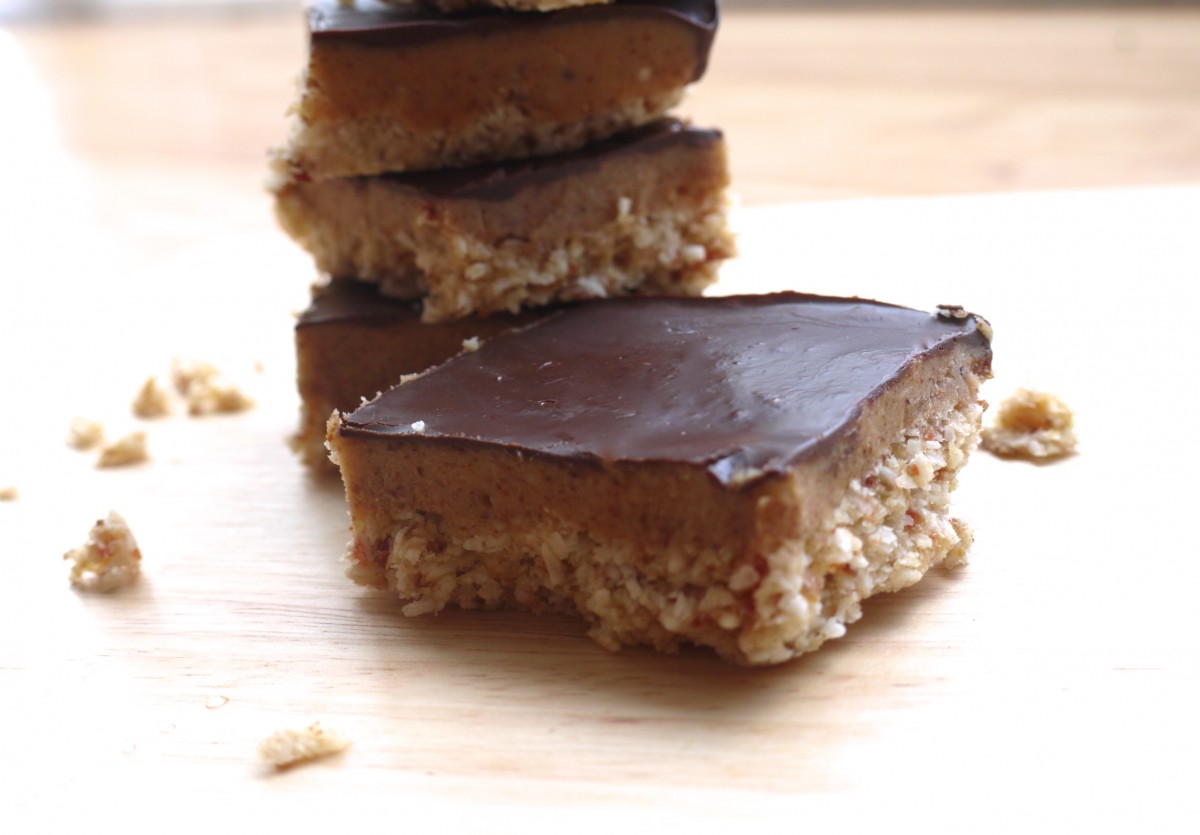 I love to make caramel squares using healthier ingredients, for birthdays, special occasions and family get-togethers, because they're such a people-pleaser. I think it's the irresistible gooey caramel layer spread over a biscuity base and topped with melt-in-the-mouth chocolate… everything tastes better spread with chocolate 🙂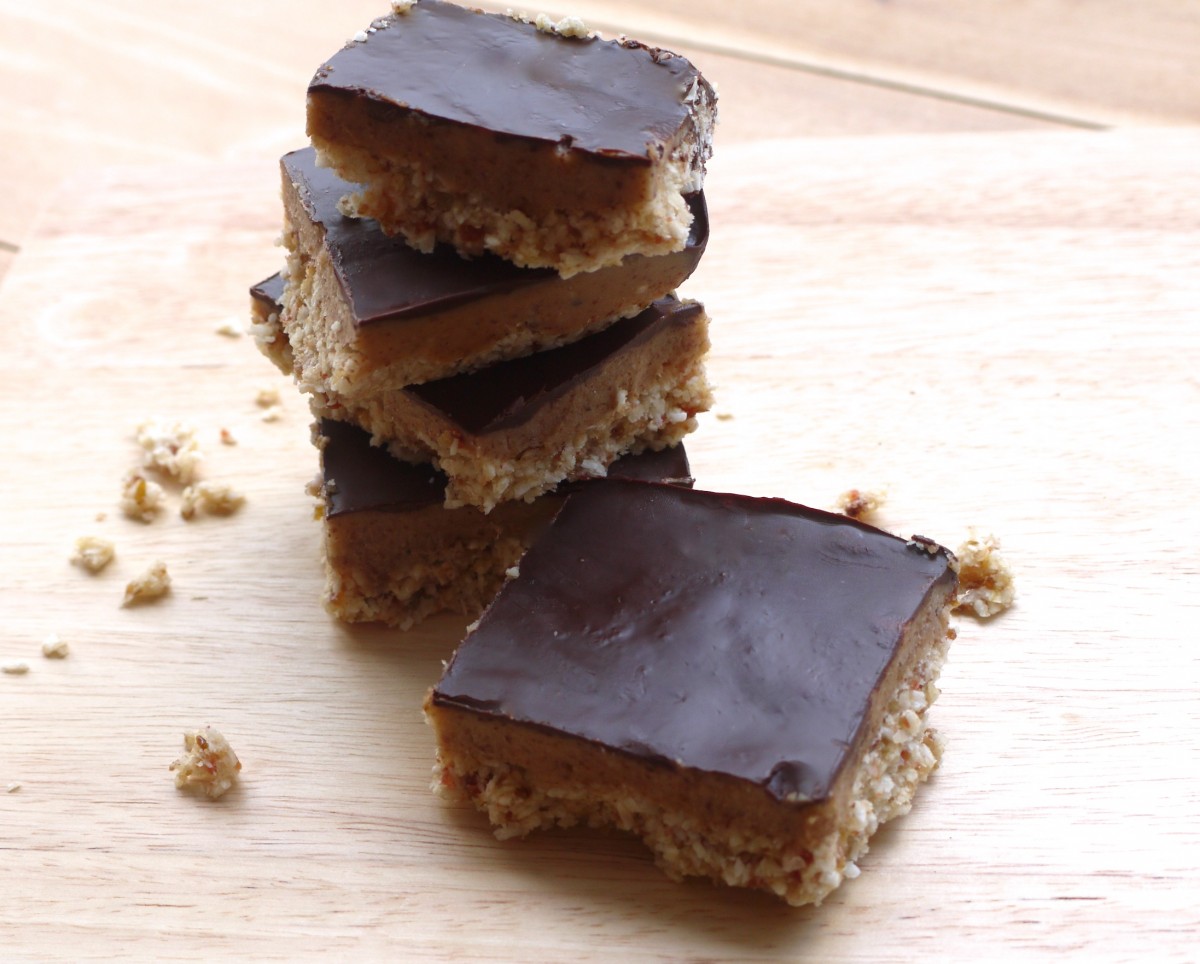 This recipe is free from dairy, refined sugar and gluten, and many of the ingredients will already be in your kitchen cupboard. They include almond butter, coconut oil, maple syrup and desiccated coconut, for a sweet and decadent sweet treat or dessert served with a cold scoop of Nobo ice-cream 😉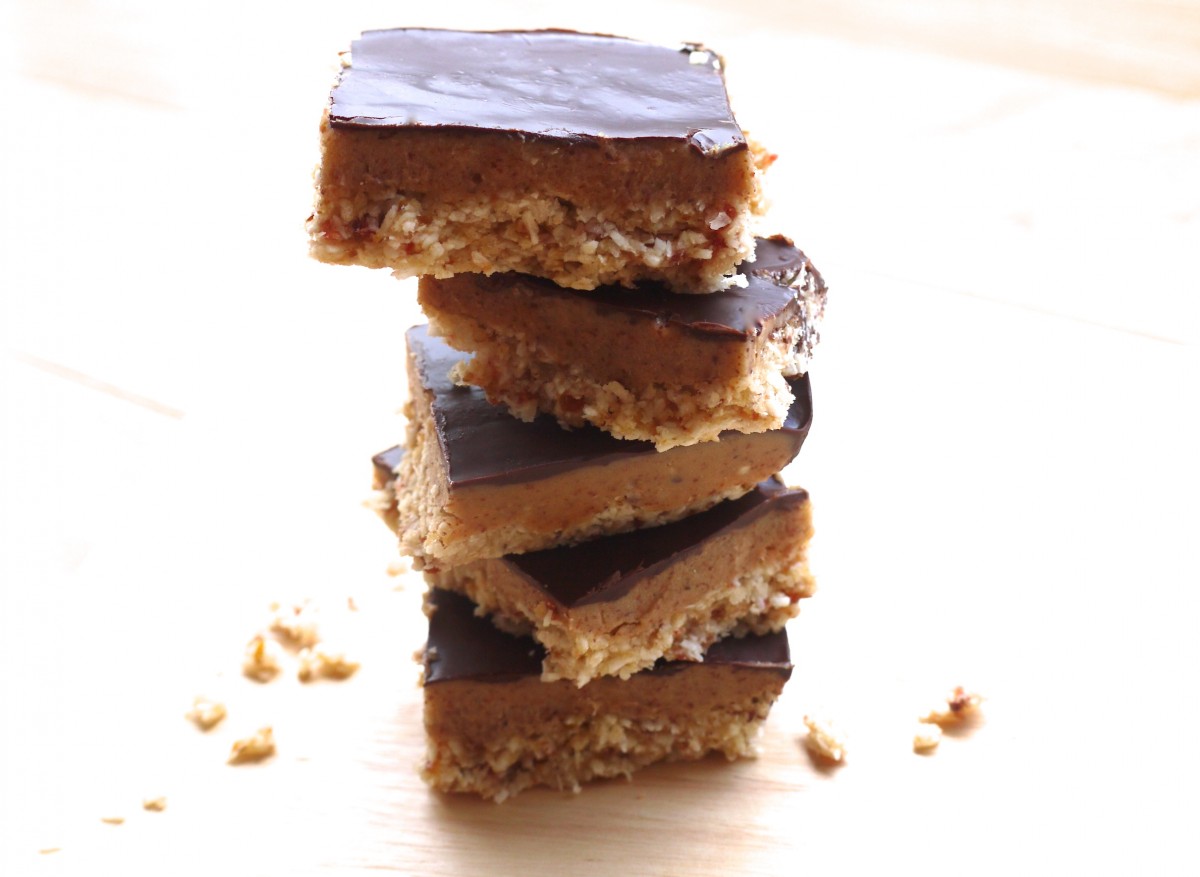 I would love to know if you get a chance to make this recipe for Triple-Layer Coconut-Almond Squares! Simply tag #RosannaDavisonNutrition on Instagram or Twitter or come on over to my Facebook to say hello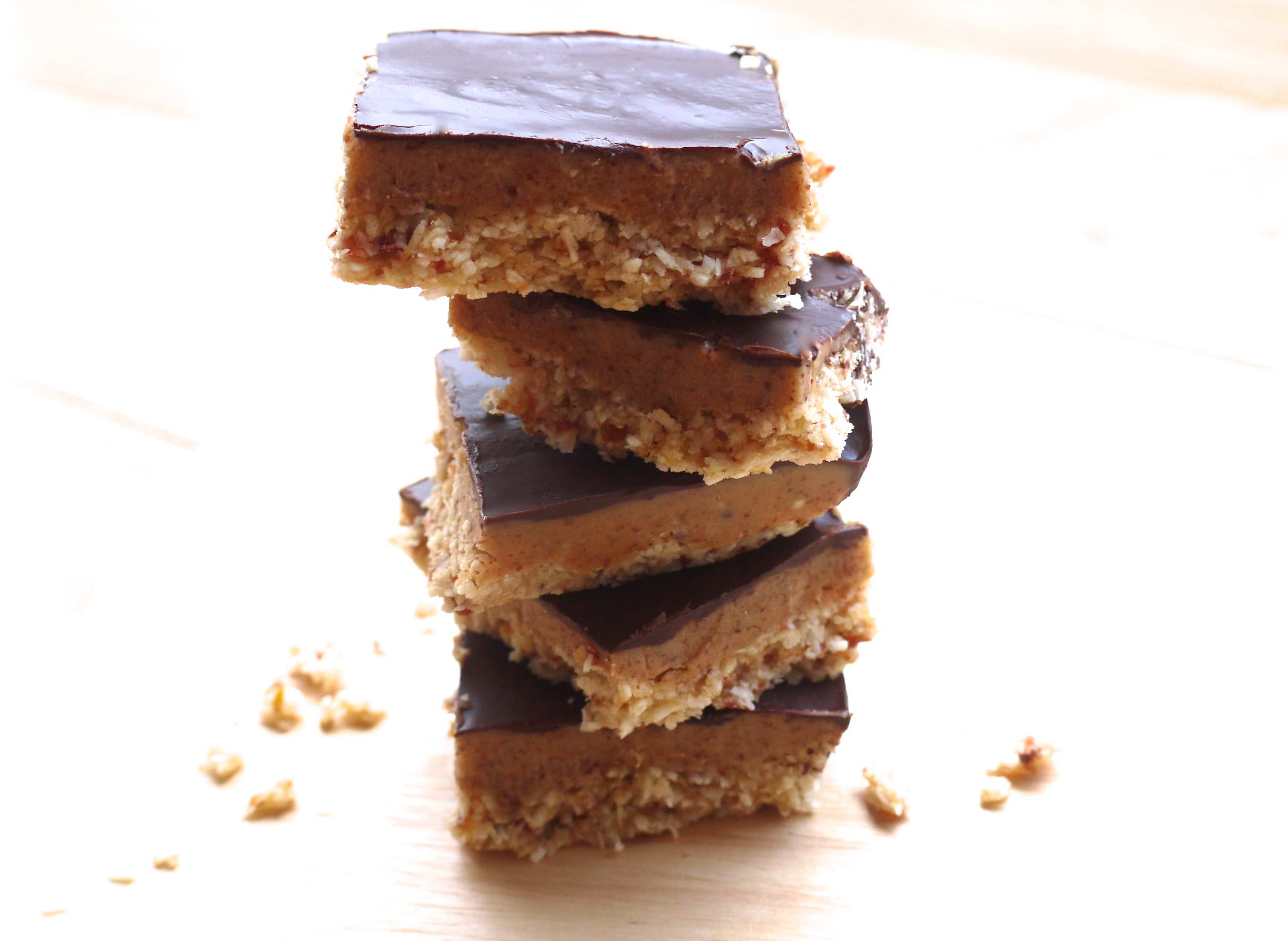 Triple-Layer Coconut-Almond Squares
2015-03-18 16:02:13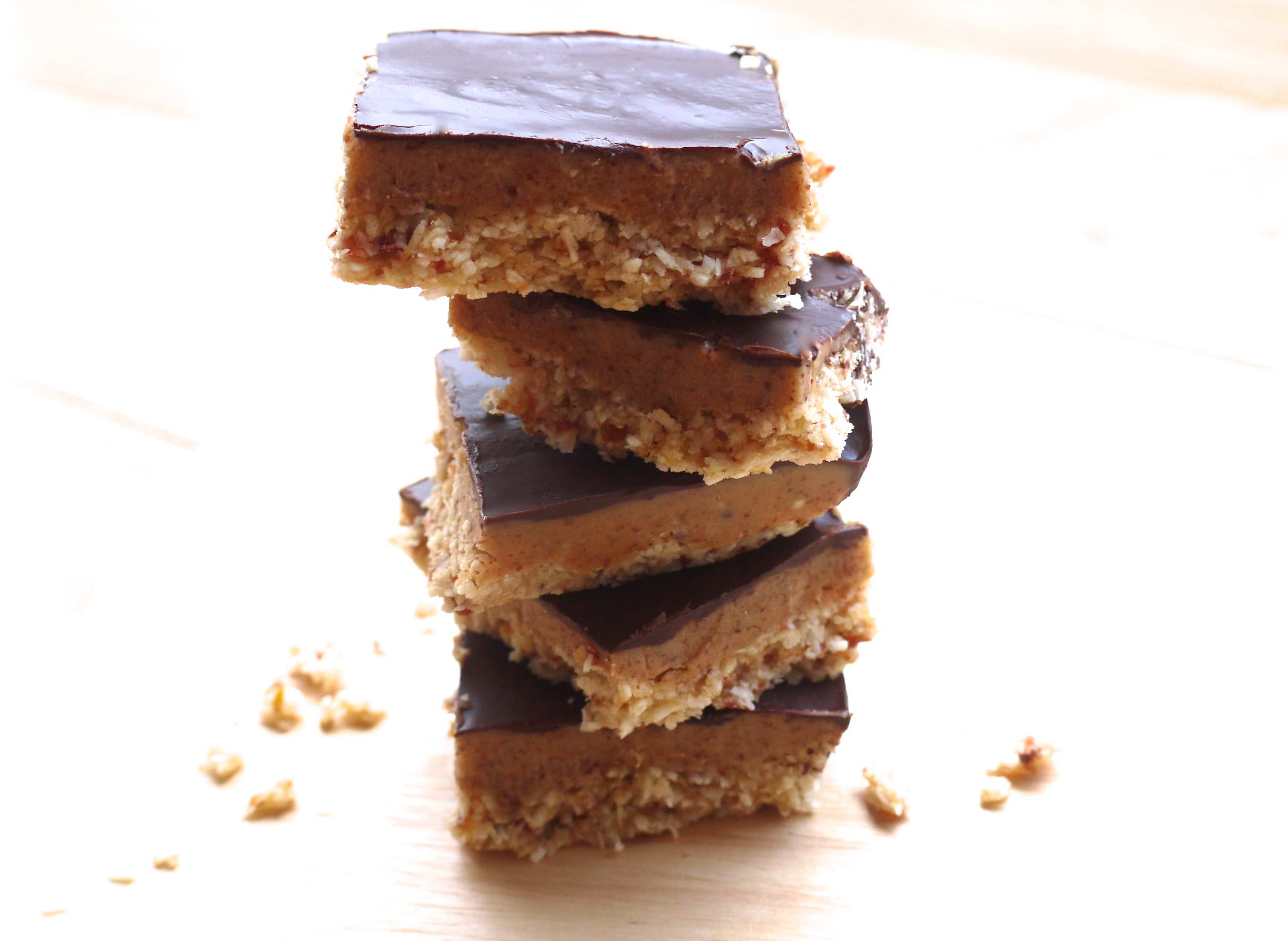 All of my favourite sweet flavours all combined in one incredible treat! I dare you not to polish off the entire lot by yourself! 😉
For The Base Layer
108g (3/4 cup) whole raw unsalted almonds
80g (1/2 cup) gluten-free oat flour or porridge oats ground into a flour in a blender
55g (1/4 cup) virgin coconut oil
3 tablespoons pure maple syrup or honey
Pinch of salt
160g (1 cup) gluten-free rolled oats
2 tbsp desiccated coconut
For the Middle Layer
250g (1 cup) raw almond butter
110g (1/2 cup) virgin coconut oil
78g (1/4 cup) pure maple syrup or honey (if not vegan)
1/2 tbsp vanilla extract
For the Topping
43g (1/2 cup) raw cacao powder or Cadbury's Bournville cocoa powder
4 tbsp virgin coconut oil
1 tbsp maple syrup or honey
1 tsp vanilla extract
Instructions
Preheat the oven to 190C and line a baking tray with greaseproof paper or lightly grease with coconut oil.
For the base layer
In a food processor or blender, process the almonds until a fine meal is produced.
Add the oat flour, oil, syrup and salt, and process until a sticky dough is formed.
Add the coconut and whole oats and continue to process until the dough sticks together but the oats give it texture.
Press the mixture into the prepared baking tray, ensuring it's smooth and even.
Bake at 190C for 12-13 minutes until it becomes firm to touch.
Remove from the oven and allow to cool in the tray for 10 minutes.
For the middle layer
In a saucepan over a medium heat, stir the almond butter, coconut oil, maple syrup and vanilla extract until the oil melts and the mixture is smooth.
Remove from heat and pour over the cooled base layer, ensuring it's smooth and even.
Place the tray in the freezer for 45-50 minutes, until the middle layer is firm.
For the top layer
Prepare the chocolate top layer by gently melting the coconut oil and adding the cacao powder, maple and vanilla in a saucepan and stirring until smooth, ensuring the mixture doesn't burn.
Remove the tray from the freezer and pour on the chocolate topping.
Place back in the freezer to set for 15-20 minutes.
Cut into even squares and keep chilled until serving as they begin to melt quite quickly at room temperature.
Notes
Store in an airtight container in the fridge for 3-4 days, or in the freezer for up to 3 months.
Rosanna Davison Nutrition https://www.rosannadavisonnutrition.com/