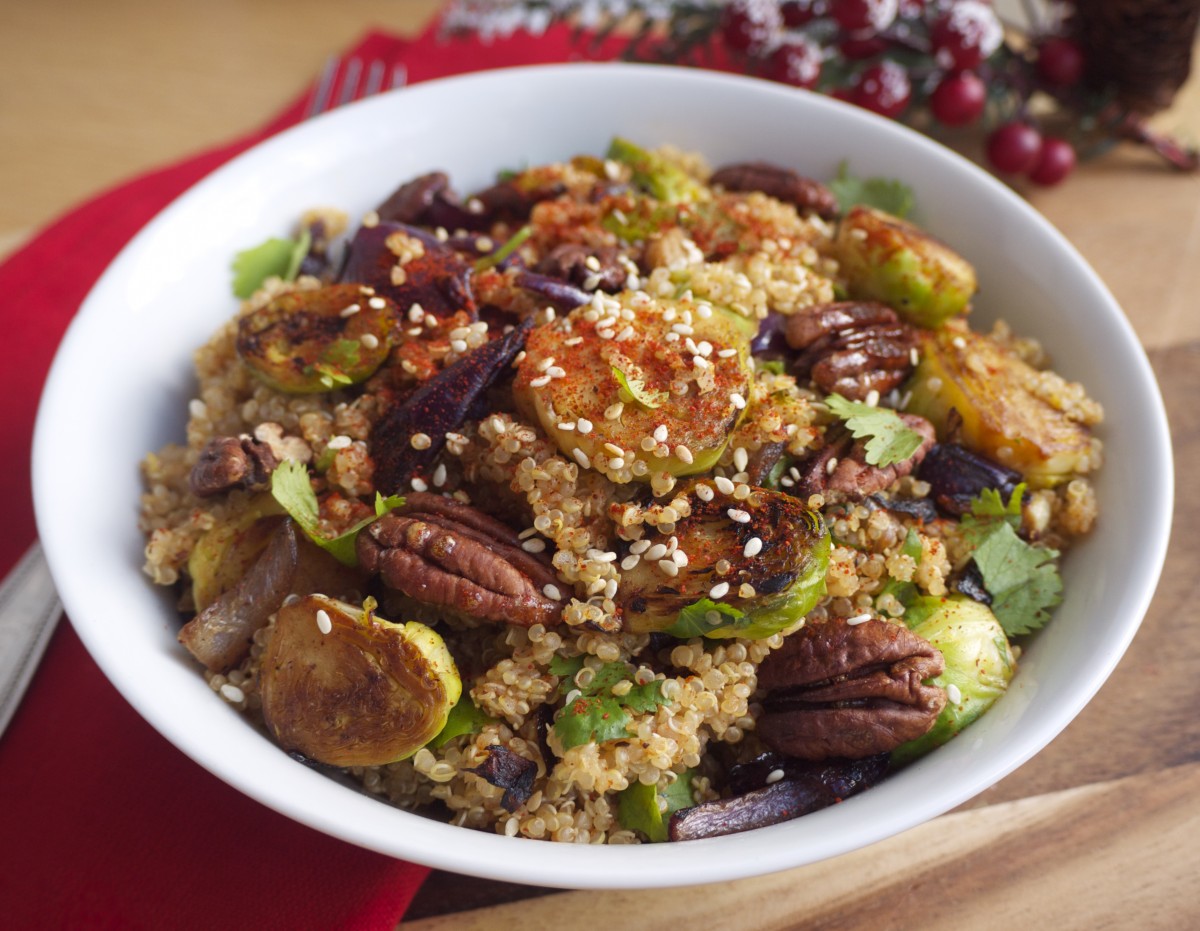 Happy Christmas Eve!!
Can you believe that it's just one more sleep until the big day?! I still feel like a child full of excitement at Christmas Day!
For many of us, it's a chance to relax and spend quality time with family and friends. But of course eating food is a major part of the day, and between us, my mum and I will be taking care of most of the dishes for the family tomorrow.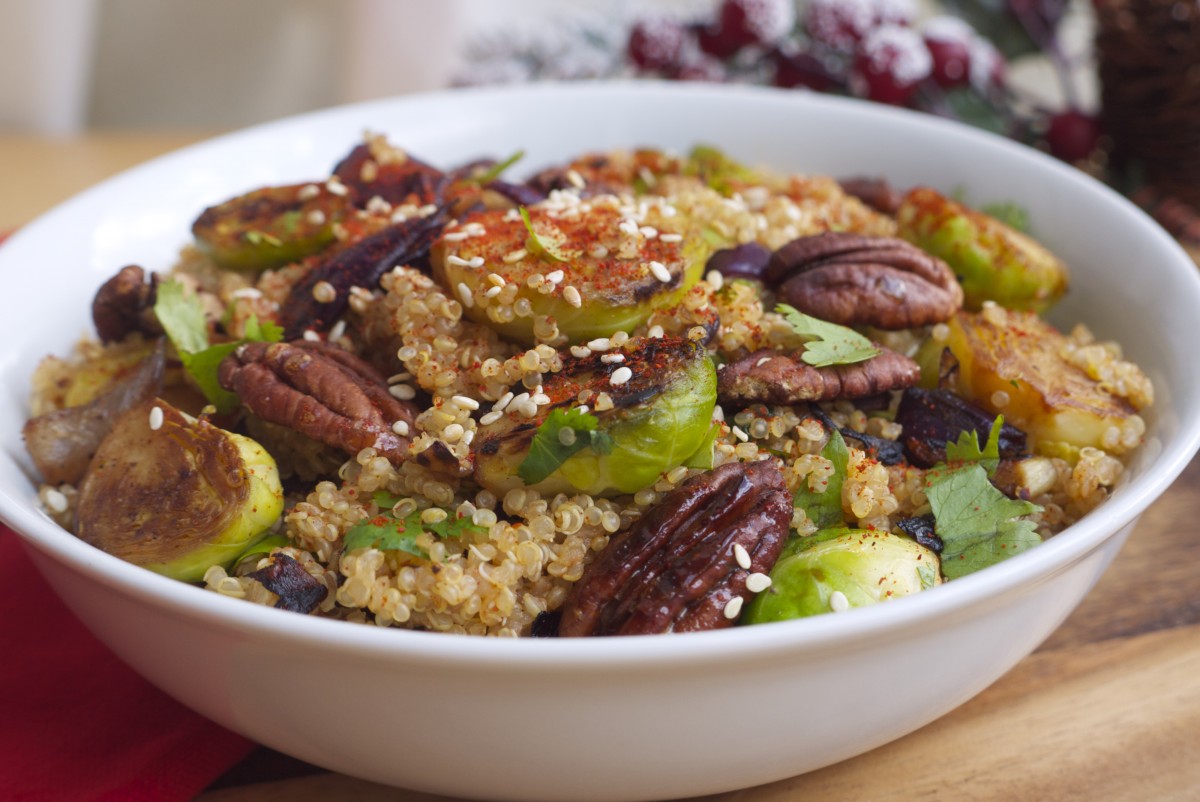 I've spent the past week or so experimenting with different recipes to suit everybody tomorrow, both the carnivores and herbivores!
I'll be making the Butternut Squash and Chickpea Stew from Eat Yourself Beautiful, as well as a delicious new chocolate cheesecake recipe, set to go into book two.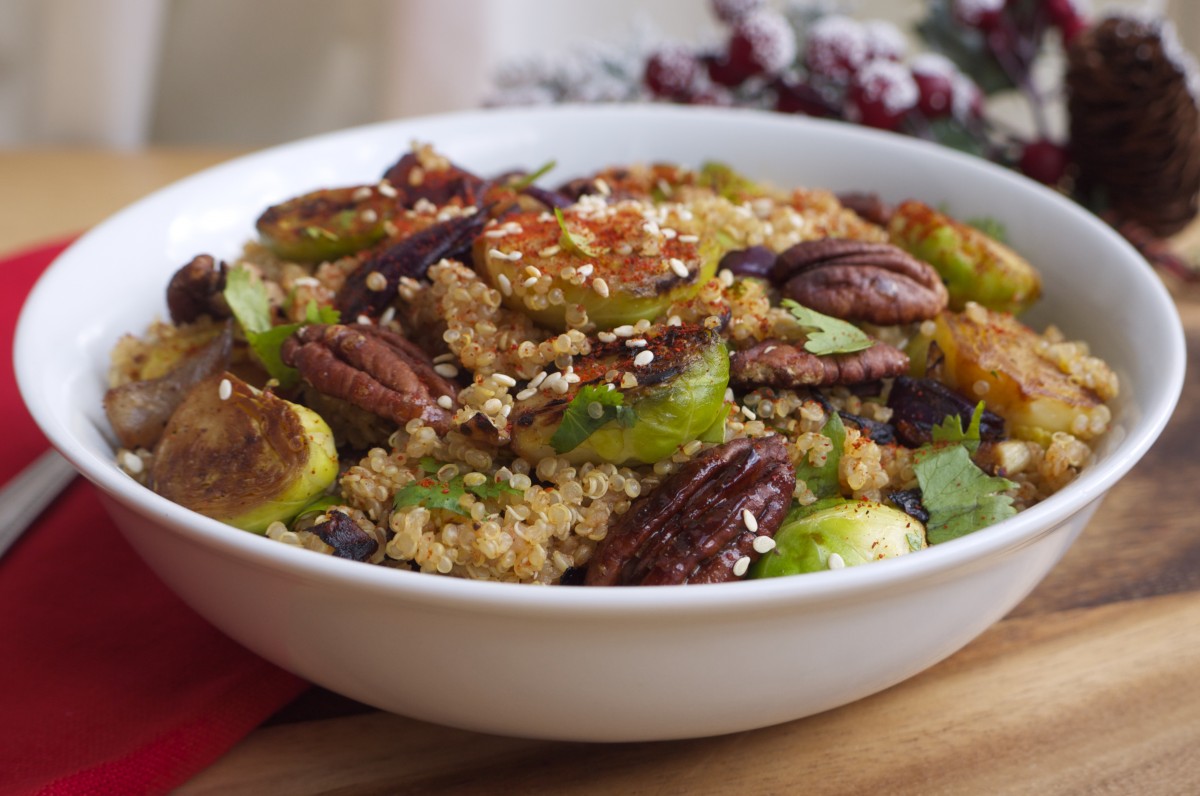 With a big bag of sproust in my fridge, I wanted to create a tasty and different way for everybody to enjoy them… and not everyone loves sprouts!
I came up with this warm quinoa and sprout salad, which contains the delicious fragrant flavours of garlic, ginger and coriander, plus the sweet biscuity taste of maple-roasted pecans.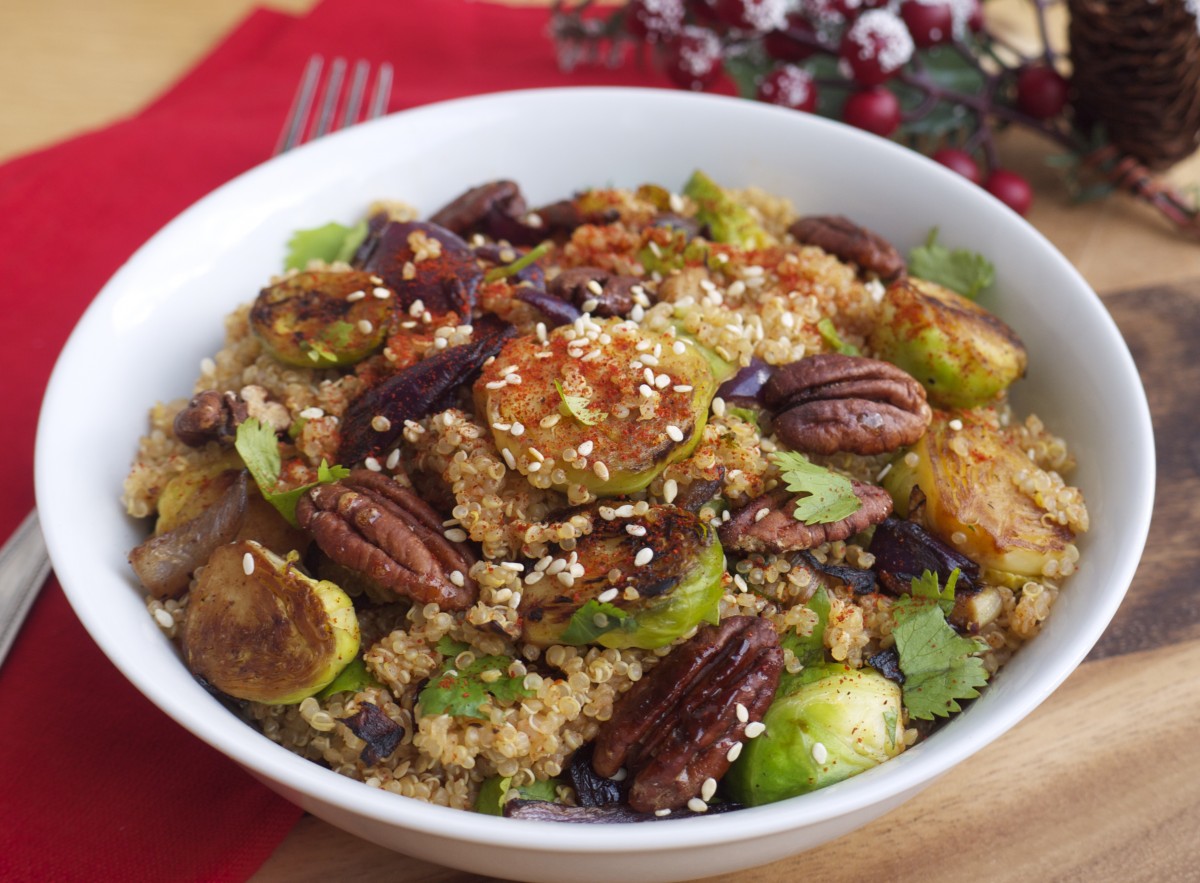 Feel free to add in some cubes of ripe avocado to enhance the texture and flavour even more. I'm planning to make a big bowl of this later on today for the family to enjoy with their Christmas dinner with all the trimmings tomorrow 🙂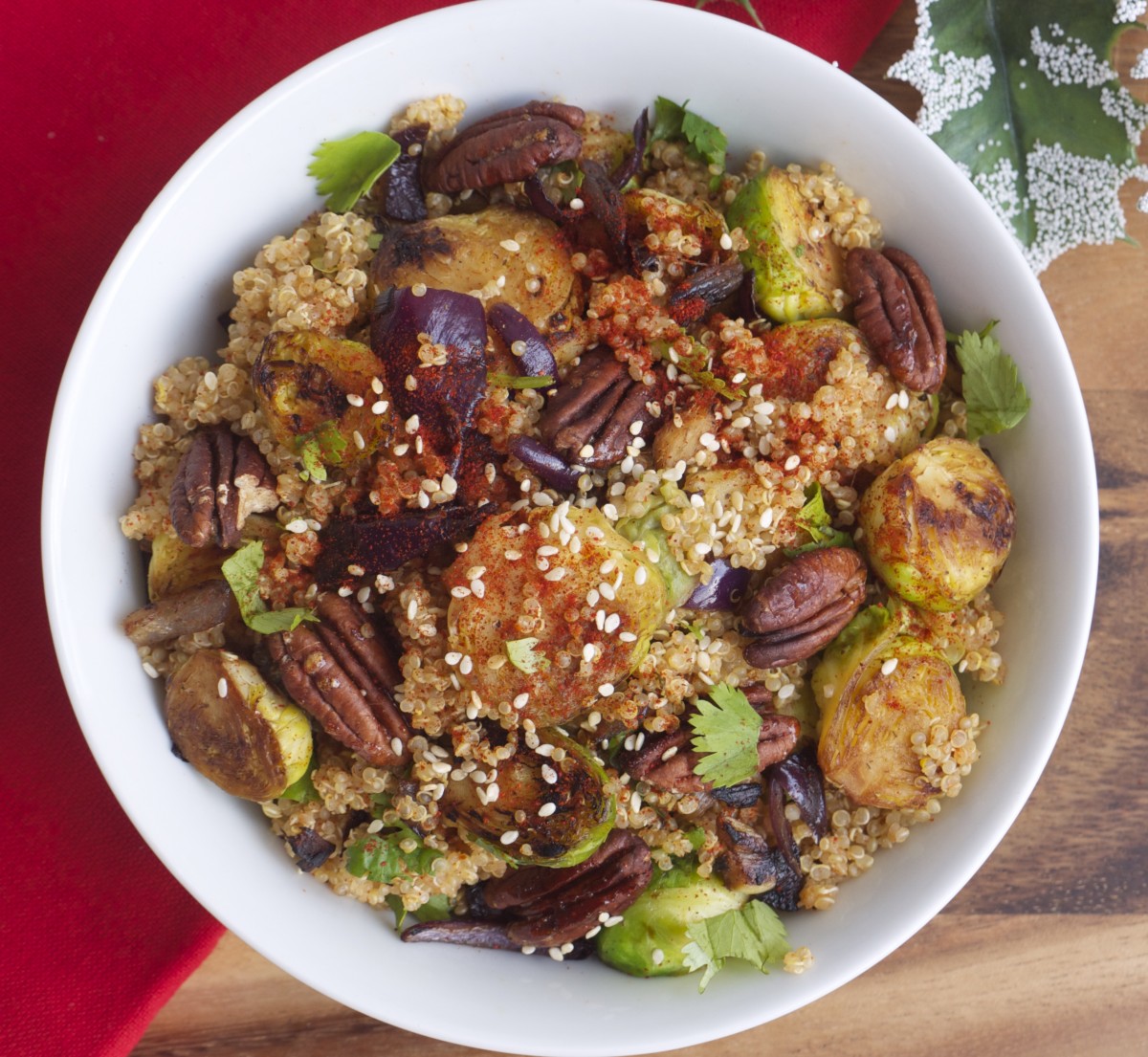 I would love to know if you get a chance to make this Warm Quinoa and Sprout Salad with Maple-Roasted Pecans! Simply tag #RosannaDavisonNutrition on Instagram or Twitter or come on over to my Facebook to say hello 🙂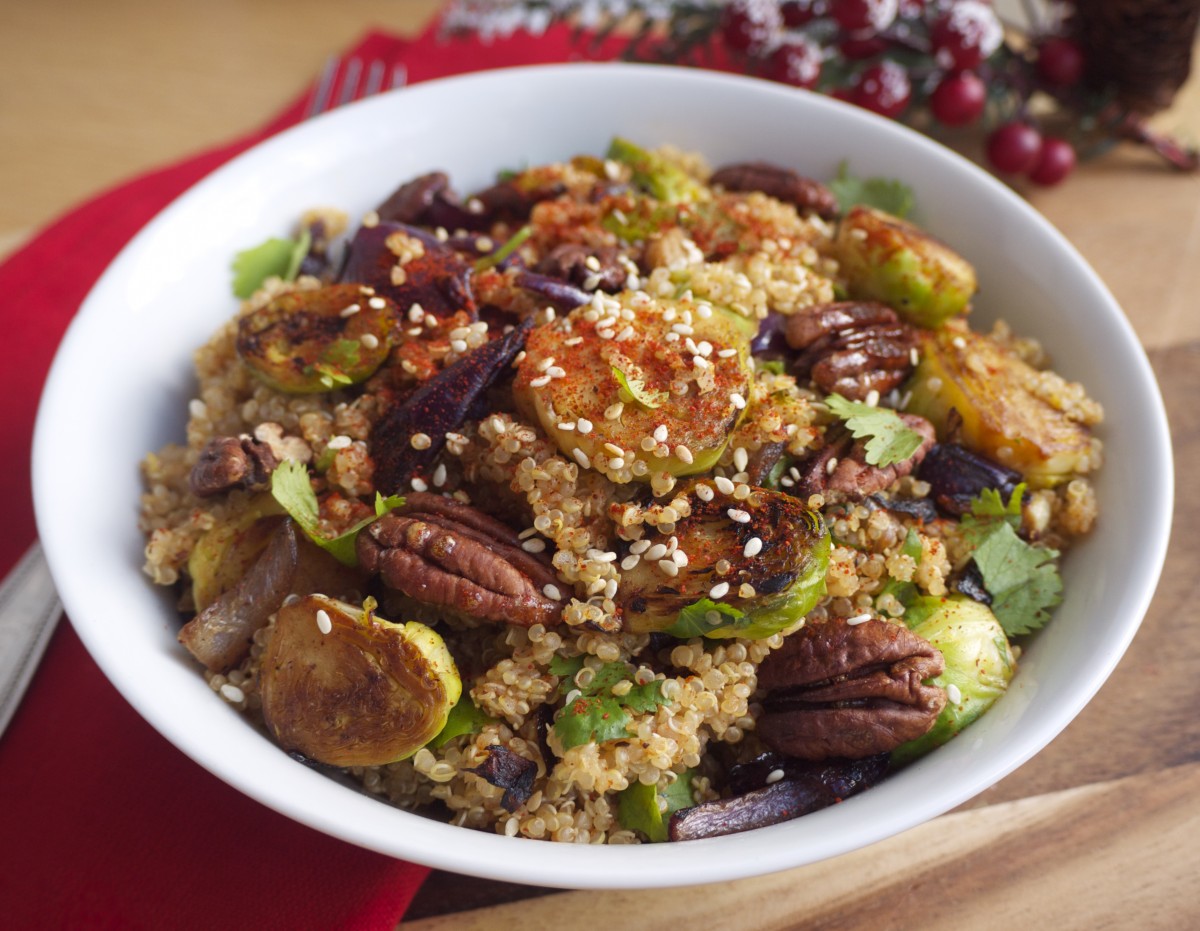 Warm Quinoa and Sprout Salad with Maple-Roasted Pecans
2015-12-24 09:13:03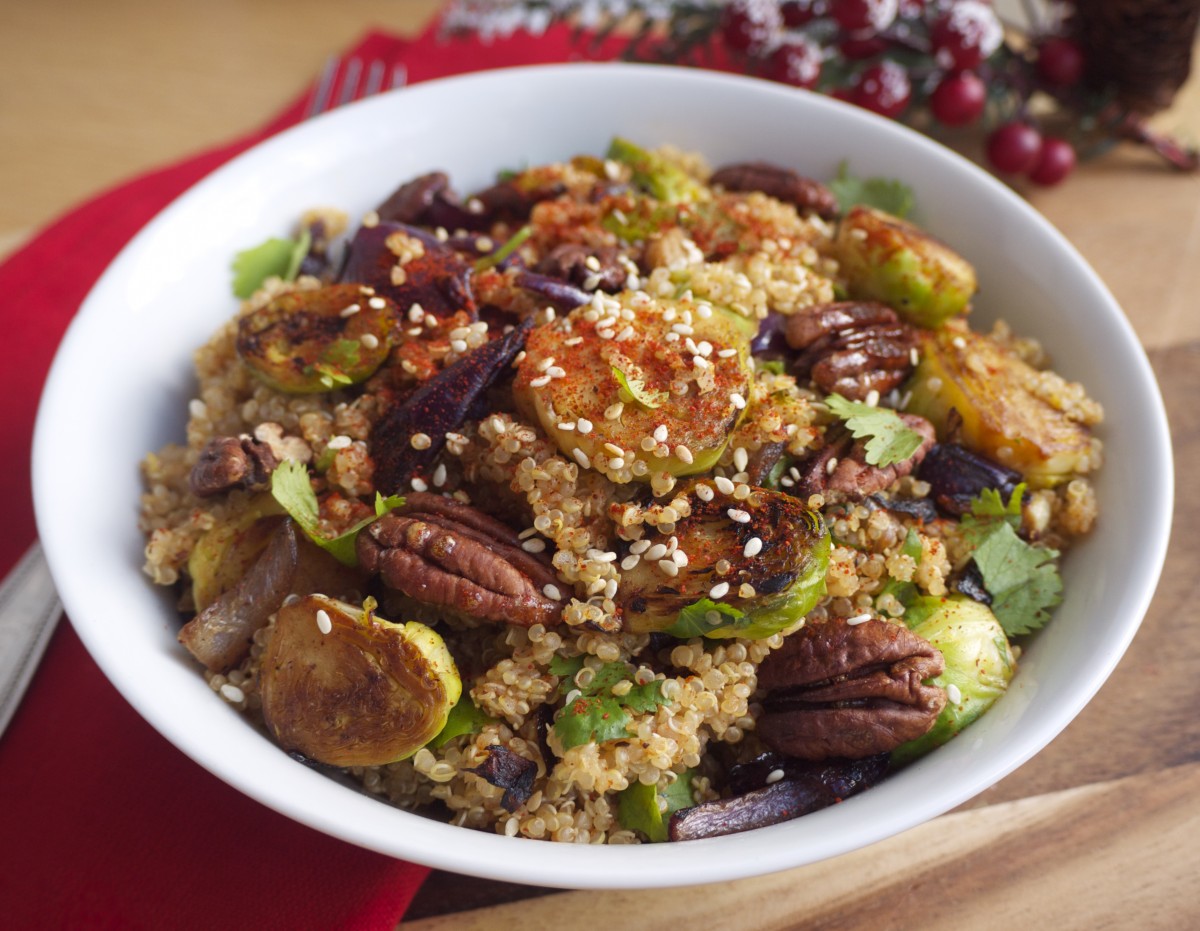 Serves 2
A delicious way to enjoy sprouts, with all the flavours of ginger, garlic, coriander, toasted sesame seeds and sweet roasted pecans. This makes a tasty Christmas Day dish!
Ingredients
170g (1 cup) dry quinoa, rinsed well in a sieve under cold running water
500ml (2 cups) water, to cook
dash of tamari sauce
pinch of sea salt and ground black pepper
1 tsp smoked paprika
100g (1 cup) pecans
1 tbsp pure maple syrup
1 tsp virgin coconut oil
1 small red onion, finely sliced
1 clove of garlic, minced
1 tsp fresh root ginger, finely chopped
160g (2 cups) Brussels sprouts, peeled, rinsed and halved*
large handful coriander, rinsed and chopped
1 tsp toasted sesame seeds
Instructions
Preheat the oven to 180C
Place the rinsed quinoa into a medium saucepan and pour on the water
Cover the saucepan partly with the lid and bring it to the boil.
Bring the heat down and allow it to simmer for 10-12 minutes, until most of the water has evaporated and the quinoa seeds have opened out.
Remove it from the heat and leave it aside to absorb the remaining water.
Use a fork to fluff up the quinoa, then add a dash of tamari and season with salt, black pepper and smoked paprika.
Spread the pecans out on a small baking tray, lined with a sheet of greaseproof paper, drizzle with maple syrup and toast for 10 minutes until lightly browned. Remove from the heat and set aside.
In a medium saucepan or frying pan over a medium heat, heat up the coconut oil, then add in the onion, garlic and ginger, and stir-fry until golden-brown.
Add in the halved sprouts and a dash of tamari sauce, and stir-fry until lightly browned.
Add the Brussels sprouts to the quinoa, add in the chopped coriander and mix well. Taste and adjust seasoning, if desired.
Serve topped with the toasted pecans and sesame seeds.
Notes
* I just sautéed the sprouts without boiling or steaming them first, as I prefer them al dente. If you like them softer, then boil or steam for 5-8 minutes first, to soften them.
Any leftovers can be stored in an airtight container in the fridge for up to 3 days.
Rosanna Davison Nutrition https://www.rosannadavisonnutrition.com/