Did you know that quinoa is a complete source of protein?
Protein is a crucially important nutrient in your diet, needed for muscle growth and repair and for producing hormones, enzymes and antibodies, to help maintain good health.
I always aim to eat a protein food with each meal or snack to help stabilise my blood sugar levels and continuously feed my body with amino acids. When you eat protein, it gets broken down into amino acids, which are then rebuilt like beads on a string into various chains specific to humans, for a whole host of different functions in your body.
There are nine essential amino acids which can't be made in your body, and must be eaten in your everyday foods. But your body can cleverly store up amino acids throughout the day and release them when needed, so you don't actually need to combine different foods, like rice and beans, to receive the full amount of essential amino acids in one go.
Quinoa is an ancient South-American grain that has enjoyed a surge in popularity in Europe over the past few years. Meaning 'Mother of Grain' in the Inca language, it has been cultivated for about 5,000 years.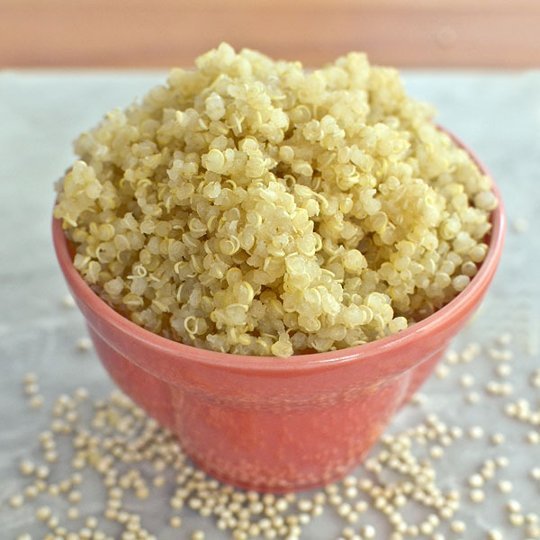 Although it's called a grain, quinoa is actually a seed with a deliciously subtle nutty flavour. It is so beneficial for your health, plus it's delicious, easy to digest, versatile and nutritionally superior to popular grains like couscous and rice.
Apart from being a superb plant-based source of the complete set of essential amino acids, needed for hair growth, healthy skin and toned muscles, quinoa is also one of the very best plant sources of the amino acid lysine, crucial for tissue growth, the synthesis of collagen and elastin, and repair of damaged cells.
It provides high-fibre, slow release carbohydrates, making it a brilliant food for athletes and gym bunnies, and due to its high quantity of minerals, quinoa also happens to be a great food for strong and healthy hair. It's high in magnesium, iron, zinc and phosphorus needed for both hair and skin health.
The calcium, iron and phosphorus in quinoa help to prevent dandruff and seal moisture into your scalp, while its vitamin E keeps each strand soft and supple.
It contains an essential amino acid called tyrosine, which is the parent amino acid for your hair, skin and eye pigment, and helps to maintain your original hair colour. Quinoa can be enjoyed in a whole host of sweet and savoury ways, plus it's easy and quick to cook.
These quick and easy quinoa griddle cakes are packed with protein and healthy carbs, for an energising pre or post-workout feed.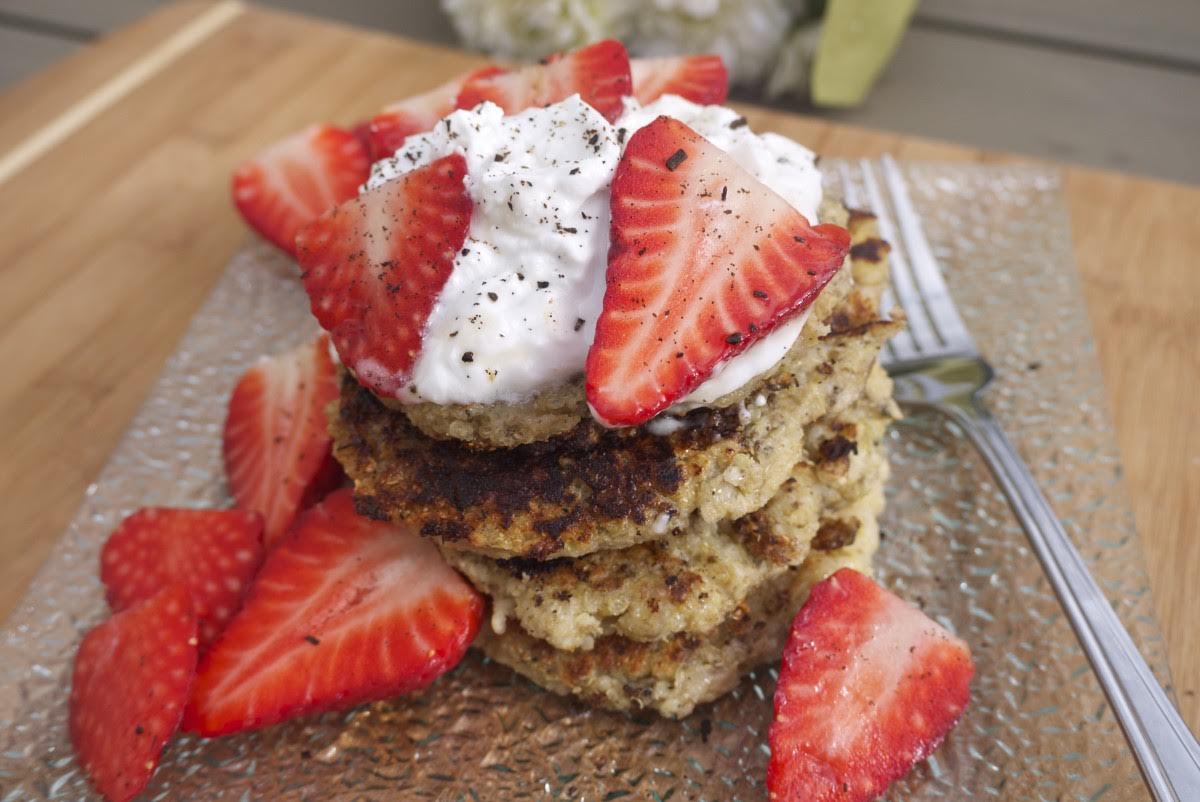 I would love to know if you get a chance to make these Quinoa Griddle Cakes! Simply tag #RosannaDavisonNutrition on Instagram or Twitter or come on over to my Facebook to say hello 🙂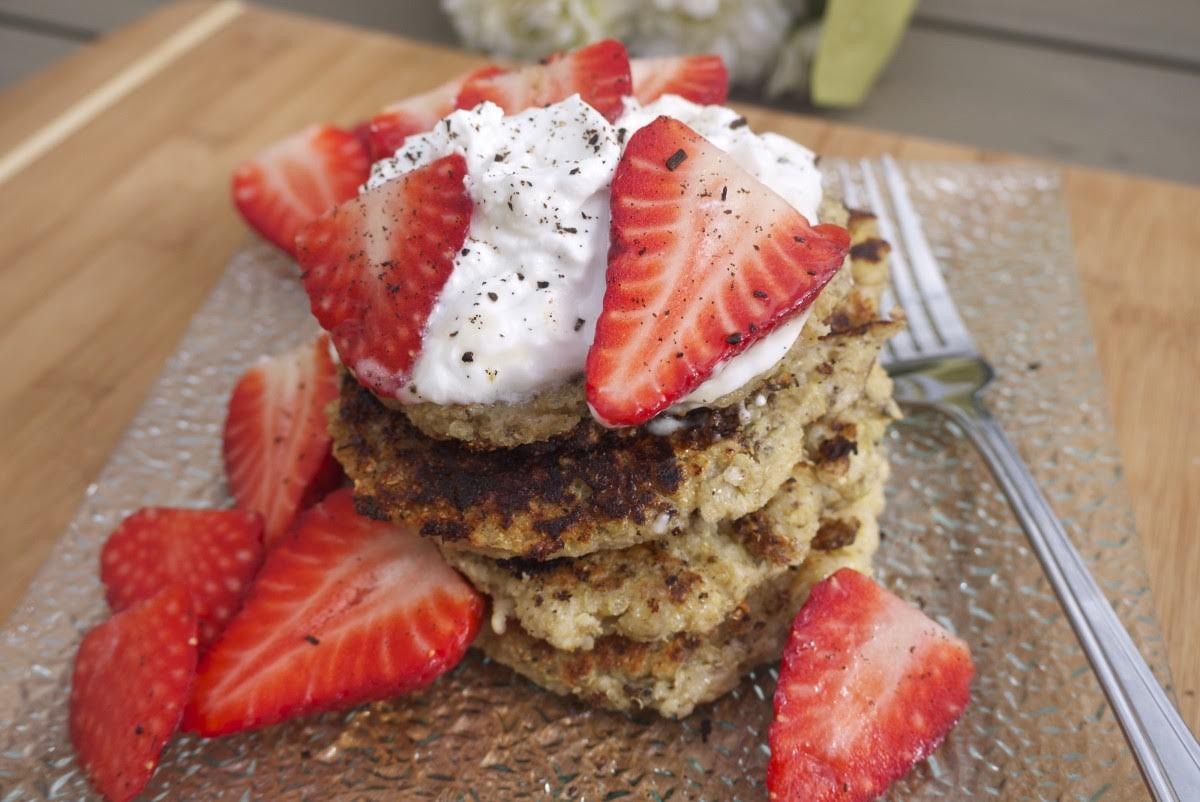 Quinoa Griddle Cakes with Strawberries and Coconut Yoghurt
2016-02-03 21:50:35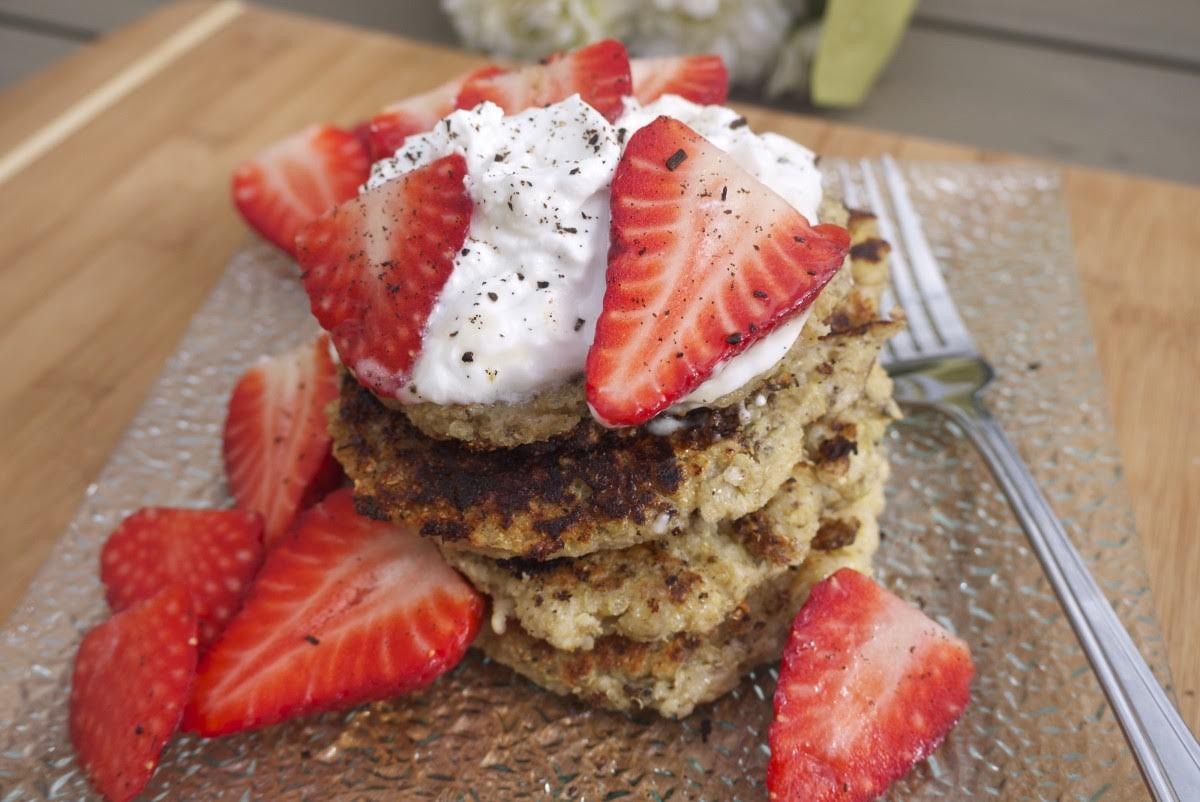 A tasty and nutritious way to incorporate more protein-rich quinoa into your diet.
Ingredients
1 tbsp ground flaxseed
2 tbsp cold water
100g (1 cup) quinoa flakes
1 1/2 tsp baking powder
1 tsp vanilla extract
2 ripe bananas, mashed
160ml (3/4 cup) unsweetened almond milk
virgin coconut oil, to cook with
Coconut milk yoghurt and strawberries, to serve
1-2 tbsp pure maple syrup or honey, to serve (optional)
Instructions
In a small bowl, mix together the flaxseed and water to create a 'flax egg'. Leave aside to set.
In a large mixing bowl, mix the quinoa flakes and baking powder.
In a blender, mix the vanilla extract, bananas and almond milk until well combined.
Pour the wet mixture into the dry mixture and stir well to form a batter.
Heat up a little coconut oil in a frying pan, and use a tablespoon to drop portions of the batter onto the pan. I like them to be quite thick.
Cook for 1-2 minutes and flip over onto the other side until golden brown.
Serve warm with coconut milk yoghurt and strawberries.
Notes
Any leftovers can be stored in an airtight container in the fridge for up to 2 days.
Rosanna Davison Nutrition https://www.rosannadavisonnutrition.com/