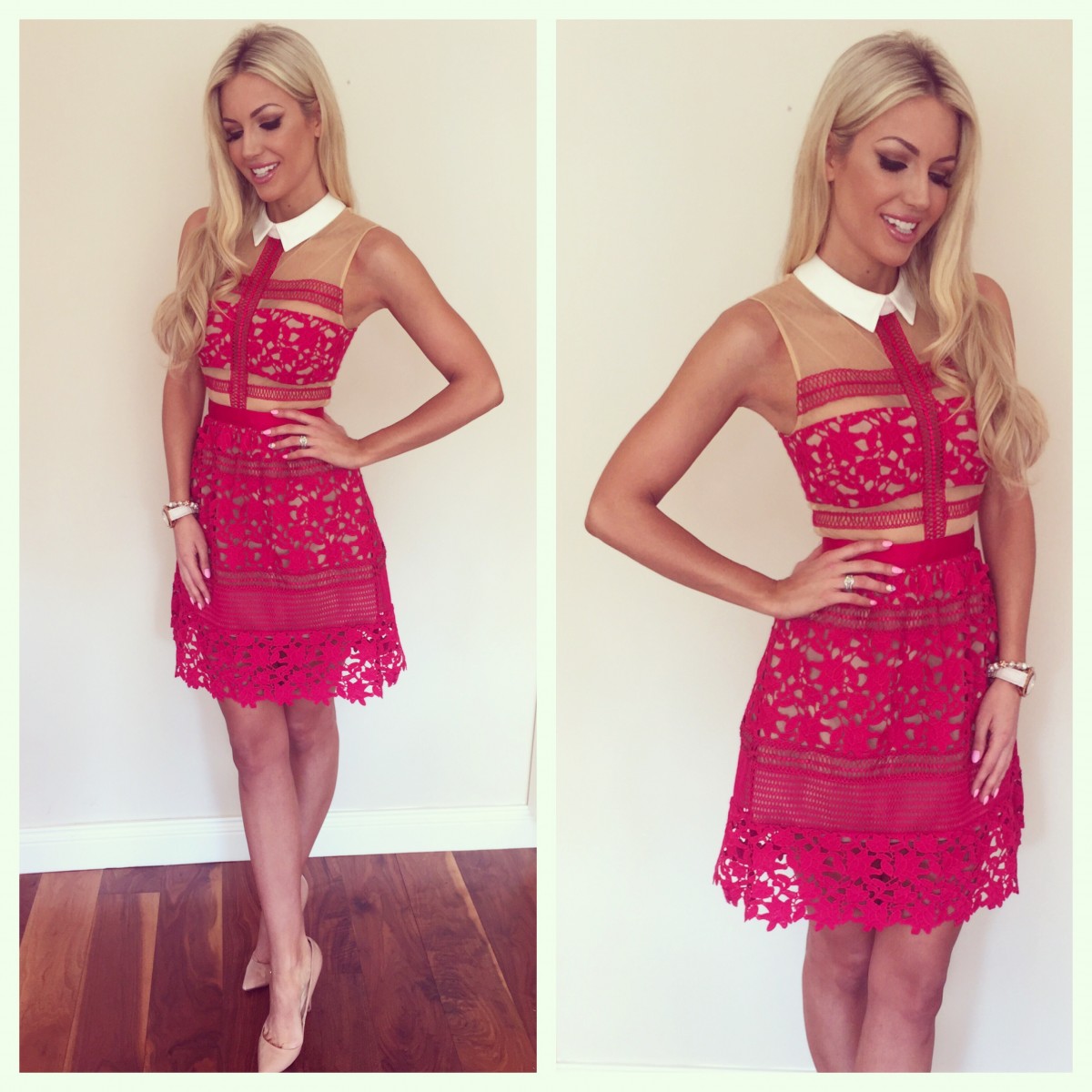 Hi everyone!
I hope you've had a lovely weekend 🙂 Mine has been busy but a lot of fun, with Lisa Fitzpatrick's Fashion Fix hitting Limerick yesterday, and also celebrating my first wedding anniversary yesterday too!
I also wanted to address an interview in today's Sunday Independent, to clear up any misunderstandings…
So to begin, I hit the road early yesterday morning to arrive in Limerick's Savoy Hotel for 10am. I wore this bright pinky-red Graciella dress by Self-Portrait from Cari's Closet (€100 to rent), and nude heels. It was really comfy and perfect for a glam daytime event.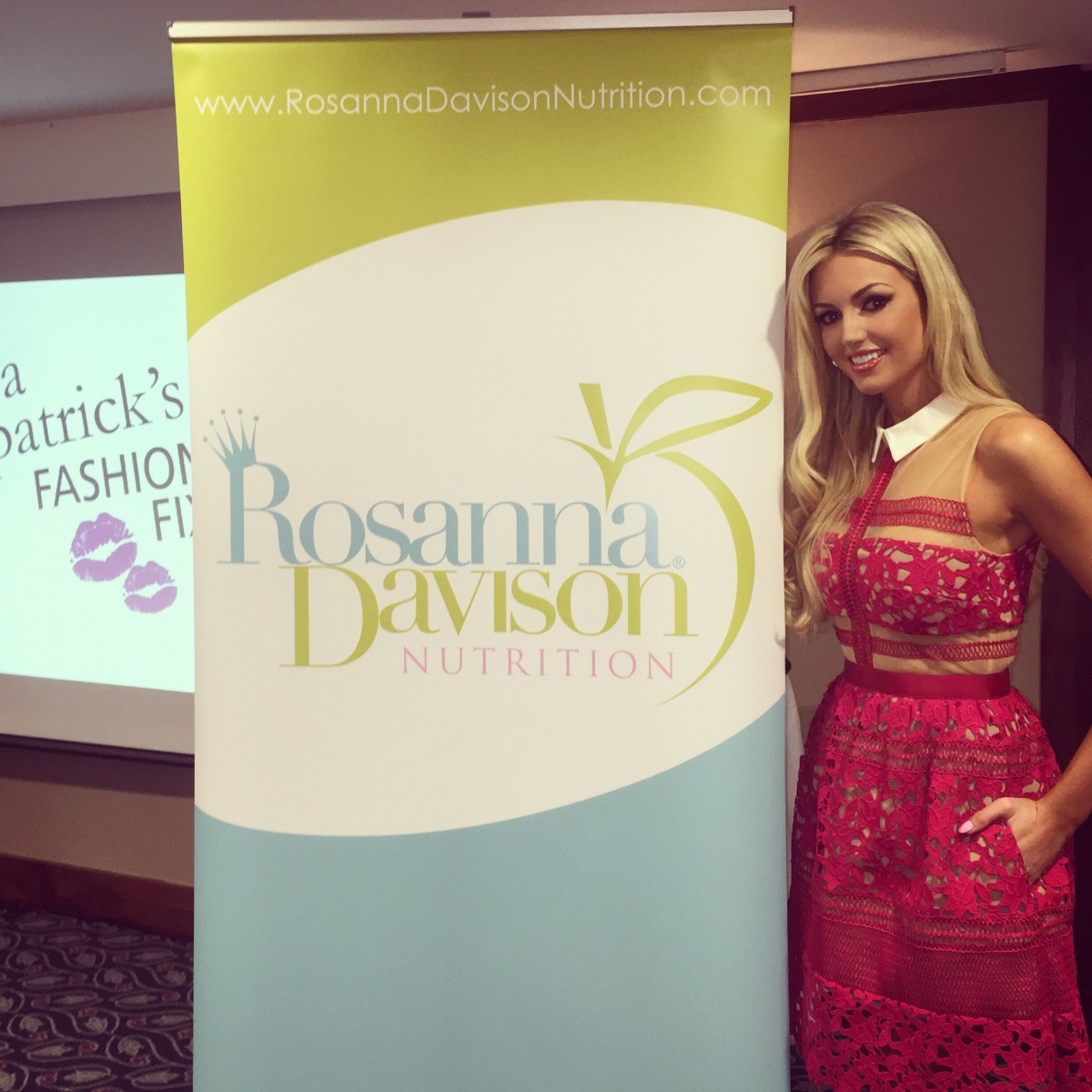 I had a quick catch-up with Lisa before it began at 11am, and she was looking as gorgeous as ever in a black cashmere jumper and Victoria Beckham skirt bought in the Brown Thomas sale. What a great bargain!
Lisa was in her usual positive and upbeat form, greeting her 150-strong group of guests as they began arriving.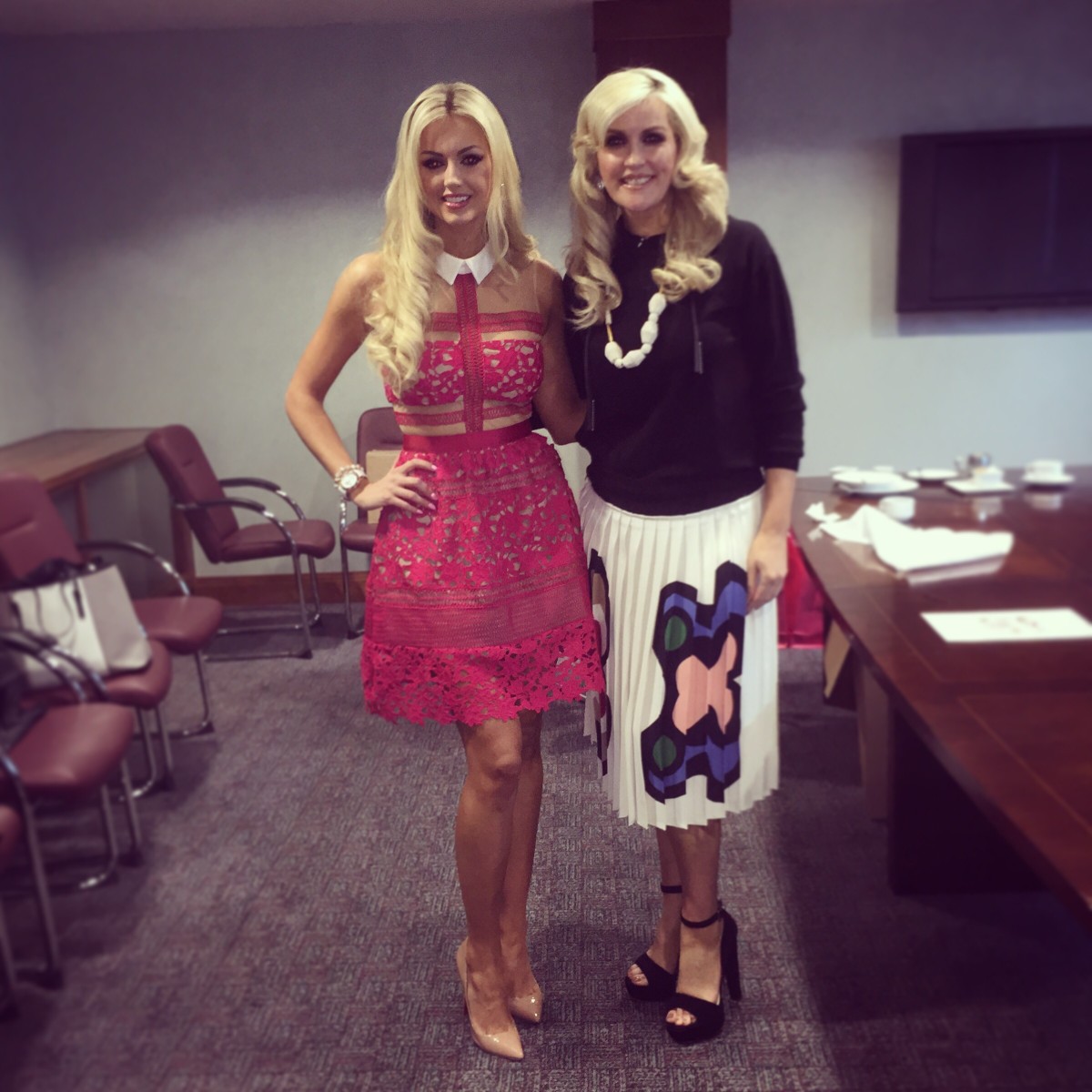 Lisa spoke for 45 minutes about her own style story and her favourite fashion, travel and lifestyle tips, giving plenty of practical advice…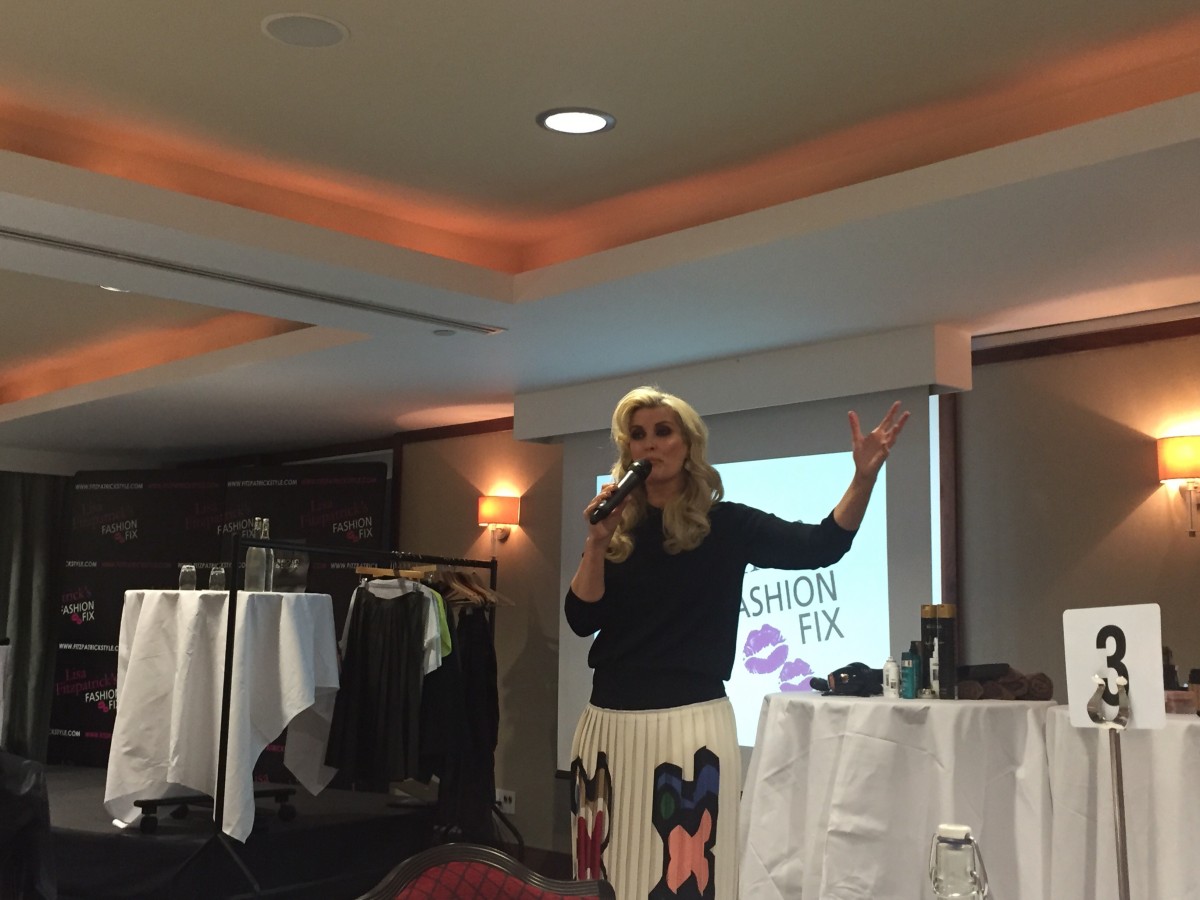 I then got up on stage and spoke for 20 minutes all about my own health story, how I became interested in human nutrition and then finished with a section on sugar addiction and my top tips for breaking the sugar addiction cycle….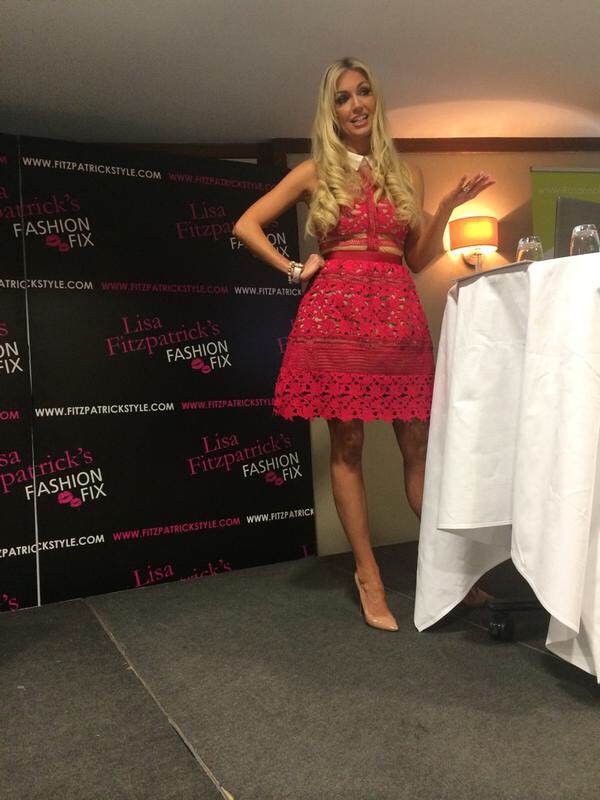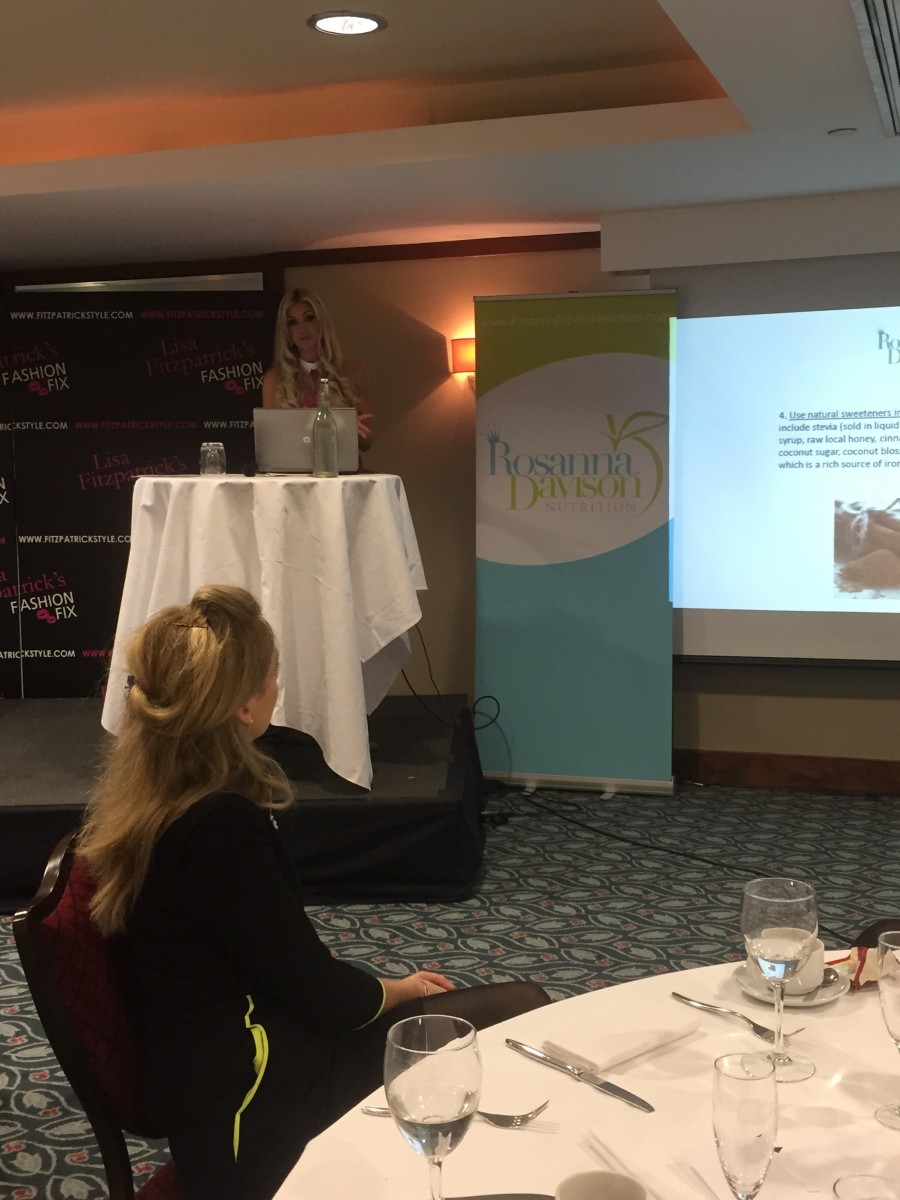 Next up on stage was the Cocoa Brown Tan team, to give all of their tips on how to achieve the perfect bronzed summer sun-free glow… I dutifully took notes!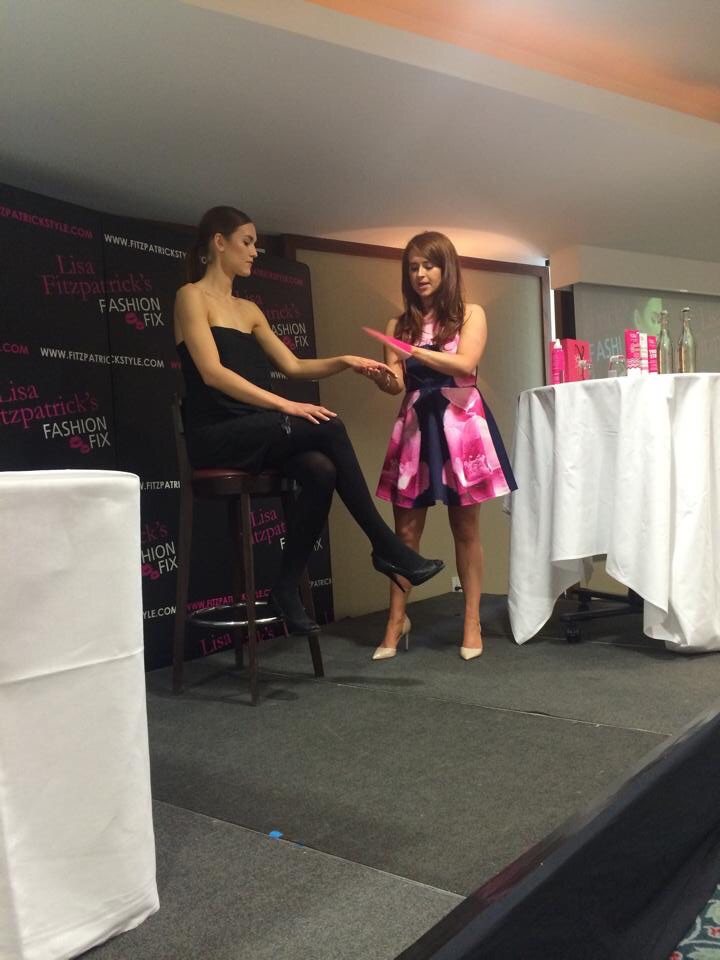 The talented Brown Sugar team were on straight afterwards, teaching us how to apply foundation perfectly, contour properly and get the perfect amount of body into your hair. I was glued to their presentation!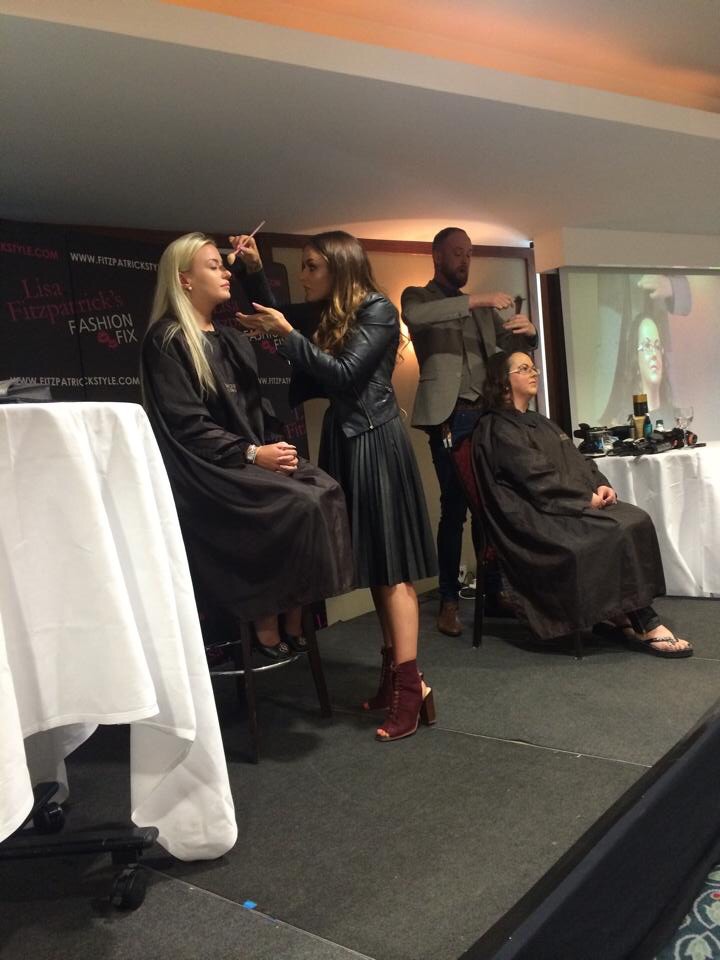 On next after our tasty lunch was the incredibly glam Celia Holman-Lee, to present a fashion show. It featured her own models, showcasing a gorgeous range of clothes from labels including Virgo and Gerry Weber.
I also got a few cheeky selfies with the lady herself…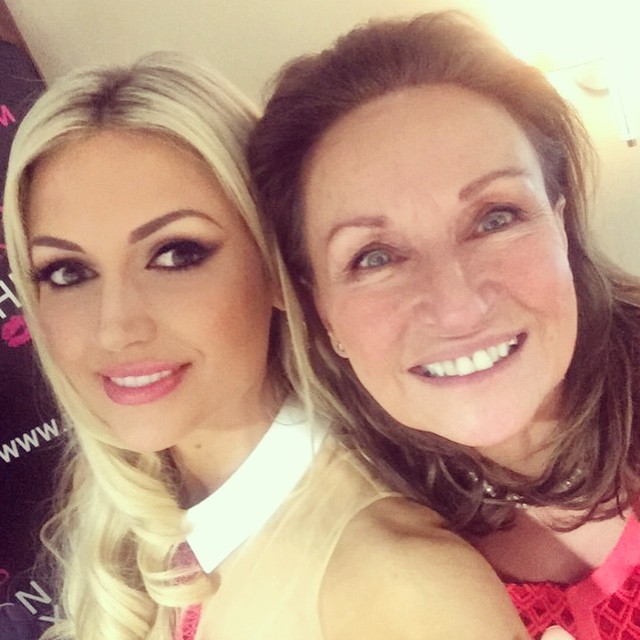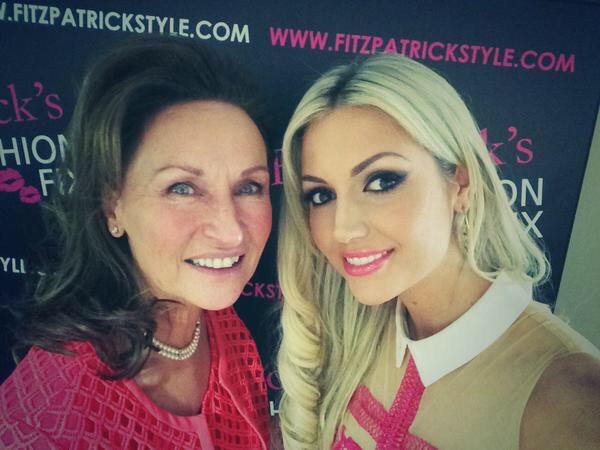 Finally, Lisa announced her surprise guest in the form of Derek Mooney, who entertained us all with his stories of bird-watching and rescuing baby ducks for his RTE Radio 1 show, Mooney Goes Wild!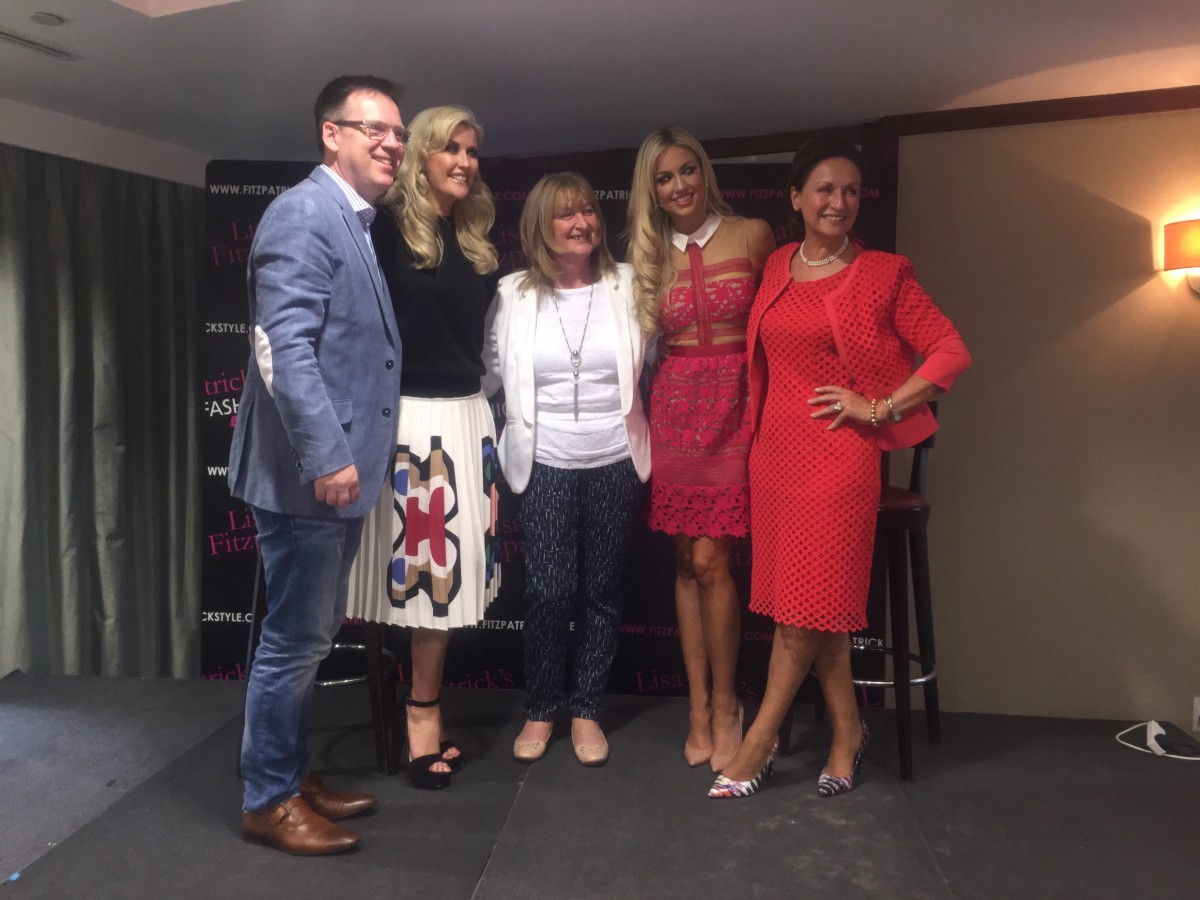 After meeting and getting a photo with all of the wonderful guests at the event, I was back on the road to Dublin and home to my husband to celebrate our first wedding anniversary 🙂
A year ago yesterday, we tied the knot in an intimate humanist ceremony in Dublin's Merrion Hotel, surrounded by close family and friends. Afterwards, we celebrated with a long lunch and a sing-song outside in the sunny garden! It was exactly what we wanted, and even though we had a larger celebration in Ibiza a fortnight later, May 16th is the date that we will always celebrate.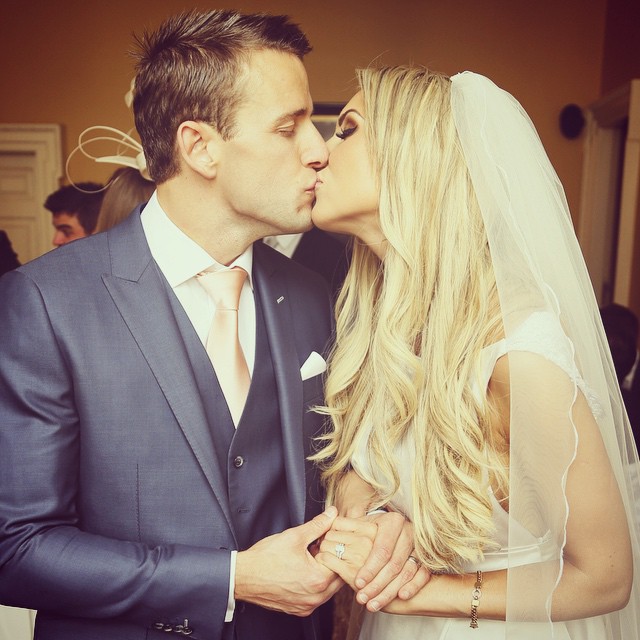 We went out for dinner to our favourite Dublin restaurant, Rasam. It's an Indian restaurant in Glasthule, with the most delicious, fresh and authentic food, plus really friendly staff and a great atmosphere.
They have a superb selection of veggie dishes, and I had a side dish of delicately spiced roast cauliflower to begin, followed by the vegetarian thali. This is a selection of dishes served on a huge silver platter, which looks very impressive!
I had cabbage, chickpea curry, spiced okra, pureed spinach and roast beetroot, plus a gluten-free pancake based on chickpea flour, as well as rice. It was far too much food to finish, but I made a good attempt at it!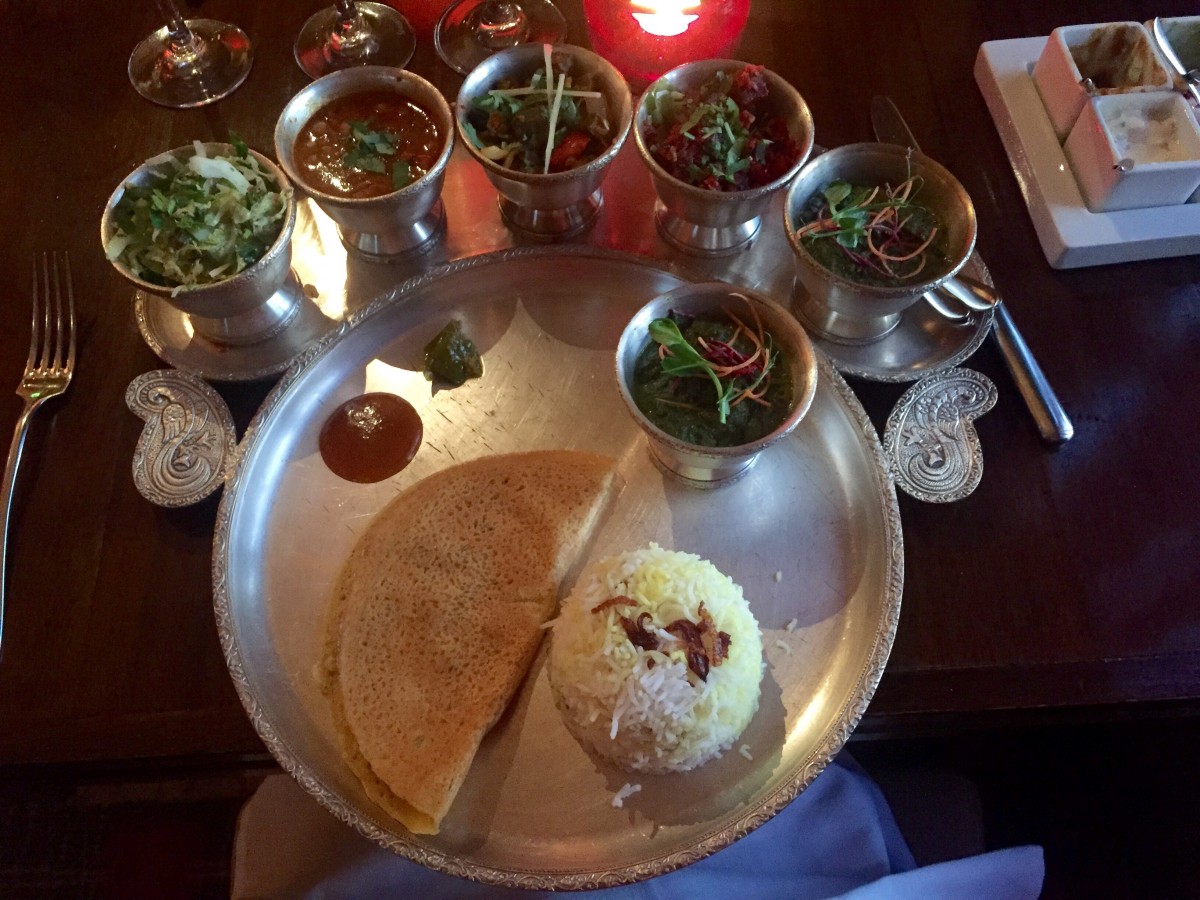 You may be wondering why I'm bringing feminism into this post… but I recently did a photoshoot and interview for The Sunday Independent LIFE Magazine. The piece came out today, but with a misleading headline on the front of the paper as well as the magazine. To be quite honest, I felt sick to my stomach when I saw it and it's been on my mind all day…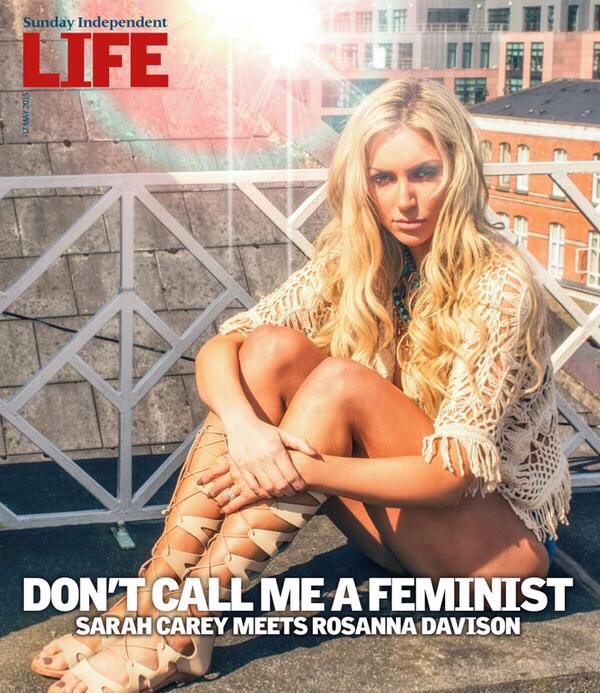 During the interview, I was asked how I feel about the label 'feminism'. I explained that I'm fully, 100% in favour of women's rights, equal pay and full equality for both sexes. I'm a huge supporter of women in business and in life, and as a woman, I can't imagine feeling any other way. However, I tried to explain that I don't necessarily want to label myself as a 'feminist', despite how strongly I feel about women's rights.
I did a degree in sociology in UCD, and one of the modules I enthusiastically took was feminist literature. I've read a huge amount of feminist writing and it all made a big impact on me. I was especially drawn to The Beauty Myth by Naomi Wolf, and did an essay assignment on it – I guess it appealed because at that stage I had completed my year as Miss World and had been working in the beauty and fashion industry for a few years.
When I posed for Playboy Magazine in 2012, almost every interview I did after that involved a question on feminism and whether doing the shoot was 'anti-women'. I always explained that I did the shoot because I was in control of every aspect of it, from choosing the location and styling to having the final say over the pictures. I wouldn't have done it without that control, and I found the whole experience to be extremely liberating.
I believe that society tries to label women far too quickly. Yes, it's human nature to try to define others to make life easier to navigate, but labels can be damaging too. Why can't a woman be as multifaceted and dynamic as she likes? To work hard in business, to be academic, to raise a family in the home, to cook for her husband, or to get in touch with her body and express her sexuality and femininity through doing a shoot like I did? What frustrates me is being labelled and then people being shocked because you do something that doesn't 'fit' that label. Be who you want to be and try not to judge others!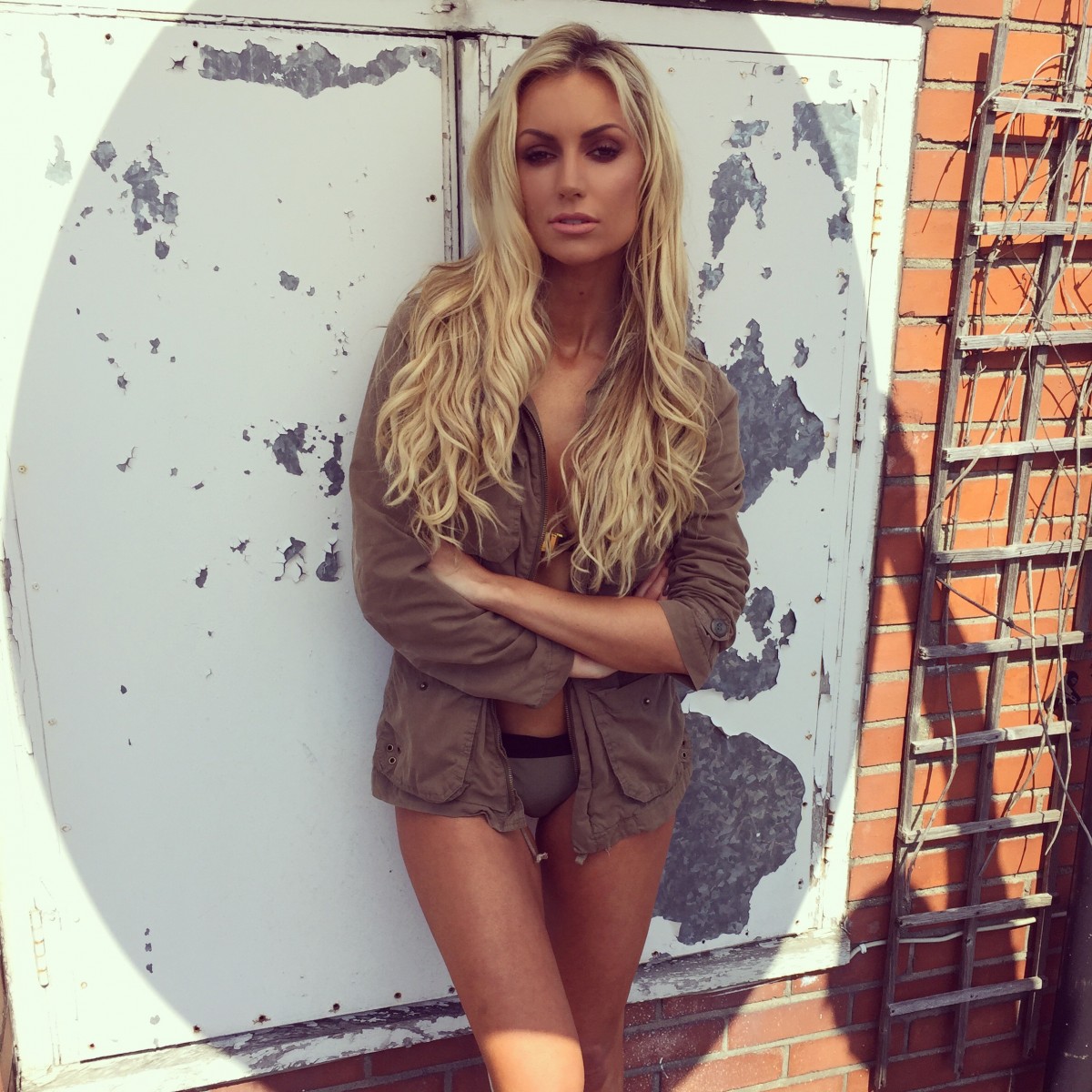 For years, some people couldn't understand how I could have a degree yet want to be a model and sometimes it's still an uphill struggle to break out of those stereotypes.
I decided a long time ago that I would try not to label myself, because it then defines you as a person. And as a woman in the public eye, you have to be careful about how you define yourself because it affects what you're asked about in every interview and public situation.
For example, I eat a vegan diet but I don't really like to call myself a vegan, because it comes attached with all sorts of connotations that go beyond just your diet. Vegans have been somewhat represented by the media and popular culture as being everything from hippy tree-huggers, to aggressively extremist in their views, or preaching madly to whoever will listen. That's what I saw vegans as when I was growing up! So I prefer to say I'm plant-based, as it's a much softer definition.
Feminism as a definition is about equality: "the advocacy of women's rights on the ground of the equality of the sexes." Yet I feel that the definition has been muddied, to the extent that it's associated by some as being 'anti-men' or having radical and even aggressive views. It's a real shame that the word 'feminism' has been altered in modern culture and I would love for it to have nothing but a positive and empowering meaning.
Every woman is different and I respect each and every opinion. Some are proud to call themselves feminists, while others don't think about it much. Personal experience comes into it too, and for me I'm sure there's an element of fear of the label.
I feel that the most positive thing that I can do is try to be a good, strong example to others, to help and support other women and to always push for equality.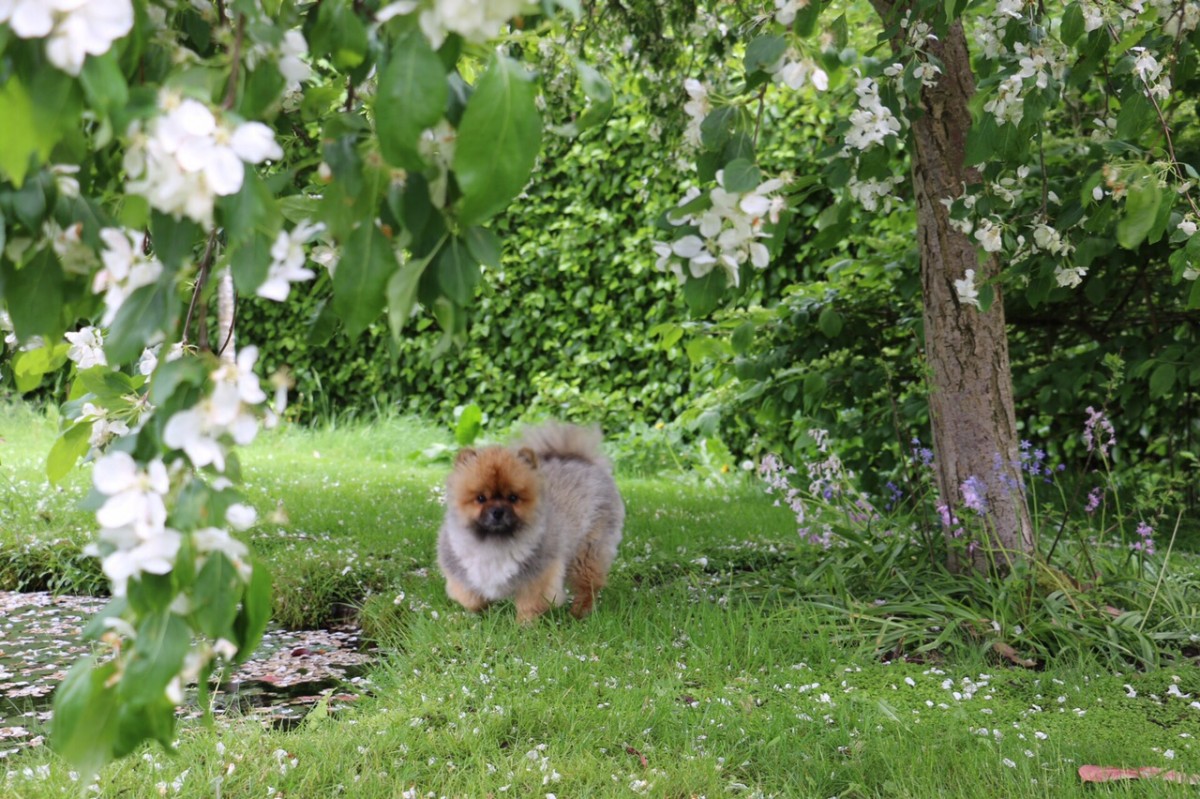 Today was spent relaxing, catching up with my mum and taking Leo and Ted out for a run 🙂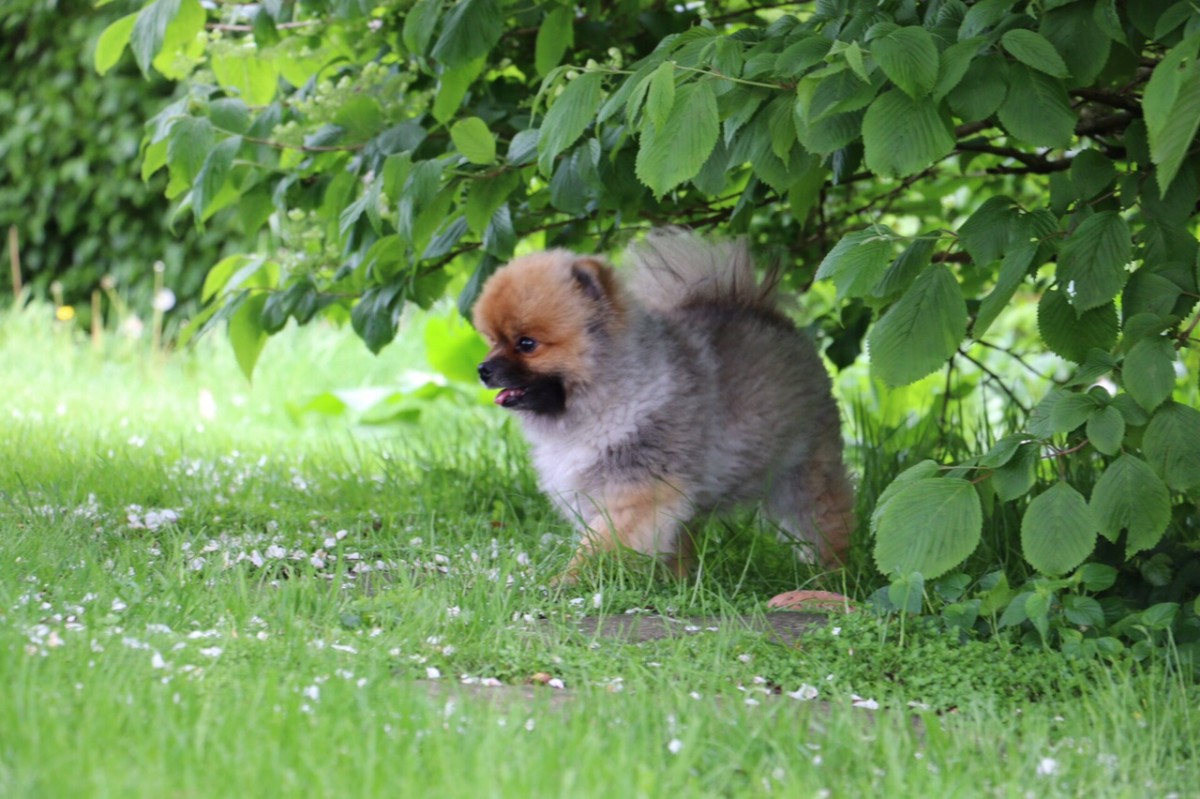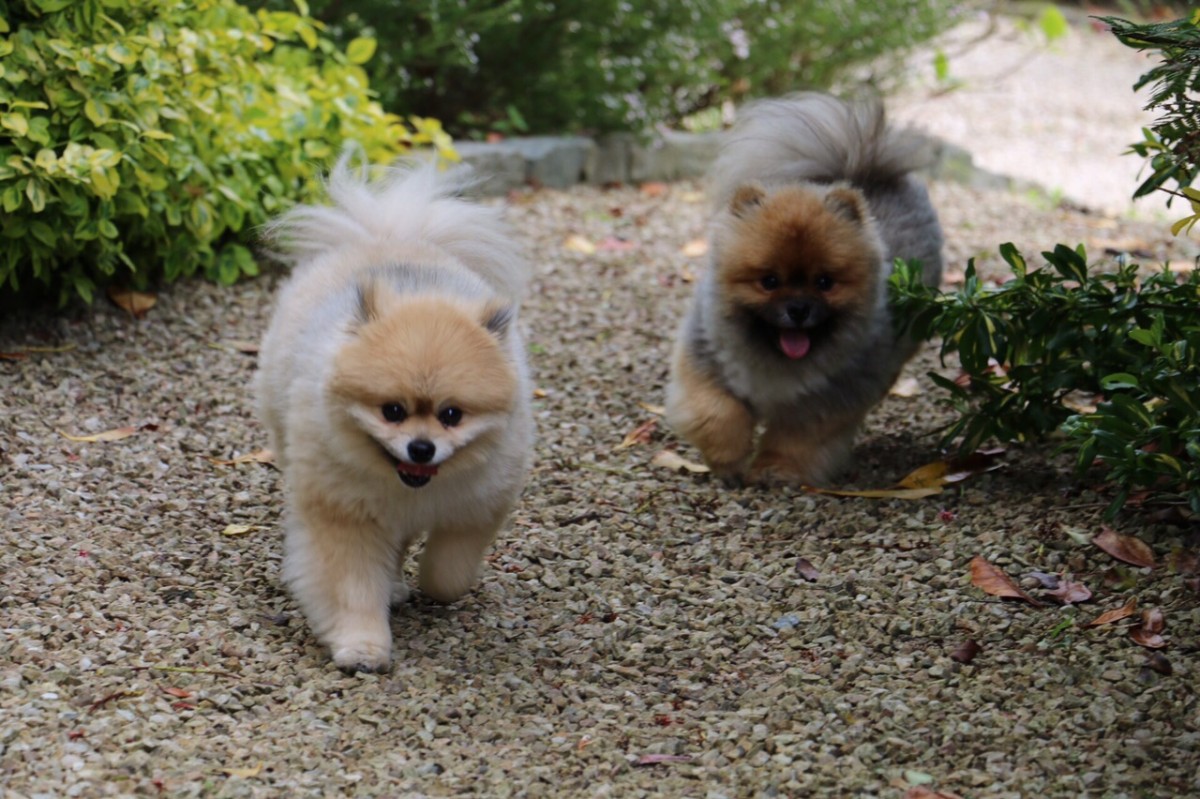 Enjoy the rest of your evening!
Rx