I always start to twitch when I go more than a day without blogging, so you can imagine how difficult it was to go for over two weeks!
But it was an incredible fortnight spent in The Seychelles in the Indian Ocean.
I had plenty of recipes prepared in advance for you and posts planned, but the wifi there was slow or non-existent and my laptop stopped working as it really didn't like being brought out from the air conditioning to the humidity. So I had no choice but to completely relax from the moment I stepped onto the plane!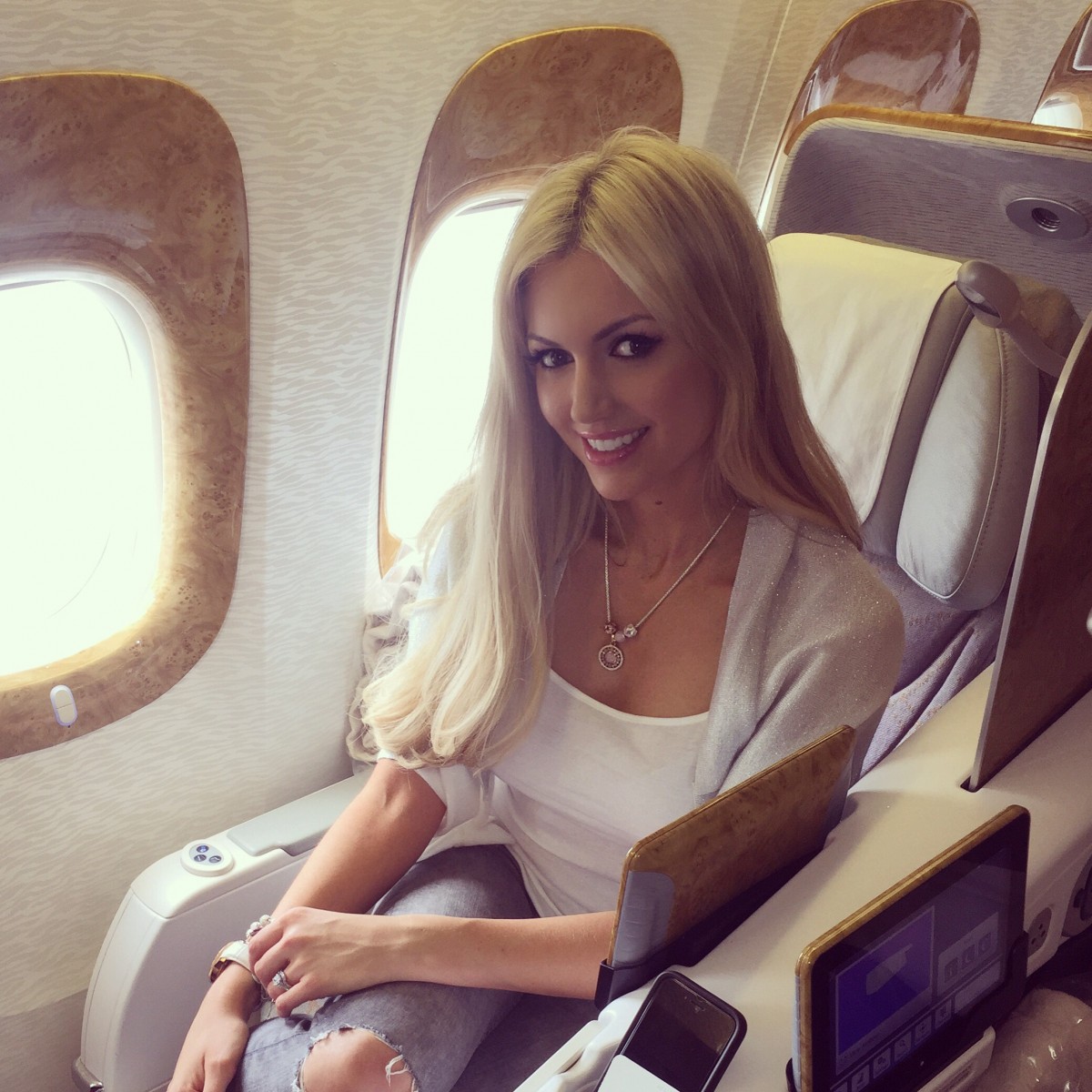 It was actually incredibly refreshing to be removed from technology for most of the day, and to totally take a break from work. It's been such a challenging and busy year with writing my book, setting up this site, travelling and working.
So I'm back home now feeling refreshed and raring to go, especially as I managed to get a few hours sleep on a makeshift bed during our 7-hour layover in Dubai airport 🙂
I had loads of questions about these white high-top wedge runners on social media. I bought them online from River Island (€70) and they're great for travelling as they're comfortable but add a little bit of height.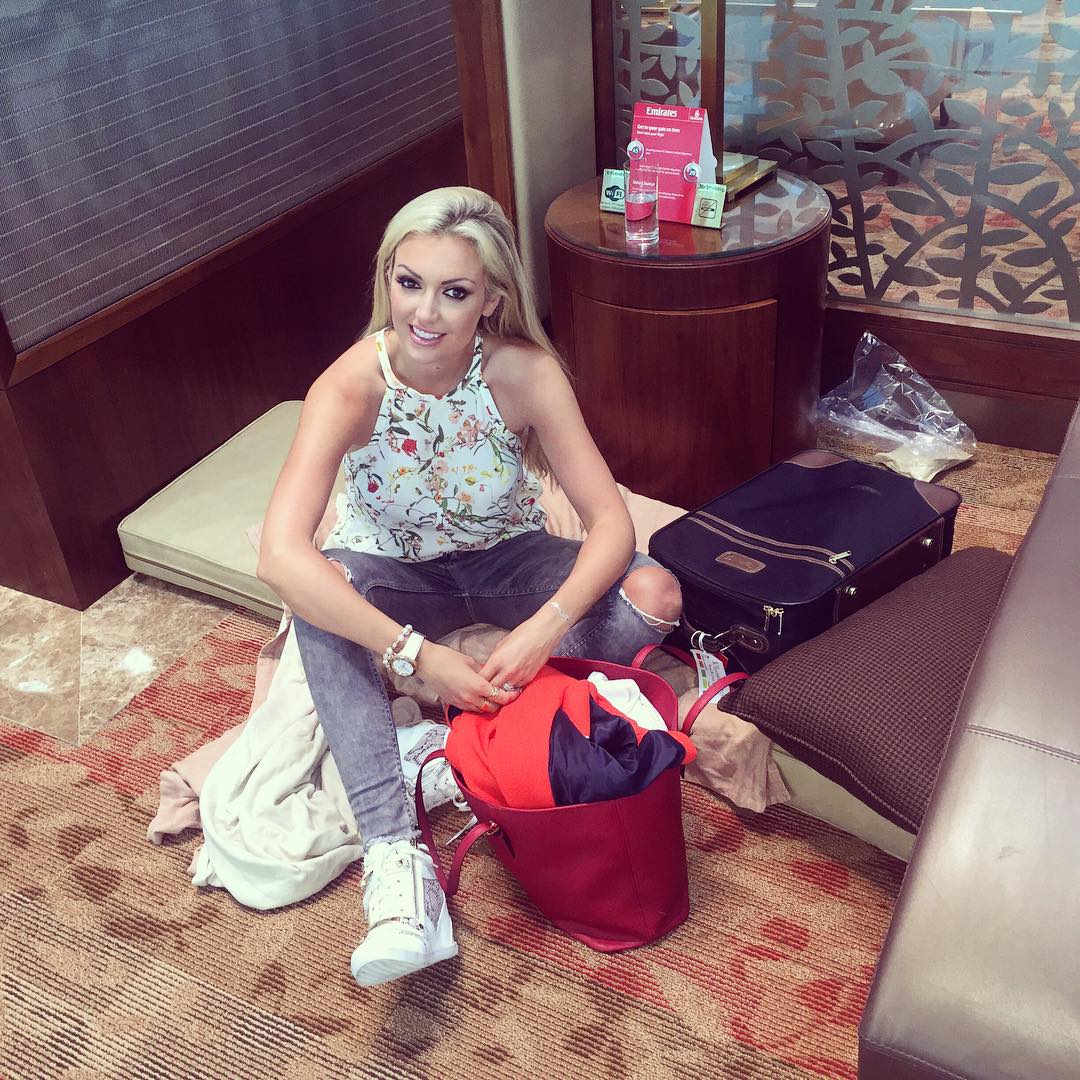 Though the inescapable jet lag means that we went to bed early last night and woke up early this morning, so I've already finished our unpacking and washing – definitely the least fun part of going on hols! We even made a trip to our local supermarket yesterday evening to stock up on fresh coconuts to help us feel like we're still lazing on a tropical beach 🙂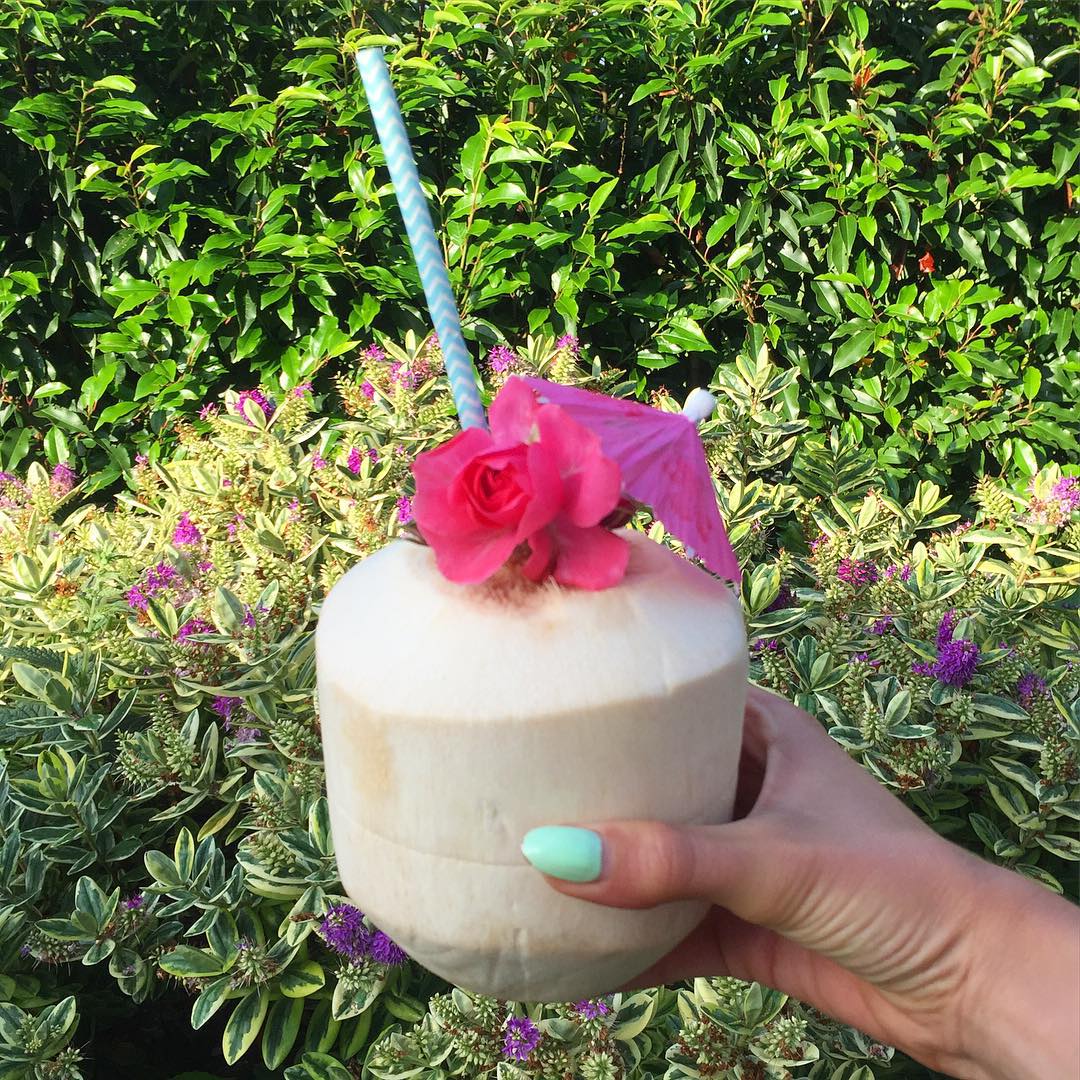 If ever you have the chance to visit The Seychelles, I couldn't recommend it more. This was our second time staying on Praslin, as my husband and I honeymooned there this time last year and loved it so much that we vowed to return as soon as we could.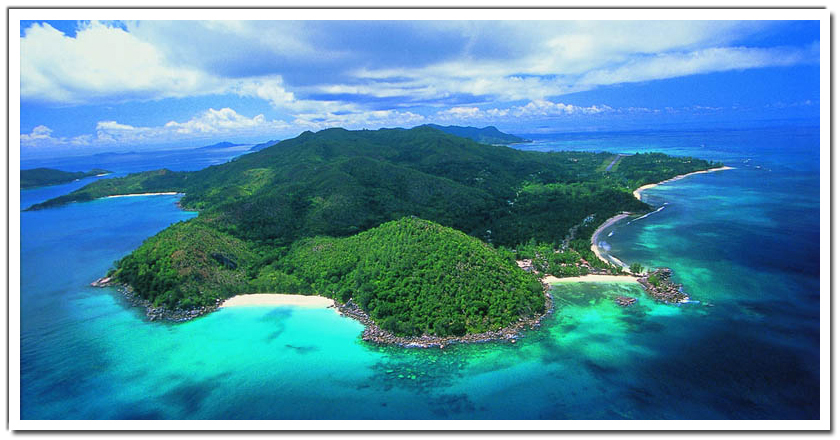 Praslin is the second biggest of the granitic islands of the Seychelles, and like last year, we chose to stay in the Constance Lemuria Hotel.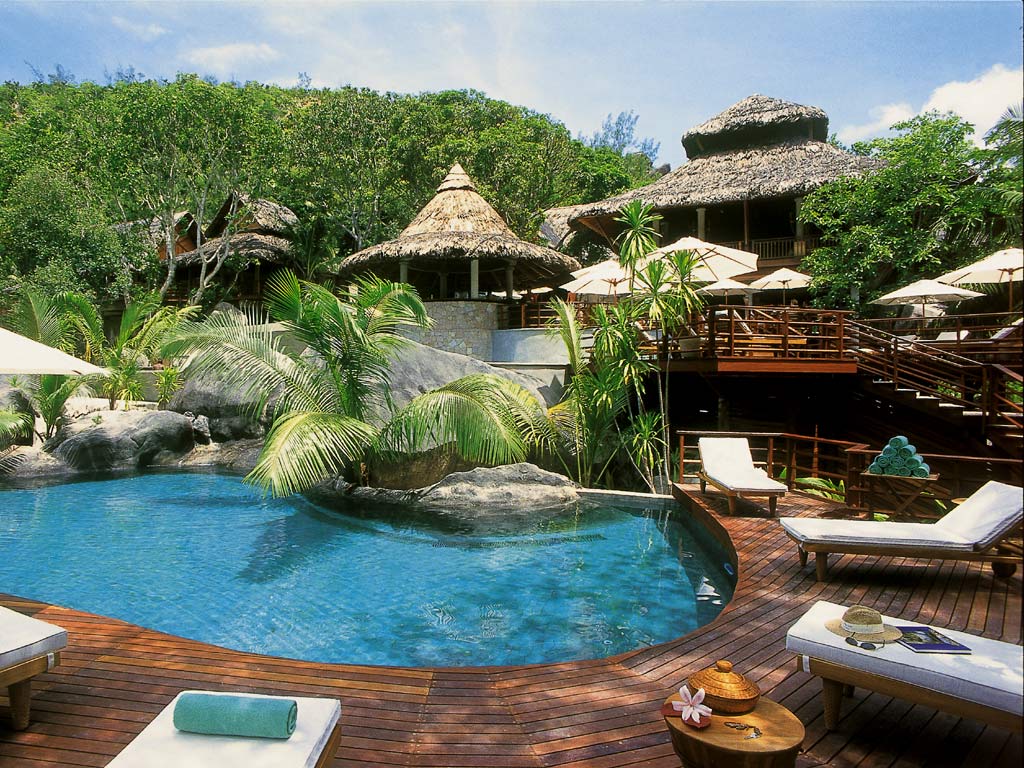 Environmental conservation is an important part of the Seychelles culture and the islands are pristine. You will not find a single piece of litter anywhere!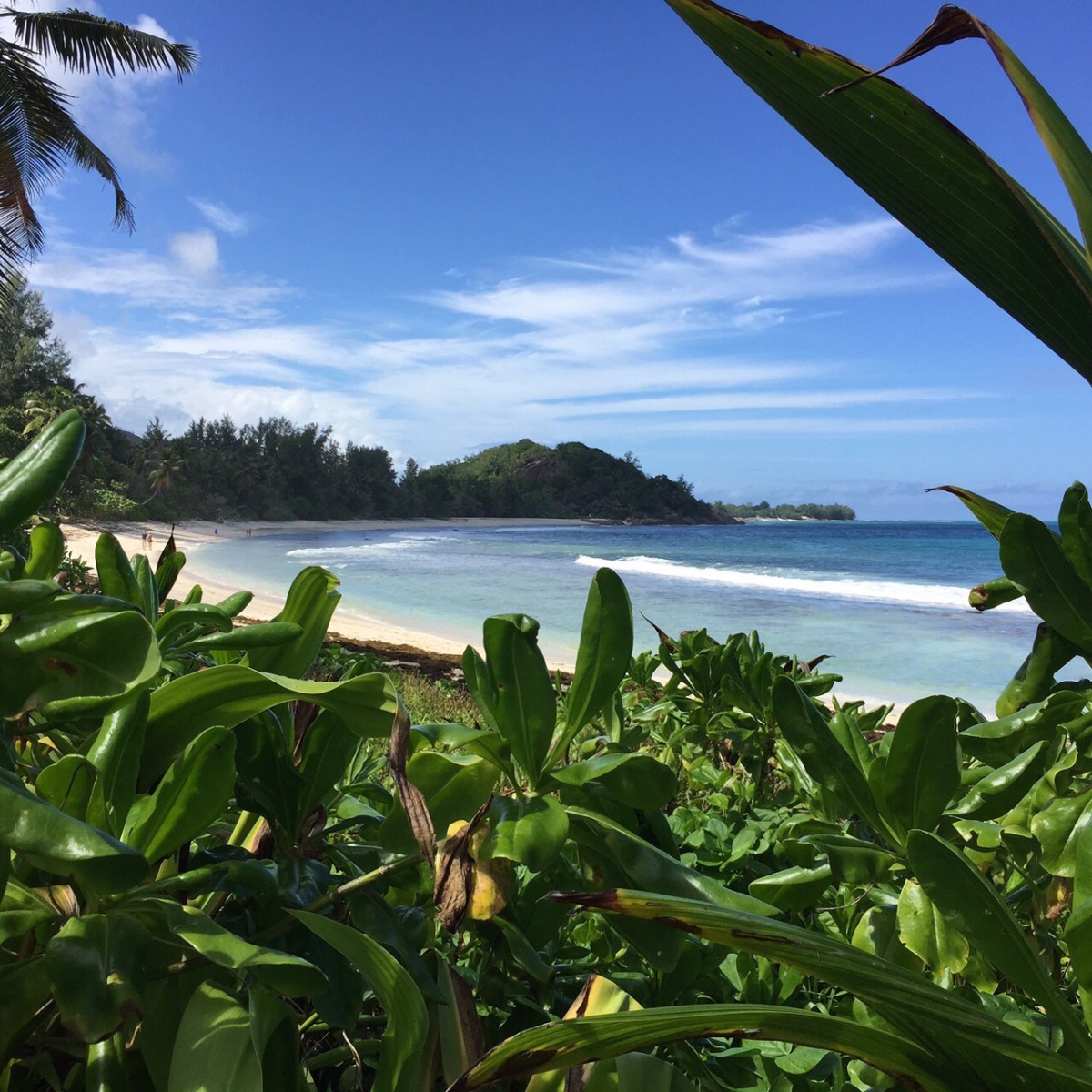 Our resort felt like the island in Jurassic Park, thick with vegetation and very much untouched. In fact, the beach in front of our villa hosts a large number of nesting sea turtles each year between October and March. They come onto the beach to lay their eggs, and this means that the beach has to stay as natural as possible. We adore this aspect of the island!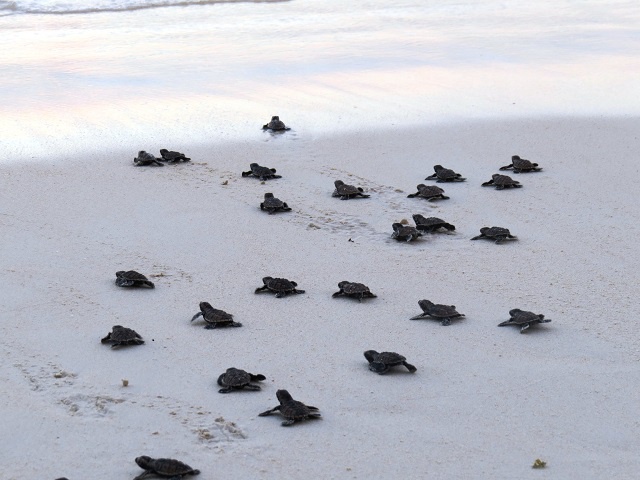 I would always choose nature and a beach or countryside break over a city break, so there was nothing better than waking up in front of the beach and having acres of land to explore – mostly by bike. We used to cycle to breakfast every morning, I loved the freedom of it!
My dress here was bought from local shop (for about €10 :)) but these pale pink chunky shades are just €17.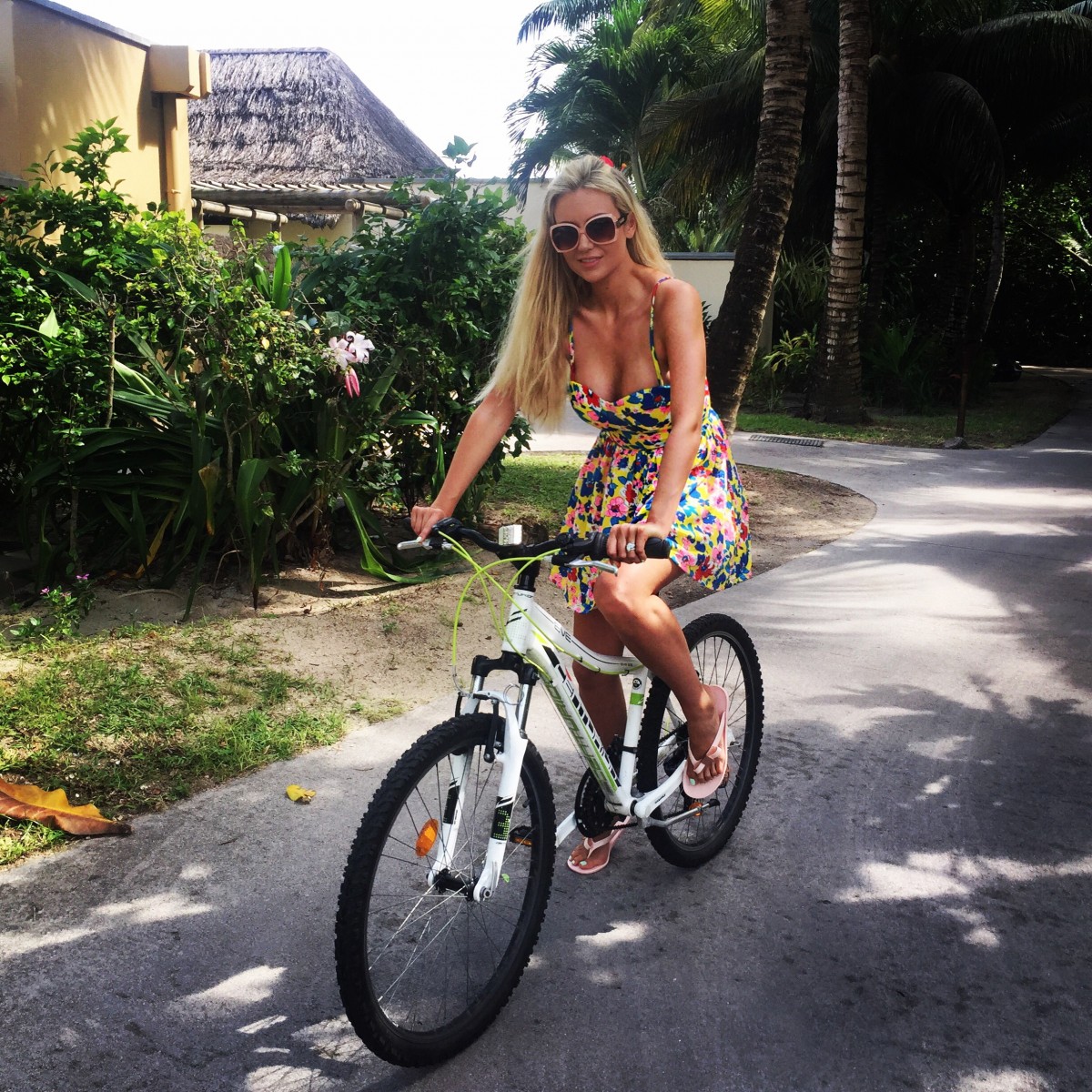 It's a pretty long journey there, with a 7-hour flight to Dubai, a 4-hour flight to Mahe island and then a short 15-minute flight to Praslin. But settle down with a few good movies and snacks, and the time goes surprisingly quickly. I always bring a bag of nuts, seeds and coconut flakes to keep me going on long journeys, but the food on our flights was pretty good and I remembered to pre-order a veggie meal 🙂
The last flight on this small prop plane was great fun, and gives a gorgeous view of the islands and turquoise sea from the sky.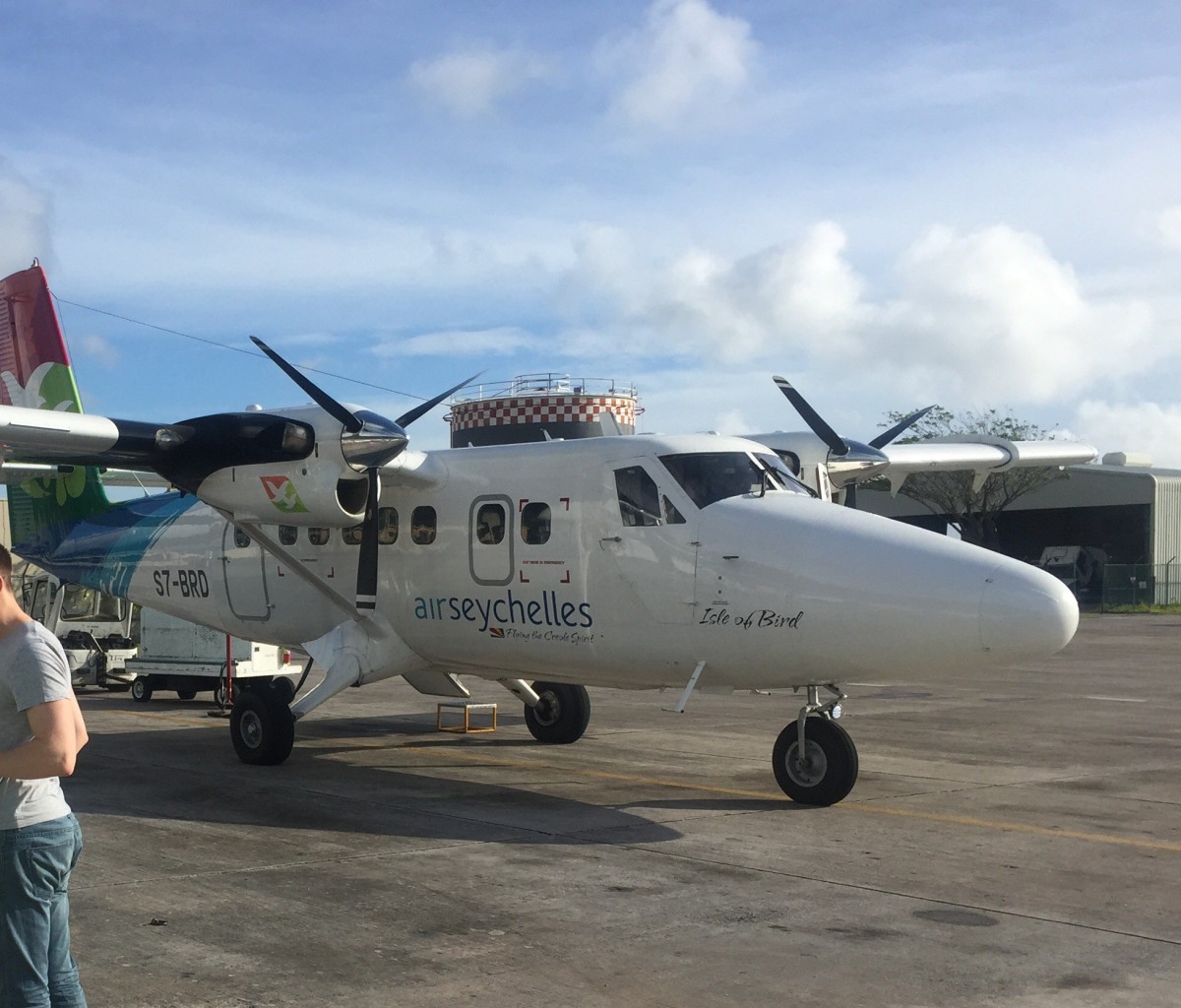 The Air Seychelles plane was sturdy and modern, and we sat right up behind the pilots. I wouldn't love to fly on it in windy weather though, as it's a light aircraft but we got a clear, still morning for it.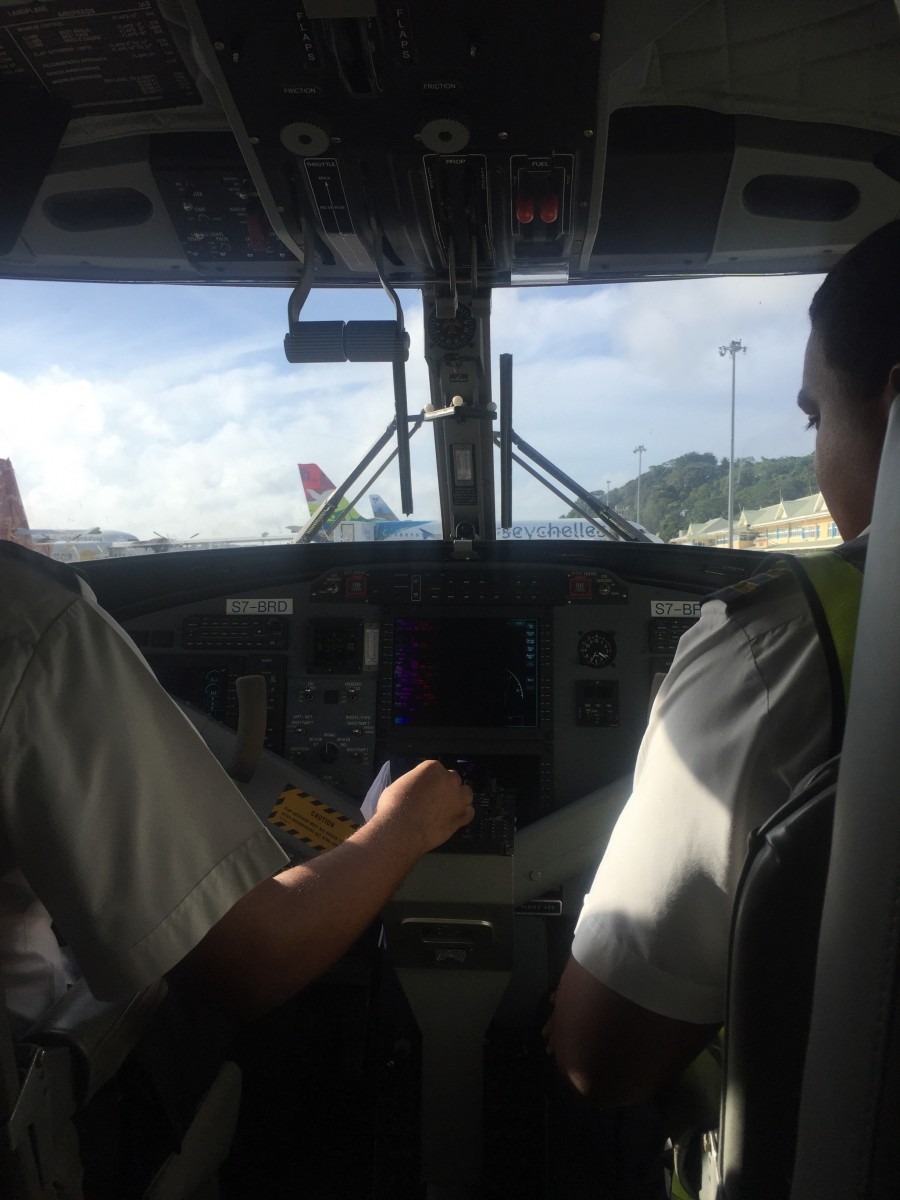 Arrival at our hotel made the long trip totally worthwhile! We were surprised with an upgrade to the presidential villa, and enjoyed this gorgeous view from our bedroom every morning 🙂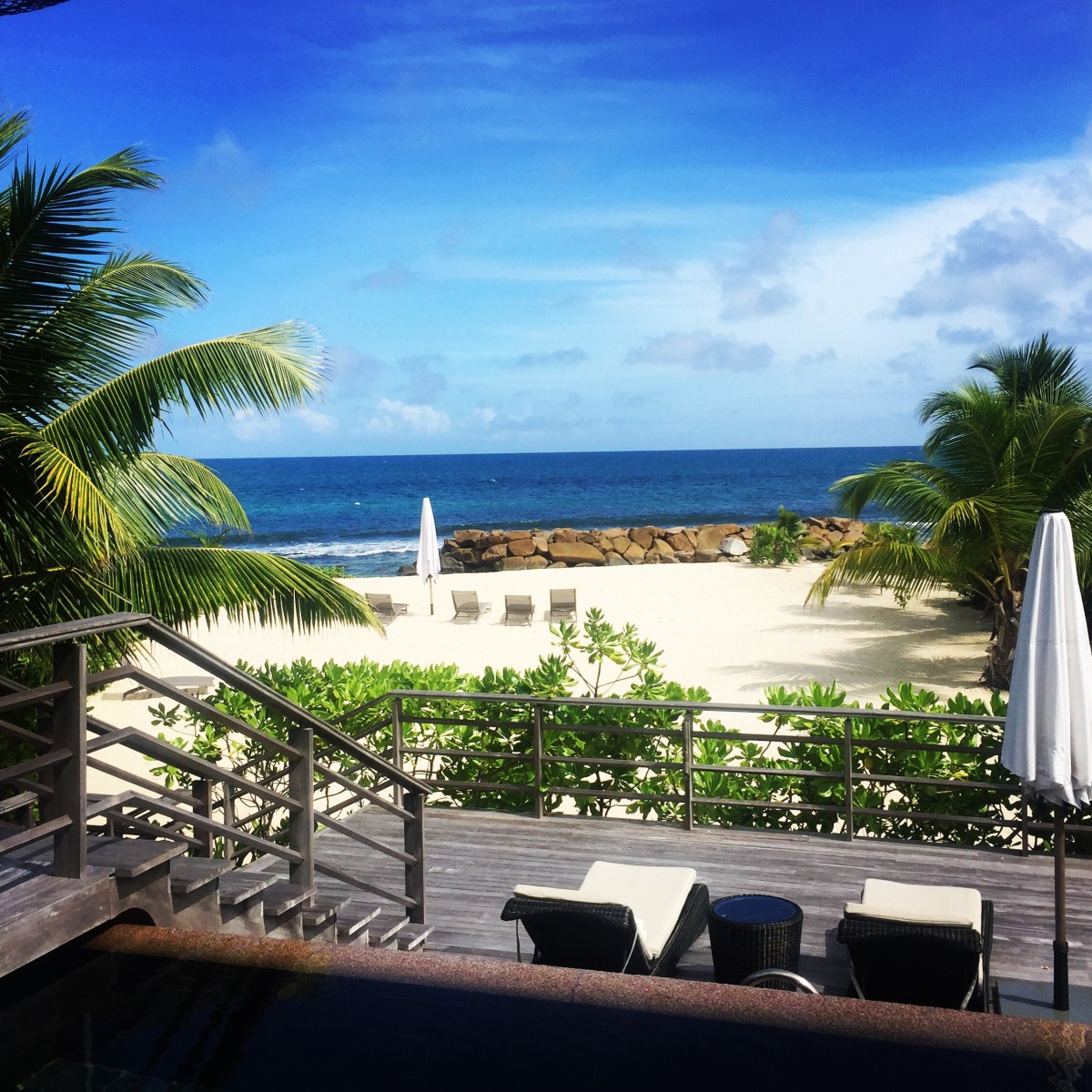 As the resort faces west, we were treated each evening to incredible sunsets….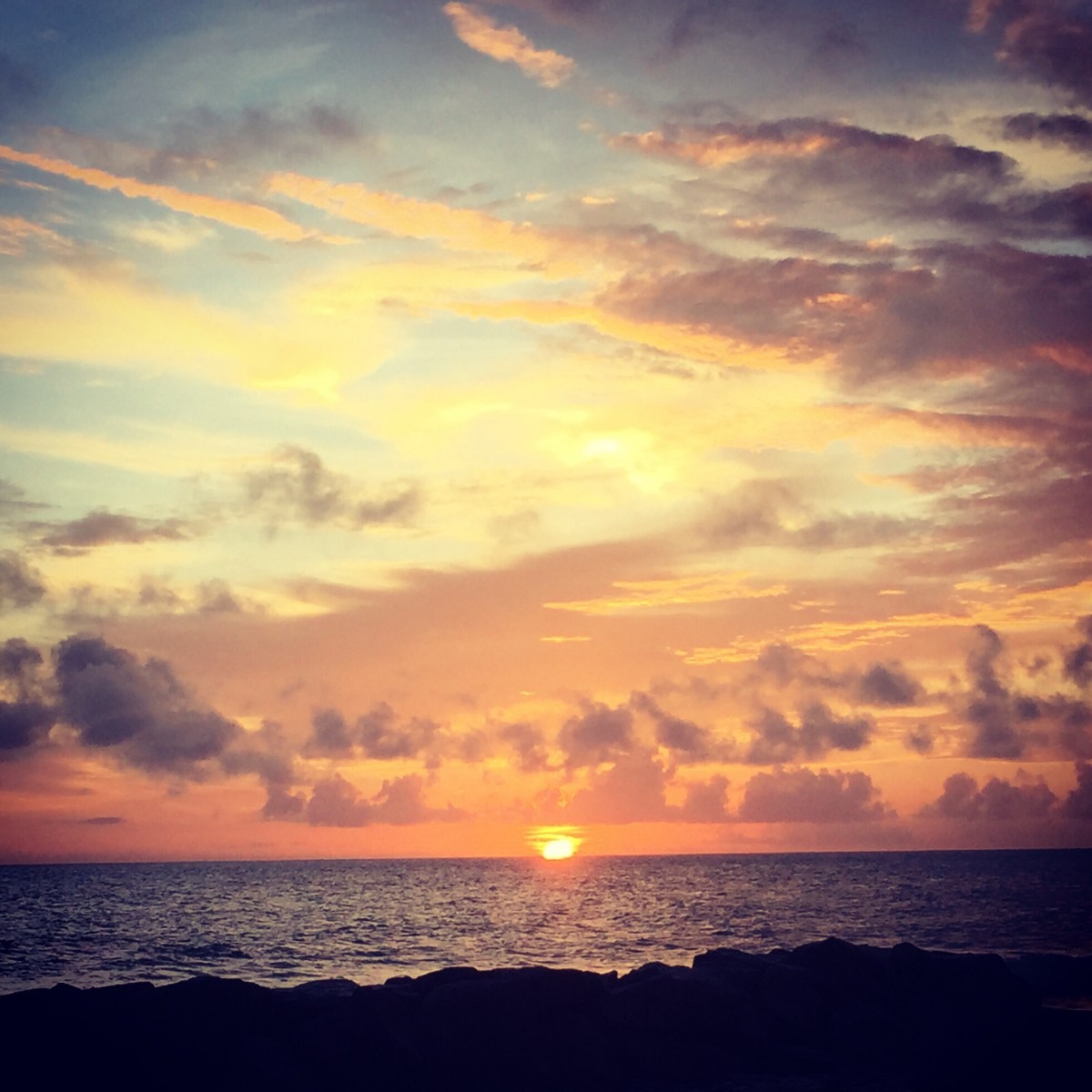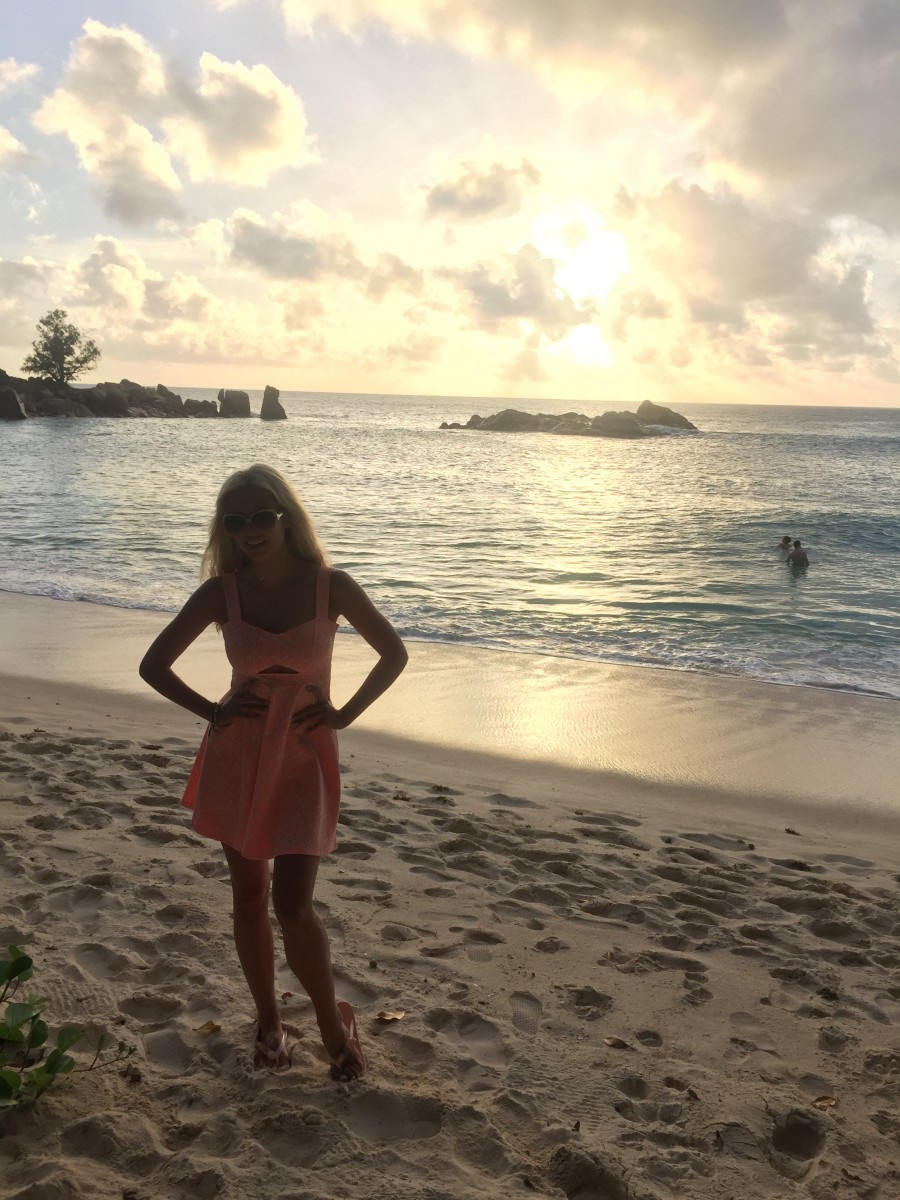 And we made it a daily ritual to enjoy a sundowner cocktail at 6pm each evening at the Takamaka beach bar to enjoy the golds, oranges, pinks and reds of the sky.
Once or twice the evening ended with a dance to the band or DJ in the bar! Though this isn't the place to go if you're after wild nightlife, as it's mostly young families and honeymooning couples. We went to bed early most nights, exhausted from the day's fresh air and exercise. But I do love an occasional crazy dance, no matter how bad and embarrassing I am!
I bought this dress for our honeymoon last year and brought it again because it's light and easy to pack, but there are loads of similar off-the-shoulder styles around this season, such as this striking red number (€75).
On one of our first nights, the hotel threw a Creole-themed buffet dinner, which moved on to some traditional dancing with professional Sega dancers. That was great fun and we learnt a few new moves!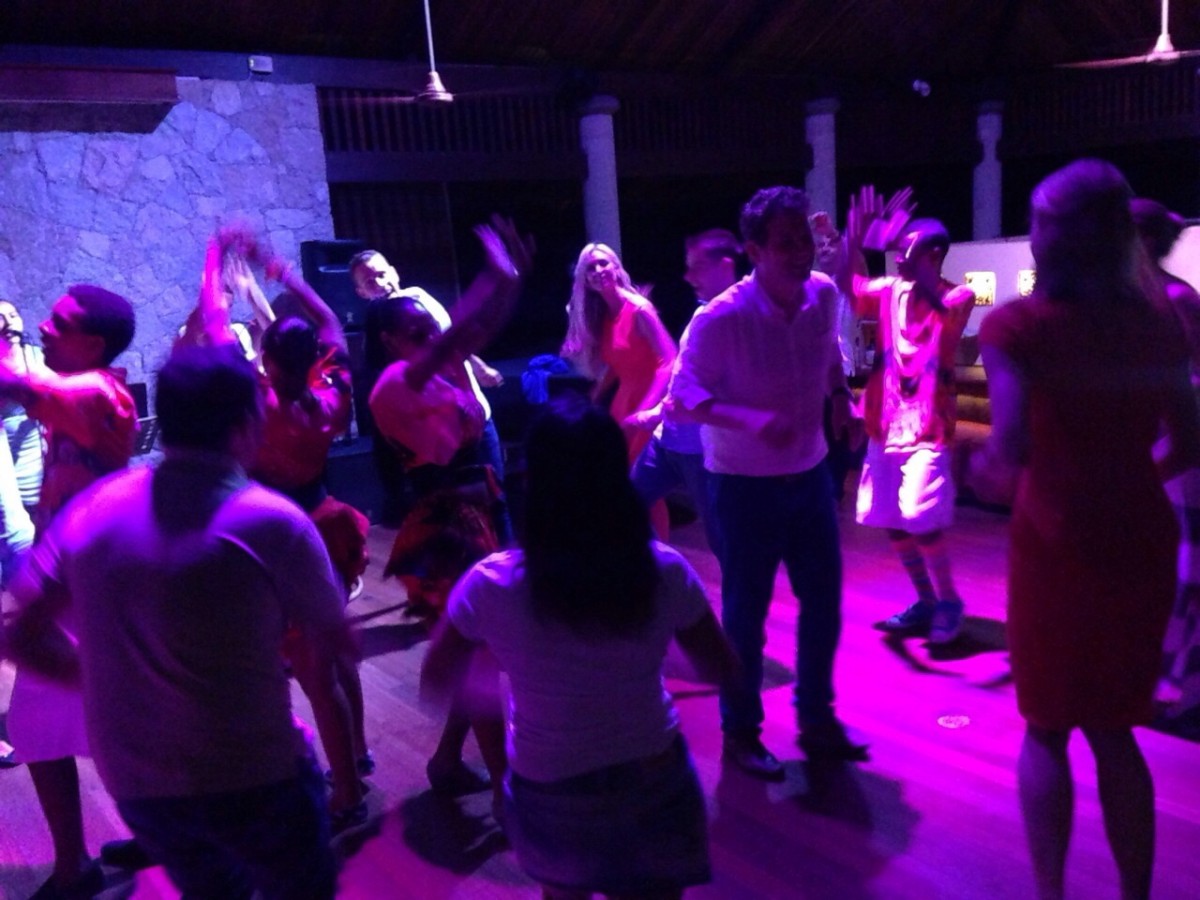 One of the best things abut going on holiday is looking forward to eating lots of fresh, local food. And we weren't disappointed by the huge buffets everyday! I find that I have little self-control with portion sizes at buffets, so I made an effort to really fill up on plenty of fresh salads and veggies, plus tropical fruit and fresh coconut meat at breakfast.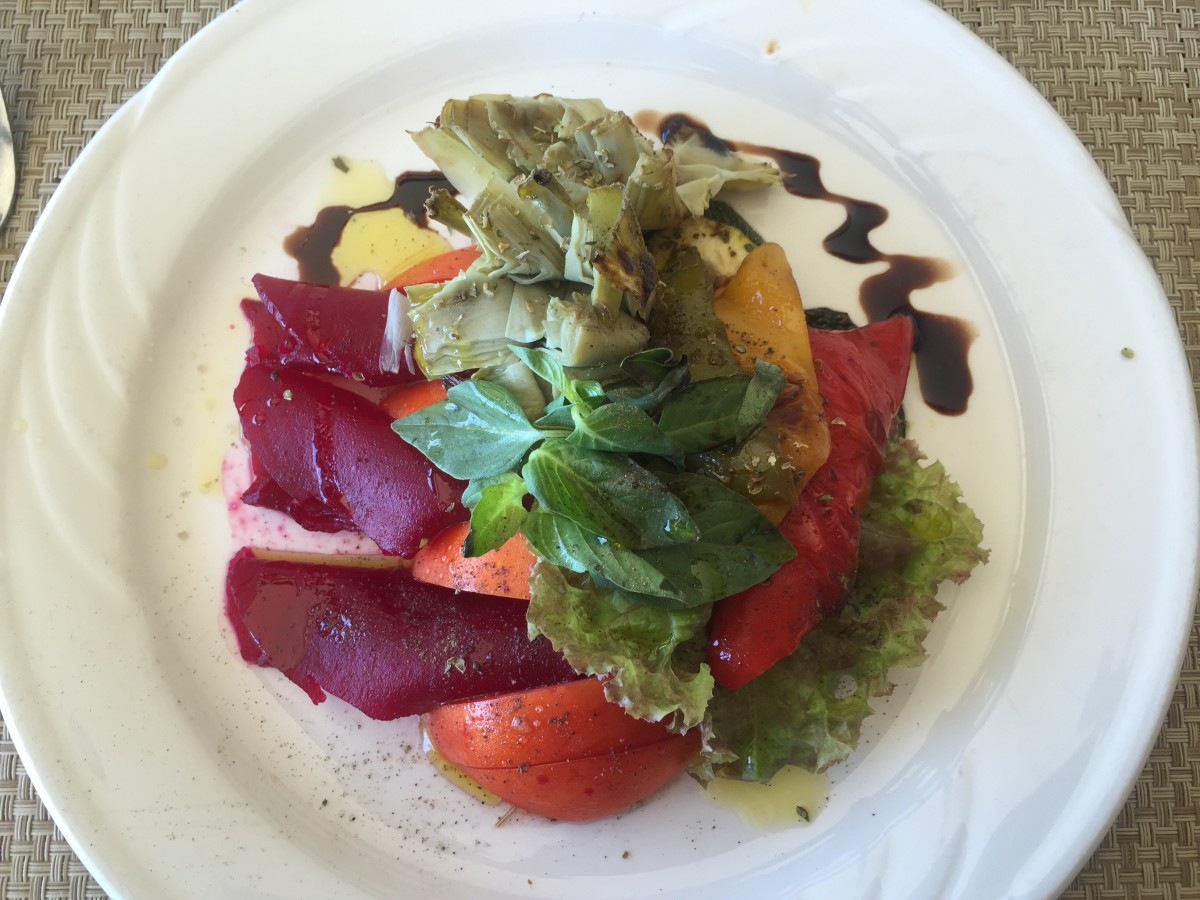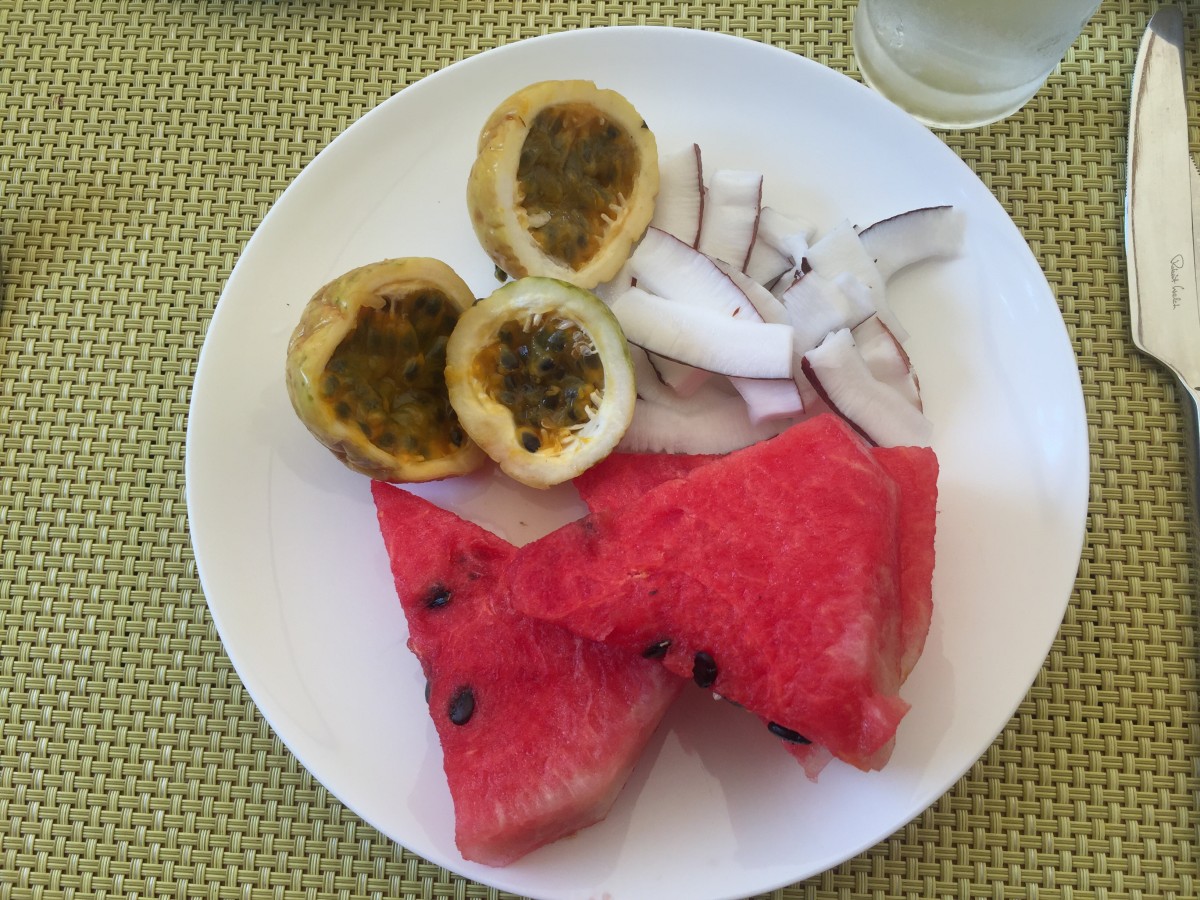 Of course we had to sample some of the delicious desserts, made vegan for me 🙂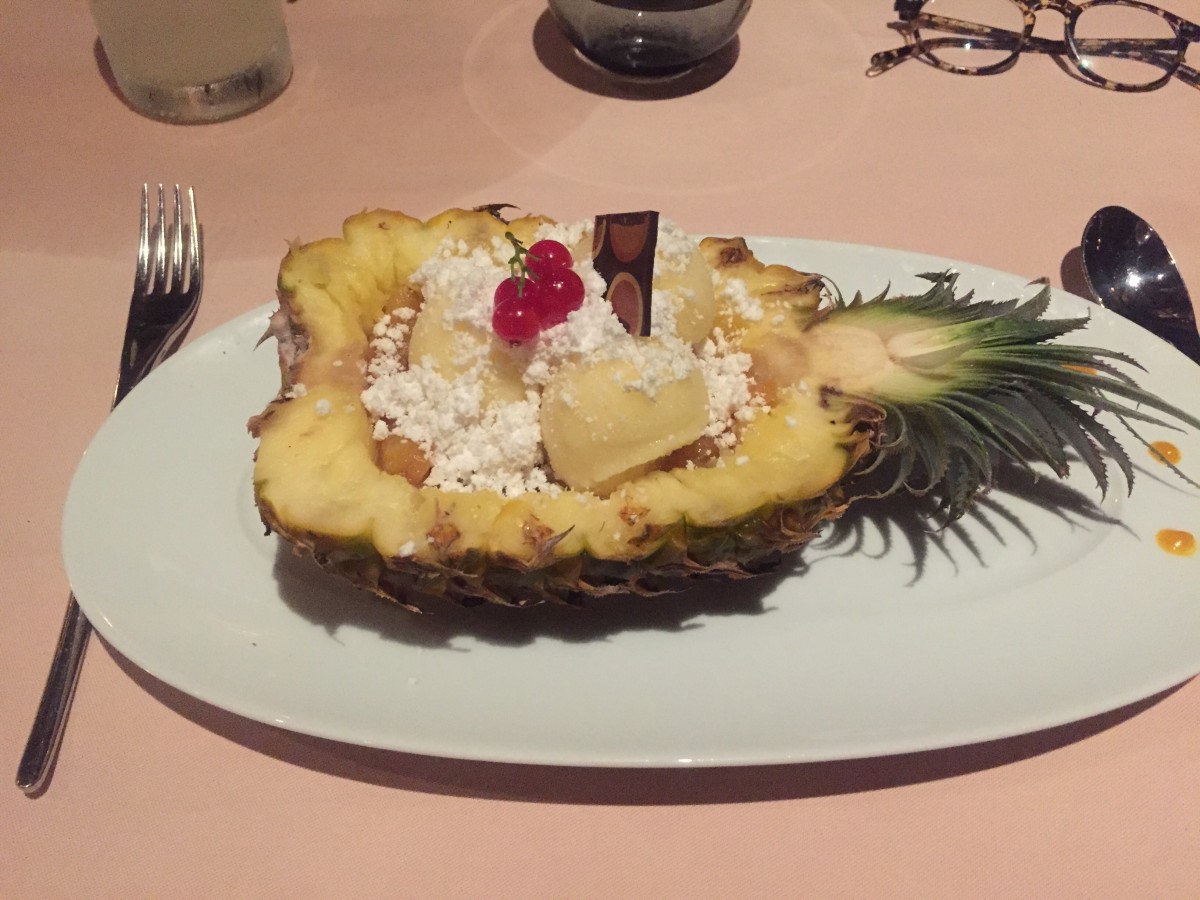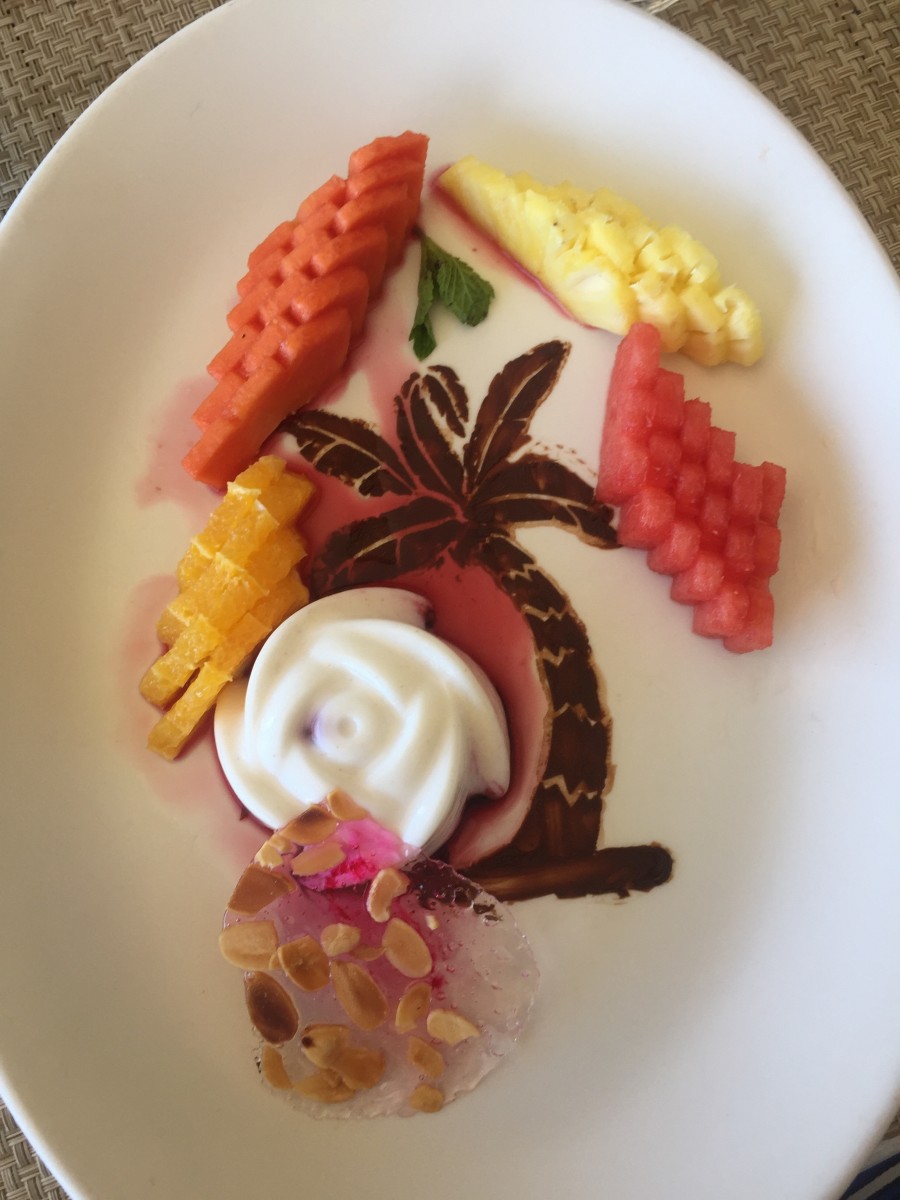 I don't drink wine because I'm sensitive to the yeast in it and it makes me very bloated as a result, but I did enjoy vodka with soda water and fresh lemon juice and we treated ourselves to Champagne one of the days too. Although we didn't generally stay up very late, a pre-dinner sunset cocktail was a lovely holiday treat!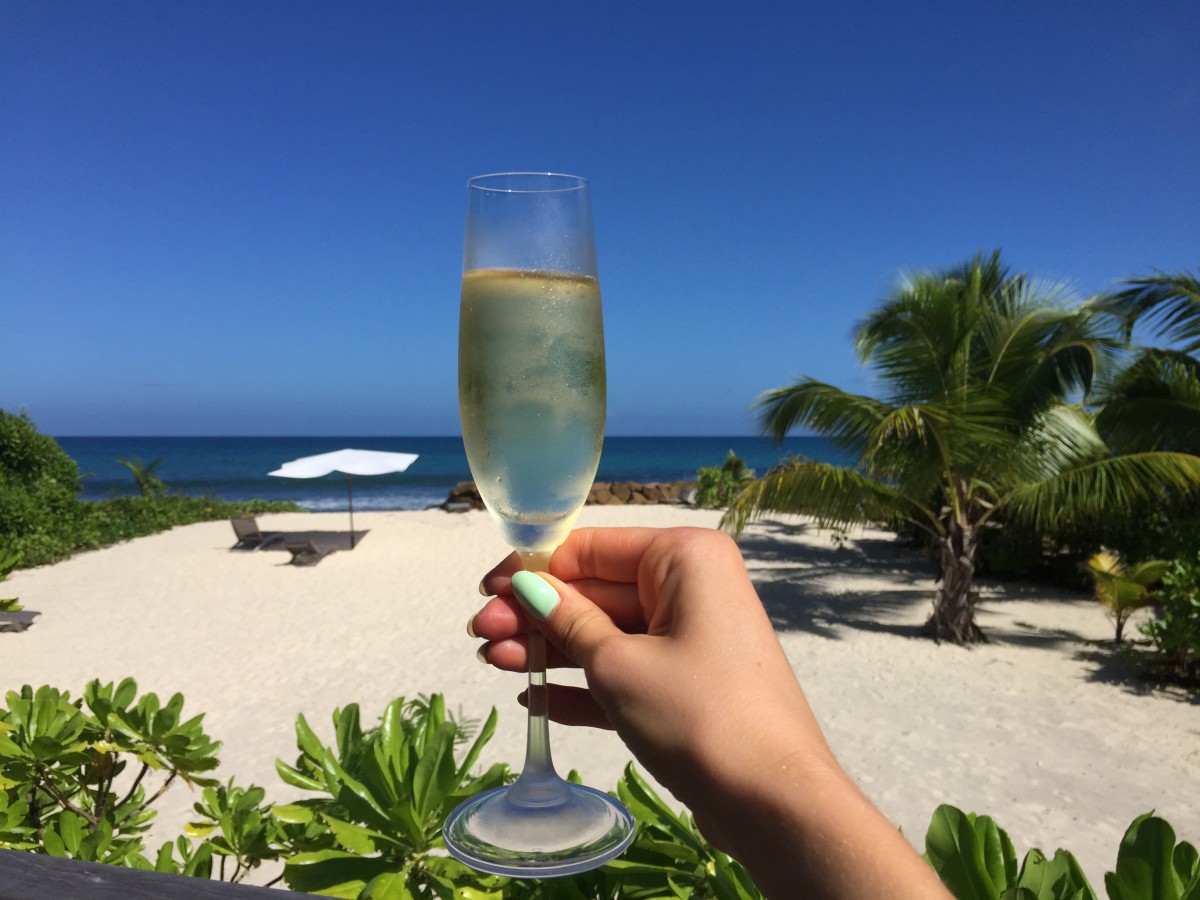 My minty green Gelish nails in 'Do You Harajuku' were done by Michele Burke, and were perfect for the sunny climate. I brought along a few sheets of instant tattoos from Inkspo. They're ideal for holidays and festivals, and wear off by themselves after a few days.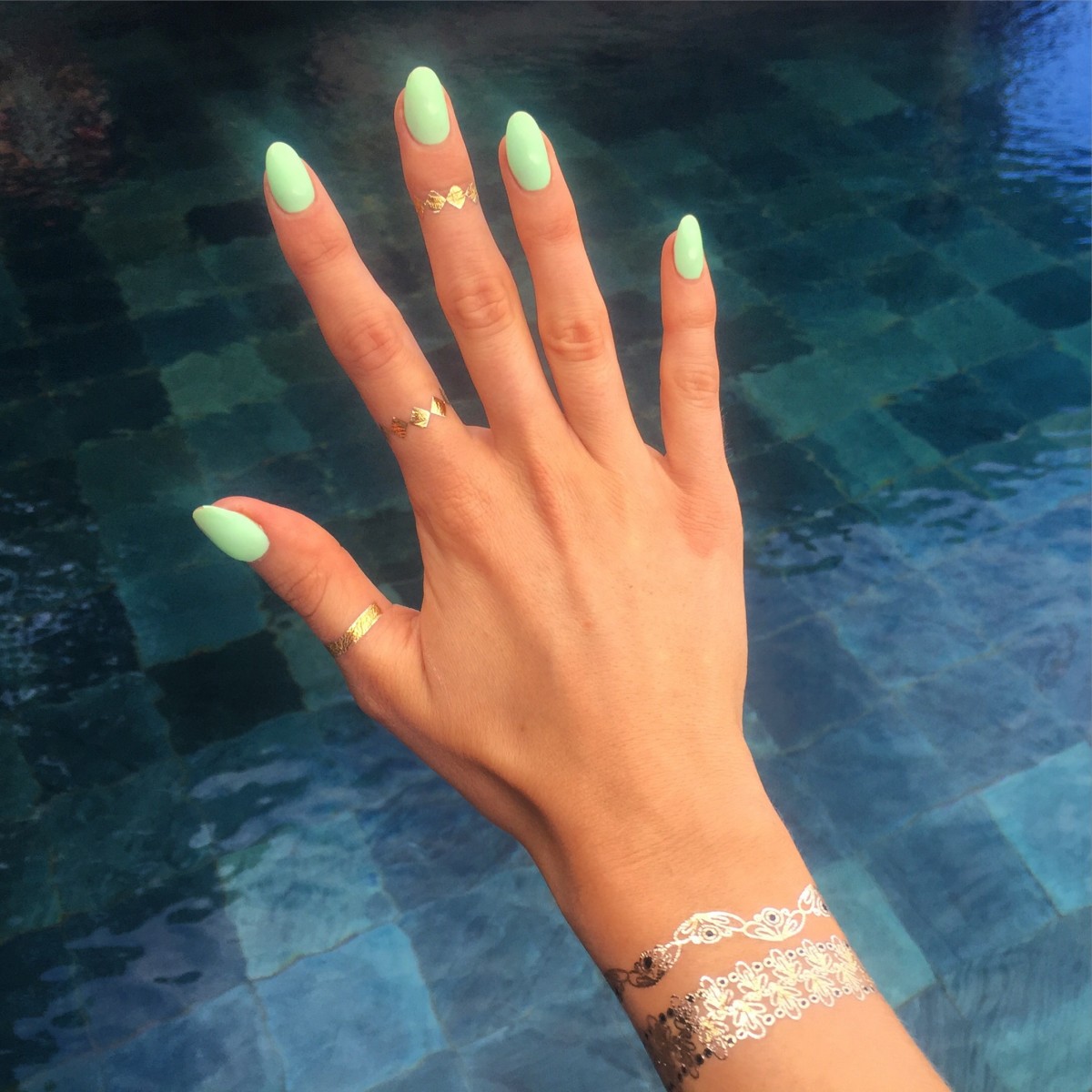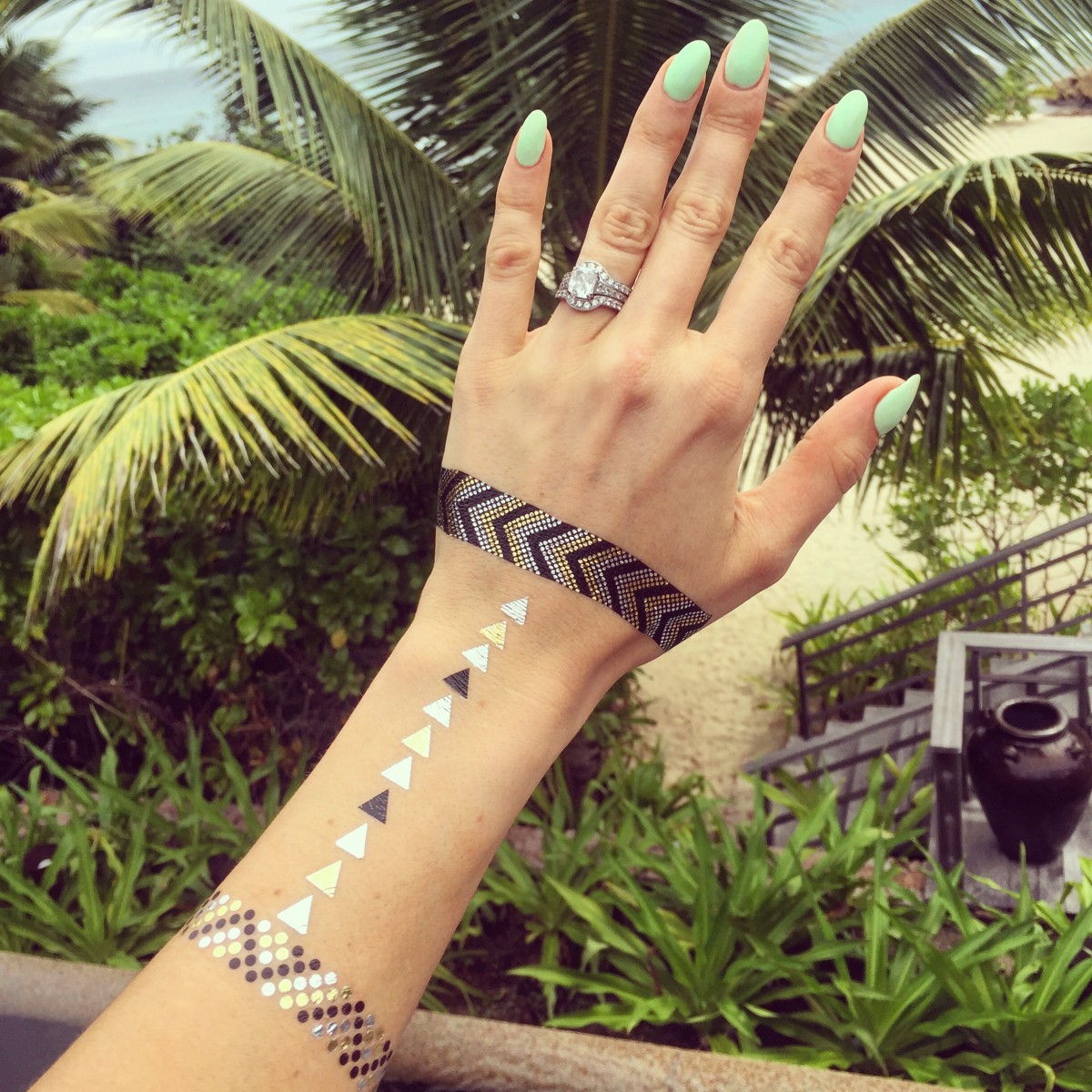 This one on my foot lasted for almost a week and looked great in flip-flops and these super comfy grey faux-snakeskin espadrilles (€32).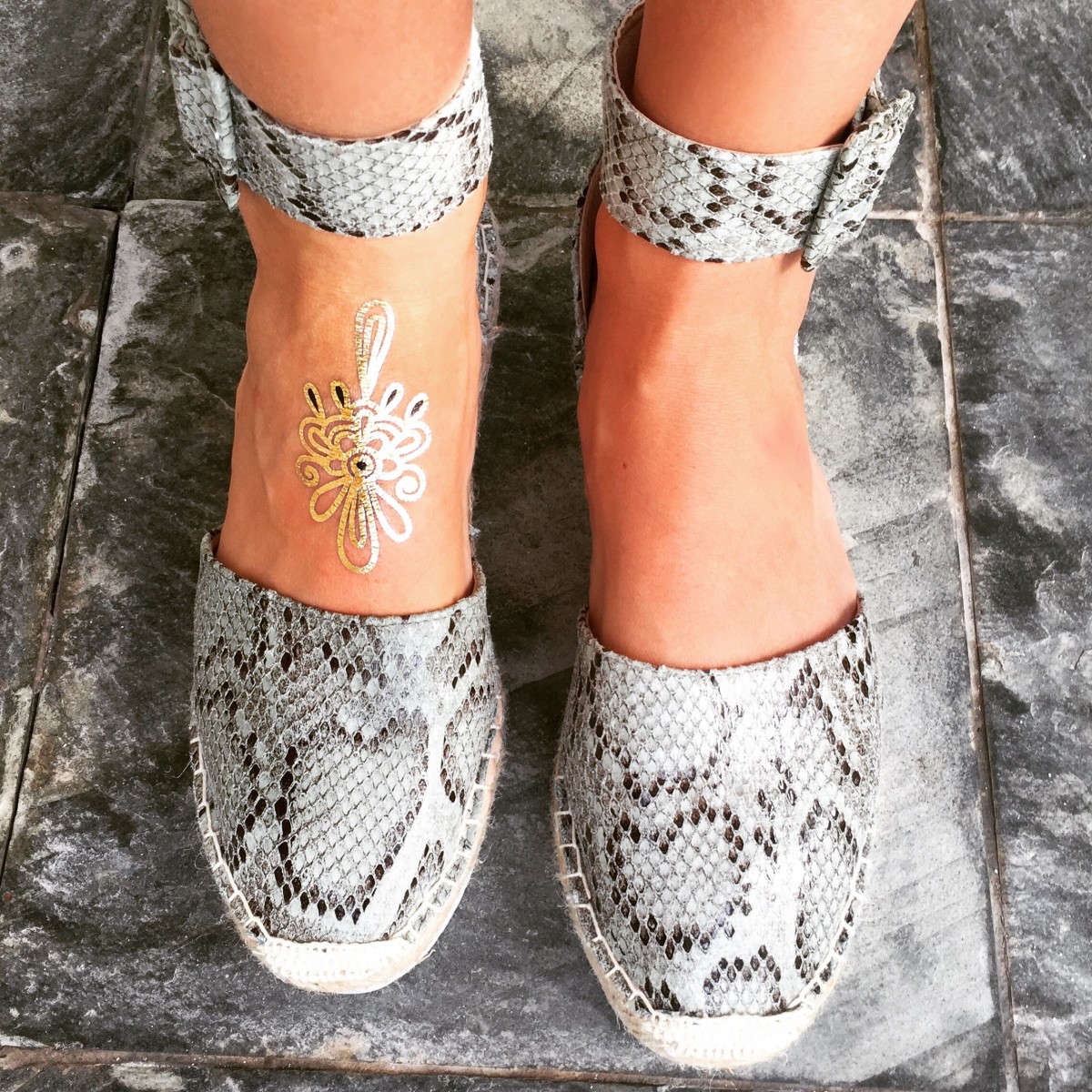 I always buy a few big hats for holidays to wear whenever I'm outdoors in the strong sunshine and I love this black straw oversized sun hat (€33), worn here at the beach bar with black cat-eye sunglasses (€17).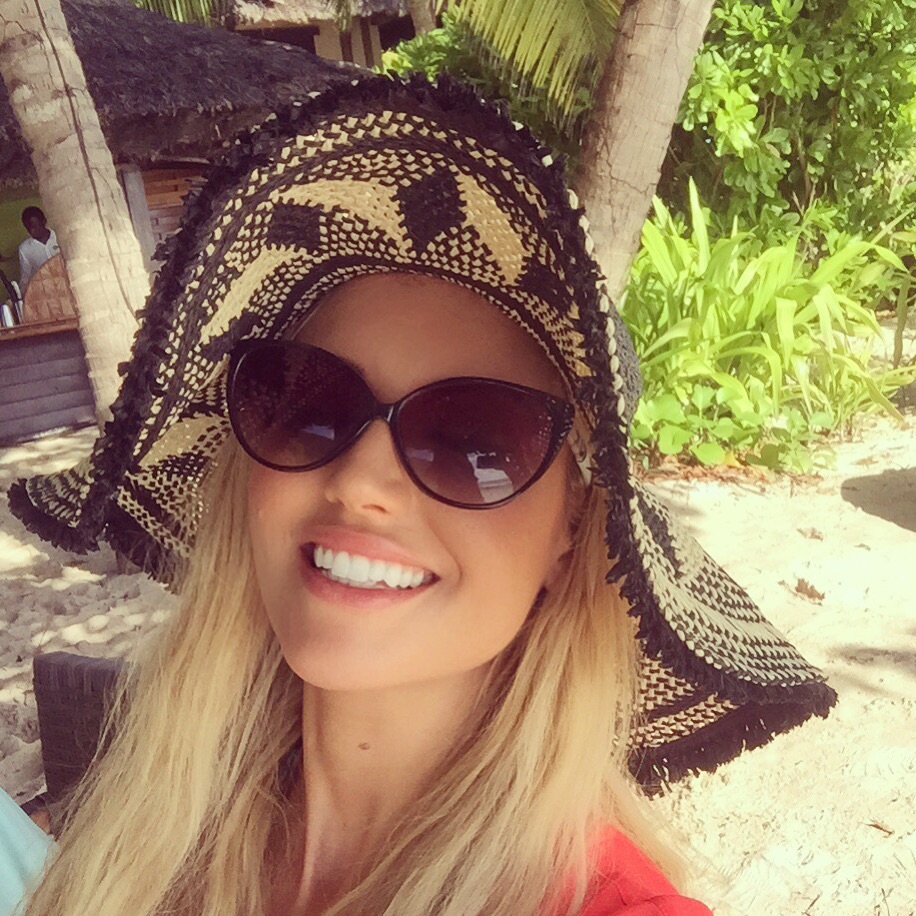 The evenings there were pretty casual, and I mostly wore floaty summery dresses and sandals or wedges. I didn't even bring a pair of heels!
The dressiest I got was this white 'wild willow' dress from Starla (€130), which I wore for a beach cocktail party…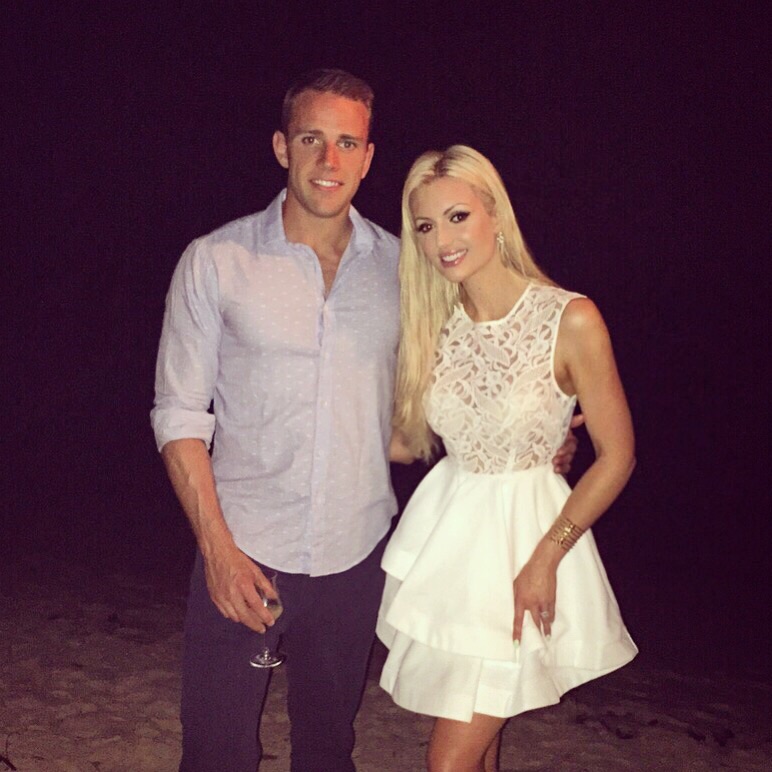 And this navy 'cruel intentions' dress (€95) for a dinner at the resort's Seahorse restaurant.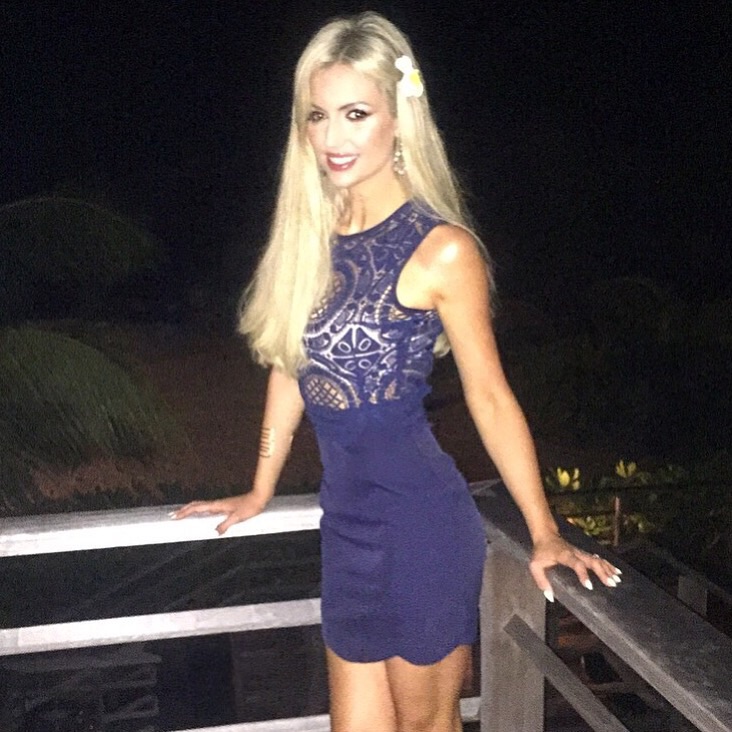 Daytime was all about floaty kaftans, light floral dresses and playsuits. It was too hot for anything else!
This floral playsuit is a similar style to my version and just €26 🙂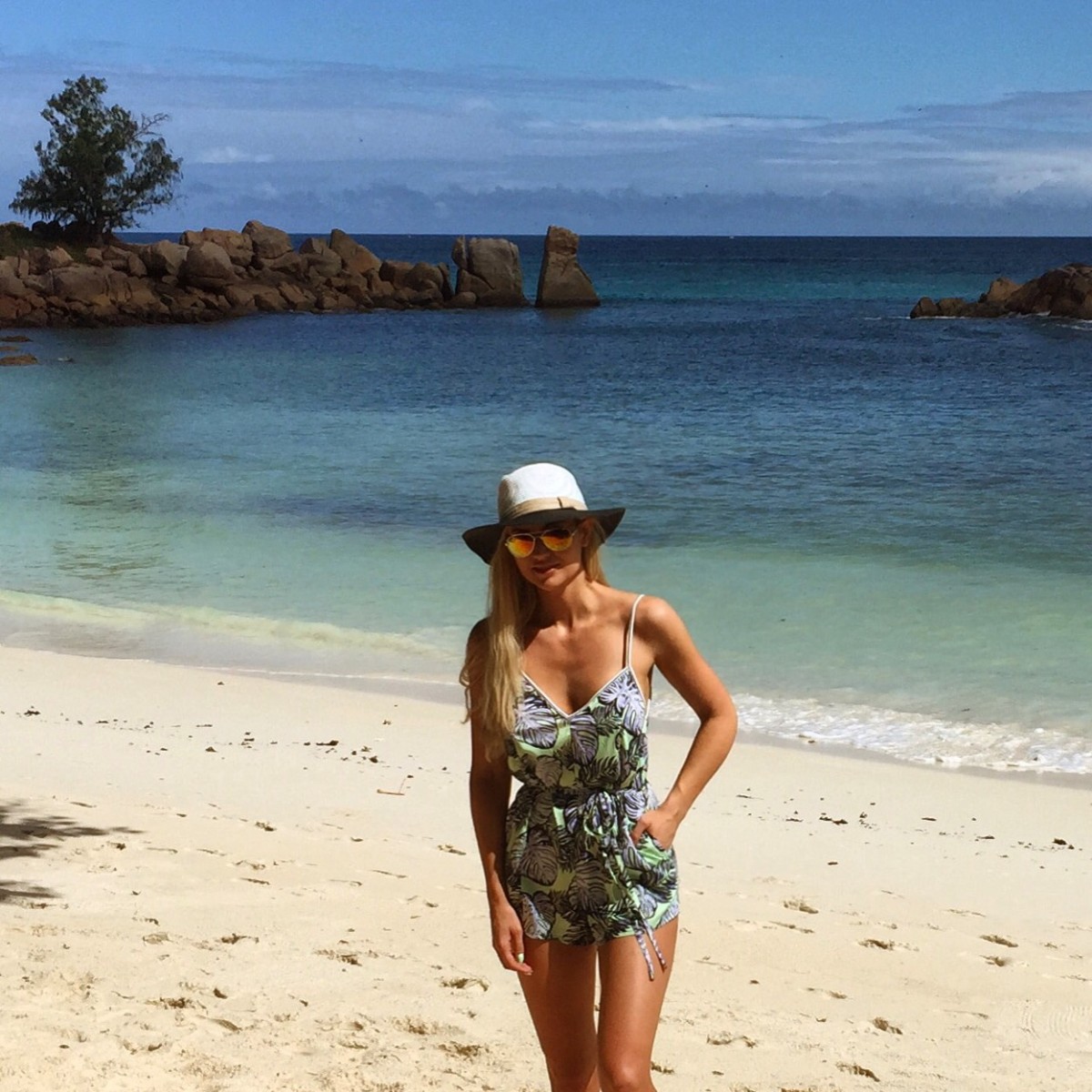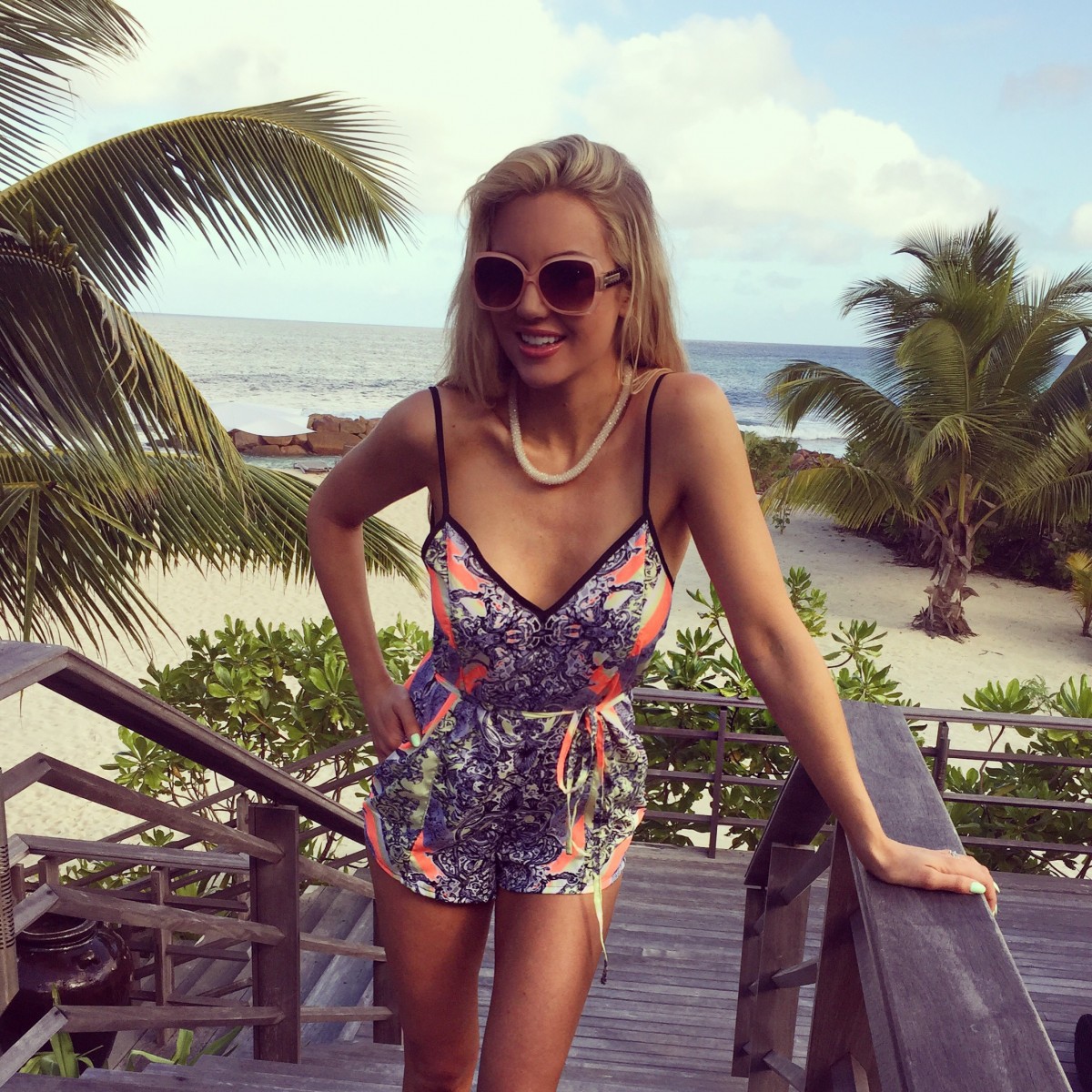 I had plenty of fun with colourful accessories, like these gold tone aviator sunglasses (€13) and cream floral hair garland (€10), both perfect for summertime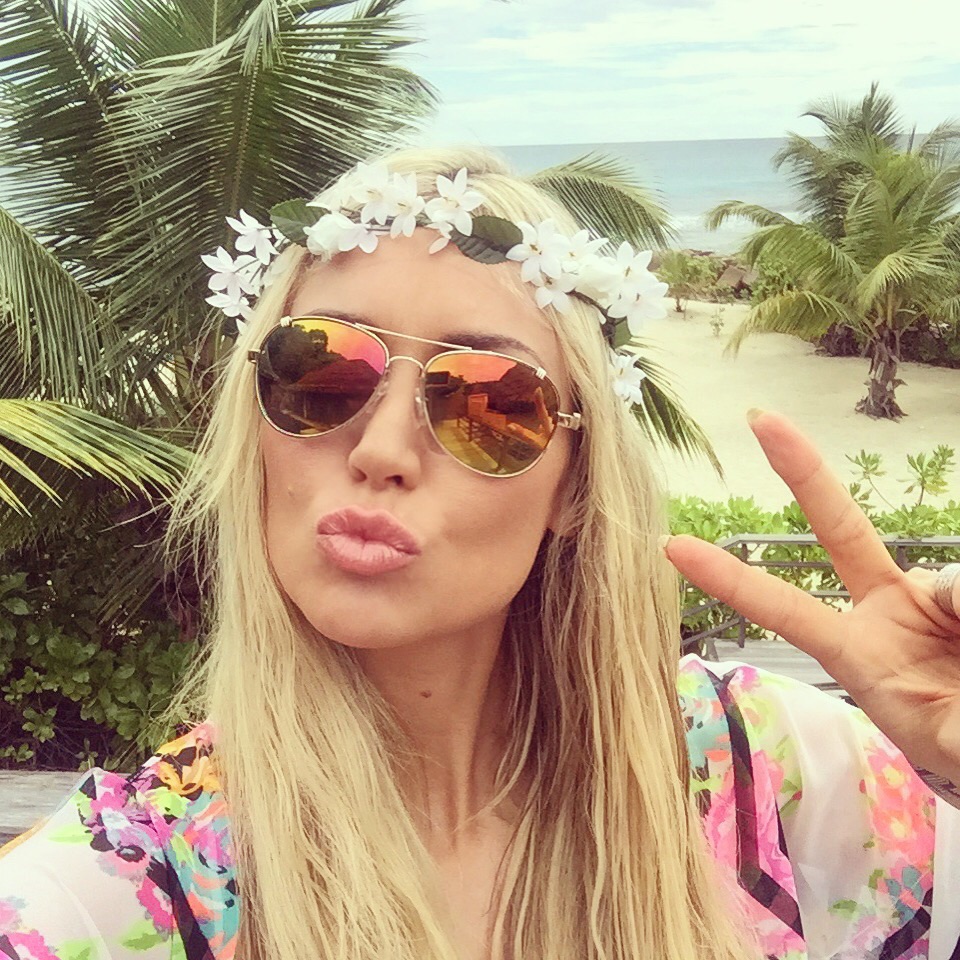 I probably spent 70% of my time there in nothing more than a bikini, hopping in and out of the pool and sea to cool down! I brought about ten bikinis with me, including this black Lipsy one, which is now on sale on ASOS – €14.38 for the top, which you could easily match with a pair of black bikini bottoms. Go go go!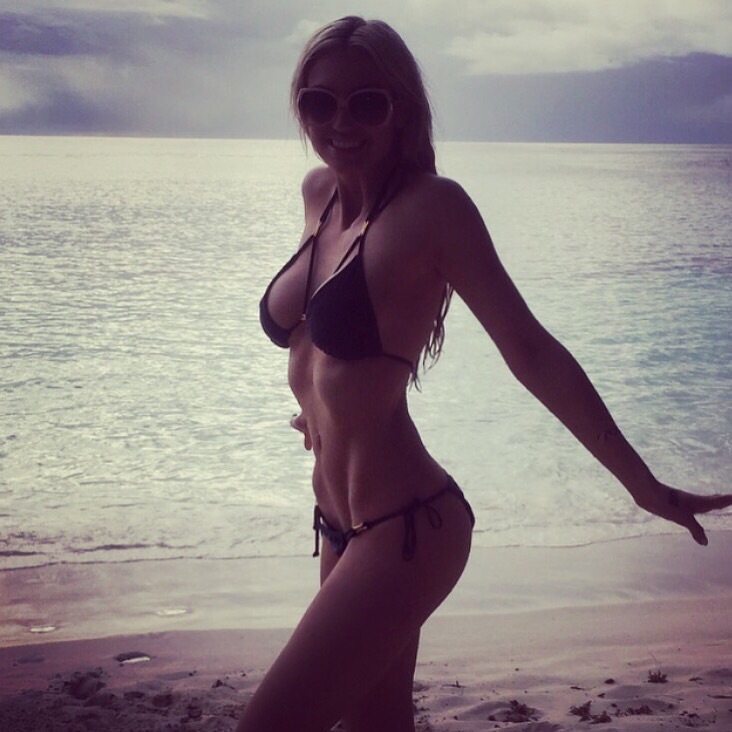 I ordered this colourful rainbow Bahamas bikini from Boohoo (€27) a few weeks before I went away and ended up wearing it loads. It has a comfy padded top and I love bikini bottoms with tie sides that can be easily adjusted.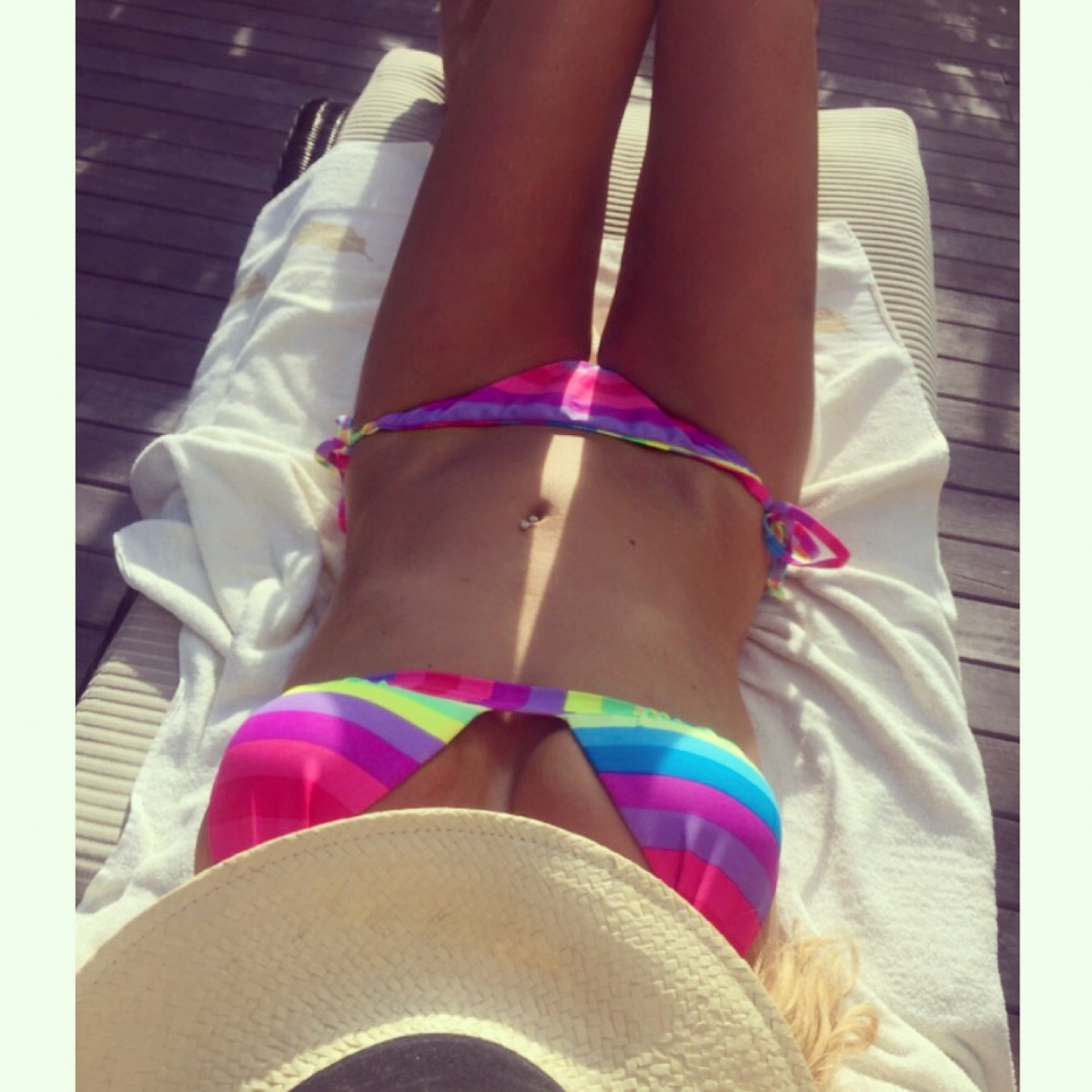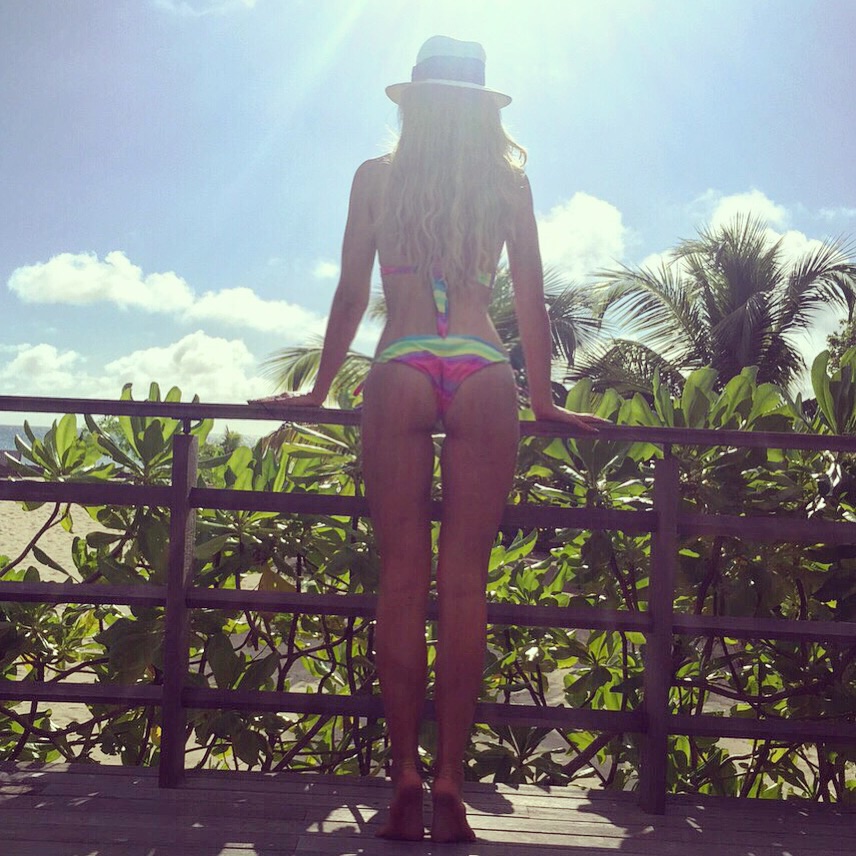 This pink flamingo bikini was a purchase from New Look a year or two ago, but again it's been one that I've always brought on holiday as it's so comfortable to wear. Boohoo does this cute alternative (€16), which has a laser-cut top and tie-side bottoms, if you're on the lookout for a bright pink bikini 😉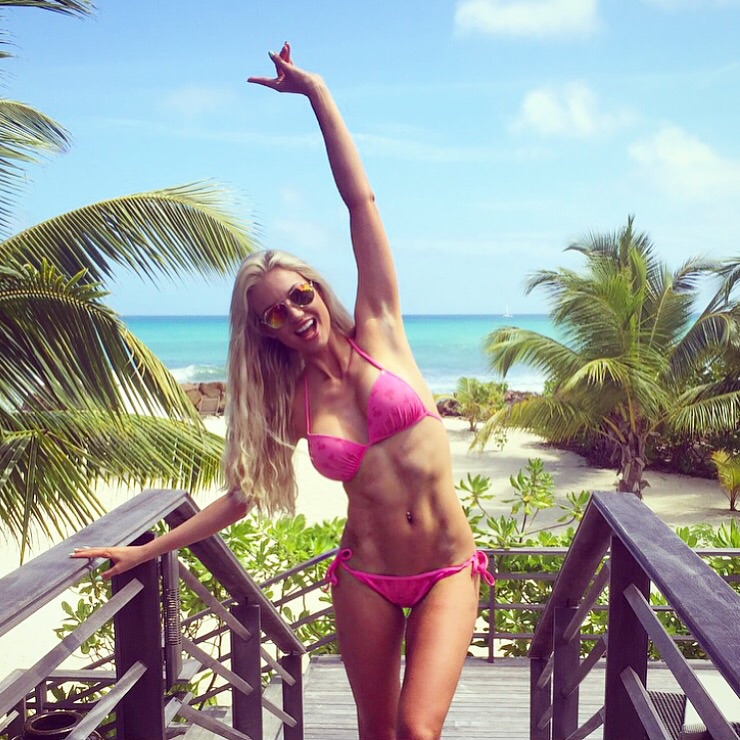 Other highlights of the holiday, included a day-long boat trip to Curieuse island and La Digue….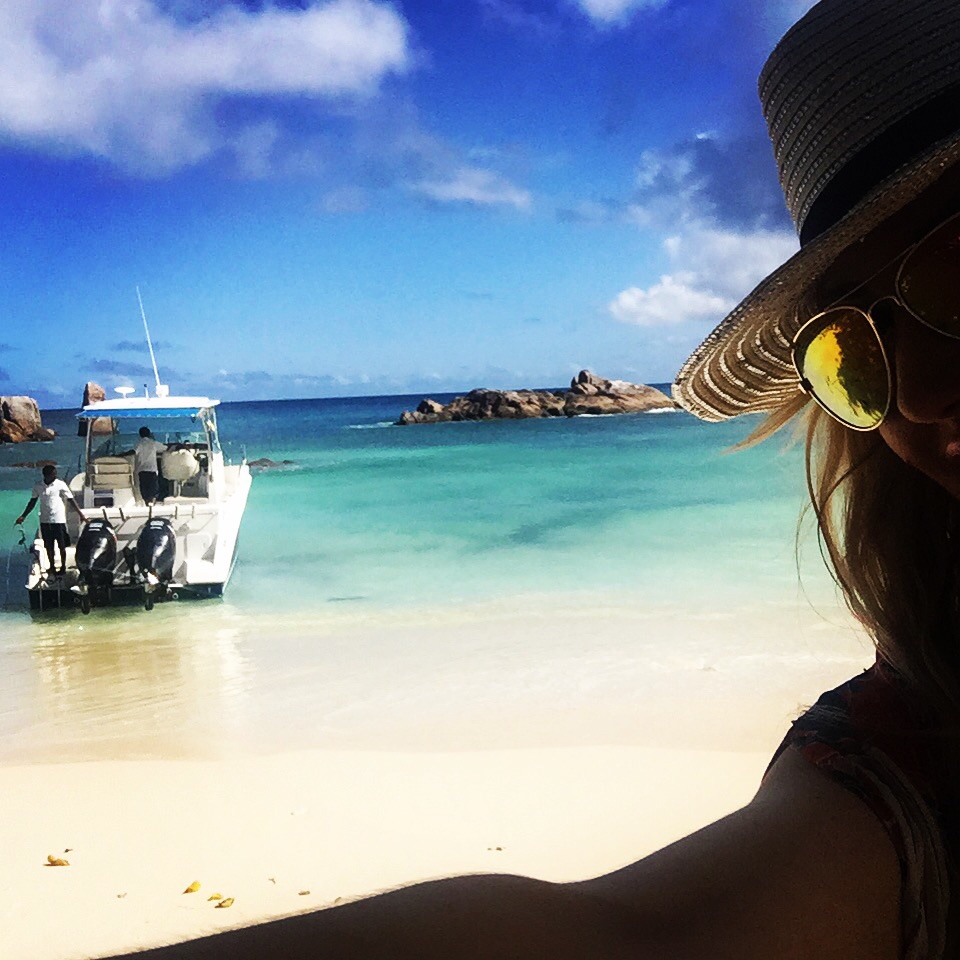 Curieuse doesn't have many people, but is home to hundreds of giant tortoises! You arrive on the beach by boat to see them everywhere, lounging out in the sun and amongst the palm trees. You can feed them leaves, pet them and take pics with them. In fact, they're really affectionate and love to be scratched under their necks and chins… just like a dog!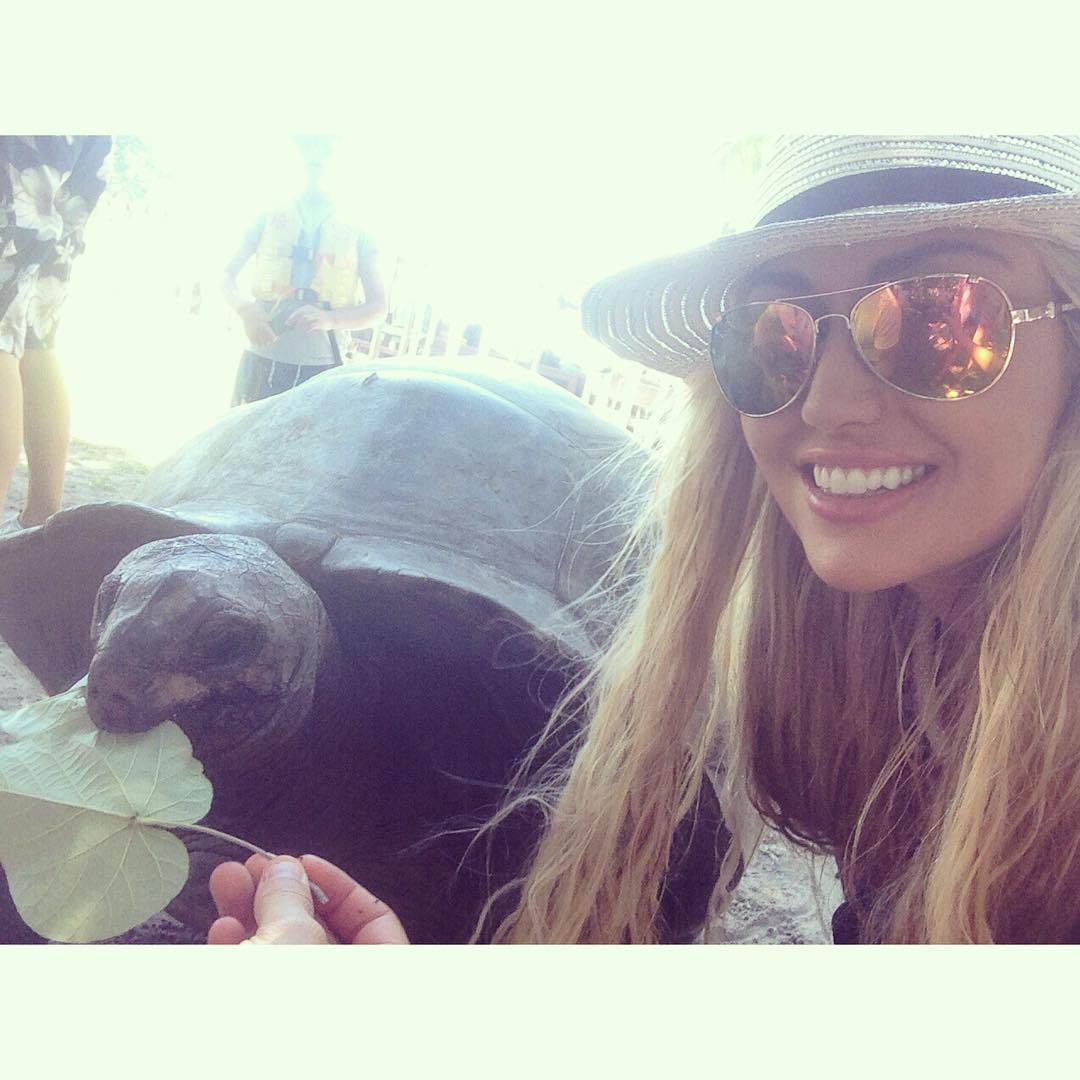 We also spotted two tortoises enjoying a private moment….!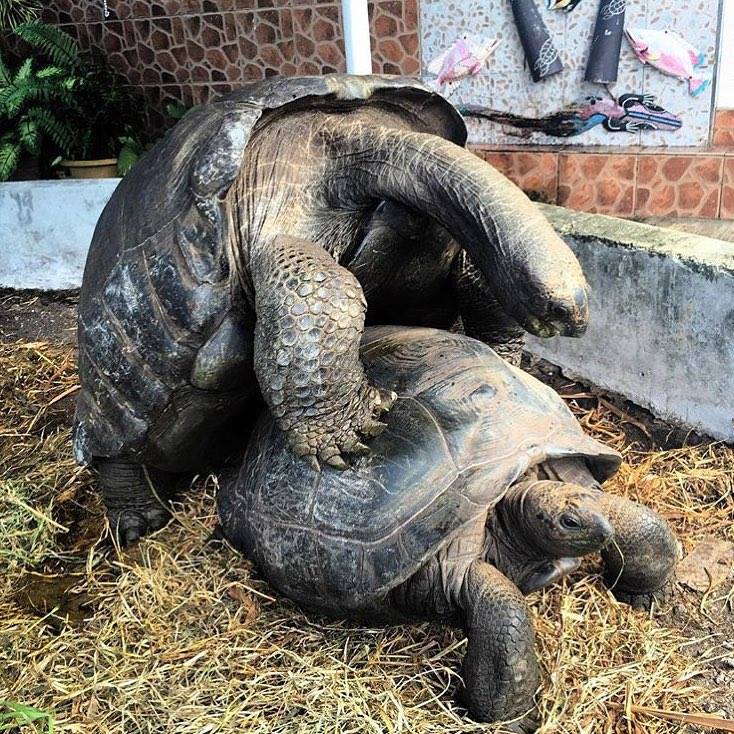 La Digue is one of the main islands of The Seychelles and one of the prettiest places I've ever seen. A serious must-see if you get a chance to visit this part of the world. We rented bikes from the side of the spotlessly clean harbour and cycled along the coast, through the national park, to the beach.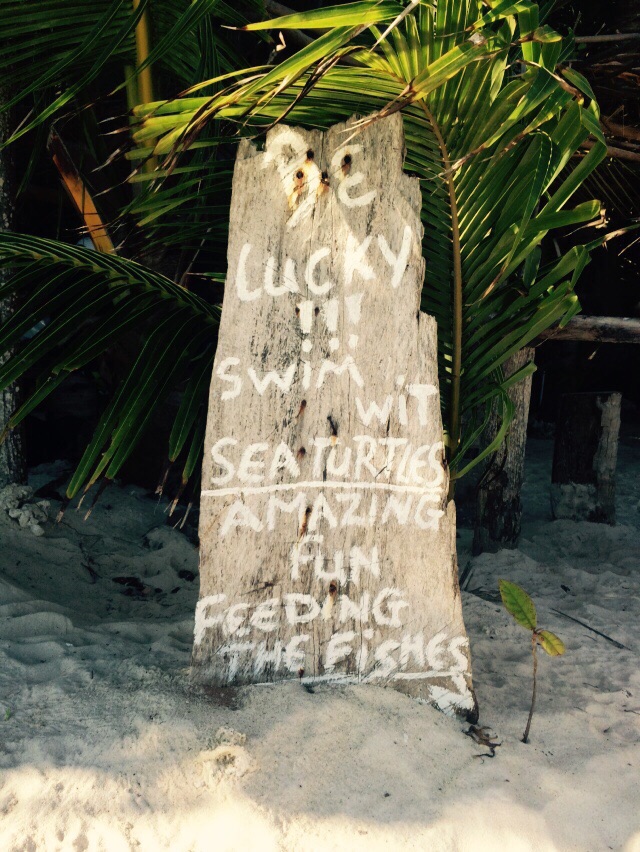 This beach is one of the most photographed in the world. Called Anse Source D'Argent, it's featured in the movie Castaway and a Bacardi advert. Bright blue waters, white sands, lush foliage and these huge smooth boulders make it an absolute paradise.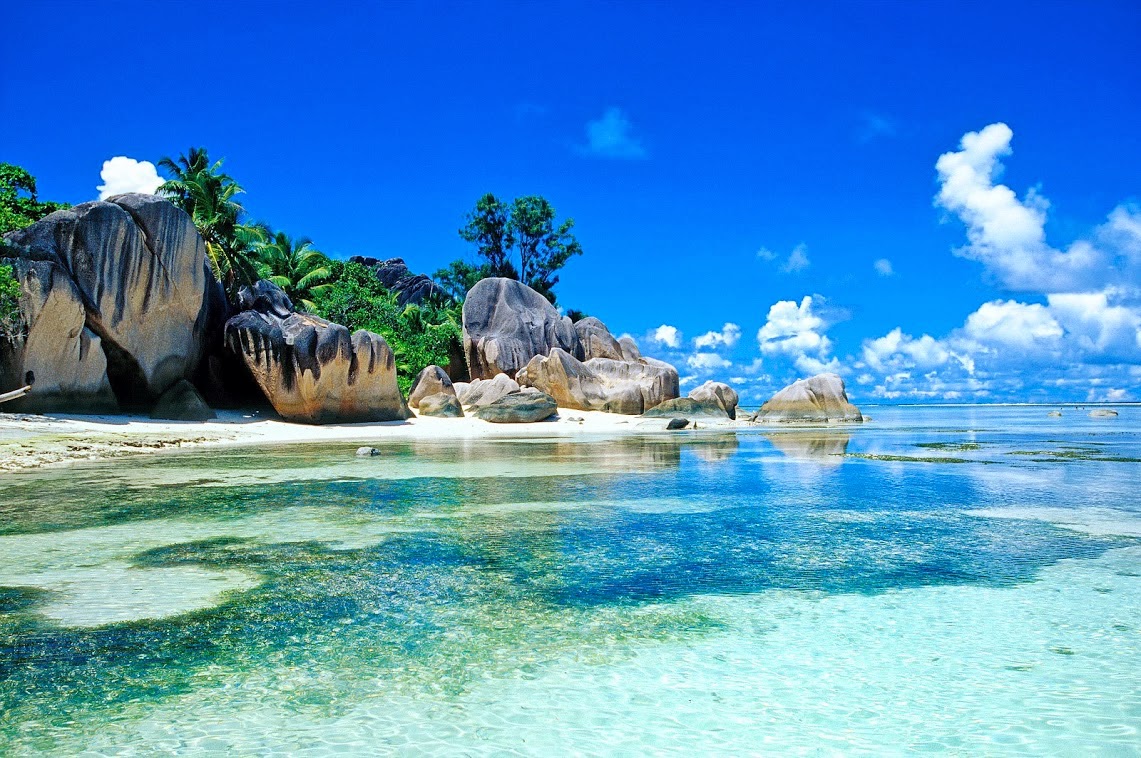 We also enjoyed a beach BBQ with our toes in the sand.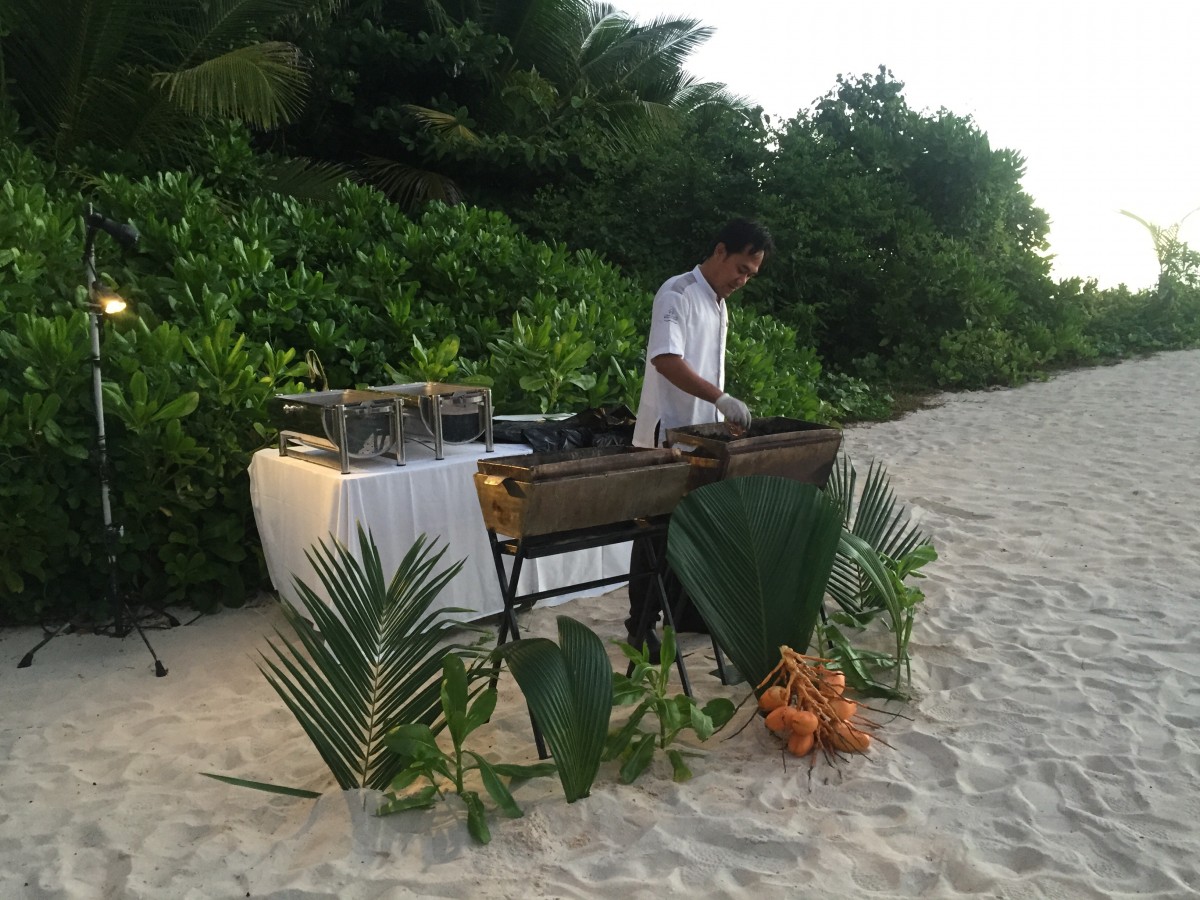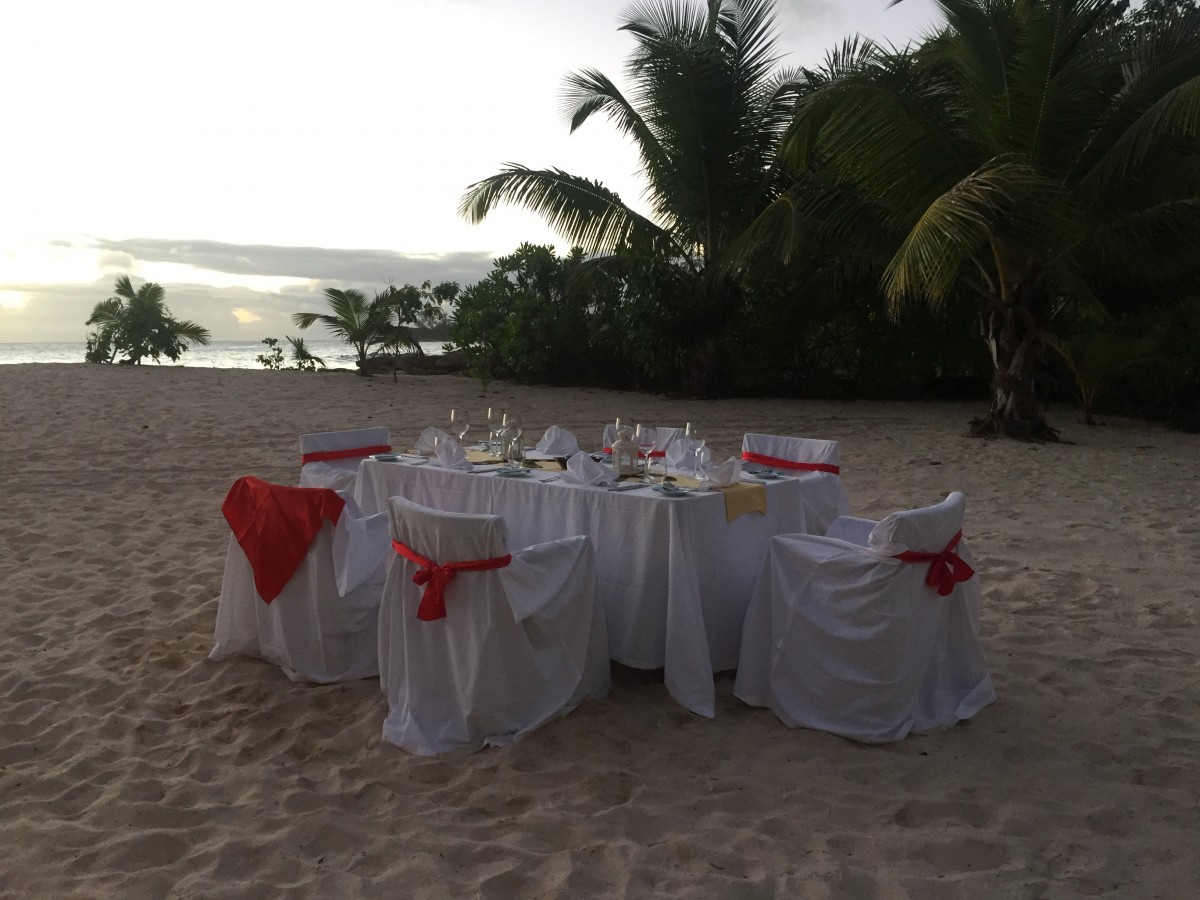 I was served a special veggie meal of vegetarian sushi, loads of grilled veg and this amazing coconut sorbet, which I'm still dreaming about!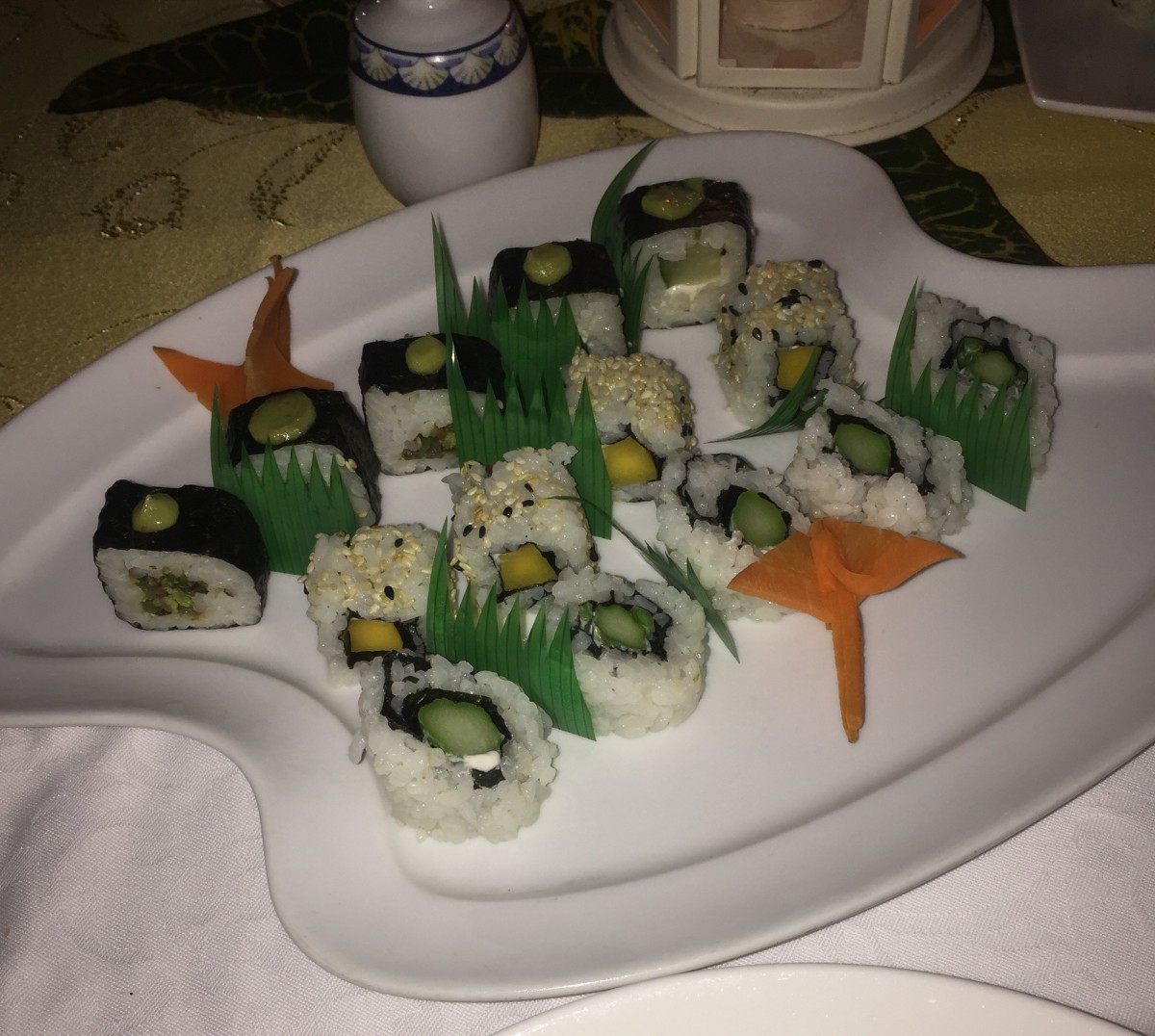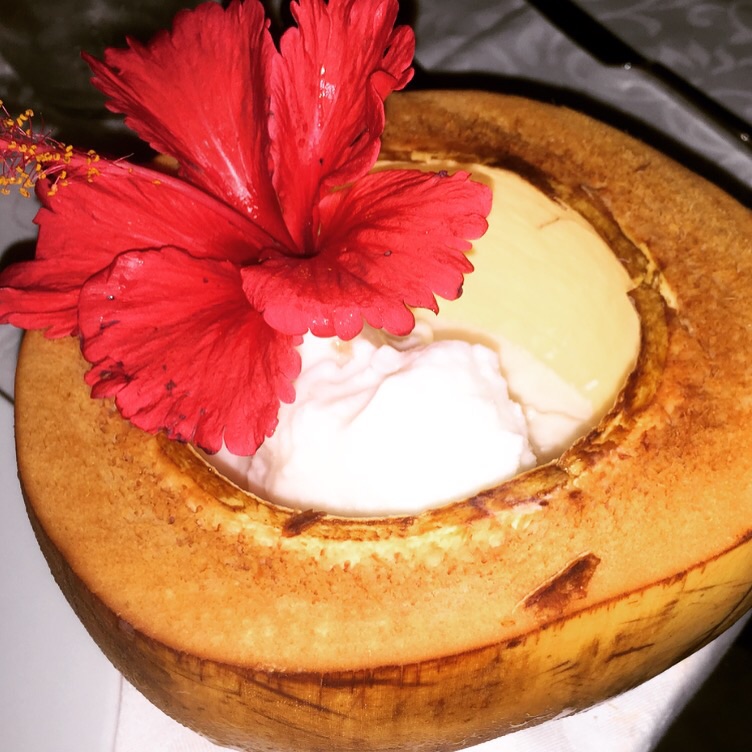 I'd recommend to anyone visiting the island of Praslin to rent a car for the day to explore the island. It only takes about 45 minutes to drive the entire way around but the sights are simply mind-blowing!
We ate lunch at the Paradise Sun Hotel, which is situated right beside the clear Indian Ocean waters…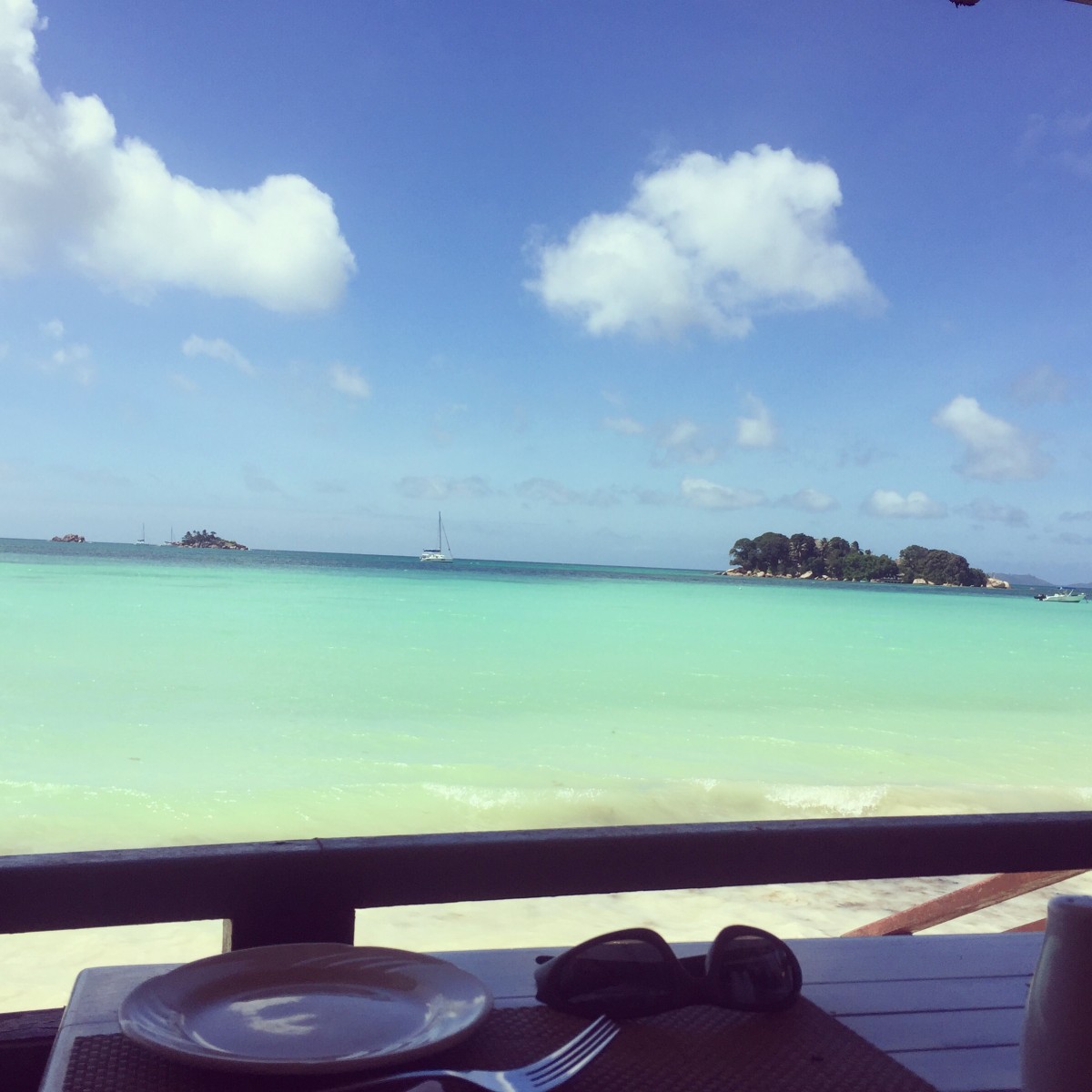 And I enjoyed a strawberry smoothie 🙂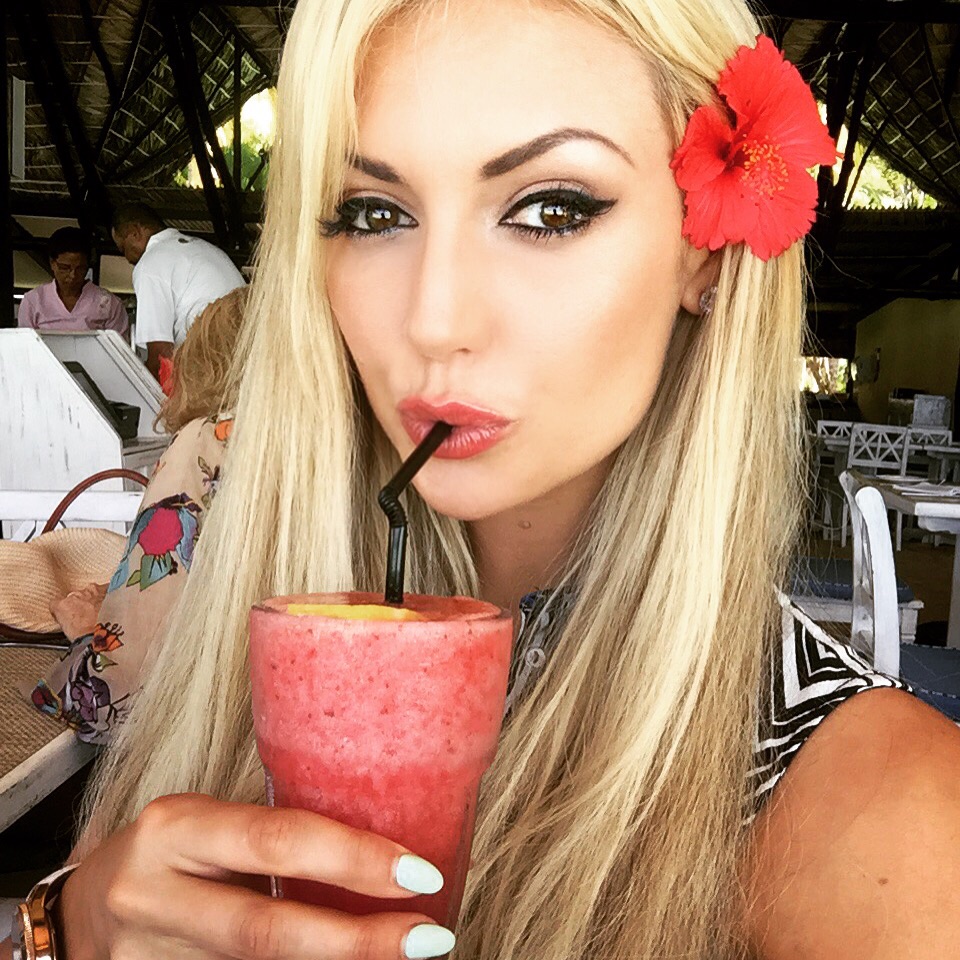 Then we visited another beach called Anse Lazio, on the northwest tip of the island. This regularly appears in lists of the top ten most beautiful beaches in the world, thanks to its clear and bright blue water, white sand and stunning surrounding scenery. It seriously blew my mind!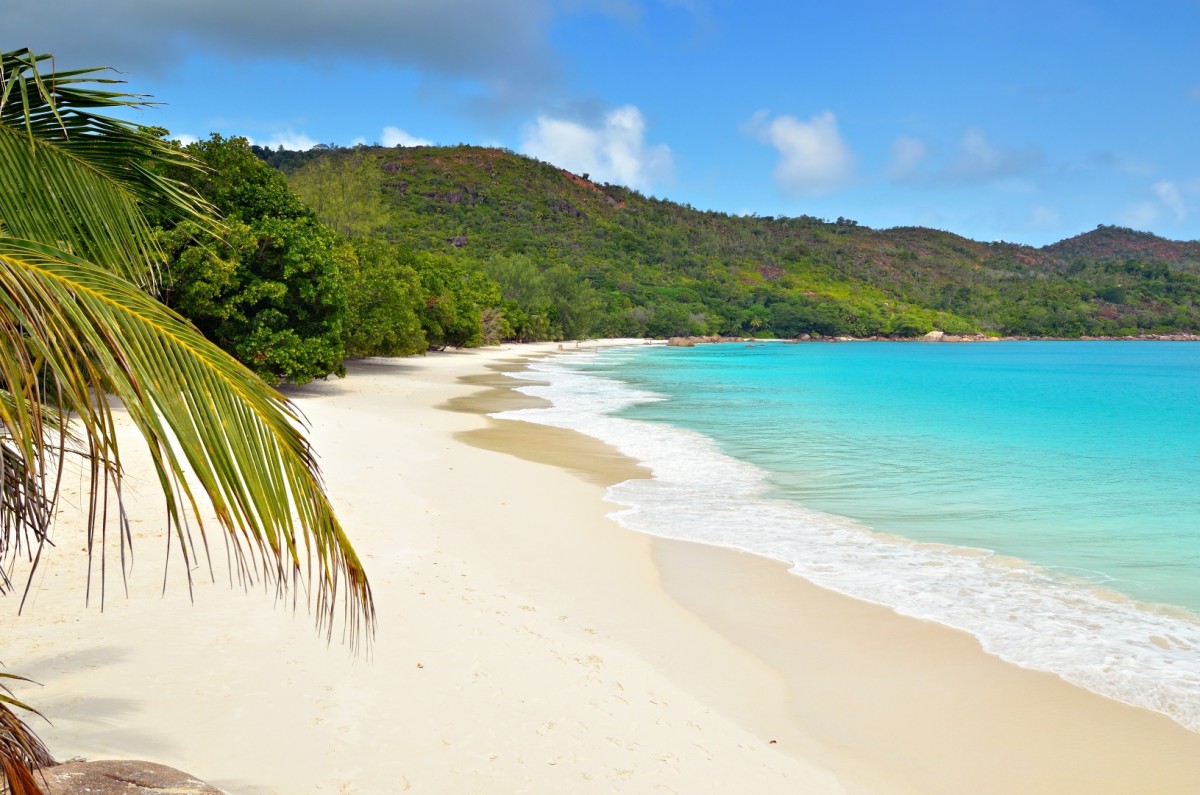 We even stumbled across an honesty bar hidden to the side of the beach. Not something you see that often these days!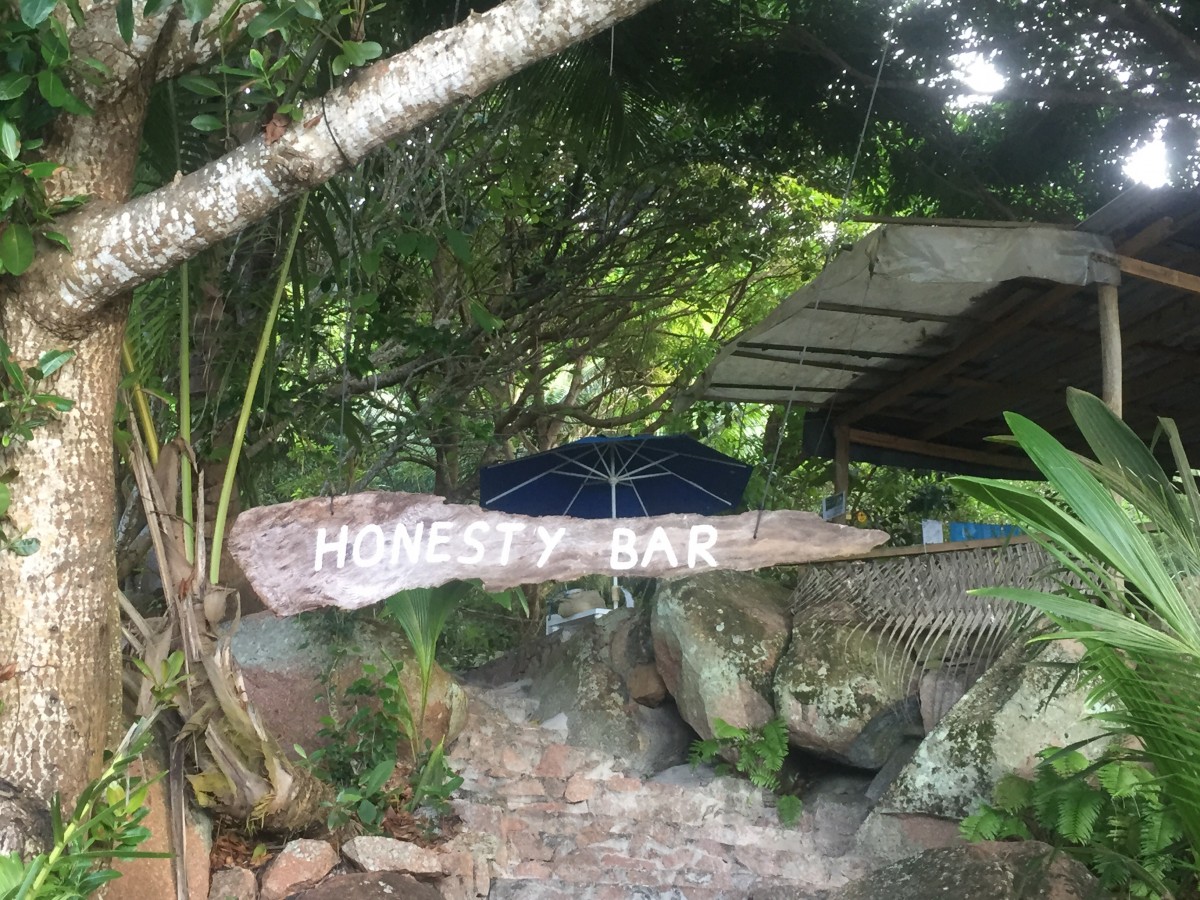 Such an amazing afternoon exploring the beach and all those huge ancient boulders. My black bikini here is from ASOS a few years ago. But very similar bottoms are available here for €16.44, which would work well with this mix and match black bandeau top (€13.70).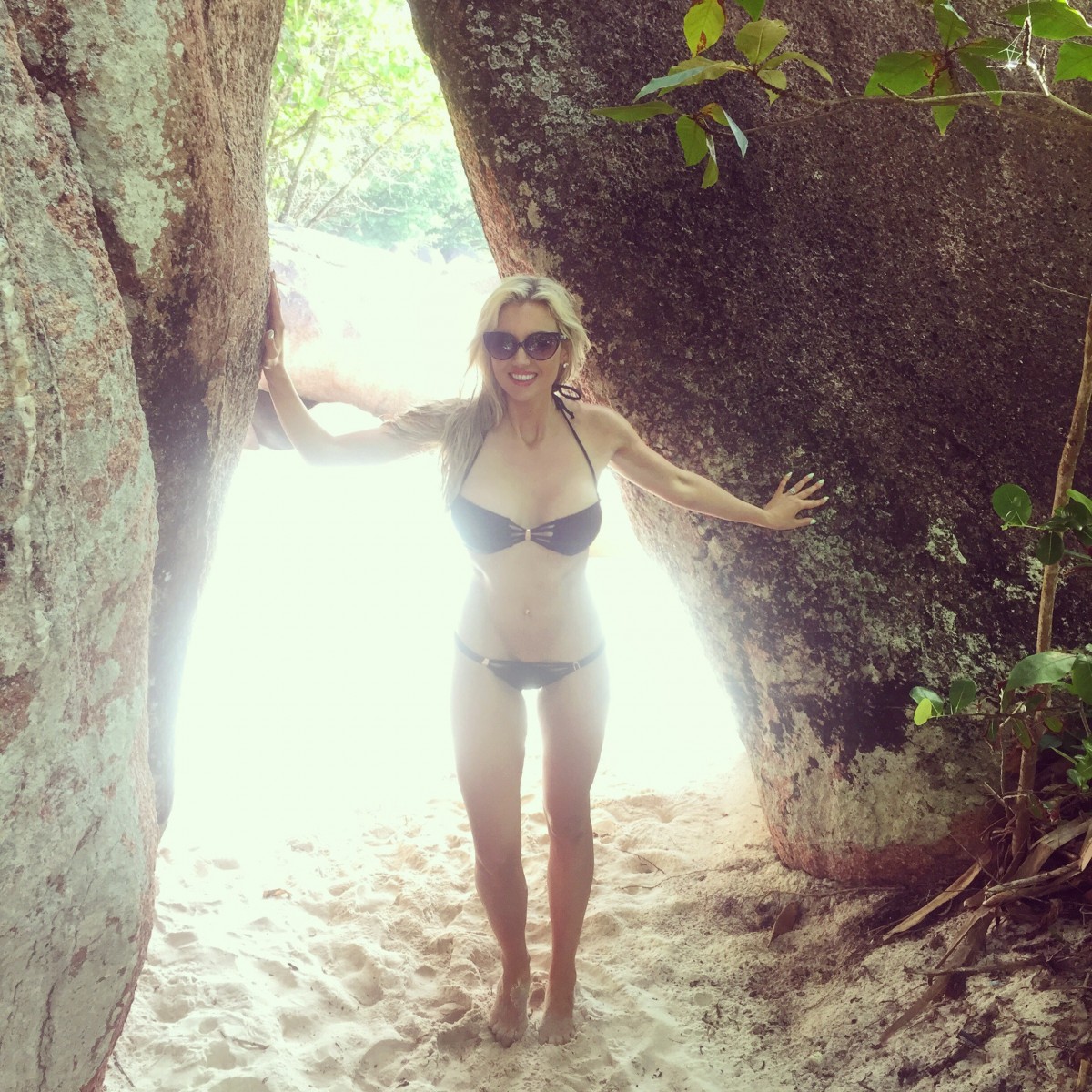 I'm already missing those views…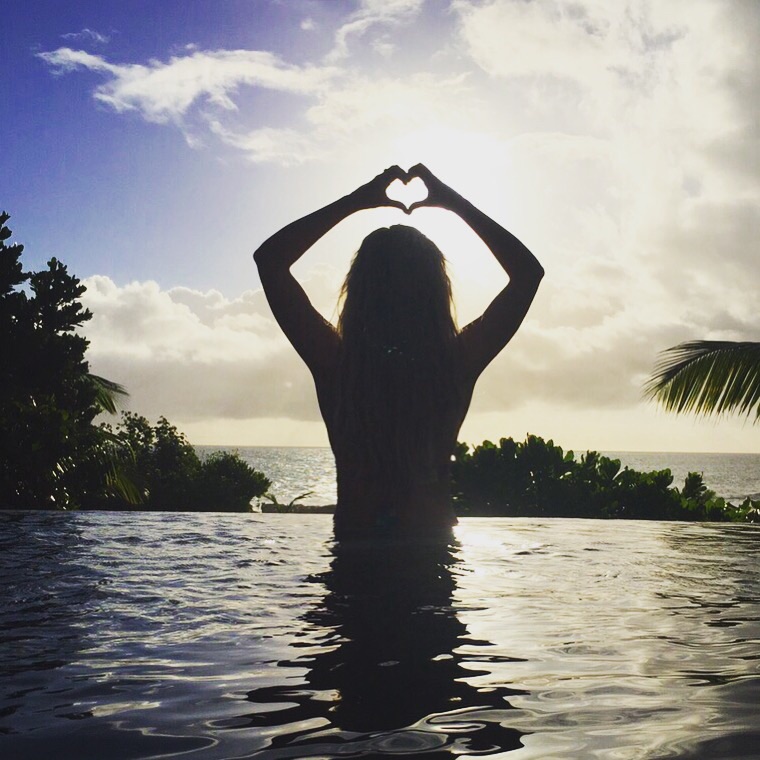 The quality time together…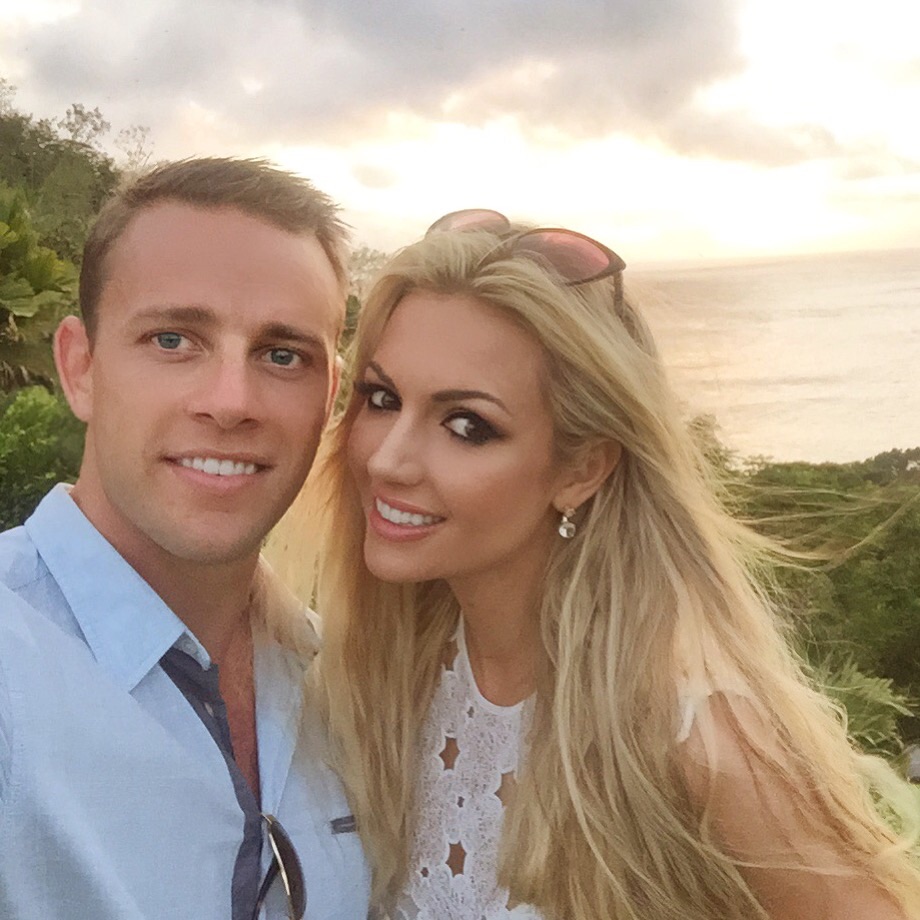 Those beaches…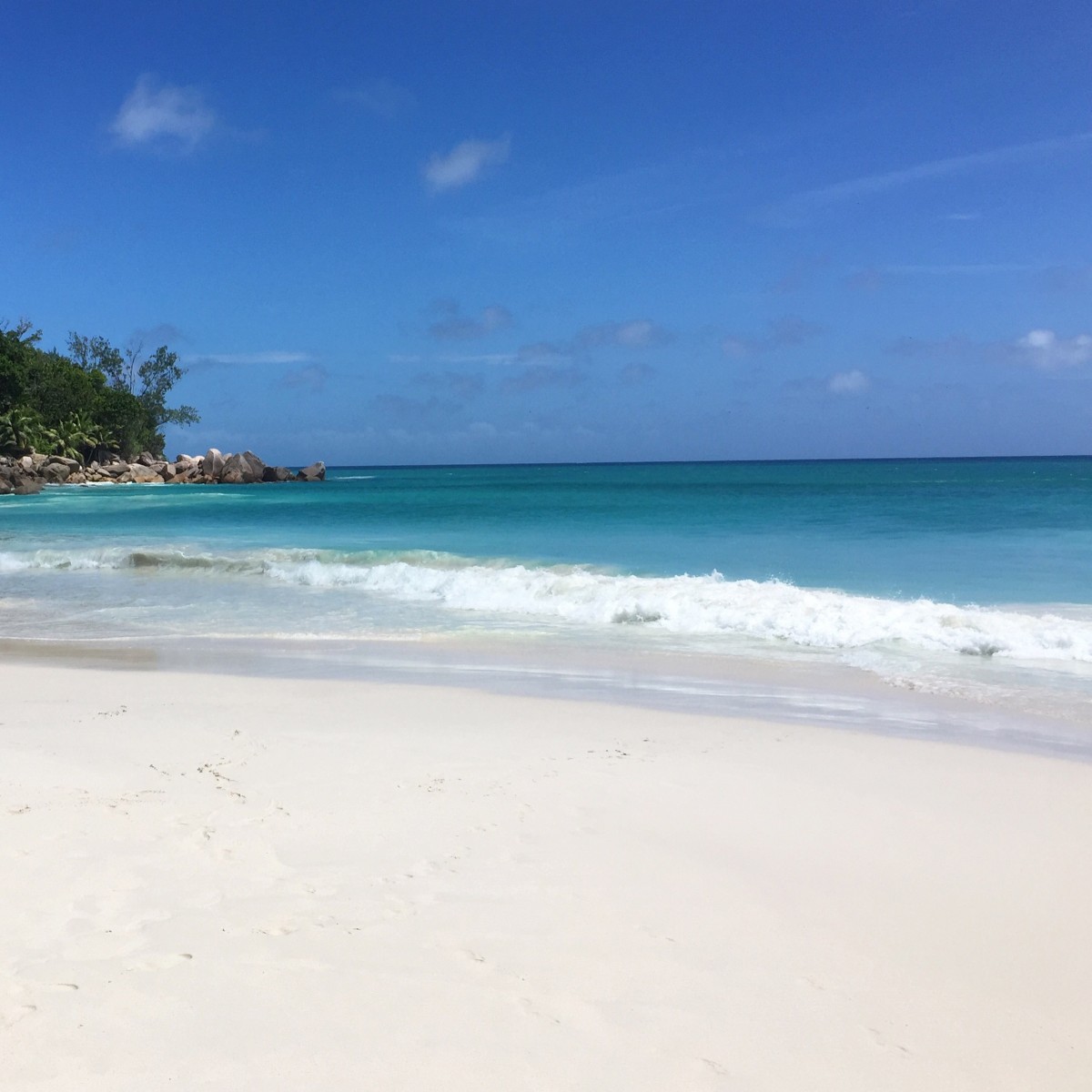 And even making friends with the local wildlife.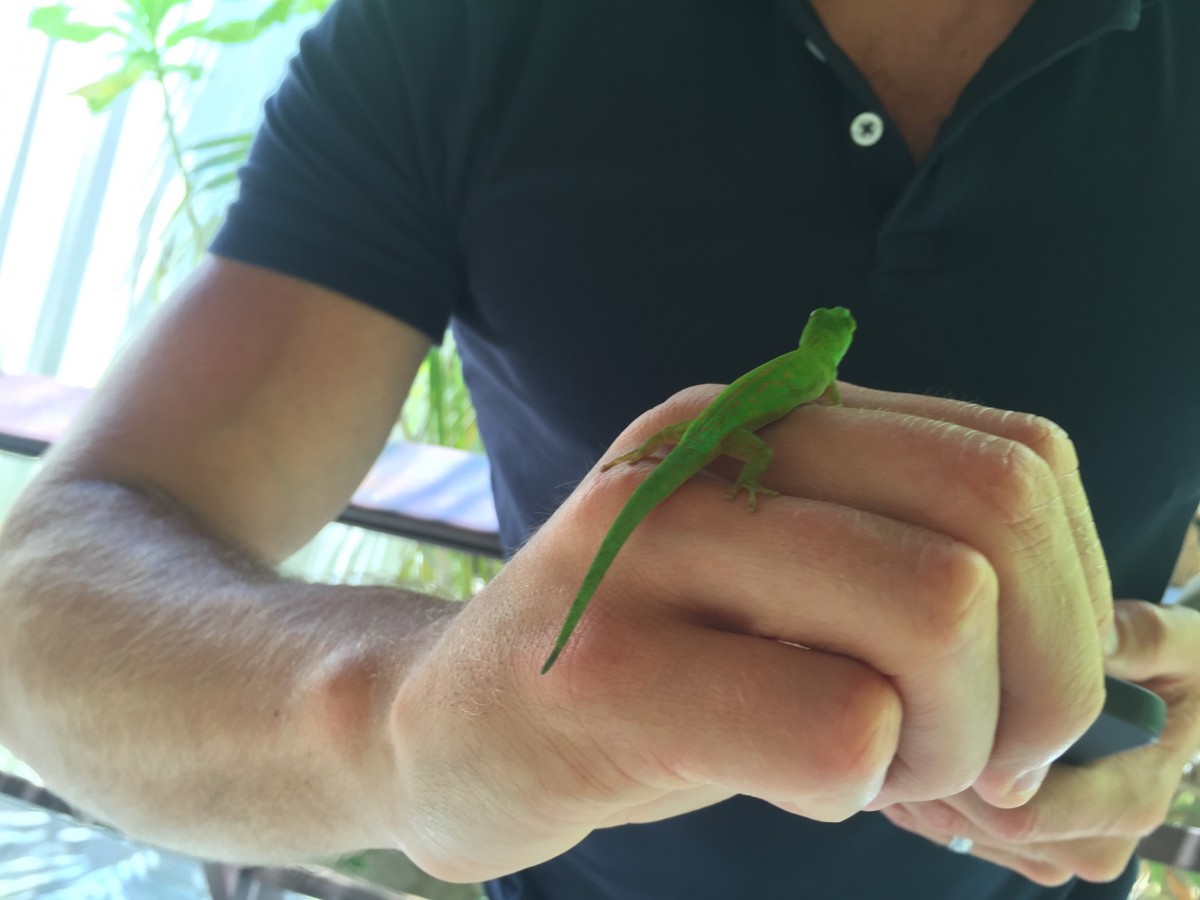 The Seychelles islands are truly paradise on earth, and we've been left with a lifetime of happy memories.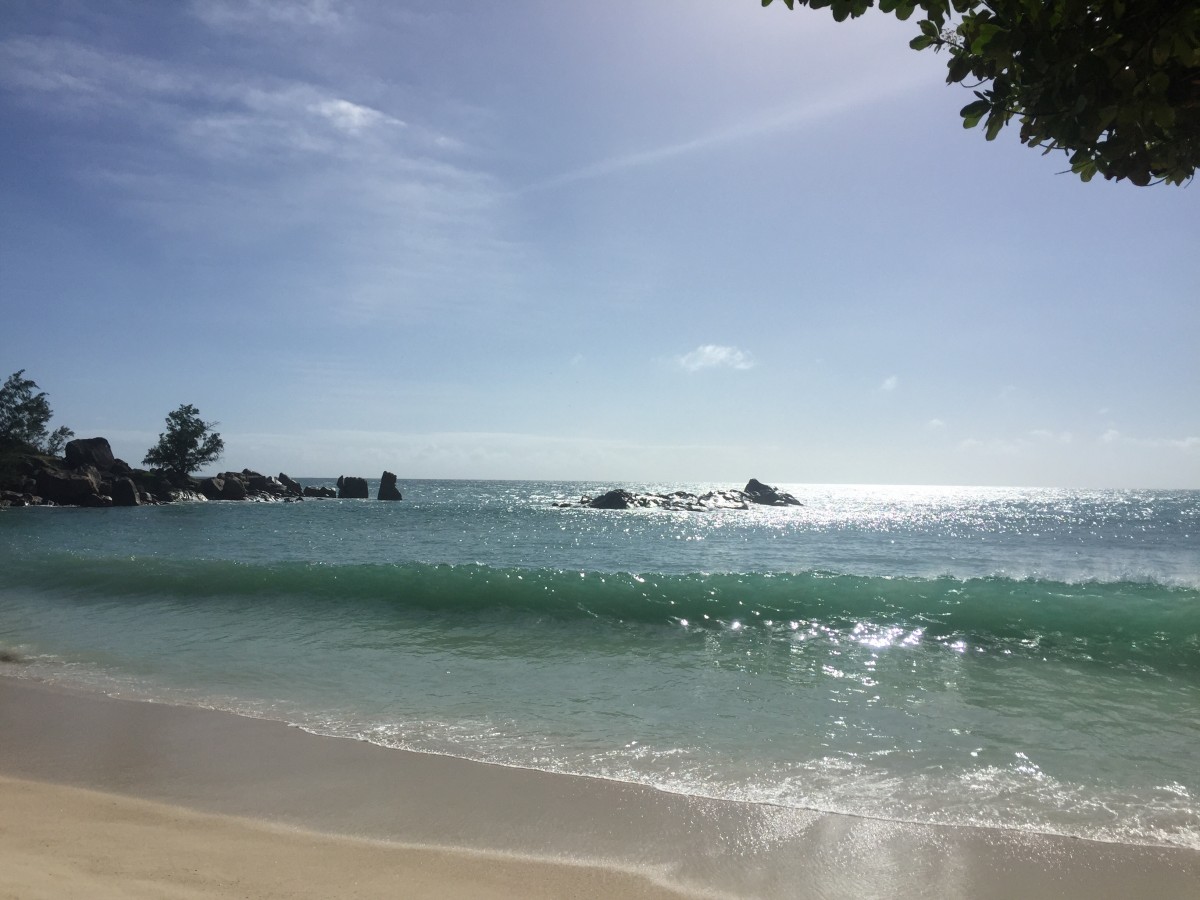 It wasn't easy to say goodbye!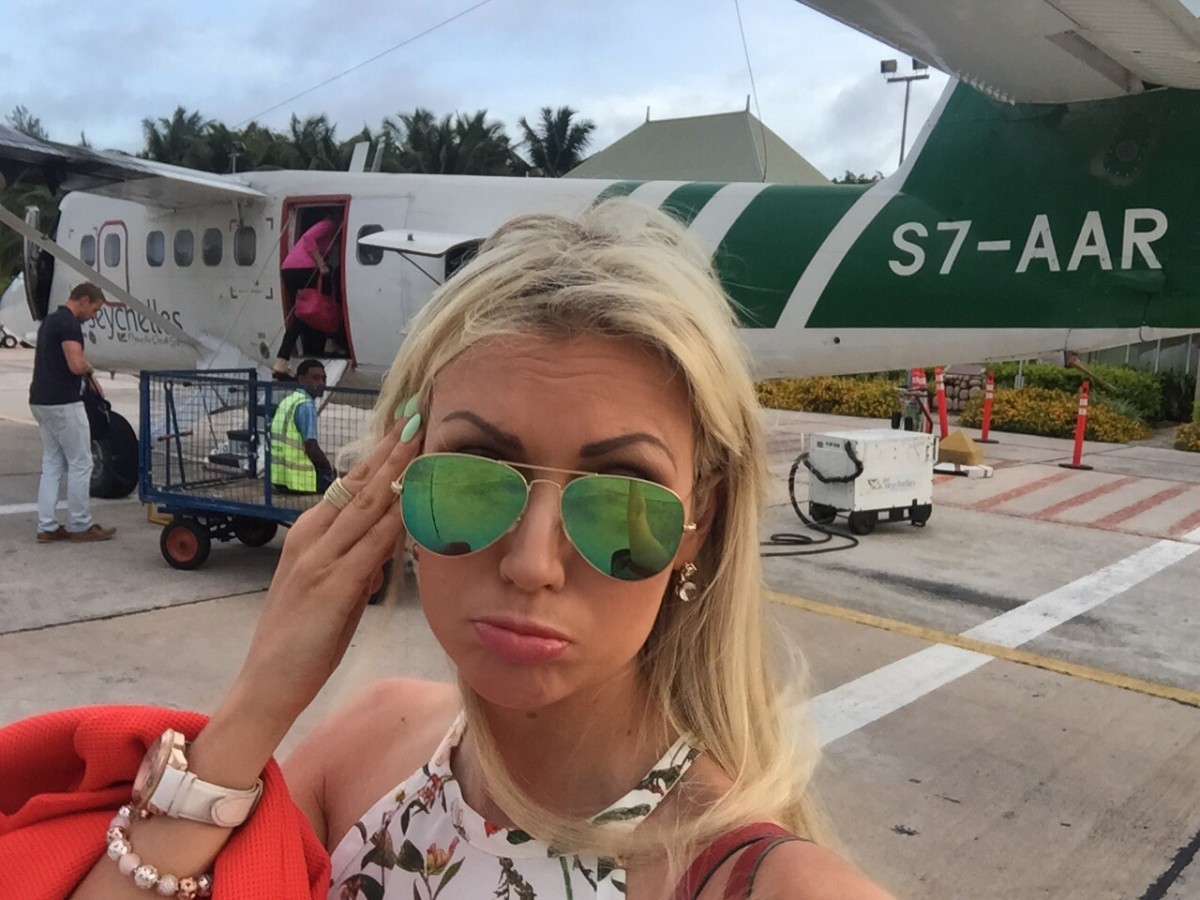 But soon the sleepiness kicked in. What a way to nod off!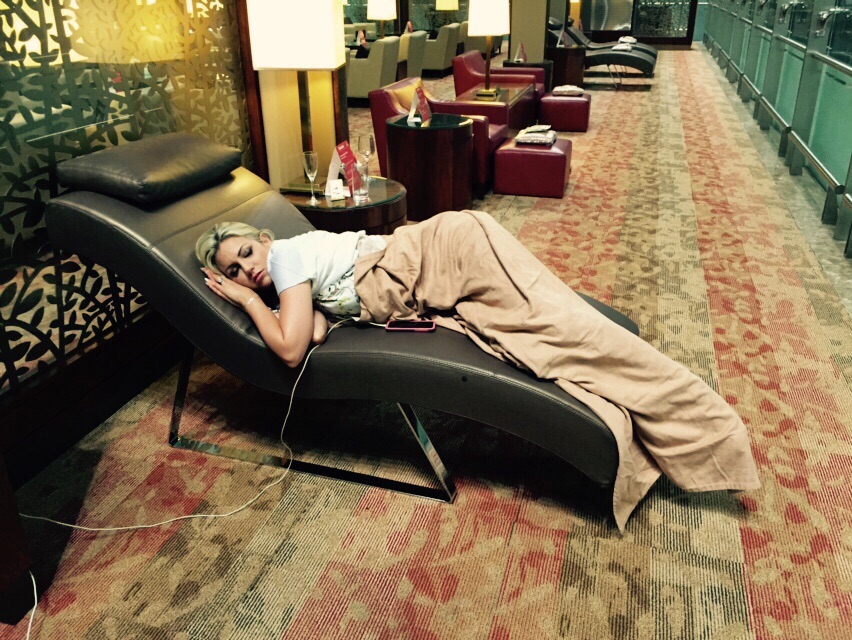 And getting home to these two fluffy faces, so excited to see us, was an amazing feeling 🙂