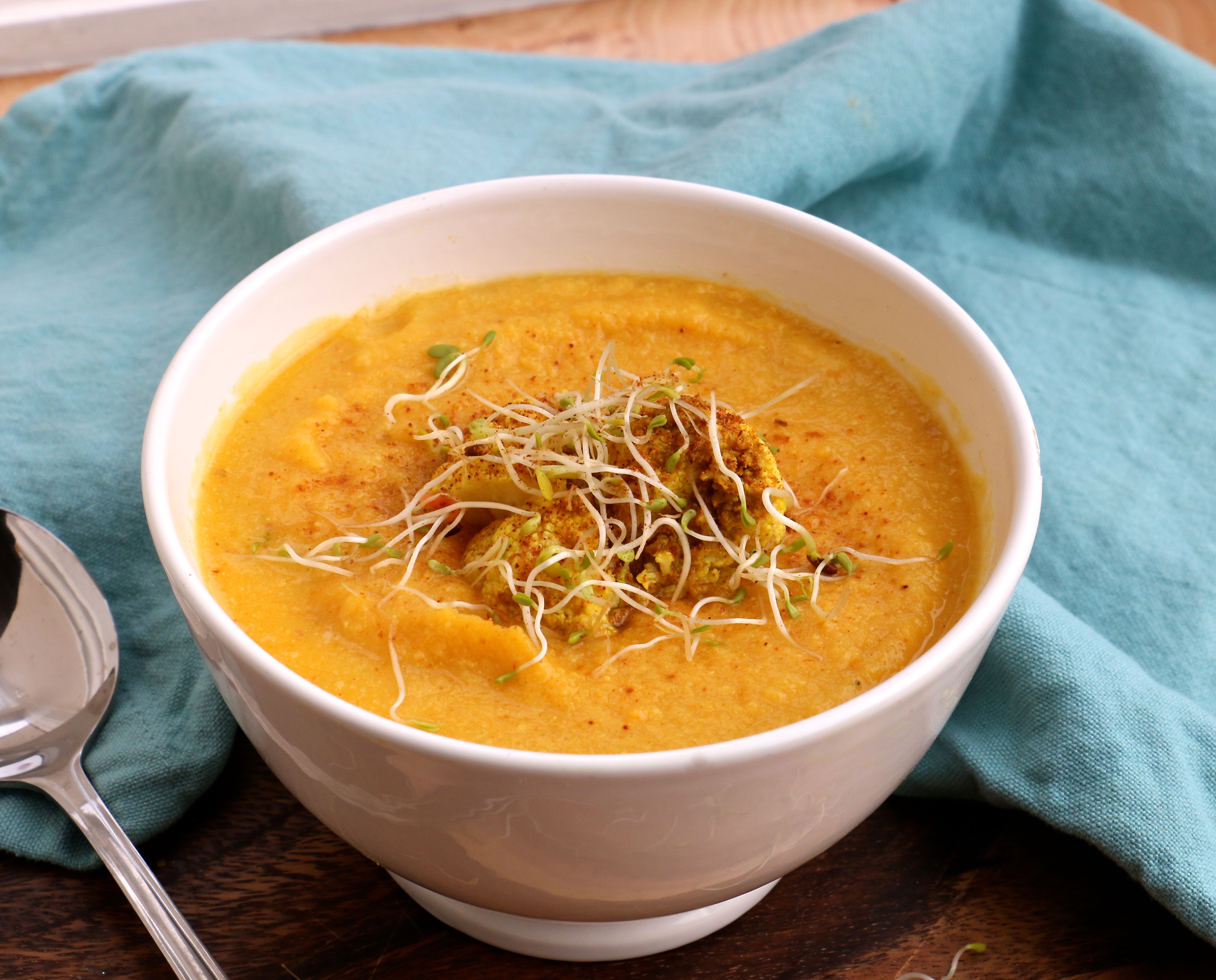 Summer may be still in full swing, but that hasn't stopped me thinking about my favourite autumn flavours and textures. It's hard to beat getting cosy with warming grub when it's getting chilly and dark outside!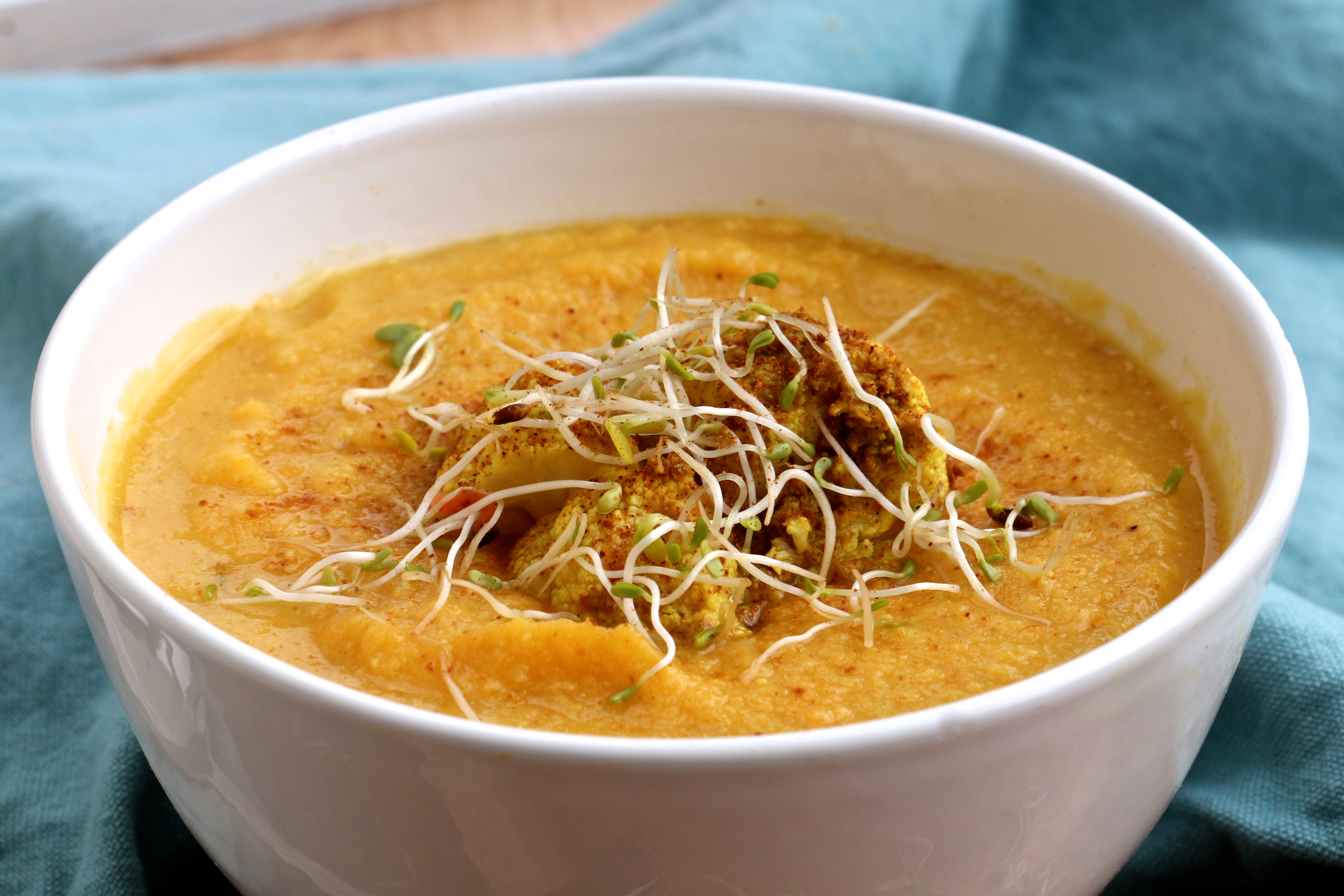 Over the last couple of nights, I've been making one of my favourite Eat Yourself Beautiful recipes for dinner – the Cheesy Turmeric Cauli Bites 🙂
Cauliflower is not only a super food for helping to maintain a healthy weight as it's filling yet low in calories and high in fibre, but it also absorbs whatever spices you cook it with, making it a really versatile veggie.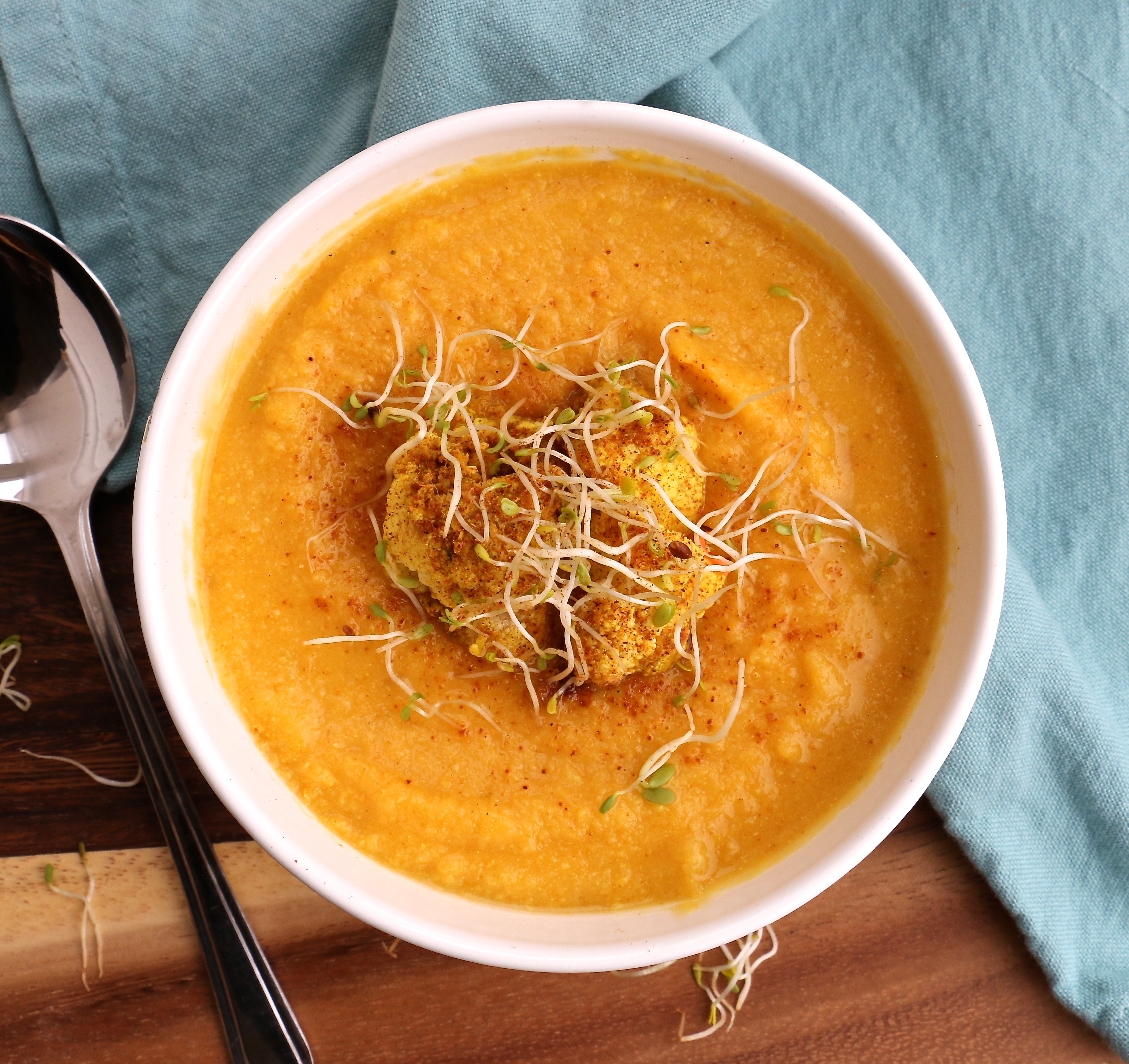 Add roast cauliflower spiced with curry powder to baked butternut squash and you have a delicious, nourishing and simple soup that's perfect for autumn! I love how easy it is to roast the veggies, pop them in a blender with some plant milk, add a few herbs and spices, a pinch of seasoning and blend. It's ideal to make in big batches to last you for a few days, plus it freezes well too.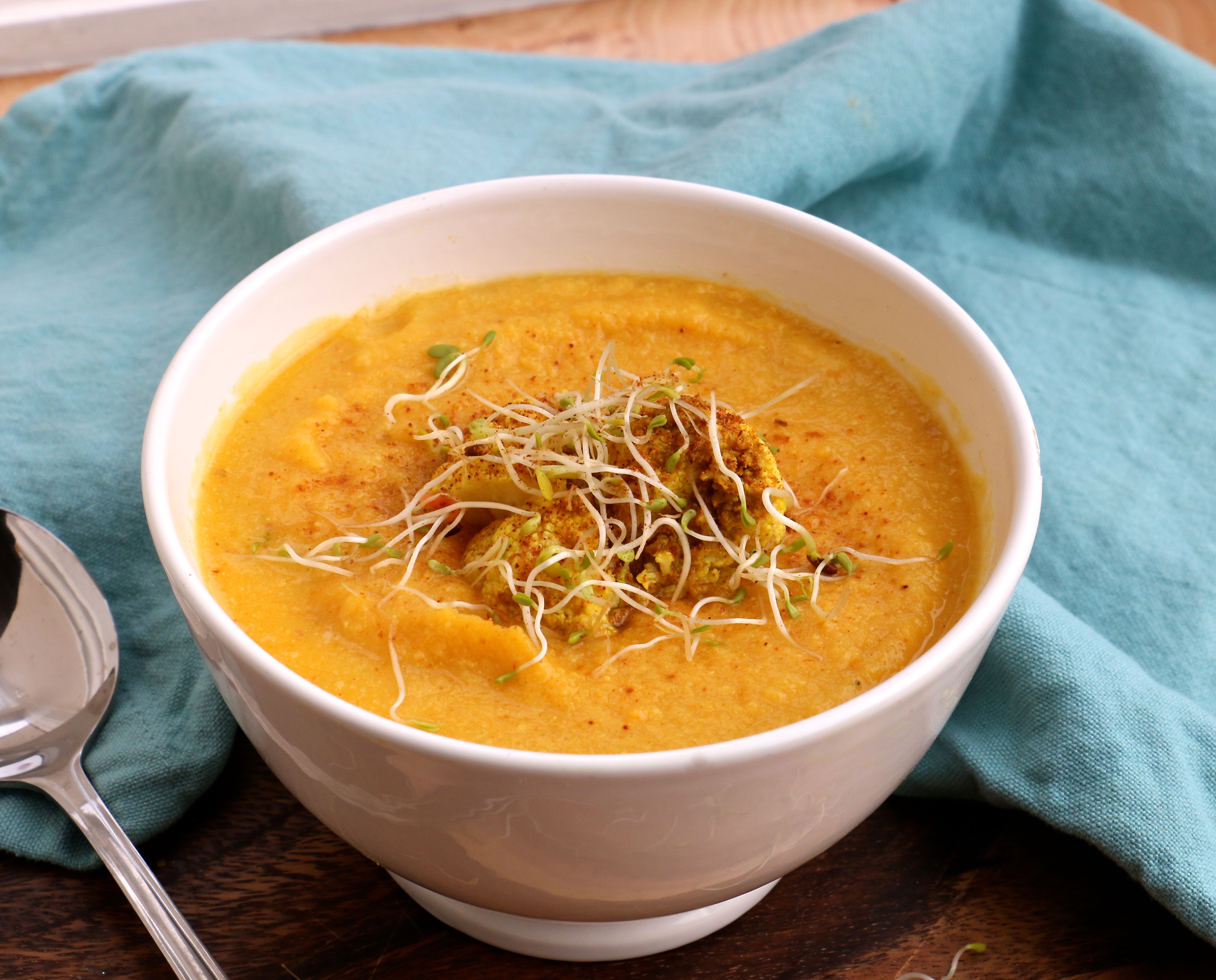 I would love to know if you get a chance to make this Butternut Squash and Curried Cauliflower Soup! Simply tag #RosannaDavisonNutrition on Instagram or Twitter or come on over to my Facebook to say hello 🙂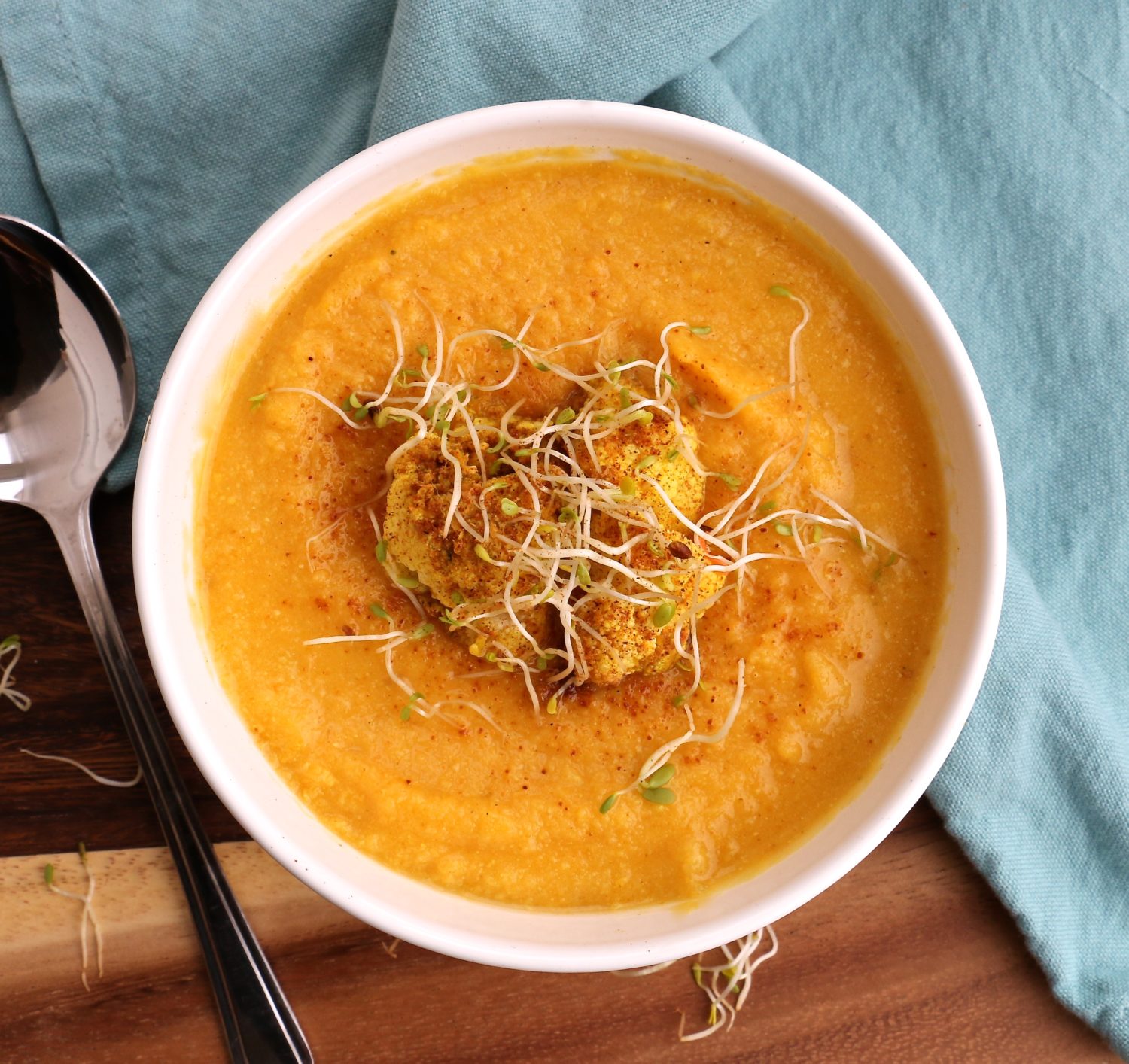 Butternut Squash and Curried Cauliflower Soup
2017-08-17 12:59:05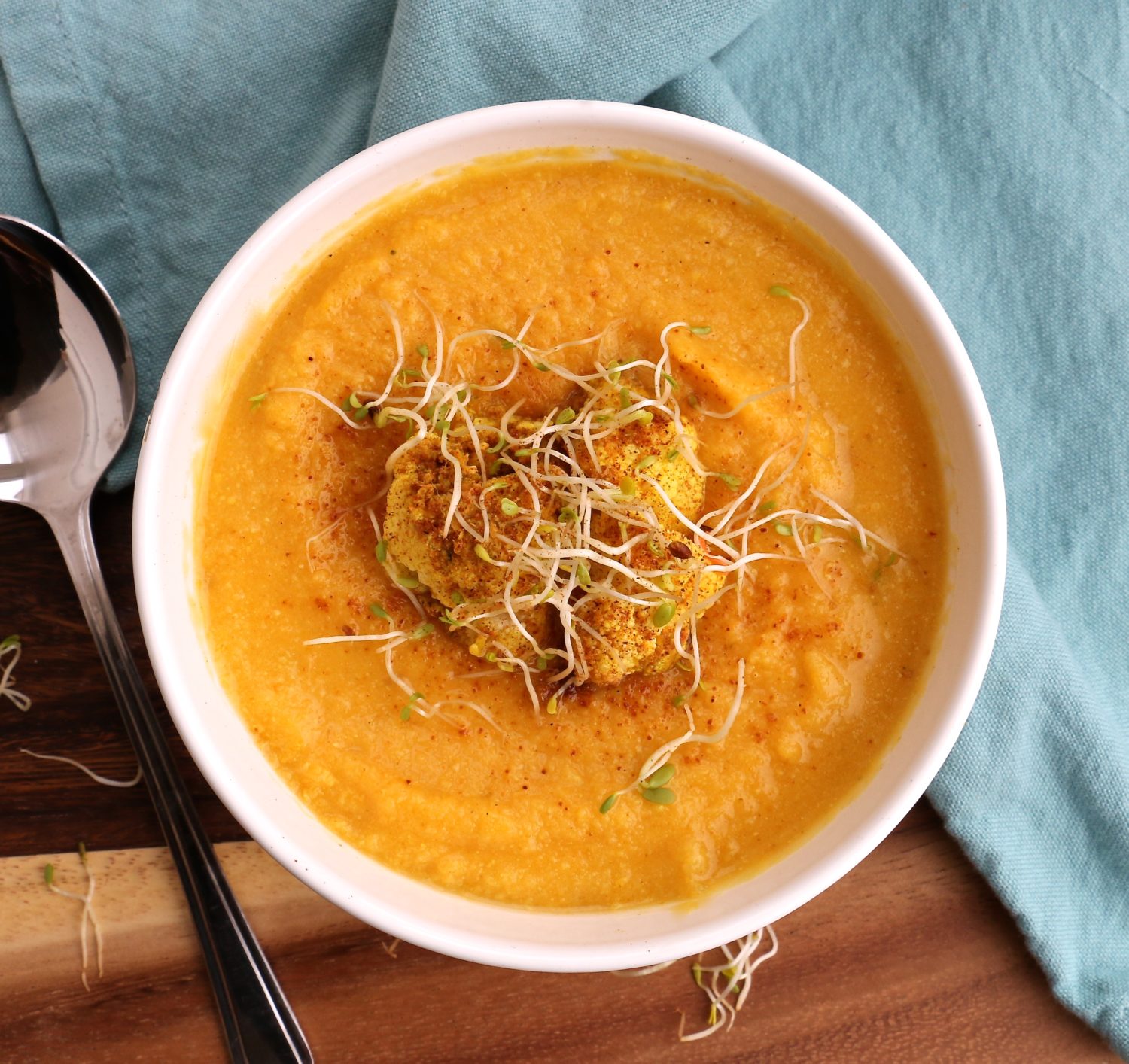 Serves 4
A delicious, simple and nourishing soup, perfect for autumn lunches and dinners.
Ingredients
1 medium butternut squash
1/2 a medium head of cauliflower
2 tsp curry powder
1/2 tbsp coconut oil, melted
1 tbsp apple cider vinegar
1 tbsp nutritional yeast (optional)
sea salt and black pepper, to taste
1/2 tsp ground turmeric
1/2 tsp smoked paprika
pinch cayenne pepper or dried chilli flakes (optional)
1 tbsp fresh lemon juice
1 pint low-sodium vegetable stock
250ml (1 cup) almond milk or your favourite plant milk
1 tsp chopped fresh ginger (optional)
1 clove garlic (optional)
Instructions
Preheat the oven to 210C and line two small/medium baking trays with greaseproof paper or lightly grease with coconut oil.
Rinse the cauliflower and chop into florets.
In a mixing bowl, place the curry powder, coconut oil, vinegar, nutritional yeast, salt and pepper, turmeric, smoked paprika, cayenne/chilli flakes and lemon juice. Mix together to form a paste.
Add the cauliflower florets to the paste and stir well to coat in the curry mixture.
Transfer the cauliflower to a tray and place the squash on the second tray.
Bake the cauliflower for 20-25 minutes until golden-brown and crisp. Remove from the heat and set aside.
Bake the butternut squash whole for 35-40 minutes until it softens and the skin turns golden-brown.
Remove the squash from the oven and allow to cool for a few minutes before slicing in half. Use a spoon to scoop out the pulp and seeds, and gently use a sharp knife to slice the flesh away from the skin.
Cut the flesh into rough chunks and add to the blender along with the roast cauliflower, veg stock, plant milk, ginger and garlic.
Blend on high until smooth (or use a handheld soup blender).
Taste and adjust seasoning if desired.
Serve hot.
Notes
Any leftovers can be stored in an airtight container in the fridge for 3-4 days or frozen for up to 6 months.
Rosanna Davison Nutrition https://www.rosannadavisonnutrition.com/