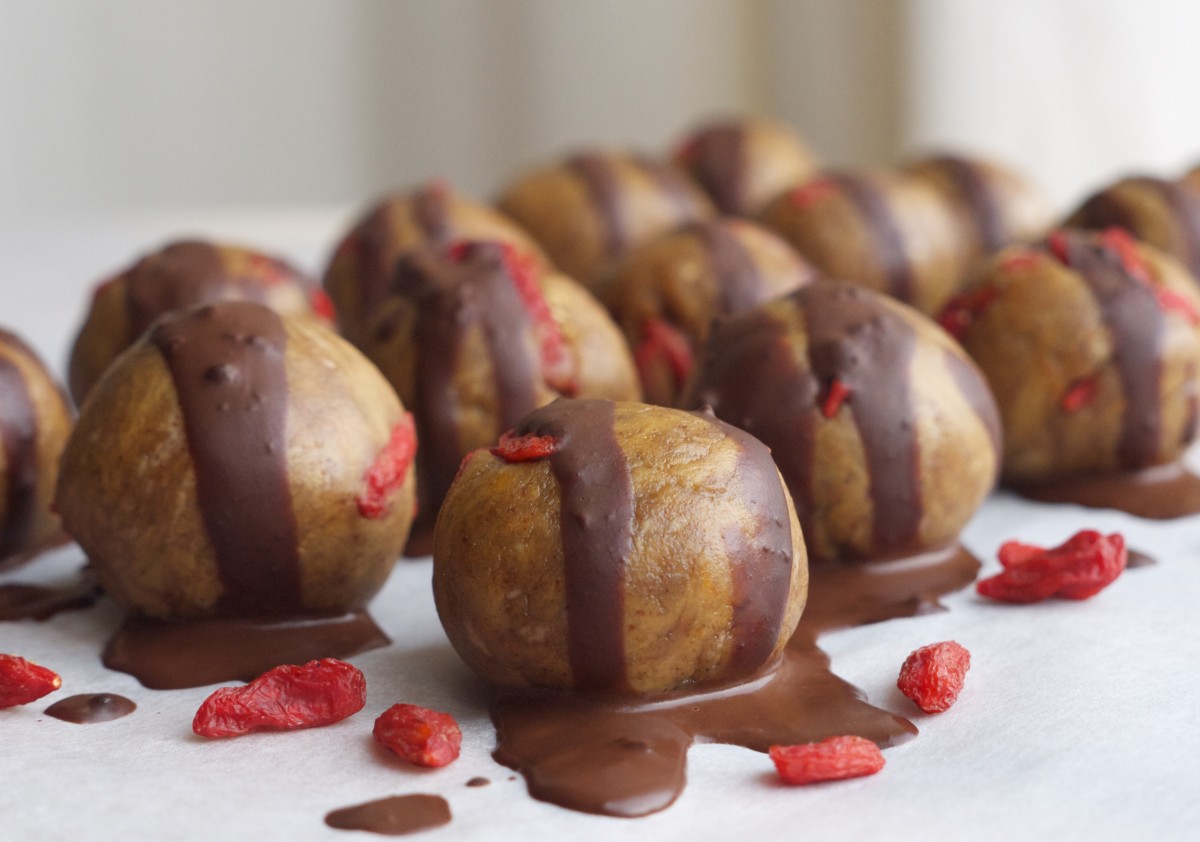 You can't get more quick, simple and YUMMY than these peanut butter protein bites with dark chocolate drizzle! In fact, they lasted about ten minutes in my house…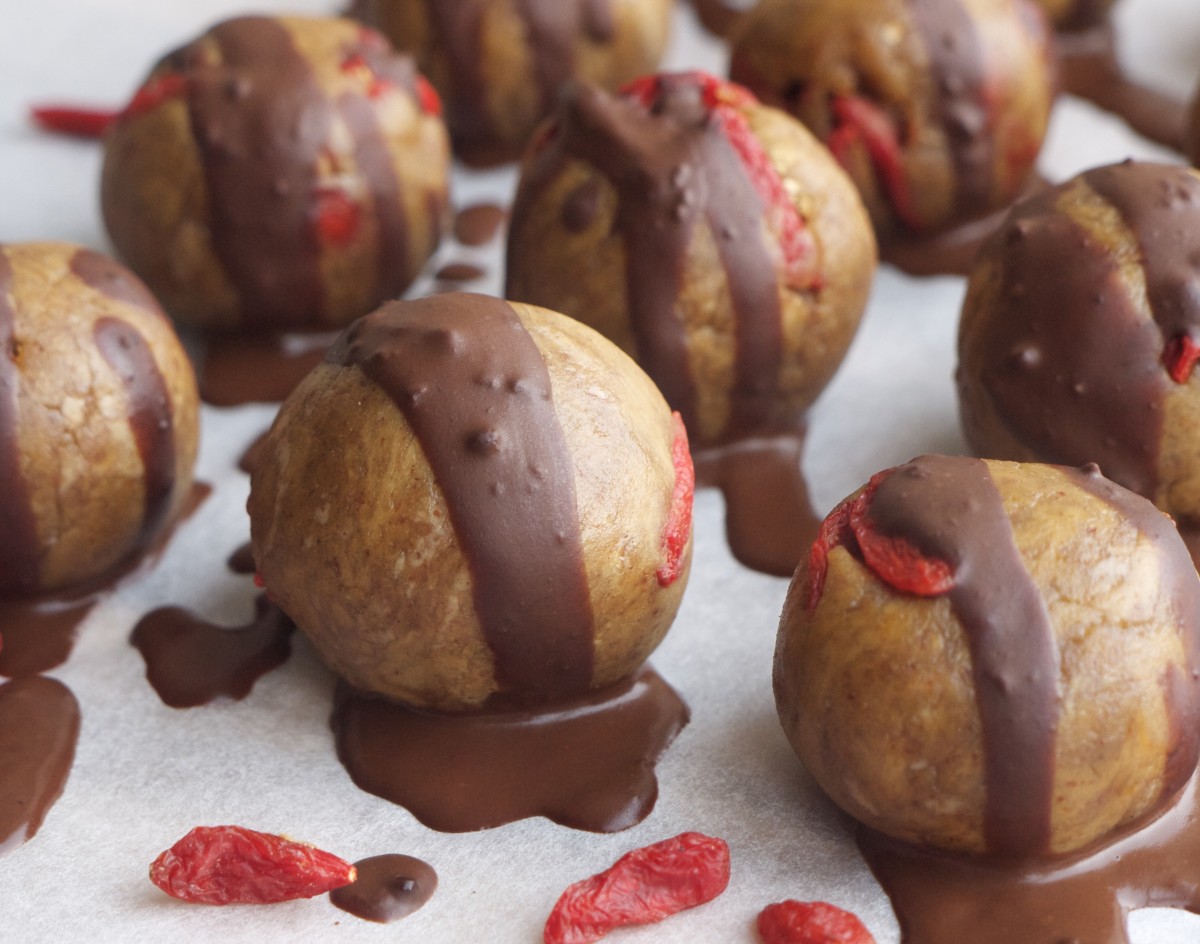 If you're a penut butter fan and on the lookout for new ways to enjoy the spread, then I think you'll love these. They're soft, fudgey, sweet and salty all in one delicious mouthful!
Do try to buy an organic brand of peanut butter, and one that's free from added sugar and palm oil, for the best health benefits 😉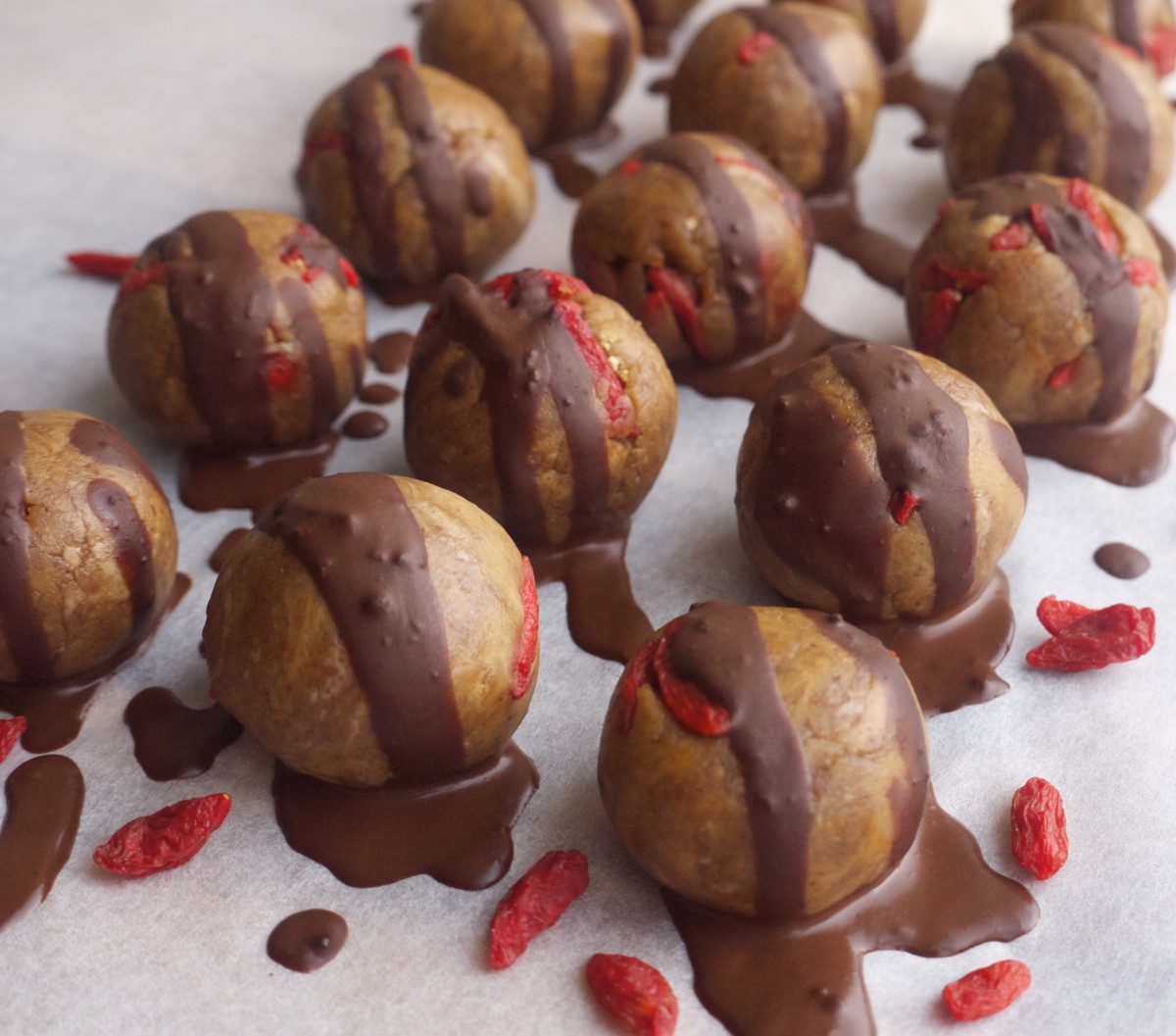 I simply mixed together peanut butter with Sunwarrior Vanilla Protein Powder, some quick homemade date paste, vanilla extract and goji berries, which add a great sweet crunch when they're left in the fridge to allow the chocolate to set.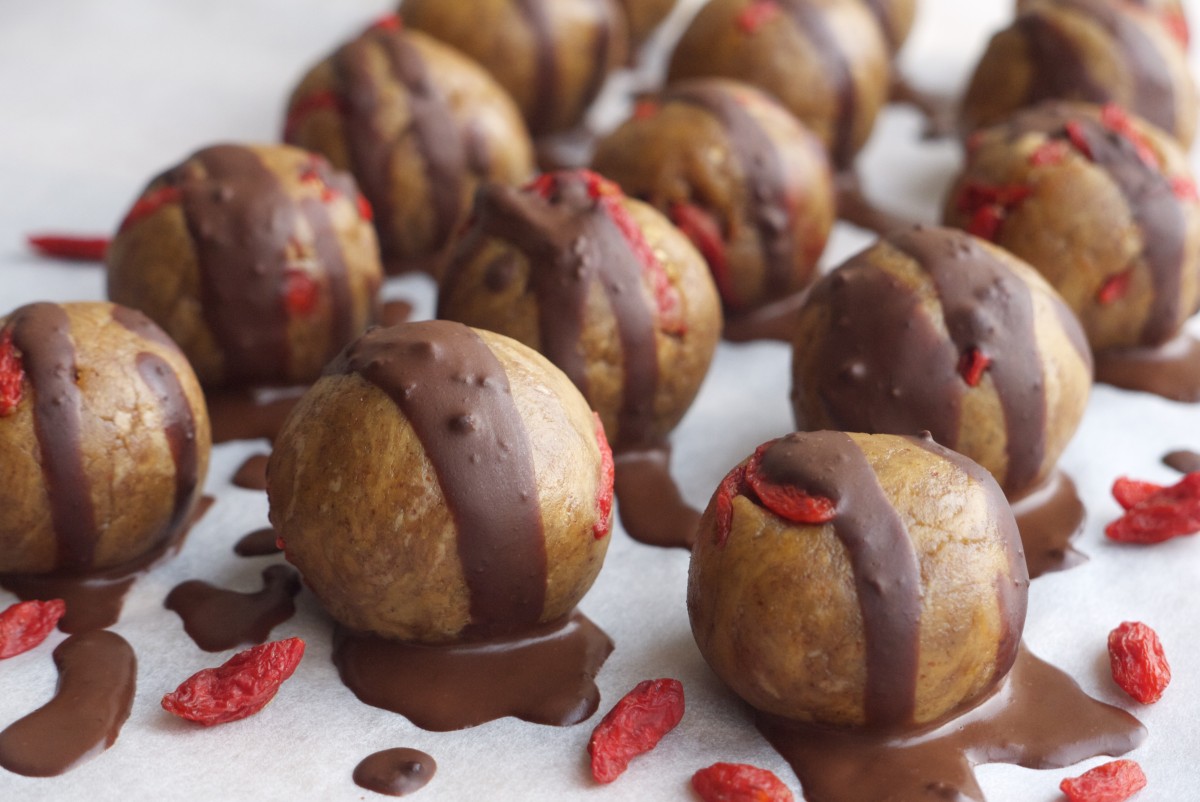 And the chocolate? That's simple coconut oil, cacao powder and maple syrup melted together to form a rich chocolate sauce.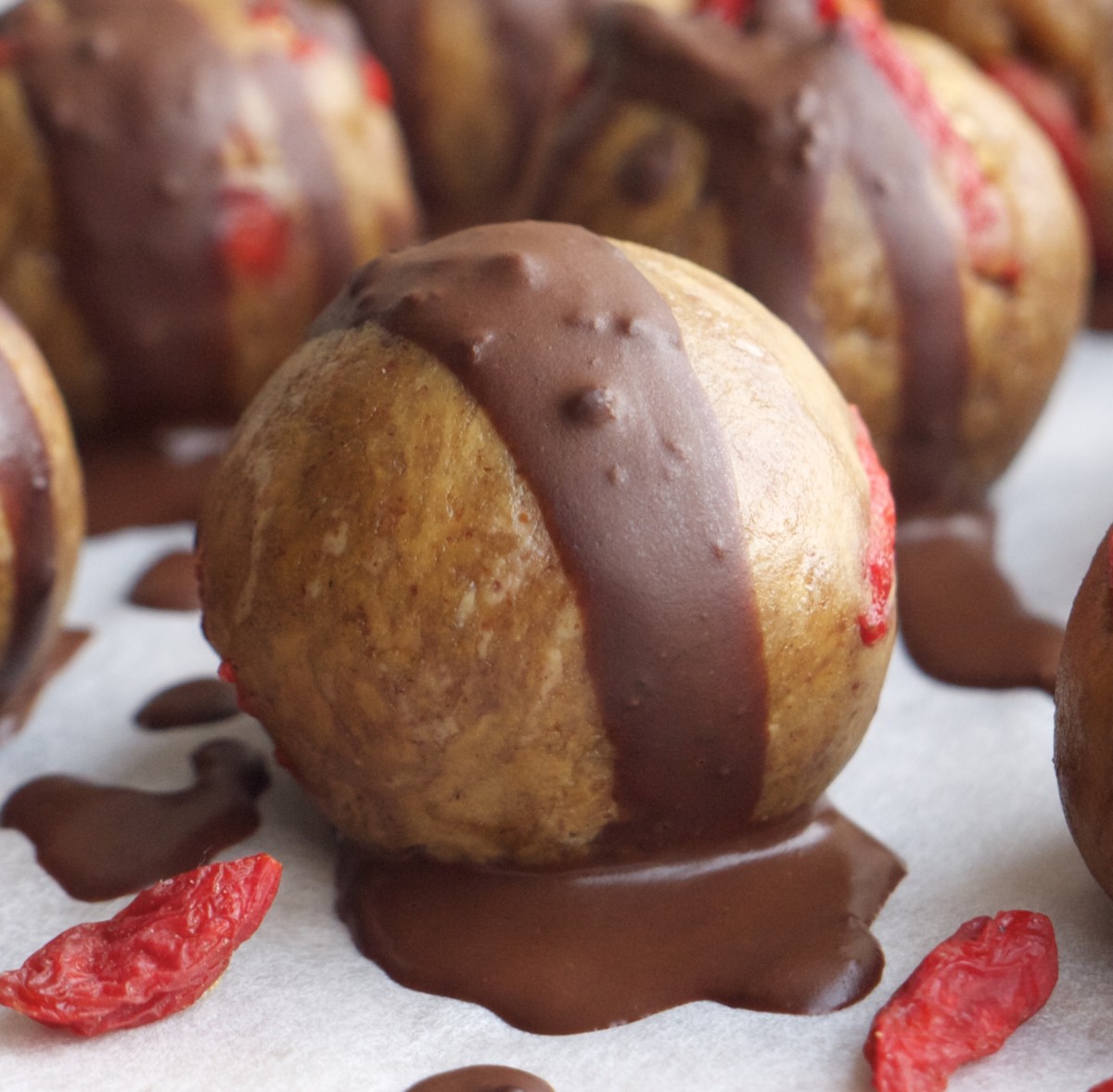 Free from refined sugar, rich in protein, vitamins, minerals, fibre and antioxidants, these bites make a great supercharged brekkie on the go or filling post-workout recovery snack.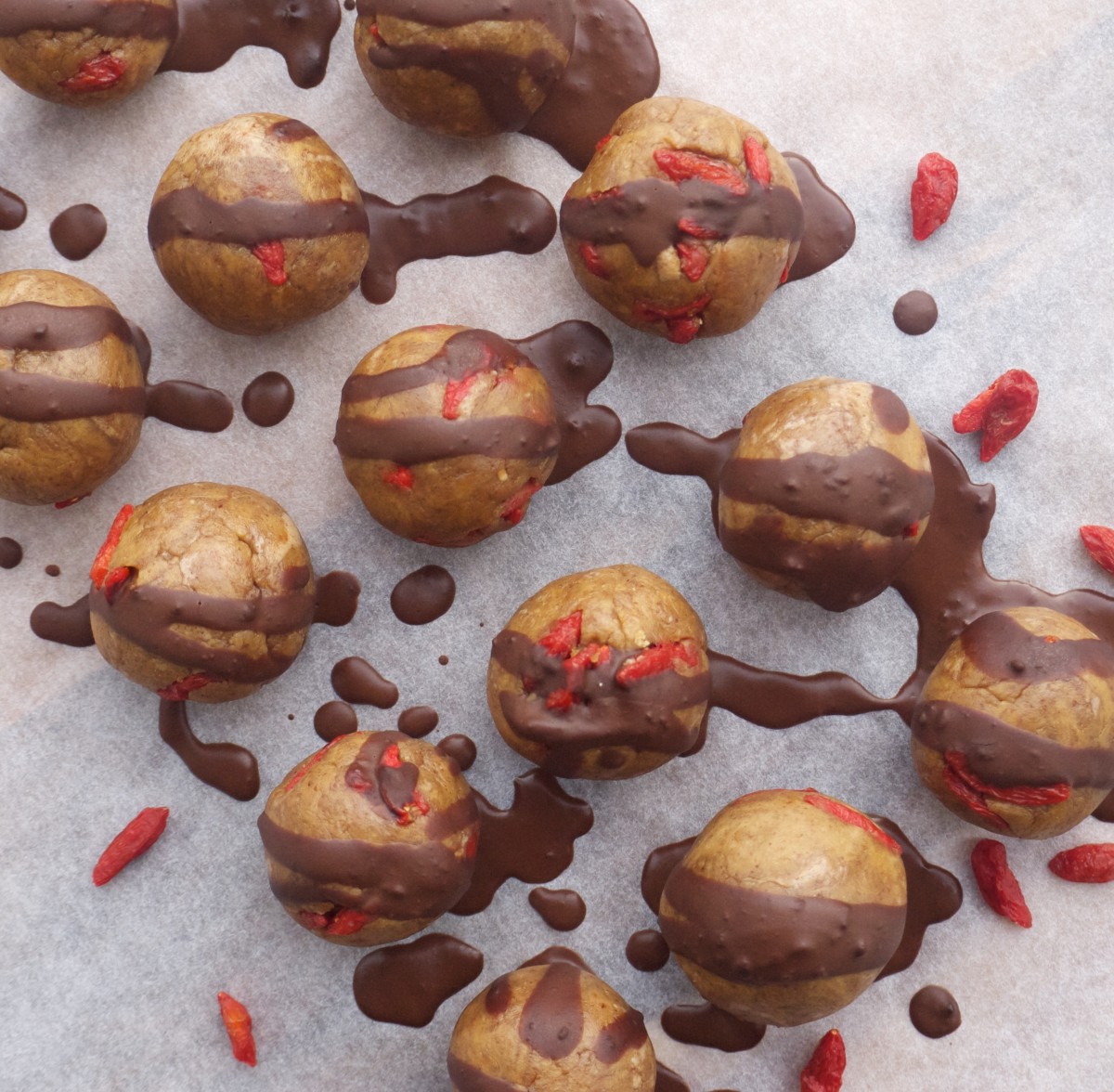 I would love to know if you get a chance to make these Peanut Butter Protein Bites with Dark Chocolate Drizzle! Simply tag #RosannaDavisonNutrition on Instagram or Twitter or come on over to my Facebook to say hello 🙂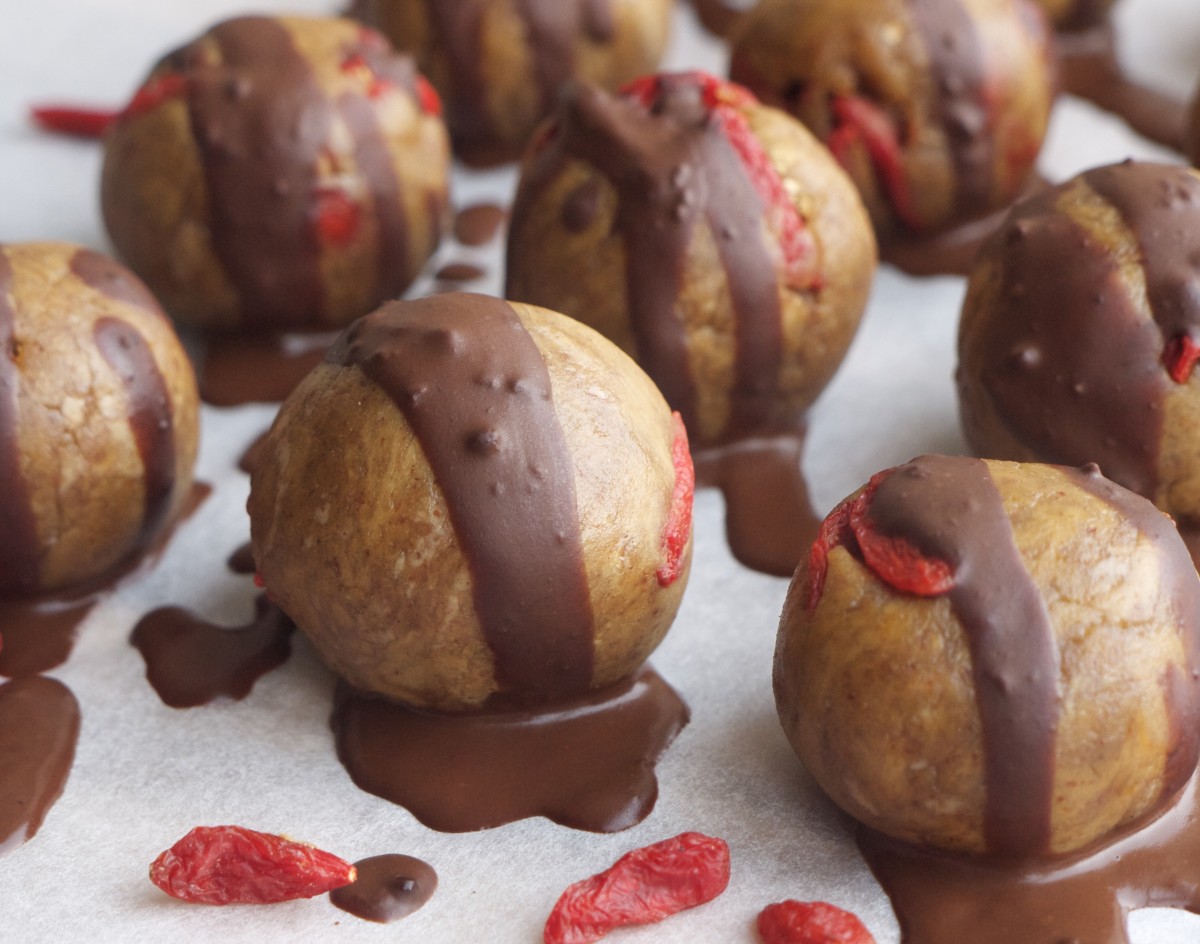 Peanut Butter Protein Bites with Dark Chocolate Drizzle
2015-11-28 18:07:55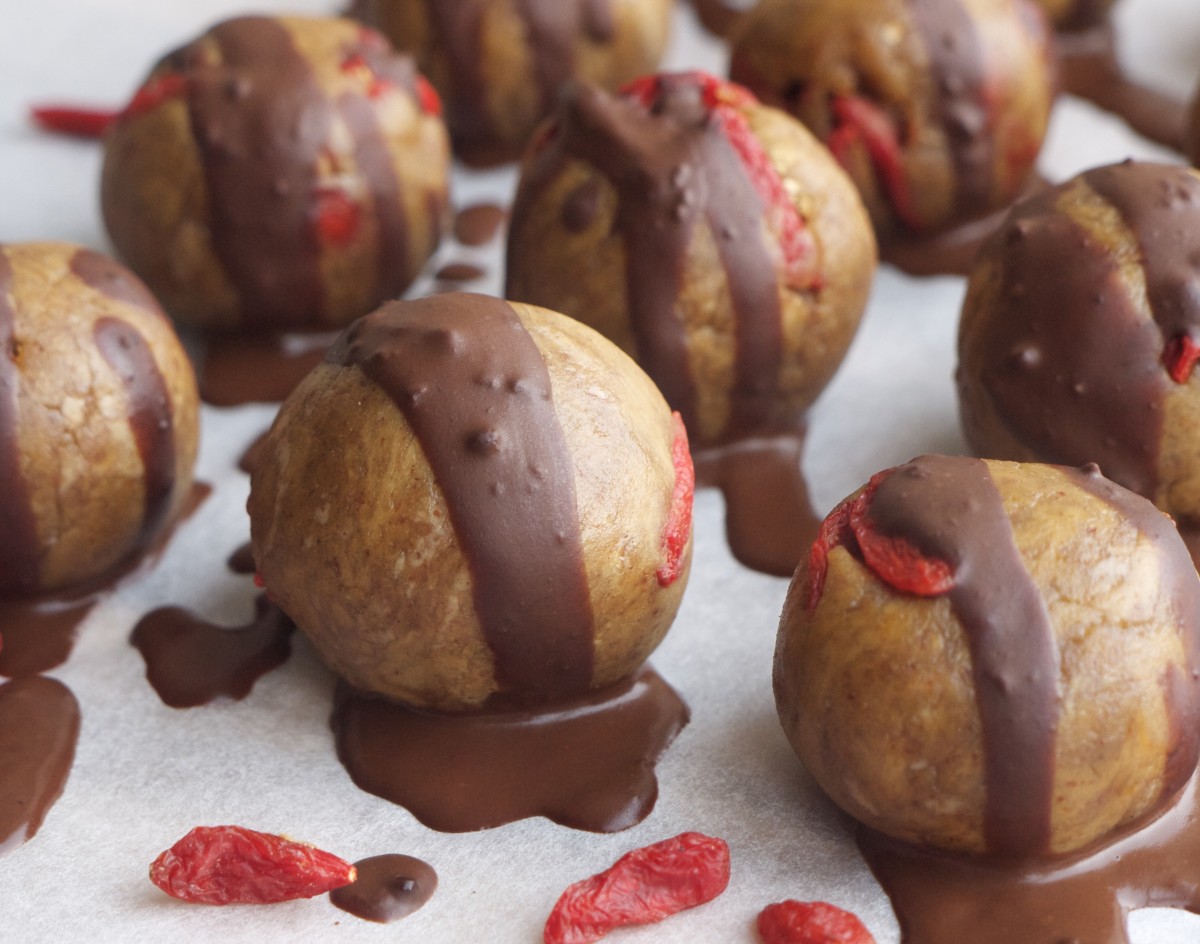 A great post-workout snack or guilt-free sweet treat when you fancy something tasty and satisfying. The goji berries add a pop of crunchy sweetness and help to boost their nutritional value even more.
Ingredients
75g (1/2 cup) dates, pitted, chopped and soaked in hot water for 20 minutes to soften*
Warm water, to blend the dates
2 scoops Sunwarrior Vanilla Protein Powder (or your choice of protein)
4 tbsp smooth or crunchy peanut butter** (I used smooth)
2 tsp vanilla extract
1 tsp cinnamon (optional)
2 tbsp goji berries
For the dark chocolate drizzle
3 tbsp cacao powder
2 tbsp virgin coconut oil
1 tbsp pure maple syrup or honey
1 tsp vanilla extract
Instructions
Drain the soaked dates well and place them in a food processor or blender, along with a splash of warm water. Blend until a smooth paste forms, adding more water if necessary.
Place the protein powder, peanut butter, vanilla, cinnamon and goji berries into a large mixing bowl and add in two tablespoons of the date paste.
Mix the ingredients together well until a thick dough forms. Taste at this point and add more vanilla or cinnamon, if desired.
Roll the mixture into even balls and lay them out on a piece of greaseproof paper.
Next, melt the coconut oil in a small saucepan over a medium heat and add the cacao powder, maple syrup and vanilla.
Stir well until a chocolate sauce forms, remove it from the heat and drizzle it over the protein bites.
Place the bites into the fridge to set for 30 minutes, then serve chilled.
Notes
*Pure maple syrup or honey can both be substituted here.
** Look out for organic peanut butter, free from added sugar and palm oil.
Leftovers can be stored in an airtight container in the fridge for up to 3 days.
Rosanna Davison Nutrition https://www.rosannadavisonnutrition.com/