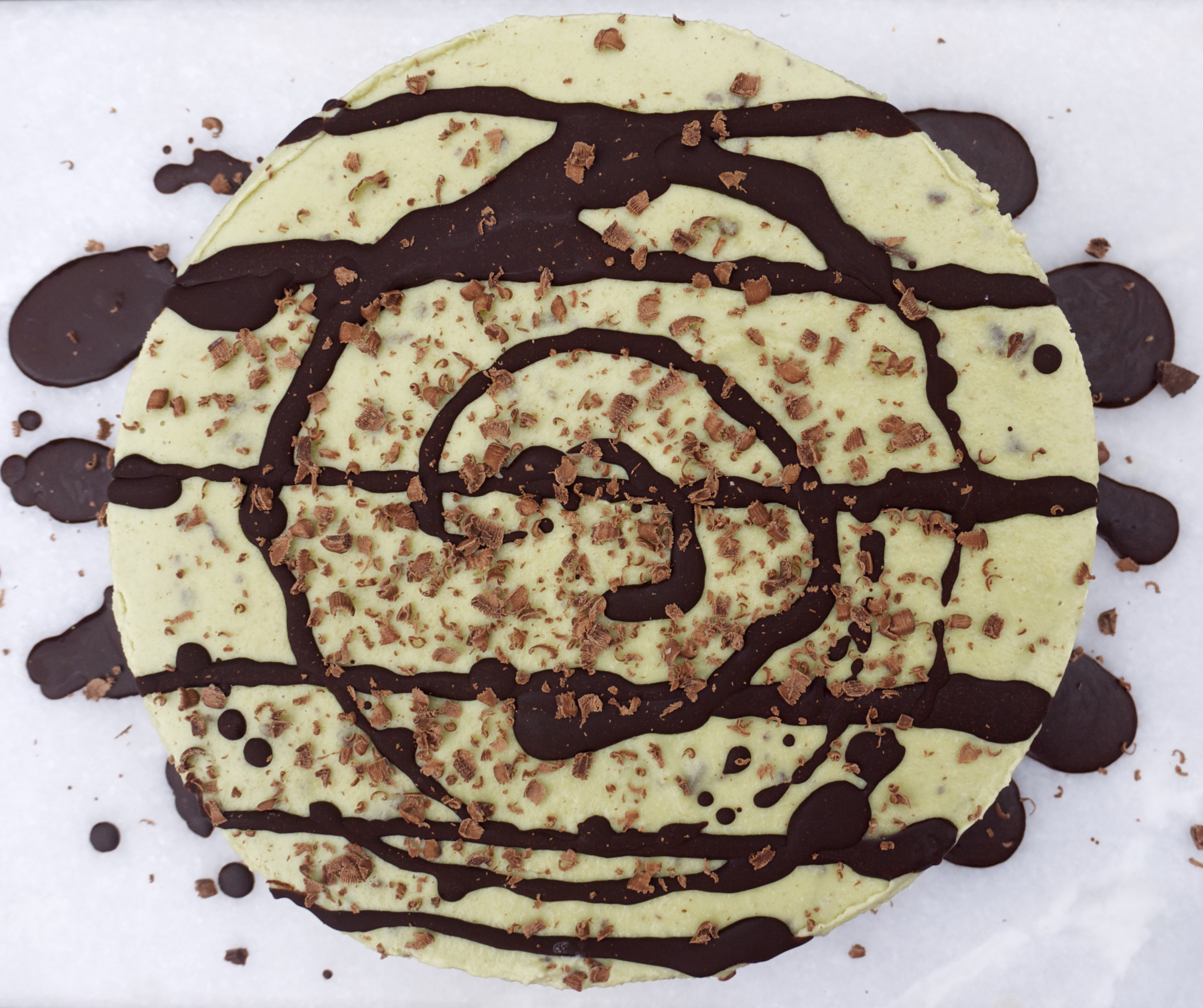 Love mint choc chip ice-cream? Love cake?! This is a beautiful marriage of two of my faves and perfect if you don't own an ice-cream maker!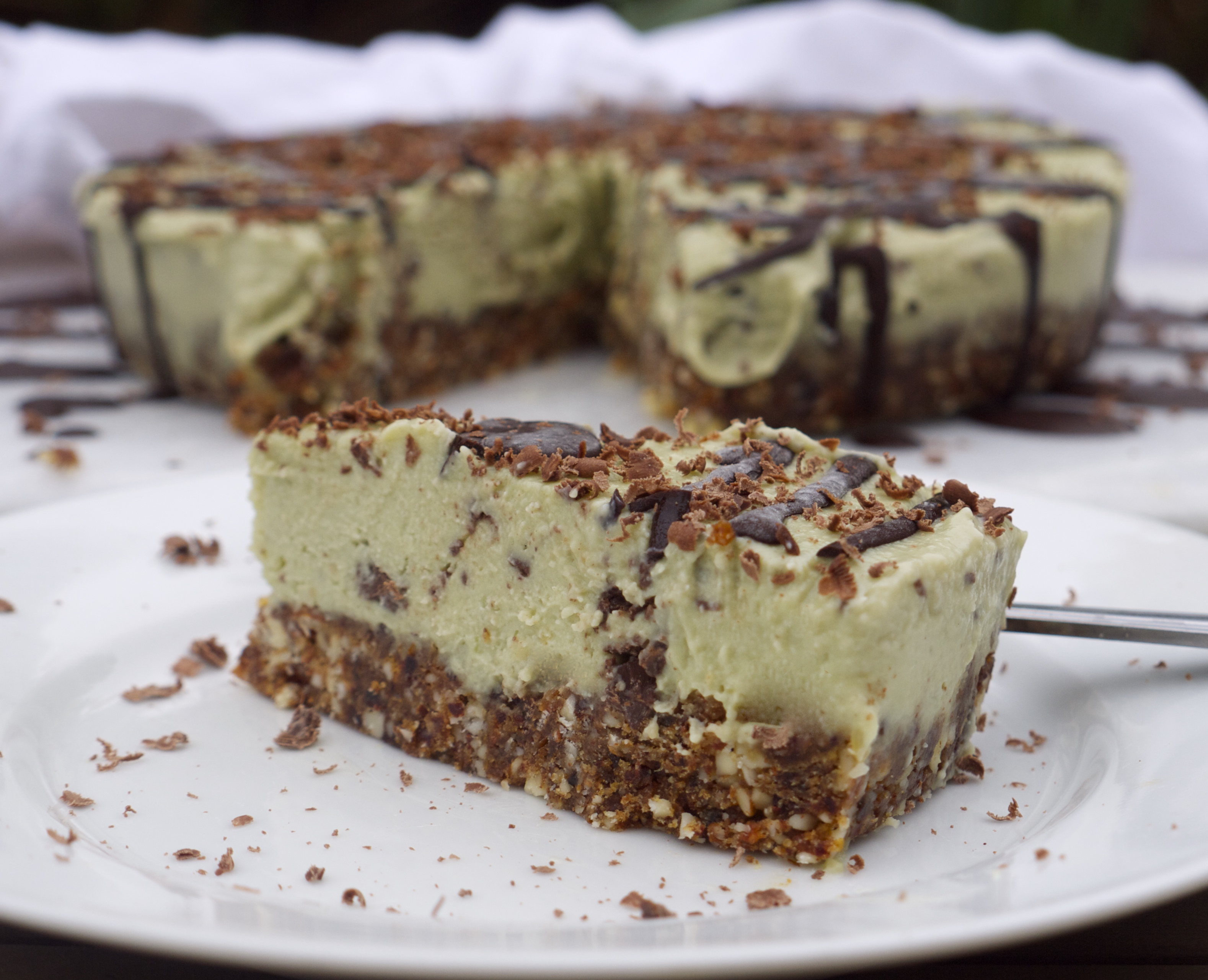 I created this recipe with St. Patrick's Day in mind, because you have to eat green food on our national day, right?!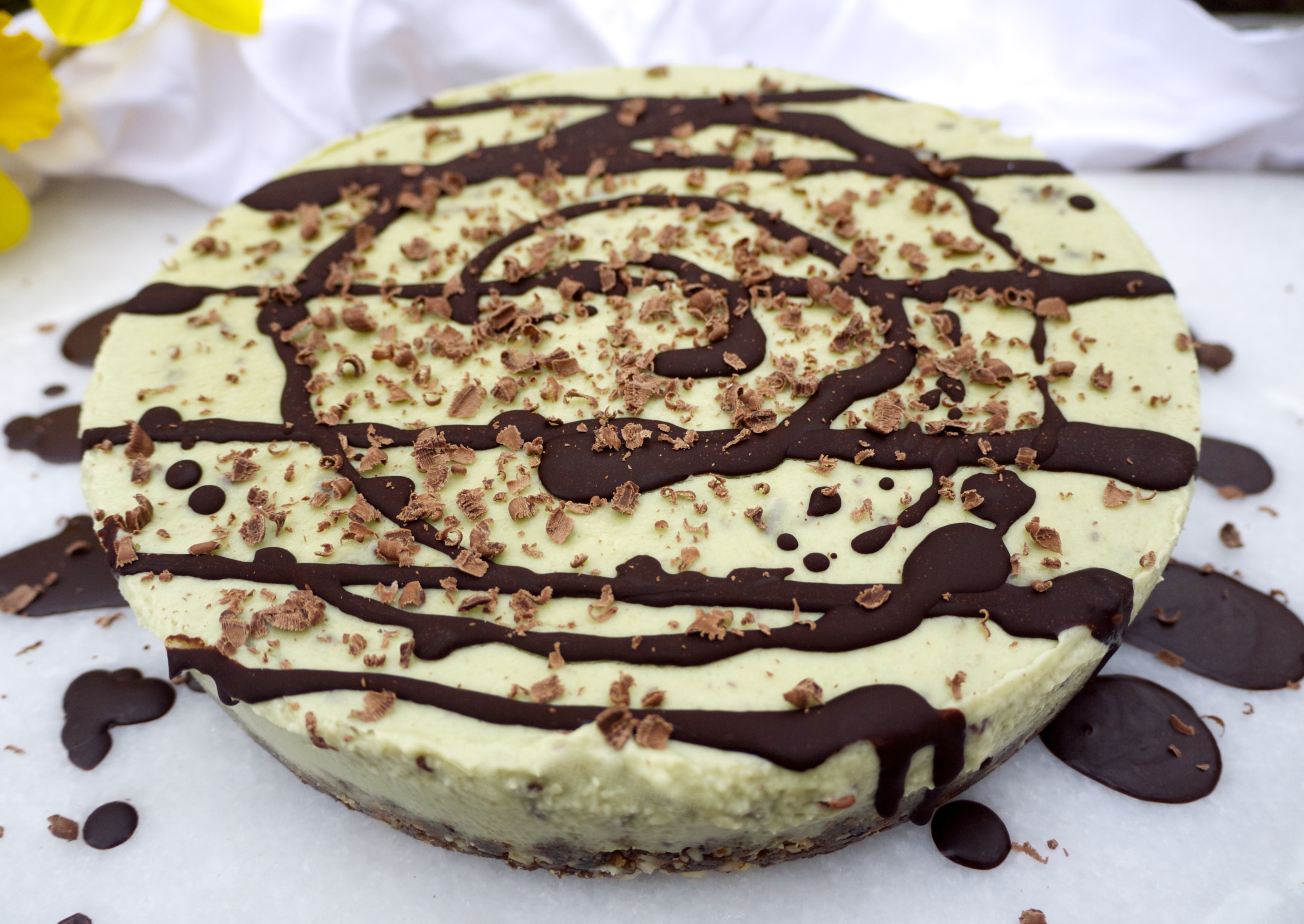 I love how simple and straightforward it is to make, as your food processor or blender and freezer will do most of the work for you. If you're hosting a party or gathering over the weekend, you could whizz it all up this evening and let it set overnight to be ready for devouring tomorrow.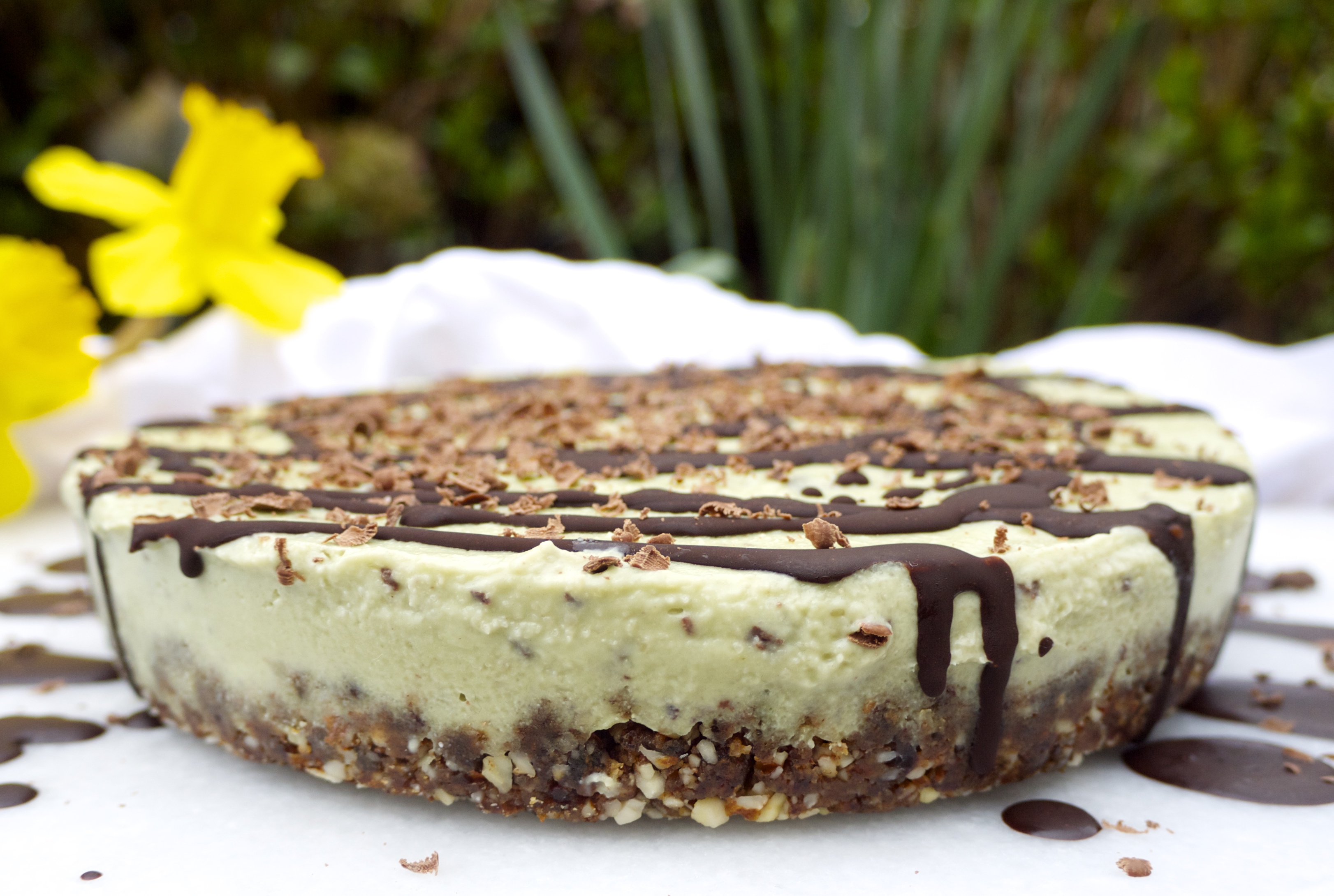 Oh and did I mention that there's absolutely no baking involved?! The base is simply raw almonds mixed with dates, almond butter, coconut oil and vanilla, while the filling contains cashews, coconut cream, avocado (ssshh you can't taste it!), maple syrup and those all-important chocolate chips.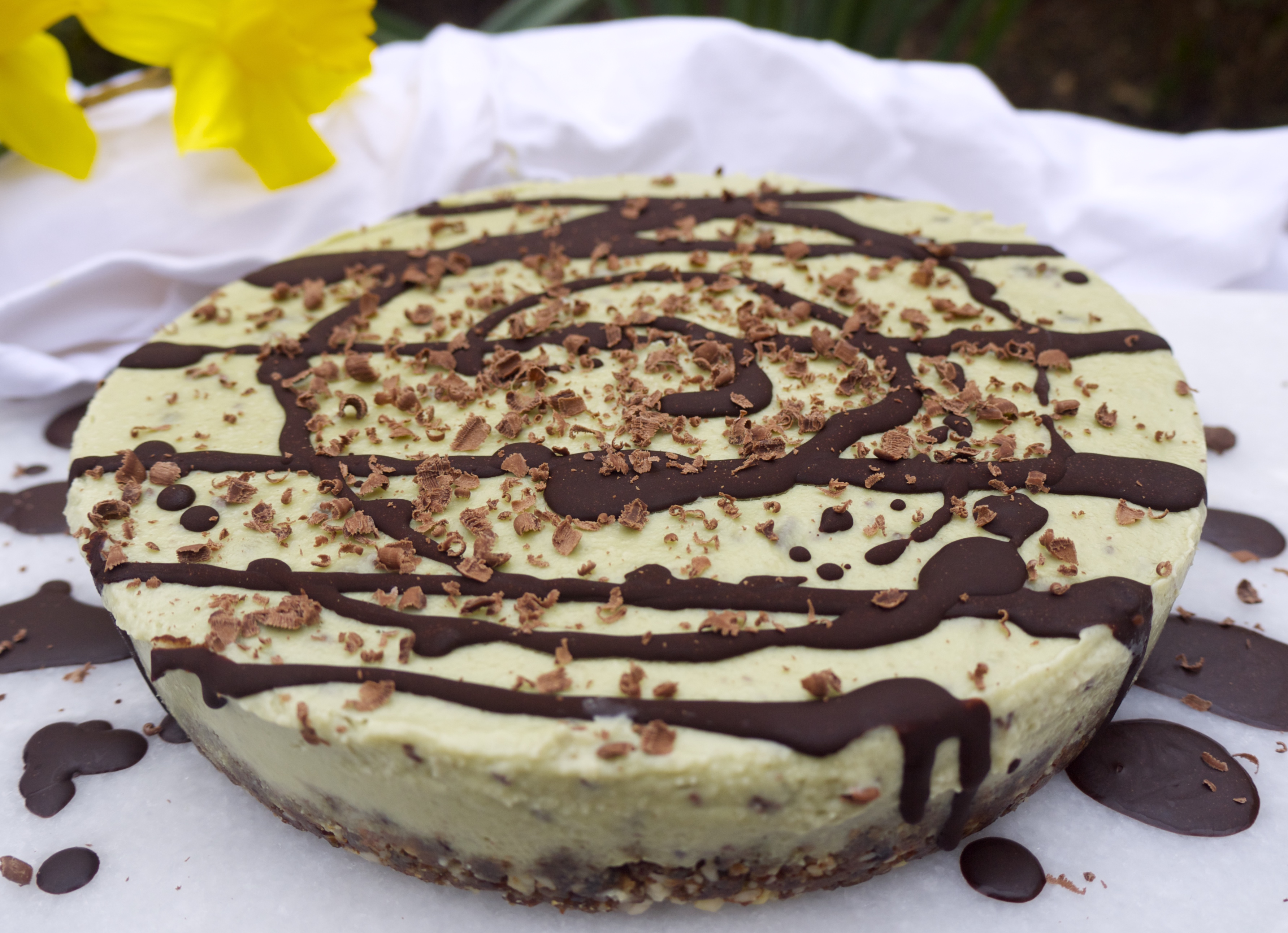 To create that minty taste, I used peppermint essence, but real mint leaves would be incredible in it. For the green colour, I used a little wheatgrass powder, but a few drops of green food colouring would do the job just as well too… just don't go too overboard with the green. More Paddy's Day and less Halloween!!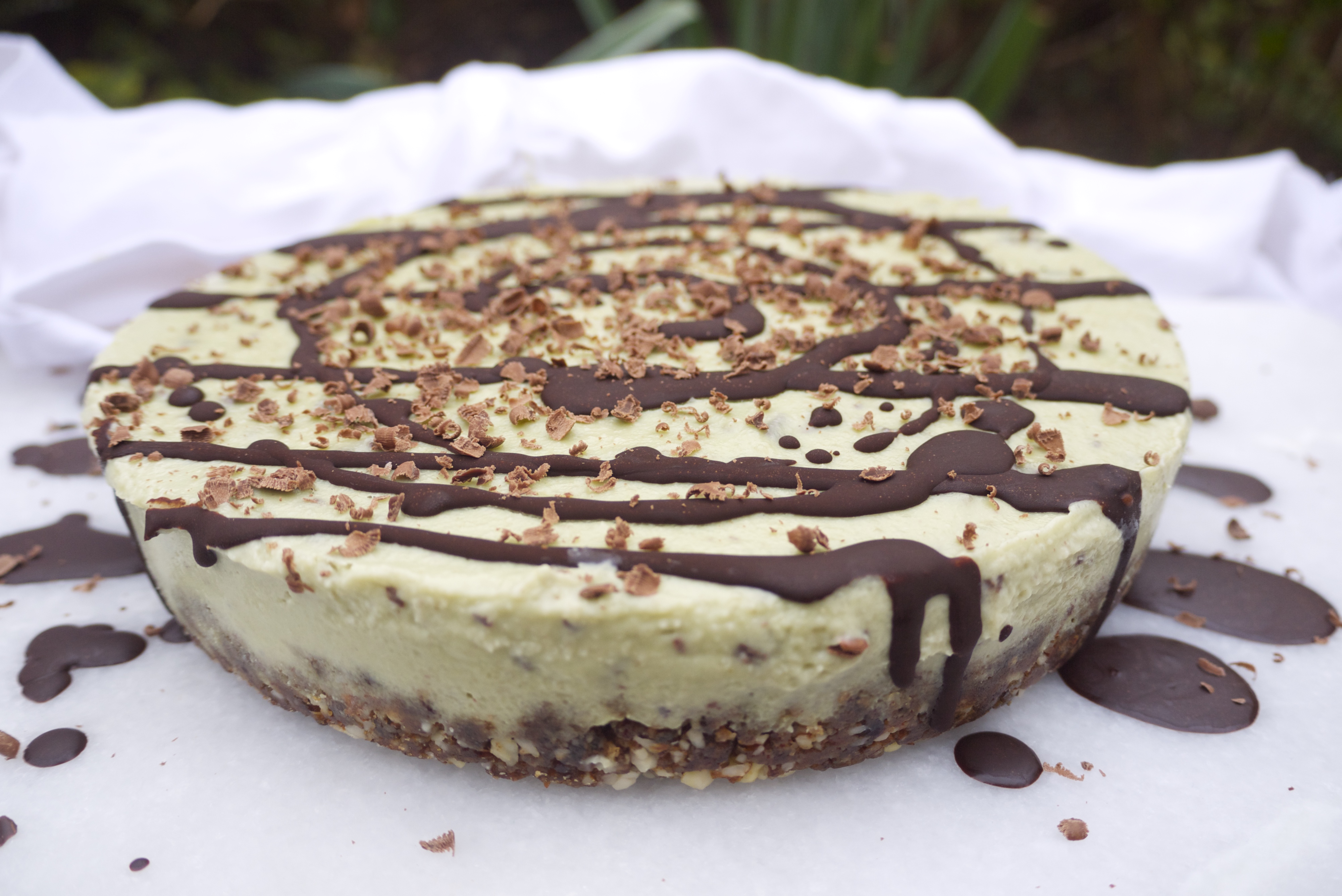 I would love to know if you get a chance to make this Mint Choc Chip Ice-Cream Cake! Simply tag #RosannaDavisonNutrition on Instagram or Twitter or come on over to my Facebook to say hello 🙂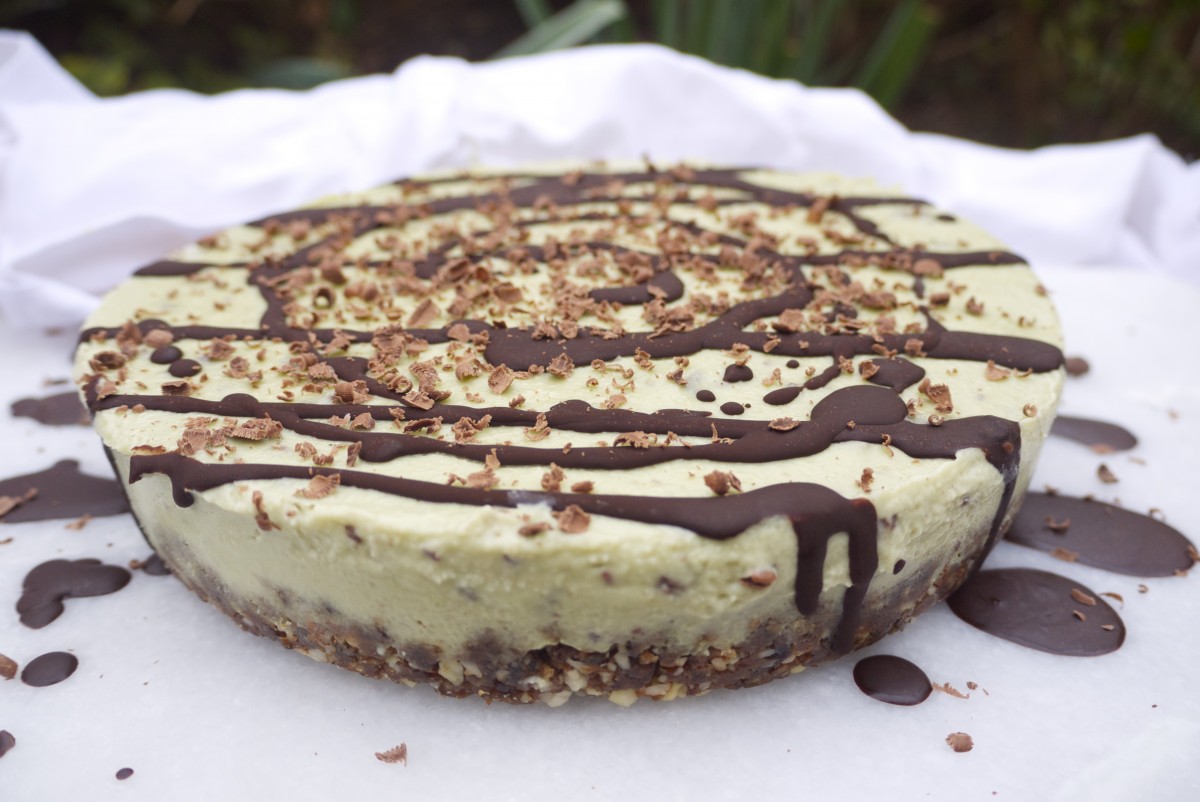 Mint Choc Chip Ice-Cream Cake
2016-03-15 21:44:50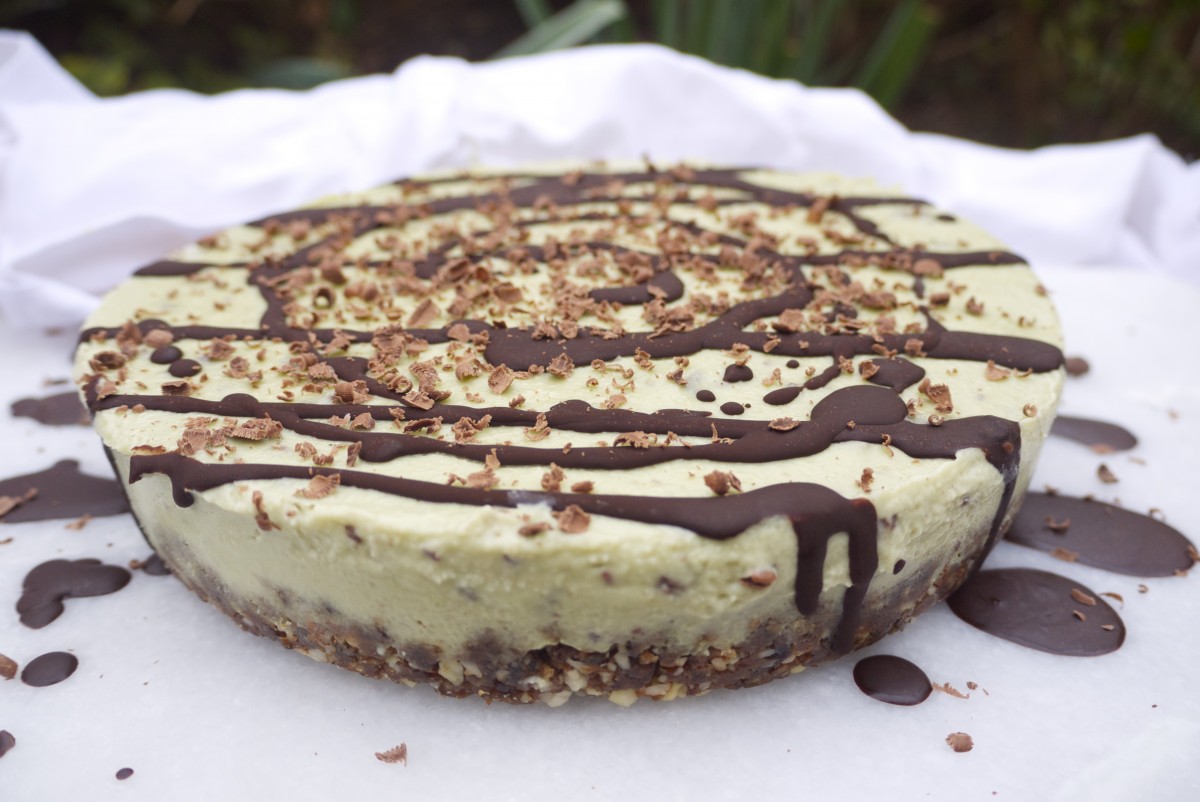 Serves 8
The perfect St. Patrick's Day dessert or sweet treat for fans of mint choc chip ice-cream! Sugar and dairy-free, it's simple and fun to make. Nutrition Information per serving: 480 calories, 10.1g protein, 38.8g carbs, 34.9g fat, 6.9g fibre
For the crust
145g (1 cup) raw almonds
150g (1 cup) pitted dates, soaked in hot water for 20 minutes to soften
2 tbsp almond butter (or any nut/seed butter)
2 tsp vanilla extract
1 tbsp virgin coconut oil
For the filling
160g (1.4 cups) raw unsalted cashews, soaked in cold water for 30 minutes
2 400ml cans full-fat coconut milk, refrigerated overnight
1/2 a ripe avocado
2 tbsp virgin coconut oil, melted
5 tbsp pure maple syrup or honey
1 tsp peppermint essence (or a handful of fresh mint leaves)
1 tsp wheatgrass powder or a few drops green food colouring, for a green colour (I used wheatgrass powder)
Dash of unsweetened almond milk, to help blend
75g dark chocolate chips or 80-90% bar broken into pieces
For the dark chocolate drizzle
2 tbsp virgin coconut oil
3 tbsp cacao powder or Cadbury's Bournville cocoa powder
Instructions
Place the whole almonds, soaked and drained dates, almond butter, vanilla and coconut oil in a food processor and process until it forms a coarse, sticky mixture. Use a splash of warm water to blend, if necessary.
Press the mixture into the base of an 8-inch circular silicon or springform pie dish.
To make the filling, place the soaked and drained cashews in a food processor or blender (I used a blender).
Gently open the two cans of coconut milk without shaking them. The coconut cream should have separated from the water and hardened in the can. Spoon out 6 tablespoons of the coconut cream and add it to the cashews in the blender.
Add the avocado, coconut oil, maple syrup, peppermint essence, wheatgrass powder or food colouring and blend until smooth and creamy. Use a splash of water or almond milk to blend, if necessary.
Fold in the dark chocolate chips/chopped chocolate to the mixture and pour the filling onto the base, using a spatula to smooth across the top.
Place the ice-cream cake to set in the freezer for 4-6 hours or overnight.
To make the chocolate drizzle, gently melt the coconut oil in a small bowl in the microwave or a saucepan over a low-medium heat and add in the cacao powder. Whisk well until a smooth chocolate sauce forms.
When the cake is properly set, remove it from the freezer and use a spoon to drizzle the warm chocolate sauce across the cake, where it will quickly set into a chocolate shell.
Slice and serve chilled.
Notes
Any leftovers can be stored in a covered container in the fridge for up to 4 days or frozen for up to 3 months. Always serve chilled.
Rosanna Davison Nutrition https://www.rosannadavisonnutrition.com/