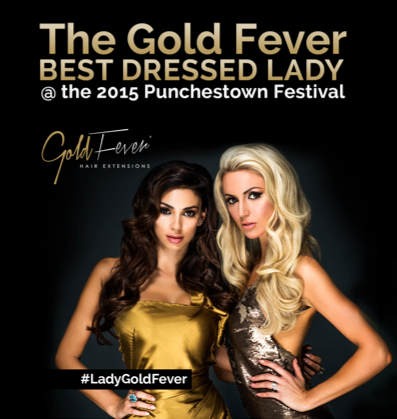 Hi all!
So the Punchestown Races kicked off yesterday with a week of racing, fun and fashion for punters to look forward to. And as an ambassador for the main fashion sponsor, Gold Fever Hair Extensions, I was delighted to be asked to judge best-dressed lady on day 1 of the festival. Each day this week, judges will be choosing a selection of finalists and one overall winner per day, who will compete for the top prize this Friday.
Each daily winner receives an amazing prize, including €1,000 worth of Gold Fever hair extensions and a goody bag worth €450, containing BodyByrne personal training vouchers, a gorgeous Stella & Dot piece of jewellery and a hamper of tanning products.
Each finalist everyday also gets the goody bag, so I couldn't think of a better reason to enter!
The big prize for the overall winner, to be announced this Friday, is absolutely incredible. The lucky lady will win a luxury all expenses paid holiday to the 5-star Makanyi Lodge in South Africa, for a safari holiday of a lifetime. Plus dream Gold Fever hair and a whole host of other goodies. The prize is worth over €20,000 in total, so get those glad rags on and get your bums to Punchestown, girls!
As a judge yesterday, I was looking for great hair and a striking hat, as well as outfits that were unique and appropriate for the chilly weather (we had hailstones at one stage).
No need to spend a fortune on clothes either, as we loved hearing stories about outfits being homemade or designed by the wearer. Even better if you found an old hat in your granny's attic and dusted it off, popped on a feather and arrived looking fabulous. It's all about the uniqueness of the outfit.
Our overall winner yesterday was the gorgeous 19 year-old Kirsty Farrell, from Newry. Along with her mum, she owns her own boutique and she designed the dress she wore yesterday. We loved the elegant, vintage, 1920s style of her outfit, with the flattering hat and faux-fur stole. It looked so beautiful on her and she really stood out amongst her fellow contestants. Well done Kirsty!
As for my outfit, I chose a summery floral hat in navy and pink, by Suzanne Ryan Millinery. My blue dress was by Alex Perry from The Ivory Closet, and my shoes were an anniversary gift from my husband 🙂 I wore a navy Paul Costelloe coat with a bright pink lining over the outfit to keep warm, so it was important to support Irish designers too.
Hair was by Ceira Lambert using the Instyler, and make-up was done by Michelle Regazzoli. I'll put up a key make-up product list later on for anyone interested!