Here are a couple of ideas for healthier alternatives for a main meal and dessert to make over the festive season, as featured in the Irish Independent…
Lentil, sweet potato and red pepper baked loaf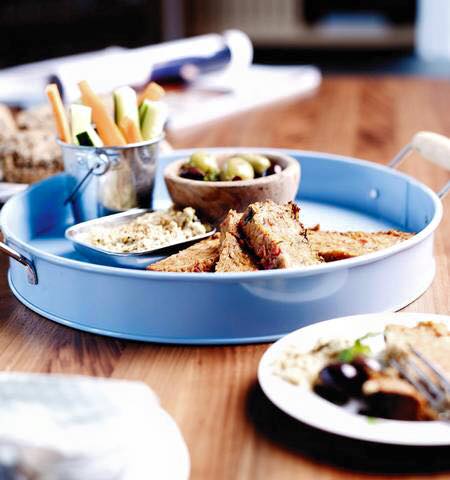 This is one of my favourite plant-based dishes to make for Christmas Day, as the red and green of the peppers and coriander make it look suitably festive. It's a satisfying dish thanks to the protein and fibre-packed lentils and complexion-nourishing sweet potato, while the parsley, onion and garlic help to support liver detoxification.
Makes 1 loaf
You will need
384g dry green lentils
1 tbsp ground flaxseed
2 tbsp lukewarm water
1/2 tbsp coconut oil, plus extra for greasing
150g red pepper, diced
1 red onion, finely diced
2 cloves of garlic, minced
Himalayan pink rock salt and black pepper to taste
1 medium sweet potato, finely chopped or shredded
245g tomato passata (I use an organic brand sold in glass jars rather than cans)
75g gluten-free rolled oats
30g chopped fresh flat-leaf parsley
1 tbsp chopped fresh rosemary
1 tbsp dried thyme
2 tsp smoked paprika plus a pinch to garnish
Method
1. To cook the lentils, first rinse them in a sieve under cold running water. Transfer them to a medium saucepan and cover with double their volume of water. Over a medium-high heat, bring the lentils to a rapid simmer and then reduce the temperature to gently simmer them, uncovered, for 20-30 minutes. The lentils should be just barely covered with water and are cooked once they're tender rather than crunchy.
2. Preheat the oven to 180°C. Lightly grease a loaf tin with coconut oil.
3. Prepare the flax 'egg' by placing the ground flaxseed in a small bowl and mixing with the lukewarm water. Place in the fridge to set for 10 minutes.
4. Heat the coconut oil in a frying pan over a medium heat. Cook the diced peppers, onions and garlic for 6-7 minutes, until soft and lightly browned. Add salt and pepper to taste.
5. In a large mixing bowl, combine the cooked lentils, flax 'egg', sweet potato, passata, oats, parsley, rosemary, thyme and smoked paprika plus more seasoning if desired. Add the red pepper mixture and stir until everything is mixed well.
6. Pour the mixture into the greased loaf tin and ensure it's smooth and even. Sprinkle with another pinch of smoked paprika.
7. Bake for 45-50 minutes, until the loaf is firm to touch and brown on top.
8. Remove from the oven and transfer to a cooling rack. Slice into individual portions and serve warm or cold. Store in an airtight container in the fridge for up to four days.
Maple and pecan pie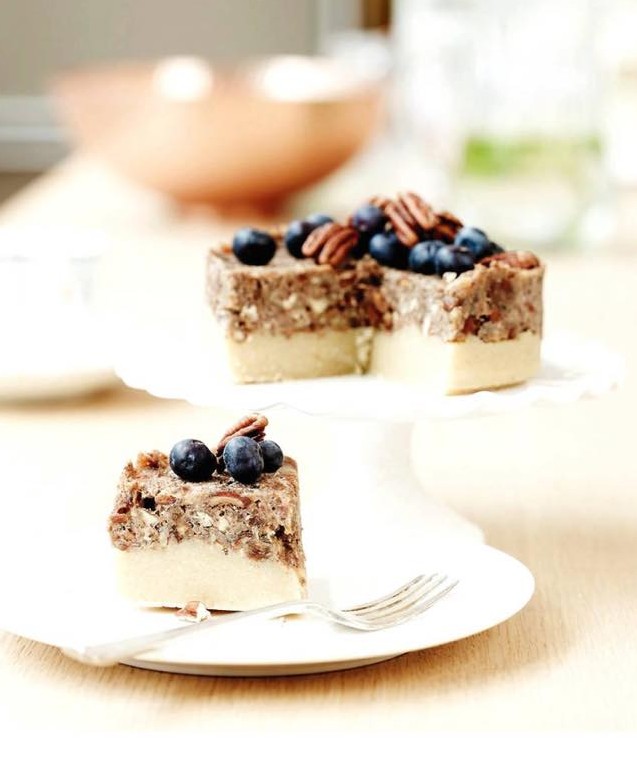 This is a fantastic dessert to make for friends and family on special feast days like Christmas, Easter or birthdays. I've made this as a healthier option on Christmas Day for the past few years and it always gets polished off. Maple and pecan is a classic flavour combo, enhanced even more by the warming spices. I also like to decorate the pie with some fresh blueberries for a dash of colour and added antioxidants.
Serves 6-8
You will need
For the filling:
150g dates, pitted
100g chopped pecans
1 ripe banana, peeled
2 heaped tbsp chia seeds
1 tbsp ground cinnamon
2 tsp vanilla extract
1/2 tsp ground nutmeg
60g fresh blueberries, to decorate
30g whole pecans, to decorate
For the crust:
145g ground almonds
55g organic virgin coconut oil
85g pure maple syrup
1 tsp vanilla extract
Method
1. Soak the dates in a small bowl of warm water for 15-20 minutes to soften. Drain well.
2. Place all the ingredients for the crust into a blender or food processor and whizz until a dough forms. Press firmly and evenly into a round silicone or springform tin.
3. Place the soaked dates, chopped pecans, banana, chia seeds, cinnamon, vanilla and nutmeg into the blender or food processor and blend until smooth. Pour the filling over the crust, ensuring it's flat and even. Decorate with the blueberries and whole pecans. Be creative! Transfer to the freezer and allow it to set for at least 4 hours.
4. When ready to serve, remove the pie from the freezer and carefully cut into slices with a sharp knife. Leftovers can be stored in a sealed container in the freezer for up to three months.