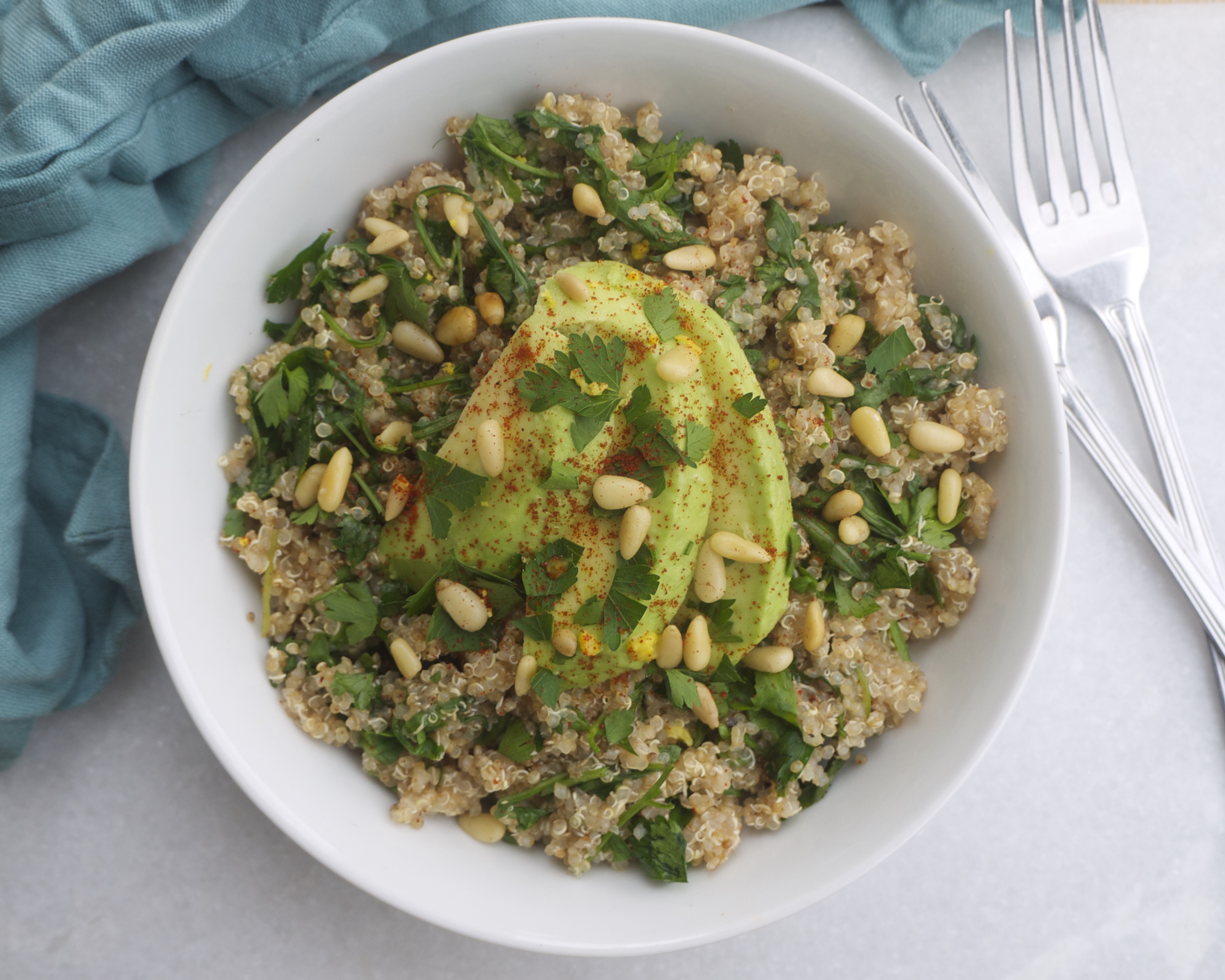 I've been feeling very giddy today! Spring is definitely my favourite time of year (April is my birth month) and right now, it feels that spring is properly here. Dublin was basked in sunshine today, the sky was a bright cloudless blue, the birds were singing outside the kitchen window as I worked, and the daffodils are in full bloom. Life is good 🙂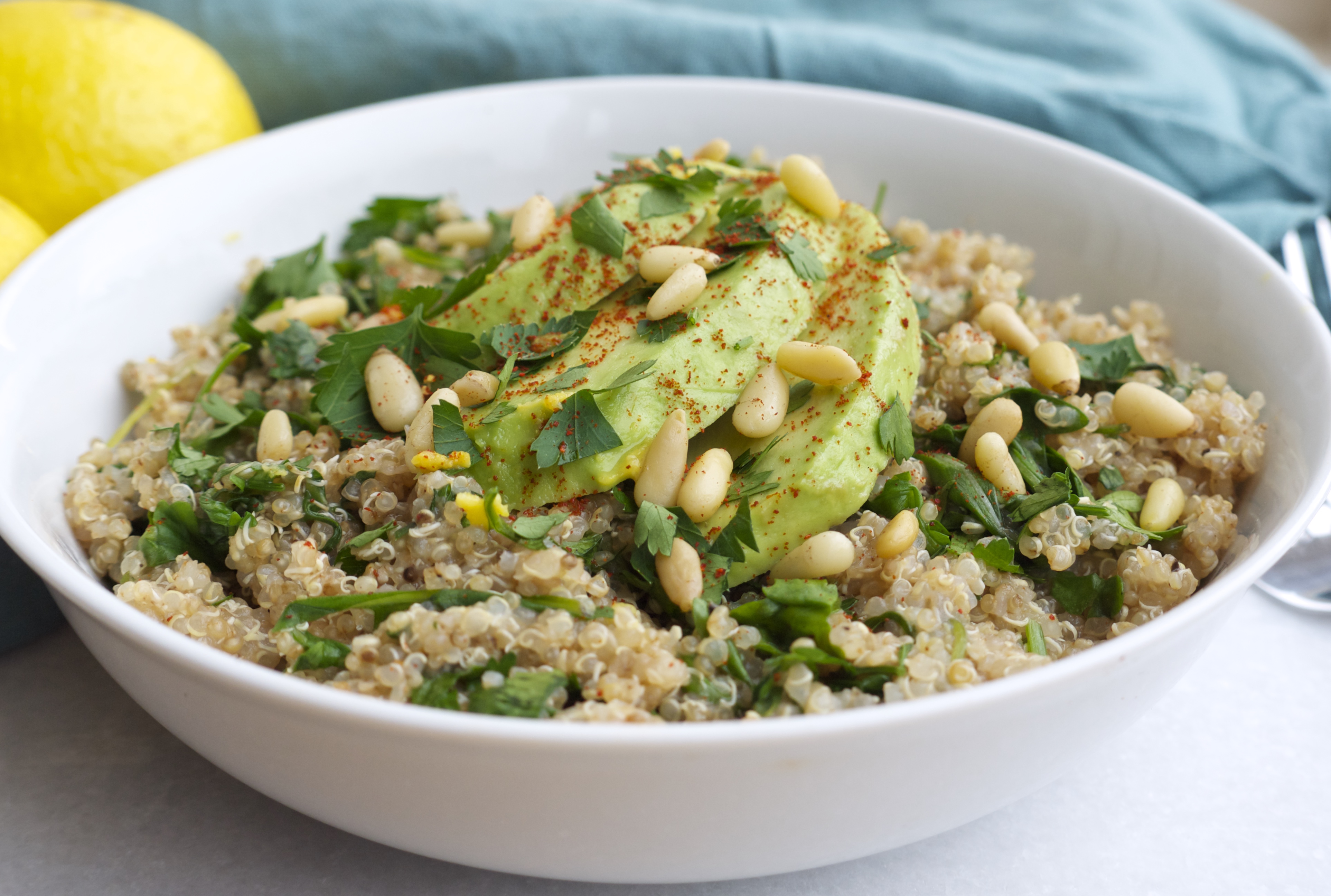 So I decided that I needed a suitably bright and cheerful lunch to match my mood.
This warm quinoa bowl with fresh rocket, fragrant parsley, lemon juice, ripe avocado and toasted pine nuts totally hit the spot.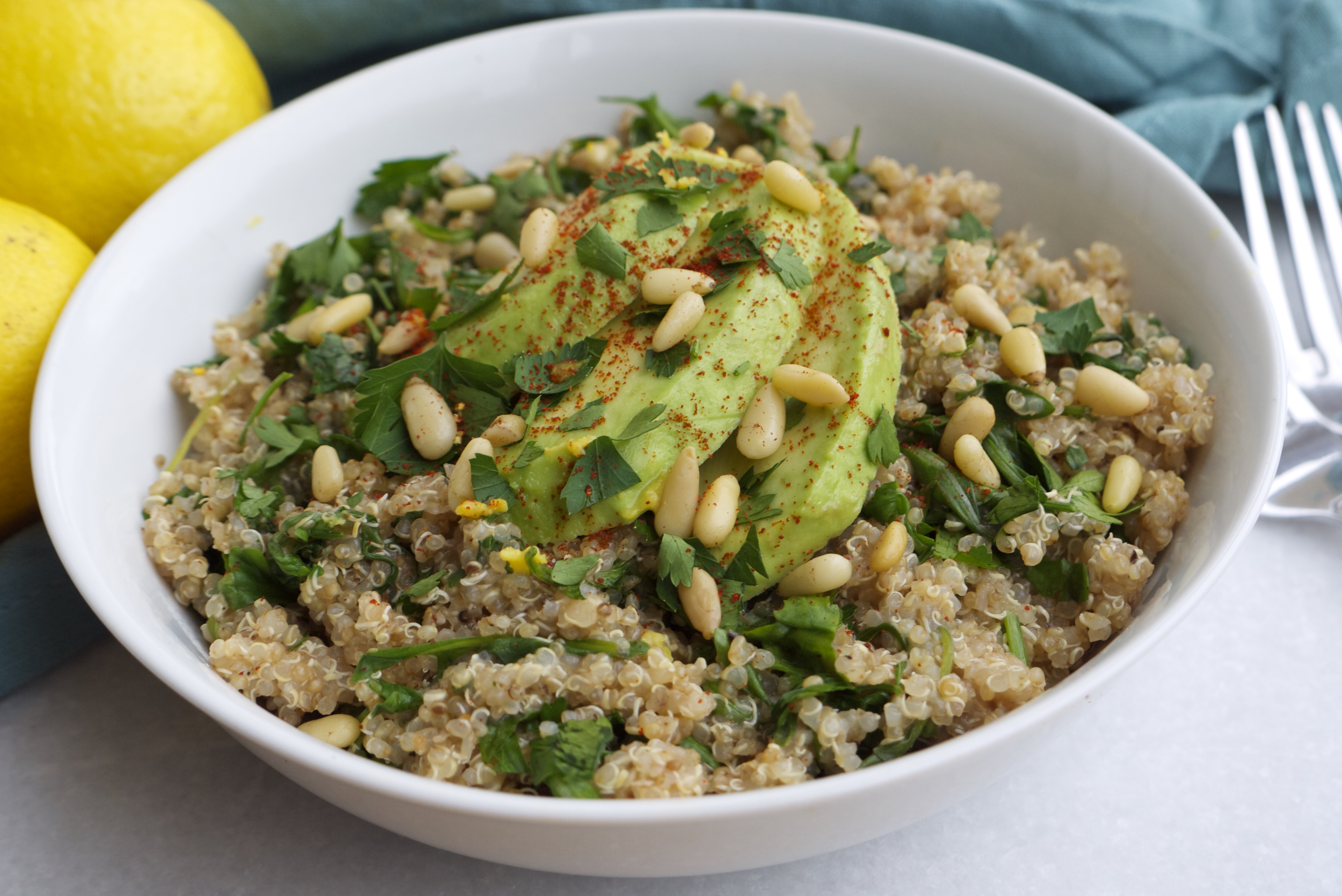 The flavours were fresh and crisp, yet it's a warming, filling and satisfying meal…. let's be honest here, it's still freezing outside!
Quinoa is an ancient South-American grain that has enjoyed a surge in popularity in Europe over the past few years. Meaning 'Mother of Grain' in the Inca language, it has been cultivated for about 5,000 years and contains the full set of essential amino acids, making it the perfect food for busy bodies.
Although it's called a grain, quinoa is actually a seed with a deliciously subtle nutty flavour. It is so beneficial for your health, plus it's delicious, easy to digest, versatile and nutritionally superior to popular grains like couscous and rice.
Apart from being a superb plant-based source of the complete set of essential amino acids, needed for hair growth, healthy skin and toned muscles, quinoa is also one of the very best plant sources of the amino acid lysine, crucial for tissue growth, the synthesis of collagen and elastin, and repair of damaged cells.
It provides high-fibre, slow release carbohydrates, making it a brilliant food for athletes and gym bunnies, and due to its high quantity of minerals, quinoa also happens to be a great food for strong and healthy hair. It's high in magnesium, iron, zinc and phosphorus needed for both hair and skin health.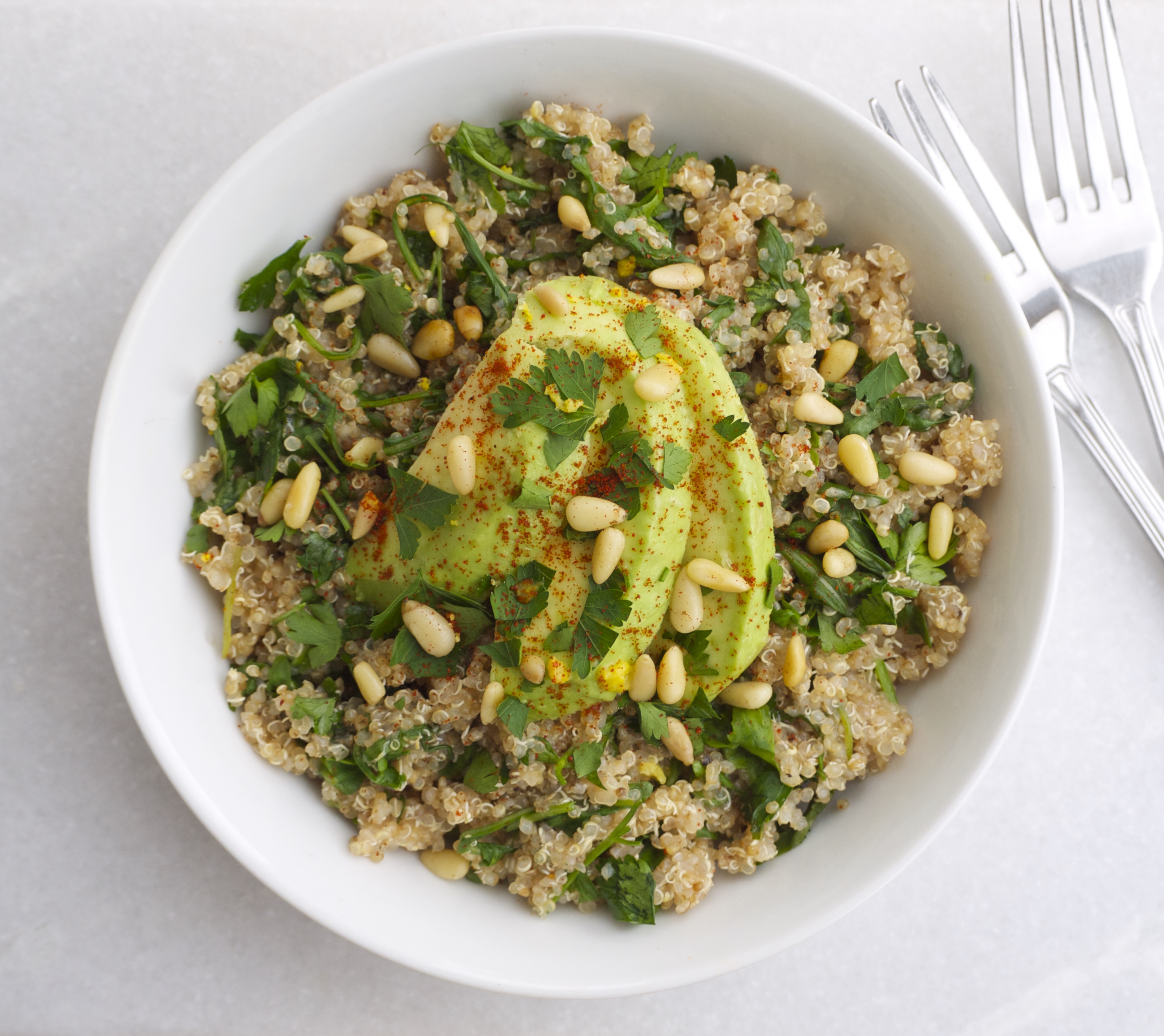 I would love to know if you get a chance to make this Warm Quinoa Bowl with Lemon, Parsley and Avocado! Simply tag #RosannaDavisonNutrition on Instagram or Twitter or come on over to my Facebook to say hello 🙂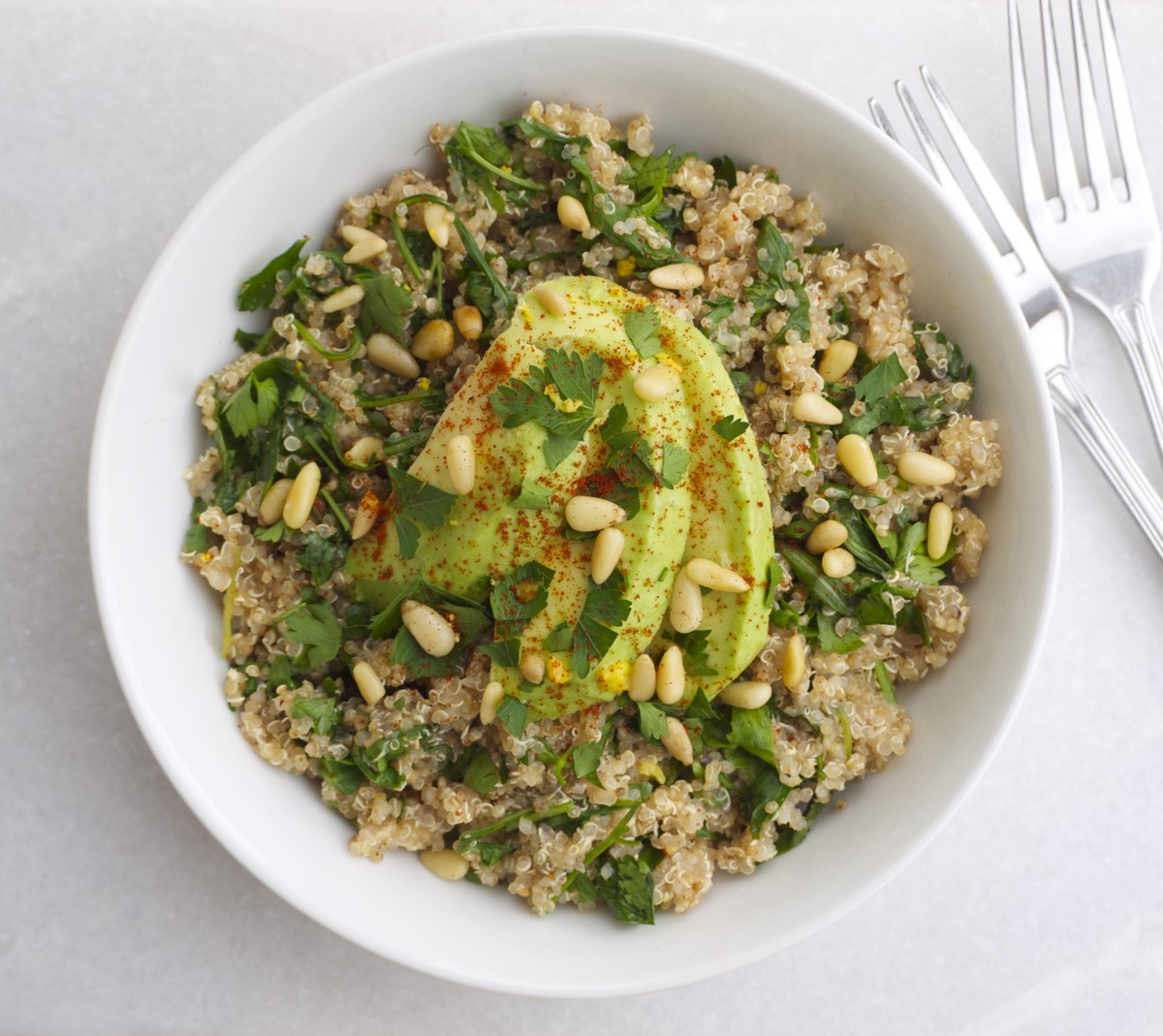 Lemon, Parsley and Avocado Quinoa
2016-03-08 17:22:16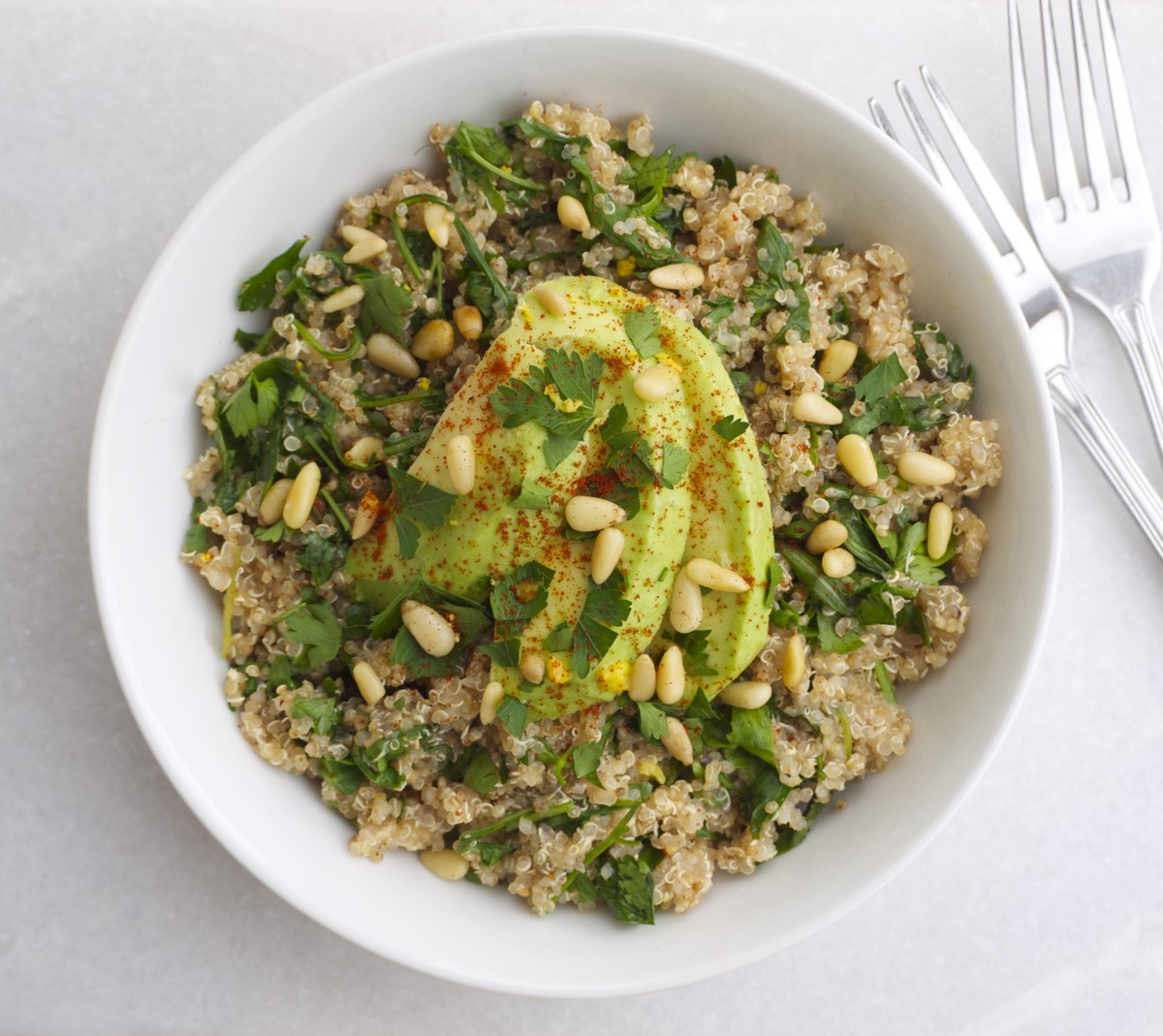 Serves 2
A tasty, simple and filling dish, packed with protein, fibre, healthy fat and a huge array of vitamins, minerals and antioxidants. It makes the perfect healthy lunch or dinner.
Ingredients
170g (1 cup) dry quinoa, rinsed under cold water
500mls (2 cups) water, to cook
the juice and zest of 1 fresh lemon
1 tbsp tamari
pinch of sea salt and fresh black pepper, to taste
1 tsp smoked paprika
2 tbsp nutritional yeast (optional)
1 large handful fresh rocket leaves
1 handful fresh parsley, chopped
1/2 a ripe avocado, peeled, pitted and sliced
2 tbsp pine nuts, raw or lightly toasted
Instructions
Place the rinsed quinoa into a medium saucepan and pour on the water
Cover the saucepan partly with the lid and bring it to the boil.
Bring the heat down and allow it to simmer for 10-12 minutes, until most of the water has evaporated and the quinoa seeds have opened out.
Remove it from the heat and leave it aside to absorb the remaining water.
Use a fork to fluff up the quinoa, then add the lemon juice and tamari and season with sea salt, black pepper, smoked paprika and nutritional yeast, if using.
Stir in the rocket and parsley, allowing them to gently wilt.
Divide into serving bowls, top with avocado, toasted pine nuts, lemon zest and a small pinch of smoked paprika.
Notes
Any leftovers can be stored in an airtight container in the fridge for 3-4 days.
Rosanna Davison Nutrition https://www.rosannadavisonnutrition.com/