Happy Friday!
I hope you're all geared up for some Black Friday shopping? Some great sales around!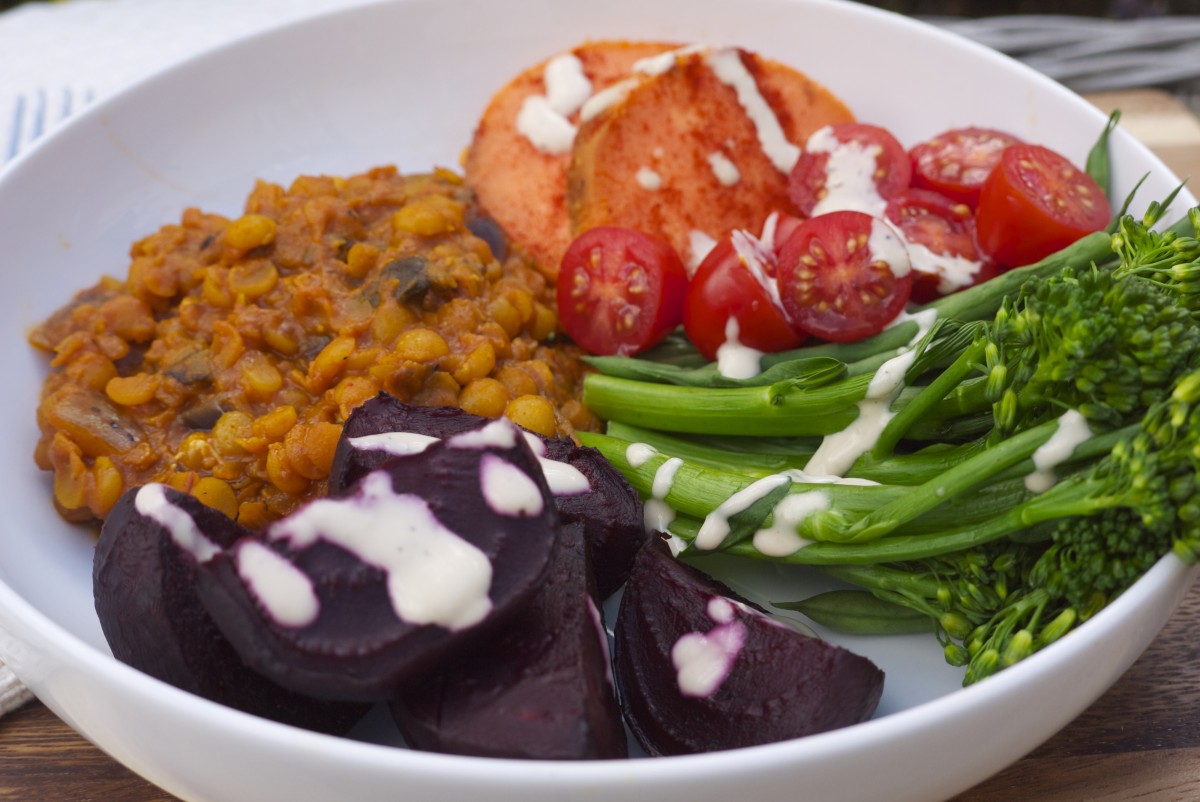 It's hard to believe that Christmas is just around the corner, and by this time next month, it will all be over. I'm definitely feeling festive at the moment, and we have Christmas FM on in the house as I type. We'll also be getting our tree next week, so it will really feel like Christmas then!
I still have plenty of work on and a few more trips abroad for work before Christmas, but most people seem to be in good form around this time of year, and there's a great buzz in town.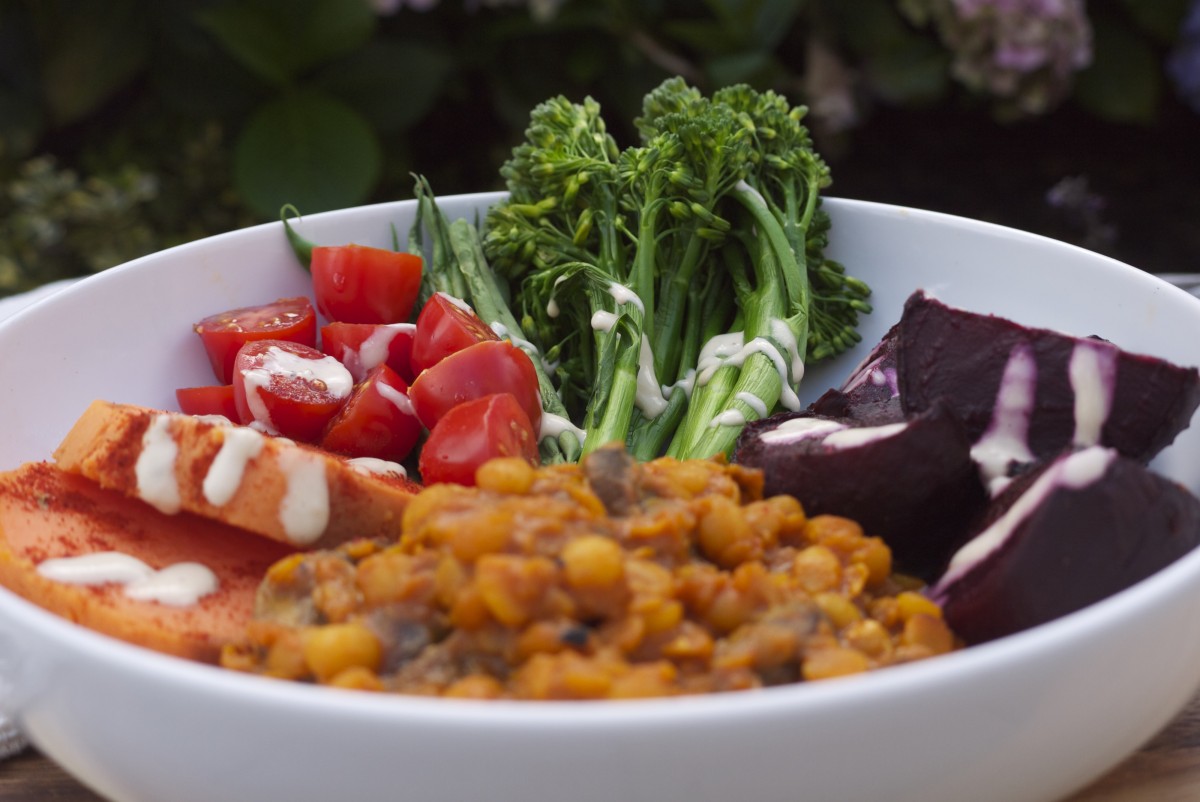 So this recipe is for a simple but tasty Winter Rainbow Yum Bowl. We're always told to eat the colours of the rainbow in our food each day (and I don't mean Skittles!), so this is a great way of eating loads of differently coloured veg in one go.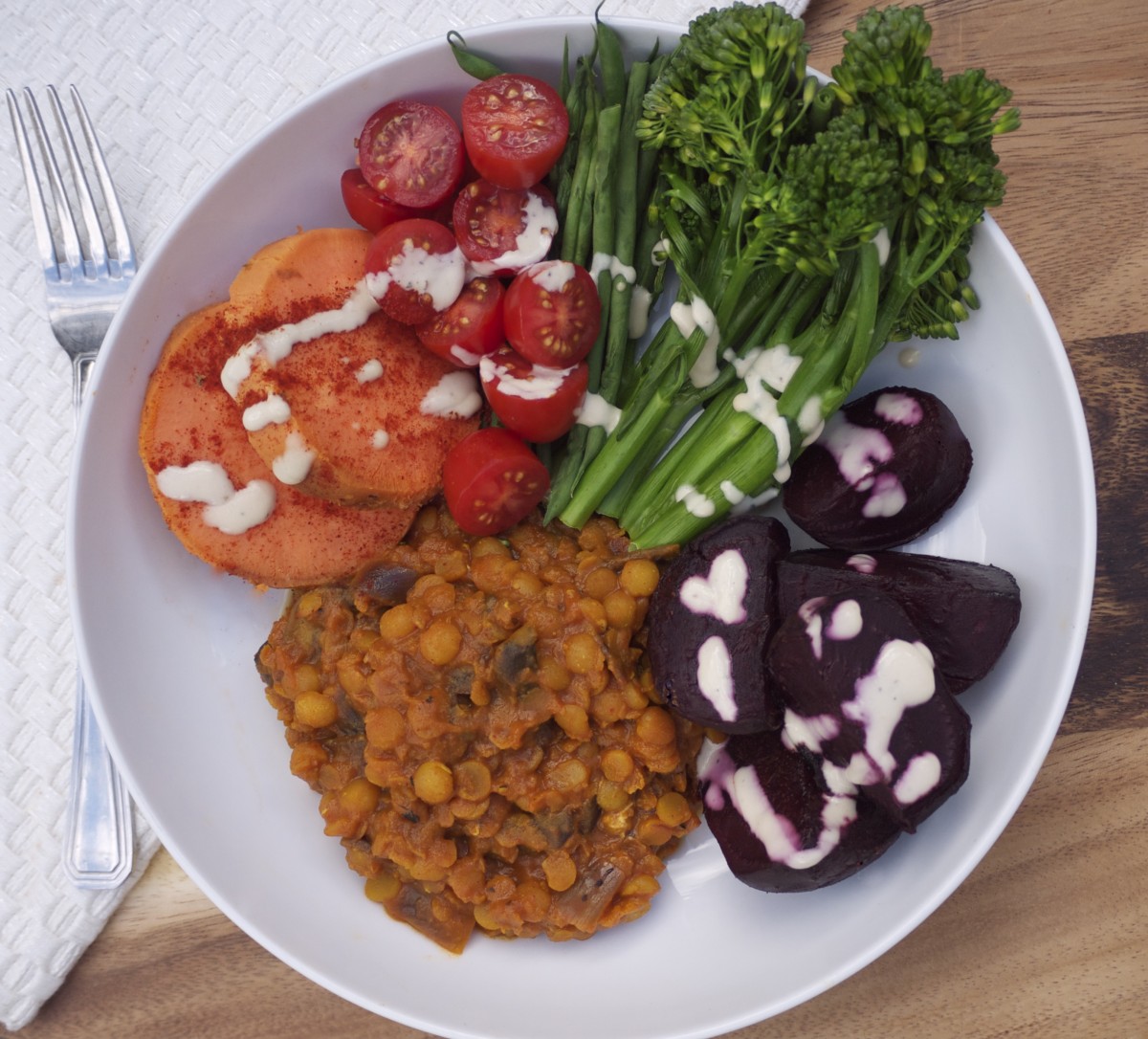 I eat a yum bowl a few times a week, and it usually consists of leftovers from dinner, plus a collection of whatever veggies I have in the fridge waiting to be used. Here, I baked sweet potato and beetroot, steamed some broccoli and just chopped up some cherry tomatoes, to add to the bowl along with an Indian-style Dahl made with red lentils, yellow peas and loads of warming spices.
It's easy to prepare, and you can really use whatever combo of veggies you like… but the more colour the better!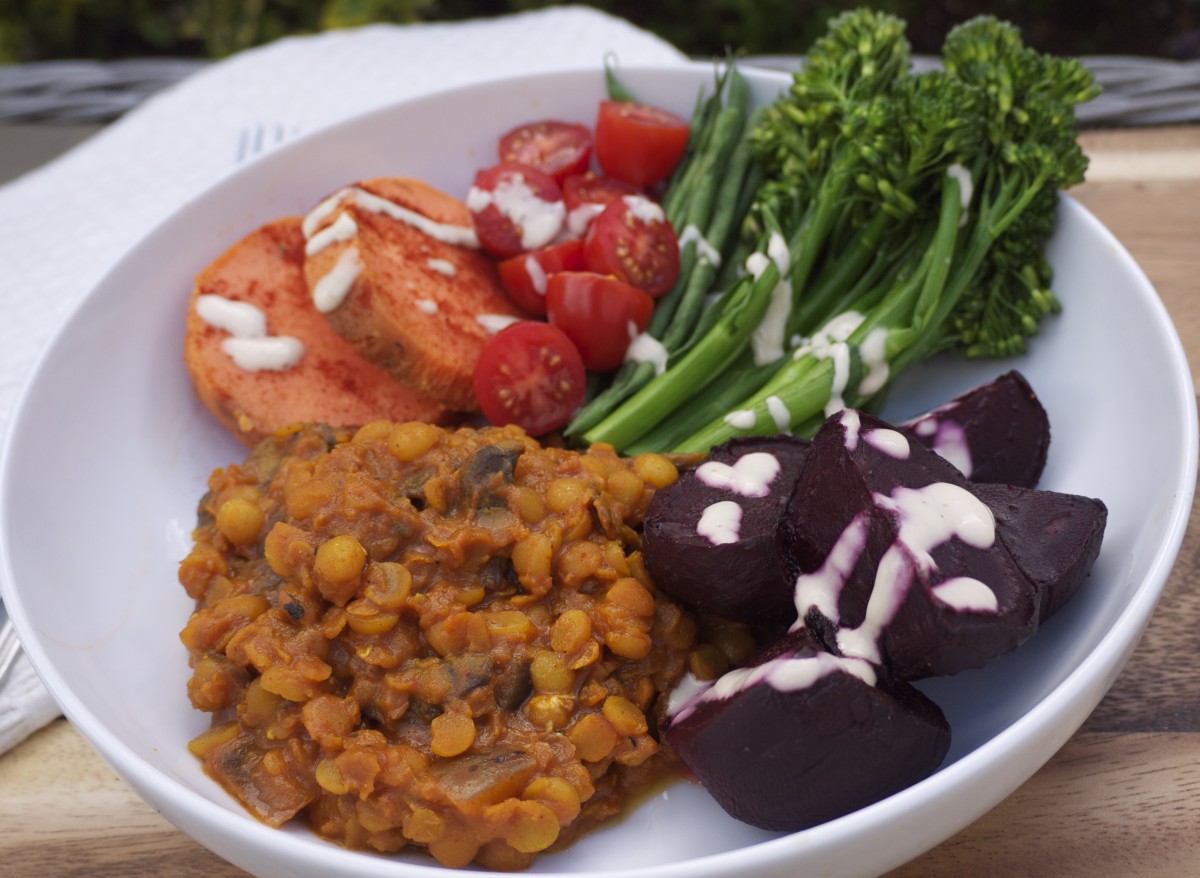 I would love to know if you get a chance to make this Winter Rainbow Yum Bowl! Simply tag #RosannaDavisonNutrition on Instagram or Twitter or come on over to my Facebook to say hello 🙂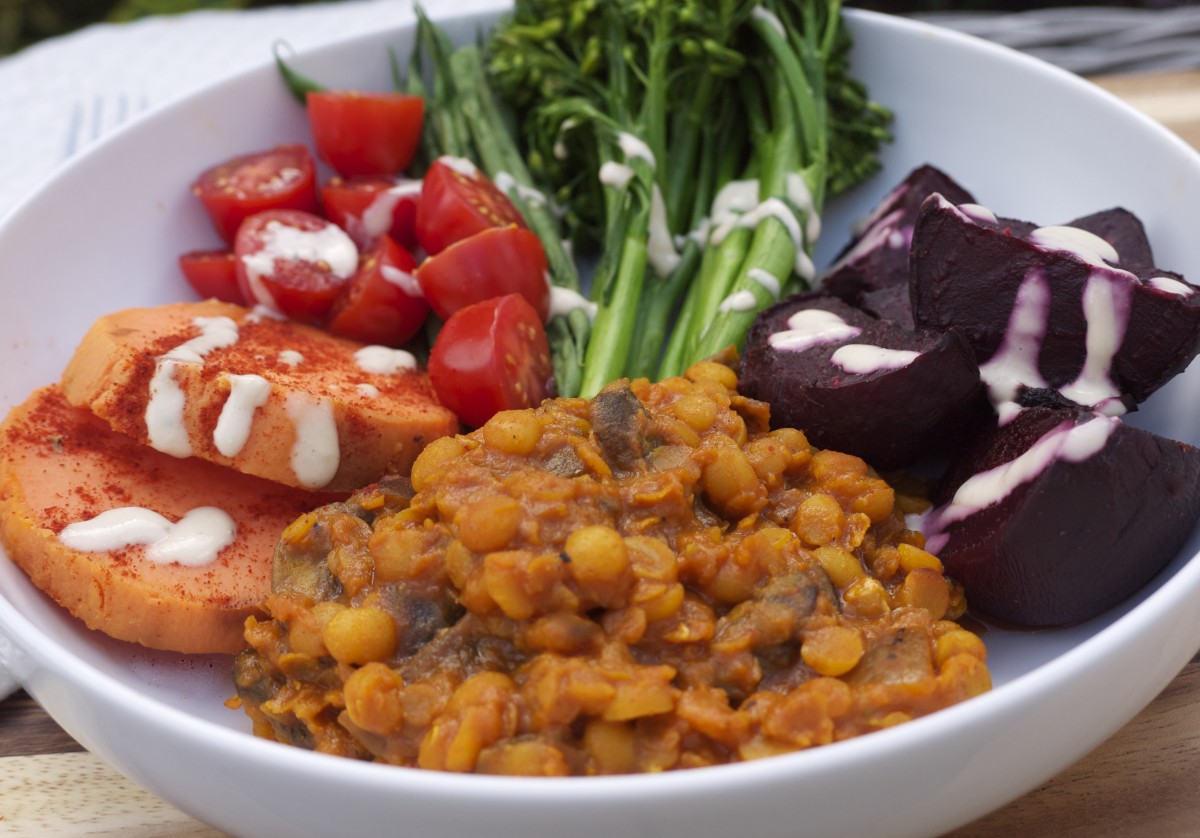 Winter Rainbow Yum Bowl
2015-11-27 14:36:42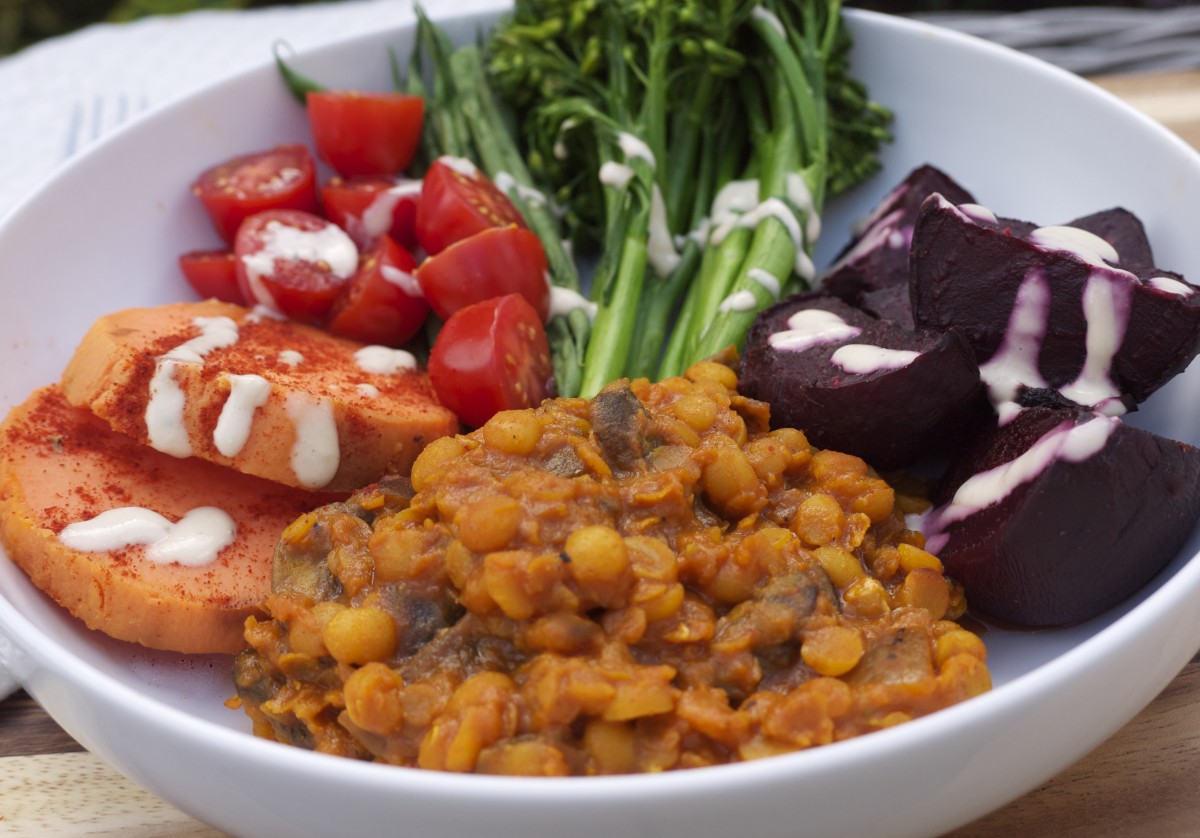 Serves 2
A colourful bowl of mixed veggies and a variety of spices, for a flavoursome meal!
For the red and yellow Dahl
1 tsp virgin coconut oil
1 small/medium red onion, diced
1 clove of garlic, minced
1 tsp fresh chopped ginger
4 tbsp tomato puree
625ml (2.5 cups) low-fat coconut milk
2 tsp smoked paprika
1 tsp ground turmeric
1 tsp ground coriander
Pinch of dried chilli flakes
Sea salt and pepper, to taste
95g (1 cup) sliced white mushrooms
90g (1/2 cup) split yellow peas
90g (1/2 cup) split red lentils
For the vegetables
coconut oil, to grease
1 medium sweet potato, rinsed, peeled and sliced
2 cooked beetroots, well drained and chopped into quarters
1 tsp smoked paprika
90g (1 cup) of broccoli florets
pinch of sea salt.
150g (1 cup) cherry tomatoes, halved
For the lemon tahini dressing
1 tbsp light tahini
2 tbsp unsweetened almond milk
1 tsp lemon juice
Pinch of salt and pepper
Instructions
In a saucepan over a medium heat, heat up the coconut oil and saute the onion, garlic and ginger, until lightly golden.
Add in the tomato puree, coconut milk, spices and seasoning, and mix well.
Add in the mushrooms, peas and lentils, partly cover the saucepan with a lid, and allow the mixture to simmer for 15-20 minutes, while stirring regularly to ensure it doesn't burn.
Remove the lid for the final few minutes, to allow any liquid to evaporate more quickly, or else add some warm water if it appears too thick before the ingredients are properly cook. Taste at this point and adjust seasoning, if necessary.
As the dahl cooks, heat the oven to 200C and lay out the sliced sweet potato and beetroot on a baking tray, lightly greased with coconut oil. Bake for 20-25 minutes, until golden brown, then remove from heat and sprinkle lightly with smoked paprika before serving.
Lightly steam the broccoli until al dente, then lightly season with sea salt before serving.
For the lemon tahini dressing, simply blend ingredients together well in a bowl, until a smooth dressing forms.
Assemble all ingredients on a plate, and drizzle with the lemon tahini dressing before serving.
Notes
Any leftovers can be stored in an airtight container in the fridge for 2-3 days.
Rosanna Davison Nutrition https://www.rosannadavisonnutrition.com/