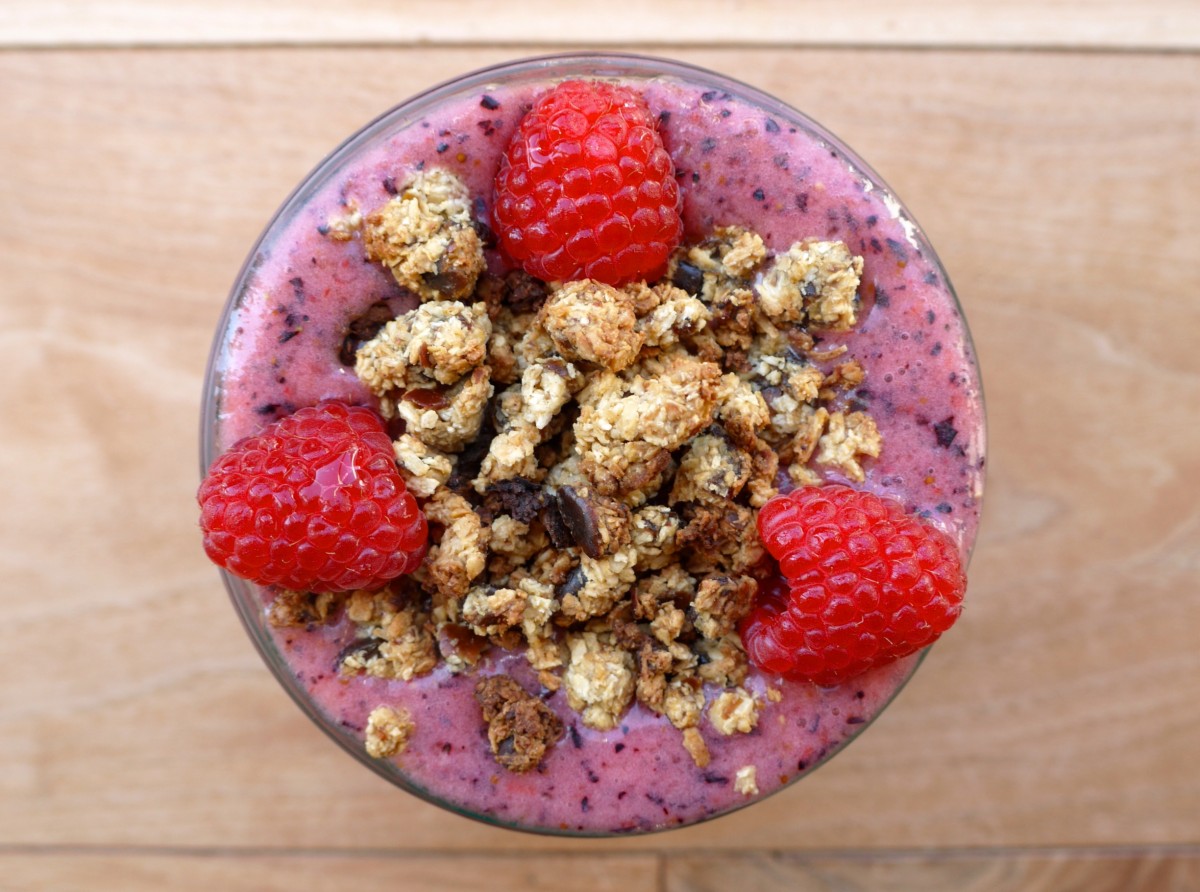 Vanilla and berries… there are few more delicious and summery combos. There's something about the sweet richness of ripe raspberries that brings me straight back to my childhood. My mum grew raspberries in the garden and every summer, it was heaving with the fruit. We used to pick baskets of them and munched through them as we went along. Yum! This smoothie brings together strawberries, raspberries, blueberries, banana and ice plus a drizzle of vanilla to create this blast of summer in a bowl. So simple and bursting with fibre, vitamins and antioxidants. Your body will love you for it!
This makes a great quick breakfast or snack at anytime of the day. Fruit provides fast, clean-burning energy and it's the most cleansing foods you can eat due to its high content of fibre and water. Plus, here you're blending up the whole fruit rather than just extracting the juice, so the fibre will keep you feeling full for longer and won't play havoc with your blood sugar levels.
Now for granola part. I'm often asked about granola and whether it's healthy or not, and what's the best recipe for the tastiest granola. Granola has been marketed in recent years as the sexier, younger, hipper, healthier cousin of muesli. But almost every granola recipe I've ever seen is full of oil and sugar. Tasty, yes but sadly not good for our bodies or our waistlines.
I have experimented a lot with different granola recipes over the years, adding this and substituting that, but this is definitely the most delicious I've ever tried! AND…. it only has three basic ingredients. No refined sugars, no added oils and no nuts. Guilt-free granola! It's also super-chewy and crunchy all at the same time.
It uses certified gluten-free oats (oats are naturally a gluten-free grain but can become contaminated with wheat in storage and transport so best to buy GF if possible), unsweetened dessicated coconut and dates. I love the big squidgy, syrupy Medjool dates but any type will work. I munch on the granola as a snack and love it simply in a bowl with ice-cold almond milk and sliced strawberries.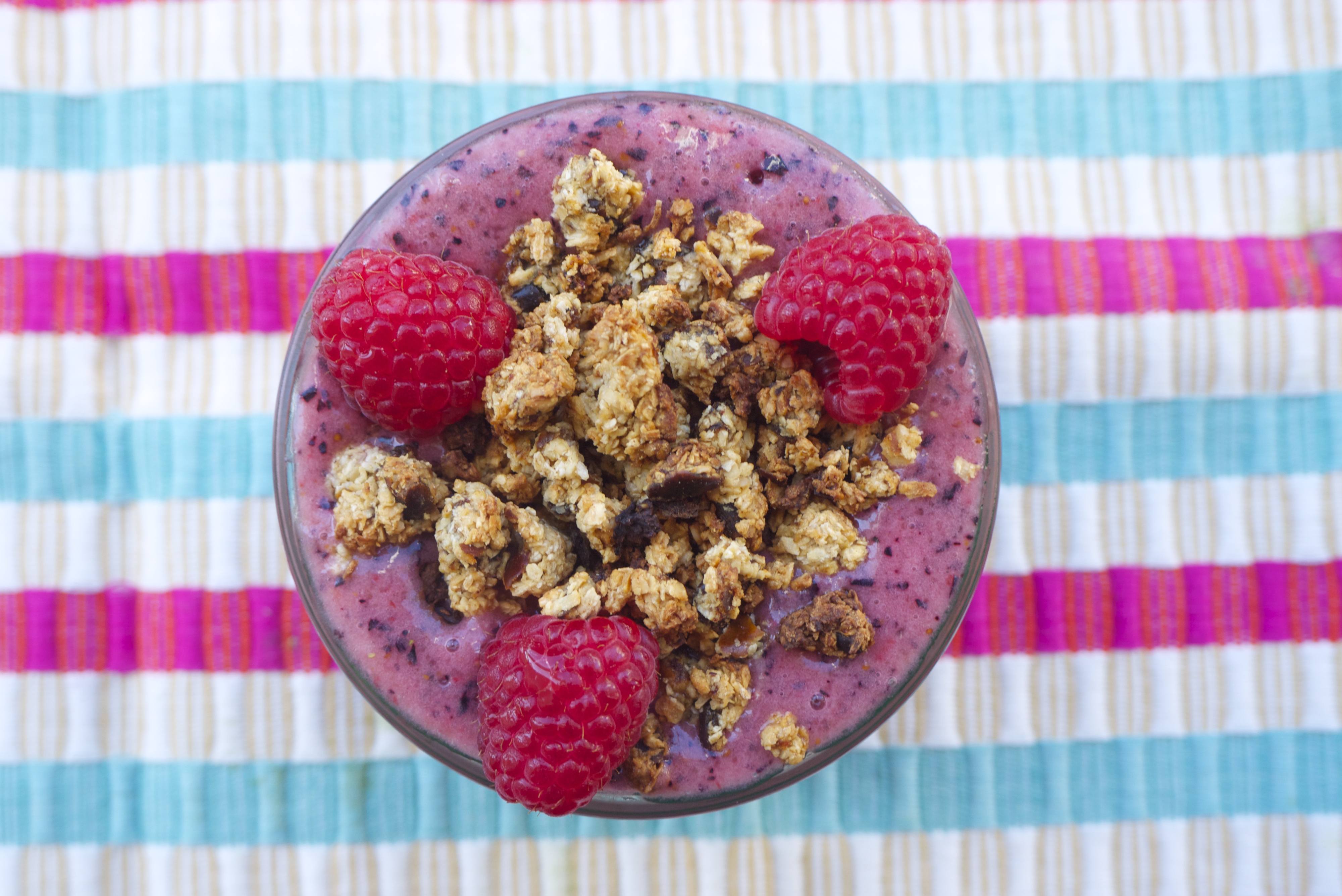 Vanilla-Berry Smoothie Bowl with Homemade Chewy Granola
2015-04-07 23:19:05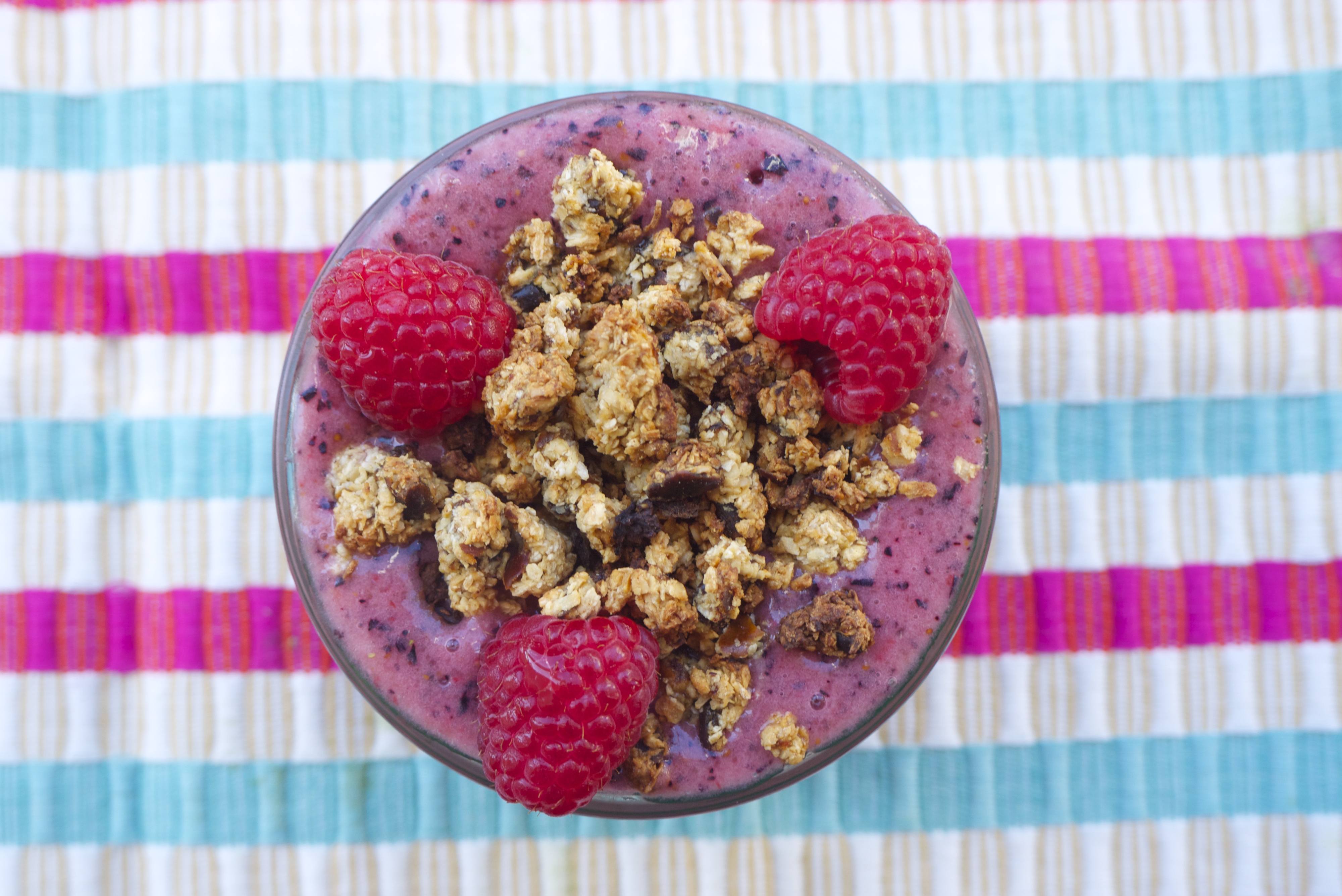 Serves 2
Such a delicious breakfast or post-workout pick-me-up. It's a great idea to include berries in your everyday diet as they're so rich in antioxidants!
For the granola
80g (1/2 cup) gluten-free oats
40g (1/2 cup) desiccated coconut
75g (1/2 cup) pitted dates, soaked for 10-15 minutes in warm water to soften them.
2 tbsp unsweetened almond milk to blend.
1 tsp vanilla extract
1 tsp cinnamon
For the berry bowl
60g (1/2 cup) frozen raspberries and 3 extra, to serve
60g (1/2 cup) frozen blueberries
2 tbsp whole or milled chia seeds
500ml (1 cup) unsweetened almond milk
1 tsp vanilla extract
Instructions
Pre-heat the oven to 190C.
Put all ingredients into a blender/food processor and blend until it becomes dough-like. Use a little bit of almond or coconut milk to help blend if needed.
Pour out onto a greaseproof baking tray and separate the mixture into granola-sized bits so it's not all in one lump. I find it easiest to do this with my hands.
Bake in the oven for 15-20 minutes until browned.
Once out of the oven, allow it to cool for 10 minutes before serving.
To make the smoothie bowl, place all ingredients in a blender and blend until smooth.
Serve chilled, topped with granola and berries.
Notes
The granola is best eaten on day it's made but can be stored for 1-2 days in an airtight container.
Rosanna Davison Nutrition https://www.rosannadavisonnutrition.com/