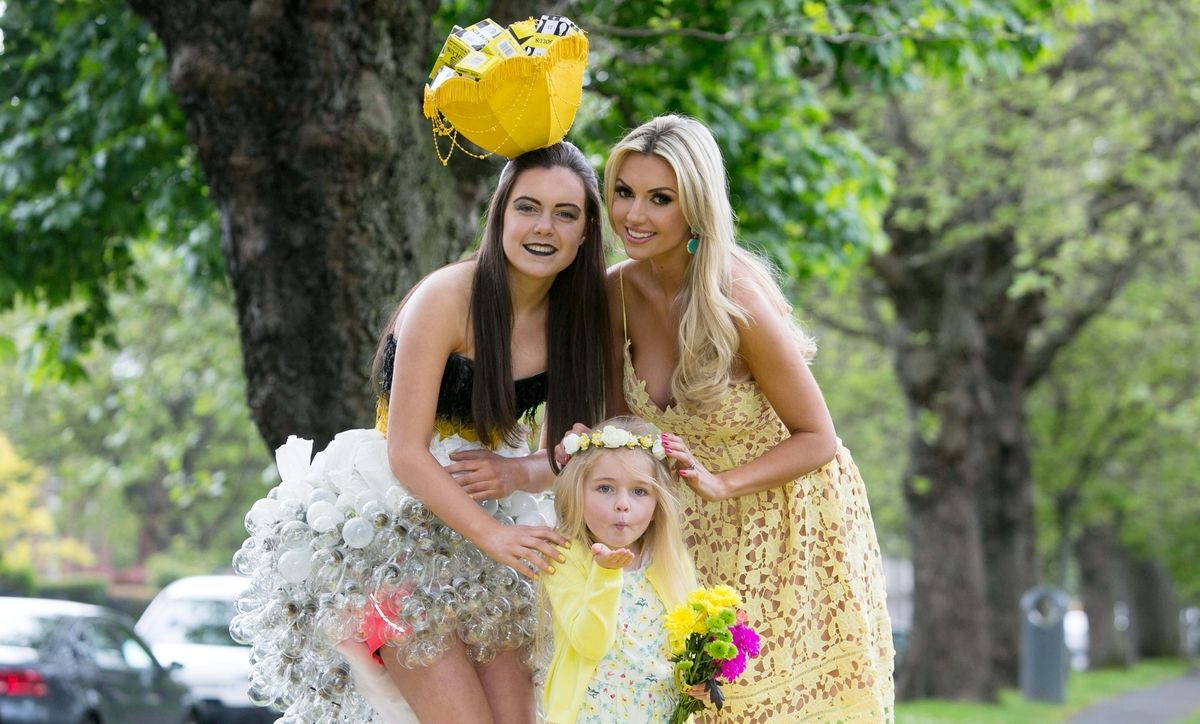 This afternoon, I helped to launch this year's Bloom Festival, which takes place in The Phoenix Park from June 2nd to 6th. Launched in 2007 by Bord Bia, it's a popular family day out, showcasing the best of Irish horticulture, food and drink.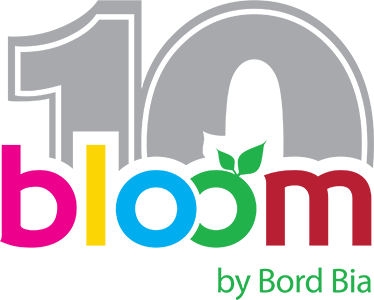 I was asked to wear a yellow dress for the launch in Dublin to tie in with the festival's colours, so I chose this yellow Alexa Dress from Cari's Closet (€150).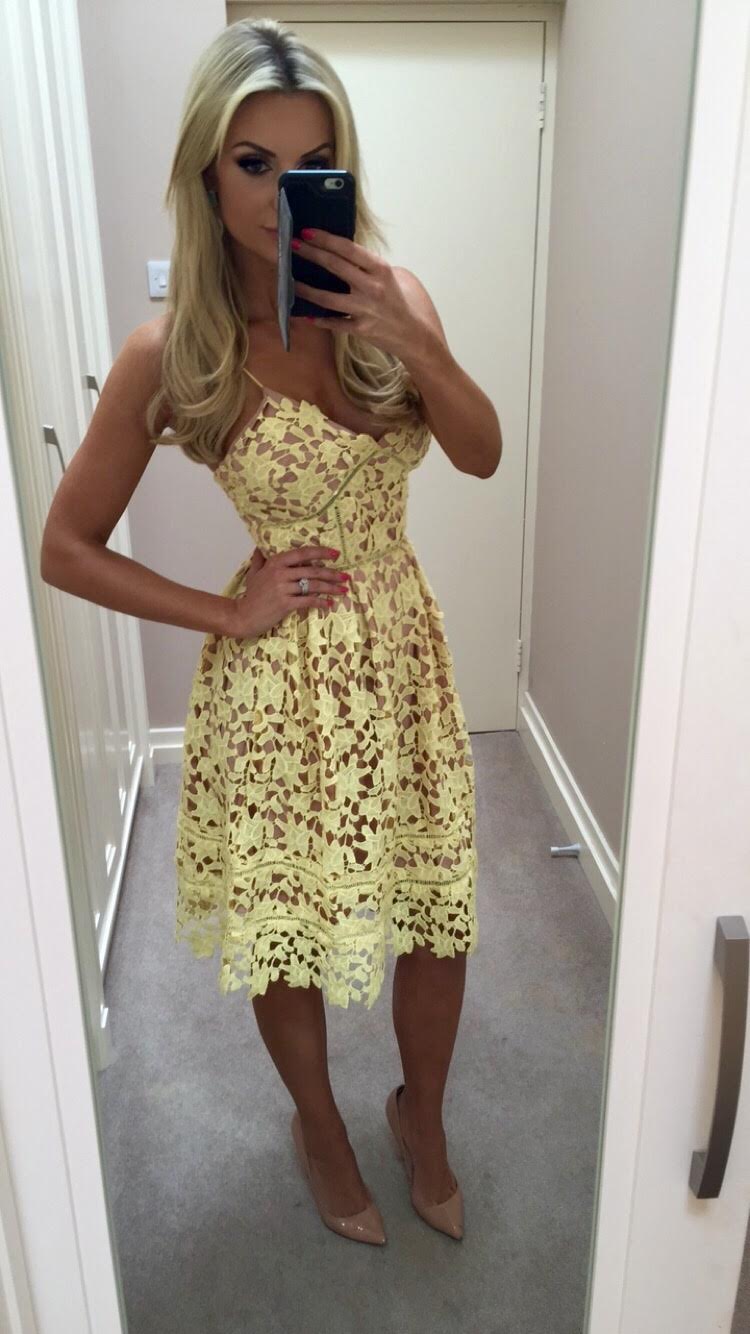 I paired it with simple beige patent pointed heels, very similar to this version by ASOS for just €35.21.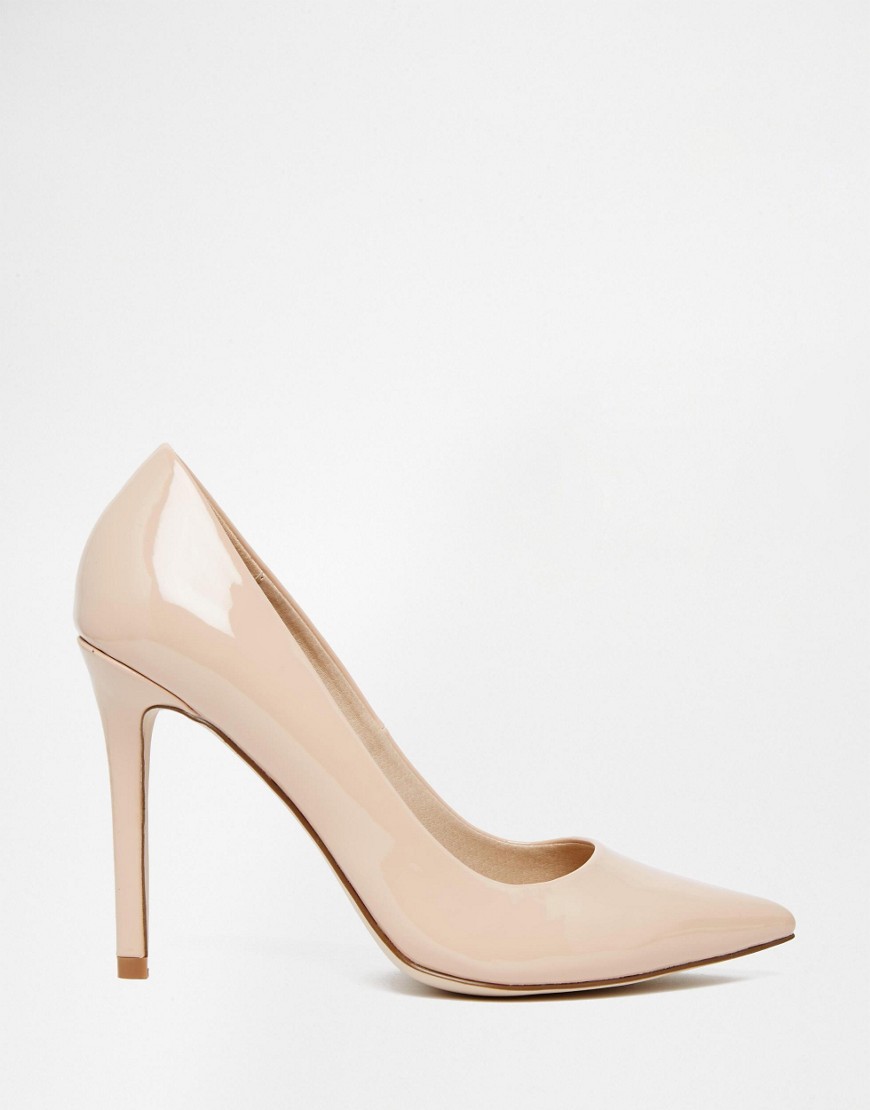 I had forgotten how much I love wearing yellow! It's the perfect time of year to ditch the black (I'm just as guilty for wearing too much black sometimes) and embrace the most summery colour of all.
While yellow in its various shades does suit a huge range of skin tones and hair colours, I always feel more confident in it when I've remembered to do my tan. I can feel a little washed out if I haven't 🙂 So I use the majority of the brilliant summer skin products that I mentioned over the weekend to achieve that healthy glow.
I spent some time this afternoon scouring the net for the prettiest yellow dresses, and found some gorgeous styles ideal for summer parties, weddings, events and sunshine holidays…
This is a little bit pricier than the others below, but I love the sheer panels, tiny straps and funky flower pattern. You would certainly stand out at a party for all the right reasons!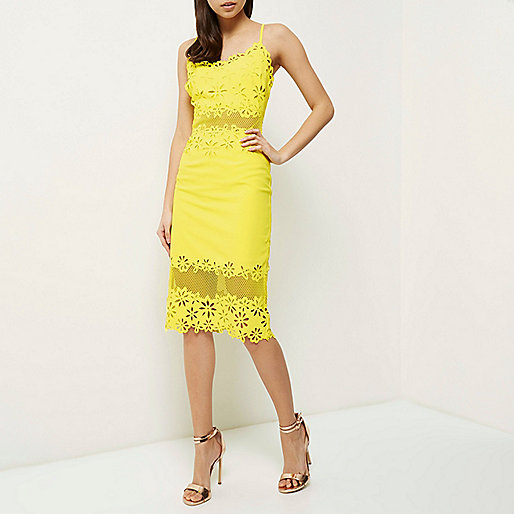 2. Strappy Mesh Insert Bodycon Dress (€28)
If you like the sheer mesh details of the above dress, then this version from Missguided is far more budget friendly. It's still a gorgeous bright yellow with spaghetti straps and sits elegantly at the knee.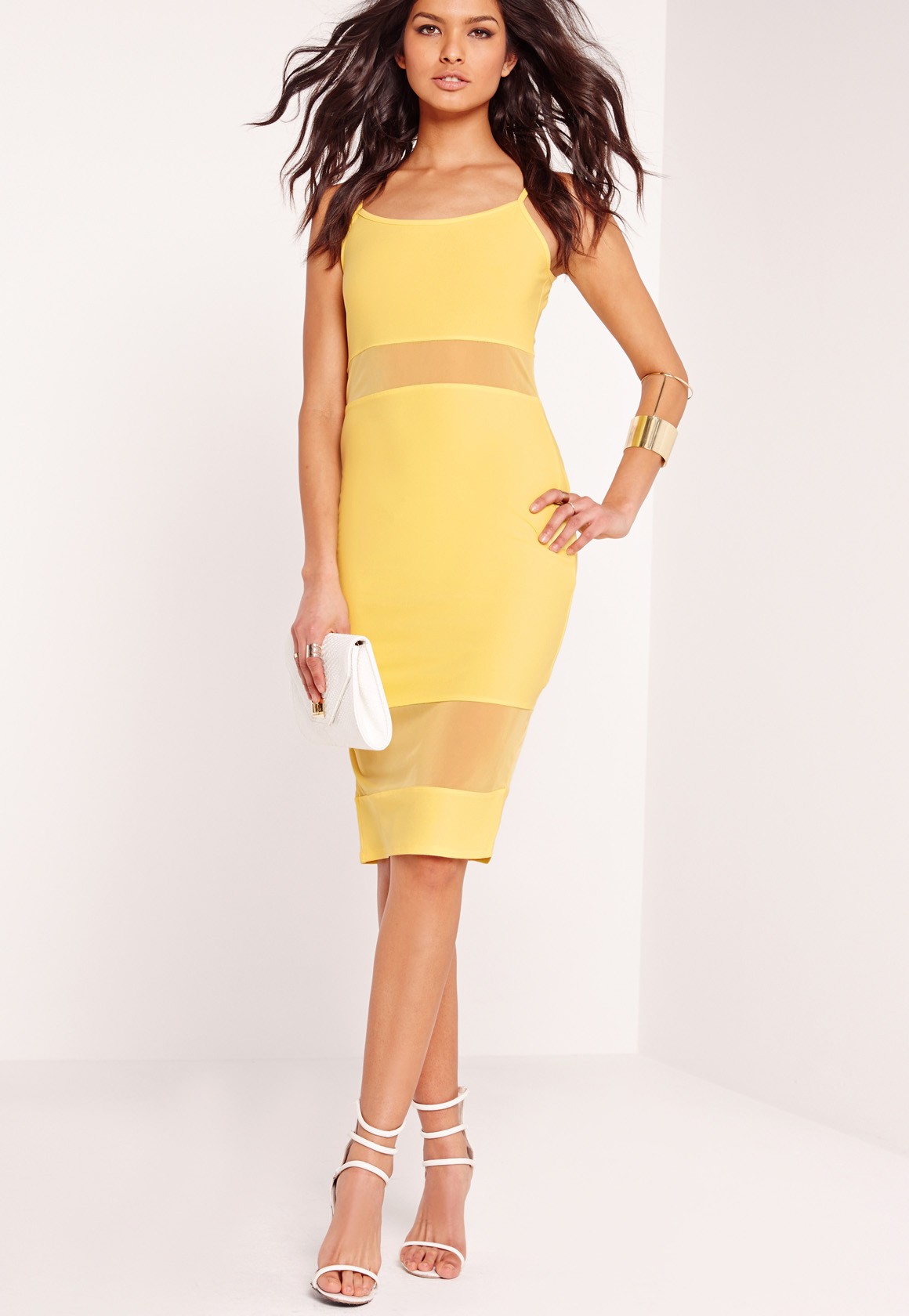 3. ASOS Cold Shoulder Midi Dress €45.07
This super cute dress in a shade called 'hot lemon', is perfect for hitting the dance floor at a wedding or summer bash. I love how the shape allows it to move with the music and the cold shoulder style makes it effortlessly elegant.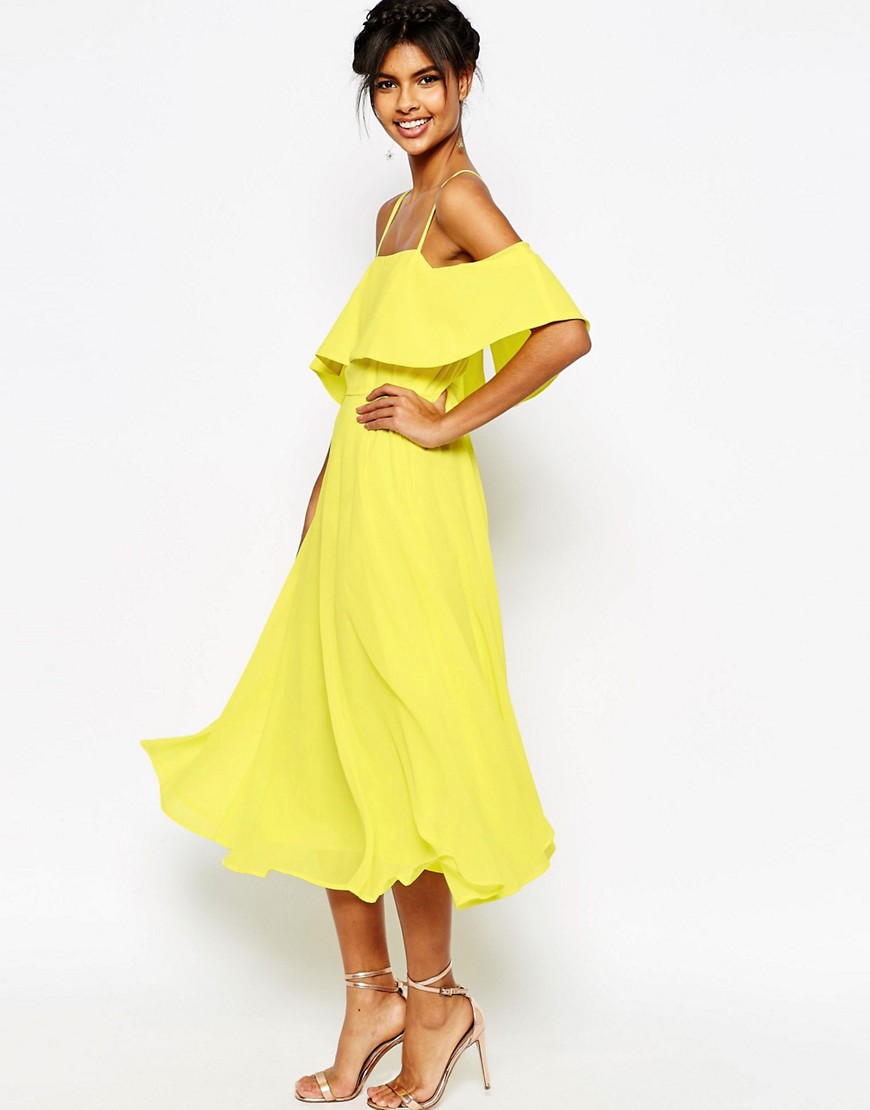 4. Love Triangle V Neck Mini Dress in Lace €59.15
I have a thing for both lace and long-sleeved mini dresses, so this little number ticks all of the boxes. It's sexy, elegant and the colour really stands out. Perfect for showing off tanned legs.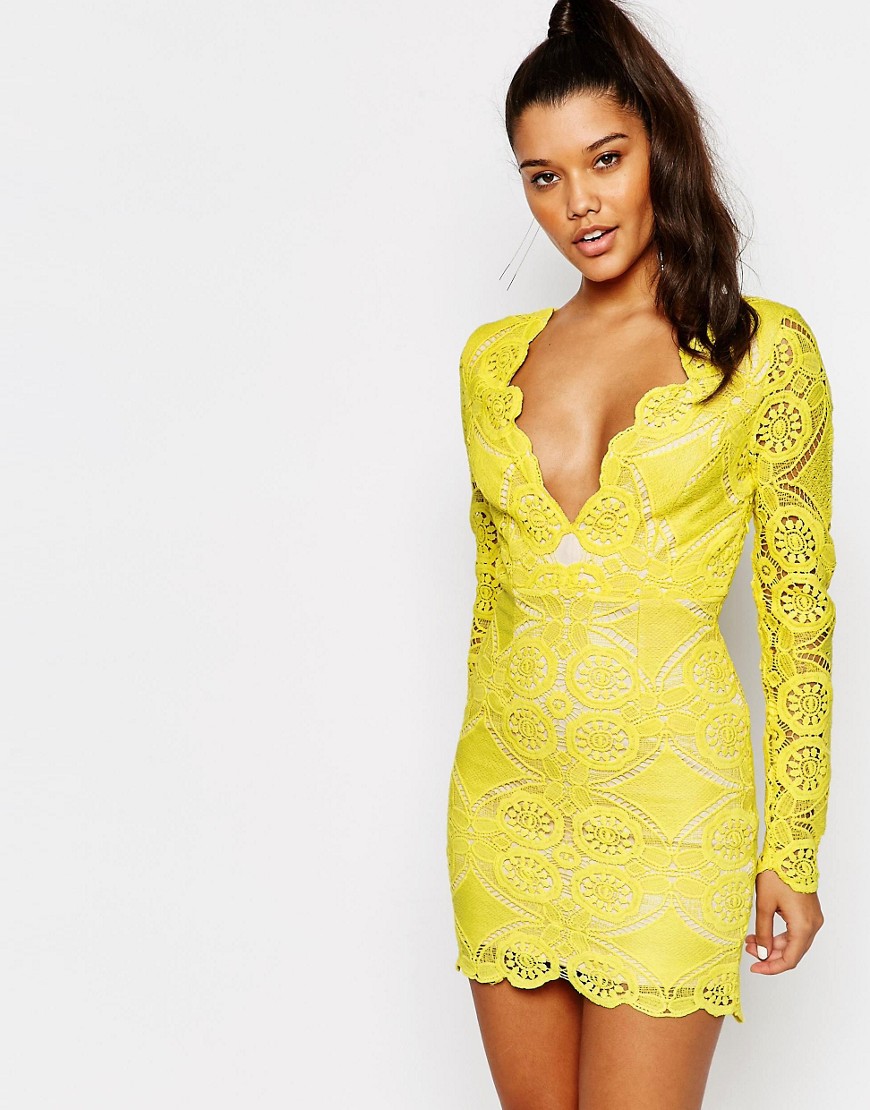 5. Foxiedox Mona Contrast Lace Mini Dress With Lace Up Back Detail €98.59
The gorgeous lace-up detail on the back of this dress caught my eye, and it would be amazing for sun-soaked cocktails on holiday. I also really like the contrast lace, featuring bright and soft, creamy yellow.