It's the most wonderful day of the year!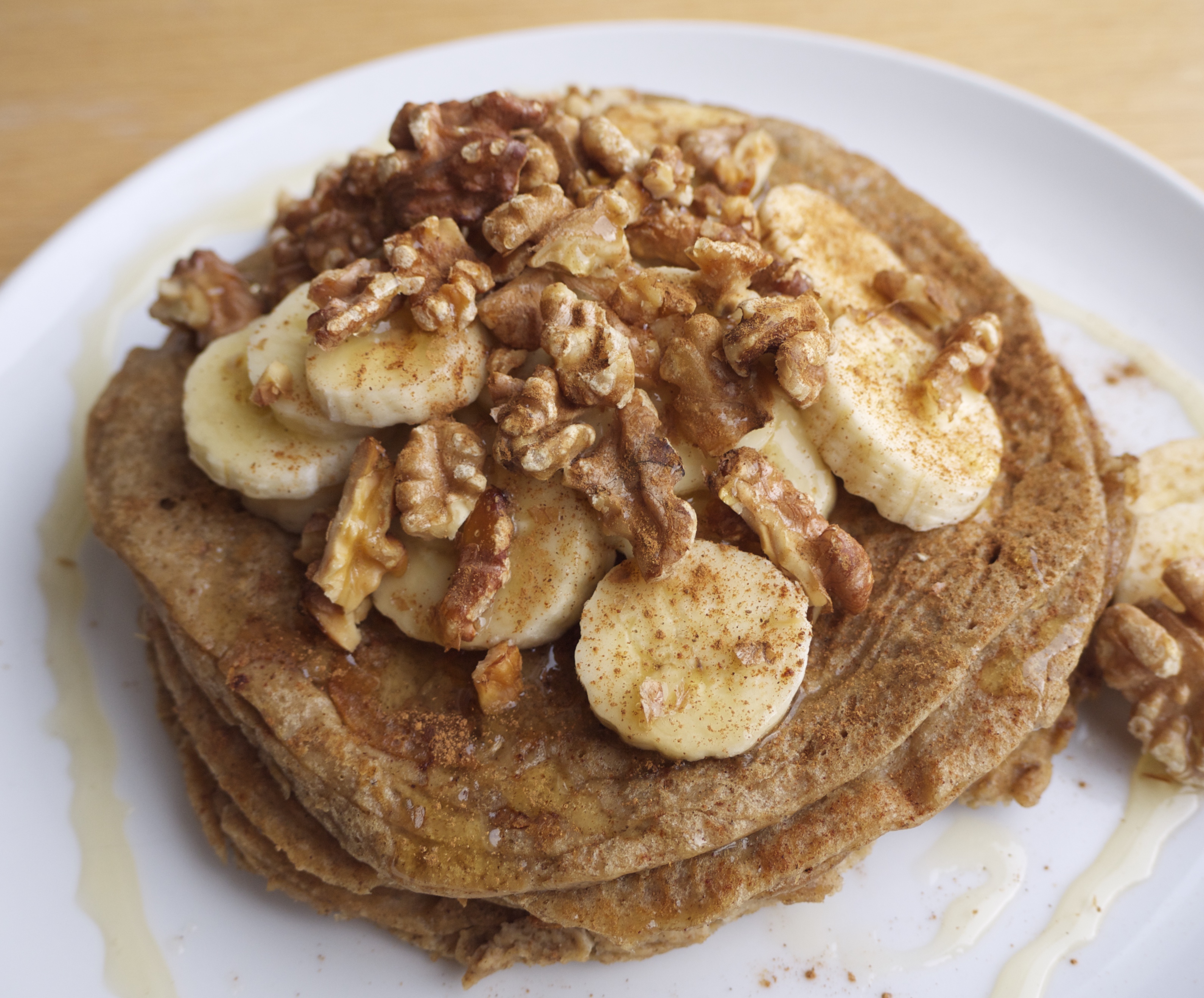 Yep, Pancake Day is almost upon us once again. Kitchens everywhere will smell of freshly-cooked pancakes and little hands will be sticky with sugar, lemon juice and Nutella!
But if you're a little bit health-conscious and don't want to go too nuts on calorific pancakes, then these healthier Maple, Cinnamon and Toasted Walnut Protein Pancakes may just be the perfect option…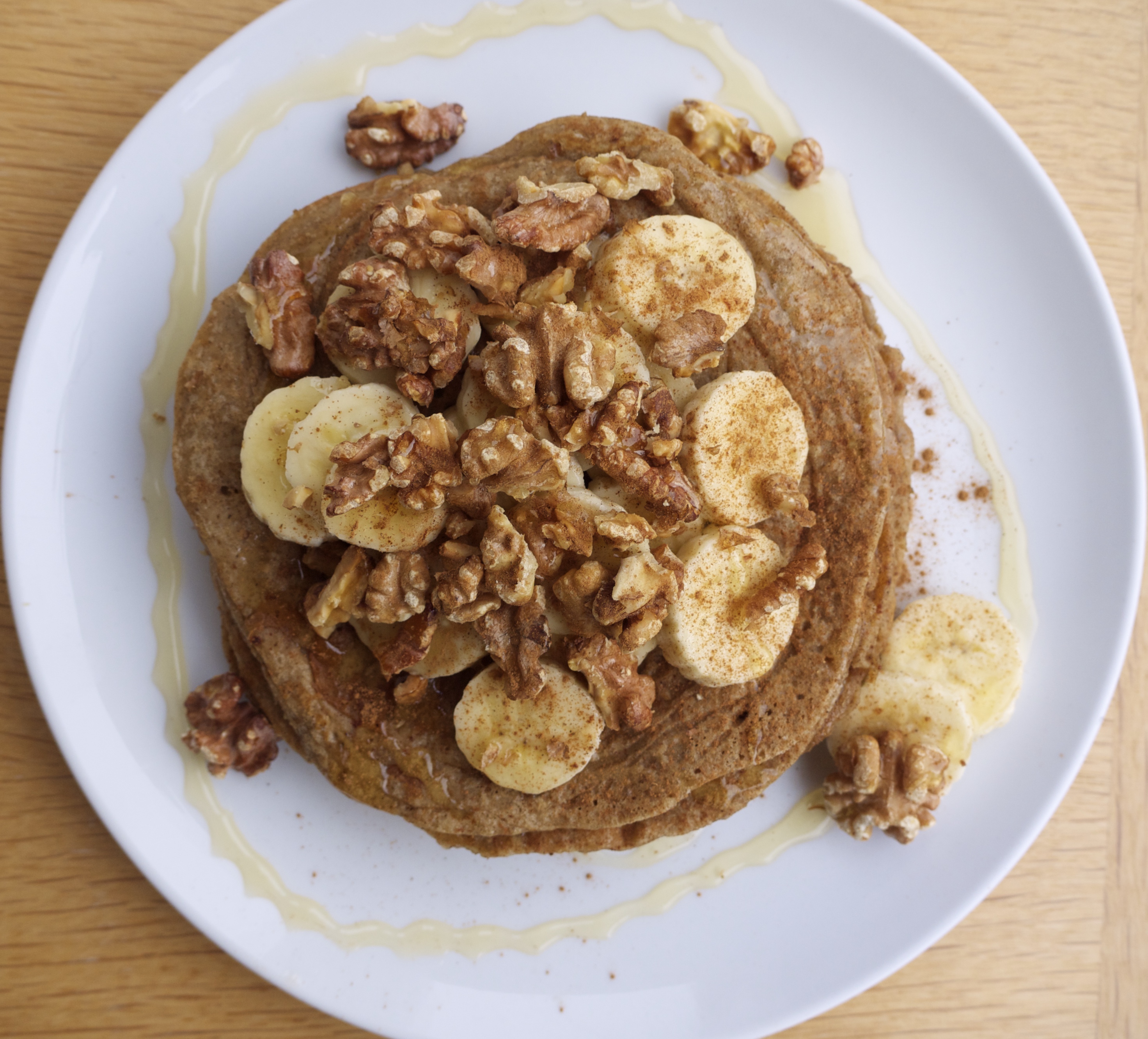 I used Sunwarrior Vanilla protein powder mixed with Doves Farm Gluten-Free Self-Raising flour , which made really light, fluffy pancakes as it's a nice mixture of rice, potato, tapioca, maize & buckwheat, which tend to be easier to digest than regular white flour.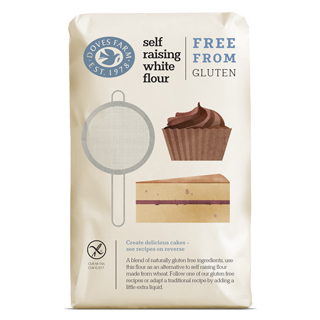 I used unsweetened almond milk as the liquid base, and ground chia seeds helped to thicken it up and hold it all together. A bit of cinnamon and that was it…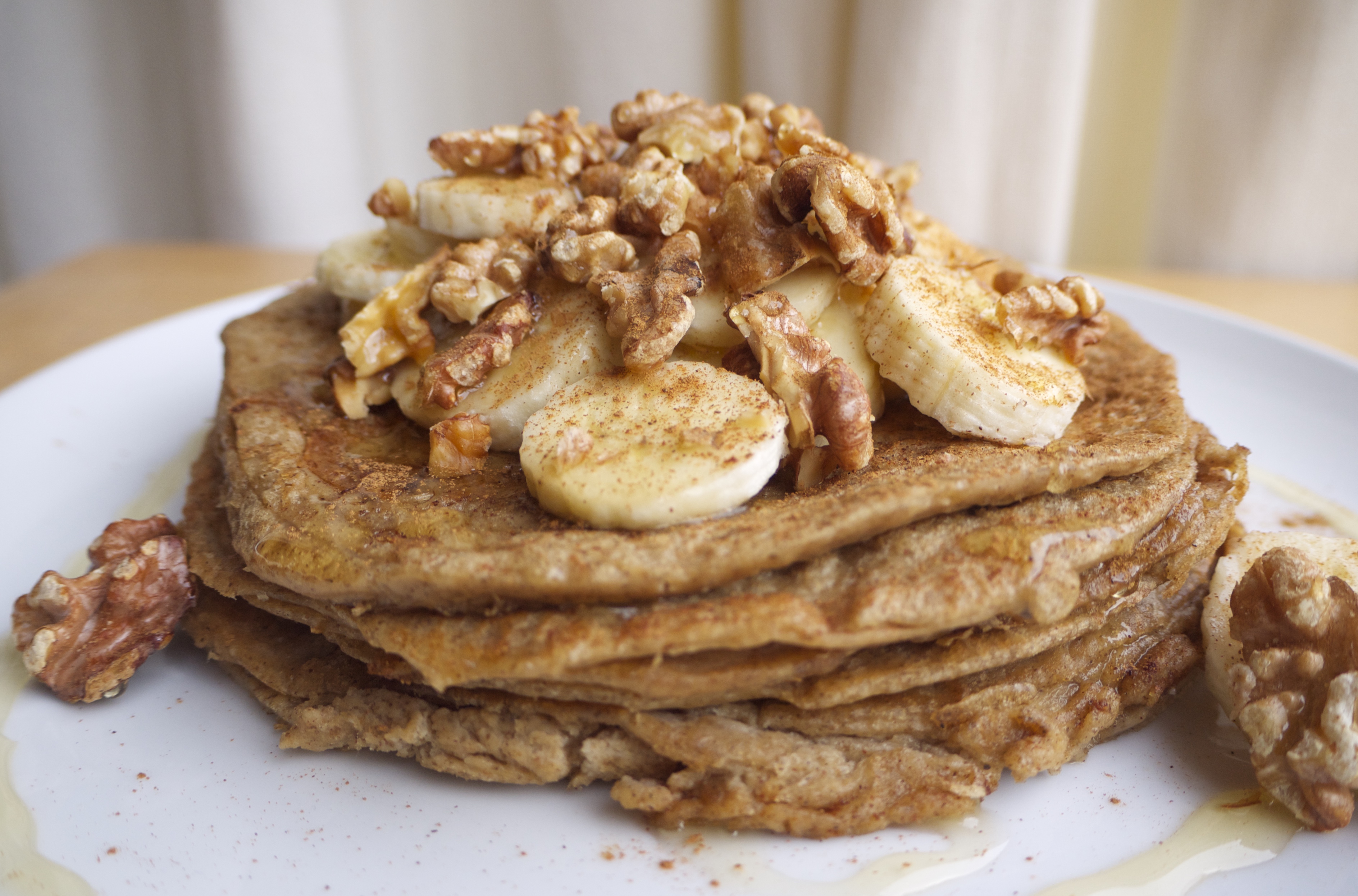 Some deliciously warm and toasty walnut pieces, banana slices, another sprinkle of cinnamon and a cheeky drizzle of pure maple syrup finished off this great stack, which took no more than a quarter of an hour to make. No excuses!
Happy Pancake Tuesday 😉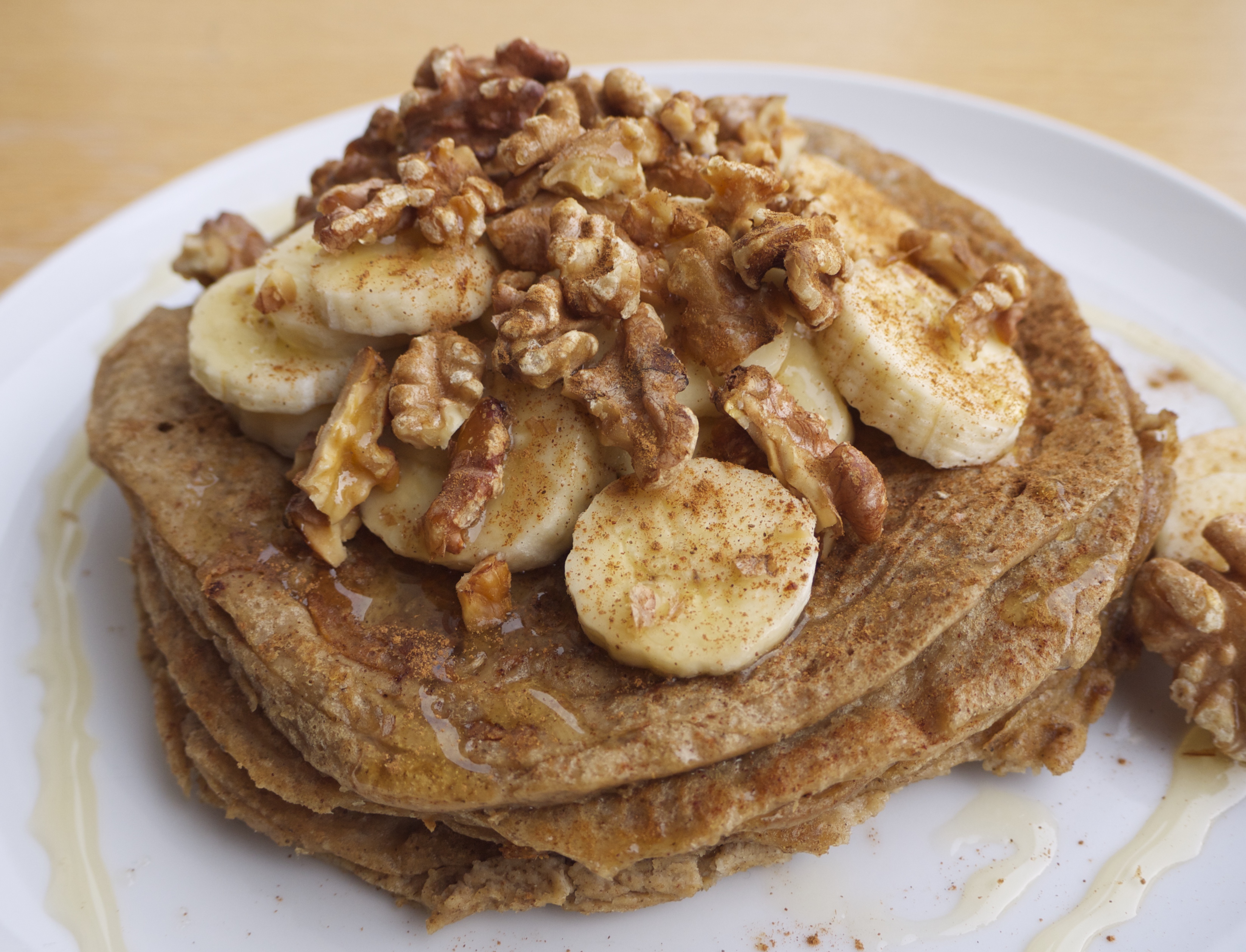 I would love to know if you get a chance to make these Maple, Cinnamon and Toasted Walnut Protein Pancakes! Simply tag #RosannaDavisonNutrition on Instagram or Twitter or come on over to my Facebook to say hello 🙂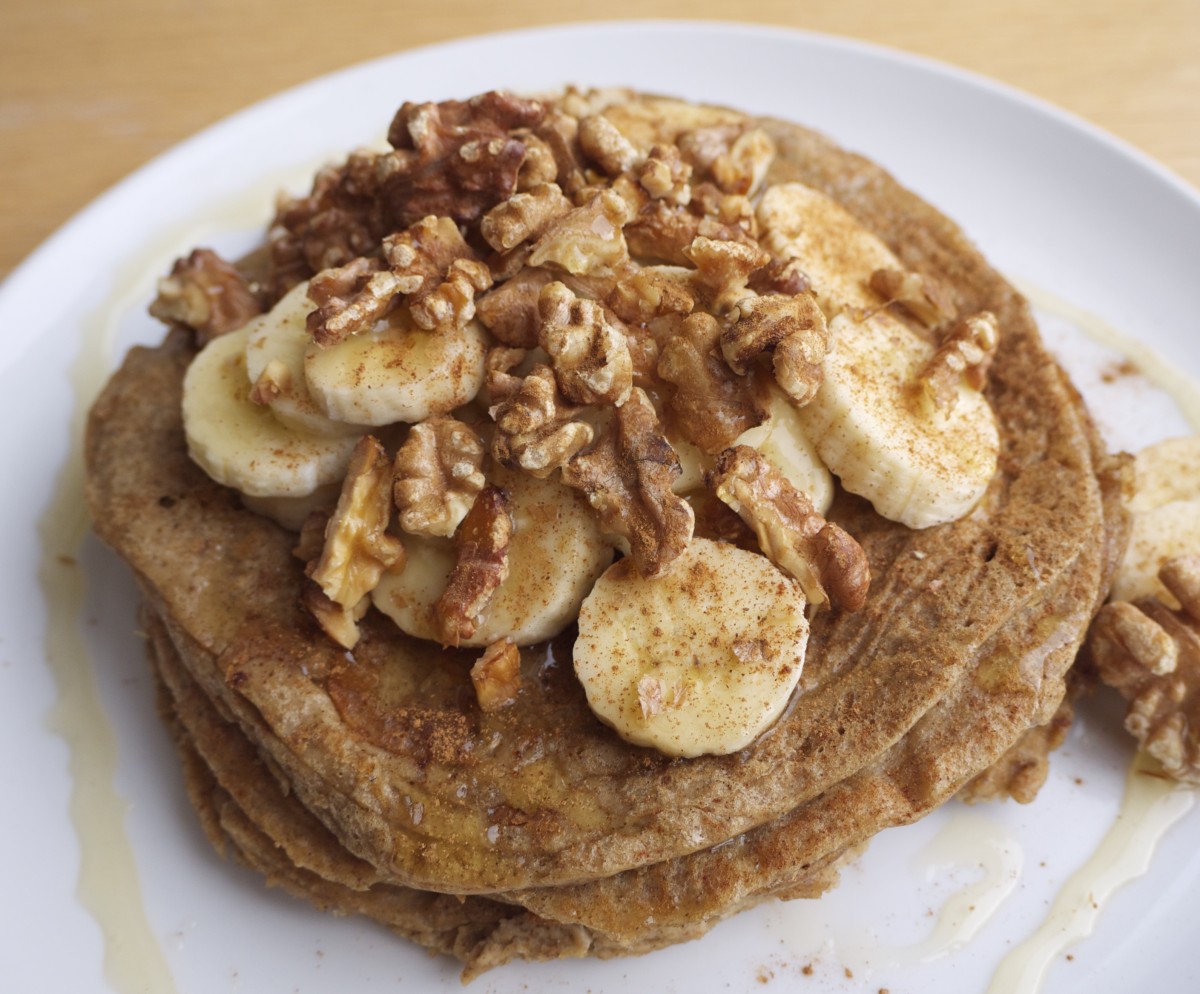 Maple, Cinnamon and Walnut Protein Pancakes
2016-02-08 15:33:16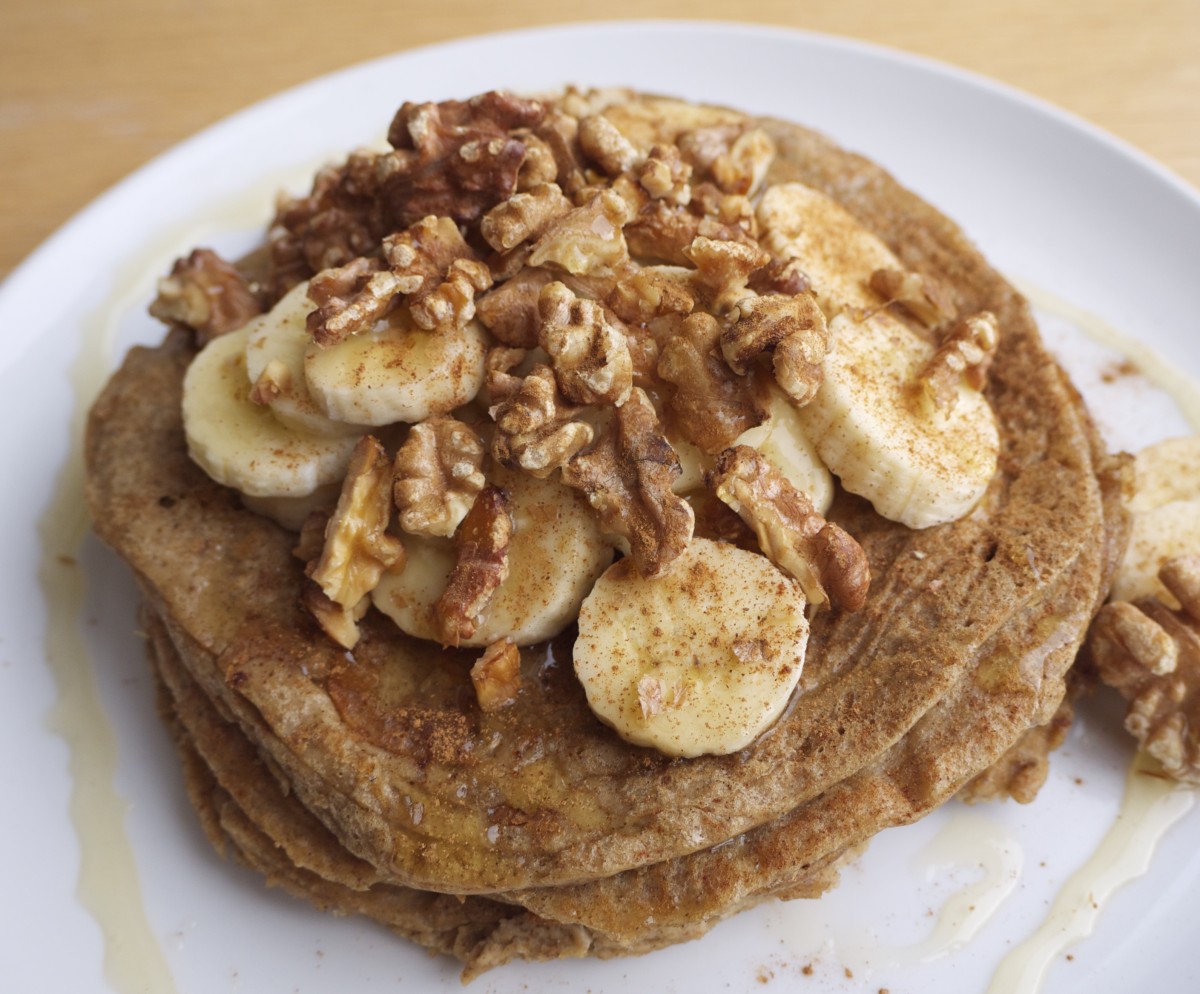 A delicious and healthier alternative to regular pancakes! Per Plain Pancake: 157 calories, 7.5g protein, 20g carbs, 2.8g fat
Ingredients
60g walnut halves
625ml (2.5 cups) unsweetened almond milk
2 scoops vanilla Sun Warrior Protein Powder or your choice of protein powder
2 tsp vanilla extract or vanilla powder
2 tbsp ground chia seeds
180g (1.5 cups) gluten-free self-raising flour
virgin coconut oil, to cook
1 ripe banana, sliced, to serve
1 tbsp pure maple syrup or honey, to serve (optional)
pinch of cinnamon, to serve
Instructions
Preheat the oven to 190C and spread out the walnuts on a small baking tray. Toast for 10-12 minutes, until golden-brown. Remove from the heat and set aside.
Place the almond milk, protein powder, vanilla extract, ground chia seeds and flour in a blender and combine until a thick batter forms.
Heat up a little coconut oil in a frying pan over a medium heat until it begins to bubble, then place a tablespoon of batter into the middle of the pan.
I like to smooth it out to form a neat circle.
Cook until the edges begin to rise, then flip it over and cook until both sides are golden-brown. They cook very quickly.
Top with toasted walnut pieces, sliced banana and maple syrup, if using, and serve hot.
Notes
Any leftovers can be stored in an airtight container in the fridge for up to 3 days.
Rosanna Davison Nutrition https://www.rosannadavisonnutrition.com/