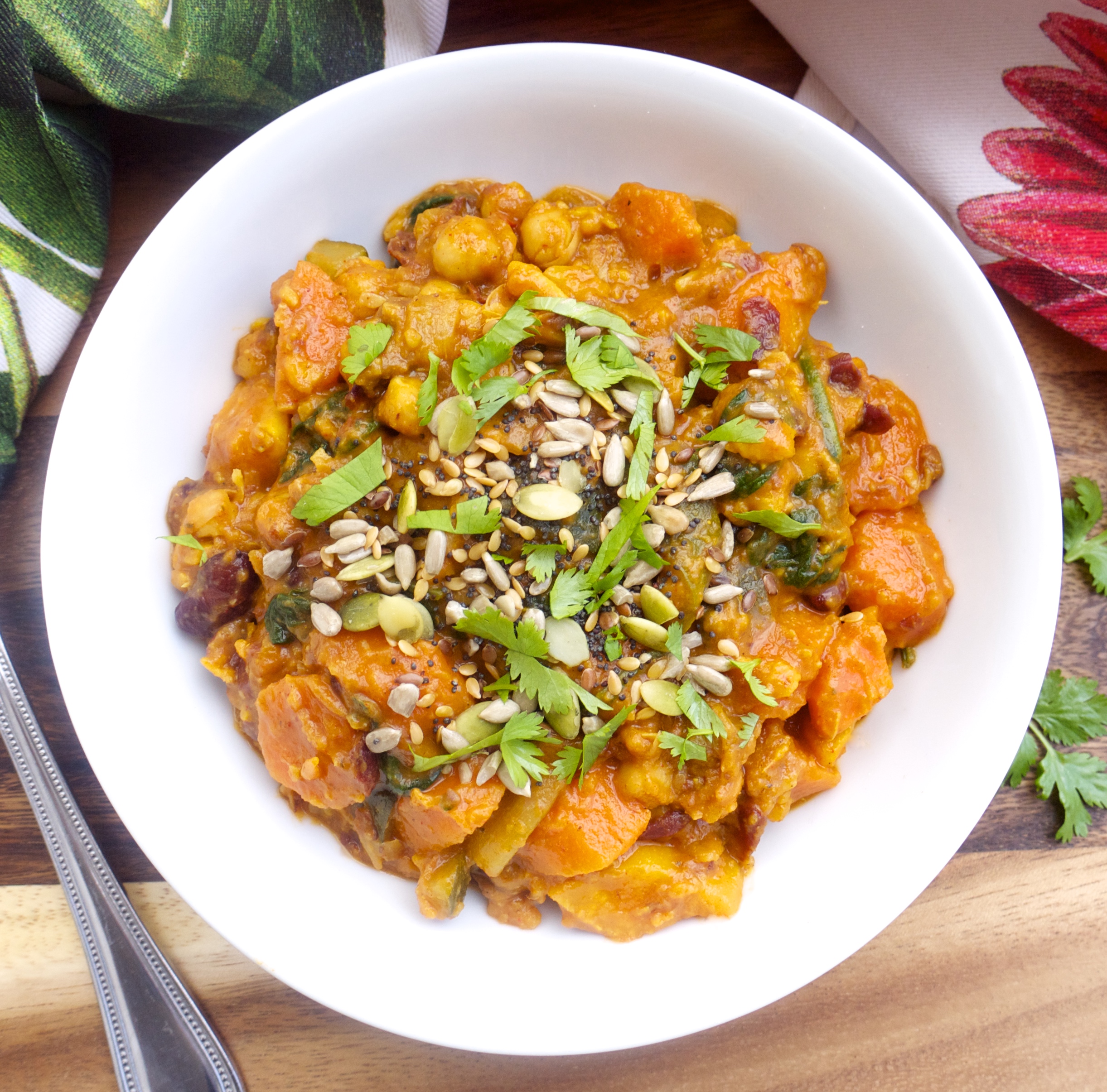 July made its arrival known with plenty of rain in Dublin on Friday, and having felt decidedly chilly all day, I opted against lighting the fire and threw together this Chickpea, Kidney Bean and Spicy Tomato Vegetable Stew instead. It most definitely hit the spot!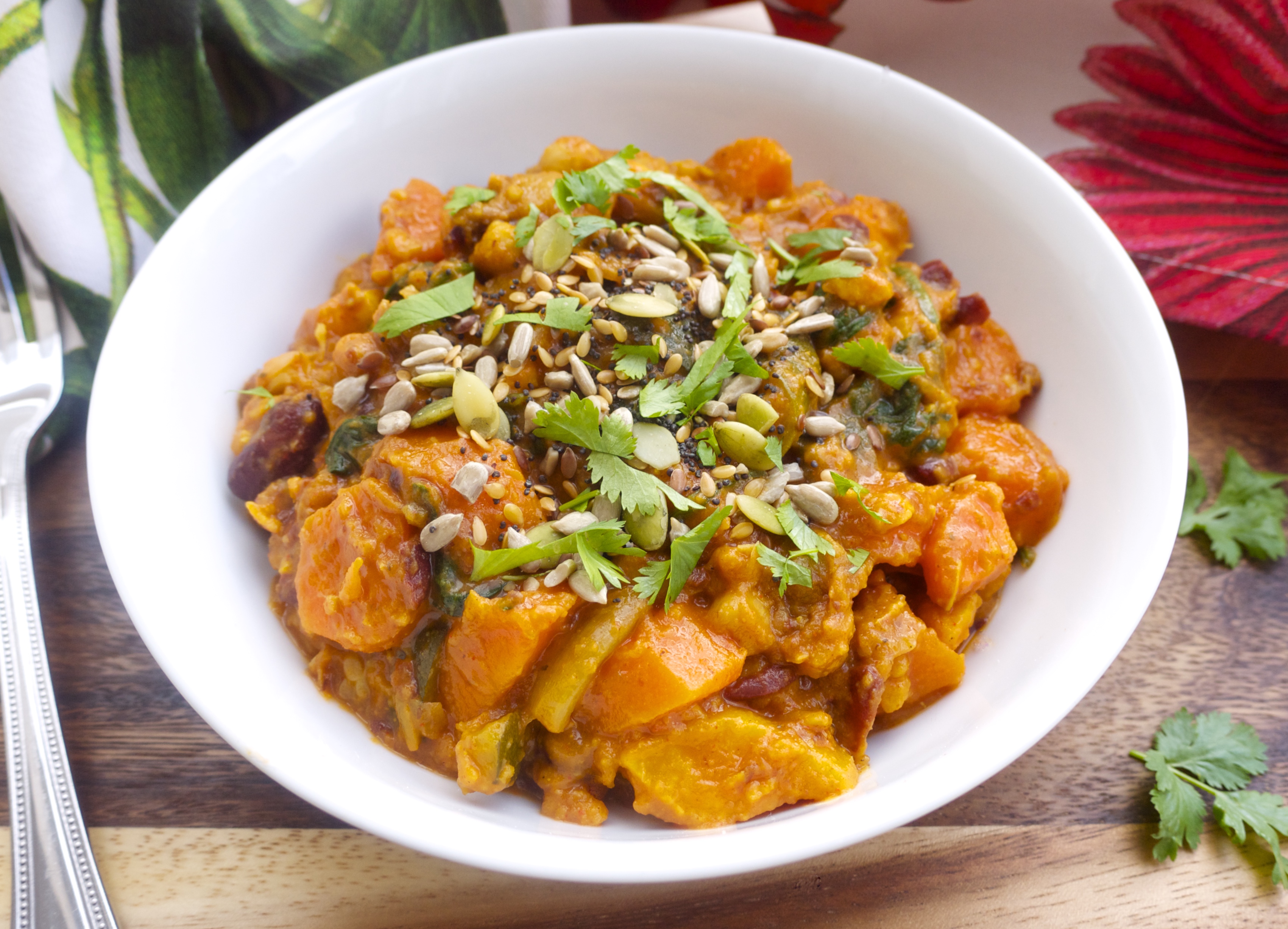 I absolutely love the simplicity of this recipe. Everything gets chucked into a big saucepan and left to cook, plus its brilliant to make in a big batch and eat over a few days, as I did this weekend. I think it tastes just as good cold!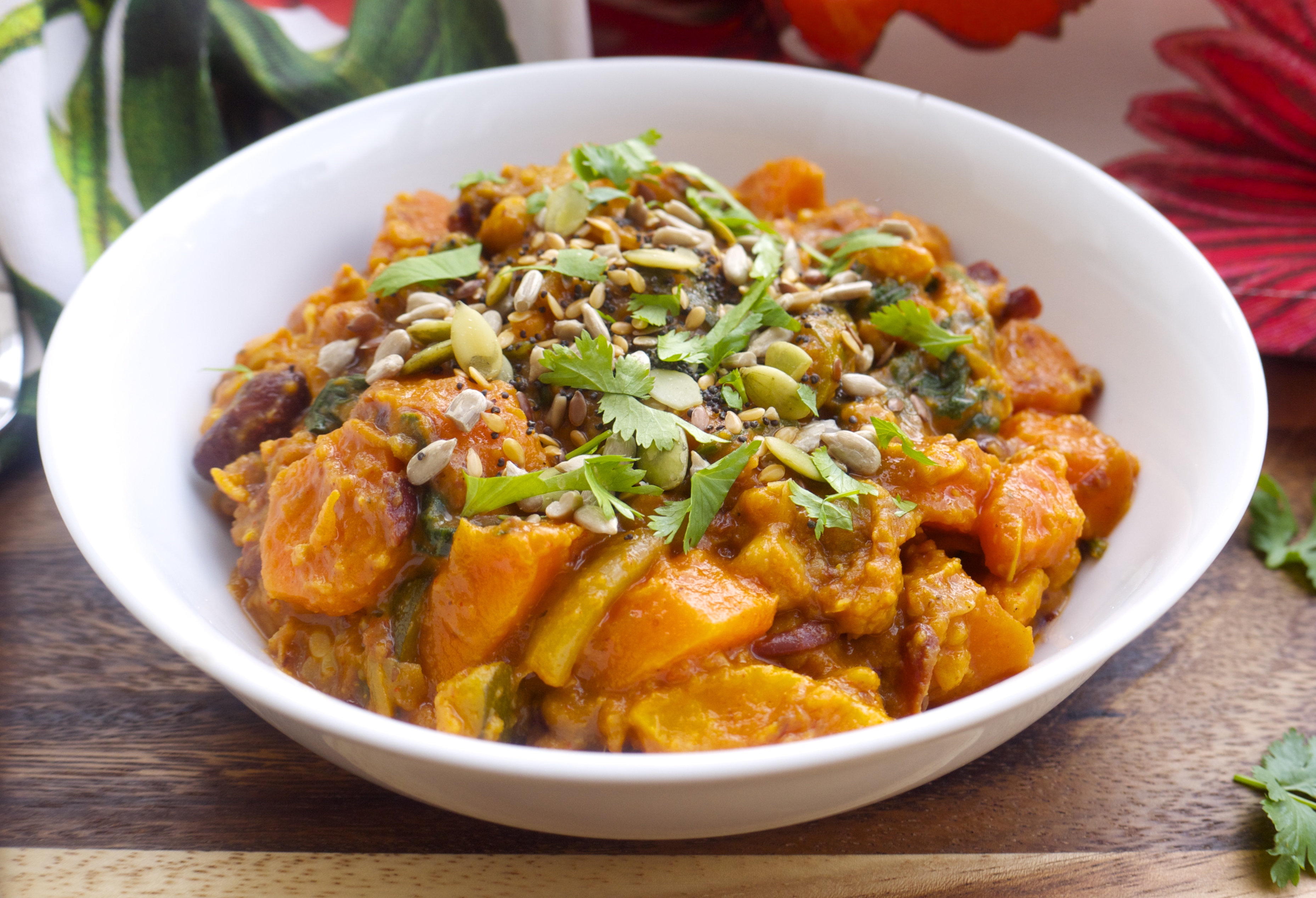 To make a really comforting and colourful dish, I used carrots, sweet potato, courgette and spinach, as well as chickpeas and kidney beans for their protein and fibre, and plenty of garlic, ginger, onion and chilli for flavour. The stew is rich in beta-carotene, the antioxidant nutrient which gives the carrot and sweet potato its brilliant orange colour. Beta-carotene is important for healthy skin and eyes, and it absorbs into your system best with a little dietary fat. That's why I used coconut oil and added seeds at the end.
Enjoy with a side of brown rice, quinoa or a big green salad, or as a substantial main course on its own.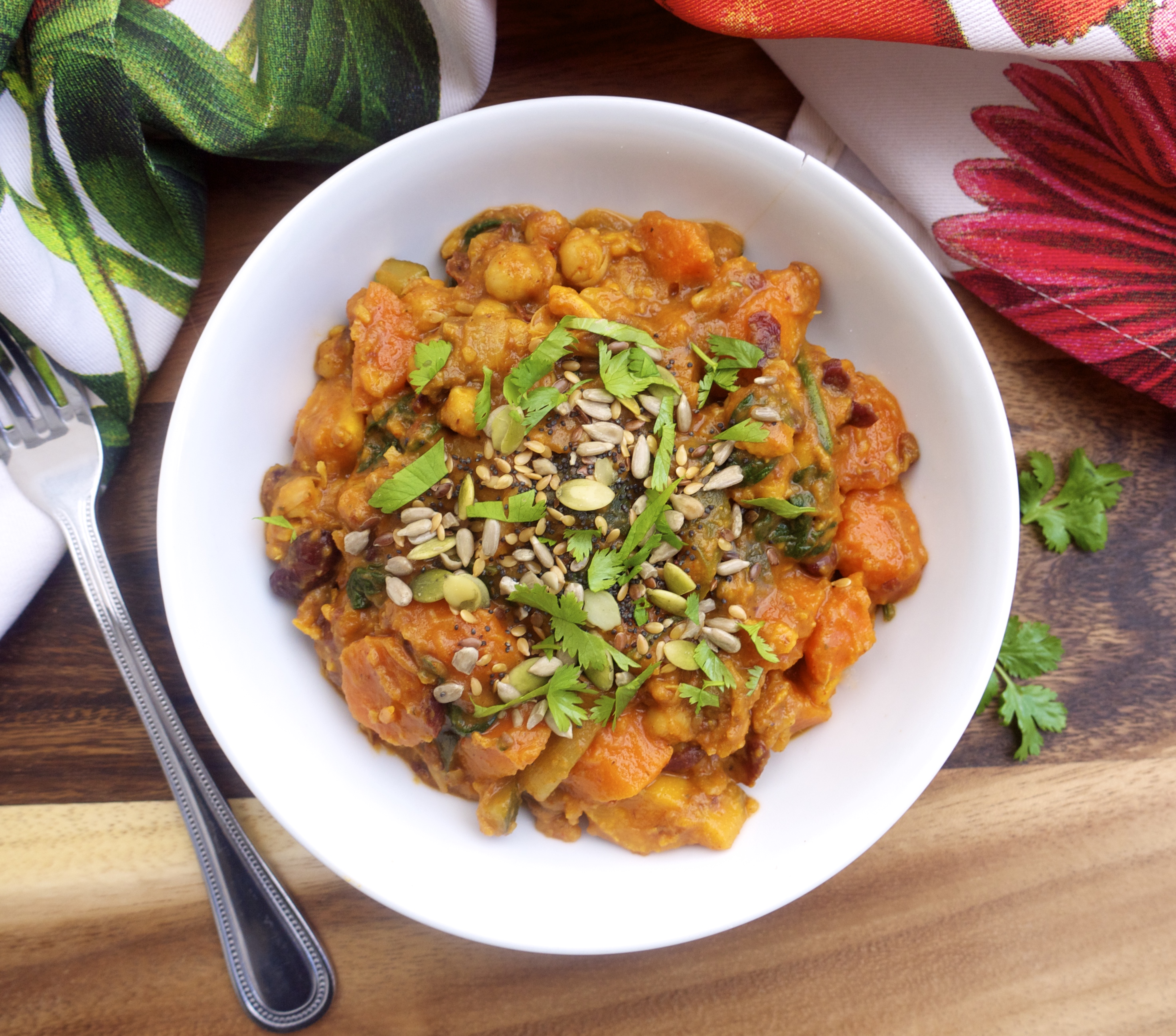 I would love to know if you get a chance to make this Chickpea, Kidney Bean and Spicy Tomato Vegetable Stew! Simply tag #RosannaDavisonNutrition on Instagram or Twitter or come on over to my Facebook to say hello 🙂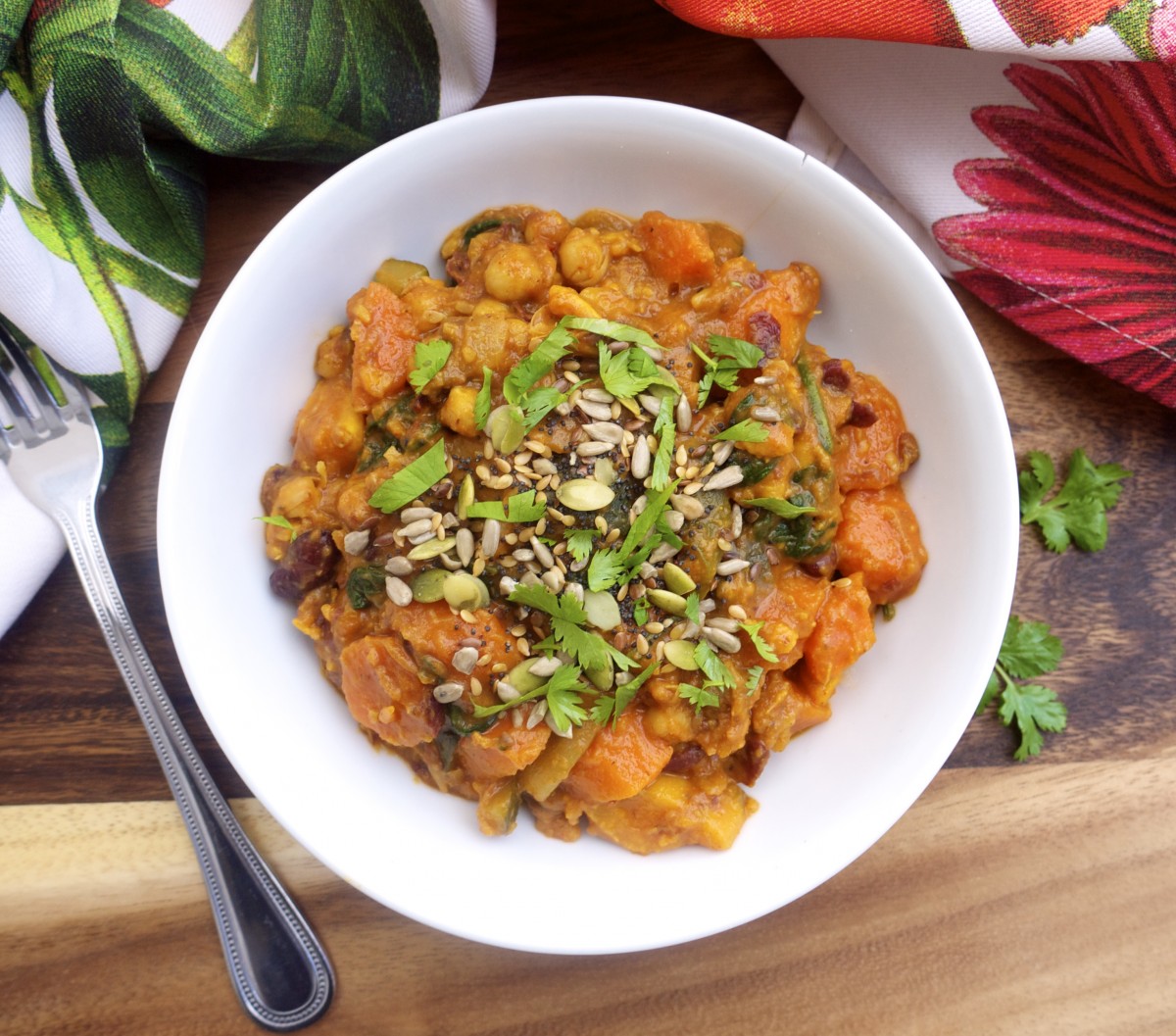 Chickpea, Kidney Bean and Spicy Tomato Vegetable Stew
2016-07-03 22:02:50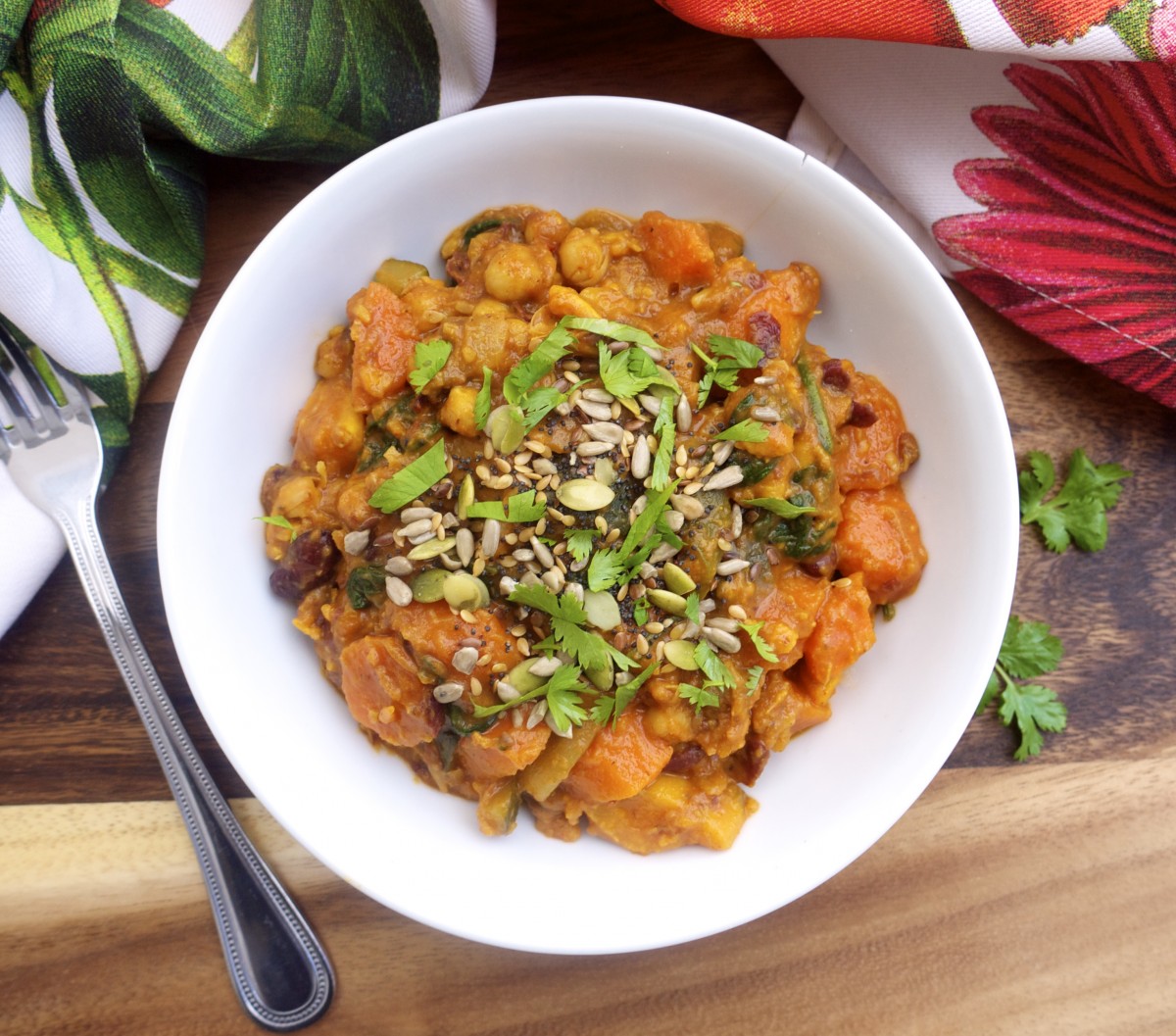 Serves 3
A warming, comforting and nutrient-rich stew packed with vegetables and lightly spiced with curry, ginger, chilli and smoked paprika. Great to make in a big bash to enjoy over a few days. It freezes well and tastes great cold too. Nutrition information per serving: 383 calories, 17g protein, 71g carbs, 5.2g fat, 16.7g fibre
Ingredients
1/2 teaspoon virgin coconut oil, to cook with
2 shallots or 1 medium onion, finely sliced
1 clove of garlic, chopped
2 teaspoons fresh ginger, finely chopped
2 tsp curry powder
4 carrots, peeled and chopped
3 small or 2 medium sweet potatoes, peeled and chopped
1 courgette, chopped
1 can/carton chickpeas, drained and rinsed
1 can/carton kidney beans, drained and rinsed
600ml vegetable stock
250ml (1 cup) unsweetened almond milk or low-fat coconut milk
170ml tomato passata (look out for sugar-free brands)
2 tsp smoked paprika
pinch of sea salt & black pepper, to taste
pinch of dried chilli flakes (optional)
2 large handfuls of baby spinach
mixed seeds and chopped fresh coriander, to serve
Instructions
In a large saucepan over a medium heat, heat up the coconut oil and add the onion, garlic and ginger.
Sautè for 3-4 minutes until the onion begins to soften, then add the curry powder and mix well for another 1-2 minutes.
Add the carrots, sweet potato and courgette and stir well, then add the chickpeas and kidney beans. Stir for another minute.
Pour in the vegetable stock, followed by the almond milk and tomato passata. Mix well.
Add the smoked paprika, salt and pepper and chilli.
Bring the stew to boil for a few minutes, then lower the temperature, cover partly with a lid and allow to simmer for about 30 minutes.
Remove the lid and allow the remaining liquid to evaporate for 5-1 minutes, to thicken up the stew. Stir frequently to avoid burning.
Remove from the heat and stir in the spinach, allowing it to wilt.
Serve warm or cold, topped with seeds and chopped coriander.
Notes
Any leftovers can be stored in an airtight container in the fridge for 3-4 days or frozen for up to 6 months.
Rosanna Davison Nutrition https://www.rosannadavisonnutrition.com/