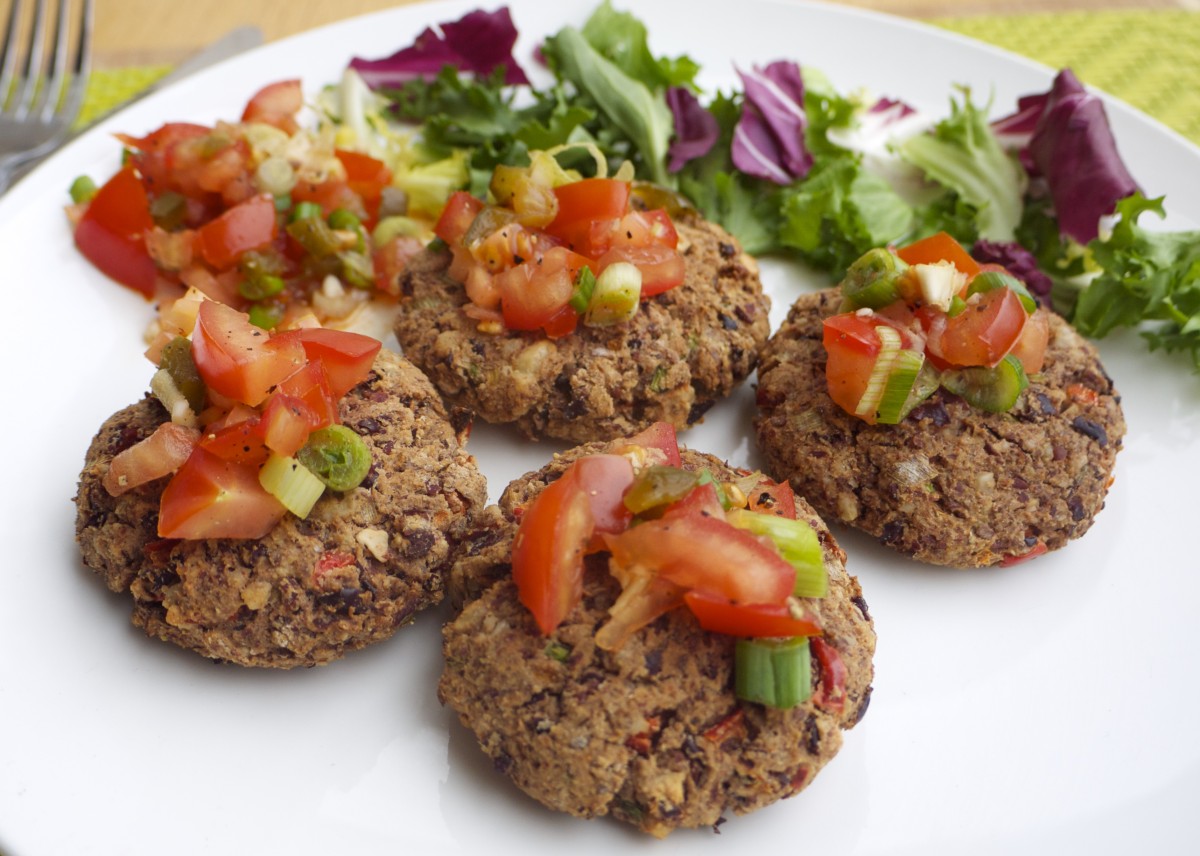 Good morning!
Happy Tuesday 🙂
I made these kidney bean and walnut burgers over the weekend, and they ended up being a great success. I'm always trying to come up with meals that are 'meaty' enough in taste and texture for my meat-eating husband, and kidney beans and walnuts make a great, filling combo.
They were a little bit crunchy on the outside, but moist on the inside!
I just made up a simple tomato, spring onion and jalapeño salsa to pop on top of the burgers… I'd planned to make a nice lemony guacamole but my avocados weren't ripe enough. Dammit.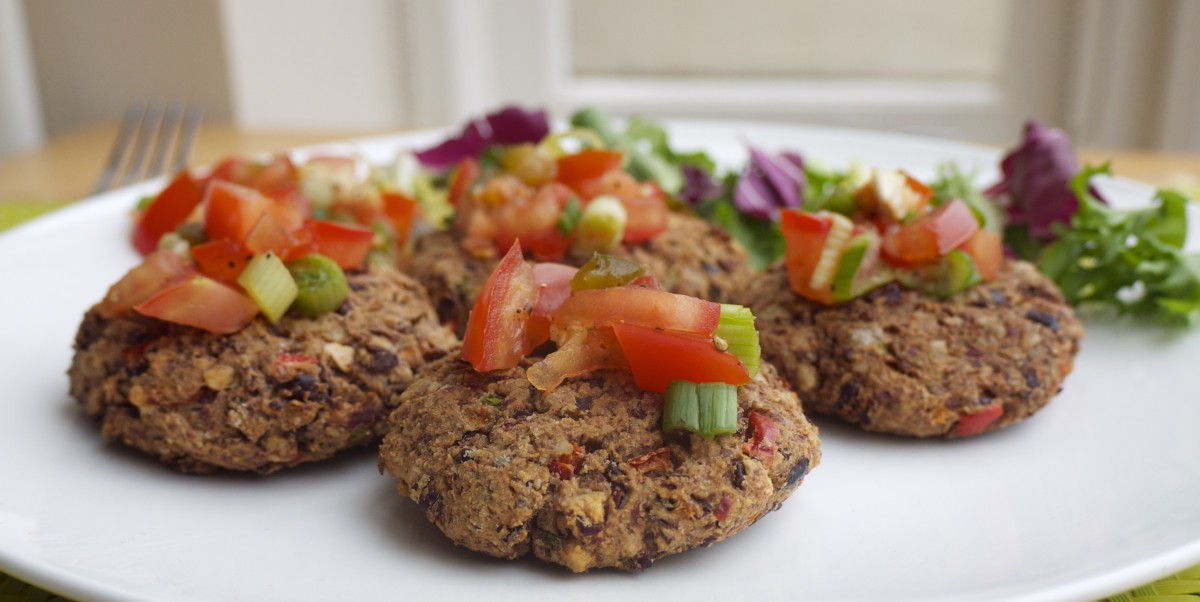 Together, the kidney beans and walnuts provide plenty of fibre, protein and minerals like iron, calcium and copper, plus heart-healthy fats.
To thicken the burger mixture, I used ground flaxseed and brown rice flour, although buckwheat flour or even oat flour would work just as well too.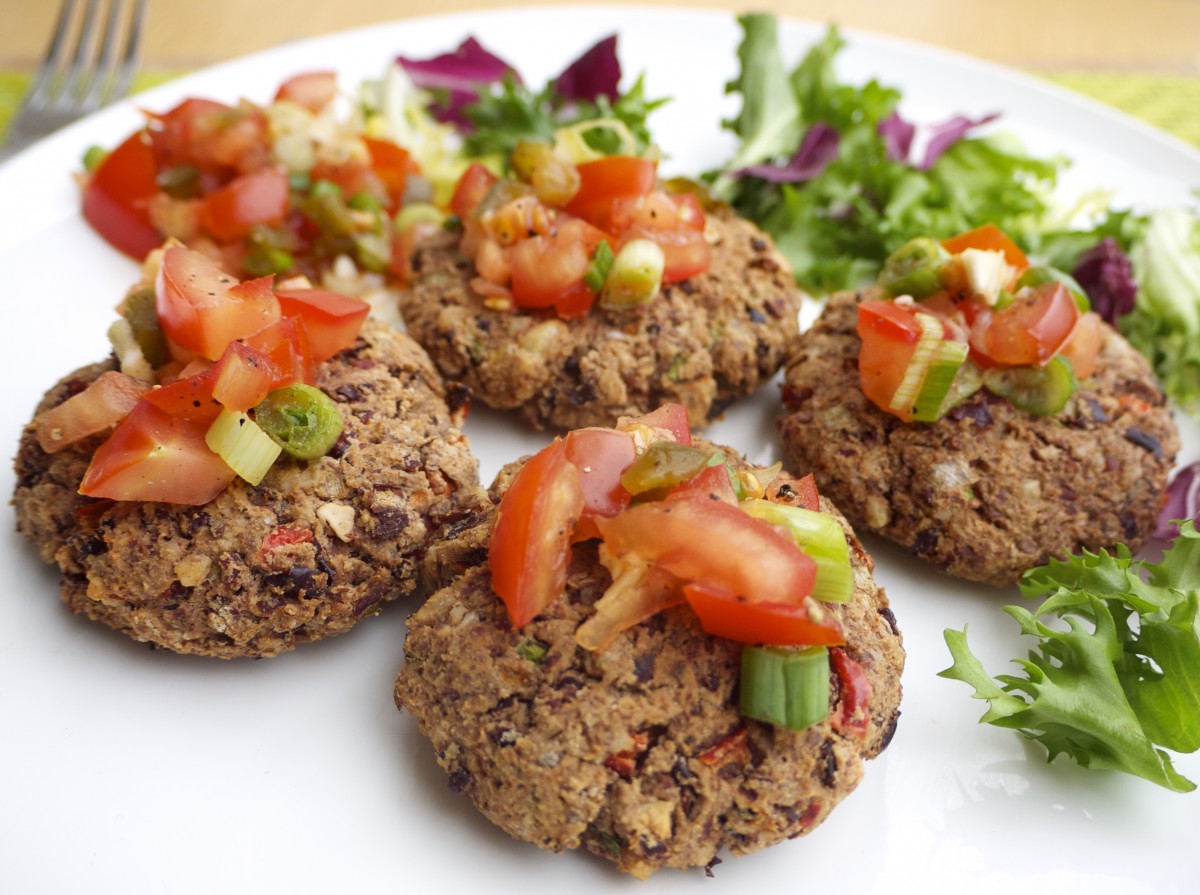 As the batch I made was enough for 9 burger patties, they're a great, inexpensive option for a couple of days of meals for two people. Pop them into a wrap or have a couple on a big salad, as I did, and you're sorted!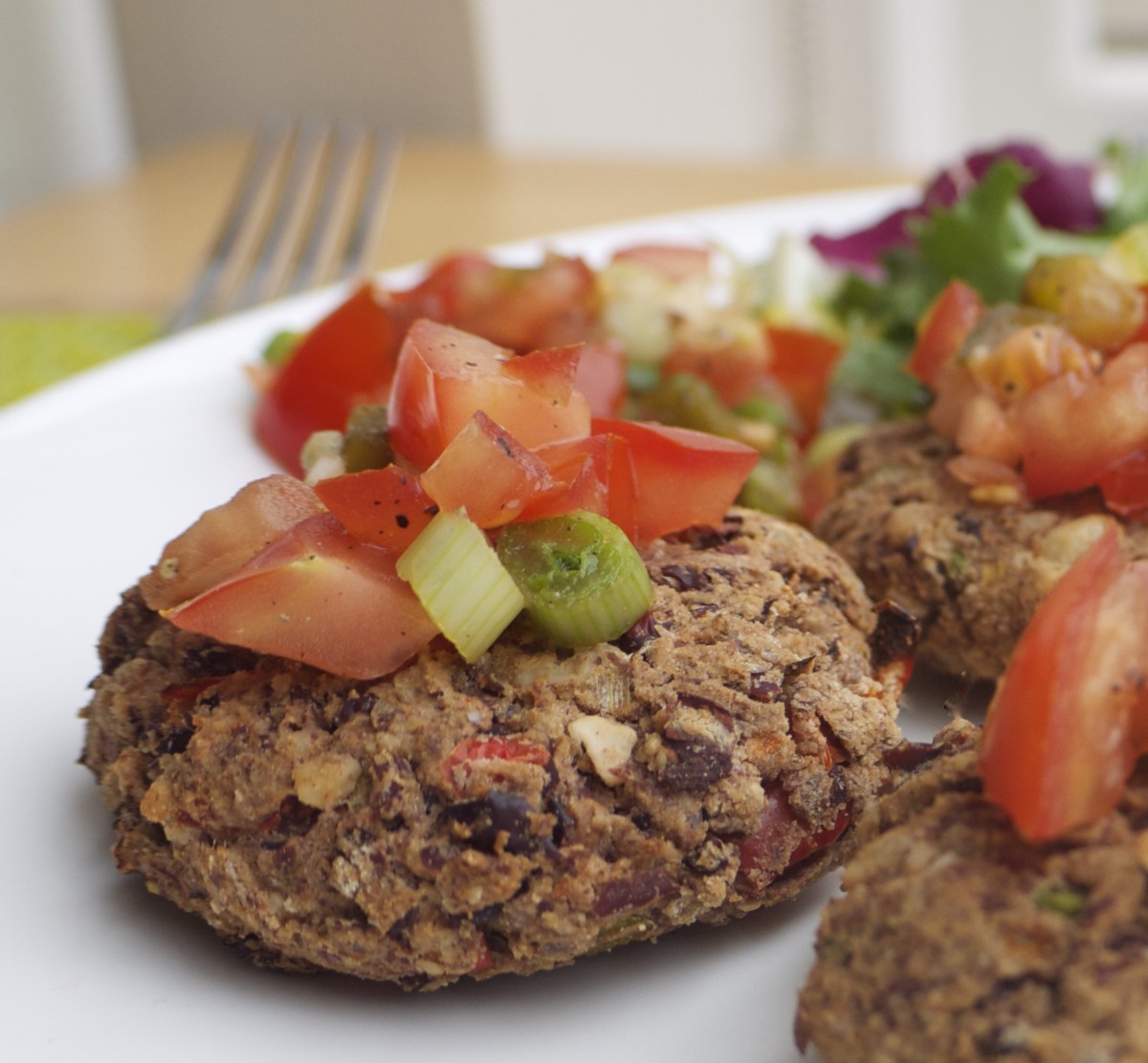 Let me know if you get a chance to make these burgers for you or your family… tag #RosannaDavisonNutrition on Instagram or Twitter or come on over to my Facebook to say hello! 🙂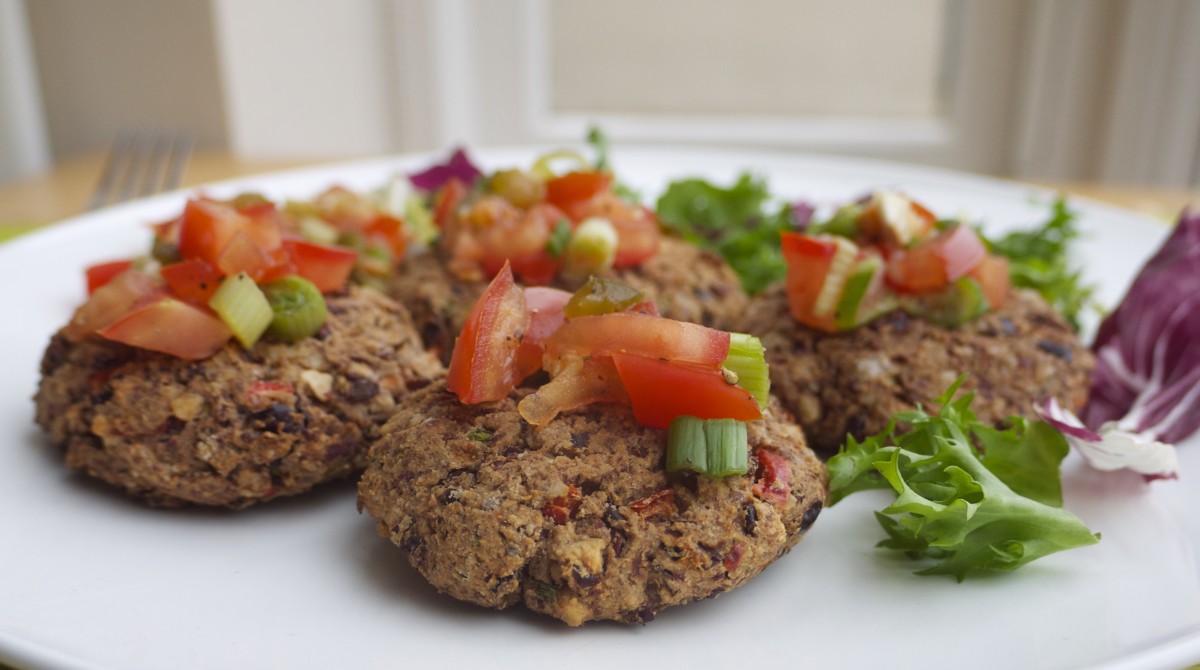 Kidney Bean and Walnut Burgers
2015-05-04 23:52:50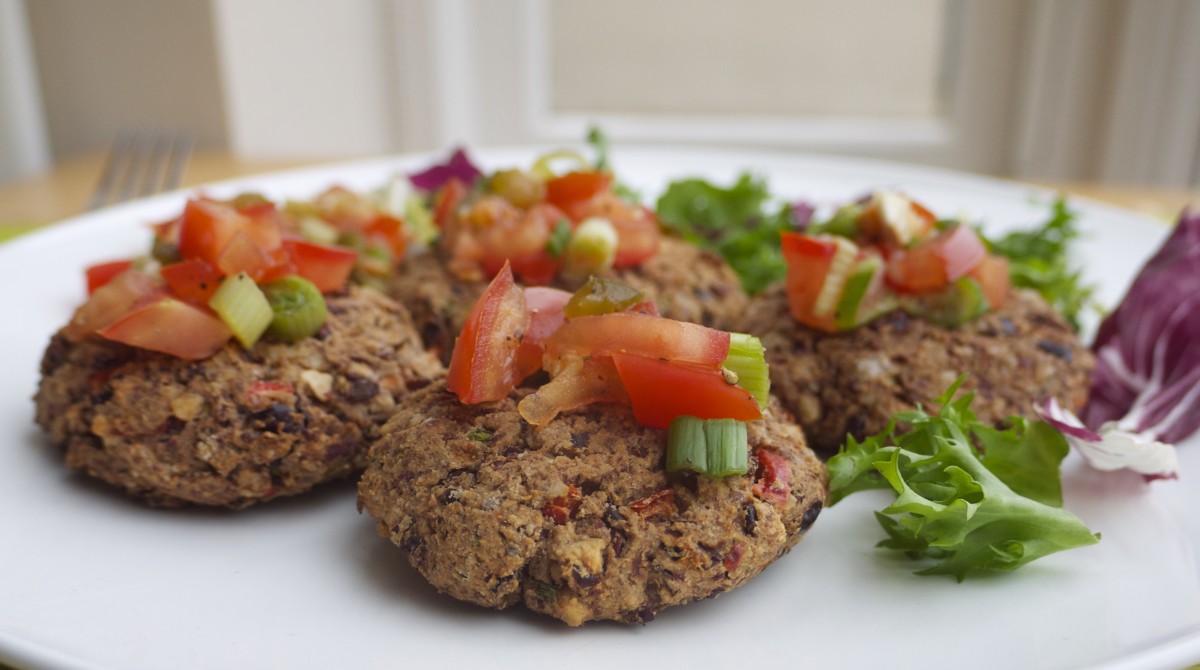 A simple, tasty and filling meal option with a 'meaty' bite!
Ingredients
240g cooked kidney beans
1/2 a red bell pepper
2 spring onions, chopped
1 clove of garlic, minced
dash of tamari sauce
dash of Ume Japanese plum seasoning
2 tsp smoked paprika
Pinch of dried chilli flakes
1.5 tsp cajun spices
1 tsp ground coriander
1 tbsp nutritional yeast (optional)
1 tbsp lemon juice
40g (1/3 cup) raw unsalted walnuts
Salt and pepper, to taste
3 tbsp ground flaxseed
4 tbsp brown rice flour - buckwheat flour and oat flour work here too.
Instructions
Preheat the oven to 200C and lightly grease a baking tray with coconut oil or lay down a sheet of greaseproof paper.
Place all ingredients in a blender or food processor, apart from the ground flaxseed and flour.
Blend until well combined, but ensure some texture remains.
Transfer the mixture to a large mixing bowl and stir in the ground flaxseed, followed by the flour.
If it's too wet still, add another tbsp of flour and mix well.
Divide the mixture and form it into individual burger patties, gently pressing them down onto the tray.
Bake at 200C for 25-30 minutes, until burgers are firm to touch and turning golden-brown on the outside.
Allow them to cool for a few minutes, before serving topped with a tomato salsa or guacamole.
Notes
Any leftovers can be stored in any airtight container in the fridge for up to two days.
Rosanna Davison Nutrition https://www.rosannadavisonnutrition.com/