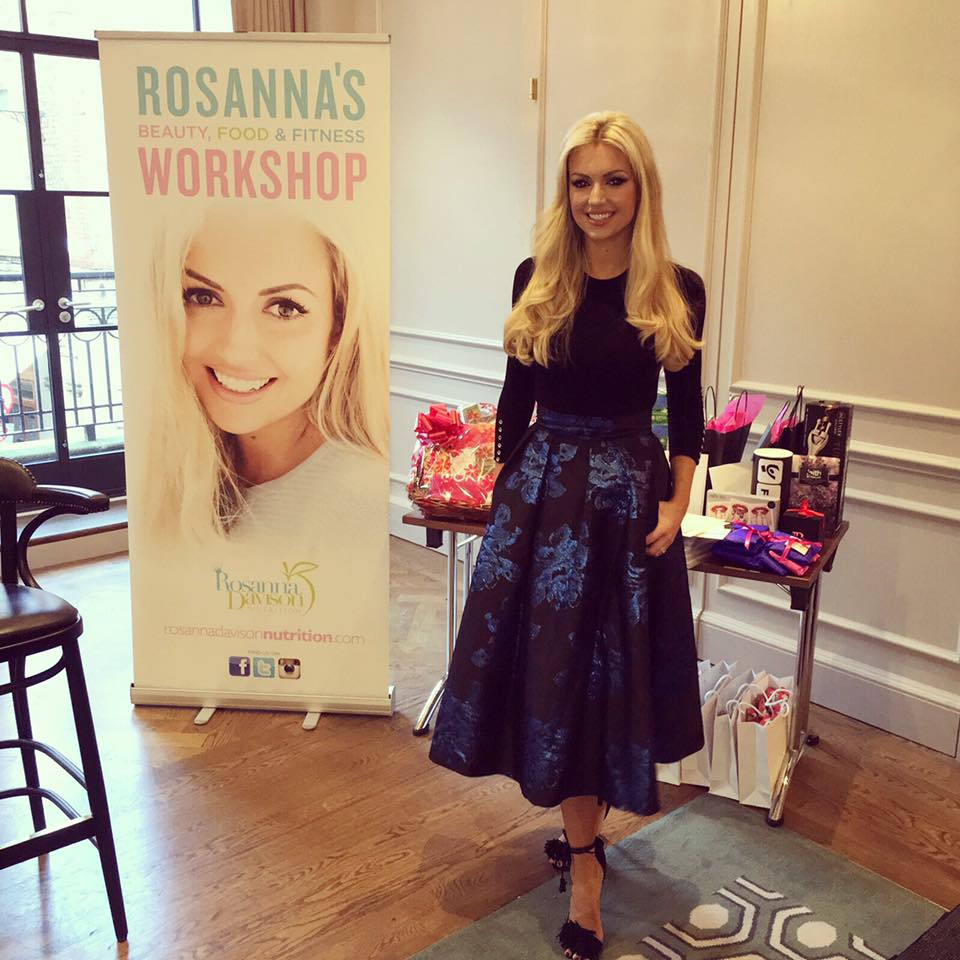 On Sunday, I held my first ever (and hopefully first of many!) Beauty, Food and Fitness Workshop at The Westbury Dublin, and I'd like to say a huge big thank you to everyone that came along and contributed to the day. It ended up being a great success, and I'm so grateful to receive loads of messages and positive feedback from my lovely guests.
I'm delighted that the event sold out, with 130 very glam ladies arriving at the hotel's plush Grafton Suite, for a fun, festive and informative day of talks, demos, entertainment, and loads of spot prizes… plus a delicious lunch washed down with a glass of bubbles!
So many companies were incredibly generous to offer loads of treats for the goodie bags, with each guest getting a tub of Vita Coco Coconut Oil, a packet of Propercorn, A gorgeous piece of jewellery from Betty and Biddy, a voucher for Michele Burke Nails, a box of herbal tea and a bounce ball from Wholefoods Ireland, samples from Cell Nutrition, a packet of vegan and gluten-free pitta bread, a homemade Cacao Hazelnut Bliss Ball and a signed copy of Eat Yourself Beautiful from me, and a bottle of the brand new Cocoa Brown Golden Goddess Shimmering Dry Body Oil!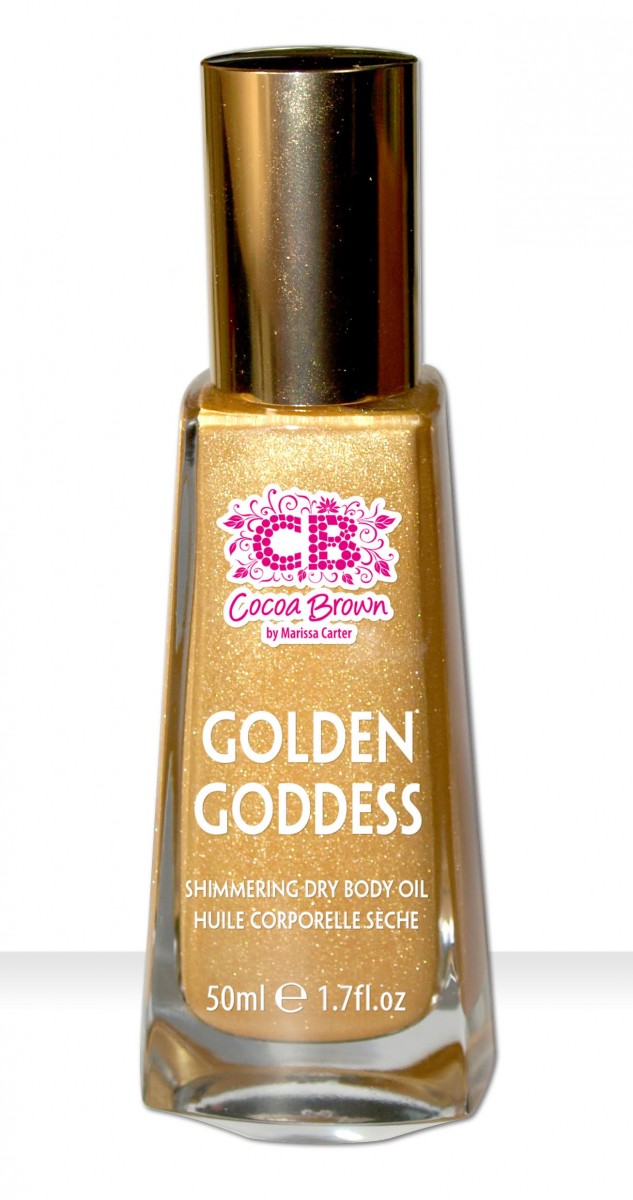 This is a gorgeous oil for adding a golden glow to your collarbones, shoulders, arms and legs for a night out, and I love it!
Here's my top tip: Apply it along the length of your shinbones to help make your legs look long and lean 😉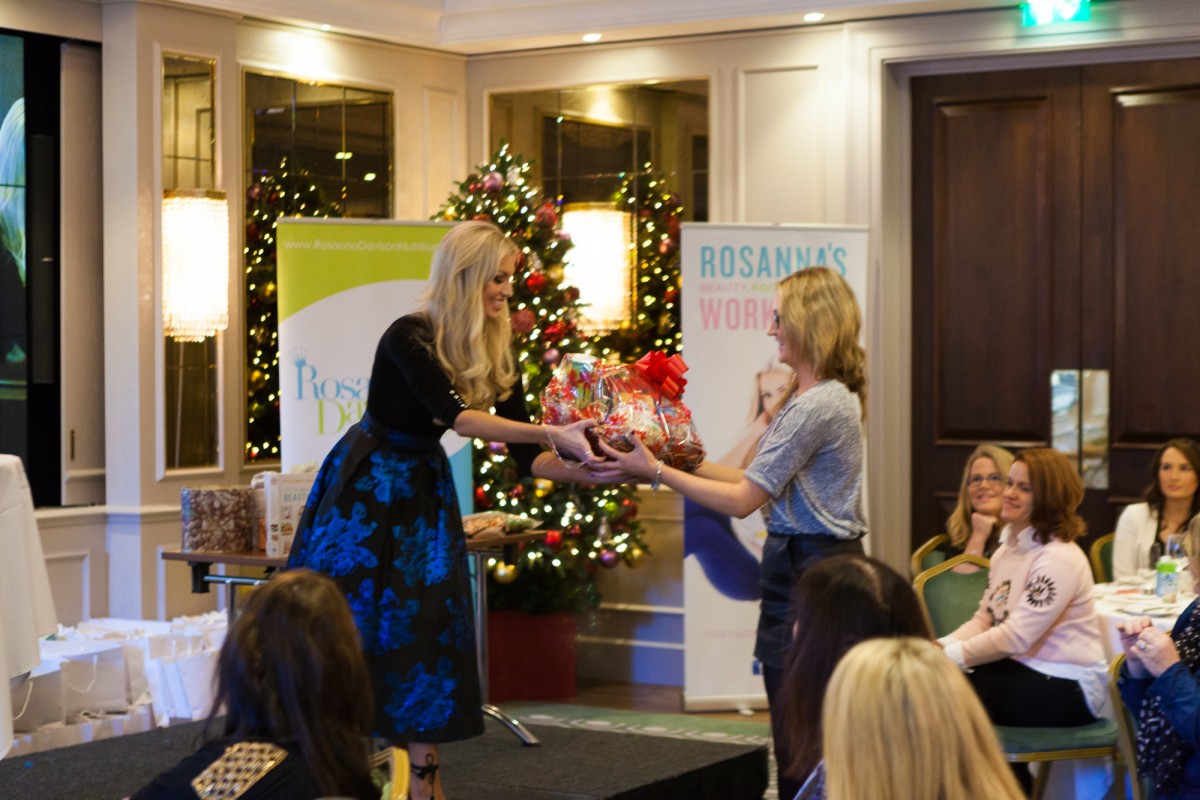 I almost ran out of enough time to give out the spot prizes, there were so many!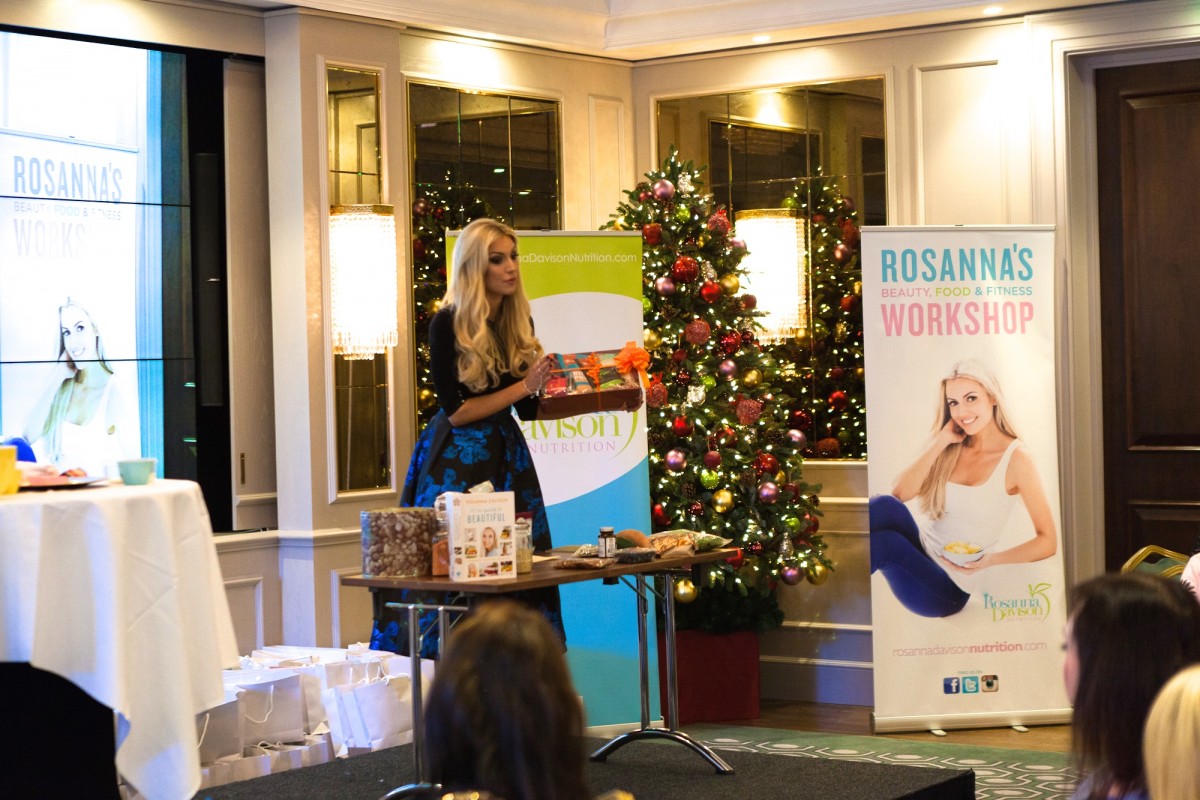 Lots of lucky ladies on the day won hampers from Nua Naturals and Wholefoods Ireland…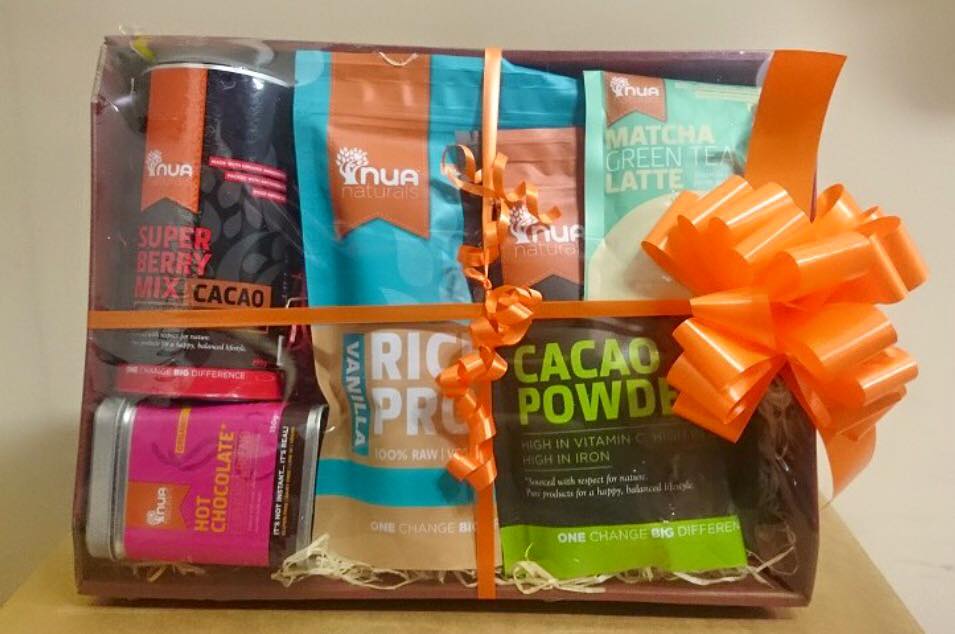 sparkly necklaces from betty and Biddy, Pilates and personal training vouchers, vouchers for Michele Burke Nails, a voucher worth €150 for Ceira Lambert Hair Consultancy, a free head of Gold Fever Hair Extensions, a bobble hat and necklace from Glitz 'n' Pieces and a new Instyler Tulip…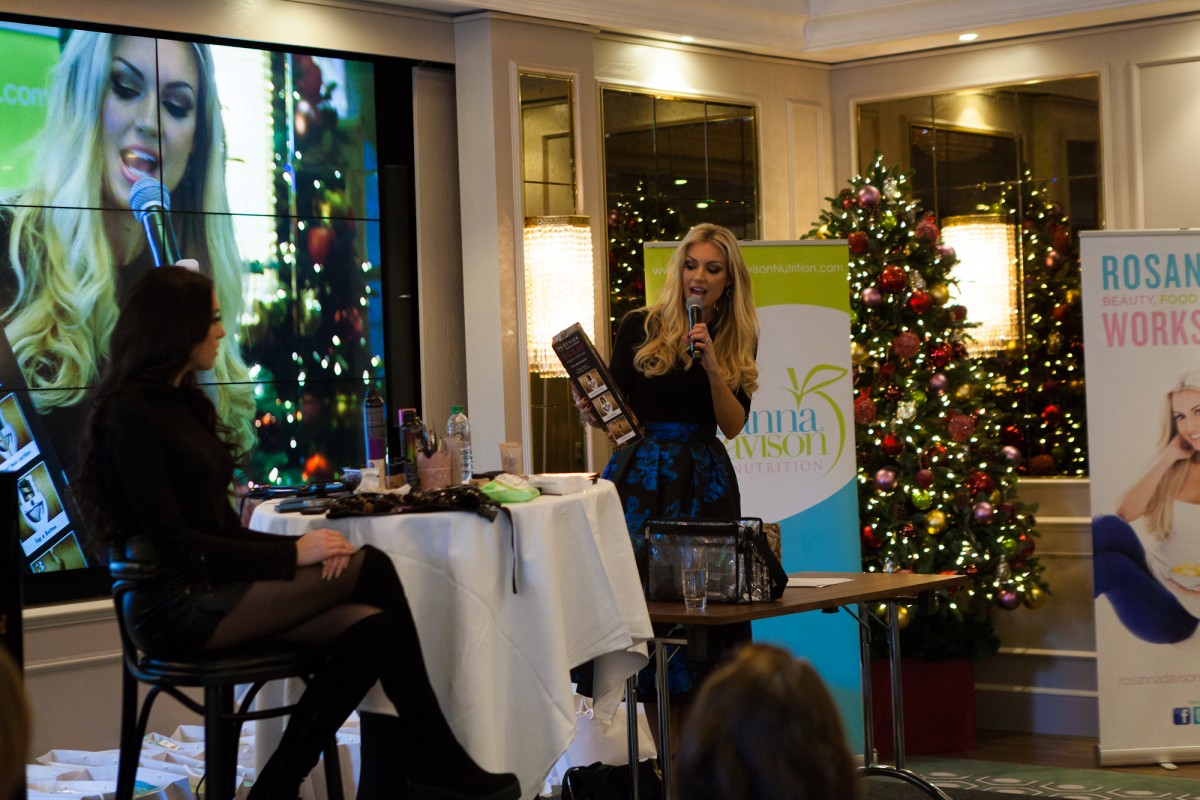 Also up for grabs were a €100 voucher for Freddy Jeans, copies of Annmarie O'Connor's new book The Happy Closet, and this beautiful pearl necklace from Lauryn Rose Jewellery…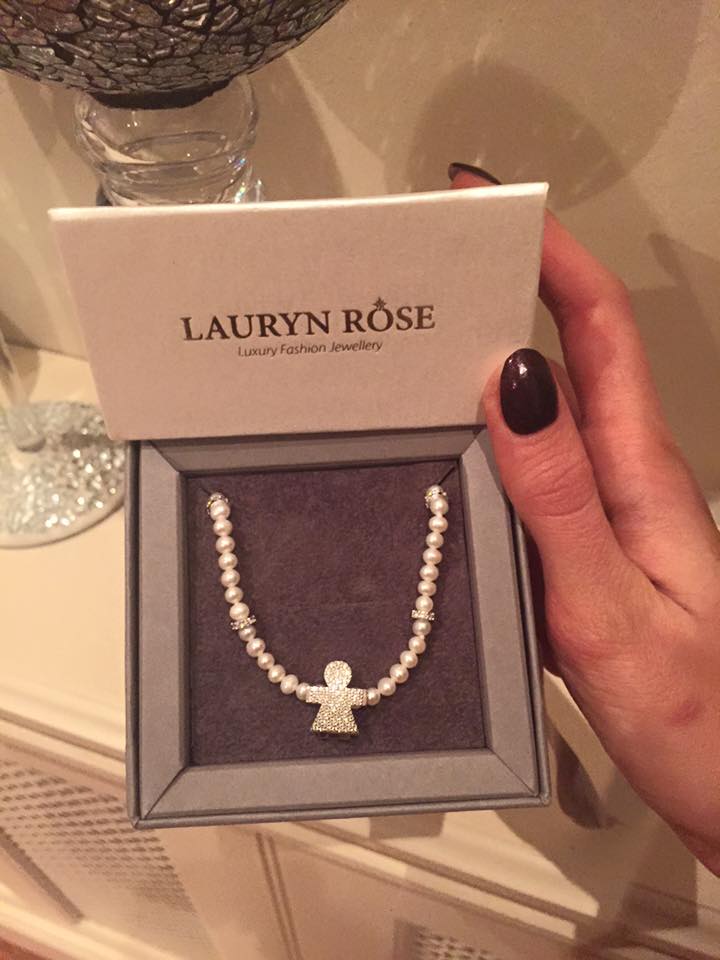 Plus Vita Coco provided a fridge full of chilled coconut water for guests to enjoy throughout the day!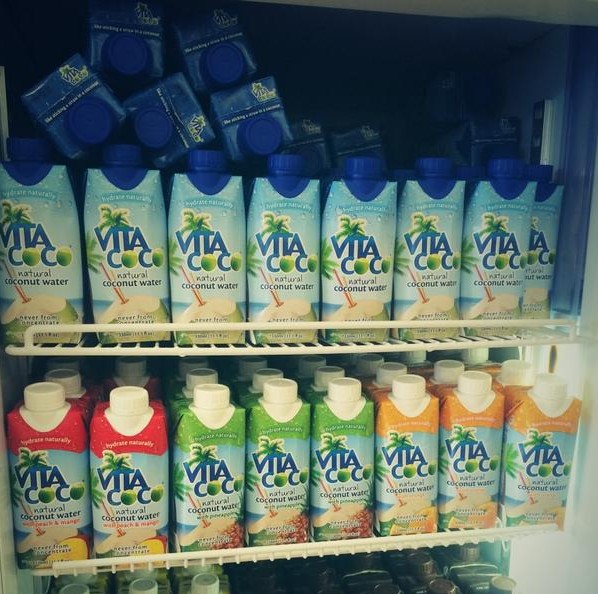 Everyone seemed to enjoy the variety of speakers and performances on the day too…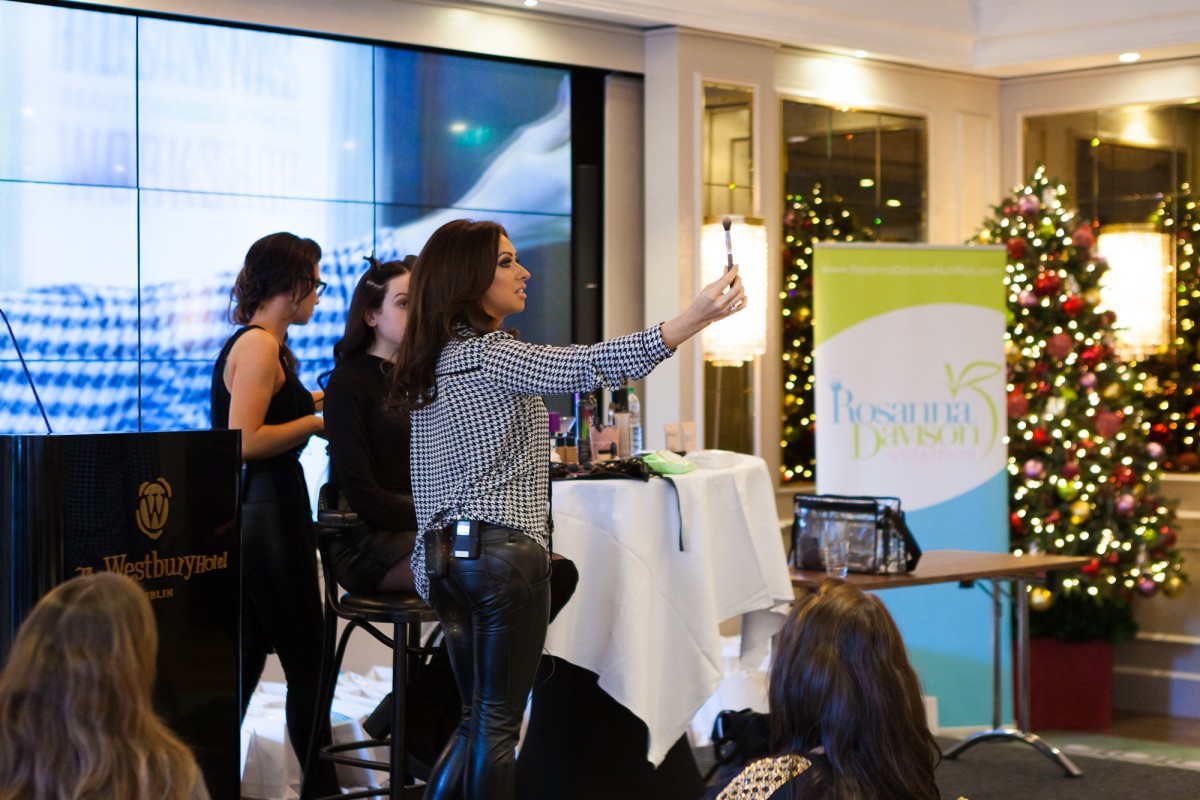 After my nutrition talk and food demo, the talented make-up artist Michelle Regazzoli-Stone did a step-by-step demo, showing the audience how to create a flawless base and smoky eye…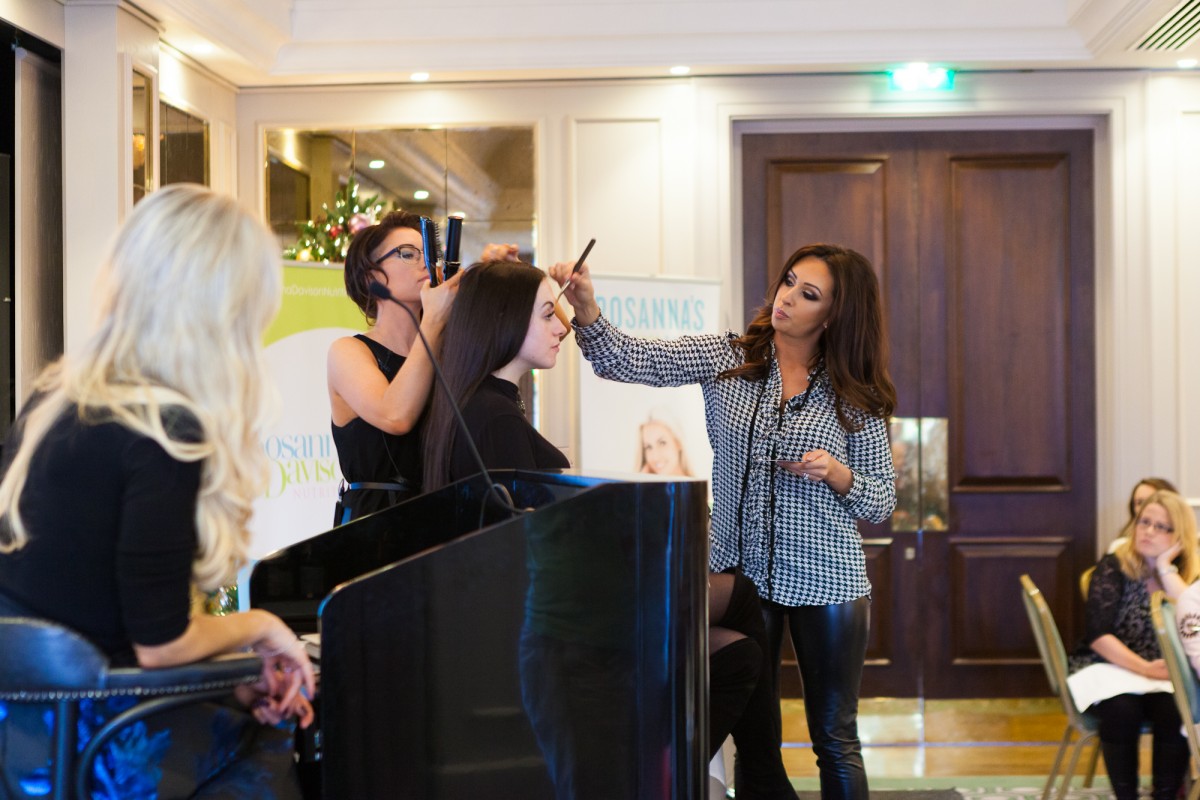 while Susie from Ceira Lambert Hair Consultancy demonstrated how to create gorgeous bouncy curls using the Instyler on our models, Eve's, long black hair.
And the finished result was stunning!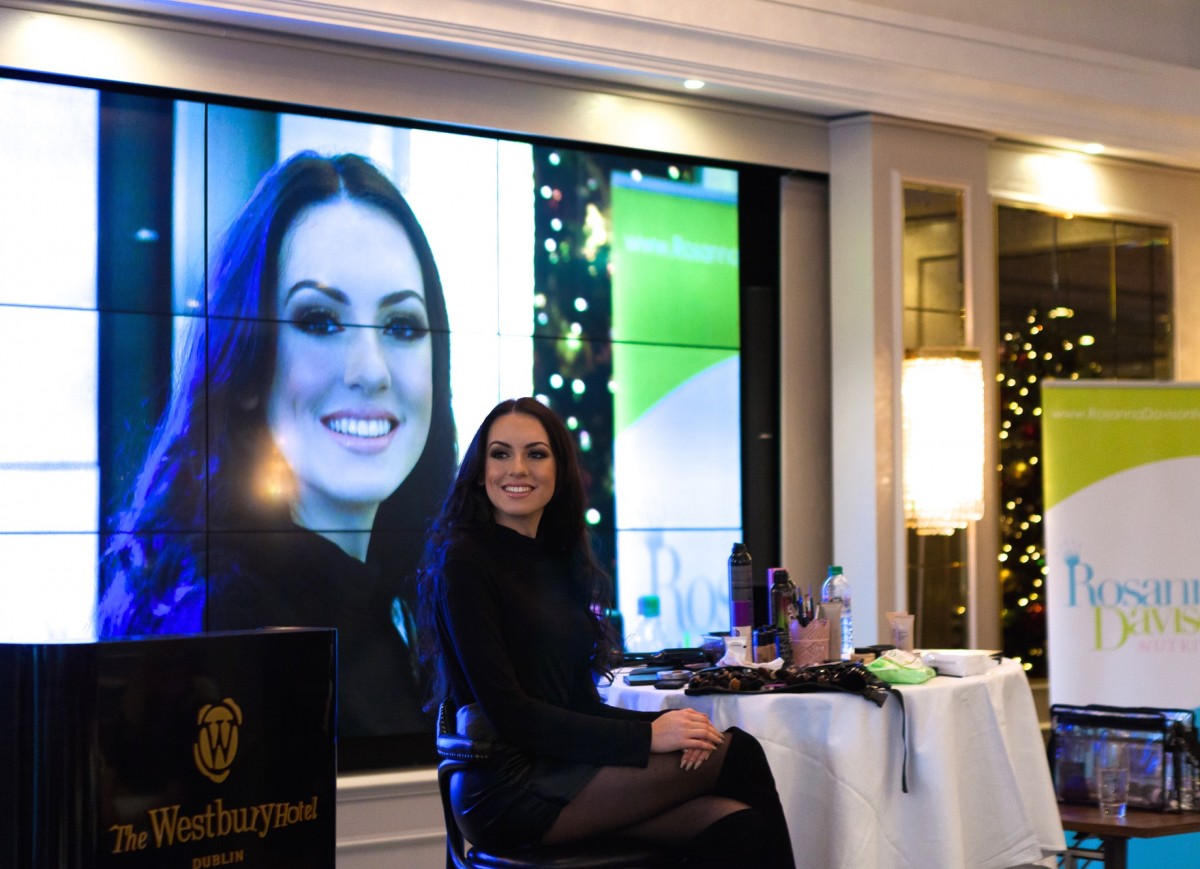 After lunch was served, singer Paul Byrom took to the stage for a few festive songs, which had the audience dancing on their chairs and swinging their arms in the air!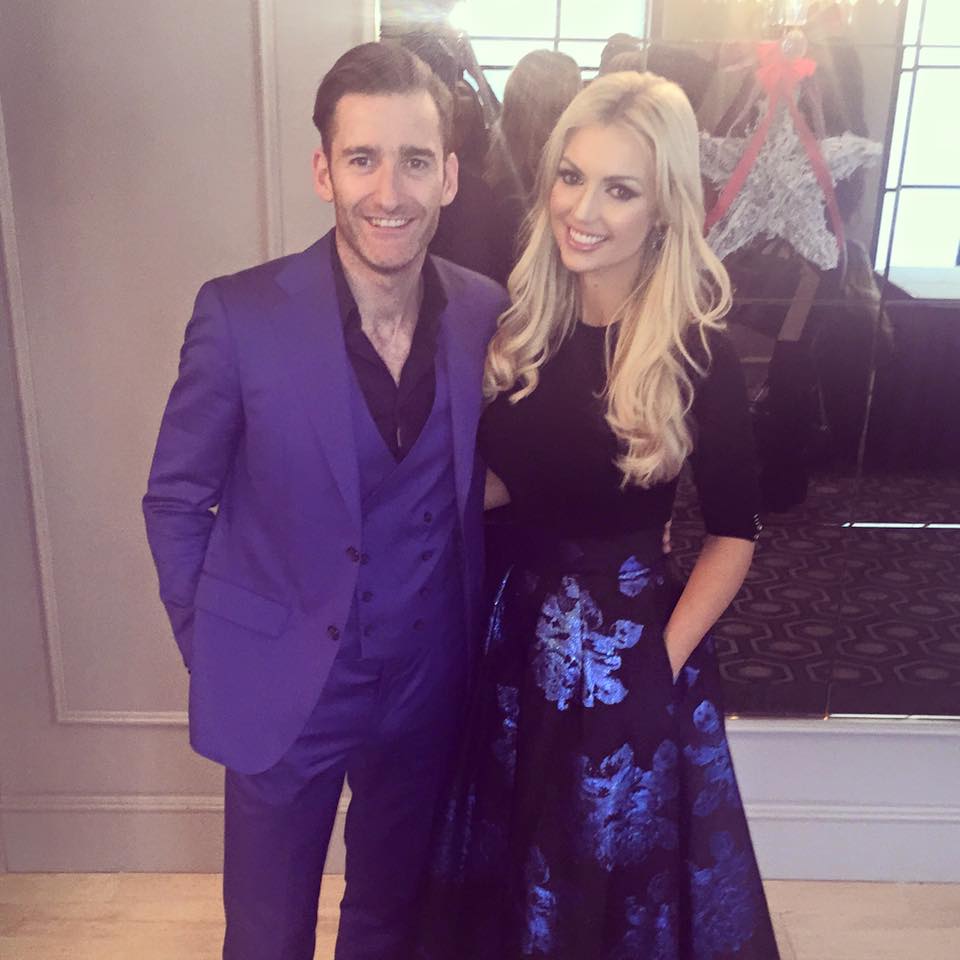 To my total surprise, my dad (who I thought was in London!) walked into the room and performed Spaceman Came Travelling and Lady in Red for everybody. Talk about a fun, impromptu concert!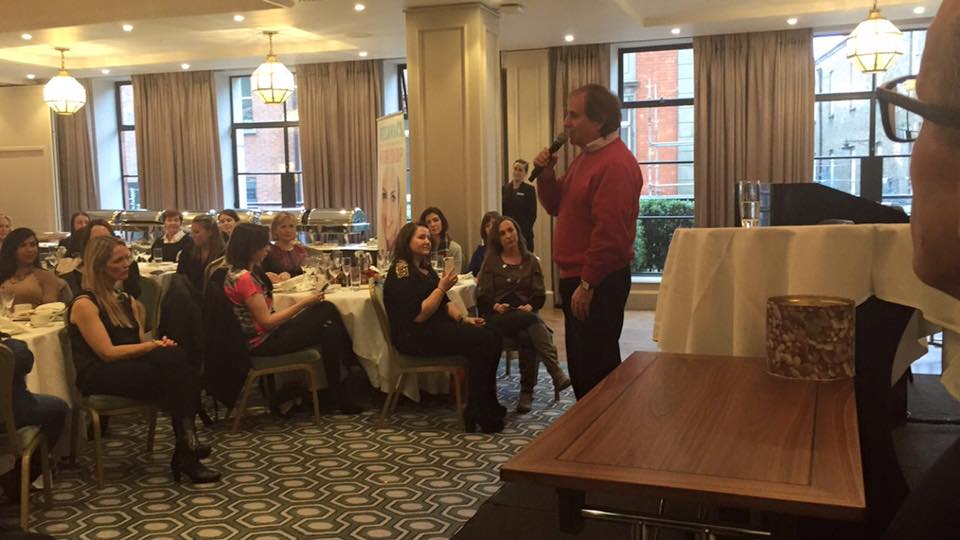 Following the entertainment, stylist and author Annmarie O'Connor, gave a great talk about how to create a Happy Closet in your own home, and the psychology behind why we can be tempted to impulse buy and buy more than we need. I can definitely be bit of an impulse buyer, so I found the talk so interesting and relevant, and the audience seemed to love it too 🙂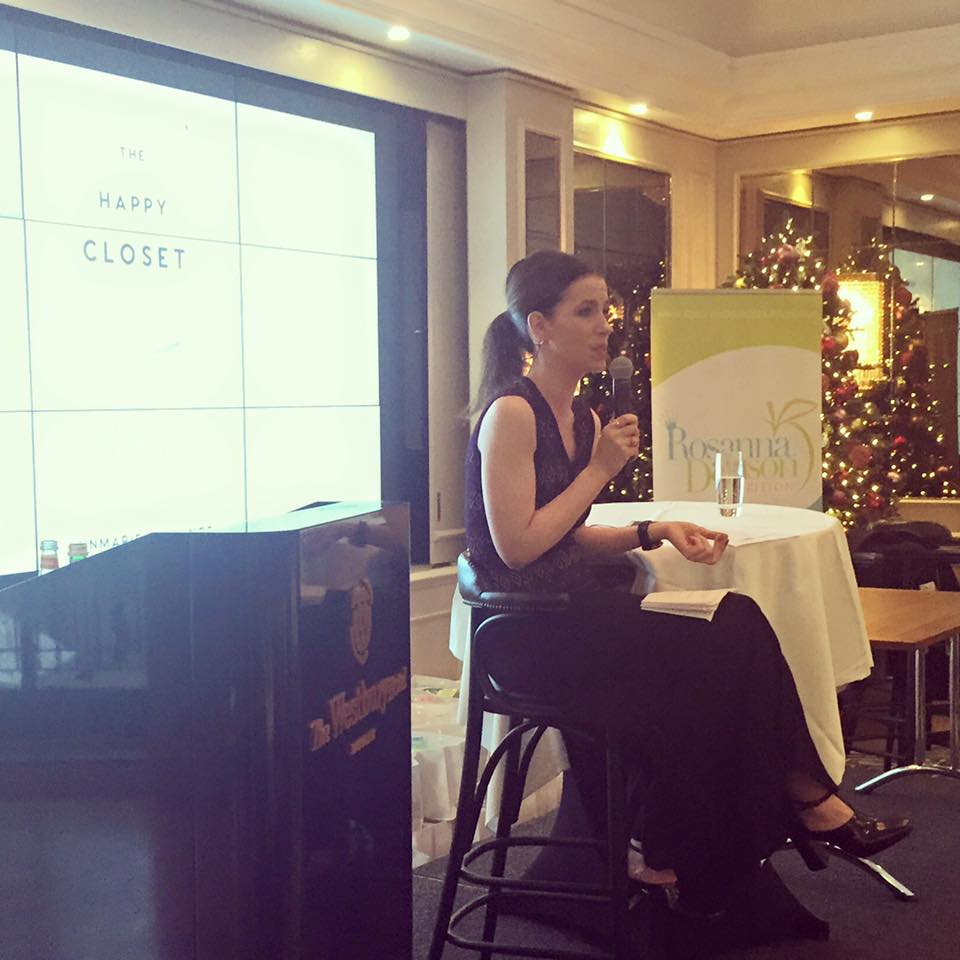 Then Paul Byrne, renowned personal trainer and owner of BodyByrne Fitness, gave a really inspiring talk about fitness, diet and why we're tempted to overindulge and eat the wrong types of foods. He answered load of questions from different guests about diet and training, and it gave everyone a lot of food for thought 😉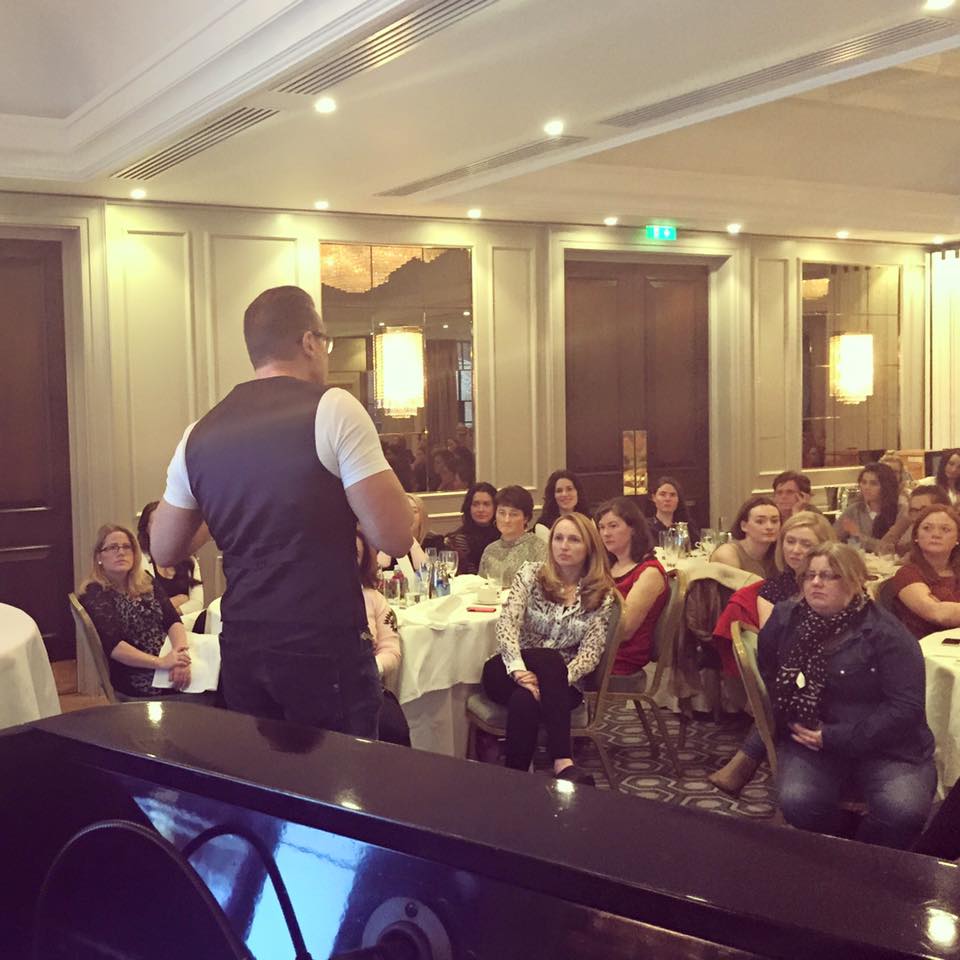 Thank you once more to the sponsors, speakers, the staff at The Westbury and all of our wonderful guests, for helping to make it such an enjoyable day out. I had wanted to organise a workshop for so long, because I love being able to meet people, answer questions and interact in real life… and not just online!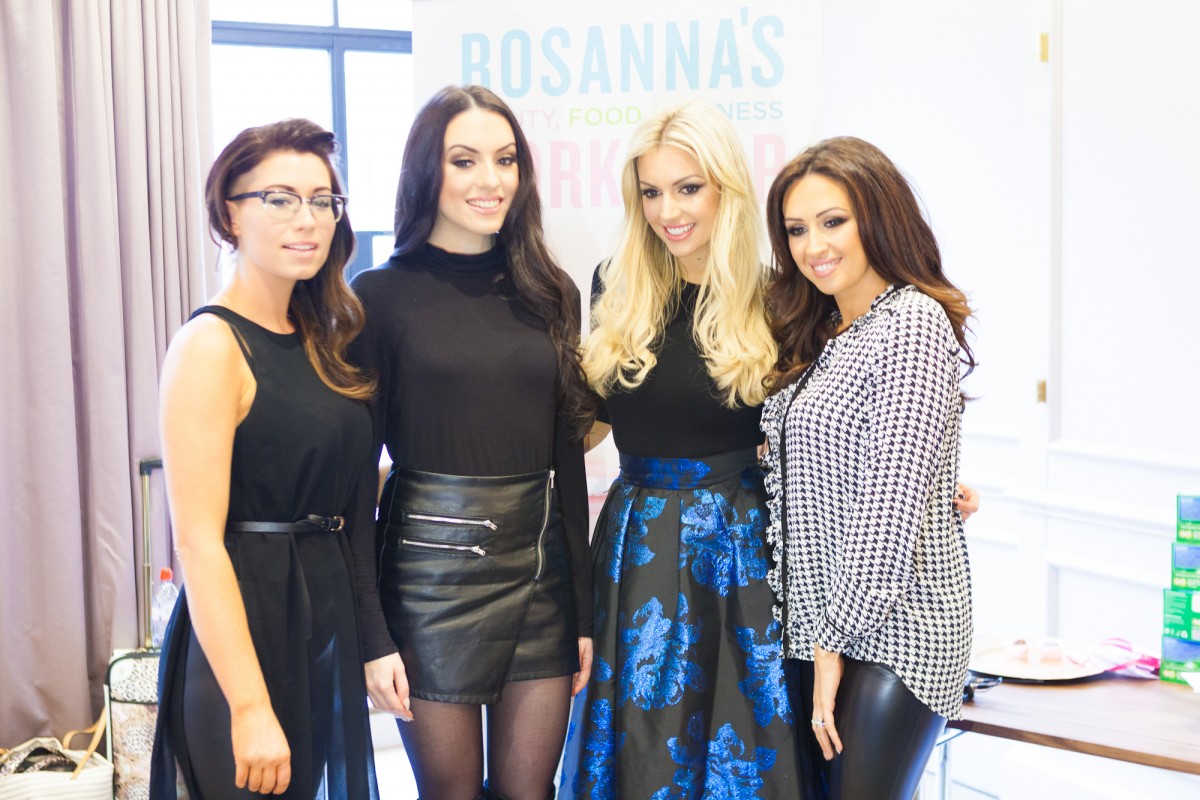 It was so nice to hear so many good news health stories from various guests, and some people flew from London for the day, or drove up from all corners of the country.
I have had loads of requests to bring the workshop around the country in 2016, and that's definitely the plan! There's just the small matter of writing book two early in the new year, and then I'll get planning the workshops for spring/summer 2016 😉