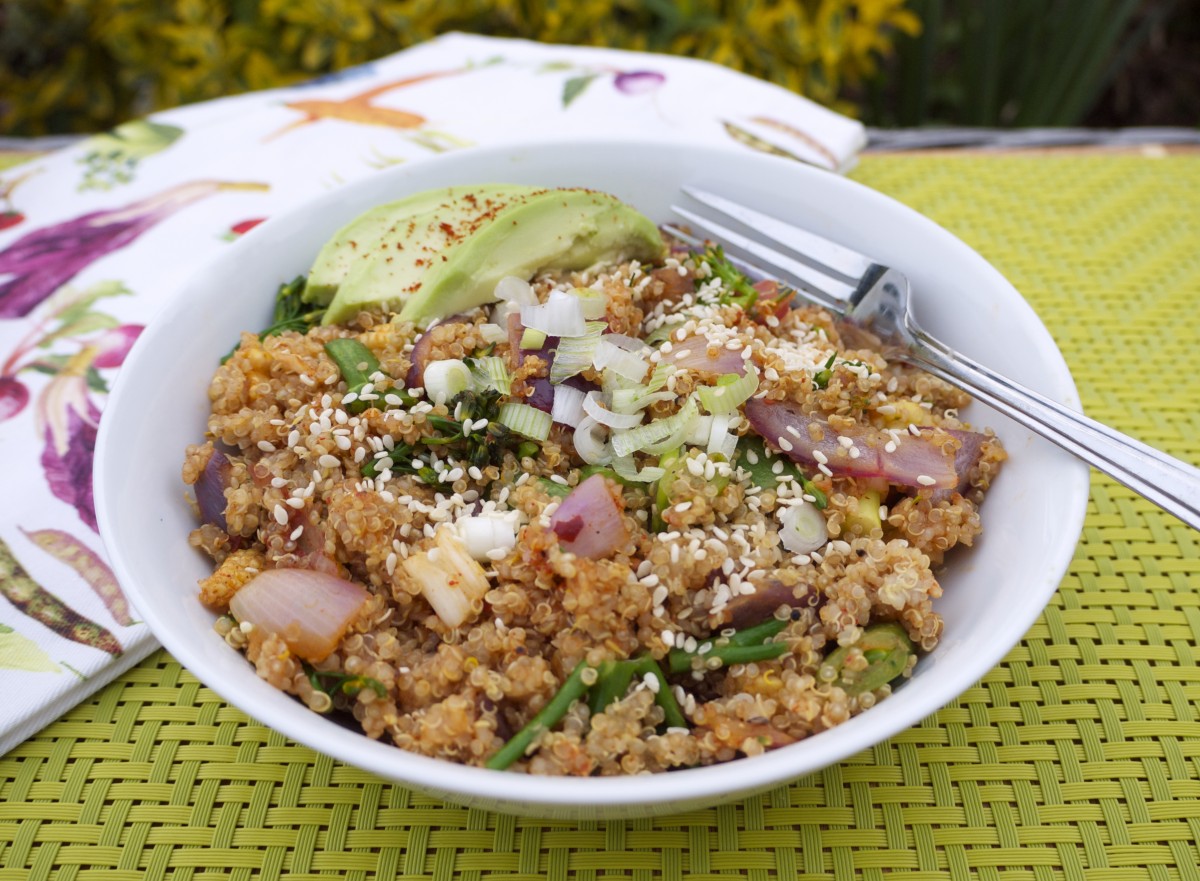 Good morning!
It's a bit of a grey, rainy day here in Dublin, so I thought I should post some colourful food pics to boost the mood 🙂
We enjoyed a chilled night in last night with the feet up, a huge mug of tea and lots of cuddles from the dogs. We even lit a fire!
For dinner, I fancied something simple and quick to prepare. Actually, that's always the priority with my recipes… I'm not blessed with an awful lot of patience, and especially when I'm staaaarving!
So with a packet of quinoa in the cupboard and a selection of veggies in the fridge, I put together this quinoa veggie bowl. I love the flavour of finely chopped spring onions and toasted sesame seeds so much, and they made a great topping along with some gorgeous ripe avocado, sprinkled with a little smoked paprika.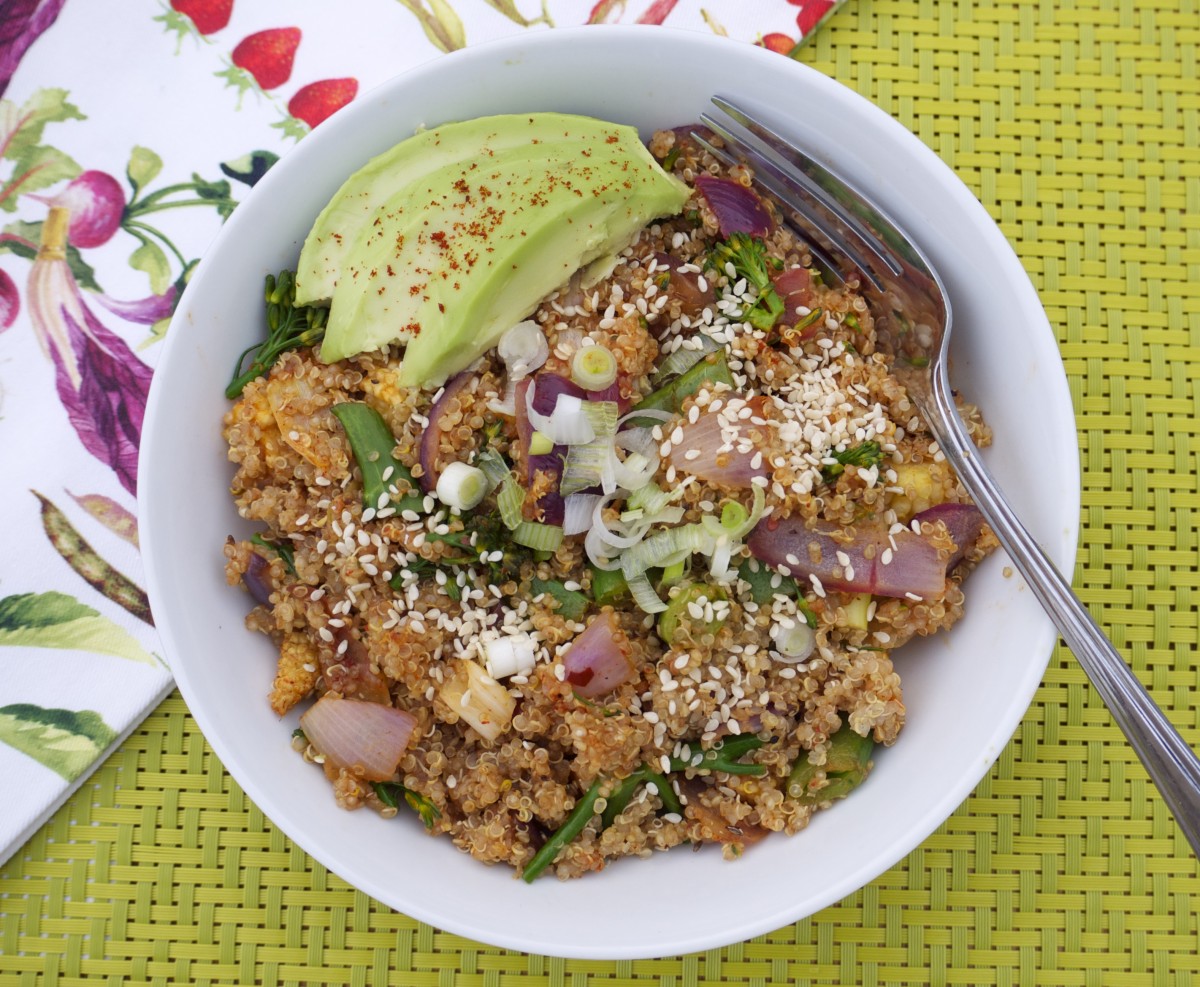 I made enough to enjoy more for lunch today, as it's just as tasty cold and even piled onto a huge green salad.
Mixing in lightly stir-fried veggies all flavoured with a variety of spices, is a great way to get fussy eaters to eat their greens. The quinoa satisfied my carb cravings last night, even though quinoa is a naturally gluten-free seed and a complete source of all the essential amino acids, meaning that it's packed with protein. The healthy fats in the avocado and sesame seeds help to make it a balanced meal, and kept me feeling satisfied until breakfast.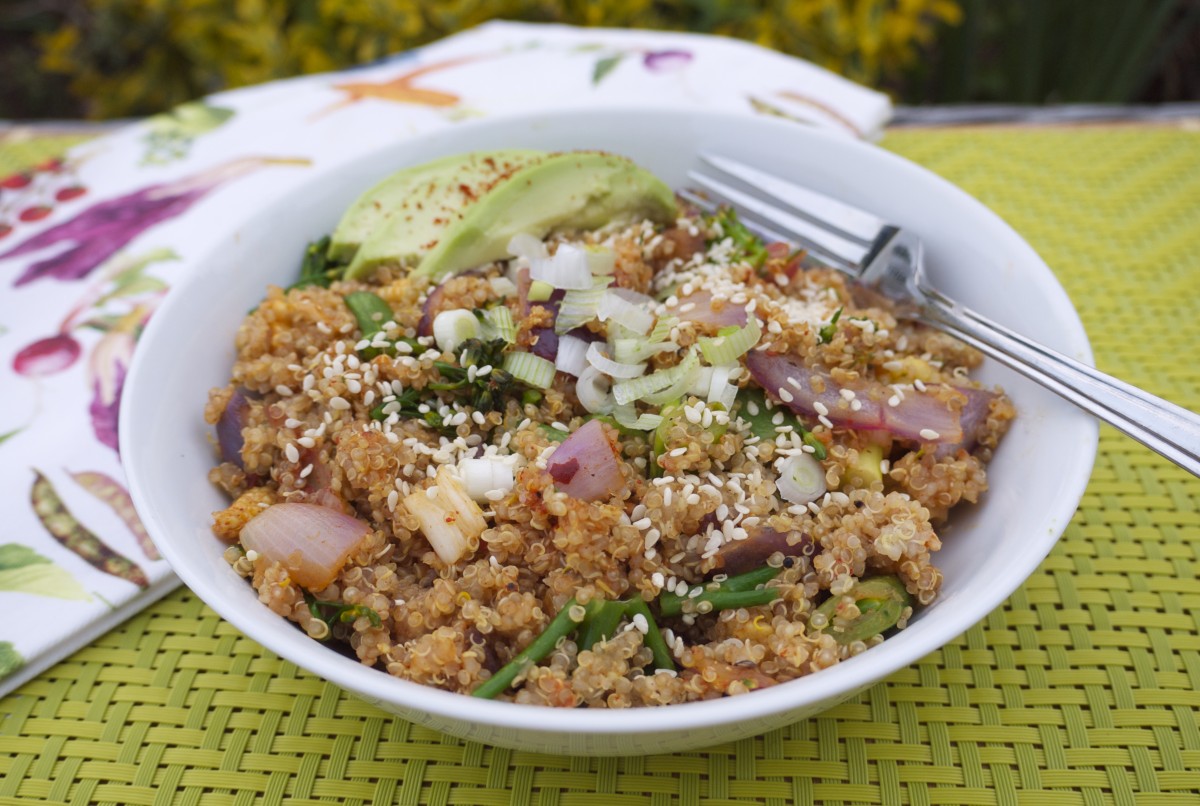 I used a selection of veggies, including broccoli, red onion, sugar snap peas and baby corn, but whatever you have would work just as well. I loved the colour and variety of what I used, but green peas, sweetcorn, asparagus, mushrooms or bell peppers would be delicious too.
Two great additions to this dish were from two of my favourite flavours – Tamari sauce and Ume Japanese plum dressing. Tamari sauce is very similar to soy sauce, but it's gluten-free 🙂
Japanese Ume Plum Seasoning adds a delicious tangy flavour to savoury meals and only a few drops are ever needed. I bought both in Nourish health food shop.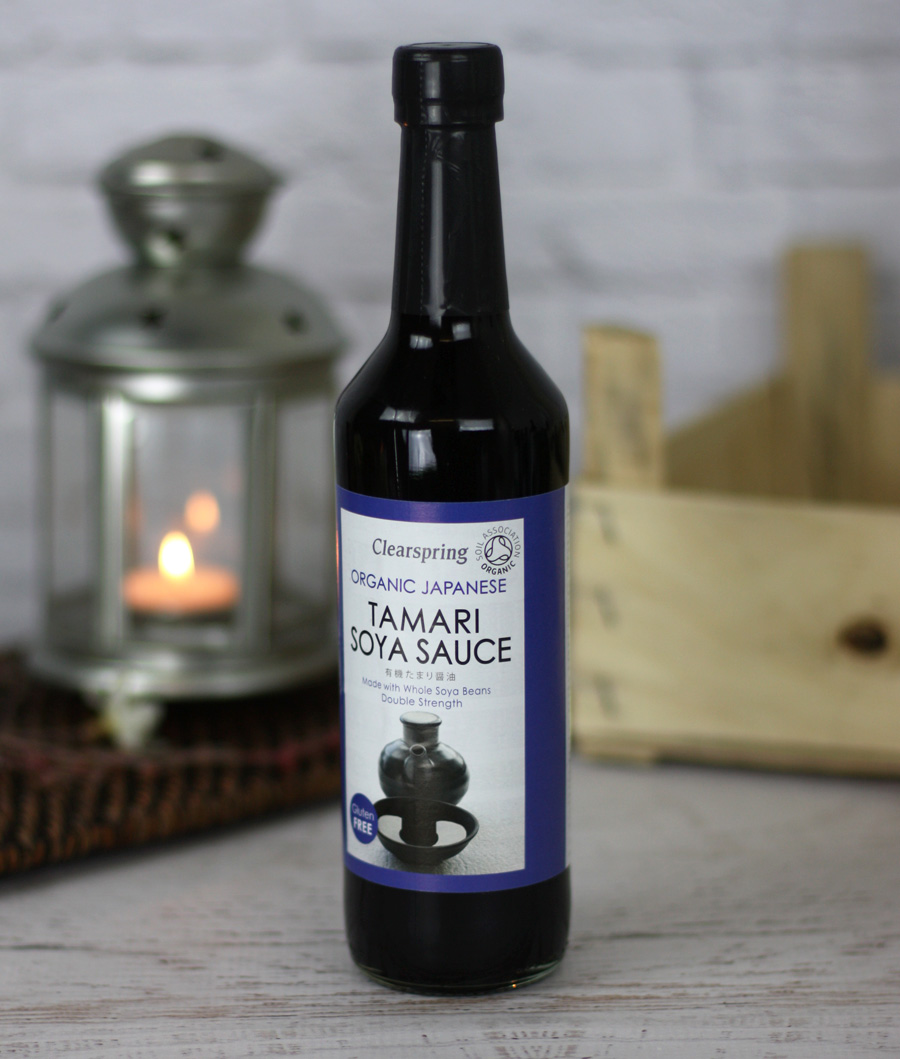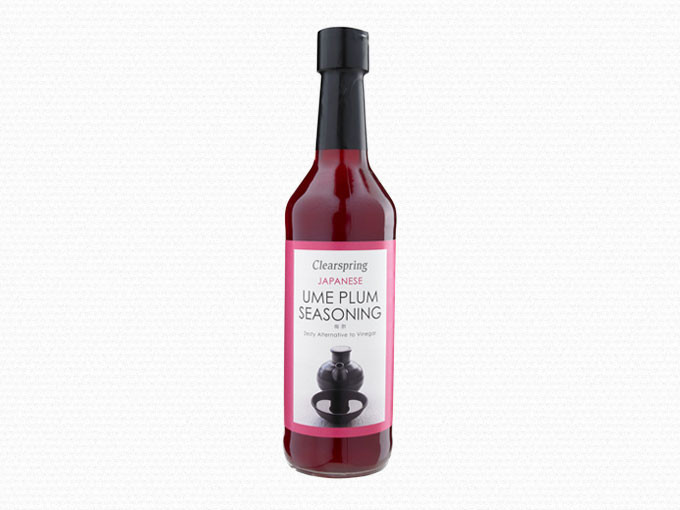 I would love to know if you get a chance to make this over the weekend and I really enjoy seeing everybody's versions 🙂 Tag #RosannaDavisonNutrition on Instagram or Twitter or come on over to my Facebook to say hello!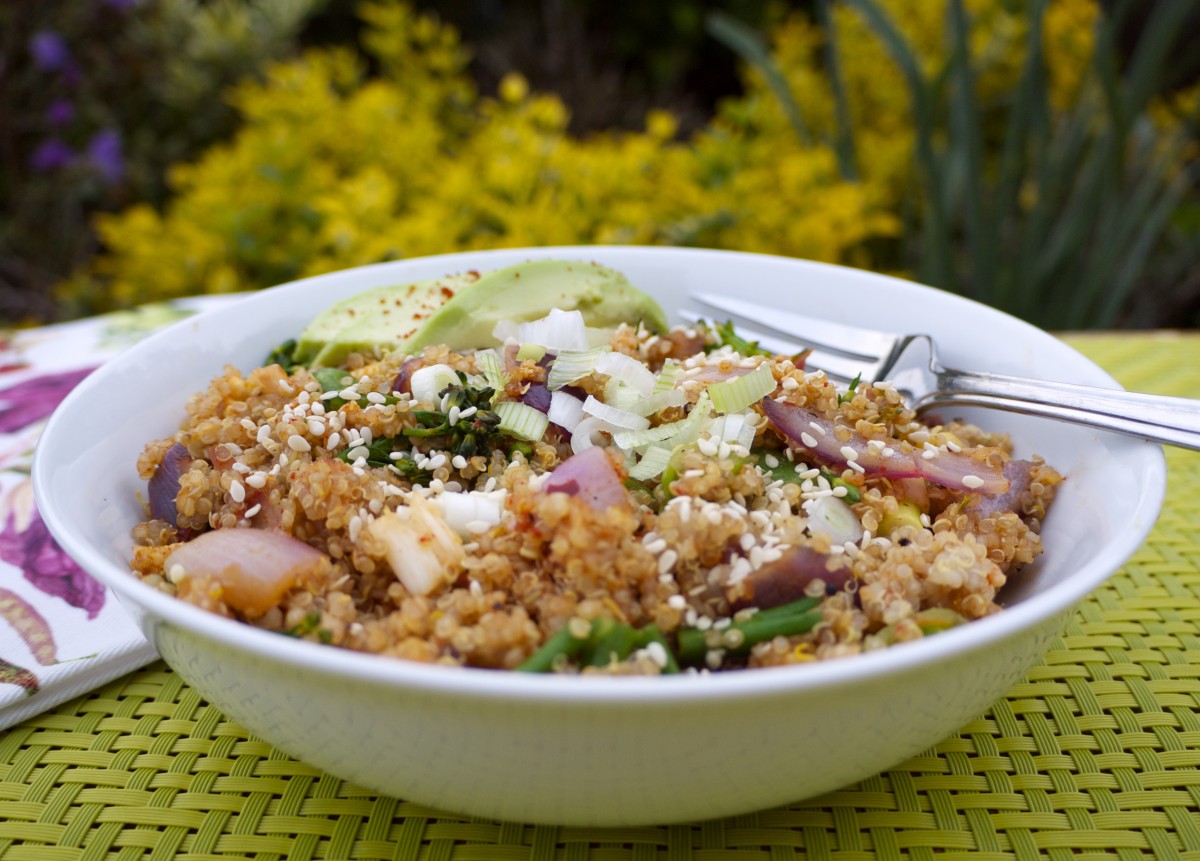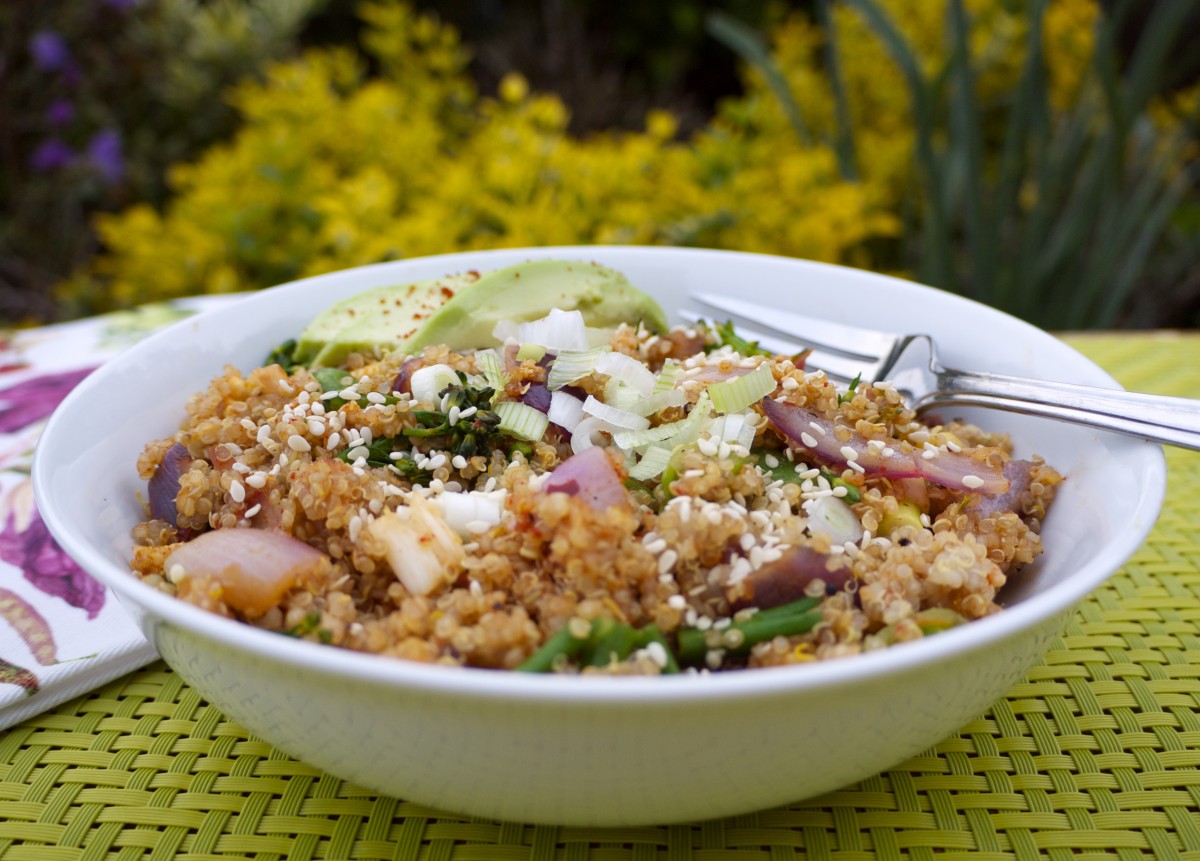 Quinoa Veggie Bowl
2015-05-02 09:29:55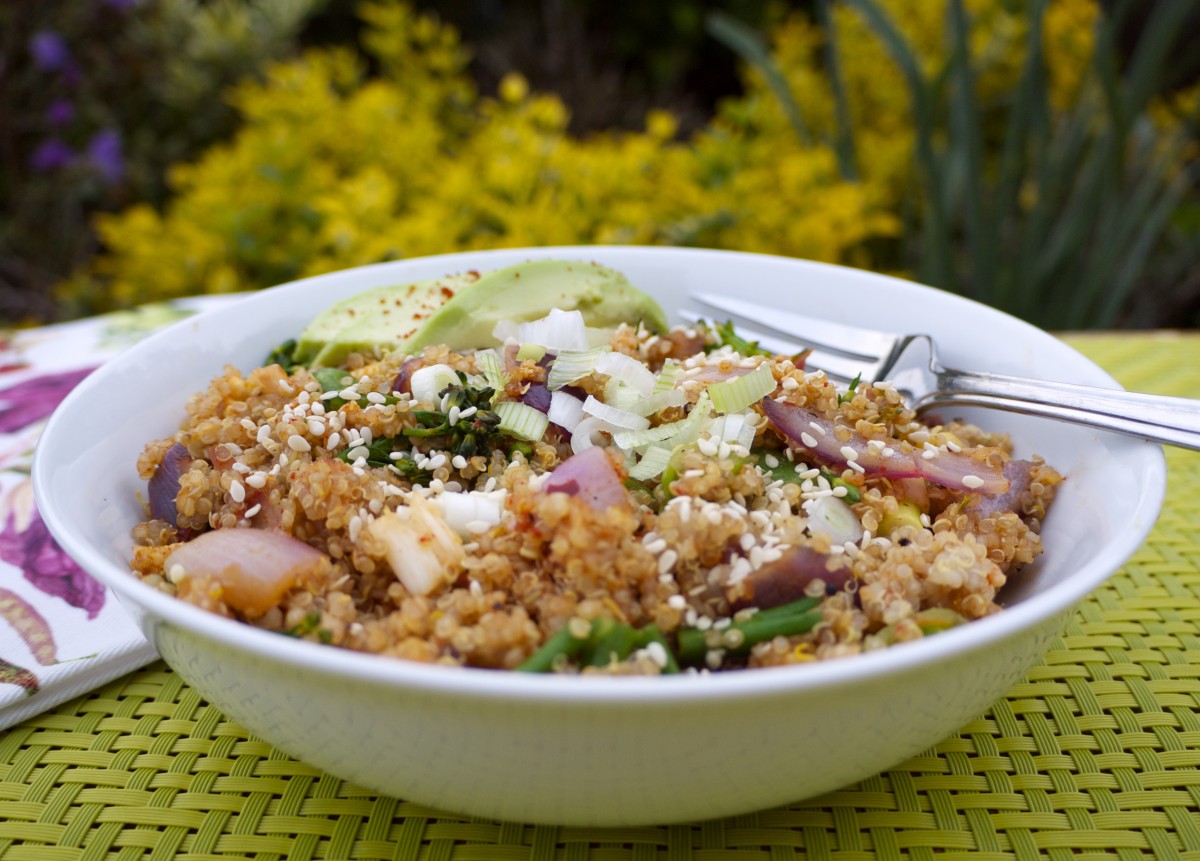 Serves 2
A satisfying meal, full of veggies, protein, fibre and healthy fats!
Ingredients
170g (1 cup) dry quinoa - use more if you're very hungry or making a big batch!
water, to cook with
1 tsp virgin coconut oil
1 red onion, finely chopped
1 clove of garlic, minced
Handful of broccoli, chopped into bite-size pieces
Handful of sugar snap peas, chopped
Handful of baby corn, chopped
dash of tamari sauce
dash of Ume Japanese Plum Seasoning
1/2 tsp smoked paprika
1/2 tsp ground coriander
pinch of dried chilli flakes
pink rock salt and ground black pepper, to taste
The juice of half a lemon
2 spring onions, finely chopped
2 tbsp toasted sesame seeds*
1 ripe avocado, sliced
Instructions
Rinse the quinoa well in a sieve under cold running water.
In a saucepan over a medium heat, place the quinoa in double its volume of water.
Bring it to the boil and then turn the heat down, cover partly with a lid and allow it to simmer for approximately ten minutes, until the quinoa seeds have opened out.
Remove the lid and allow the remaining water to evaporate, stirring to prevent it from burning at the bottom of the saucepan.
Remove from the heat, fluff up the quinoa with a fork, cover with the lid and set aside.
While the quinoa cooks, heat up the coconut oil in a frying pan over a medium heat and saute the onion and garlic until the onion softens.
Add in the broccoli, sugar snap peas and baby corn (or whatever veg you choose) and stir well to gently heat it through.
Add the spices and seasoning, and stir-fry for another 3-4 minutes. I like to eat it al dente rather than too cooked.
Remove it from the heat and add the veggies to the quinoa, stirring well to mix the flavours.
Squeeze in the lemon juice, taste and season more if required. I added another dash of tamari, plus more smoked paprika, chilli and black pepper at this point.
Serve topped with sliced avocado, spring onion and a sprinkle of toasted sesame seeds.
Notes
*I like to keep a jar of toasted sesame seeds at hand for sprinkling over dishes as they add such a warm, nutty flavour and are a good source of calcium. I spread them out on a baking tray and toast them in the oven at 190C for 10-12 minutes, until they're lightly browned. Take care not to burn as it happens easily!
Rosanna Davison Nutrition https://www.rosannadavisonnutrition.com/