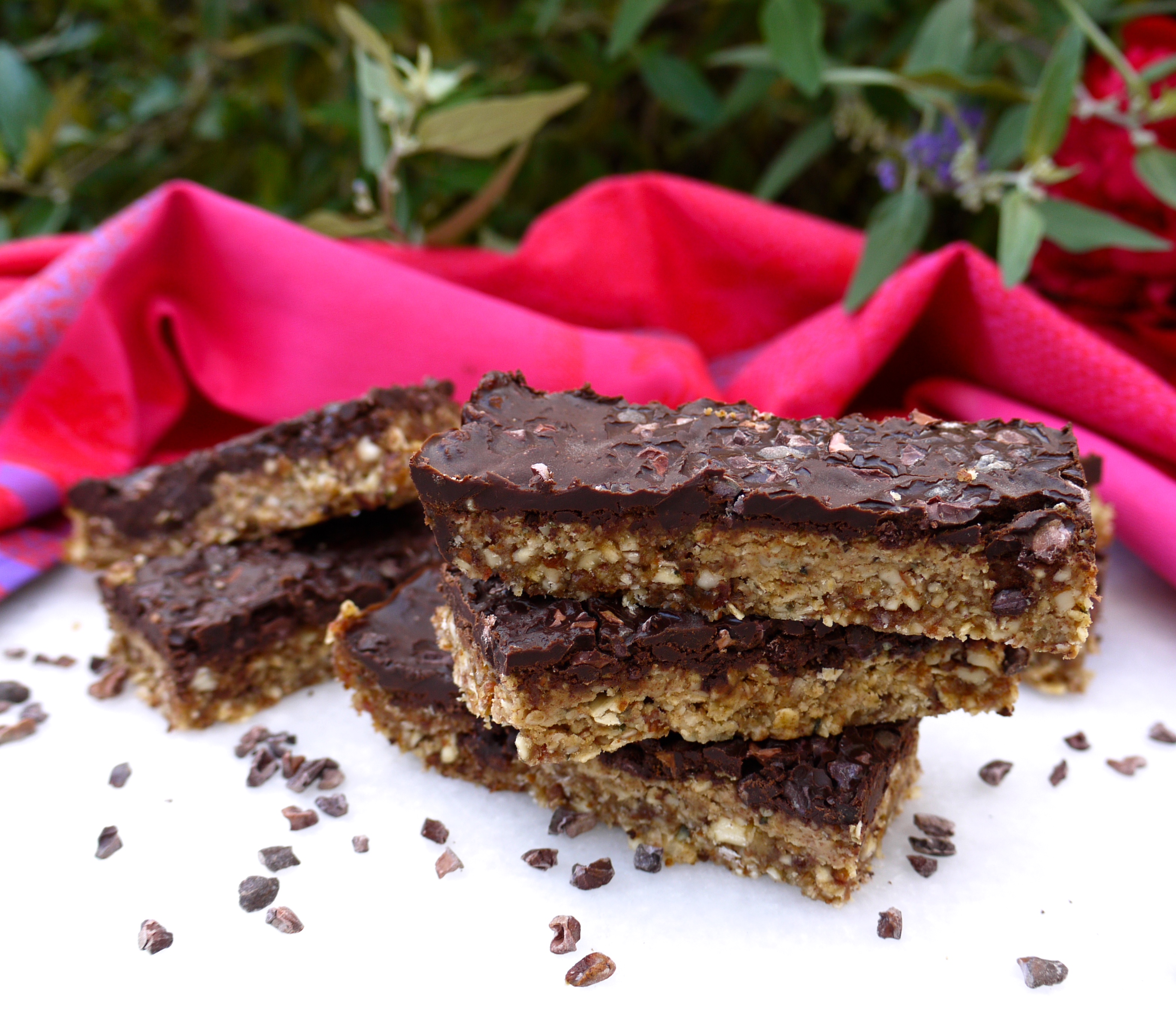 Chocolate and peanut butter may be ridiculously delicious on their own, but put them together and they become one of the world's most popular flavour combinations! And these bars are a really tasty, nutritious and satisfying way to enjoy them.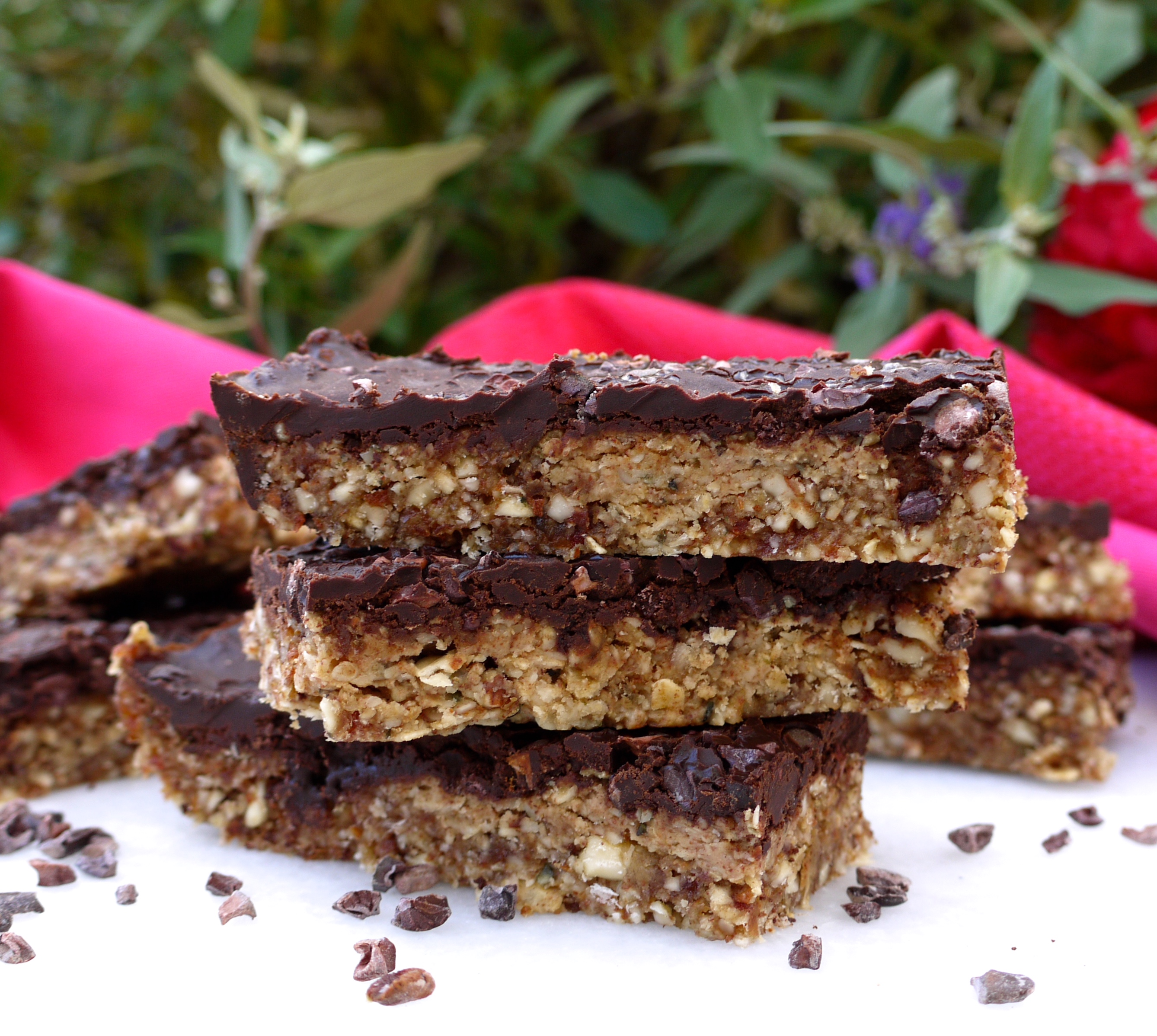 The ingredients for these bars are so simple that you may even already have most of them them in your kitchen – especially if you like to stock up like me!
Dates, almonds, oats, hemp seeds, maple syrup, cacao powder, peanut butter and coconut oil. All wholesome, easy enough to find in most good supermarkets and soooo much better for your insides that the majority of commercial chocolate bars 🙂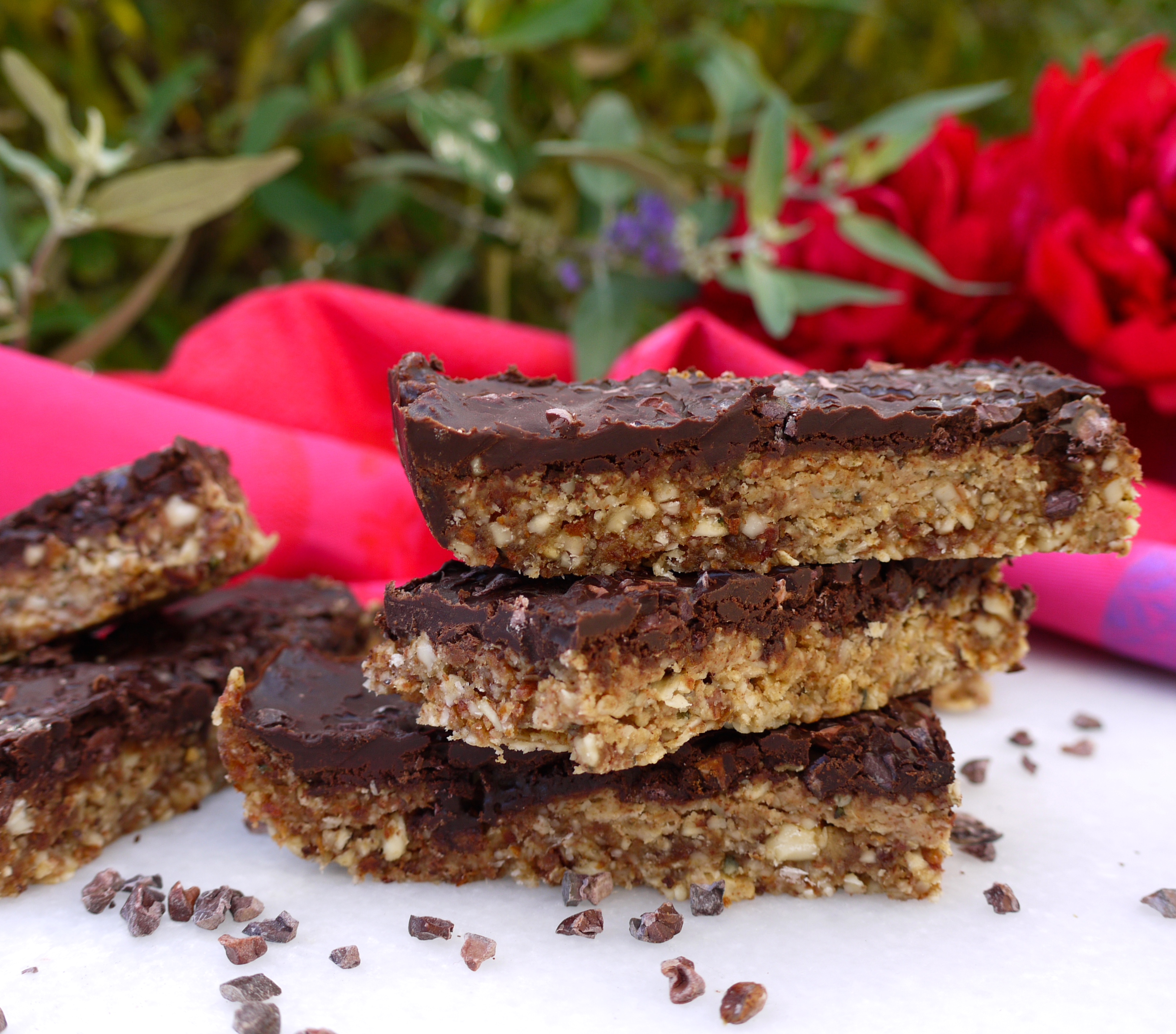 I topped the bars with crunchy cacao nibs to give them some extra texture, but feel free to use whatever you like to add your own colour and flavour. Chopped walnuts, goji berries, cranberries, raisins and pumpkins seeds all work well.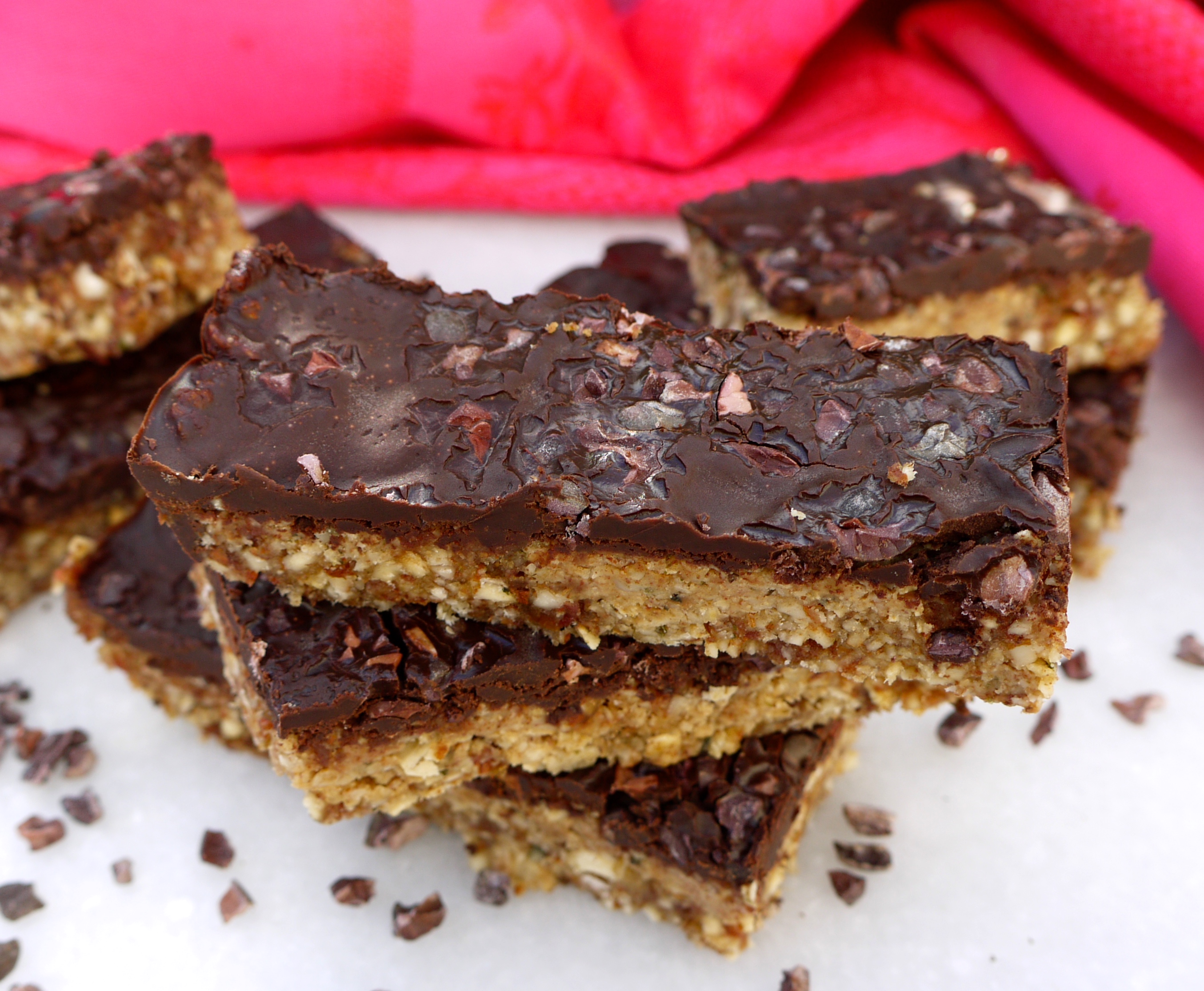 They make a brilliant after-school snack to keep kids satisfied until dinner, and they barely take even 15 minutes to whip up at home. But you do have to give them at least half an hour to set in the freezer… and resist the temptation to nibble!
With no refined sugar, plenty of healthy fat, almost 7g of protein and 5.5g of fibre per bar, they're really not as naughty as they sound 😉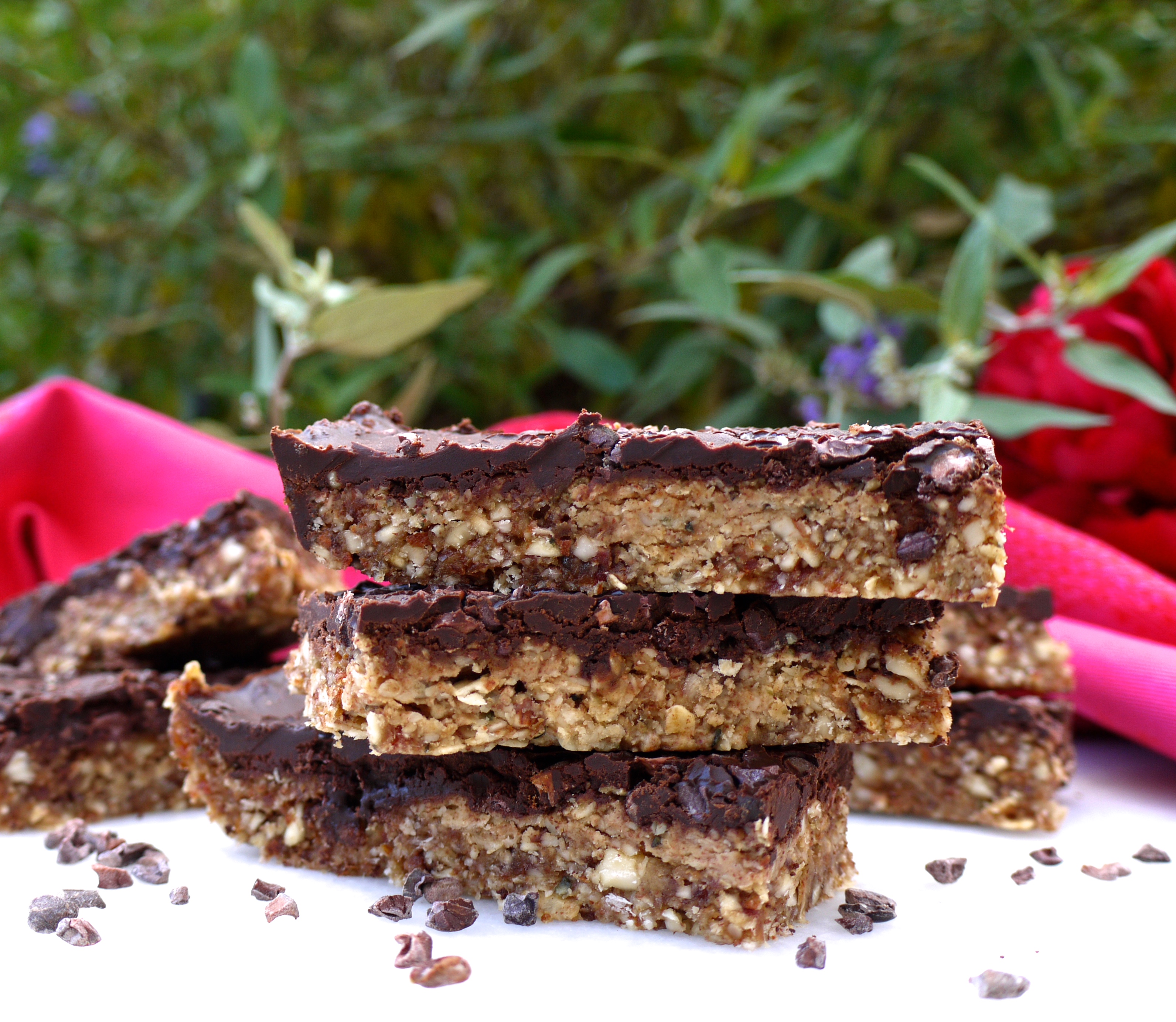 I would love to know if you get a chance to make these Chocolate and Peanut Butter Bars! Simply tag #RosannaDavisonNutrition on Instagram or Twitter or come on over to my Facebook to say hello 🙂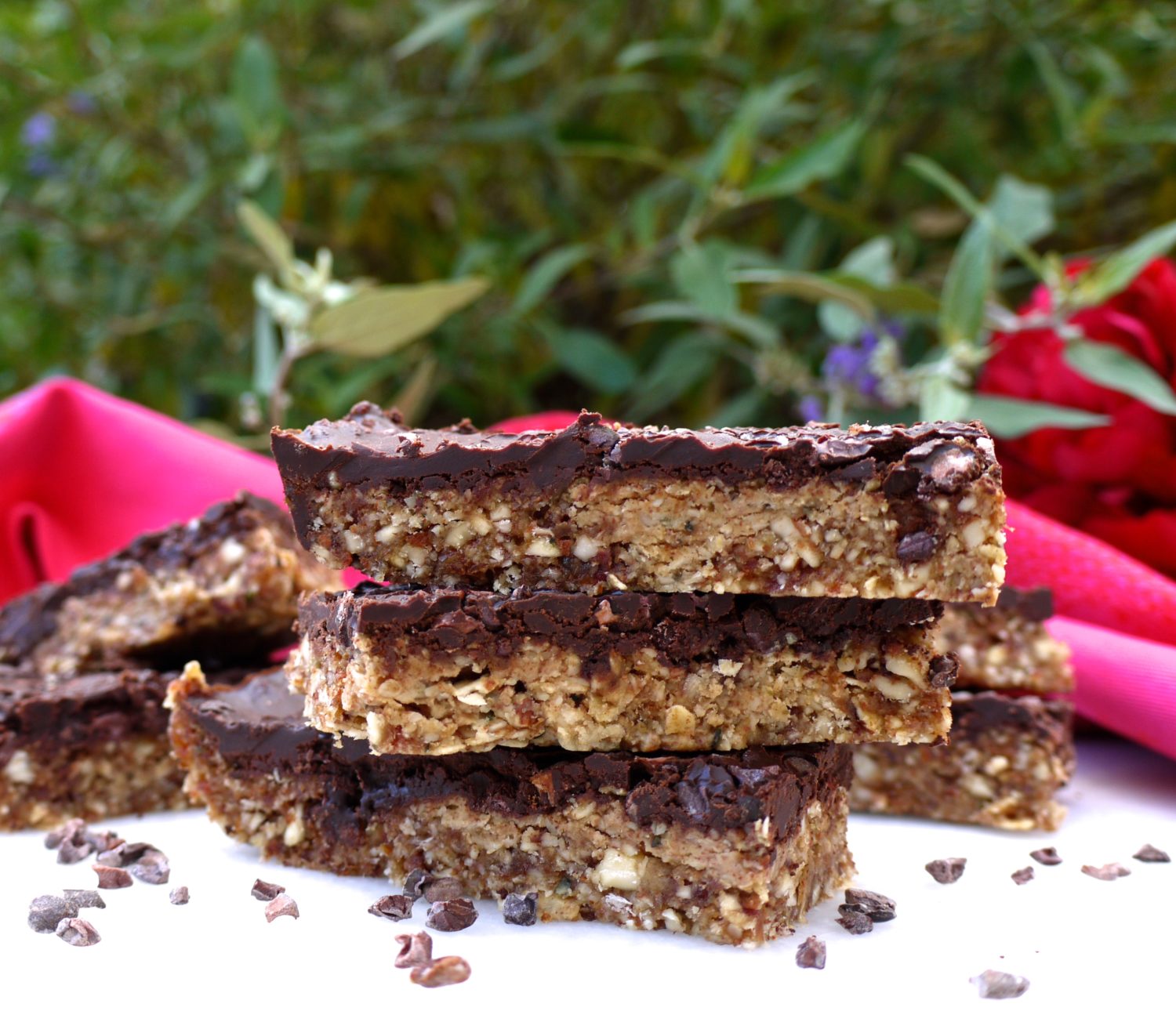 Chocolate and Peanut Butter Bars
2016-10-05 21:41:01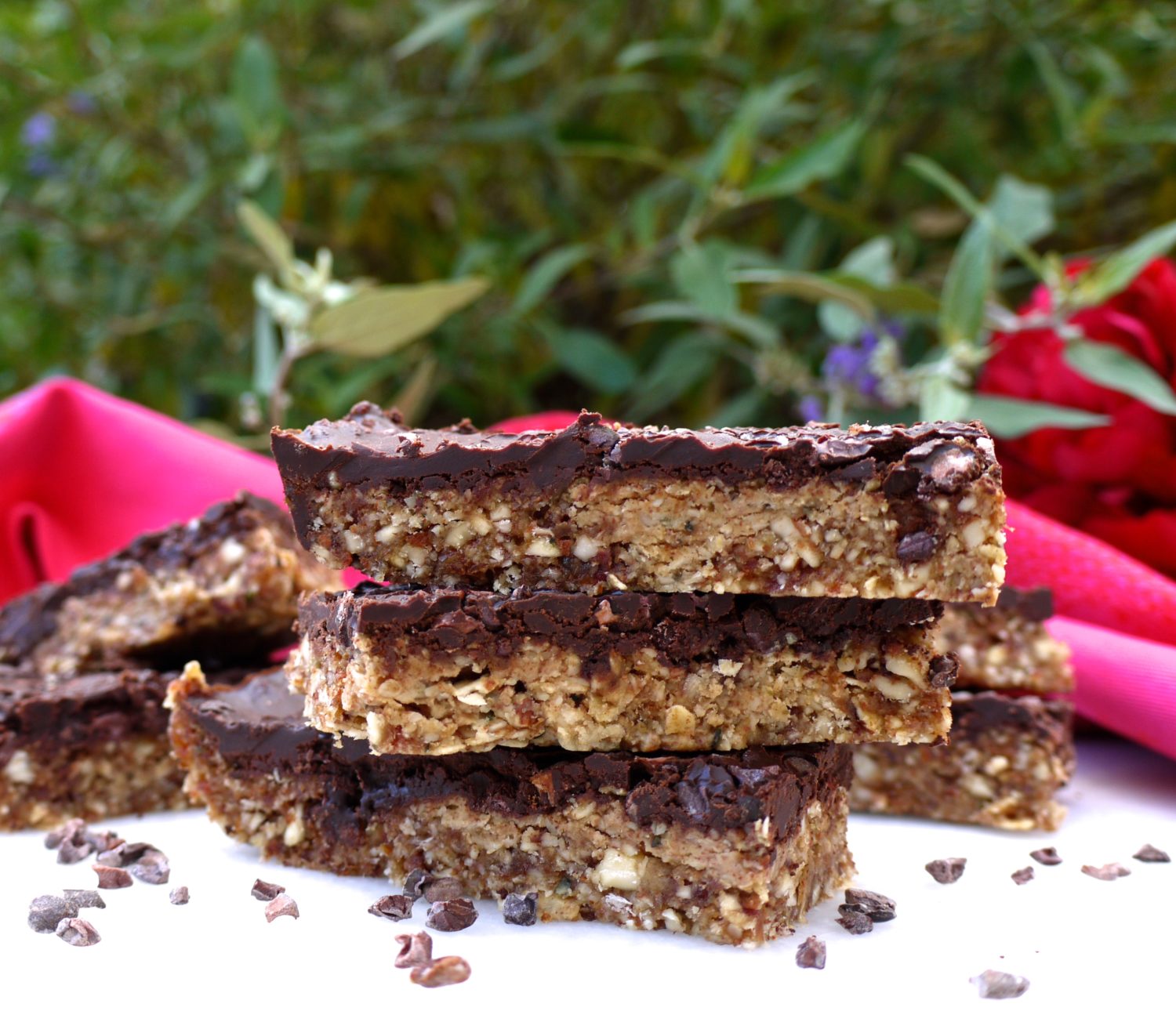 Easy no-bake bars, based on healthy whole foods and featuring a melt-in-the-mouth chocolate top layer. A tasty, wholesome and filling sweet treat. Nutrition information per bar: 278 calories, 6.9g protein, 26.9g carbs, 17.5g fat, 5.5g fibre
For the Peanut Butter Layer
175g (1 cup) dates, pitted and soaked in hot water for 20 minute to soften
140g (1 cup) whole unsalted almonds
65g (3/4 cup) porridge oats (use a certified gluten-free brand if necessary)
30g (1/4 cup) hulled hemp seeds
60g (1/4 cup) smooth or crunchy peanut butter (look out for organic brands free from sugar and palm oil)
1 tbsp maple syrup/honey
1 tsp vanilla extract
For the Chocolate Top Layer
4 tbsp coconut oil
4 tbsp cacao powder (or Cadbury's Bournville cocoa powder)
1 tbsp maple syrup
To decorate: Cacao nibs/chocolate chips/dried fruit/coconut/nuts/seeds
Instructions
Place the soaked and drained dates in a food processor, add the almonds and blend until a sticky mixture forms.
Place the oats, hemp seeds, peanut butter, maple syrup and vanilla in a mixing bowl, add the date and almond mixture and stir together well until a thick dough forms.
Press the mixture into an 8"x8" tin lined with greaseproof paper or a silicon tray and ensure it's smooth and even.
Next, melt the coconut oil in a small saucepan over a medium heat and add the maple syrup and cacao powder. Stir until a smooth chocolate sauce forms and remove it from the heat.
Pour the chocolate sauce over the peanut butter base, sprinkle with your choice of decoration (or none at all) and place into the freezer to set for at least 30-45 minutes.
When firm, slice into even bars or squares and serve chilled.
Notes
Any leftovers can be stored in an airtight container in the fridge for 4-5 days.
Rosanna Davison Nutrition https://www.rosannadavisonnutrition.com/