Hope you're all having a good Saturday!
I had a great class at Pilates Plus Dublin this morning and I suspect that I won't be able to walk too well tomorrow! The teacher, Emma Forsyth, focused a lot on glutes today, along with arms and shoulders, obliques and abs. But it's a happy pain!
I seem to spend half my time in gym gear, so I'm always looking out for colourful and different sportswear. I love that sports clothes have become funky and bright, with so many great brands popping up everywhere.
One of my favourite brands for women's sportswear has to be Nike. I've been wearing Nike runners for years as they suit my narrow foot shape, but I'm also obsessed with their sports bras. I'm pretty fussy about the gym gear I wear because I like it to be really comfy and practical but stylish, and this Nike bra in neon pink (bought earlier this year), is a firm favourite. The pop of colour under a black top brightens up a gym outfit, but I also wear it under vests with a pair of ripped boyfriend jeans and Converse for a sporty casual look.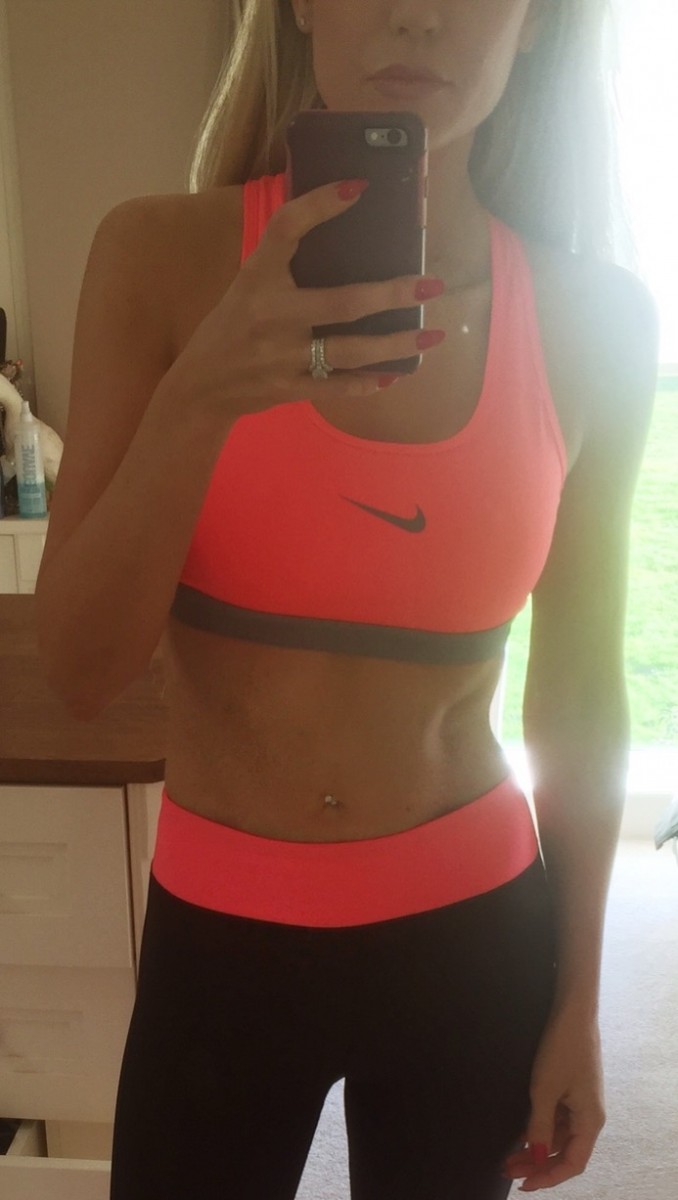 These bras also don't budge, even if you're hanging upside down on the TRX or sprinting flat-out on the treadmill! And they're reasonably priced at €28 (£23) because they 're good quality and don't fall apart in the wash or lose their colour.
They come in a big range of colours. But I really like this zesty green one…
You can check out the full range of colours here 🙂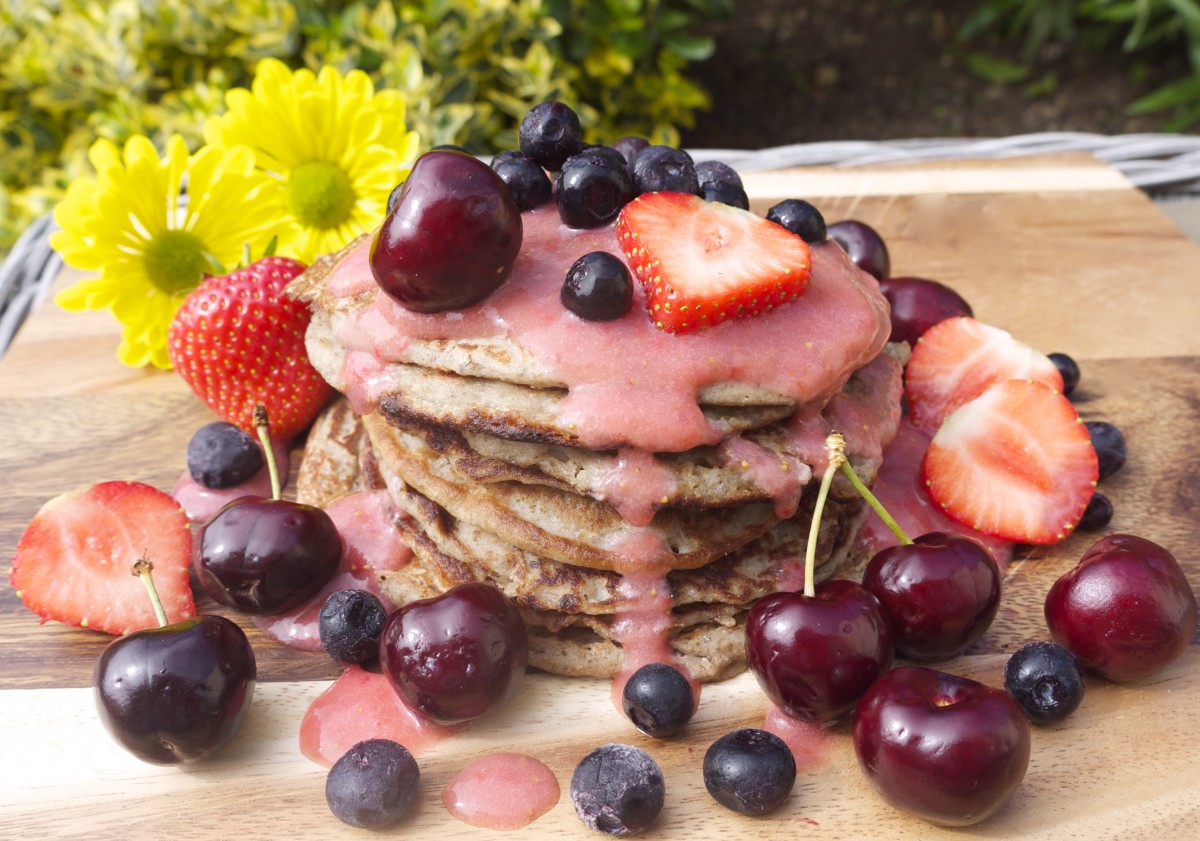 As usual, I arrived home from Pilates absolutely staaaaarving! I just have a smoothie before the class as I don't like eating anything too heavy. But afterwards, I'm ready to raid the fridge!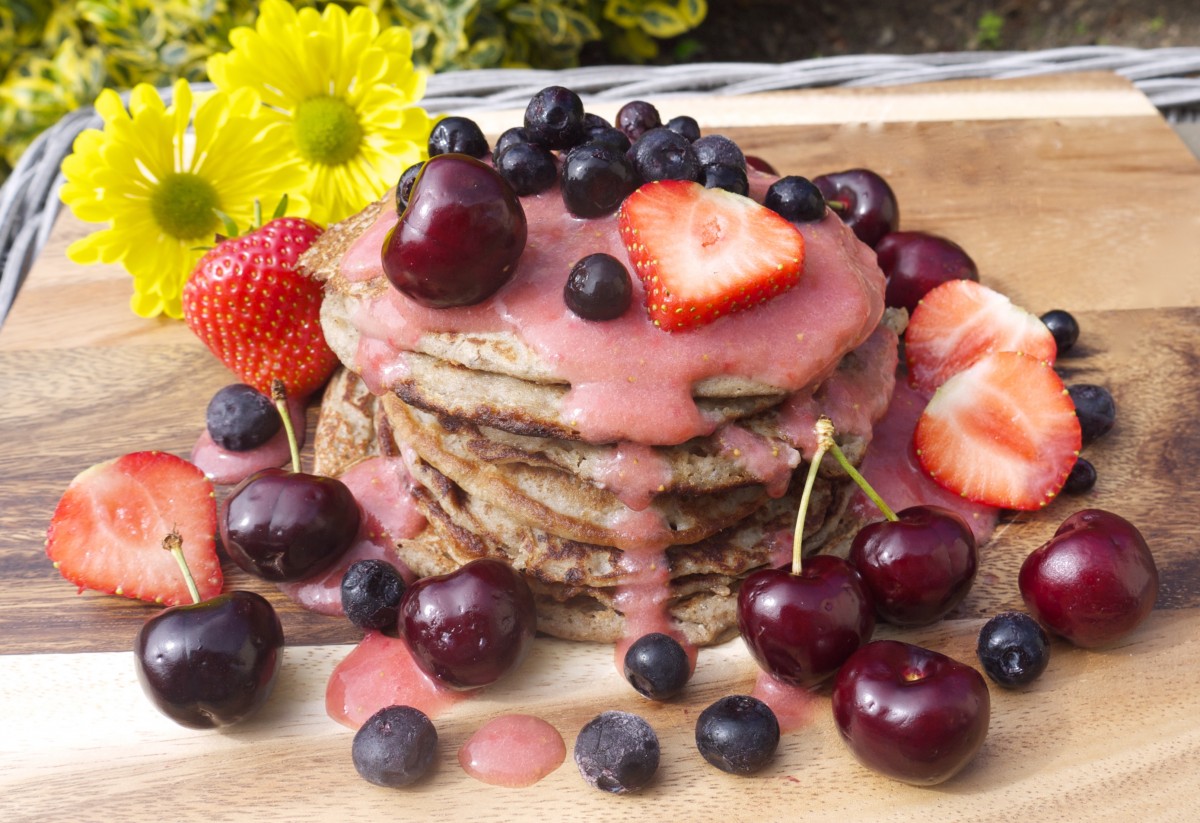 After a quick rummage through the cupboards, I decided to whip up a batch of these 'Very Berry Coconut Protein Pancakes' with a strawberry sauce!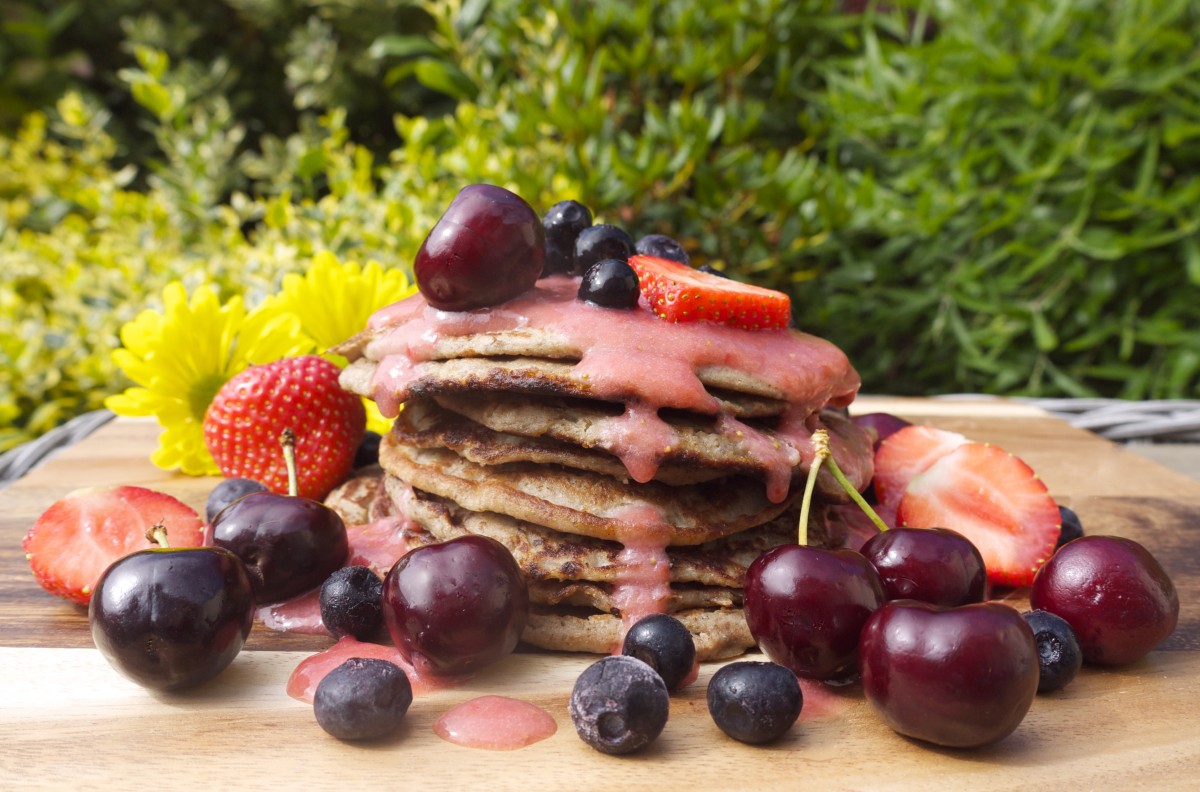 They ended up being really quick and easy to make, and satisfying without being heavy and difficult to digest. The trick with these is to use a light flour. I find buckwheat the best for pancakes, as it takes on whatever flavour you put with it and it doesn't sit heavily in my stomach.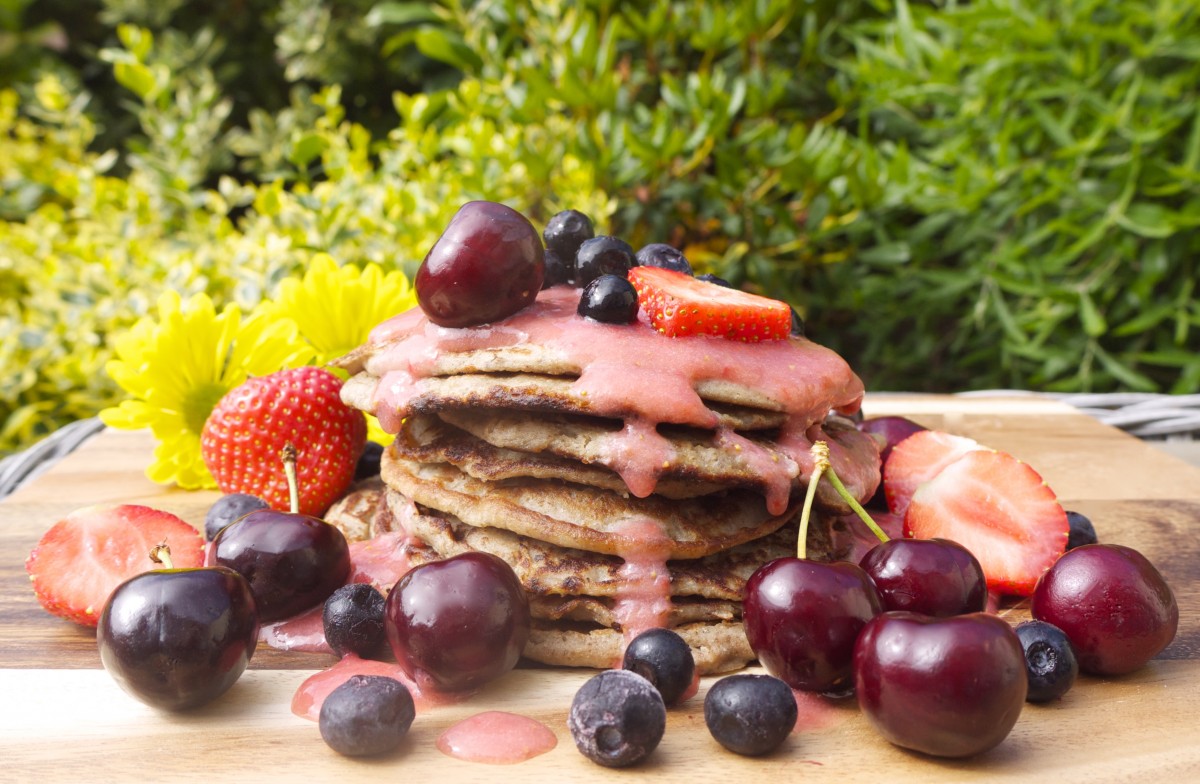 Buckwheat is a seed rather than a grain, and naturally gluten-free. It also contains all eight essential amino acids, making it a great option for gym bunnies with sore muscles! It also contains important flavonoids called quercitin and rutin to protect you from cellular damage, as well as essential minerals like manganese, magnesium, copper and phosphorus, plus fibre for a healthy digestive system.
I buy the Dove's Farm wholemeal buckwheat flour from Nourish for €3.90 for 1kg.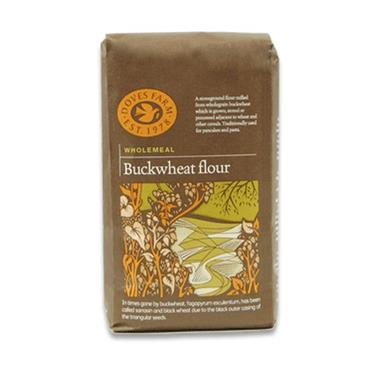 I always stock up on fresh berries in the supermarket, which I often rinse and freeze for recipes. Berries are another powerful source of anti-ageing antioxidants, so I try to eat them everyday and incorporate them into as many dishes as possible. They go so well with the flavours here…
To make the strawberry sauce, I simply whizzed up 5 large strawberries in my blender, along with a touch of vanilla extract and a squeeze of lime juice. Then I arranged fresh cherries and frozen blueberries on top for a colourful and summery dish 🙂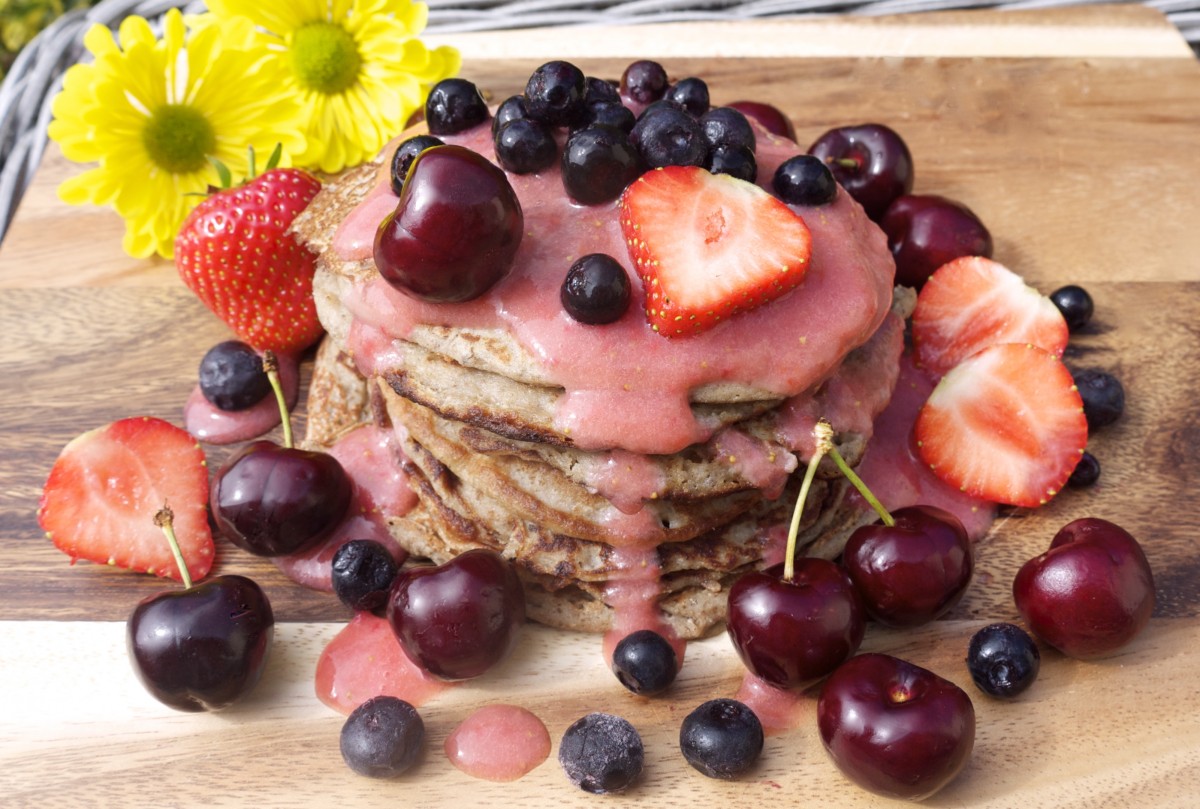 Along with the buckwheat flour, the pancakes contain Koko coconut milk (though any plant milk will do), a scoop of Sunwarrior vanilla protein powder, a banana and chia seeds to help bind the batter together, and a spoonful of desiccated coconut for flavour.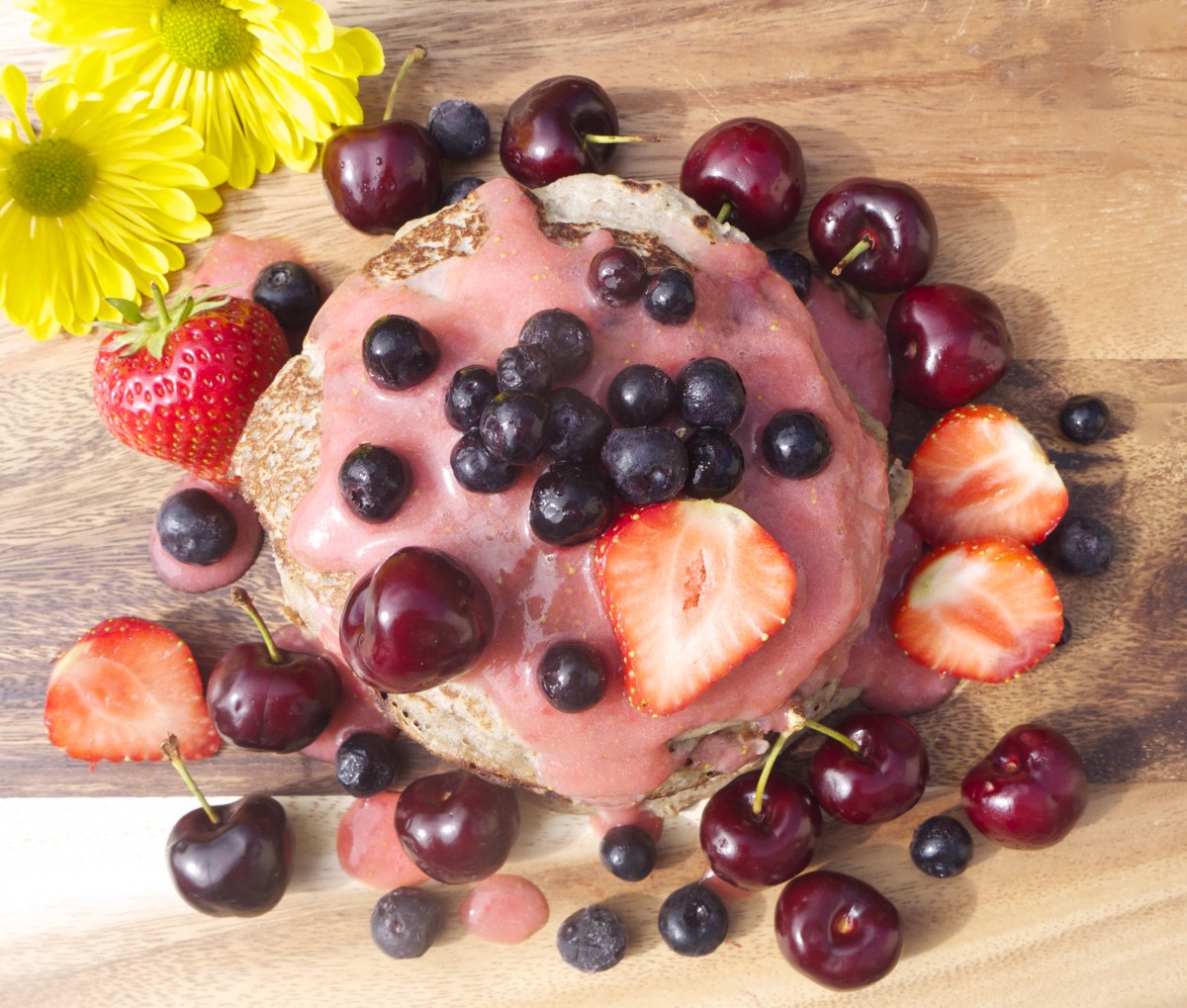 This quantity made about 10 small pancakes, but feel free to make them as large as you like!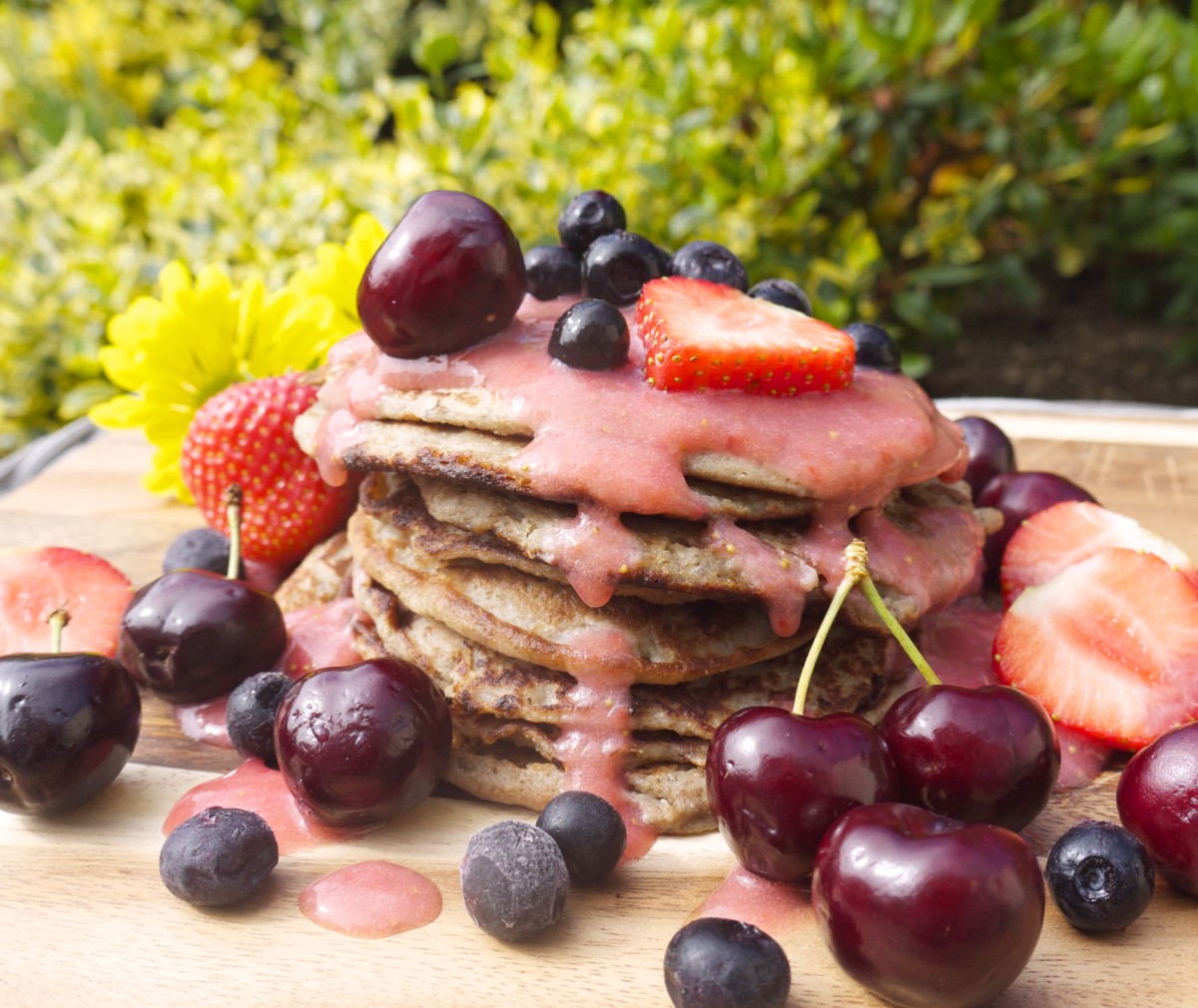 Let me know if you give this pancake recipe a go and I love to see all your creations on social media! Simply tag #RosannaDavisonNutrition on Instagram or Twitter or come on over to my Facebook to say hello and don't forget to enter my Chia Bia Competition!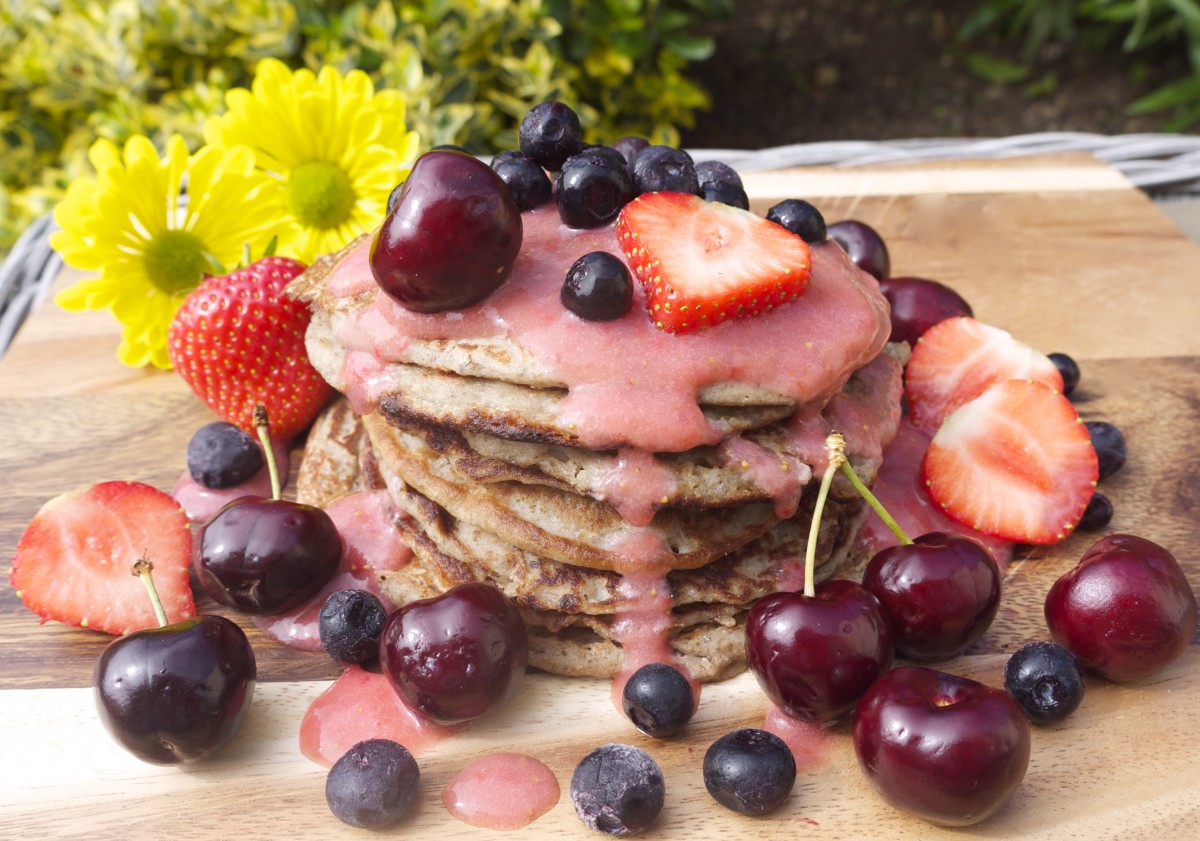 Very Berry Coconut Protein Pancakes
2015-06-13 09:56:30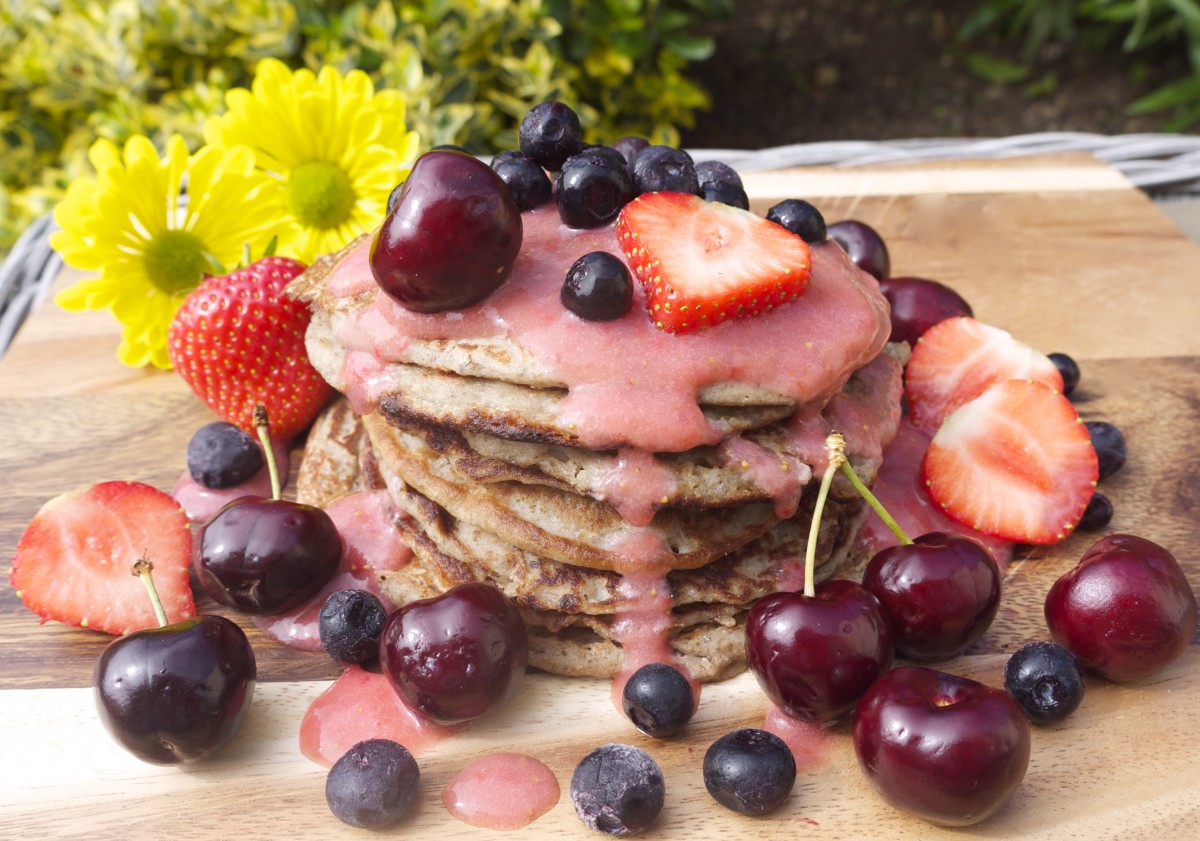 Light, tasty and satisfying pancakes, perfect to whip up for a relaxed weekend brunch!
Ingredients
250ml (1 cup) Koko coconut milk/unsweetened almond milk
90g (3/4 cup) buckwheat flour
1 scoop Sunwarrior vanilla protein powder (or your choice of protein powder)
1 ripe banana
1 tsp vanilla extract
2 tbsp whole or milled chia seeds
1 heaped tbsp desiccated coconut
coconut oil, to cook
For the strawberry sauce
5 medium-large strawberries
1 tsp vanilla
squeeze of lime juice
Mixed berries, to serve
Instructions
Place all pancake ingredients into a blender or food processor (I used a blender), beginning with the liquid.
Blend well until a smooth batter forms.
In a frying pan, heat up a small quantity of coconut oil over a medium heat until it begins to bubble.*
Spoon out your chosen quantity of batter and smooth it out on the pan with the back of a spoon or spatula.
Allow it to cook for about 1-2 minutes, gently lifting up the sides until you're able to flip the pancake over, and cook it for another minute until it's firm and lightly browned. Transfer it to a plate.
Continue to cook the pancakes until the batter is used up.
To make the strawberry sauce
Place the strawberries, vanilla extract and lime juice in a blender or food processor and blend until it becomes a smooth sauce.
Pour over the hot pancakes and serve.
Notes
The trick with pancakes is not to have the frying pan too hot. I have an induction stove, with the hottest temperature being 9. I cook the pancakes at 7.
Any leftovers can be stored in the fridge in a covered container for 2-3 days.
Rosanna Davison Nutrition https://www.rosannadavisonnutrition.com/