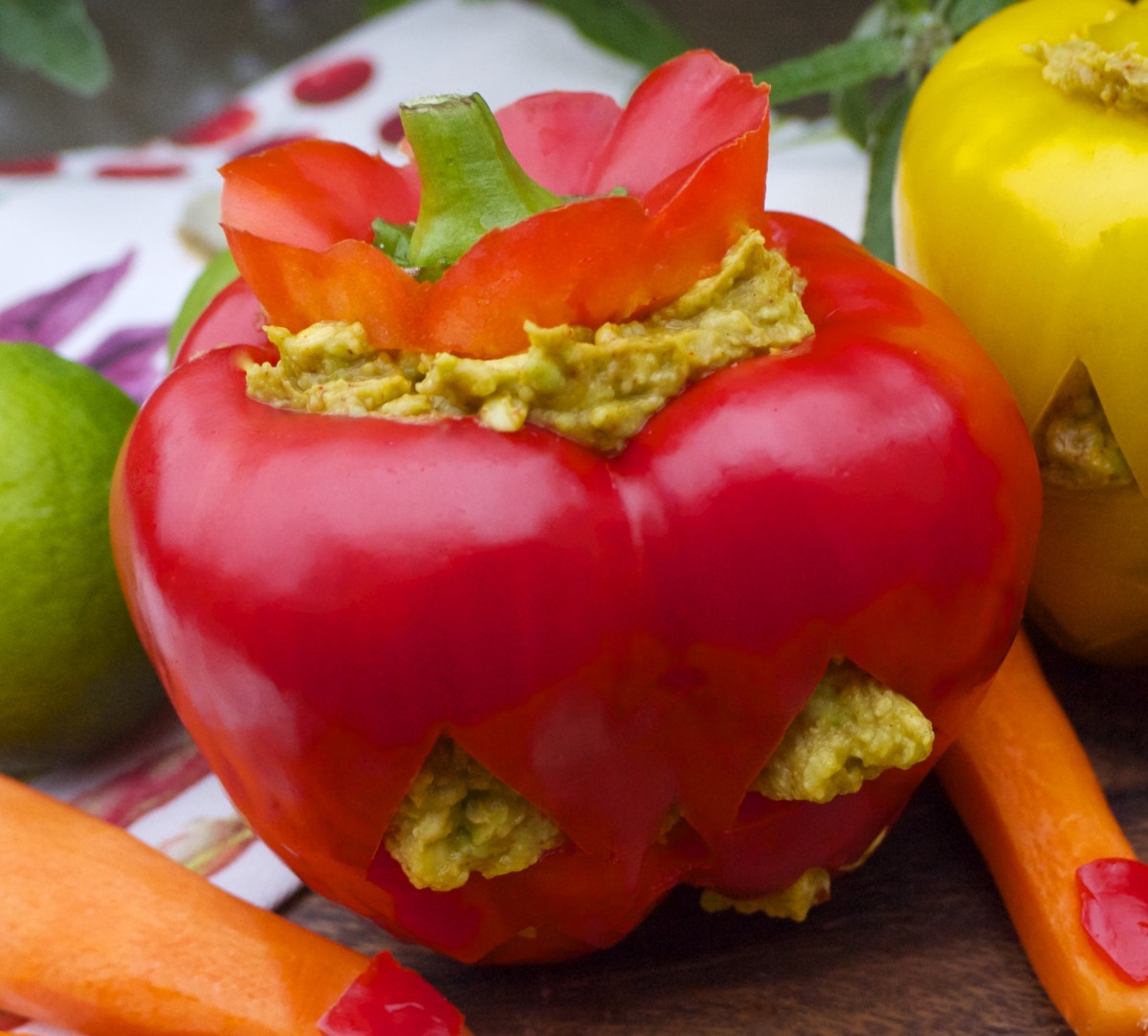 Happy Halloween Eve!!
This is most definitely the time of year to indulge your sweet tooth (in moderation :)), and it can be difficult to resist the huge array of sweet treats on offer . But if you've had your share of treats, and fancy something a little bit healthier, then this Ghoulish Guacamole with Witchy Fingers makes a great Halloween snack for both kids and adults!
Avocado is such a popular food, and a brilliant way to fill you up with healthy fats, amino acids and essential minerals. Mash it up with a few simple ingredients, and you have yourself a delicious dip!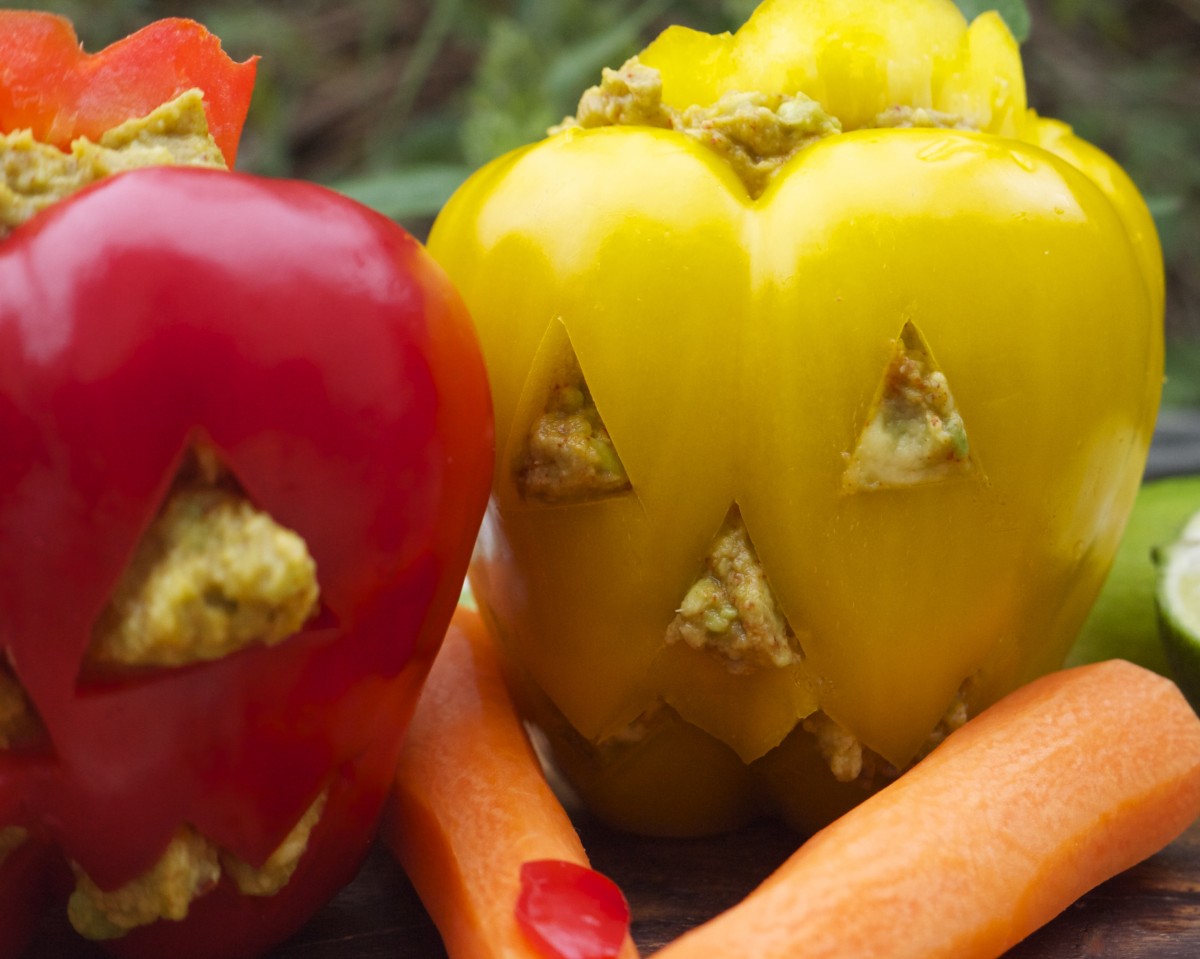 We're used to seeing bell peppers chopped into salads and stir-fries, but did you know that they're even richer in vitamin C than oranges? Vitamin C is so important for protecting your health, supporting your immune system over the winter months in particular, and its a crucial nutrient for your body to produce the collagen that keeps your skin smooth and supple. Just look how good the skin on these ghouls looks!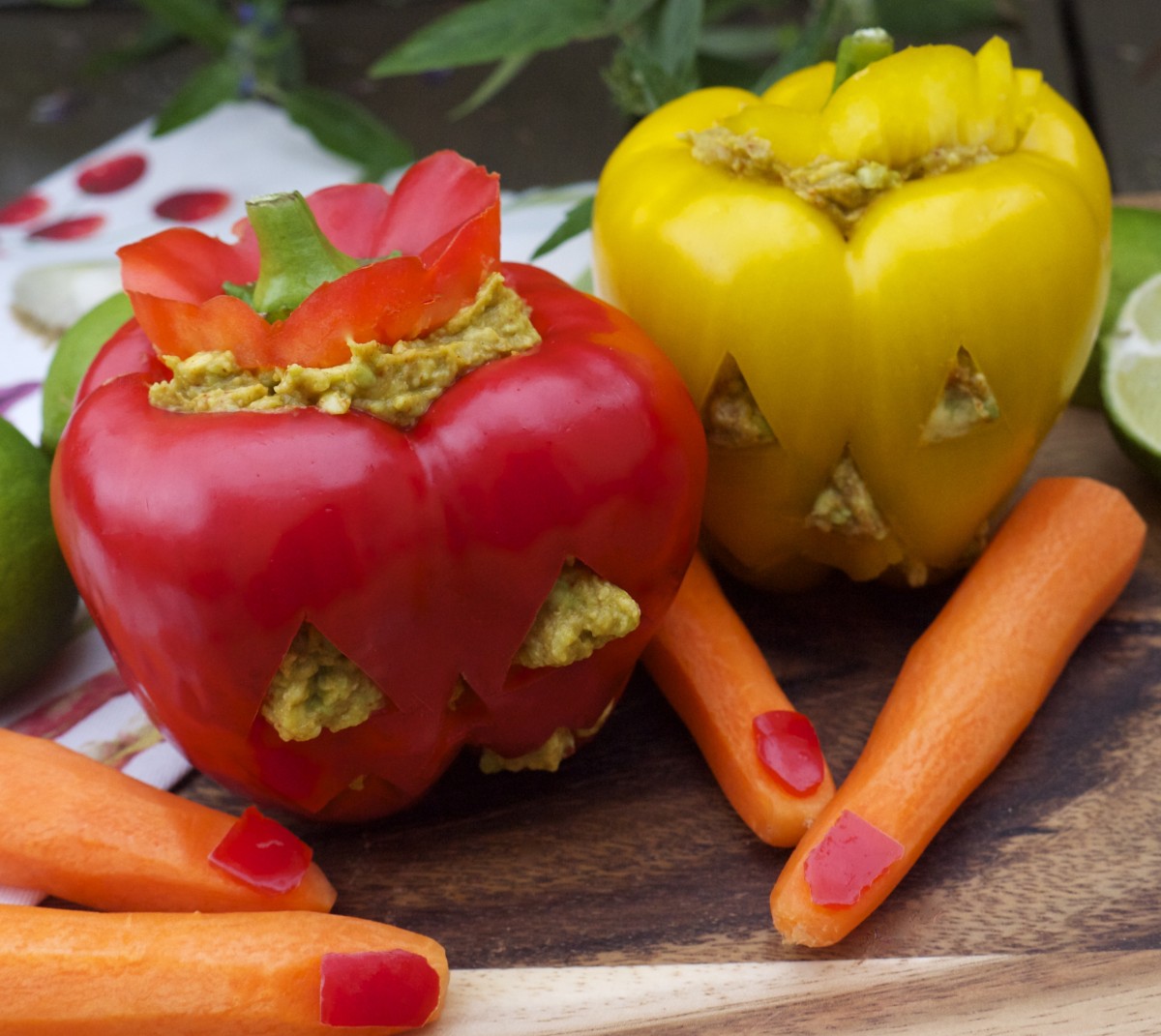 I added raw carrot 'witchy fingers' as dips, complete with red 'nail polish' made with red pepper skin… it couldn't be a more simple, colourful and nourishing scary snack!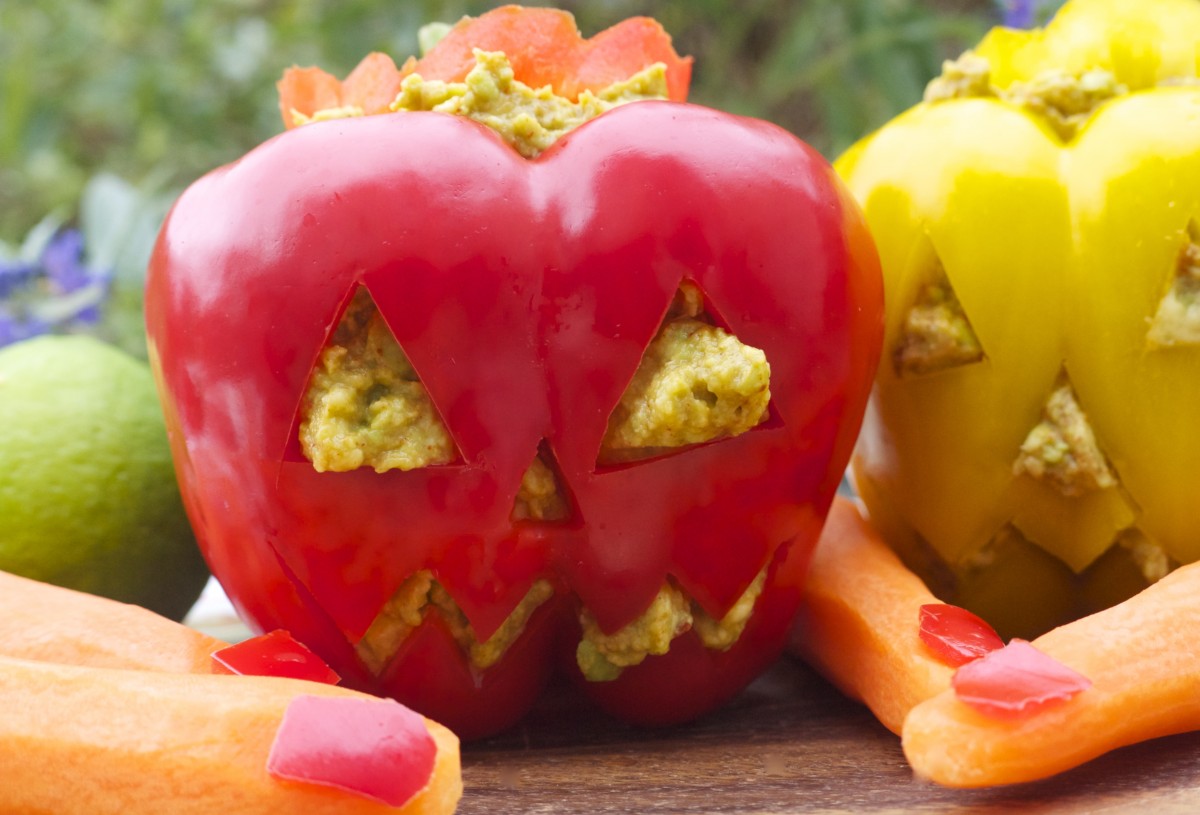 I would love to know if you get a chance to make this Ghoulish Guacamole! Simply tag #RosannaDavisonNutrition on Instagram or Twitter or come on over to my Facebook to say hello 🙂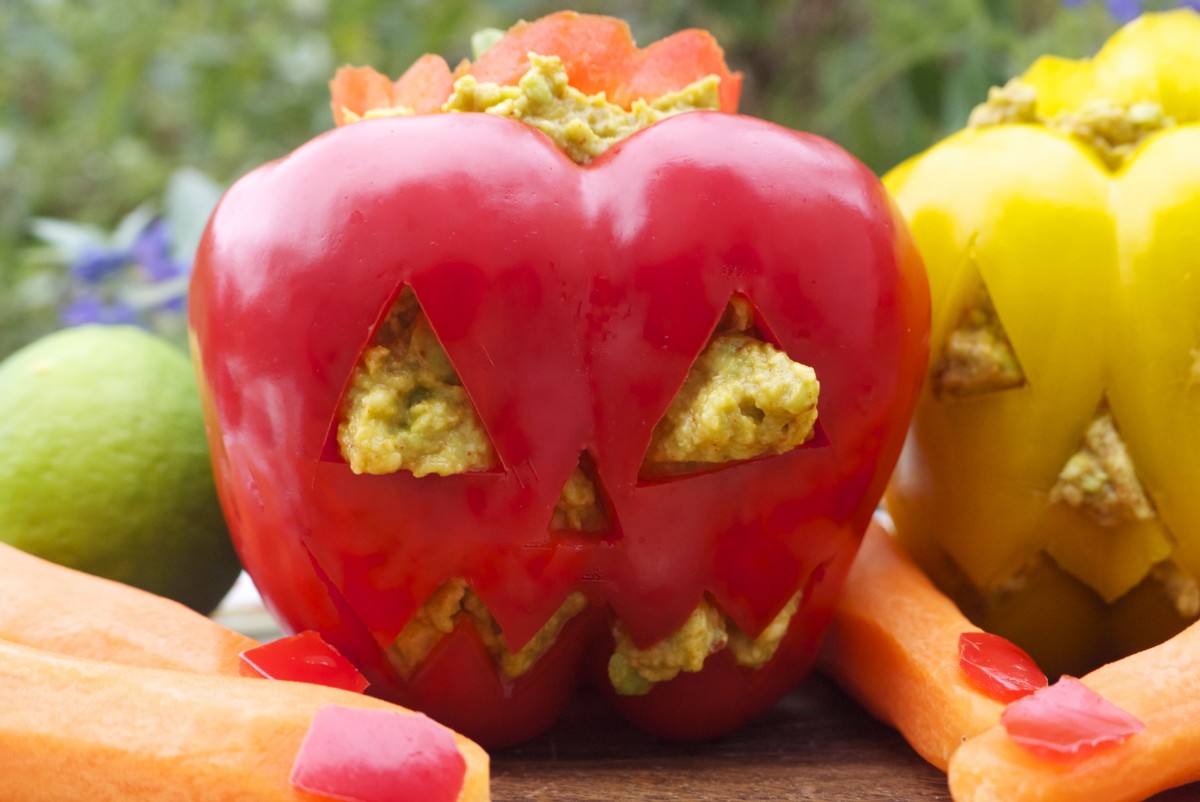 Ghoulish Guacamole with Witchy Fingers
2015-10-30 22:48:25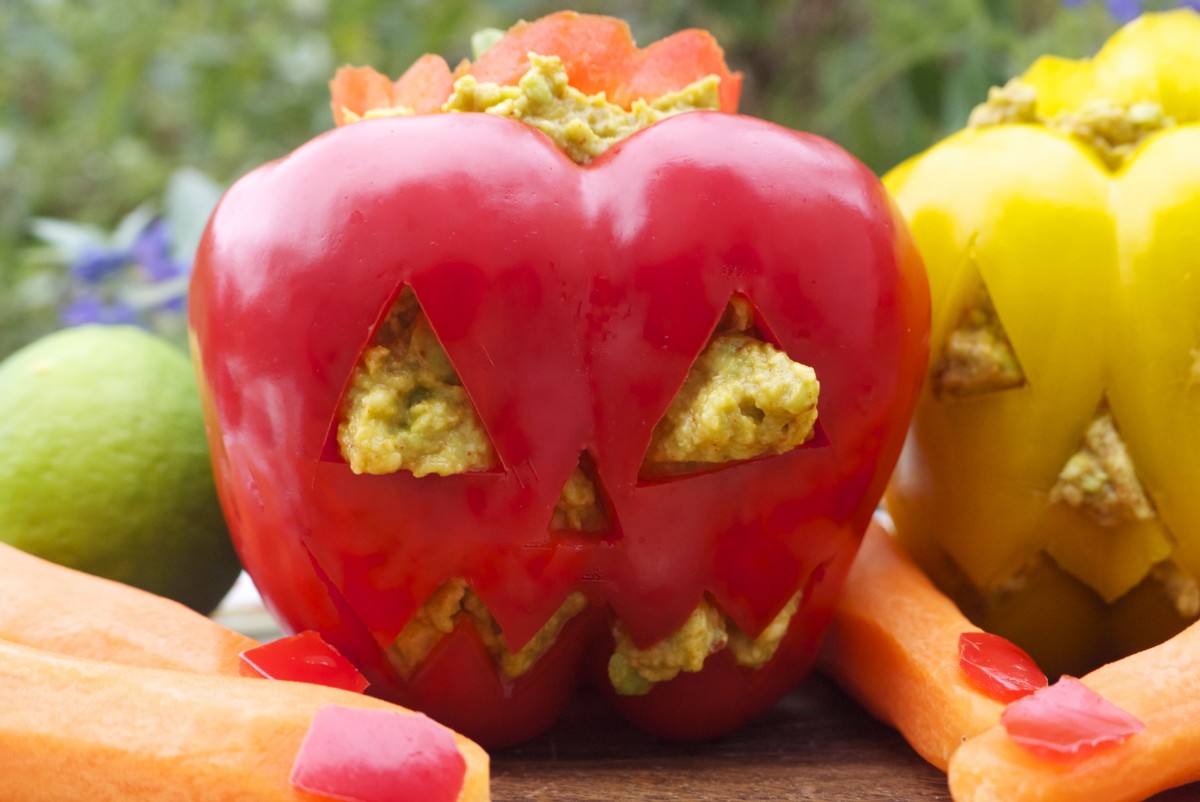 Serves 2
A simple, fun and healthy Halloween dip for when you've had more than enough sugar!
Ingredients
2 bell peppers, of any colour
1/2 a red bell pepper
2 ripe avocados
1 lime
1 tbsp nutritional yeast (optional)
1 tsp smoked paprika
Pinch of salt and pepper, to taste
Dash of tamari
2 spring onions, finely chopped
5 cherry tomatoes, chopped into small pieces
4 or more carrots, peeled
Instructions
Rinse the peppers and use a sharp knife to cut around their stem, cutting out a little 'hat'.
Cut the seeds of the base of the hats and rinse out any seeds from within the peppers.
Using a sharp knife, carve out whatever design you like. This is the fun part!
Place the carved peppers aside, and scoop the avocado flesh into a mixing bowl. Add the juice of one lime, nutritional yeast, smoked paprika, seasoning, tamari, spring onions and tomatoes, and mash together with a fork until it forms a guacamole. Taste and adjust seasoning, if desired.
Spoon the guacamole into the carved peppers and top with their little hat.
Chop the remaining half a pepper into small pieces, to form the red 'fingernails', and place them on top of the carrot 'fingers'.
Place in the fridge until ready to serve.
Notes
Any leftovers will keep in an airtight container in the fridge for up to 2 days.
Rosanna Davison Nutrition https://www.rosannadavisonnutrition.com/