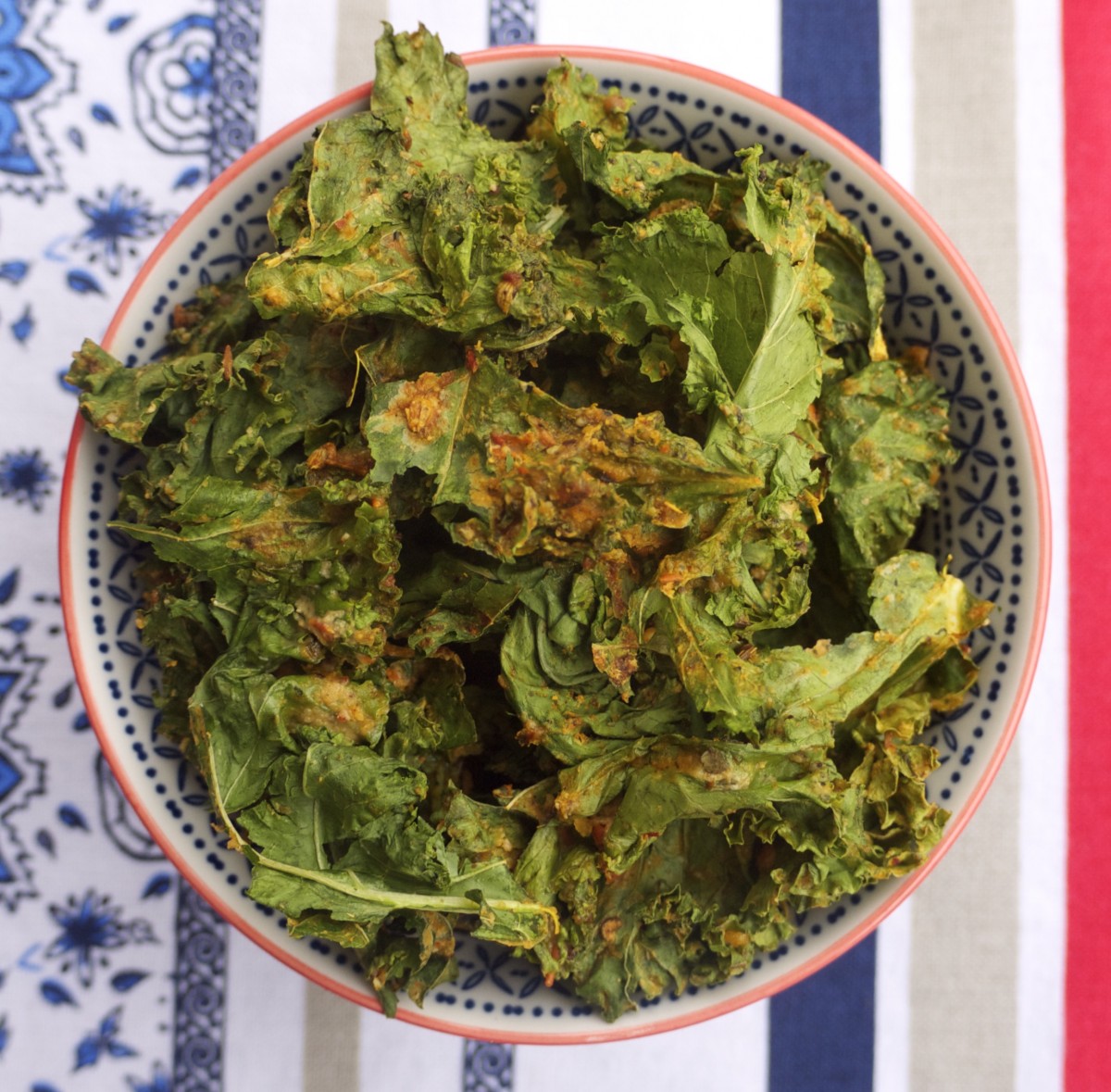 Morning all!
Any crisp addicts out there? Be honest now!! Crisps are a hugely popular savoury snack, but if you're looking for a healthier alternative to satisfy your cravings, then these curry kale crisps might just be the solution.
They're one of my favourite snacks in the whole world and also happen to be ridiculously good for you! A few years ago, kale was so much more difficult to find but now almost every supermarket and fruit and veg shop stocks it. The owner of my local grocery store was telling me recently that they can hardly keep stock of kale and sweet potato in because the demand for it is so high. That's amazing to hear! I love that more and more people are becoming conscious of the type of foods they put into their body 🙂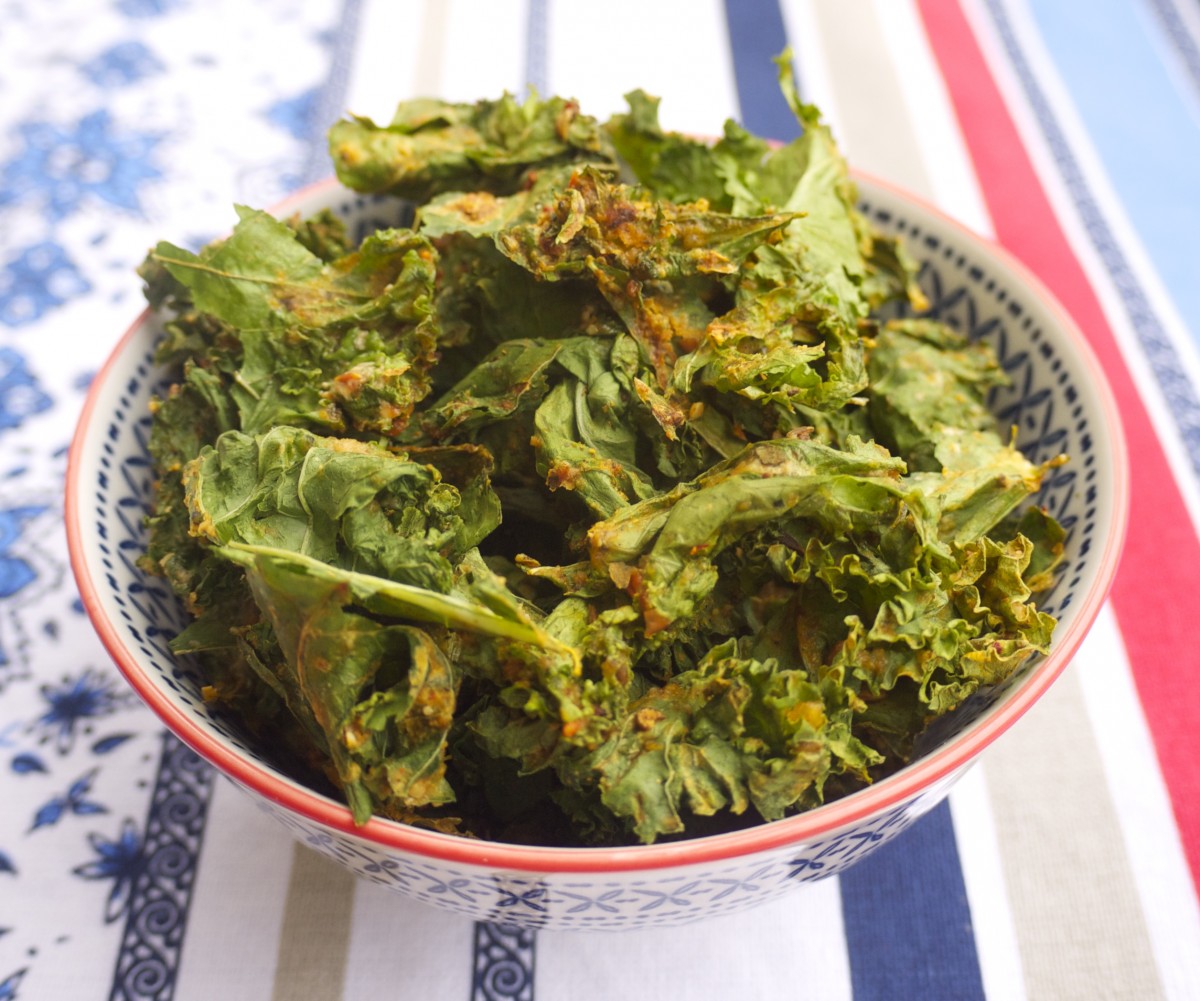 Did you know? Kale has more calcium than milk, more iron than beef and is packed with amino acids, fibre, phytonutrients and vitamins like A, C and E to keep our skin and hair healthy and strong.
To make the 'cheesy' curry coating for these crisps, I just whizzed up hemp seeds with nutritional yeast, tomatoes, garlic, lemon juice and a selection of spices. The hemp seeds help to thicken the mixture and are an excellent source of omega-3 fats, while the nutritional yeast adds a cheesy, nutty flavour. It's available in health food shops and I wholly recommend it, as I use it on so many savoury dishes. It's like the vegan version of parmesan and full of protein and B vitamins for energy.
I love this version because it's fortified with vitamin B12 – a must for those on a fully plant-based diet. Though I take a daily B12 supplement too.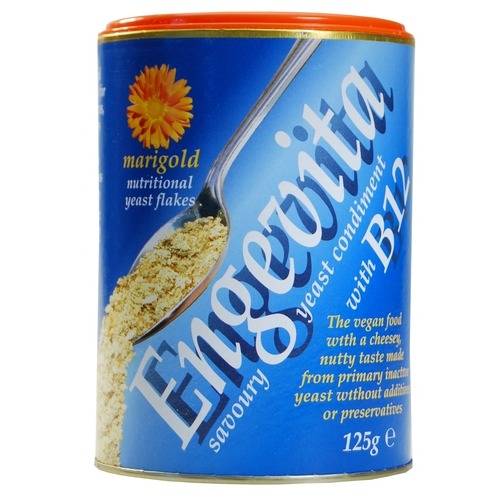 The hemp seeds add a good boost of complete protein and omega-3 fats, as well as a yummy flavour and texture to the crisps.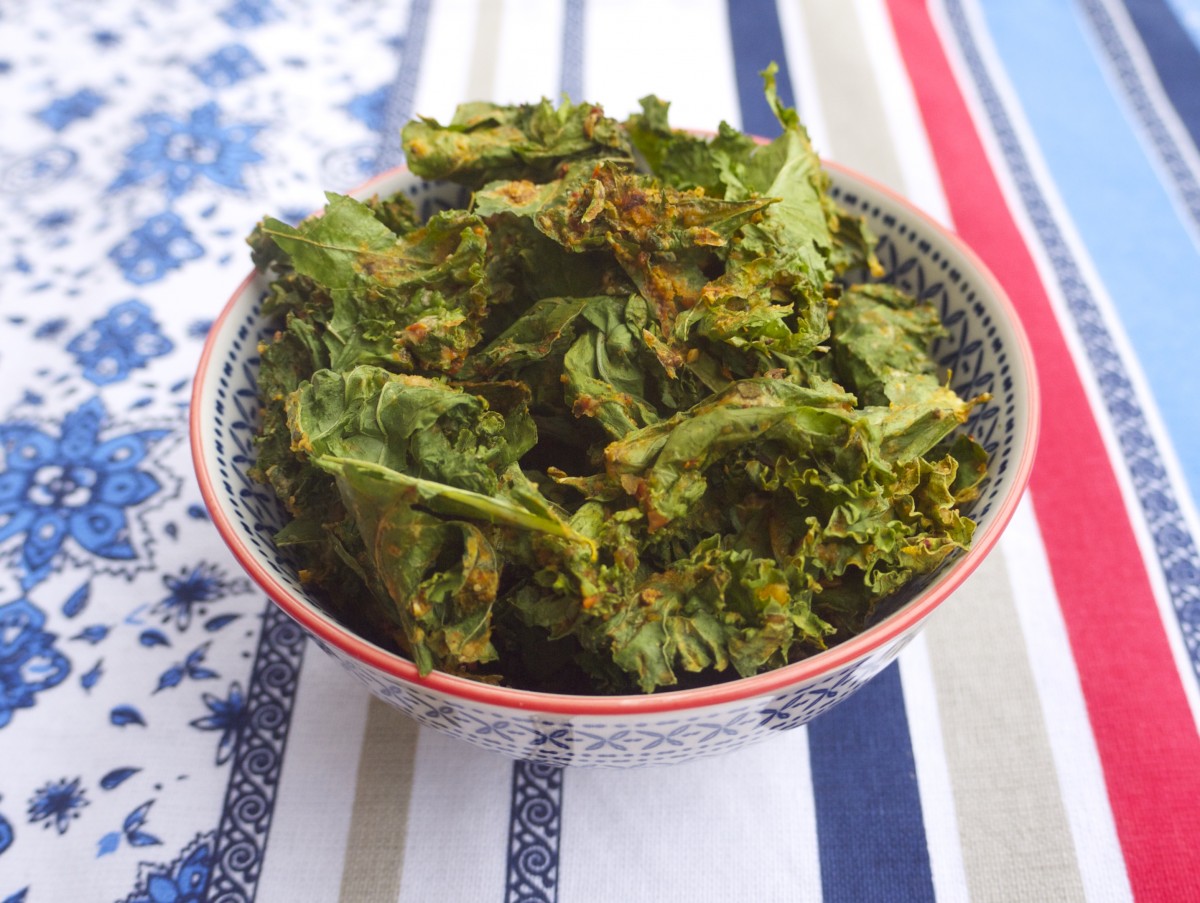 These crisps also make a brilliant travel snack for when the munchies hit and always go down well when I have friends over!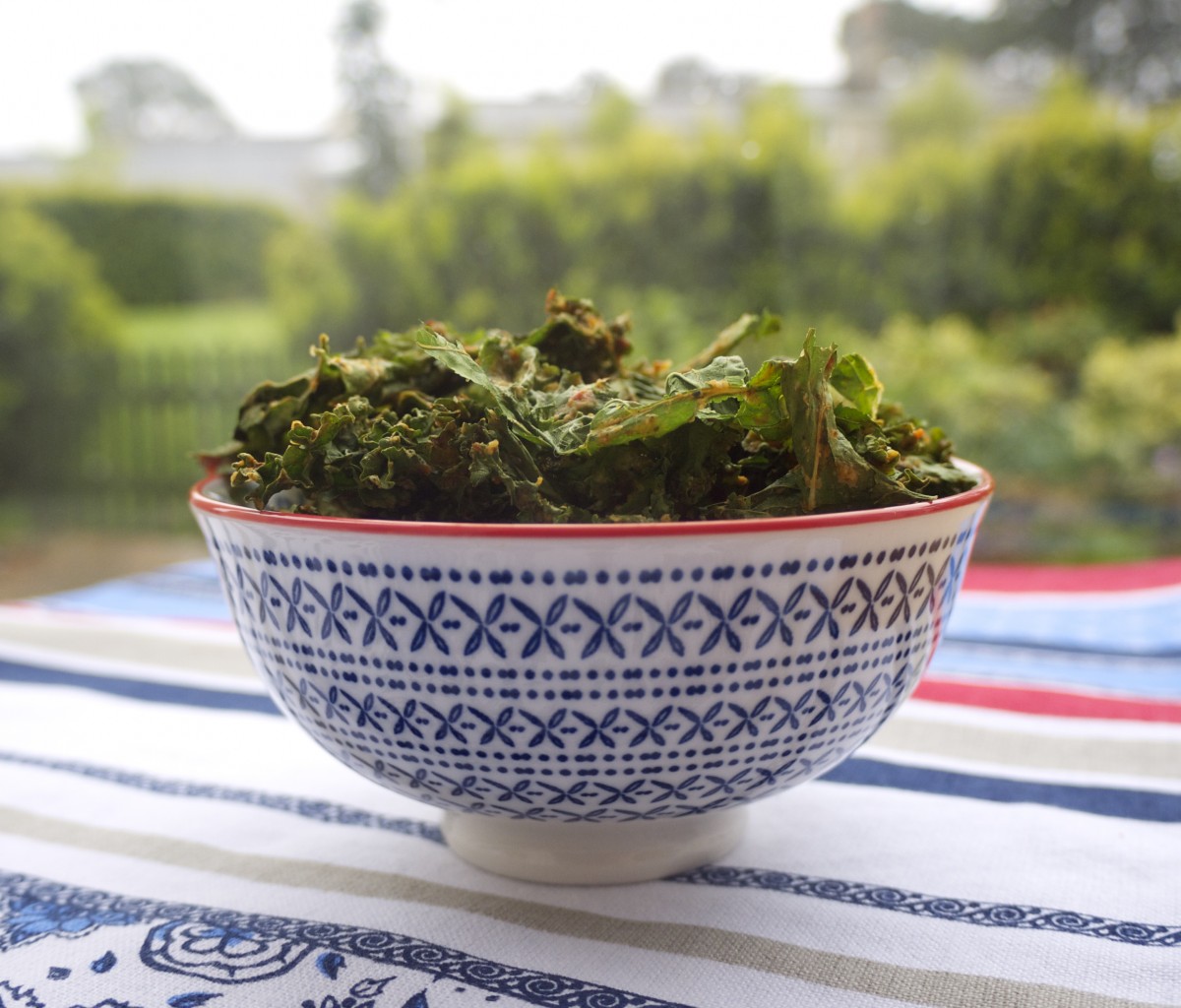 I would love to know if you decide to make these kale crisps and it makes me so happy to see all your creations on social media! Simply tag #RosannaDavisonNutrition on Instagram or Twitter or come on over to my Facebook to say hello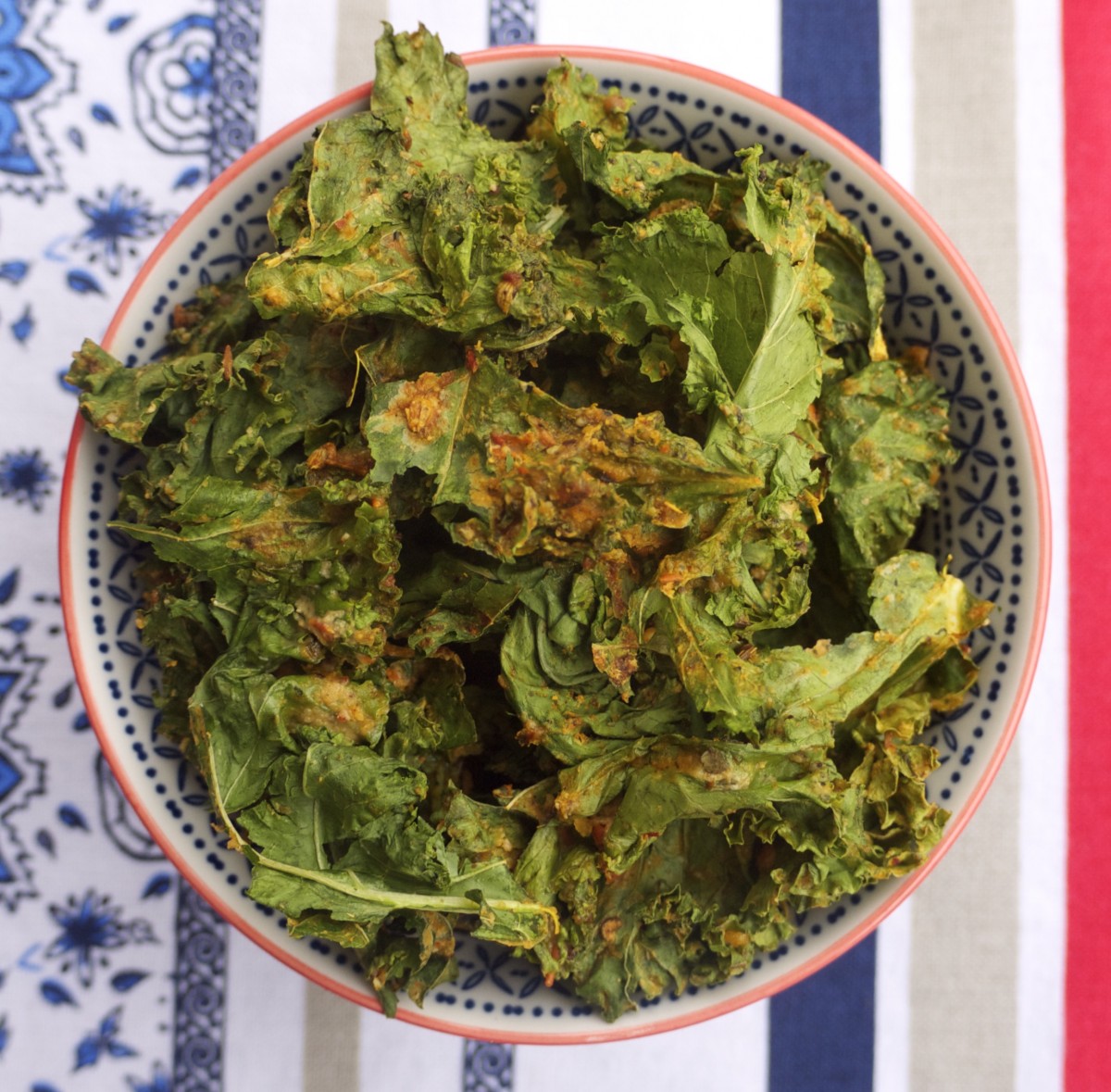 Curry Kale Crisps
2015-05-03 12:09:23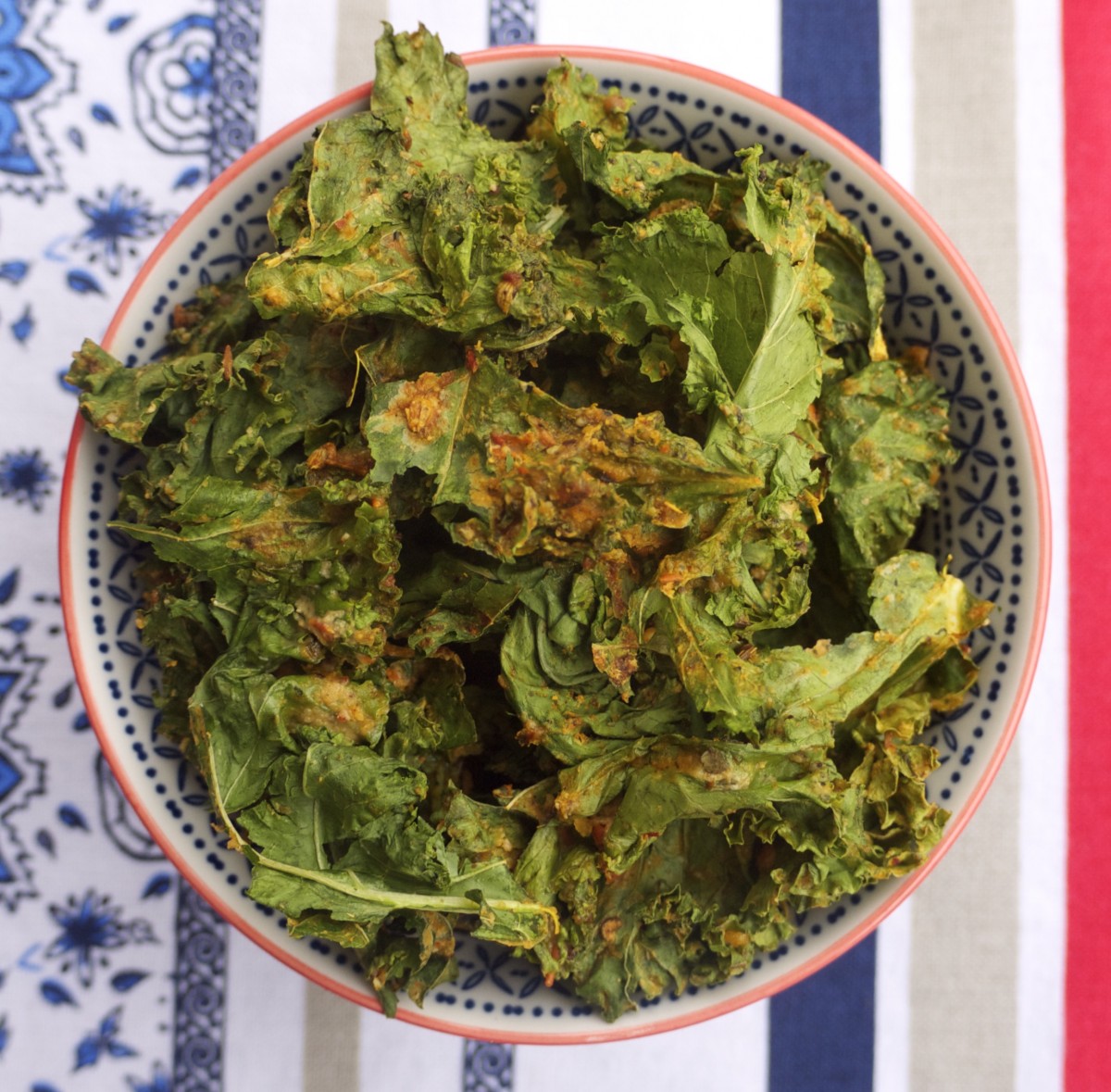 Serves 2
Cheesy, crispy and so addictive... these make an amazing healthy snack!
Ingredients
1 bag kale (I used curly kale)
2 tbsp hulled hemp seeds
2 tbsp nutritional yeast
2 medium tomatoes, roughly chopped
2 tsp curry powder
1 tsp cajun spices
dash of tamari sauce
1 clove of garlic
Pinch of salt and pepper, to taste
1 tbsp fresh lemon juice
Instructions
Preheat the oven to 180C and lightly grease 1-2 baking trays with coconut oil. (I needed to use two baking trays due to the quantity I made)
Prepare the kale by removing the tough stalks, ripping it into smaller pieces and rinsing it well. Gently pat dry with kitchen paper.
Place all the rest of the ingredients into a blender and blender until a thick, smooth sauce forms.
Taste and season more, if necessary.
In a large mixing bowl, pour the sauce on top of the kale and mix together well, ensuring the kale is well coated.
Spread out the kale on a large baking tray and dry it out in the oven at 180C with the door left slightly open.
This should take 40-45 minutes, but keep an eye on the kale to ensure it doesn't burn.
Notes
Any leftovers can be stored in an airtight container for up to 2 days, but the kale is best eaten on day it's made.
Rosanna Davison Nutrition https://www.rosannadavisonnutrition.com/